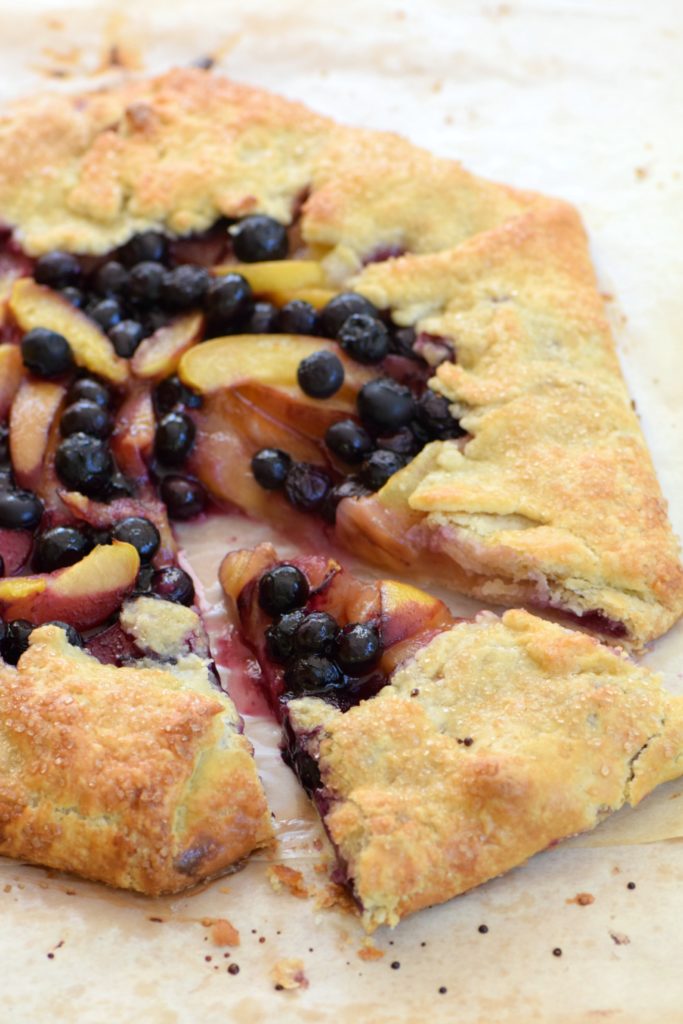 It pains me to say it, but my husband doesn't really care for pie. It's something about the fruit-to-pastry ratio. However, I love to make pie because it's fussy and fiddly and when you get it right, it demonstrates a lot of technique. The fact that I gravitate towards more difficult recipes probably makes me unusual among cooks.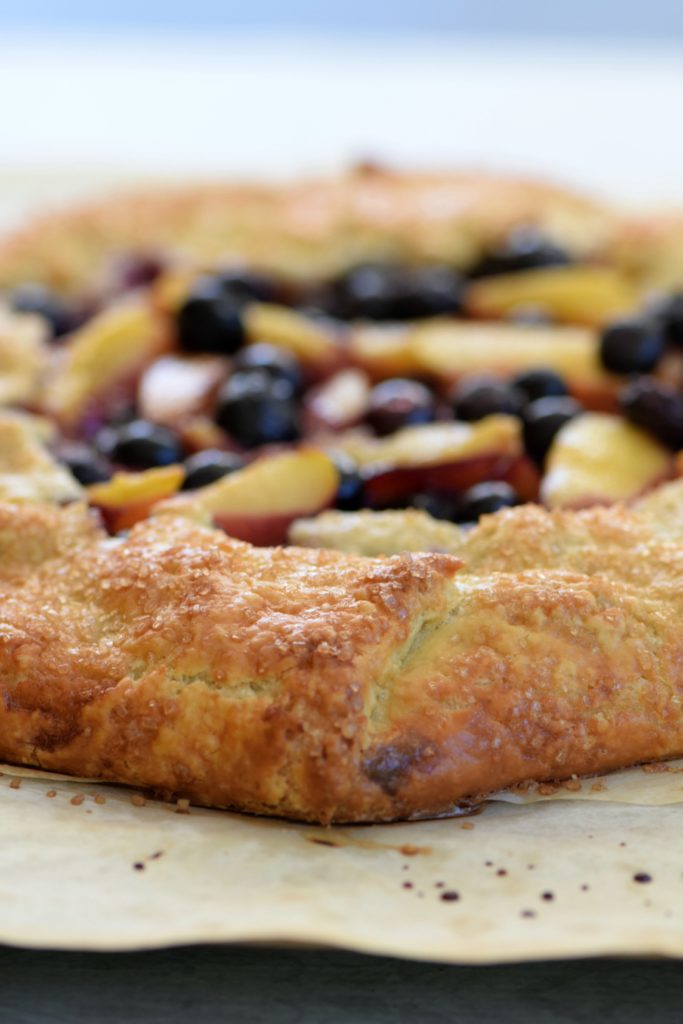 A galette, on the other hand, is both easy to make and has just the right ratio of fruit to pastry. Galettes, which the Italians call crostada, are supposed to be rustic, which is code for "doesn't have to look perfect." They are both less time-consuming and more foolproof than pies yet are an equally delicious showcase for beautiful summer fruit. (Or autumn fruit when the time comes.)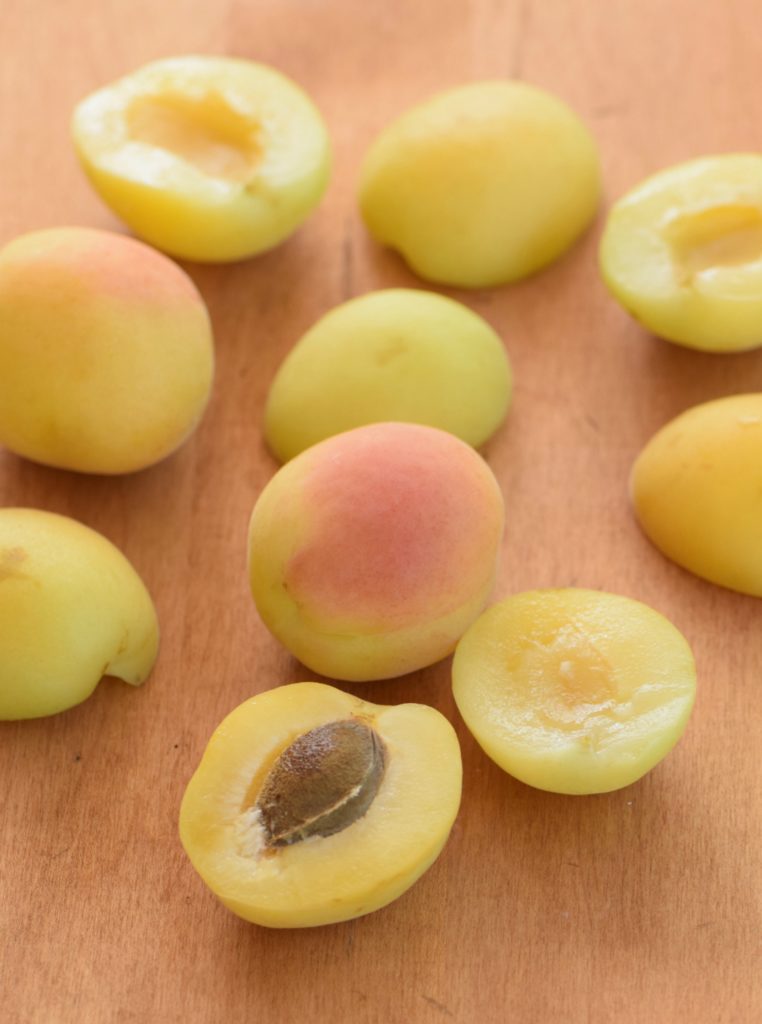 The other day, I was in Whole Foods and I spied a clamshell of angelcots, a specialty apricot with white flesh that is available for a very short time — and that time is right now. My friends at Frieda's Produce bring them to Trader Joe's and Whole Foods from the one farmer (!) who grows them in northern California. Knowing how short the angelcot season is, I pounced. The angelcots went right into my cart.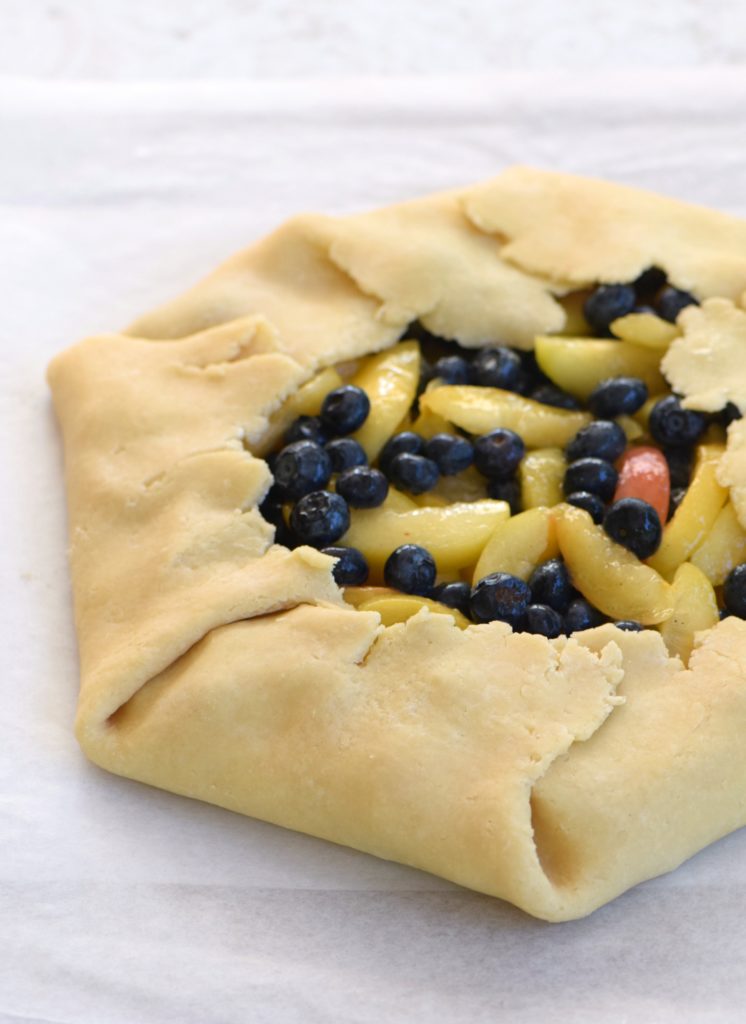 Sweet, flavorful and juicy, angelcots can be eaten out of hand, grilled on skewers, or used in baking. I went for baking. Tossed with a handful of sugar, a squeeze of lemon and a cup of fresh farmers market blueberries, the angelcots made the the perfect filling for my rustic, easy-to-make galette. Of course, if you can't find angelcots where you are, or the season has passed, you can substitute other varieties of apricot, or even peaches.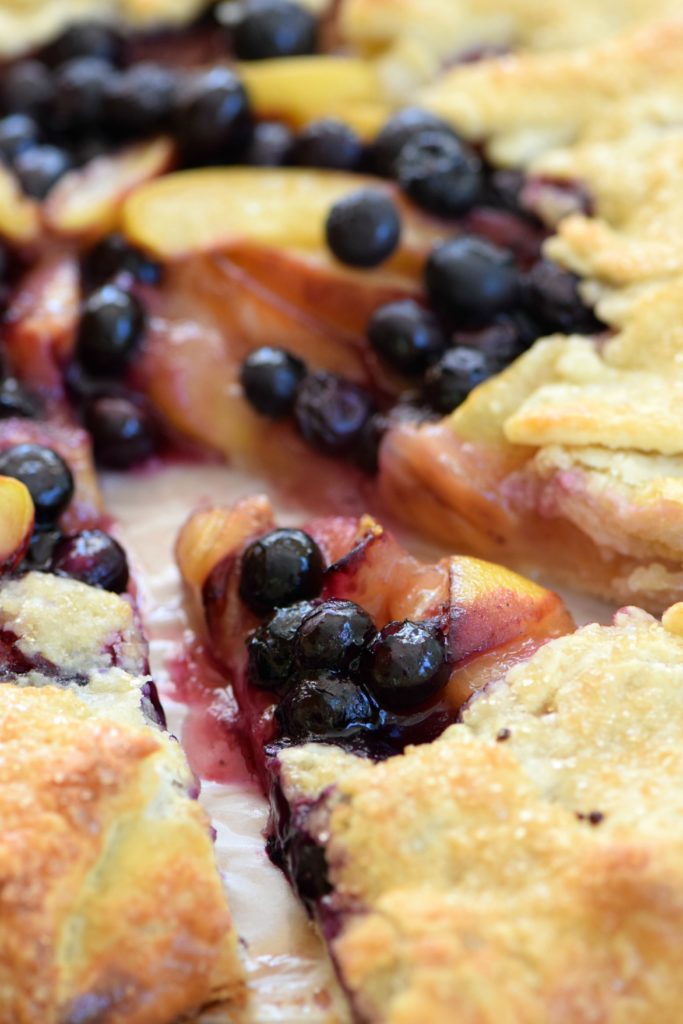 When making a galette, you want to make certain that your dough is sturdy enough, and thick enough, to hold the filling. Unlike with a pie, there is no dish or pan to support the dough. As with pie dough, you can make galette dough in advance and refrigerate it until needed. Not only is this convenient, it actually is better for your dough because some time in the fridge will allow the gluten to relax, resulting in a flakier dough.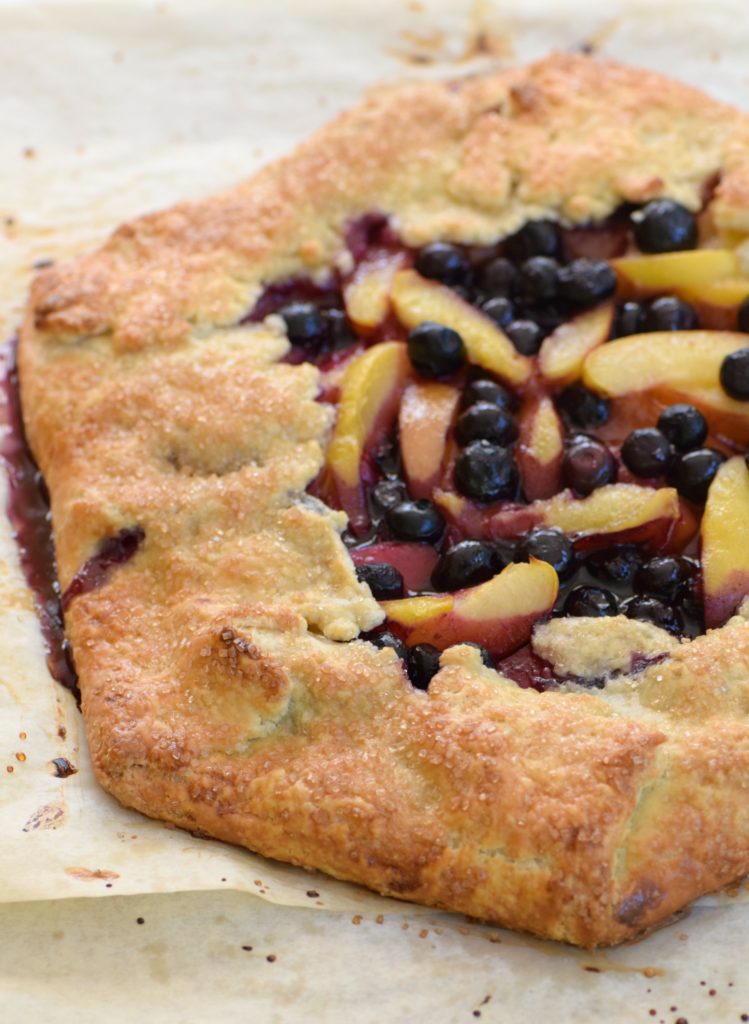 Because of how quickly it comes together — roll out the dough, spread fruit on top, fold up edges — a galette is a perfect weeknight dessert. But it is certainly delicious and impressive enough — juts because it's rustic doesn't mean it's not impressive — to serve company at your next backyard barbecue or Fourth of July party.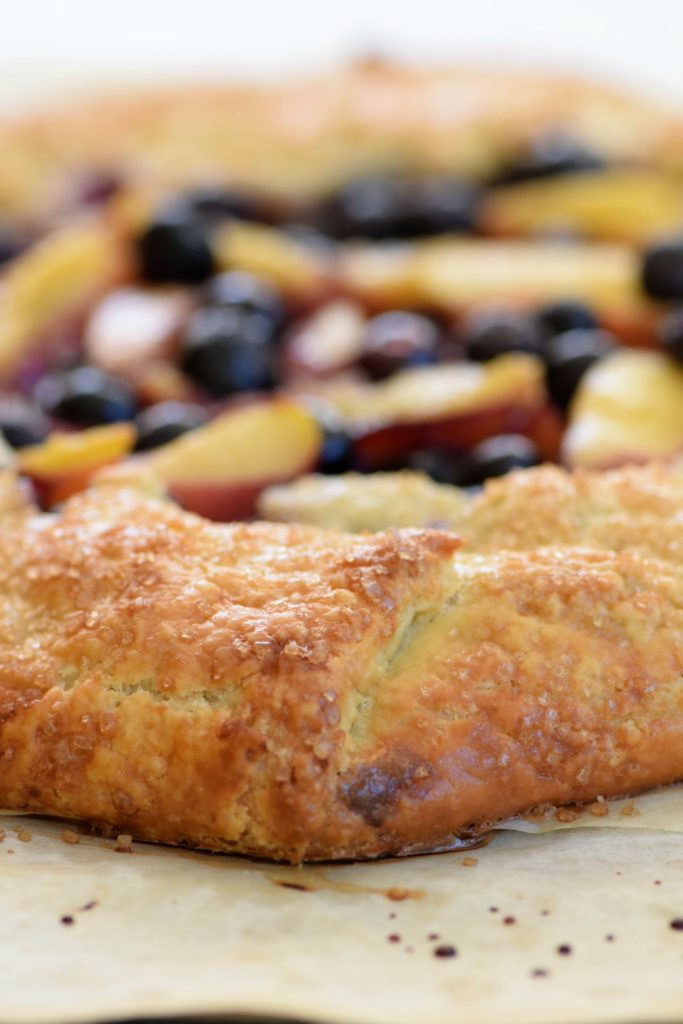 I hope that you will look for angelcots the next time you are in Trader Joe's or Whole Foods and try some of these delicate, floral fruits before they are gone. I also hope that before the summer is out that you take whatever your favorite stone fruit is, be it apricots, peaches or nectarines, and make a rustic, flaky, juicy, oozing galette for your family. This is what summer is all about.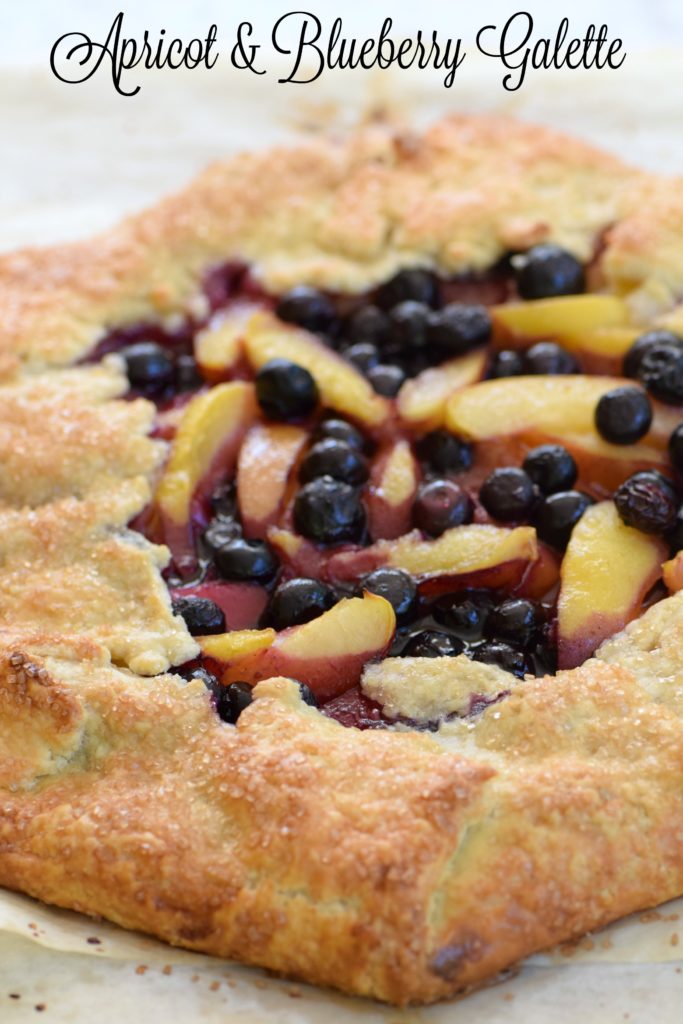 Apricot and Blueberry Galette
Ingredients
Dough

1¾ cups all-purpose flour
1 TB sugar
1 tsp. salt
6 oz. (one and a half sticks) cold unsalted butter, cut into cubes
3½ TB ice water
1½ tsp. lemon juice

Filling

6 small apricot or angelcots, pitted and sliced
1 cup blueberries
1/4 cup sugar
Juice of half a lemon
Pinch cardamom
1 egg
Tubinado or Demerera sugar (optional)
Instructions
Combine the flour, sugar and salt in the bowl of a food processor. Add the cubed butter.
Toss the bowl to coat the butter with the flour.
Process the dough until the ingredients combined and crumbly. Leave some visible pieces of butter that are the size of gravel.
Mix the water and lemon juice together and drizzle over the dough. Stir with a fork until the dough begins to come together.
Gather the dough into a ball and knead it against the sides of the bowl until you have incorporated all of the dough.
Wrap dough in plastic wrap and chill for at least one hour. (Dough can be made ahead and kept refrigerated for up to three days or frozen for longer periods.)
Preheat oven to 375.
To make the filling combine the apricot slices, blueberries, sugar, lemon juice, and cardamom in a medium bowl. Toss to combine.
To assemble the galette, place dough on a well-floured surface or nonstick rolling mat, and using a well-floured rolling pin, roll dough out in a circle shape until it is ¼ inch thick.
Carefully transfer dough - a large pastry scraper comes in handy here - to a baking sheet lined with a Silpat baking mat or parchment paper.
Place the filling in the center of the galette -- leaving any excess liquid behind in the bowl -- leaving a two-inch border around the edge.
Fold the dough over the fruit in a hexagonal or circular shape, as desired, pleating the dough as necessary.
Beat the egg with a teaspoon of water and brush the egg wash over the outside of the galette.
Sprinkle with Turbinado sugar, if using.
Bake galette for 35-45 minutes. (If crust begins to burn, cover edge with foil.)
Cool galette on a wire rack for thirty minutes before serving.
Garnish with whipped cream or vanilla ice cream if desired.
http://www.westoftheloop.com/2016/06/29/apricot-blueberry-galette/