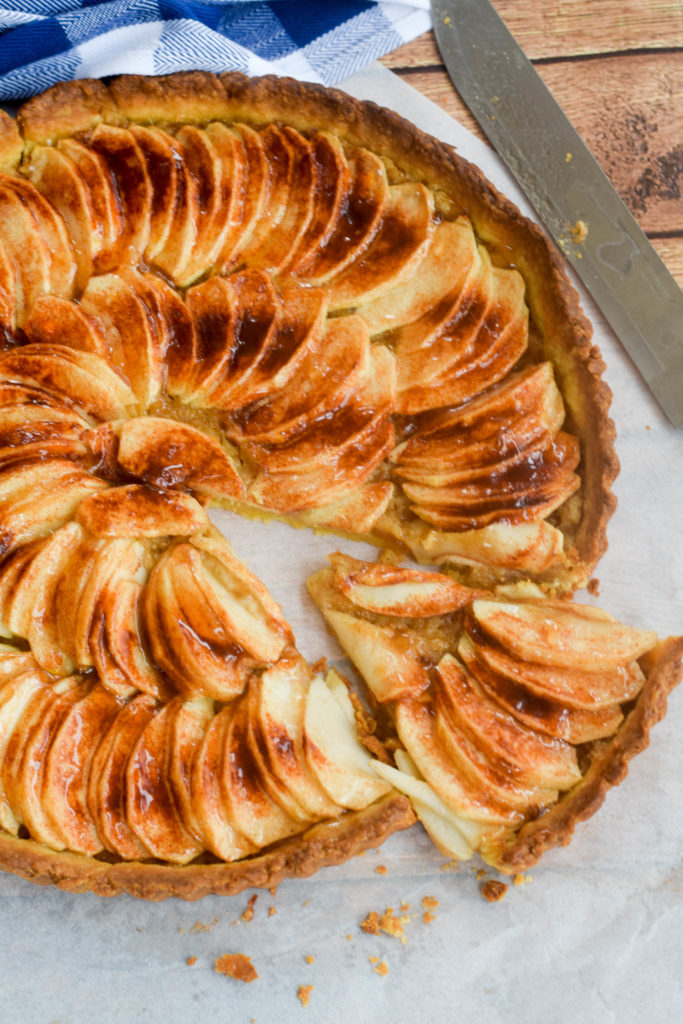 Rosh Hashanah may be over, but it is still apple season. Whether you visit an apple orchard to pick your own or stock up on heirloom varieties at a local farmers market, now is the time to enjoy the tremendous variety of cooking, baking and eating apples.
Goodness knows I love a trip to the apple orchard, but when busy schedules do not allow for an all-day outing, I make my way to the Oak Park Farmers Market where vendors display rows and rows of green, red and yellow apples with fanciful names such as Cox's Orange Pippin, Arkansas Black, Ozark Gold and the Roxbury Russet. I search diligently for my favorite apple, the Stayman Winesap and when I find them, I buy as many as will fit in my refrigerator and try to make them last all winter.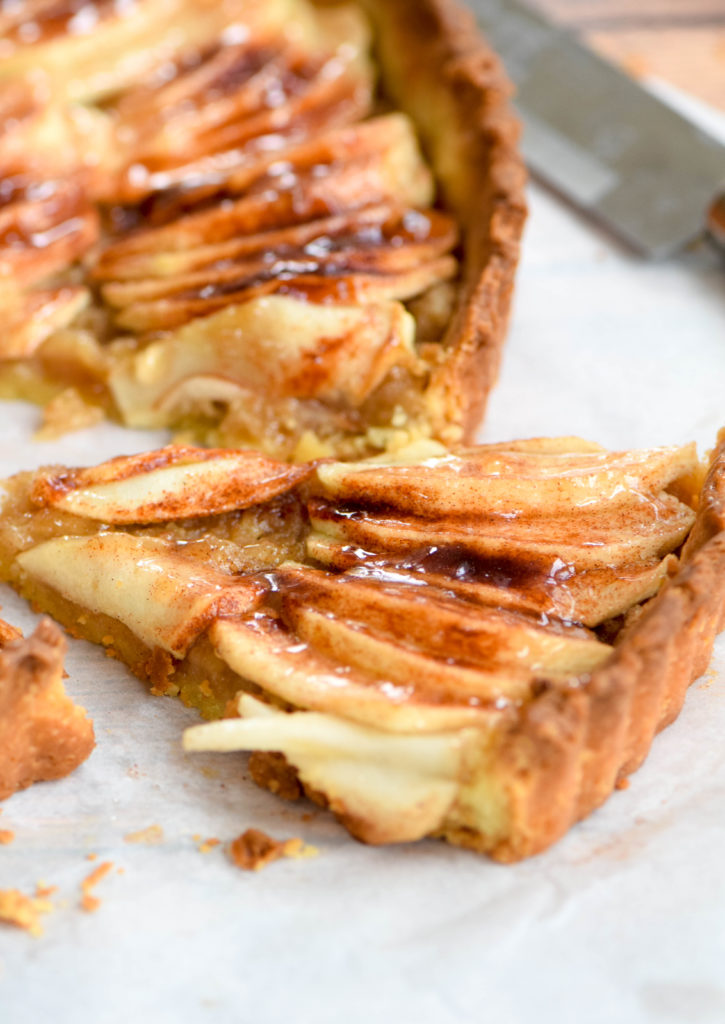 We eat apples like they are going out of style. We put them in salads; we eat them with cabbage and use them as a savory stuffing for chicken. And of course, we bake with them. From apple pie to apple cake to apple crisp, there is no dessert that we can't fold an apple into. This is just my latest apple creation: an elegant yet homey apple streusel tart.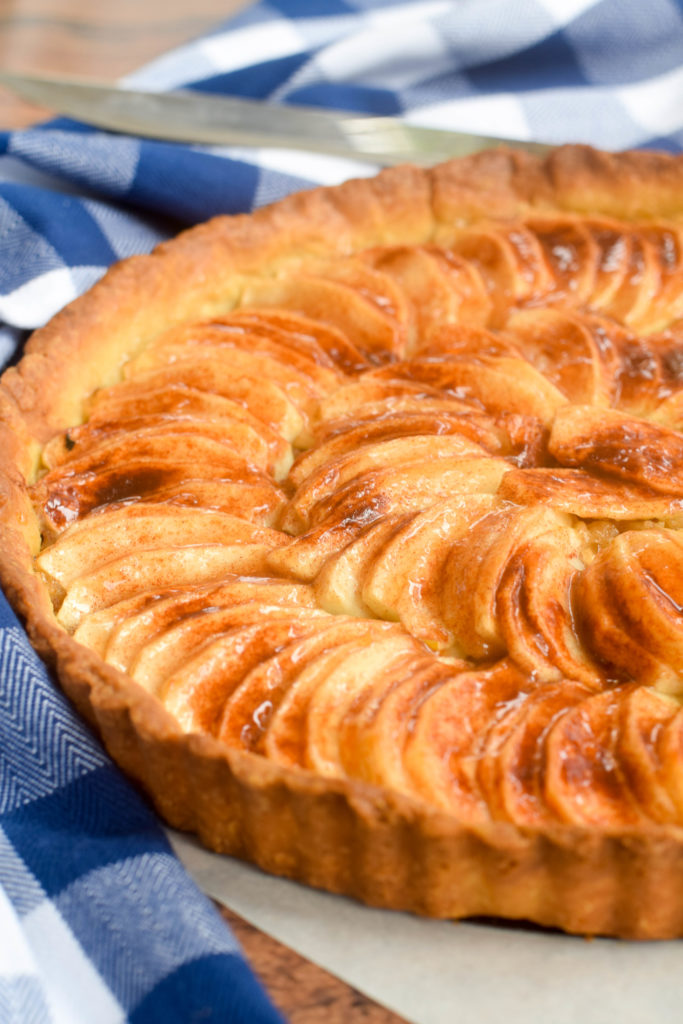 I made a very similar version of this tart with Italian prune plums instead of apples earlier this fall, and, topped with a dollop of tangy creme fraiche, it was a huge hit. With plum season coming to a close and apple season in full swing, I thought I would adapt it to an apple tart and keep the streusel goodness coming a little longer.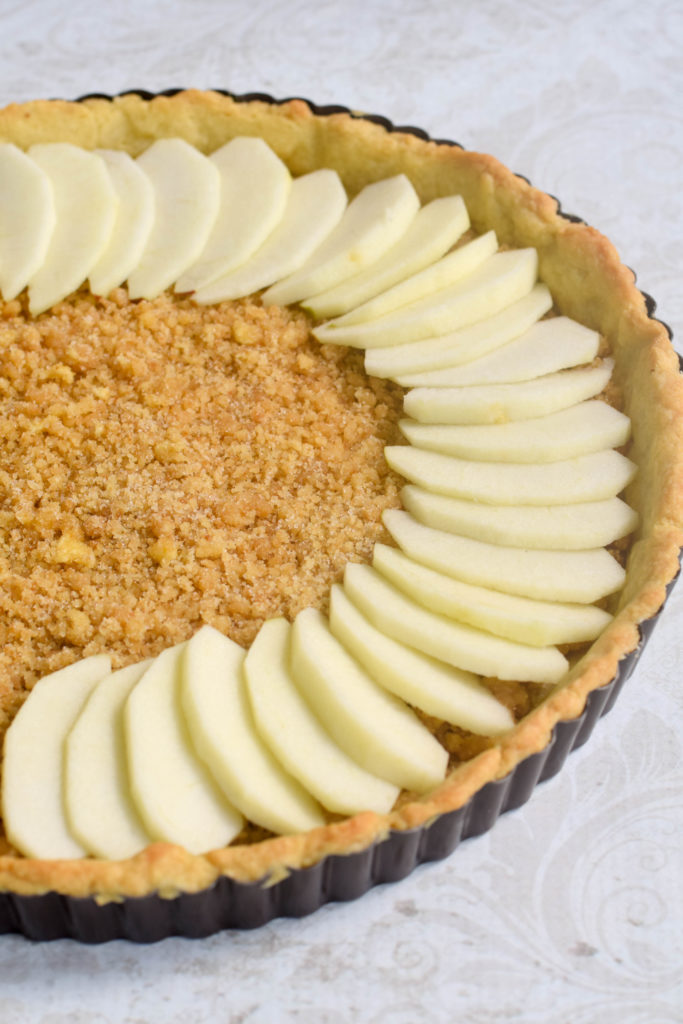 For this tart, I have layered a blanket of sweet, vanilla-flecked streusel between the tart dough and the apple slices to prevent the crust from coming into contact with the juice from the fruit and therefore turning soggy. Both the tart dough and the crumbly streusel can be made in advance and stored in the refrigerator, or freezer, making this dessert a snap to pull together.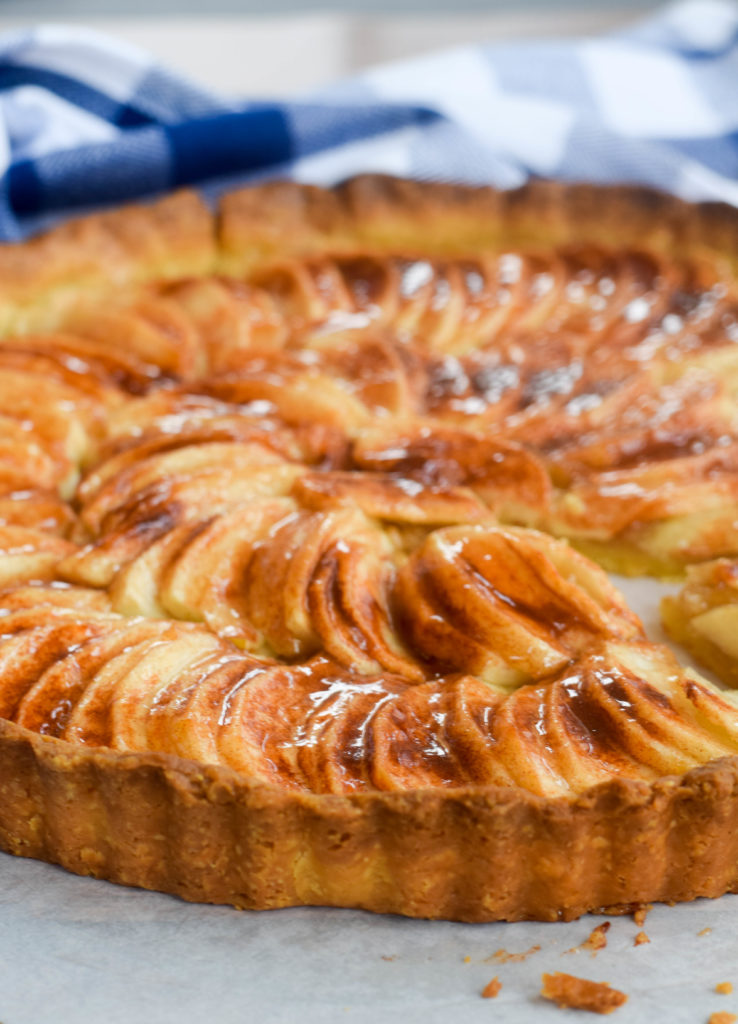 The dough for the tart crust is a bit more forgiving than, say, pie dough. It is a short dough enriched with egg yolks and cream. It will break and split when you roll it out, but do not be concerned: you can pat it into place in the tart pan and patch up any cracks. You don't have to be quite as hands-off as you do with pie crust. It is crucial, however, to let the dough rest, chilled, before rolling it out and once again after placing it into the tart pan. This will help your dough be flakier and prevent shrinkage when baking.
I know we all have our favorite apple desserts, but if you are like me, you are always looking for another to add to your repertoire. I urge you to give this apple streusel tart a try. I think you will find it earns its spot in your regular rotation.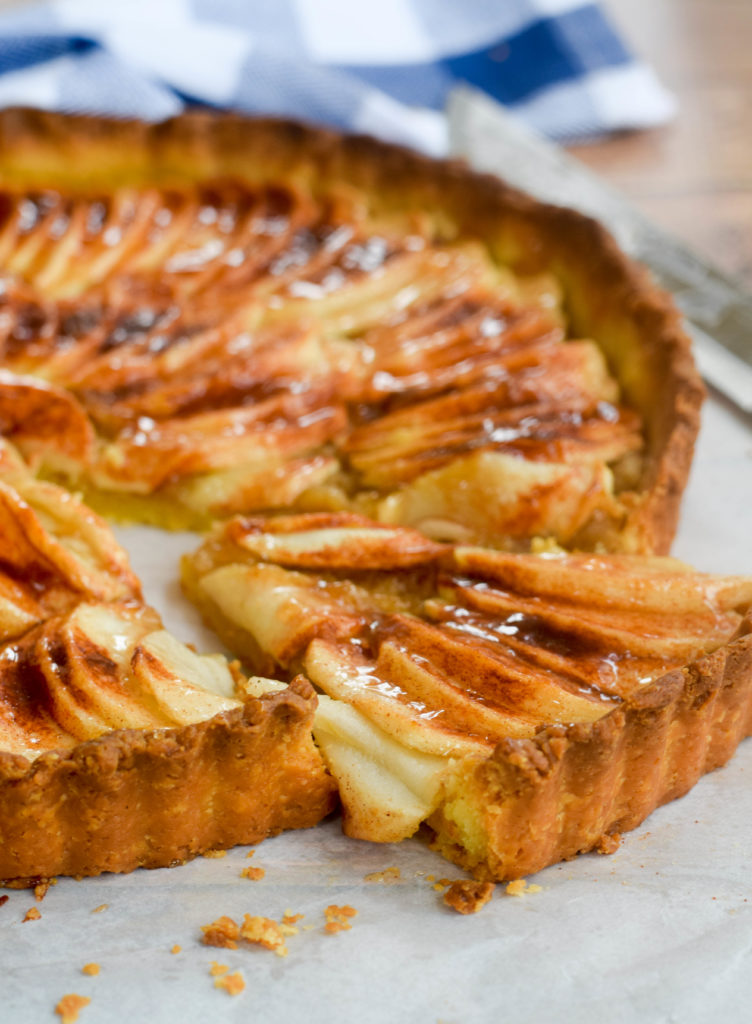 Ingredients
Crust

1 1/2 cups all-purpose flour
1/4 cup sugar
1/2 tsp salt
4 oz (1 stick) unsalted butter, cold
2 TB heavy cream
1 egg yolk

Streusel

1 cup all-purpose flour
1/2 cup sugar
1/2 cup light brown sugar
4 oz butter, cold, cut into cubes
1 tsp cinnamon
Pinch salt
1 TB vanilla extract

Filling

3 apples, peeled and sliced thin
2 TB butter, melted
2 tsp cinnamon sugar
Instructions
To make the crust, combine the flour, sugar and salt in the bowl of a food processor.
Cut the butter into small pieces and add it to the flour mixture. Pulse the food processor until the mixture resembles coarse crumbs. Turn the dough out into a bowl.
Beat the cream and egg yolk together in a small bowl and add it to the dough.
Mix with a fork until it comes together. Gather the dough with your hands and knead it against the sides of the bowl just until it forms a ball.
Wrap the dough in plastic and refrigerate for several hours or overnight.
To make the streusel, combine the flour, sugar, brown sugar, cinnamon and salt in the bowl of a food processor. Add the butter and pulse until the mixture resembles crumbs. Drizzle the vanilla over the mixture and pulse a few additional times.
Place streusel mixture into a gallon-sized freezer bag and freeze until needed.
Prior to rolling out, remove the tart dough from the refrigerator and allow it soften for about ten minutes.
Lightly coat a 10-inch fluted tart pan with a removable bottom with butter.
Turn the dough out onto a lightly floured board and roll into a 12-inch circle, turning frequently to prevent sticking.
Transfer the dough to the buttered tart pan, patching any cracks as necessary. Press the dough into the edges and sides. Trim any excess dough and dock the bottom with the tines of a fork.
Chill the crust for at least an hour.
Preheat the oven to 350.
Line the tart shell with parchment paper and fill the pan with pie weights or raw rice or beans.
Blind-bake the crust for fifteen minutes, then remove the weights and parchment paper and bake for an additional ten minutes. Remove the tart shell and turn the heat up to 375.
Fill the baked shell with two cups of the streusel mixture.
Top the streusel with slices apples, arranging them in concentric circles.
Brush the apples with melted butter and sprinkle with cinnamon sugar.
Bake for 30-35 minutes until the apples ate softened. If the crust begins to brown excessively, cover with foil.
Cool on a wire rack.
If desired, heat 4 oz of light-colored jam, such as apricot, until runny and brush jam over the apples as a glaze.
Serve with creme fraiche.
http://www.westoftheloop.com/2016/10/04/apple-streusel-tart/