Fall is the season for cranberries and they are available now at the farmers' market. Cranberries freeze like a dream, so buy them while they are in season to enjoy all winter long.
I adore baking with cranberries because they retain their shape so well. The tart flavor of these scarlet-hued berries pairs well with oranges and another great fall fruit, apples. Try an apple-cranberry cobbler or a cranberry quick bread with orange zest.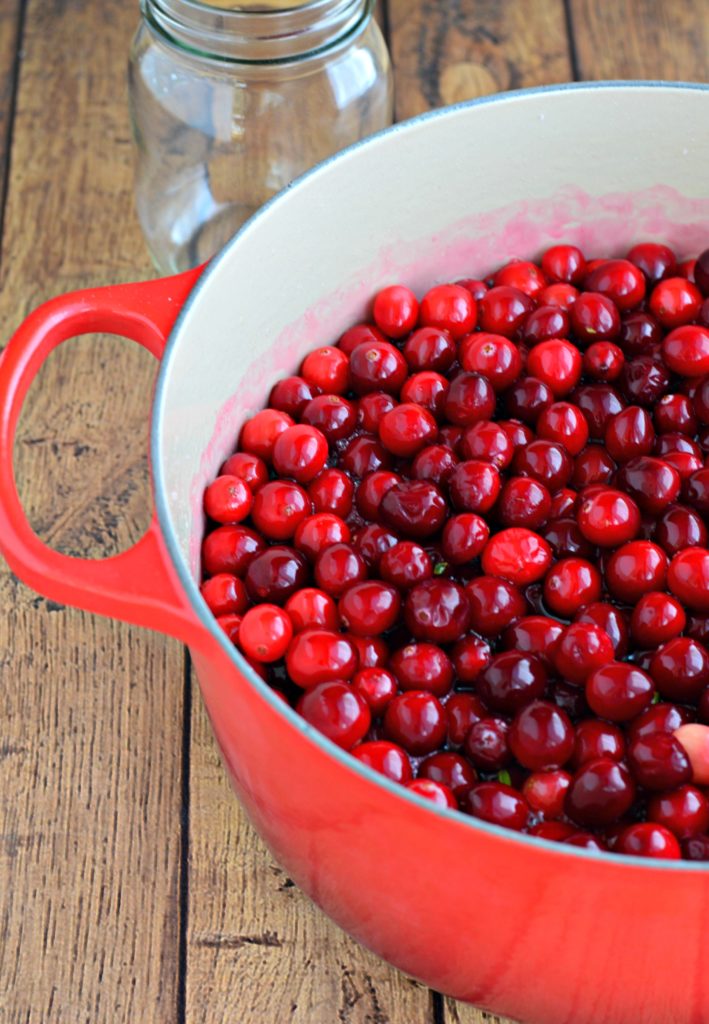 Of course, many of us only eat cranberries once a year at Thanksgiving. That's fine too. But if you are buying that jellied cranberry sauce from a can, you are missing out on how good real cranberry sauce can be. (My dear dad loved that jellied stuff from the can — you know the one would hold the shape of the can even after you poured it onto a plate? So we always had some for him, but I think it's pretty dreadful.)
My homemade version uses fresh cranberries from the farmers market and is flavored with ginger and orange zest. It's better than any cranberry sauce from the store! I make cranberry sauce for Thanksgiving in October, before the farmers' market closes for the season, and can it for shelf-stability.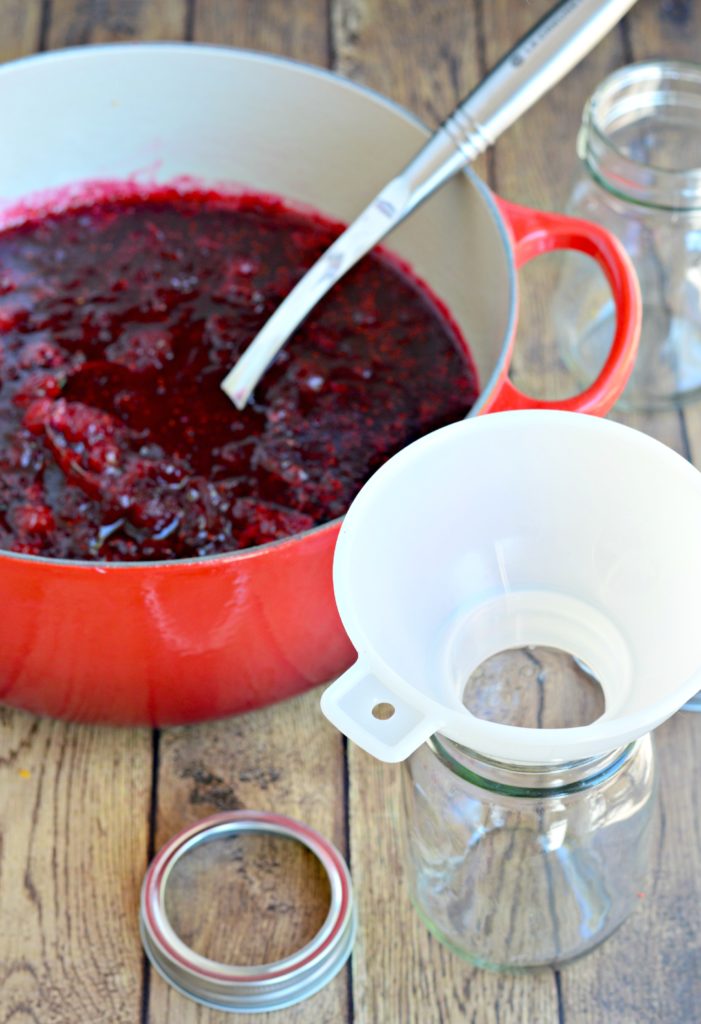 You also do not need to be a canner to make this recipe. Just make it closer to Thanksgiving and keep it in the refrigerator until your holiday dinner. This recipe makes four pints, which is more than one family needs, so if you do not plan to can the cranberry sauce, you can either give some away to your neighbors for their Thanksgiving tables, which would be a lovely gesture, or halve the recipe.
Of course, there is no rule saying that you can only eat cranberry sauce once a year. This sauce would be good on turkey sandwiches or roasted meats all year round. It would also make a fine accompaniment to a cheese tray. It is especially delicious with a sharp cheddar!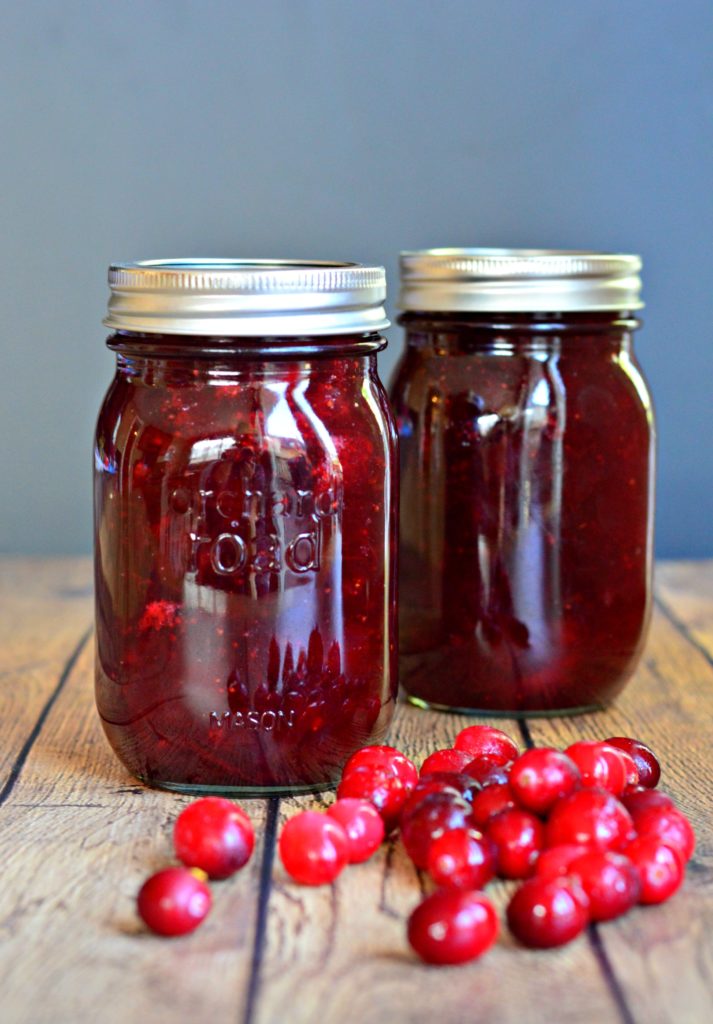 Thanksgiving Cranberry Relish
Ingredients
4 cups sugar
4 cups water
2 cinnamon sticks
10 whole cloves
8 cups fresh or frozen cranberries
Zest of one orange
1 tablespoon grated fresh ginger root
1/4 cup rum or brandy (optional)
Instructions
Place four pint jars in a water-bath canner or a large stockpot outfitted with a rack and fill pot with water. Bring to a simmer over high heat.
Combine the sugar and water in a large, heavy-bottomed pot. Tie the cinnamon sticks and cloves in a spice bag or square of cheesecloth and add it to the pot.
Bring the mixture to a boil over medium heat, stirring with a wooden spoon to dissolve the sugar. Boil the sugar syrup for five minutes. Add the cranberries and return to a boil.
Reduce heat and simmer, stirring frequently, until the cranberries have broken down and the liquid has thickened, about ten minutes.
Add the orange zest, grated ginger and rum or brandy, if using. Simmer an additional five minutes.
Remove from heat. Skim off any foam that has accumulated and discard the spice bag. (Do not be concerned if the sauce appears to be liquid — cranberries are high in pectin and the sauce will gel when it cools.)
(If you are not canning the jars to be shelf-stable, simply ladle the sauce into clean jars and refrigerate until needed)
Remove the first jar from the warm water and place a canning funnel in the mouth. Ladle the sauce into the jar leaving 1/4 inch headspace at the top.
Run a plastic knife around the inside of the jar to remove any air bubbles and wipe the rim clean with a damp cloth. Repeat with the remaining jars.
Place the lids on the jars and screw on the rings just until you feel resistance. Return the jars to the water-bath canning pot and bring the water to a boil.
Process the jars in a boiling water bath for fifteen minutes. Allow to cool in the water for five additional minutes before removing them.
Check the seals on the lids and store in a dark cool place for up to one year.
http://www.westoftheloop.com/2016/10/23/thanksgiving-cranberry-relish/