I created this recipe and blog post as an entry in the Davidson's Safest Choice Eggs Blogger Recipe contest. All opinions expressed herein are entirely my own.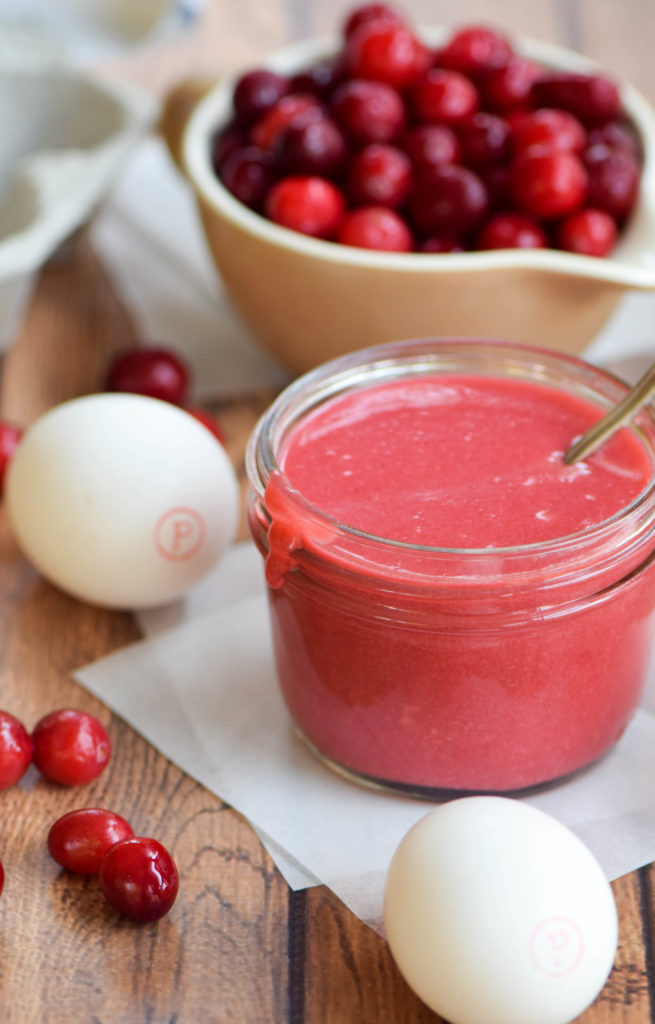 Fall is cranberry's time to shine. The season for these tart, scarlet-hued berries is now and trust me, they can do so much more than sit next to your turkey on Thanksgiving. Such as, a luscious, creamy cranberry curd.
Growing up on the East Coast, I always thought of cranberries as a New England crop. We used to visit the island of Nantucket every year when was a little girl and Nantucket is famous for its cranberry bogs. But when I moved to the Midwest, I was happy to learn that nearby Wisconsin has its own cranberry bogs and actually produces half of the U.S. cranberry crop. In fact, that's where my farmers market cranberries come from. Really, cranberries just like cold climates.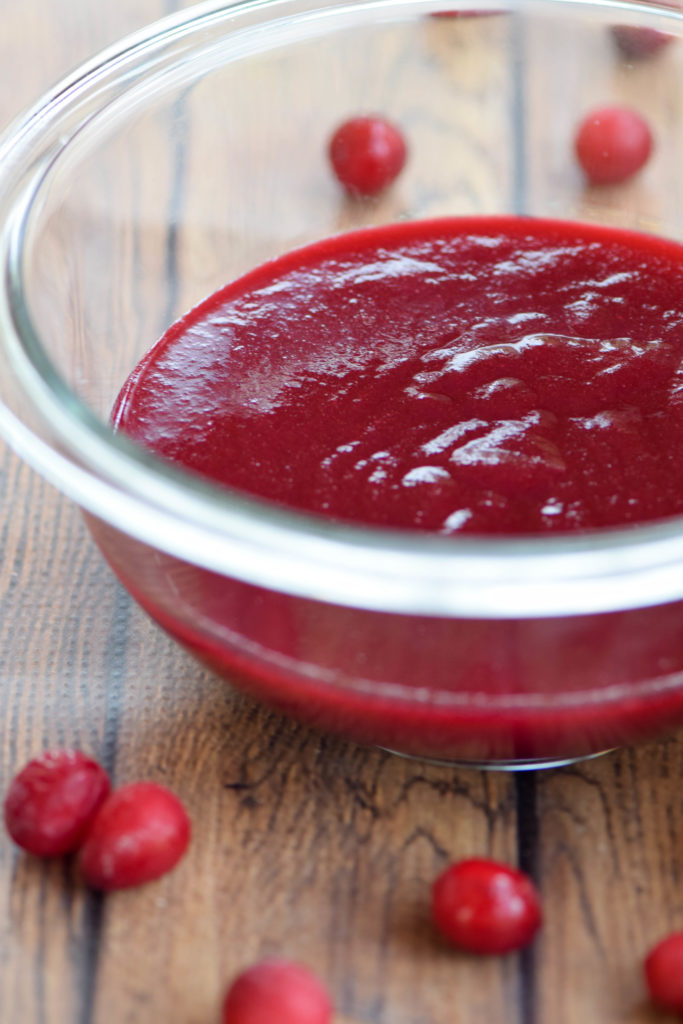 At $5 for a large container, cranberries are one of the cheaper fruits you find at the farmers market or even the grocery store. And, these berries freeze very well, particularly since you are not likely to eat them raw, but rather use them for baking and cooking. Cranberries split during baking but still retain their shape in a very pleasing way. In preserving, cranberries' high pectin content means that they will gel easily and take on a perfect, spreadable texture.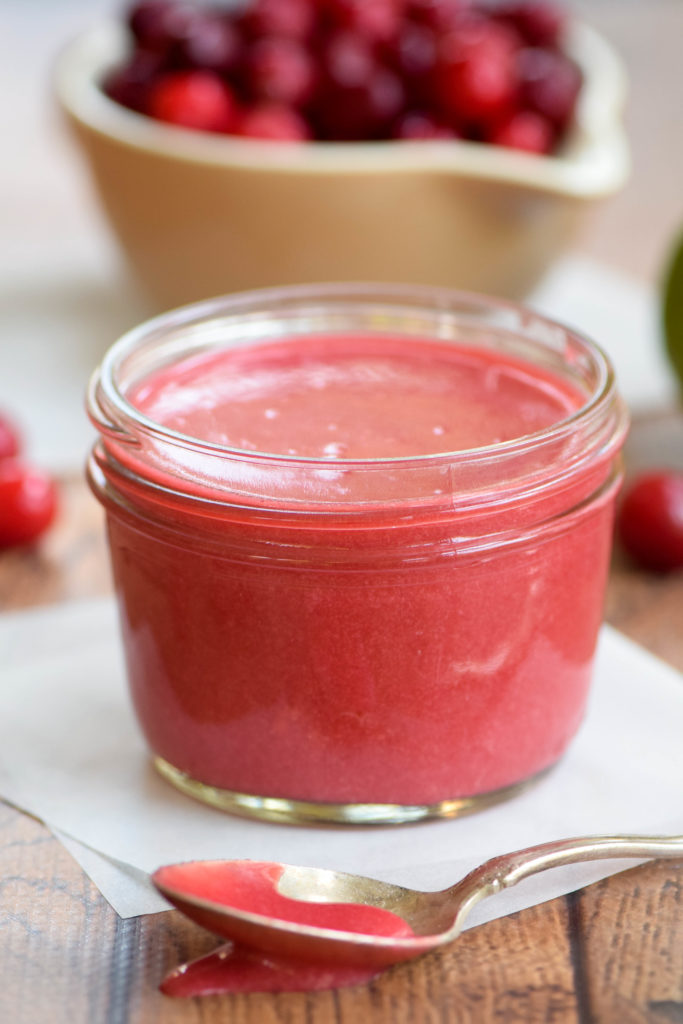 Cranberries pair well with limes, oranges and another great fall fruit, apples. This recipe for cranberry curd, however, puts the spotlight right on the cranberry and tames its tart pucker with the sweetness of sugar and the richness of egg yolks and butter.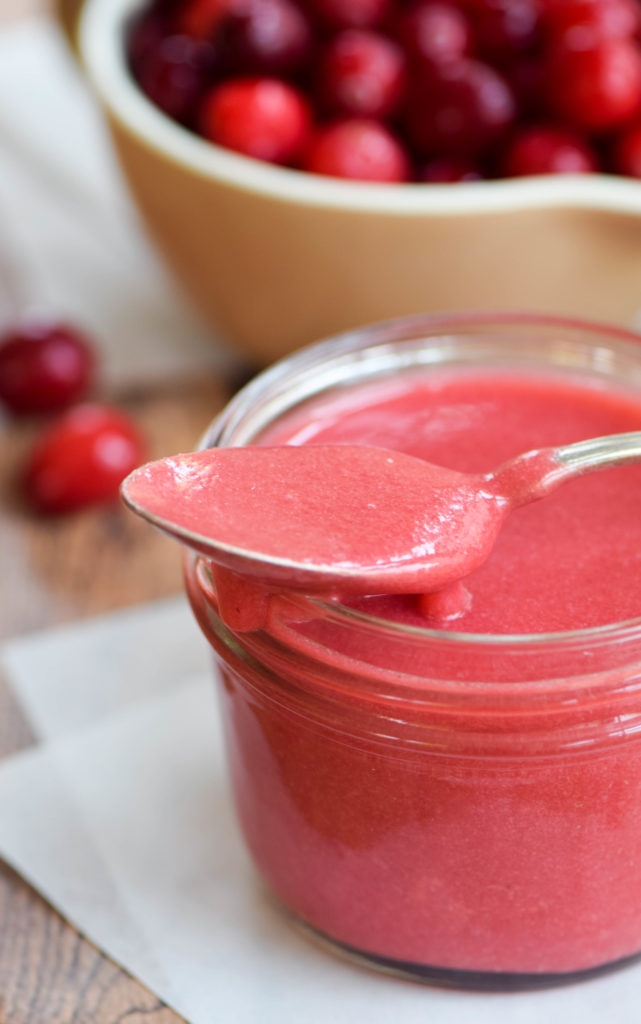 Speaking of egg yolks, I recommend using Davidson's Safest Choice Eggs, which are pasteurized in an all-natural warm water bath, for this project. In this recipe, you have to handle the raw eggs quite a bit  in order to separate the yolks from the whites, so going with the pasteurized eggs eliminates the risk of cross-contamination from touching the raw eggs and then touching something else in your kitchen.
Also, as you will see, the recipe calls for the curd to be cooked very gently over low heat for a short time. Whenever you are making a recipe that calls for raw or undercooked eggs, I recommend using Davidson's Safest Choice Eggs. The gentle water-bath pasteurization process eliminates the risk of salmonella from undercooked eggs without changing either the egg's flavor or its nutritional value.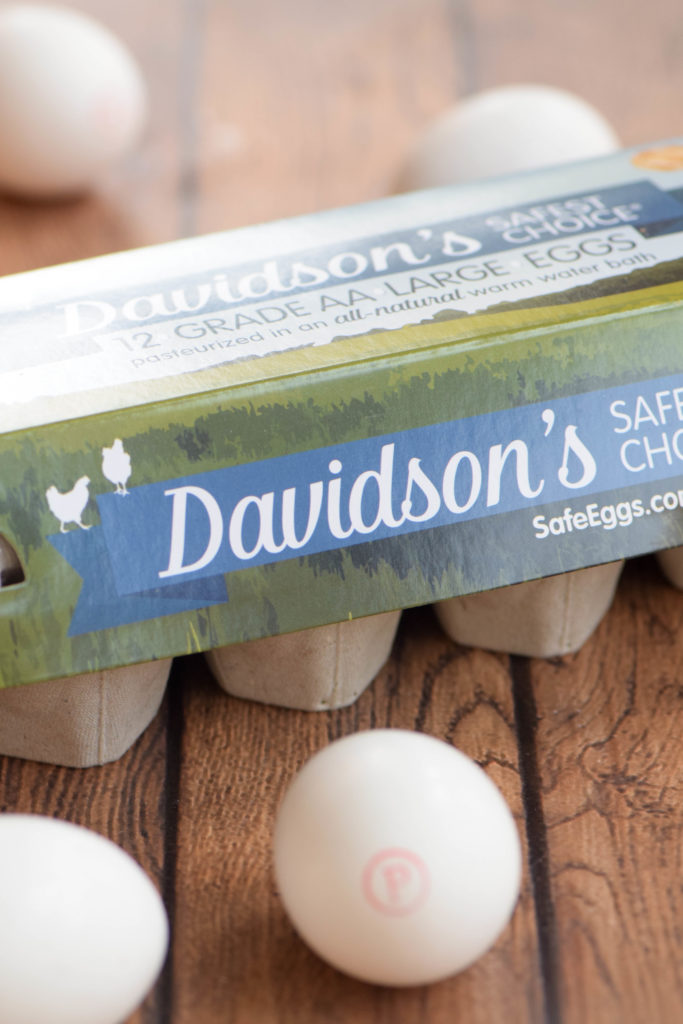 I have worked with the nice people at Davidson's Safest Choice Eggs for several years now — check out this recipe I developed for a meatless spaghetti a la carbonara using pasteurized eggs. So I was very happy to see them again at IFBC, the International Food Blogger's Conference, which I attended in Sacramento this past July.
At the IFBC Taste of Sacramento Culinary Fair and Expo, the folks from Davidson's offered cheesecake batter parfaits in cute little glasses with tiny spoons. It was the perfect recipe to demonstrate how the pasteurization process makes it OK to add eggs to smoothies, cocktails, dressings, or other barely-cooked or no-cook recipes.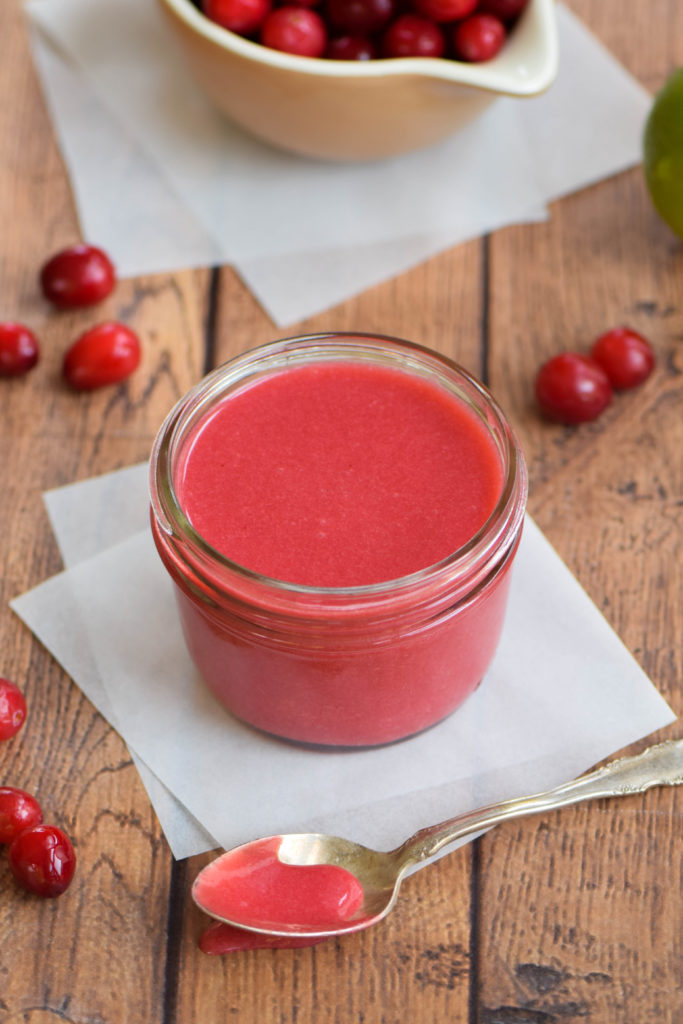 Back to this cranberry curd, can you get over how pretty it is? I just adore the rosy color. Treat it like you would lemon curd. That is to say, eat it straight out of the jar when no one is looking; spoon it into some yogurt; spread it on pound cake, or, if you are feeling very fancy, bake with it. Believe me, once you make a batch, you will find it gone before you know it. Curd doesn't languish in the back of the fridge.
Indeed, this cranberry curd would make an excellent filling for a tart or as the custard layer in a batch of cranberry bars. What a festive and unusual dessert for your Thanksgiving table!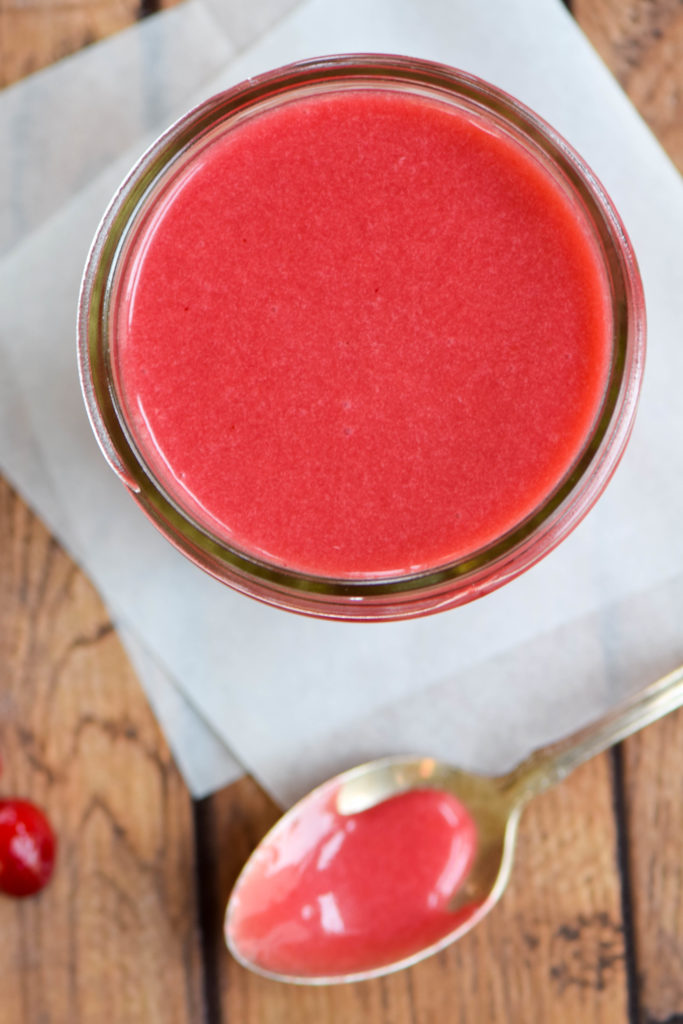 To make the curd, you begin by cooking the cranberries with some water to cause them to break down. You then strain the cranberry through a fine-mesh sieve to eliminate the seeds and skins. What you are left with is a cranberry puree that you then mix with egg yolks and sugar and cook very gently.
As always when making curd, heat the cranberry curd slowly and never let it boil to avoid scrambling the egg yolks. And do not skip the step of straining the curd prior to mixing in the butter. You do not want the lime zest or bits of cooked egg interfering with the silken texture of the curd.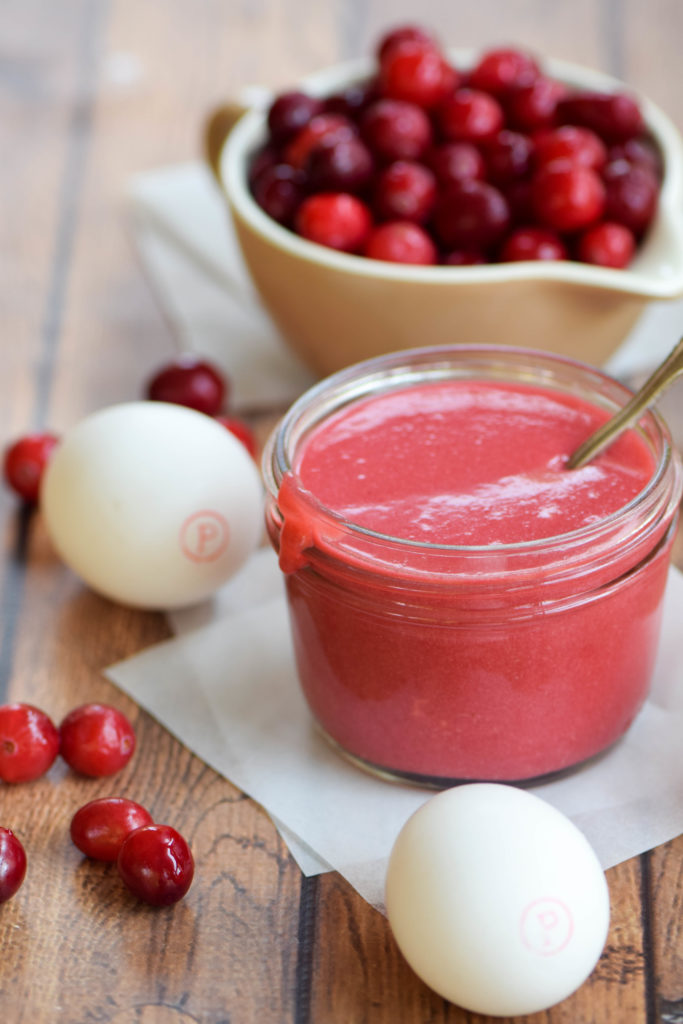 Ingredients
3 cups cranberries
3/4 cup water
Zest and juice of one lime
1 cup sugar
6 egg yolks
3 oz butter, softened
Instructions
Combine cranberries, water and lime juice and zest in a medium saucepan over medium heat. Cook until the cranberries have broken down, about ten minutes.
Pour the cranberries into a fine-mesh sieve set over a large bowl and stir with a spatula until all that is left in the sieve is the skins and seeds and you have a cranberry puree in the bowl.
In a medium saucepan, combine the egg yolks and sugar and whisk until lightened in color.
Add the cranberry puree and heat over medium or medium-low heat, stirring constantly until the mixture thickens and coats the back of a spoon, about ten minutes. (Do not allow the mixture to boil.)
Remove from heat and pour the curd into a fine-mesh strainer set over a bowl. Use a spatula to gently push the curd through the sieve leaving behind any pieces of cooked egg.
Stir in the softened butter and continue to stir until the butter has melted.
Pour into a clean jar or jars. (Yield is about 1 pint.)
Refrigerate until needed.
http://www.westoftheloop.com/2016/11/02/cranberry-lime-curd/
Full disclosure time: I created this recipe and blog post as an entry in the Davidson's Safest Choice Eggs Blogger Recipe contest that is open to attendees of IFBC. I have not been compensated for this post in any way. All opinions expressed herein are entirely my own.