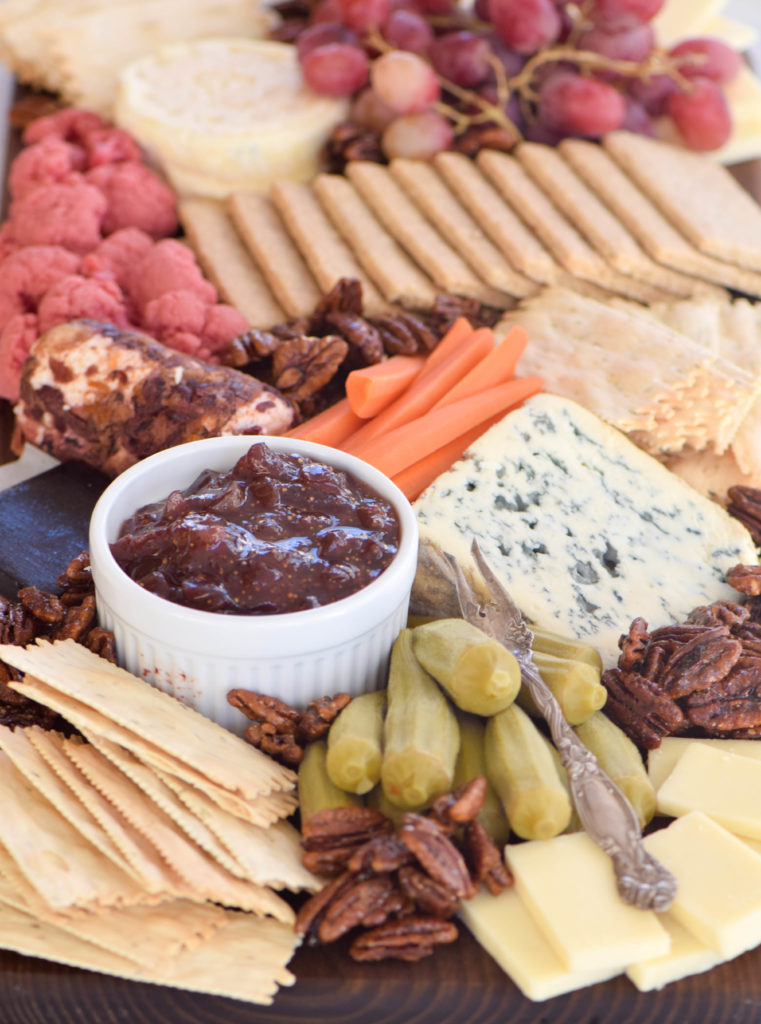 A cheese board is a staple of holiday parties. And why not? It's an easy and economical way to feed a crowd. Even folks who don't cook can put together a killer cheese plate by hitting a good cheese shop and asking the cheesemonger for help. Plus, who doesn't love cheese?
This year, however, may I humbly suggest that you forego an ordinary cheese plate in favor of a tricked-out Cheese and Pickle Board. Cheese and pickles are a natural pair: Tangy pickled vegetables cut through the richness and fattiness of your favorite cheeses to refresh your palate. And the snap and crunch of a pickle is just what your mouth craves after all that soft, creamy cheese.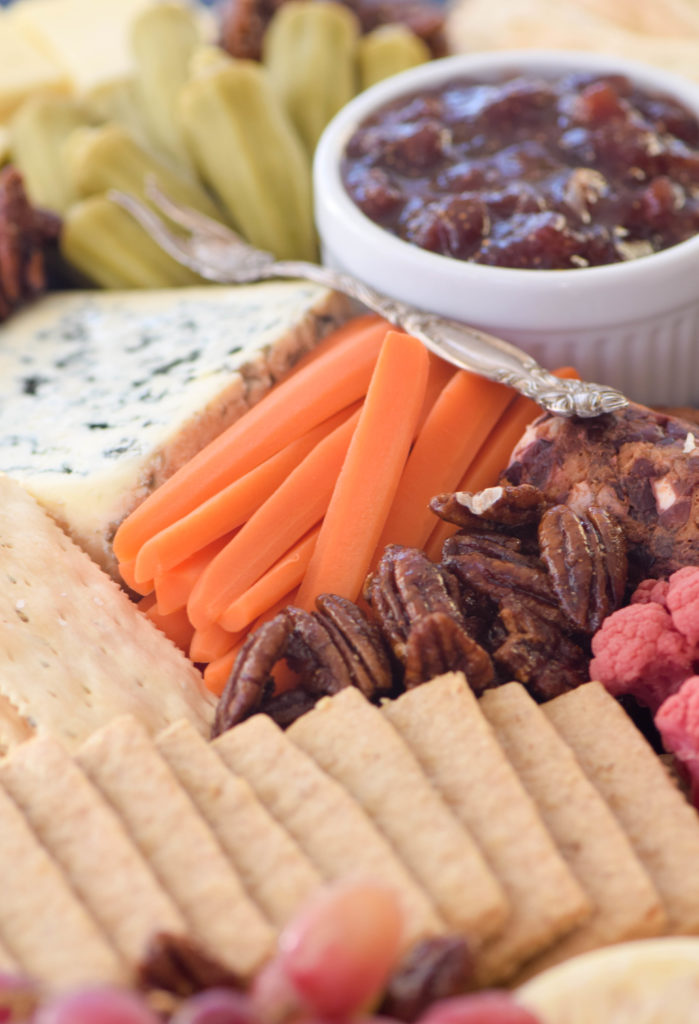 When I say pickles, I don't simply mean a few kosher dills. Many people think "pickles" always means "pickled cucumbers," but, in fact, many of your favorite vegetables make outstanding pickles. And while all pickled vegetables have a vinegary tang in common, they can vary widely in flavor from spicy to sweet to salty to sour.
For this Cheese and Pickle Board, I suggest procuring a variety of pickled and marinated vegetables in different hues and flavors. Think pickled asparagus, beets, carrots, green beans, fennel, cauliflower, okra, onions, peppers and more. As you can see, for my Cheese and Pickle Board, I selected pickled okra, which is spicy, pickled carrots, which are garlicky and briny, and pink pickled cauliflower,which gets its sweetness and pink color from the addition of beets.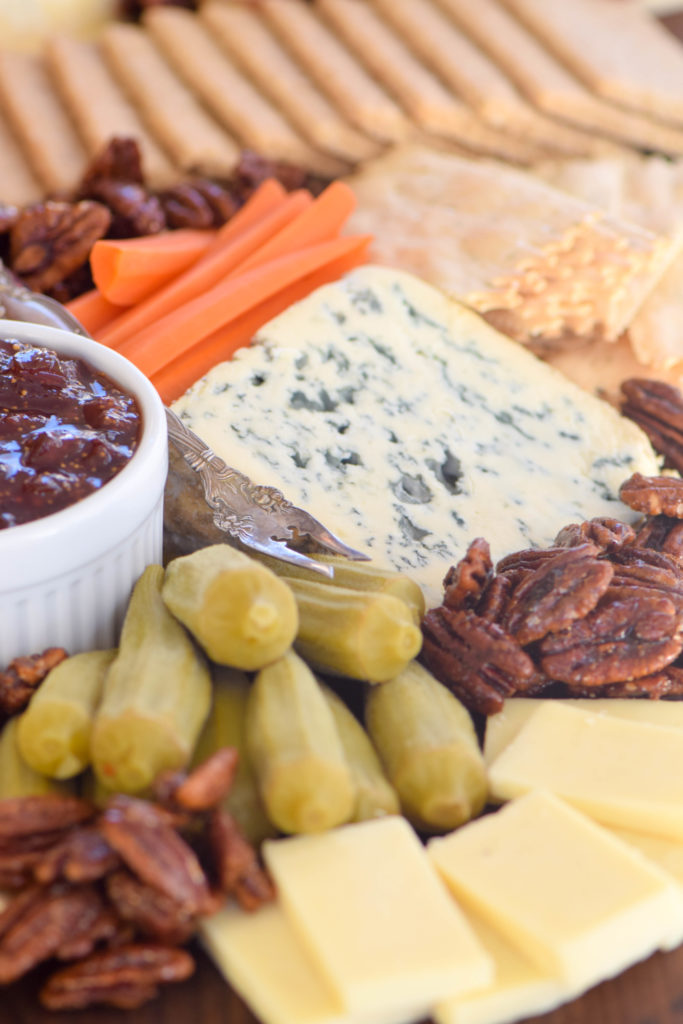 If you are a DIY type, like me, the pickles might be homemade varieties from your pantry stash. (Indeed, read on to the end of the post for an easy recipe for pickled carrots that anyone can make!) But I know that most people don't spend their summers canning vegetables so that, months later, they can create a pickle board featuring homemade pickles. Luckily, there are so many outstanding artisanal pickles on the market today. Look for brands like Rick's Picks, Epic Pickles, Brooklyn Brine, and Boat Street Pickles, which specializes in pickled fruit.
For the cheese, think about having a variety of textures and milks. To pair well with pickles, select cheeses that are higher in fat and not especially salty.  Estimate about 3 to 4 ounces of cheese per person. For my Cheese and Pickle Board, I made sure to have a sharp cheese, a soft cheese, a fresh cheese and a salty bleu. I selected my favorite sharp cheddar, Cabot Creamery White Oak Cheddar Cheese, as my firm, sharp cheese; Vermont Creamery Cremont as my soft cheese, and Vermont Creamery's Cranberry Orange & Cinnamon for a sweet and fresh goat cheese.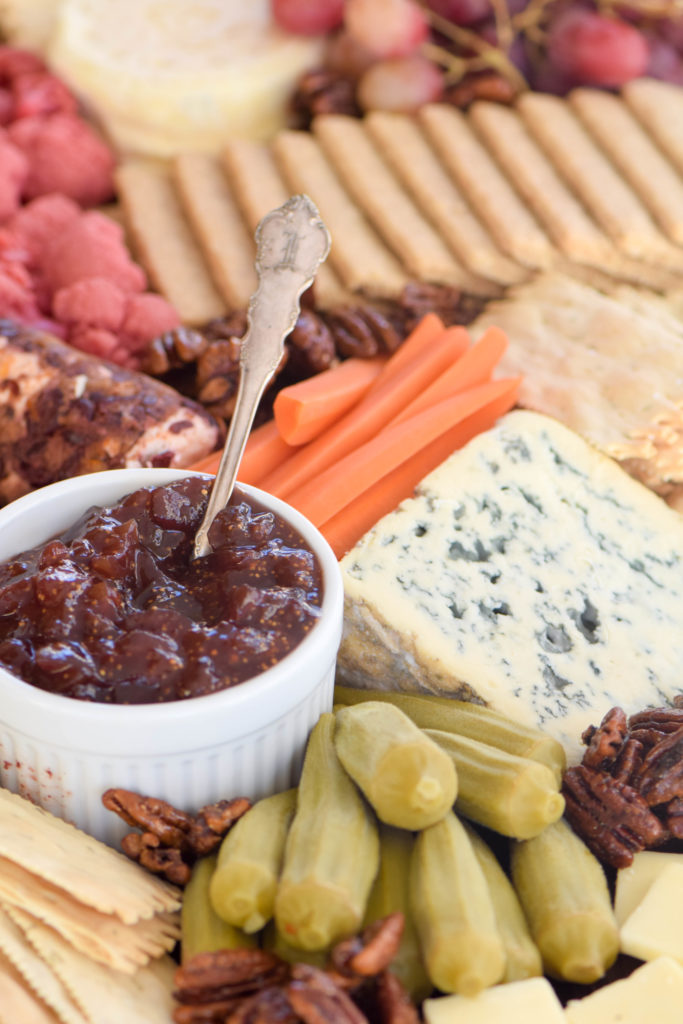 To your cheese and pickle board, add some fresh and dried fruit, such as grapes, apple, dried apricots or dates; spiced or roasted nuts; and a fruit spread that complements your selection of cheese. Look for a spread with both sweetness and acidity that is thick enough to stay on your cracker. I like spreads made with apples, figs, cranberries, cherries or plums. Chutneys are also excellent on a cheese plate as is a lovely raw honey, such as one from Oregon's Old Blue Raw Honey, or even a piece of honeycomb, if you can source it.
For my cheese plate, I choose some of my homemade fig jam and my famous Ancho Chile Pecans. (You can buy everything else for your cheese and pickle board but promise me you'll make the Ancho Chile Pecans!)
Serve a variety of crackers and toasts to accompany the cheese and pickles. I always look for a plain cracker, a slightly sweet cracker like Effie's Homemade Oatcakes, and a cracker with some texture, such as one that incorporates seeds or nuts.
If you want to try making at least one homemade pickle for your holiday Cheese and Pickle Board, I recommend pickled carrots. Carrots are a forgiving pickle and they are available year-round. This recipe makes three pints, which is perhaps more than you need for a single cheese and pickle board, but if your family is anything like mine, they will be happy to have extras. Or, give one of the pints to a friend and neighbor for a unique edible gift!
(I am including instructions to can these pickles for shelf-stablity, but if you are not a canner, simply ignore those instructions and store your pickled carrots in the refrigerator as indicated.)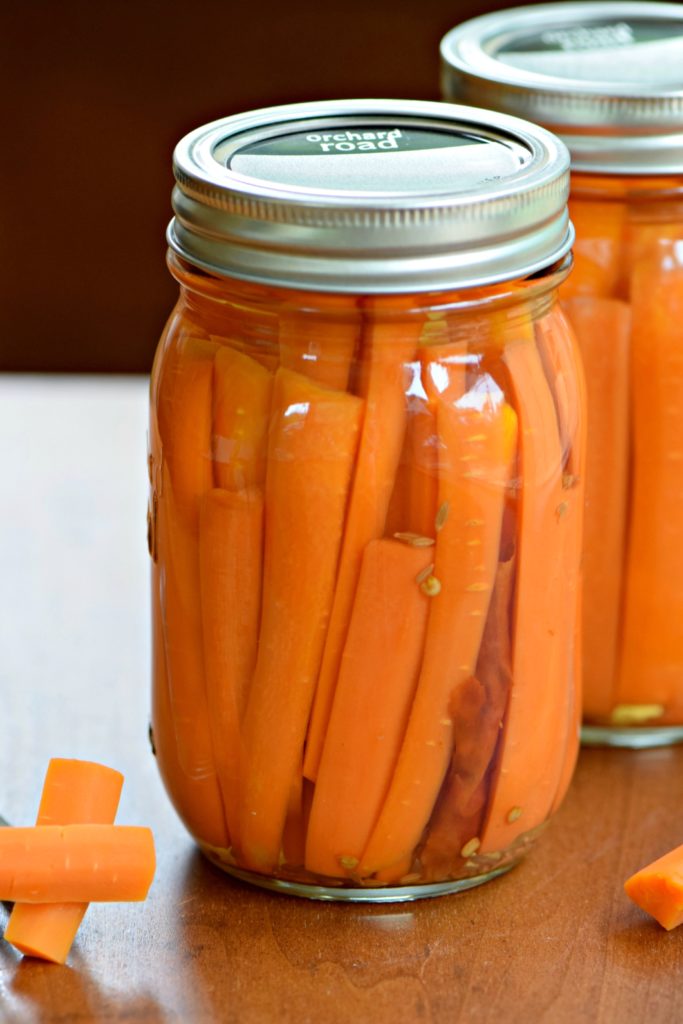 Ingredients
3 lbs carrots, preferably with the green tops on
2 cups apple cider vinegar
2 cups water
2 TB pickling salt
1 TB sugar
1 1/2 tsp whole cumin seeds
3 small dried red chili peppers
3 garlic cloves, peeled
Instructions
If canning for shelf-stability, prepare a boiling water bath and heat three pint jars.
Peel the carrots and cut them into sticks 3-4 inches long.
Combine vinegar, water, salt and sugar in a large saucepan. Stir to dissolve the salt and sugar, and bring the mixture to a boil over high heat. Once it boils, turn off the burner and remove the brine from the heat.
Pack the blanched carrots into the warm jars as tightly as they will fit.
Add seasonings to each jar: ½ tsp cumin seeds, one chili pepper, and one garlic clove per jar.
Ladle the hot brine over the carrots in the jars leaving 1/2 inch headspace at the top of the jar.
Bubble the jar well and remeasure the headspace, adding more brine if necessary. Wipe the rims with a damp cloth to remove any residue.
Place the lids on the jar and screw on the ring just until you feel resistance.
Repeat with the remaining jars. If not canning the carrots, store in the refrigerator and wait one to two days before eating to allow flavors to develop.
To can the carrots to be shelf0stable, process the jars in a boiling water bath for ten minutes. Allow to cool in the water for five minutes before removing.
Allow the carrots to cure for one weeks before opening.
Store unopened jars in a cool, dark place for up to one year.
http://www.westoftheloop.com/2016/12/19/entertaining-holiday-cheese-pickle-plate/