This post is sponsored by Venta Airwasher. As always, all opinions expressed herein are entirely my own.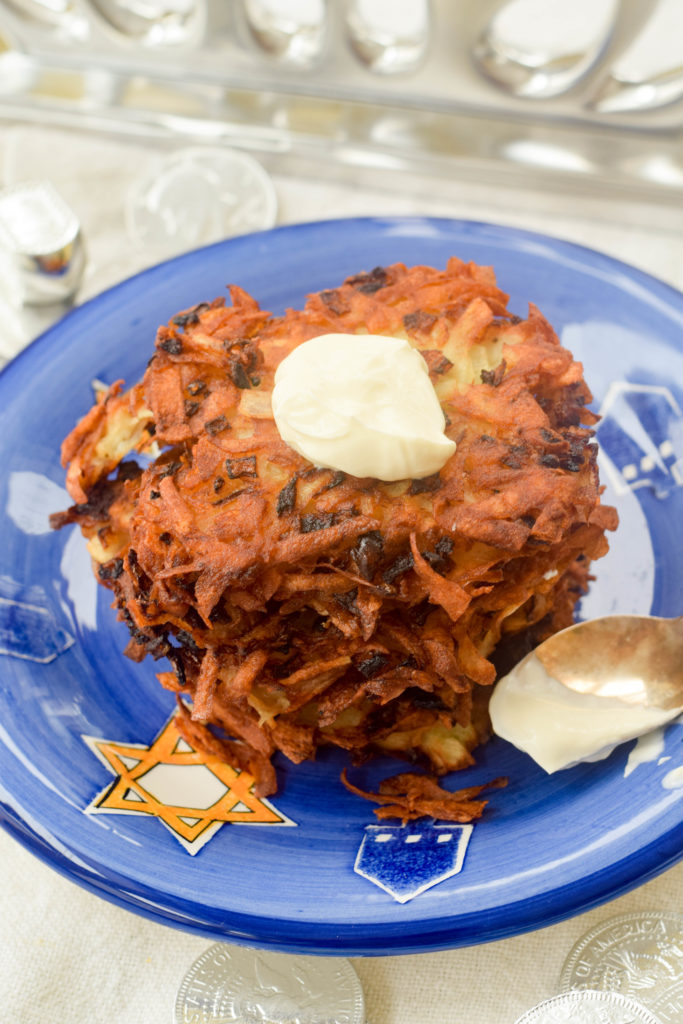 The first night of Hanukkah is almost here and this year, for the first time in my life, I am confident that my house won't smell like the fried potato pancakes, or latkes, that we eat on Hanukkah for days afterwards. Why? Because I have found the best air purifier and humidifier on the market, the Venta Airwasher.
An air purifier is definitely not the kind of product I usually write about, but like many passionate cooks, I have certain foods that I dread making — or even avoid making altogether– because I know they will cause my house to smell for days. Fish is a common culprit, but fried foods, like beloved Hanukkah latkes, are another offender.
That is why, as this Hanukkah approaches, I am excited to tell you about my Venta Airwasher. Food odors, dry air and seasonal allergies are all things of the past since we have begun using the Venta Airwasher humidifer. Instead, my family is enjoying the benefits of clean air, including rejuvenated skin, more restful sleep and reduced household allergens & bacteria.
I have tried numerous humidifiers in the past to combat the effects of Chicago's cold, dry winters, but have always been put off by machines that were a pain to use, filters that become mildewy or and machines that were too loud.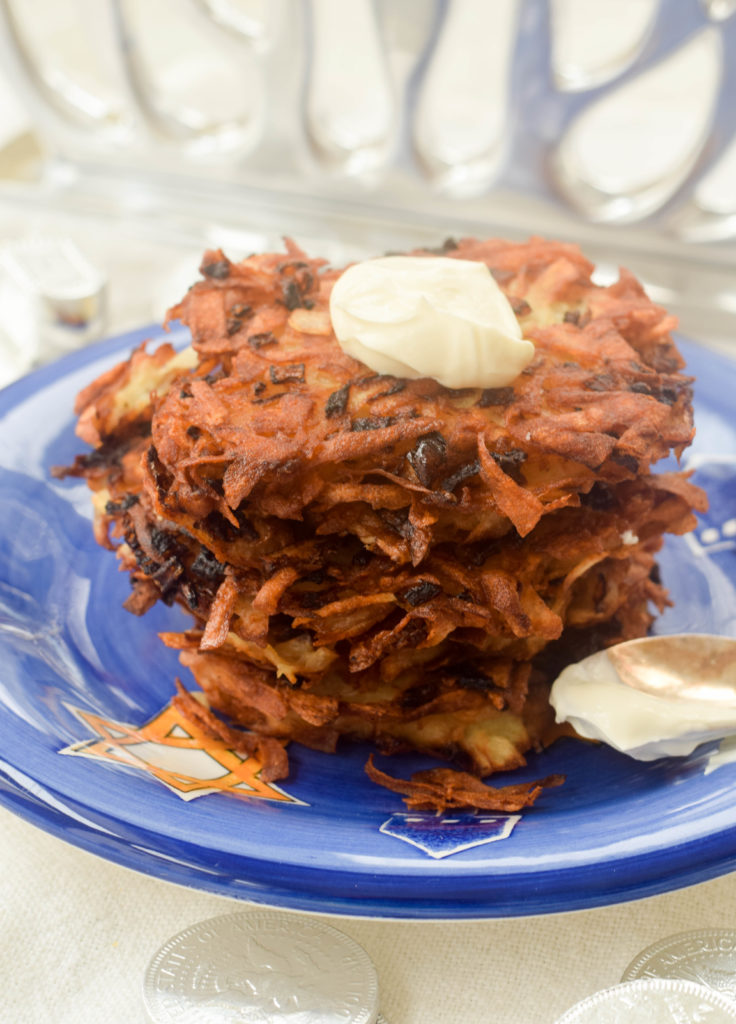 The Venta Airwasher, by contrast, removes airborne pollutants like odors, allergens, dust and dander from the air without the use of filters. At the same time, it puts the perfect amount of humidity into the air, never over-humidifying and never creating white dust or mold. The most powerful 2-in-1 humidifier and purifier on the market today, the Venta Airwasher is whisper-quiet, even on the highest setting.
How much do I love my Venta Airwasher? So much so that after receiving one unit free of charge for review purposes and using it for several weeks in the kitchen, I went ahead and purchased two more units: one for each kid's bedroom to help them with their winter skin problems, like eczema, and to promote respiratory health.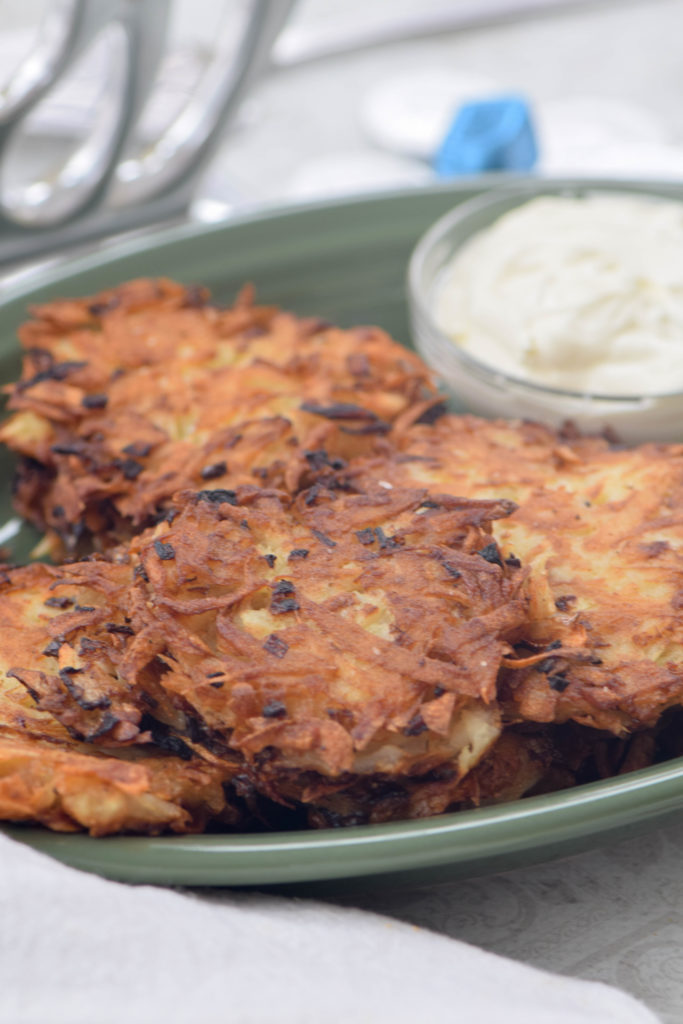 If you are interested in eliminating cooking odors and household allergens and experiencing better indoor air quality, I highly recommend checking out the Venta website. You can learn more about the Venta Airwasher works and read testimonials from many happy users, including people who really care about air quality, like doctors and professional musicians.
So this Hanukkah, thanks to my Venta Airwasher, I have overcome my fear of frying. It will be delicious potato latkes for everyone on the first night of the holiday! JR and I will come correct and top our latkes with sour cream. My deeply misguided husband and daughter will eat theirs with applesauce. But at least it will be homemade cranberry applesauce.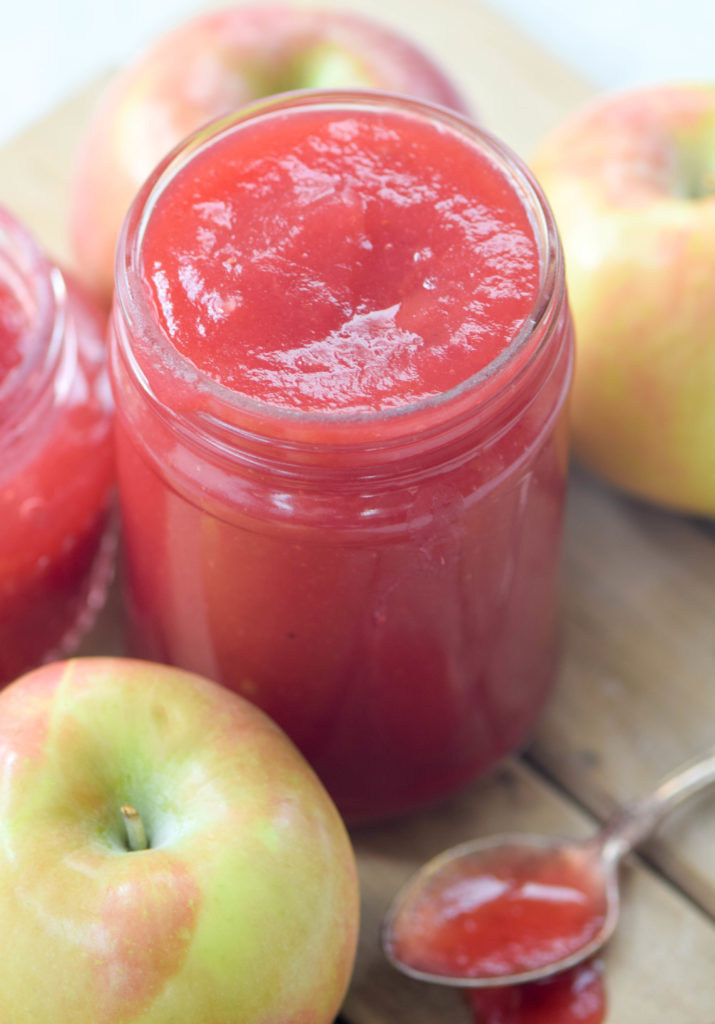 The secret to making latkes, in my opinion, is to squeeze as much liquid out of the grated potato as possible. The liquid will make the pancakes dense and soggy, which is not what you want. Also, you will notice that my recipe does not contain flour or matzo meal. I think adding these binders takes away from the lacy, crispy texture a good latke should have.
If you don't have a Venta Airwasher, your house may smell like latkes for days after you make them. It's annoying, but hey, don't say I didn't warn you!
For a (slightly) healthier, nontraditional take on the latke, be sure to check out my recipe for Sweet Potato Latkes with Harissa Yogurt. Happy Hanukkah everyone!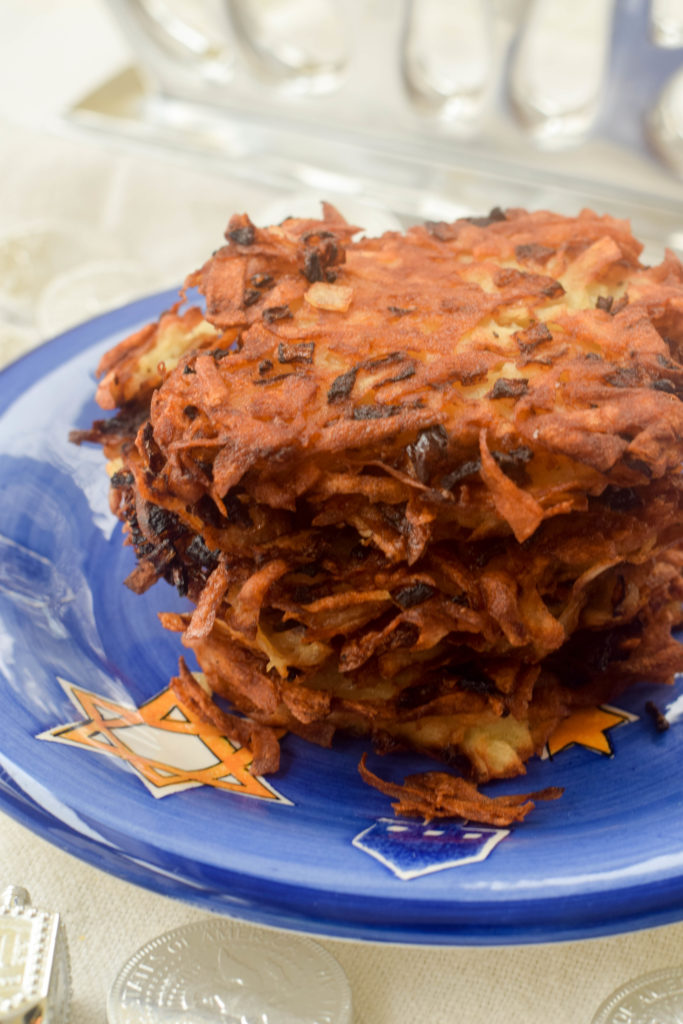 Traditional Potato Latkes
Ingredients
2 large Russet potatoes, peeled
2 large eggs
1 yellow onion, finely minced
Salt and pepper
A neutral oil with a high smoke point for frying, such as canola, peanut or grapeseed. (Olive oil is not recommended because of its low smoke point.)
Instructions
In a large bowl, beat together two eggs and then add the onion.
Grate the potatoes using the largest holes of a box grater and place the shreds in a colander.
Pick up a handful of shredded potato and squeeze out as much liquid as you can. Then add the drained shreds to the bowl with the egg and onion. Repeat this process until you have squeezed all the potato shreds and added them to the bowl.
Season well with salt and pepper and toss to combine.
Meanwhile, pour a thin layer of canola or vegetable oil in a large, deep skillet and heat over high heat until shimmering. (You're aiming for 360 to 375 degrees.)
Scoop a 1/4 cup of the batter and form it into a patty. Gently place the patty in the skillet and flatten it with a spatula.
You can fry up to three latkes at a time but don't overcrowd the skillet.
Fry until brown and crisp on bottom, about two minutes, and then flip. Remove when the the other side is brown and crisp.
Place on a plate lined with paper towels to drain.
You may need to lower the heat if your latkes are burning. You may also need to add more oil. If the oil becomes very dark and there are many burnt pieces in the pan, it can make your latkes bitter. Pour out the oil into a heatproof container and add fresh oil. Allow new oil to become hot before continuing.
You can keep the latkes warm in a 250 degree oven while you finish frying the batter. Serve immediately once all the batter is cooked.
Serve with applesauce and sour cream.
http://www.westoftheloop.com/2016/12/22/venta-airwasher/
Full disclosure time: I received a Venta Airwasher free of charge for review purposes. I have not received any additional compensation for this post.