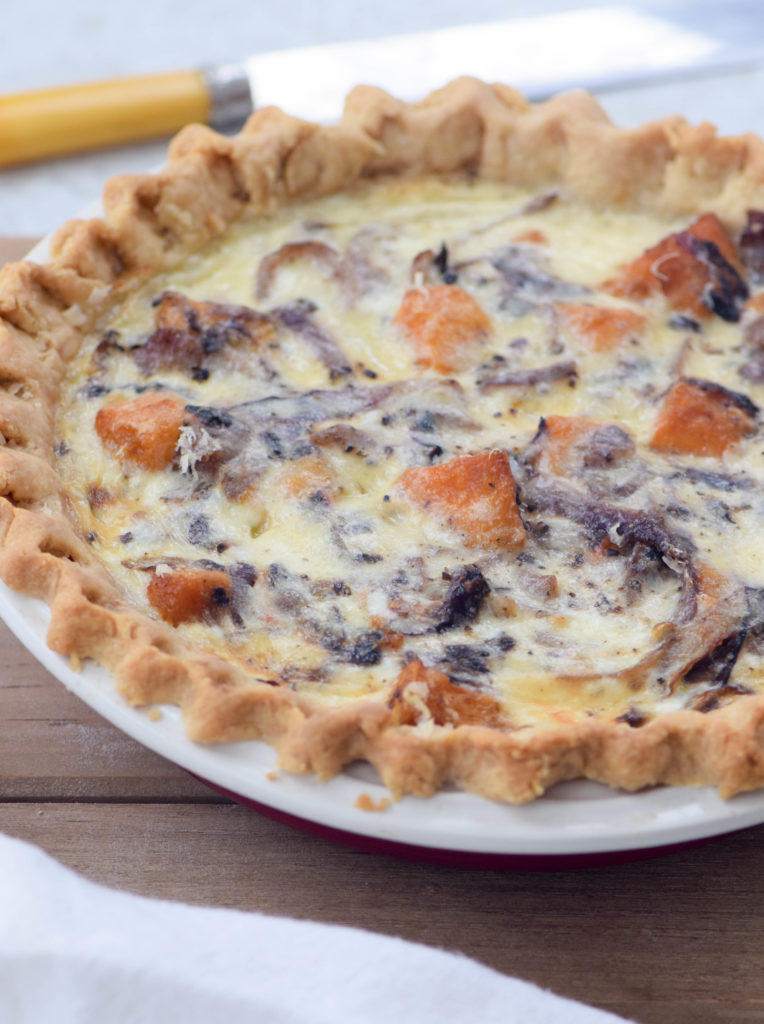 The holidays mean houseguests. While we all plan ahead for the traditional holiday dinners and festive New Year's Eve parties, no one remembers to plan for breakfast. But if you have houseguests, you have to feed them lunch, dinner and breakfast.
So what do you make for the day after the big party? You know, when everyone wakes up and wants yet more food. How about two delicious quiches, both filled with winter vegetables like butternut squash and radicchio? Sounds like a plan.
Yes, this recipe will give you enough crust and filling for two quiches, perfect for feeding a crowd. If your party is small, however, I say go ahead and make both. A quiche can easily be wrapped up and frozen for another day. And don't tell me you wouldn't like knowing that a delicious, vegetarian dinner or brunch is awaiting you in the freezer needing only to be reheated.
(Curious about how to freeze a quiche? Bake it first and then allowing the quiche to cool. At that point, wrap it well in plastic and foil and place in the freezer. Label it and don't put anything heavy on top of it! To reheat, do not thaw. Simply remove the plastic wrap and bake in a preheated 350°F oven for about 25 minutes, or until heated through.)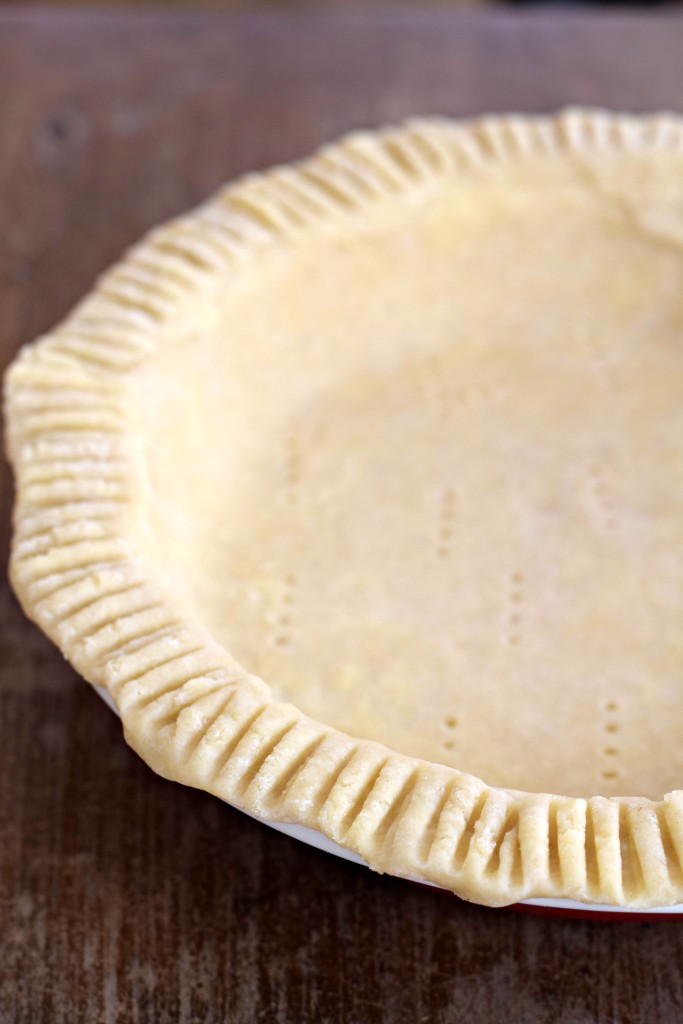 You can fill a quiche with just about anything, but at this time of year, the vegetables that are in season are somewhat limited. So to fill my winter quiche, I have selected butternut squash, which is one of the hardiest winter squashes, and radicchio, whose tonic bitterness contrasts nicely with the sweetness of the squash. The colors of the vegetables, orange for the squash and purple for the radicchio, make this quiche an eye-catching dish to serve your guests.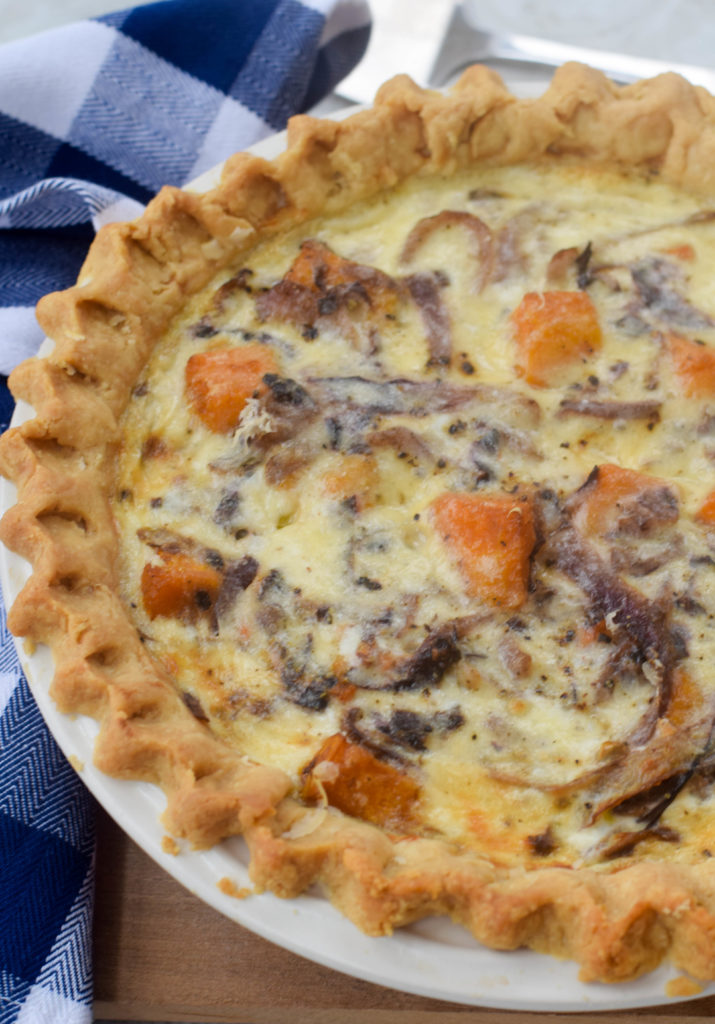 For those of you are unfamiliar with it, radicchio looks like red cabbage, but is smaller, redder and its leaves are less waxy and more tender. Radicchio is not a kind of cabbage at all, but is in fact related to chicory, another bitter green. If you've only ever had radicchio raw in a salad, you are in for a treat. Sautéed, this late-season Italian winter vegetable becomes less bitter and almost nutty in flavor.
Quiches seem like a lot of work. But, much of the work can be broken into stages and done ahead of time. So do not be intimidated by the number of steps in the recipe below. Begin by making a batch of dough for the two quiche crusts. This step can be done in advance and the dough can remain in the refrigerator, well-wrapped, until needed. So, if you need to make this quiche for a New Year's Day party, you could make the dough for the crust any time this week.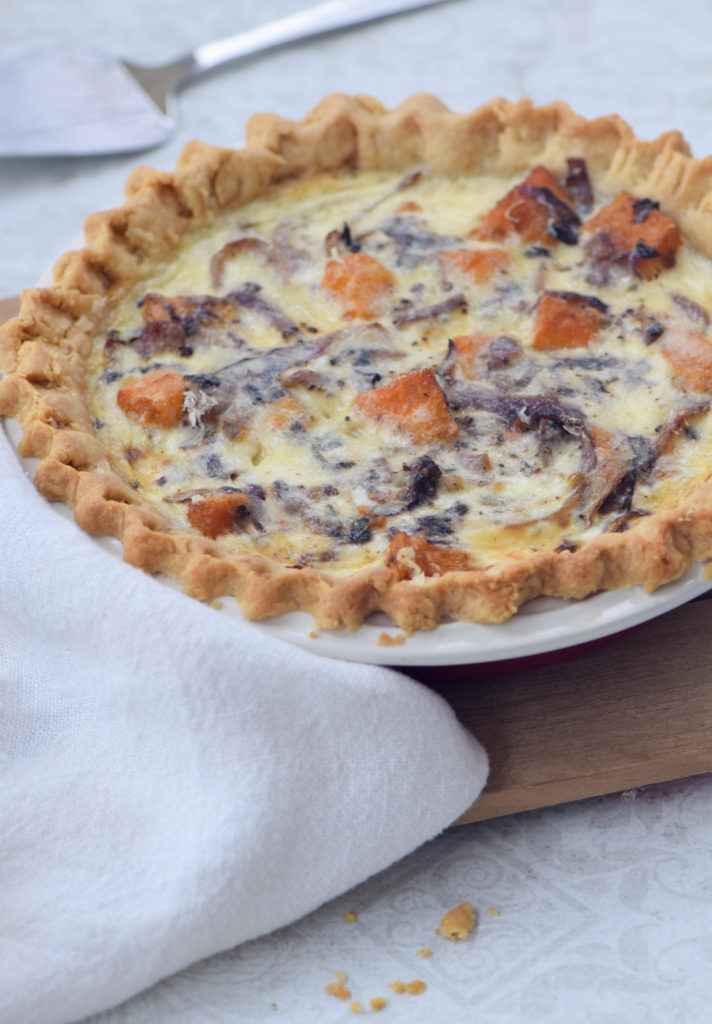 Other stages involve blind-baking the quiche crusts, roasting the squash and sautéing the radicchio. All of these steps can be done in advance as well, and many can happen at the same time. For example, you can blind-bake the crusts and roast the squash at the same time – both need a 400-degree oven and take about 20 minutes. While that is happening, you can sauté the radicchio on top of the stove.
All that is left at that point is to assemble your quiches and your custard filling and bake. See? It looks like a lot of steps, but when you break them down and spread out the work, it's very doable. That's why I think that for feeding a crowd at breakfast, quiche is the way to go.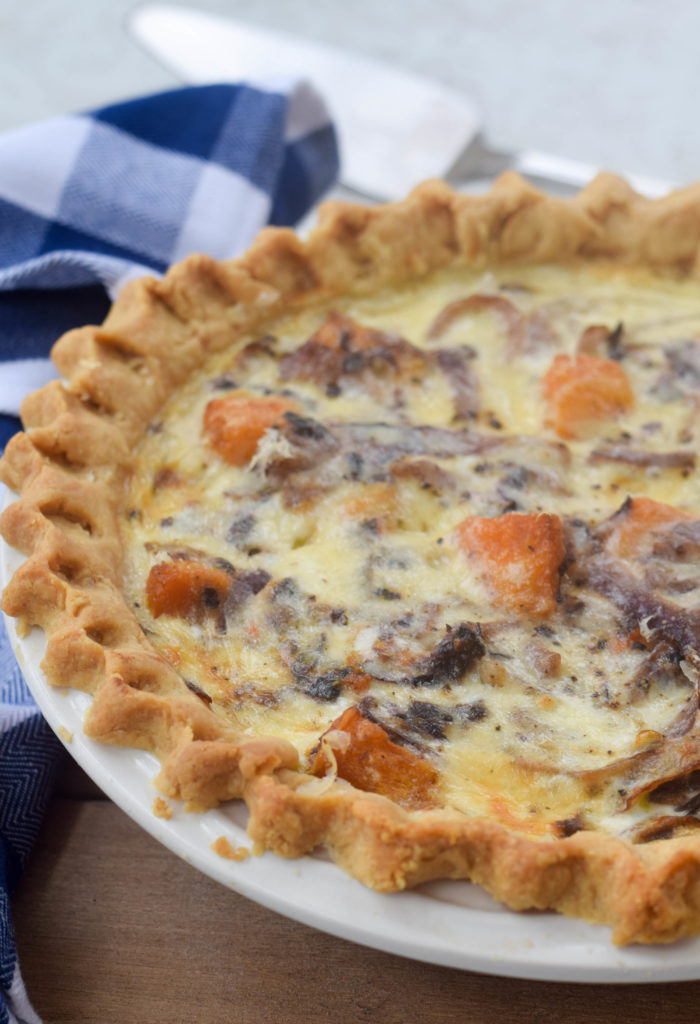 So, how long are your house guests staying?
Radicchio and Squash Quiche
Ingredients
Crust

2¼ cups all-purpose flour
1/2 tablespoon sugar
2 teaspoons salt
7 ounces cold, unsalted European-style butter, cut into cubes
½ cup ice water
1 tablespoon lemon juice or red wine vinegar

Filling

4 TB extra virgin olive oil
1 butternut squash, peeled and cut into pieces
1 large red onion, halved and thinly sliced
1 medium radicchio, halved and thinly sliced
1 teaspoon balsamic vinegar
4 eggs
2 cups whole milk
1/4 tsp grated nutmeg
Instructions
Combine the flour, sugar and salt in the bowl of a food processor and pulse a few times to mix.
Add the chilled butter to the dry ingredients and process just until the mixture resembles coarse meal.
Combine the lemon juice or vinegar and ice water and add six tablespoons of the mixture to the ingredients in the food processor. Pulse several times until combined. Pinch a bit of the dough and if it holds together, you do not need to add more liquid. If it is still dry, add more of the liquid, one-half tablespoon at a time.
Remove the dough to a bowl or a well-floured board.
Knead the dough until it forms a ball. Divide the dough into two and wrap each half well in plastic wrap.
Place the dough in the refrigerator to relax for at least a half-hour but preferably overnight.
Remove the balls of dough from the refrigerator. If your dough was chilled for longer than thirty minutes, allow to soften for ten to fifteen minutes before rolling it out.
Prior to rolling out the dough, strike it with your rolling pin to flatten. This will soften it further.
Preheat the oven to 400 and grease the bottoms and sides of two 9-inch pie plates.
Liberally dust a pastry board or mat and your rolling pin with flour.
Roll the dough out, rotating it and turning it frequently and adding more flour as necessary to keep it from sticking, until it is the size of your pie plate and between ¼ and ⅛ of an inch thick.
Carefully center the pie dough in the plate and press it into the bottom and sides. Trim or fold over any excess dough around the edges.
Repeat with the second ball of dough.
Chill the dough in the pie plates for 30 minutes if possible, and dock it several times with the tines of a fork to prevent bubbling.
Blind bake the crusts by covering them with parchment paper and filling with pie weights or raw rice. Bake for twenty minutes, then remove the parchment paper and pie weights and bake an additional five minutes.
Prepare the filling: toss the cubes of squash with 2 TB of the olive oil, salt and pepper and place on a lined baking sheet.
Roast in the 400-degree oven for 20 minutes until tender. Remove from oven and turn the heat down to 325.
In a large skillet over medium heat, heat the remaining 2 TB of oil. Add the onion and cook, stirring occasionally, for 15 minutes.
Stir in the radicchio and continue cooking, stirring often, for 10 minutes Stir in the balsamic vinegar and cook 1 minute more.
Divide the cooked squash and radicchio between the two crusts.
In a medium bowl, combine the milk and eggs and beat until combined. Season with salt and pepper.
Pour the egg and milk mixture into the two pie plates.
Bake at 325 for 45-55 minutes until firm. Allow to cool slightly before cutting.
To save one of the quiches for another day, wrap well in plastic and foil and freeze.
To reheat, do not thaw. Unwrap and warm in a preheated 350 degree oven for 25-30 minutes.
http://www.westoftheloop.com/2016/12/26/holiday-breakfast-radicchio-squash-quiche/