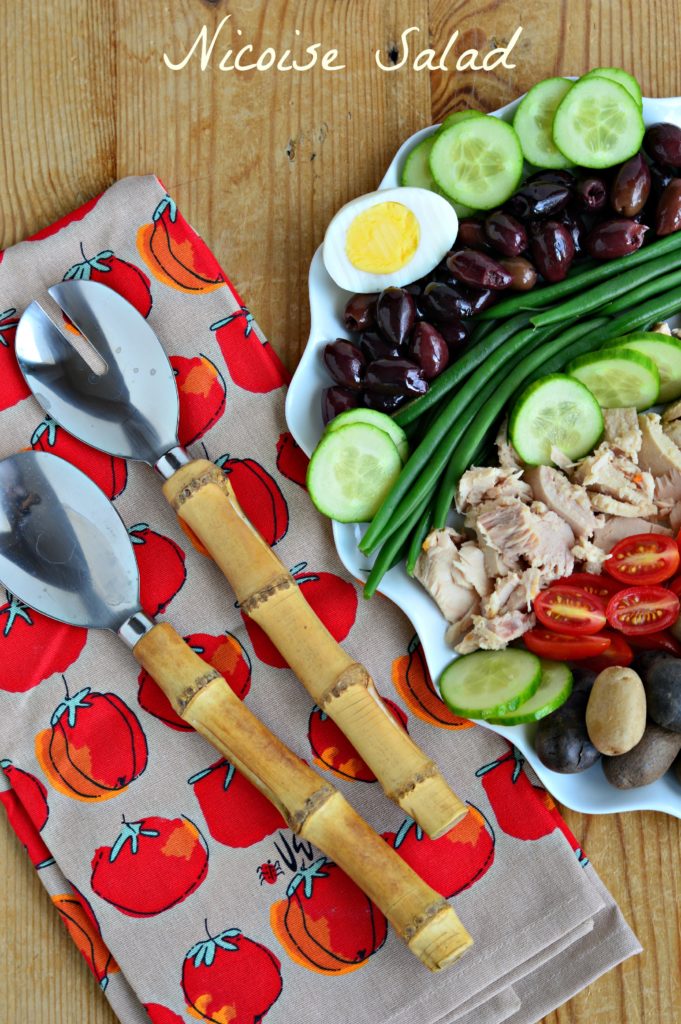 It is also the time of year when we atone for our sins during the holiday season and eat healthier. But healthy eating does not have to be depressing. The goal of this recipe is to show you that eating light and healthy can still satisfy your soul, even in the dead of winter. Packed with protein from tuna and hard-boiled eggs, and full of crisp, colorful vegetables, this Niçoise salad will help you keep your new year's resolutions without any feelings of deprivation.
Salade niçoise is a classic French bistro dish. Whenever I eat it, I feel transported to a seaside cafe in the south of France. I imagine myself delicately picking at a beautifully composed plate and sipping a lightly chilled rosé while people-watching from behind an enormous pair of sunglasses. Any dinner that can have that effect in the middle of a Chicago winter is worth its weight in gold.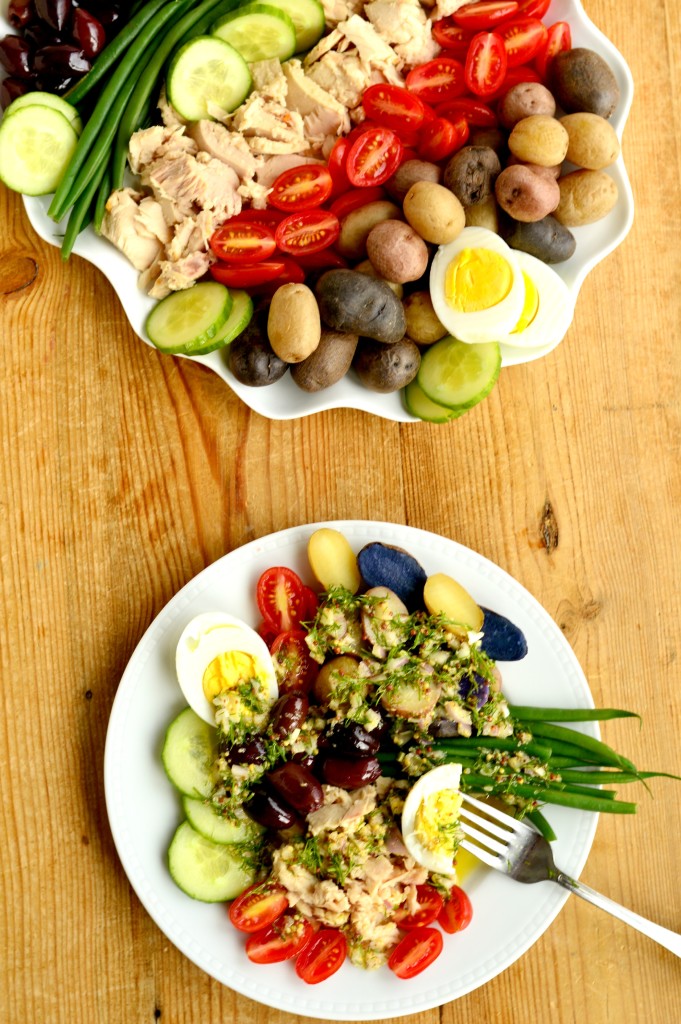 And with a dish as light and healthy as this Niçoise salad, you will be looking as slim as a French starlet in no time.  The key to this recipe is the combination of lean, healthy protein and vegetables. Protein and high-fiber foods, like vegetables, are the best way to feel full and stay energized when trying to cut calories.
What's more, many of the traditional elements of a classic Niçoise salad happen to be nutritional powerhouses. Take tuna, for example. One can of water-packed tuna contains only 120 calories but has 26 grams of protein and is rich in Omega-3 fatty acids, vitamin B and important minerals like selenium and niacin.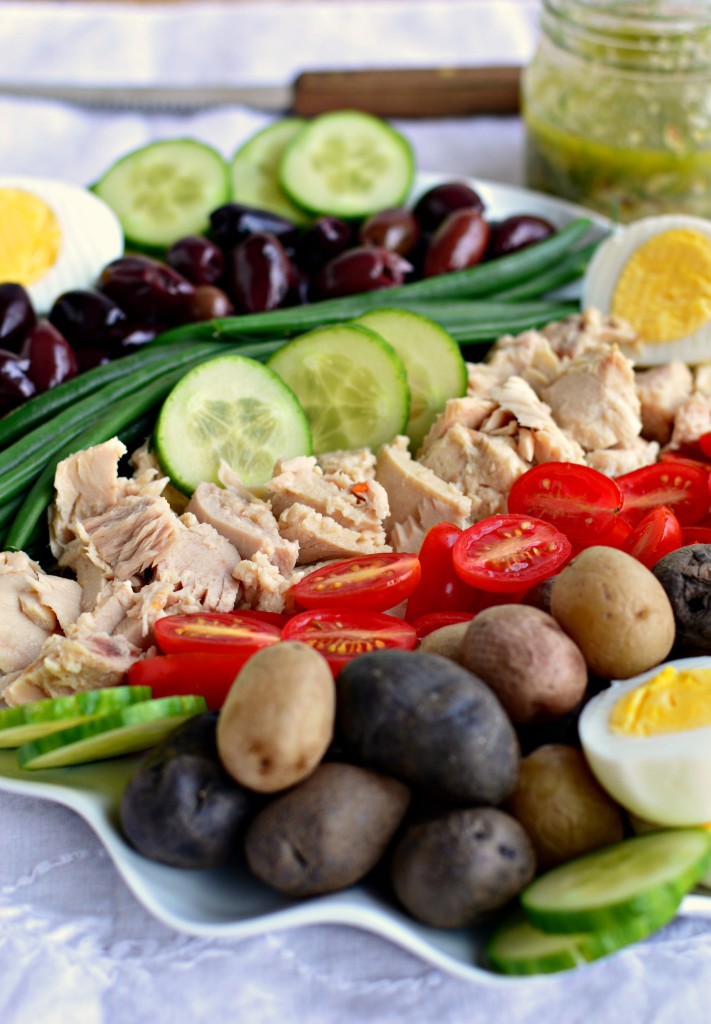 Hard-boiled eggs are another source of lean protein, vitamins and minerals with only 77 calories for one hard-boiled egg. (JR loves hard-boiled eggs and eats them at lunch and for a snack, so I actually broke down and bought an egg cooker that makes 10 hard-boiled eggs at one time as a holiday gift to myself.) Throw in those olives, which contain healthy, monounsaturated fats and vitamin E, and you are really doing something good for your body.
Tomatoes, green beans, cucumber and small boiled potatoes round out the dish and add lots of taste, fiber and crunch. If you can, seek out the purple potatoes. Did you know that they contain four times as many antioxidants as white or red potatoes?
The other benefit of this tasty, super-healthy recipe is that it is quick and easy to put together on a busy weeknight. You can make many of the elements of this composed salad in advance. The night before, you can hard-boil the eggs, blanch the green beans and cook the potatoes. That way, when dinner time rolls around, you just open two cans of tuna, slice the cucumber and tomato and arrange everything on a platter.
And did you happen to notice that this meal is entirely gluten-free? Bam! You're welcome.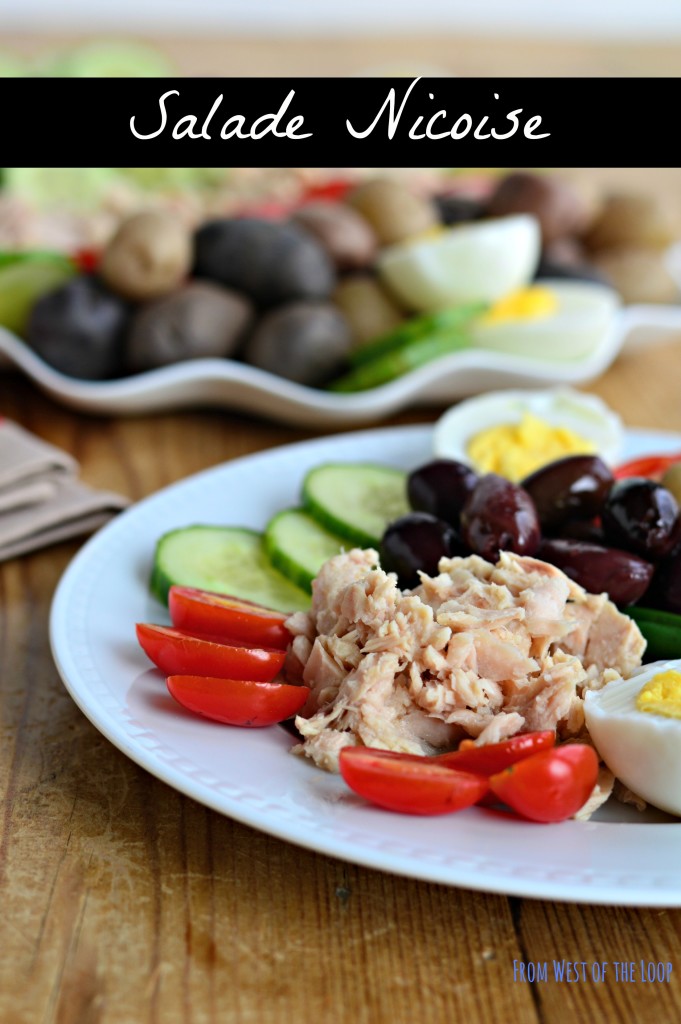 Healthy Eating: Nicoise Salad
Ingredients
Salad

1 lb. fingerling potatoes
1 lb green beans (preferably haricots verts)
2 cans tuna packed in water, drained
2 hard-boiled eggs, peeled
8 oz Kalamata olives, pitted
1 pint grape tomatoes, halved
1 English or hothouse cucumber, sliced

Dressing

1 TB coarse-grained mustard
2 TB freshly squeezed lemon juice
1 shallot, minced
1 TB minced fresh dill
⅓ cup extra-virgin olive oil
Salt and pepper to taste
Instructions
Place the potatoes in a medium saucepan and cover with cold, salted water.
Bring potatoes to a boil, turn down heat and simmer, partially covered, until tender, about ten minutes. Drain.
Meanwhile, bring another saucepan of water to a boil. Add green beans and blanch for three minutes. Drain and plunge immediately into ice water to stop the cooking. Drain and allow to dry.
Arrange potatoes, green beans, tuna, eggs, olives, tomatoes and cucumber on a platter.
In a small bowl, whisk together the mustard, lemon juice, shallot and dill. While stirring, slowly pour in the olive oil until emulsified.
Pour the dressing over the salad and season well with salt and pepper. Serve immediately.
http://www.westoftheloop.com/2017/01/02/healthy-eating-nicoise-salad/