It's okay to snack. Really. Snacks are part of a healthy diet. No one should be expected to go from lunch until dinner without some fuel, especially given how busy weekday afternoons can be. What do you think will happen when you sit down to dinner utterly famished? That's exactly how overeating happens. In fact, smart snacking may be the key to that new year's resolution to eat healthy that you made just a few short days ago.
So let yourself have a snack when you need one. Just chose a snack that will give your body the energy and nutrition it requires: snacks that are full of fiber, protein and important nutrients. Use a healthy snack as a way to satisfy your craving for something sweet, or something salty, without consuming empty calories. Snacks like these sweet, crunchy homemade granola bars packed with whole grain oats, almonds and dried fruit.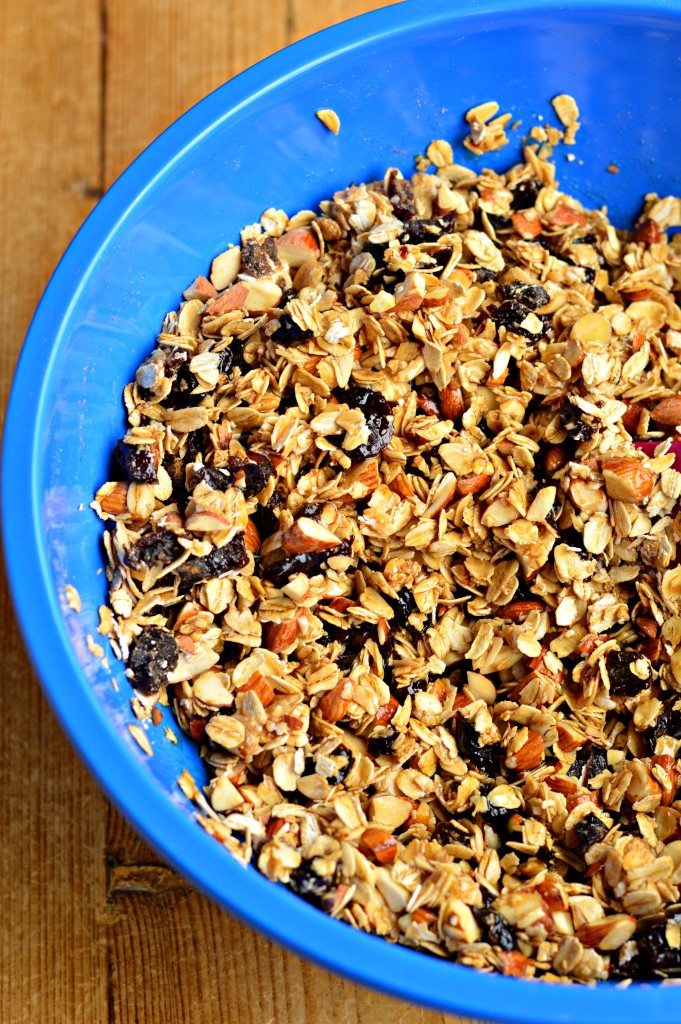 Granola bars have a bad reputation because many store-bought varieties contain as much sugar as a candy bar and not much in the way of nutrition. That's a shame because a granola bar has the advantage of being a portable, on-to-go snack: something you can stash in your purse, bring to the office or hand to a hungry kid on his way out the door.
Solution? Make your own granola bars, an easy DIY project. Making granola bars at home allows you to control the ingredients, limit the sugar, and ensure that your bar is a nutritional powerhouse. I love to experiment with different combinations of nuts, fruits, seeds and spices when making granola bars.
This combination of oats, almonds, and dried plums, flavored with cinnamon and sweetened with a touch of honey and brown sugar, is definitely a winner. It's like eating a summertime plum crisp in bar form. (And, if you are careful to use gluten-free oats, these bars are gluten-free. Also, if you replace the honey with maple syrup or agave, they're vegan. Nice, huh?)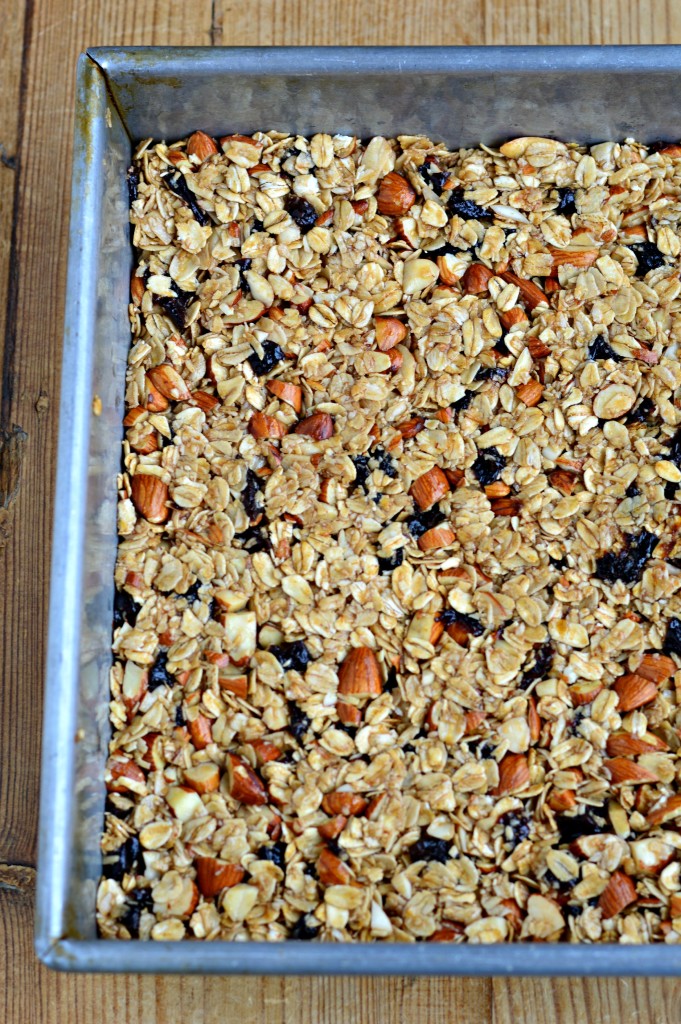 The trick with granola bars always is getting them to hold together. Do not skip the step of pressing down firmly on the pan of granola before baking and wait until the bars are completely cool before cutting them to increase the chances of ending up with granola bars, not just granola. Wrap the bars in wax paper and tie with a piece of twine or raffia for a charming presentation and to keep them fresh.
And then snack away knowing that the combination of whole grains, nuts, and dried fruit in these delicious bars will fuel your body the right way and keep your healthy new year's resolutions on track.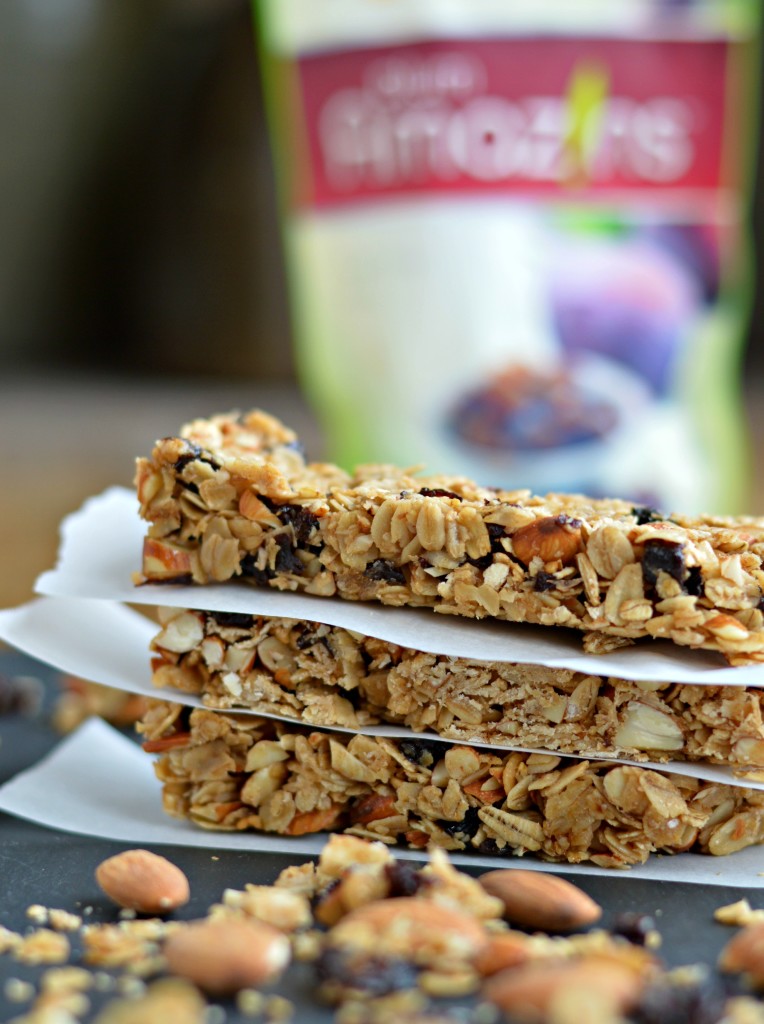 Healthy Eating: Homemade Granola Bars
Ingredients
2½ cups old-fashioned rolled oats
1 cup raw almonds
½ cup plus 2 TB diced prunes, apricots or dates
1 Tb vanilla extract
½ tsp cinnamon
½ tsp salt
¼ cup brown sugar
¼ cup olive oil
⅓ cup honey, maple syrup or agave
Instructions
Preheat oven to 350. Cover a half-sheet pan with parchment paper and spread the almonds in a single layer. Toast for ten minutes or until fragrant. Cool completely and chop.
Next, spread the oats in the same pan. Toast the oats for ten minutes, stirring halfway through. Remove oats and turn down heat to 300.
Spray an 8x8 square baking pan with nonstick cooking spray or line it with parchment paper.
Combine toasted oats, chopped almonds, diced prunes, cinnamon, vanilla and salt in a large bowl and toss to combine.
In a small saucepan, combine the brown sugar, olive oil and honey (or vegan substitute) and heat over medium heat stirring to dissolve the sugar.
Pour the wet ingredients over the oat mixture and stir with a spatula to coat the dry ingredients evenly.
Pour the mixture into the prepared pan and using the bottom of a metal spatula firmly press down on the mixture until it is noticeably denser and more compact, about one minute. If the spatula sticks to the granola, cover it with a sheet of parchment paper and press down on the sheet.
Bake the granola for fifteen minutes.
Cool completely. Cut in half and cut each half into 6 bars.
Wrap until needed.
http://www.westoftheloop.com/2017/01/04/healthy-eating-homemade-granola-bars/