Today, I am resetting your expectations about what breakfast can be with a quick and easy recipe that is packed with nutrition but tastes like a trip to a tropical island. This tropical smoothie bowl will fit right into your busy morning routine while making you feel full and energized until lunch.
What's a smoothie bowl you say? So glad you asked. I wish I could tell you that I was all over the smoothie bowl trend, but naturally I had to learn about it from my 13 year old.  Just the other day, she suggested that I create a recipe for a smoothie bowl because they are "so Tumblr." It is a struggle to get Zuzu to eat breakfast most mornings because she is running late or claims not to be hungry. In addition, because she cannot eat eggs, many healthy, protein-laden breakfasts are out of reach for her.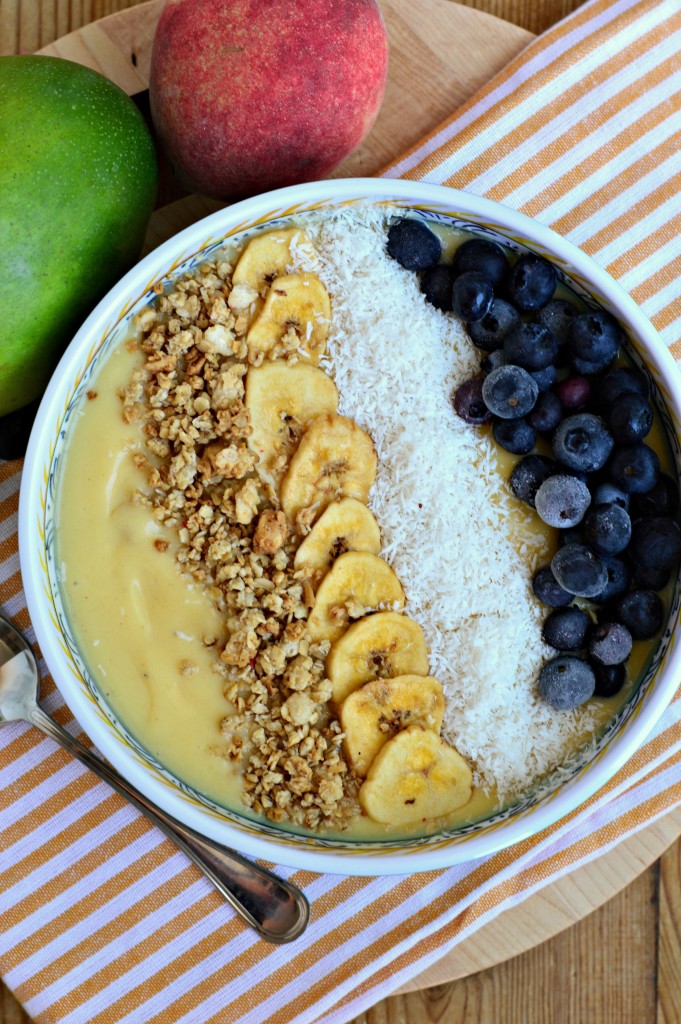 Hoping to hit upon a breakfast idea that would satisfy a teen palate, I did a little research. I learned that smoothie bowls are like smoothies but thicker, served in a bowl and topped with fresh or dried fruit, nuts, seeds or granola. I loved the idea of the smoothie bowl because it is high in protein while also providing several servings of fruits and vegetables. Also, these bowls are fun and colorful enough to get my kids excited about eating breakfast.
Like smoothies themselves, smoothie bowls lend themselves to a million variations depending on your tastes and dietary restrictions. The goal, of course, is to provide yourself with several servings of fruits and vegetables, as well as some protein, in order to start your day on a strong nutritional footing. And, if you are lucky enough to own a powerful, high-speed blender, this breakfast comes together in a matter of minutes.
This smoothie bowl combines frozen fruit, yogurt and fun toppings like unsweetened grated coconut, granola, berries, and banana chips for a taste of the tropics in the dead of winter. But these ingredients are just a starting point. Feel free to substitute soy yogurt if you are dairy-free, or gluten-free granola if you avoid gluten.
Are you a fan of the smoothie bowl? What are some of your favorite combinations?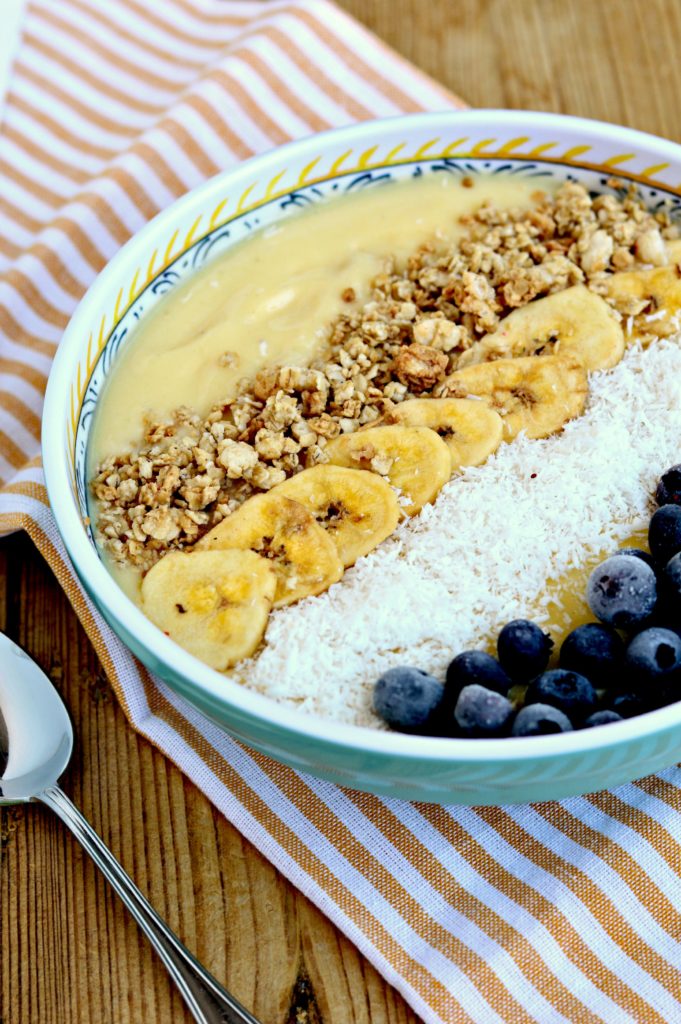 Tropical Smoothie Bowl for Breakfast
Ingredients
2 frozen bananas
2 cups fresh or frozen mango chunks
2 cups fresh or frozen pineapple chunks
10 oz yogurt, plain, vanilla or flavored
Suggested toppings: unsweetened grated coconut, granola, berries, banana chips
Instructions
Combine the banana, mango and pineapple in a high-speed blender.
Add the yogurt.
Blend until smooth.
Pour into bowls and garnish with toppings of choice.
http://www.westoftheloop.com/2017/01/06/tropical-smoothie-bowl-breakfast/