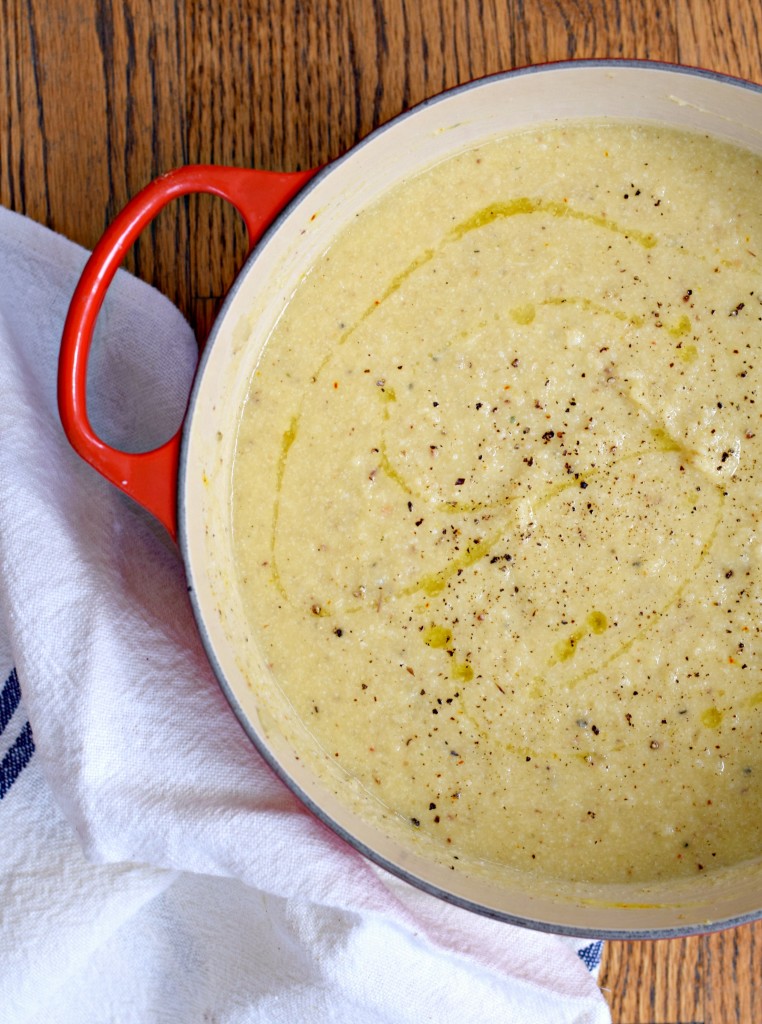 Meal planning in January can be struggle between our New Year's resolutions to eat healthier and our desire for comfort foods to warm our souls in the dark of winter. Consider the struggle over. This rich, creamy roasted cauliflower soup will satisfy your cravings for warmth and comfort without causing any guilt because it's nutritious, meatless, dairy-free and can even be made vegan by using vegetable broth.
What is the secret to making a soup like this healthy yet incredibly satisfying? Roast, don't boil, the vegetables to coax out their natural flavor and sweetness. Extra work, to be sure, but worth it. Roasting deepens cauliflower's nutty flavor and caramelizes its natural sugars. If you have only ever had steamed or blanched cauliflower, you will be amazed by the intense flavor of this same vegetable after 20 minutes in a blazing hot oven.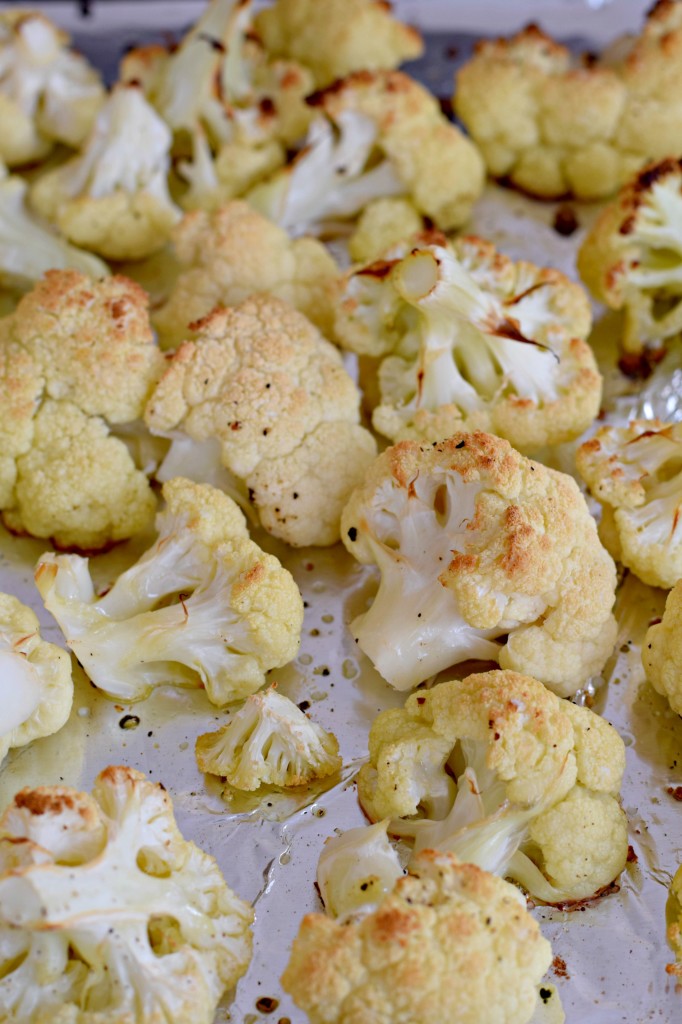 The second secret is potatoes. And don't give me any nonsense about potatoes being unhealthy. Potatoes are a nutritious vegetable with lots of vitamin C. We make them unhealthy by slathering them with butter and sour cream half the time. In this soup, however, the potatoes add richness and body without adding a lot of extra fat and calories. Essentially, they replace the cream. A pretty good trade, in my view.
The third secret is a little Moroccan spice mixture called ras el hanout. Akin to garam masala in Indian cuisine, ras el hanout is a fragrant, delicate spice blend that is used to finish a dish. Its components vary from region to region. Some of the spices you might find in ras el hanout include cumin, coriander, cinnamon, nutmeg, allspice, mace, cardamom, peppercorns, chili peppers, fenugreek, ginger, paprika, turmeric, rose petals, and more.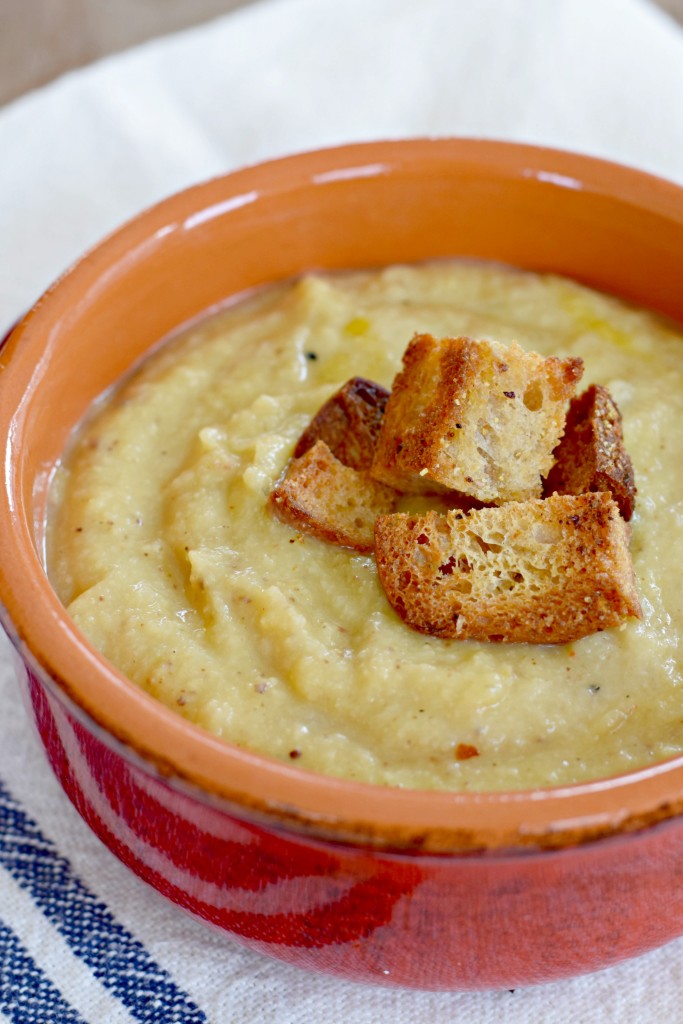 I bought my small tin of ras el hanout at Épices de Cru, a famous spice merchant located in the Jean-Talon Market in Montreal. Épices de Cru is known for its proprietary ras el hanout blend containing 27 spices and three kinds of rose petals.
My small tin is now a few years old, but because the spices are whole, they have retained their flavor. I use a small mortar and pestle to grind my ras el hanout right before I need it and no earlier. Just a small amount sprinkled on at the end of cooking transforms a dish. Every time I use ras el hanout in something, my husband comments on how flavorful the dish is.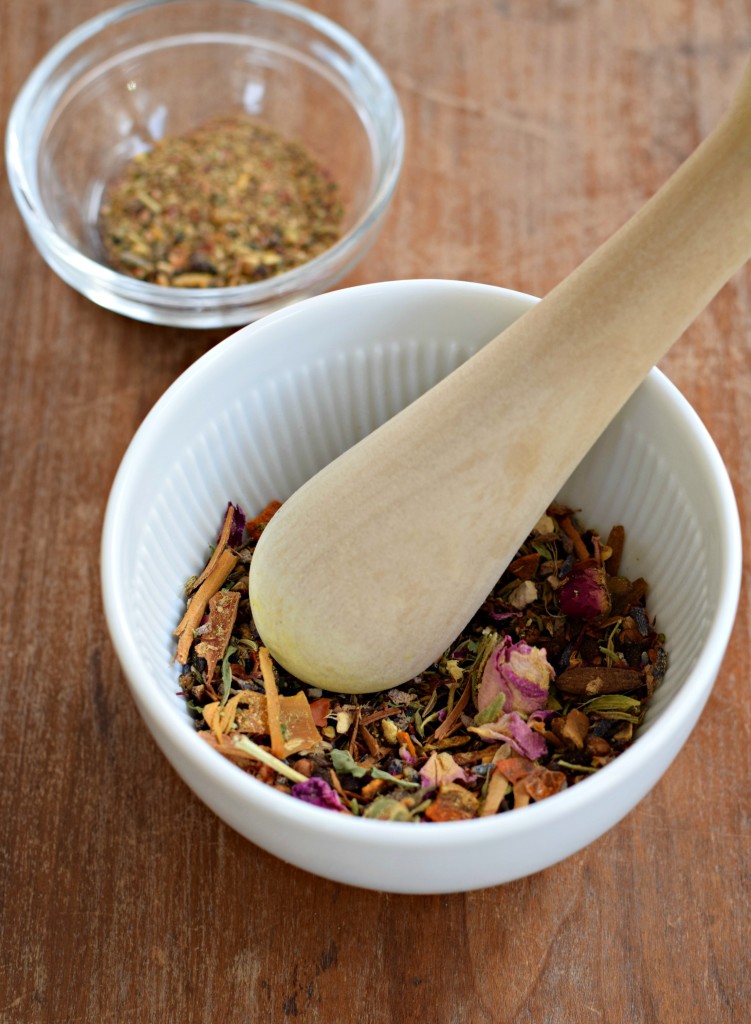 Ras el hanout does not want to compete with a lot of other flavors for your attention, so I refrain from adding any other seasonings, besides salt and pepper to this soup. If you don't have ras el hanout and I have not managed to convince you to go out and buy some — you should really buy some! — consider seasoning your soup with cumin, coriander, ginger, cardamom, nutmeg and other warm spices when sautéing the onion and garlic.
So don't sacrifice your desire for comfort food for your desire to eat healthy this new year. Eat healthy comfort food instead, like this Roasted Cauliflower Soup.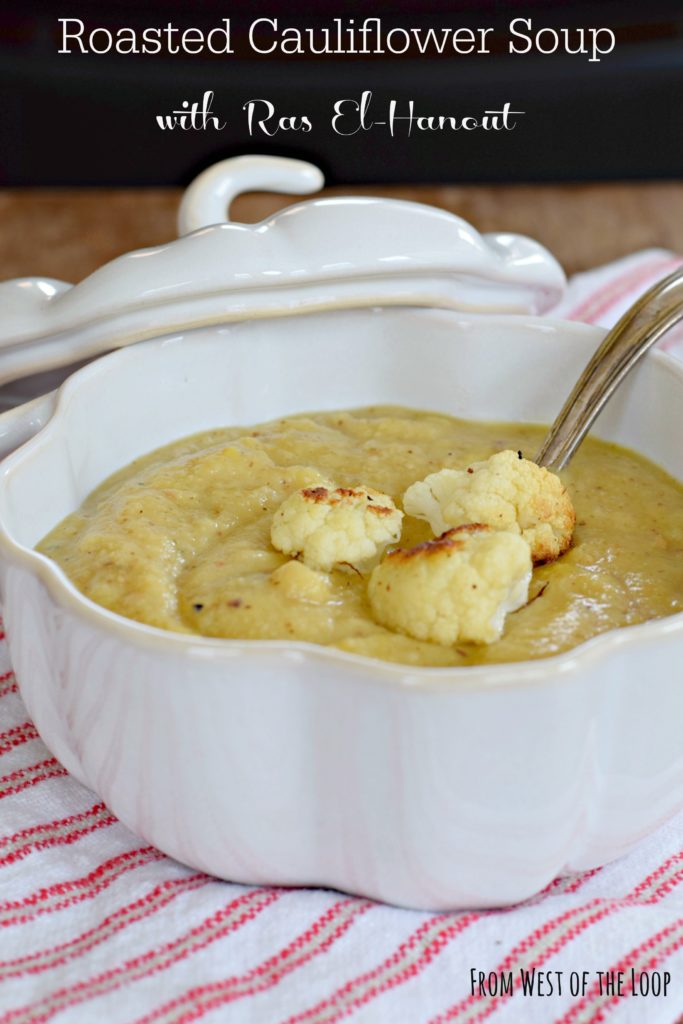 Ingredients
2 heads cauliflower cut into florets
1/4 cup extra-virgin olive oil
1 yellow onion, diced
4 cloves garlic, minced
2 cups diced, peeled waxy potatoes such as Yukon Gold
4 cups chicken or vegetable broth
Juice of one lemon
1 1/2 tsp ras el hanout
Salt and pepper to taste
Instructions
Preheat oven to 425.
Toss cauliflower florets with 2 TB of the olive oil and season with salt and pepper.
Line a baking sheet with parchment or foil and spread the florets out in a single layer.
Roast the cauliflower for 20 minutes.
Meanwhile, heat the remaining 2 TB of olive oil in a large Dutch oven.
Add the onion and sauté over medium heat until translucent, about five minutes.
Add the garlic and sauté a few additional minutes.
Add the roasted cauliflower and potatoes to the Dutch oven and cover with the chicken or vegetable broth.
Bring the mixture to a boil. Turn down heat and simmer, covered, until the vegetables are tender about twenty minutes.
Puree the soup using an immersion blender OR, working in batches as necessary, puree in a food processor or high-speed blender and return to the Dutch oven.
Add the lemon juice and ras el hanout and simmer just until warmed through.
Serve garnished with croutons or reserved cauliflower florets.
http://www.westoftheloop.com/2017/01/09/roasted-cauliflower-soup/