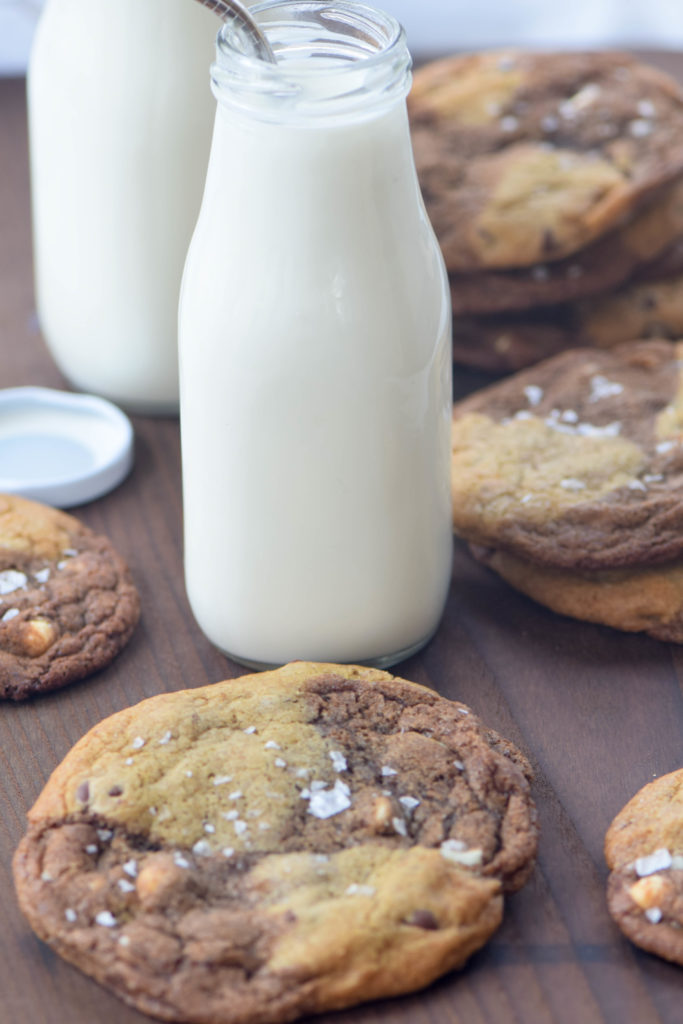 Why make regular old chocolate chip cookies when you can make dazzling, flavorful harlequin-checked Malted Chocolate Chip and Reverse Chip Cookies with only a little extra effort?
Turning classic desserts into dazzling, Instagram-worthy confections with only a leetle extra effort is the theme of my friend and fellow food blogger Irvin Lin's new cookbook Marbled, Swirled & Layered: 150 Recipes and Variations for Artful Bars, Cookies, Pies, Cakes, and More, named one of the best baking cookbooks of 2016 by the New York Times.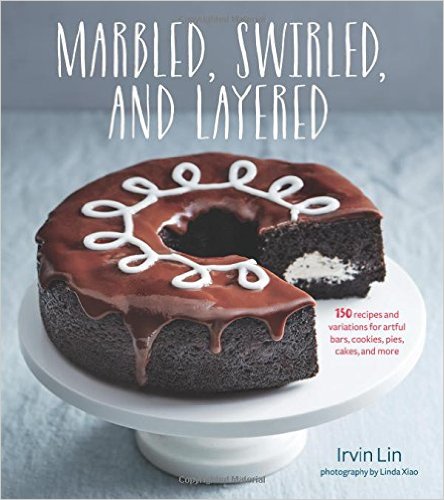 None of the 150 recipes in this stunning book is ordinary. Cookies are stacked, swirled or checkerboard. Brownies are topped with crunchy bits and swirled with cheesecake and nut butter. Cakes are marbled, rolled, layered and frosted in the most inventive ways. Classic tarts and pie are given new life with masa harina, oat and cornmeal crusts or crumb toppings made with pistachios and even potato chips. Every single recipe is grounded in something familiar but contains an ingenious twist that makes you say: "Now why didn't I think of that?"
If you are a person who enjoys baking and wants to improve your skills and impress friends and family with truly delicious and gorgeous desserts, then add Marbled, Swirled & Layered to your cookbook collection. I know that this book will be my go-to this year when I am looking for a show-stopping dessert for a dinner party or holiday meal. Even though the recipes are complex, the instructions are unfailingly clear and detailed so you can feel confident of good results.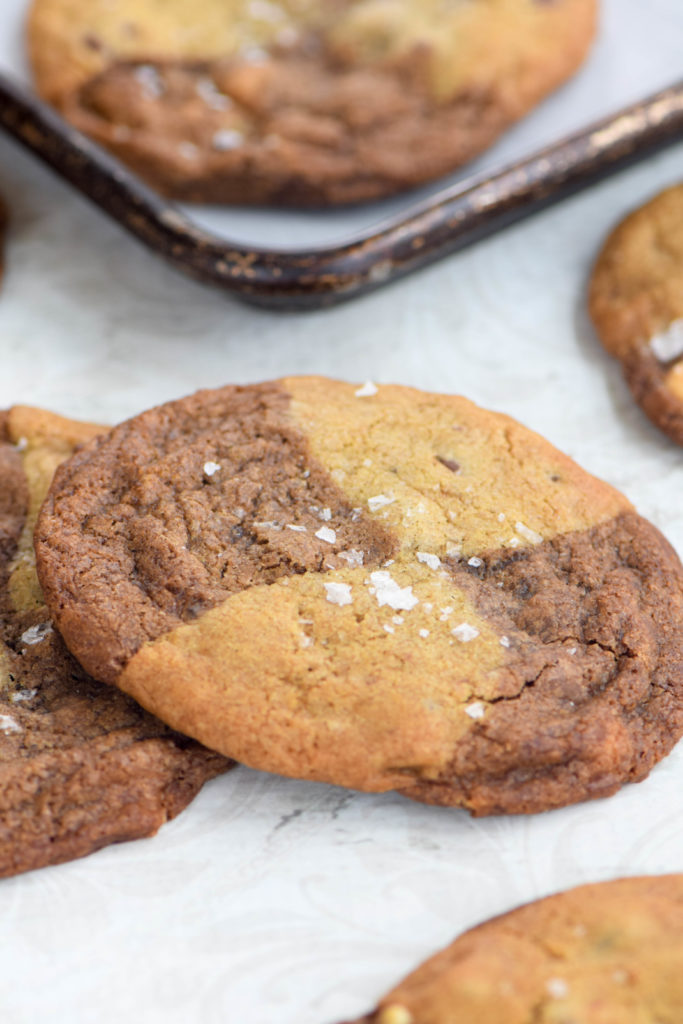 Now, back to these amazing Malted Chocolate Chip and Reverse Chip Cookies. I have made this recipe twice in the short time I have owned Marbled, Swirled & Layered because my family is obsessed with these cookies. This recipe is one of the more approachable ones in the book and the harlequin-check effect is very easy to achieve, yet is still impressive.
As is typical of the recipes in Marbled, Swirled & Layered, the recipe for the Malted Chocolate Chip and Reverse Chip Cookies calls for some specialty ingredients like teff flour and mesquite powder. But Irvin helpfully adds that the recipe is still delicious using just plain all-purpose flour if you are unable or unwilling to source those specialty ingredients.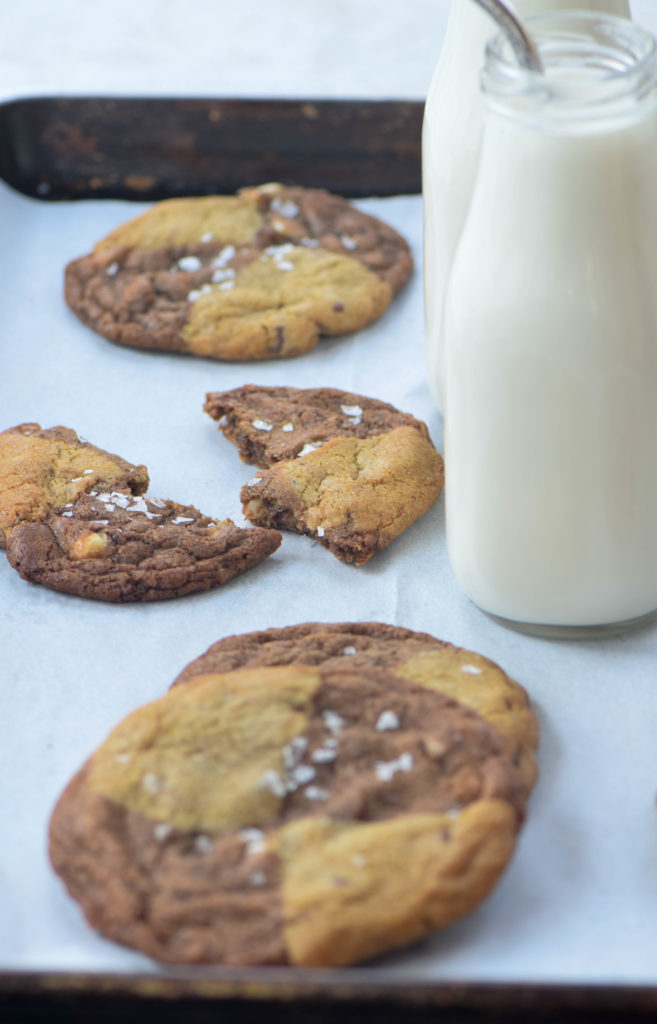 Indeed, I made the cookies while at my mother's house using just AP flour and they were great. However, as someone who is always willing to source an obscure or specialty ingredient, I happily ordered mesquite powder and made the cookies as specified in the book. (I already had teff flour on hand.) I was not familiar with mesquite powder before and it was a revelation. This powdered, dried pod from the mesquite tree added a unique sweet yet smoky flavor to the cookies that blew everyone away.
Indeed, the second time I made the cookies — the time without the mesquite powder — my husband said the cookies were not "malty" enough. I informed him that the difference between the two batches was not, in fact, the malted milk powder, but the mesquite powder. That was the flavor he was missing. So all that is to say: try the mesquite powder. It's a fun discovery.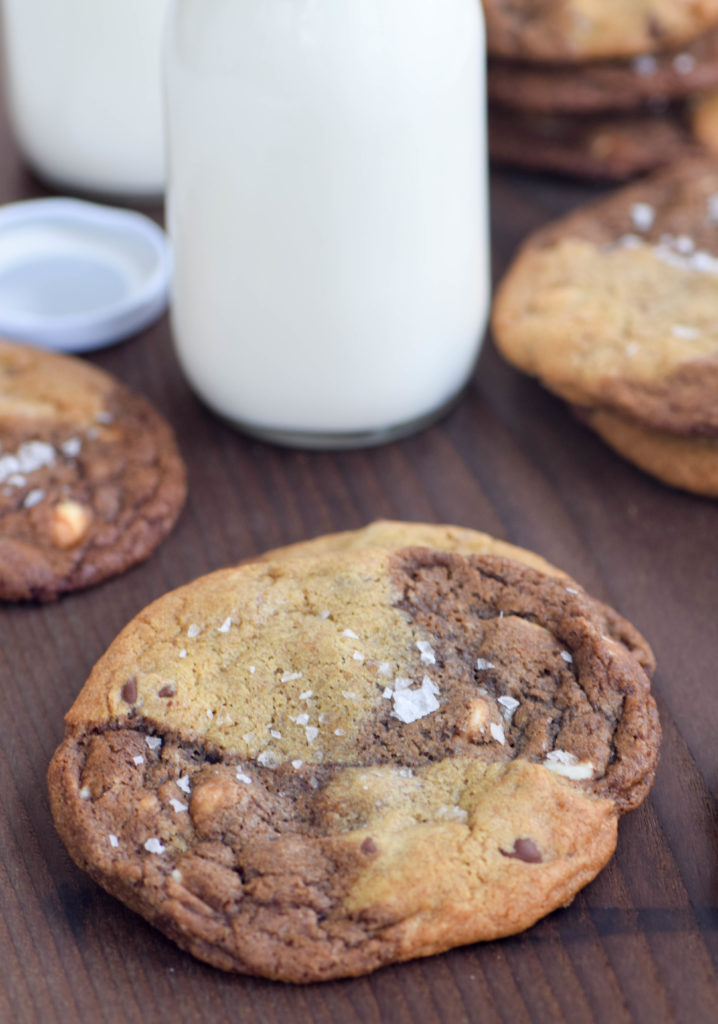 If I had one more tip about baking chocolate chip cookies to impart — and Irvin has a whole page of tips to improve your chocolate chip cookies in his book — it would be this: chill the dough overnight. I know that is hard to hear. Typically, if you are making chocolate chip cookies from scratch it's because you want to eat homemade chocolate chip cookies as soon as possible.
(Have I ever mentioned that my late father, who was the world's most disciplined eater — a man who ate a chicken caesar salad with no dressing for lunch every single day — could not resist a homemade chocolate chip cookie? It was his Kryptonite. So I get it. Waiting for chocolate chip cookies is hard.)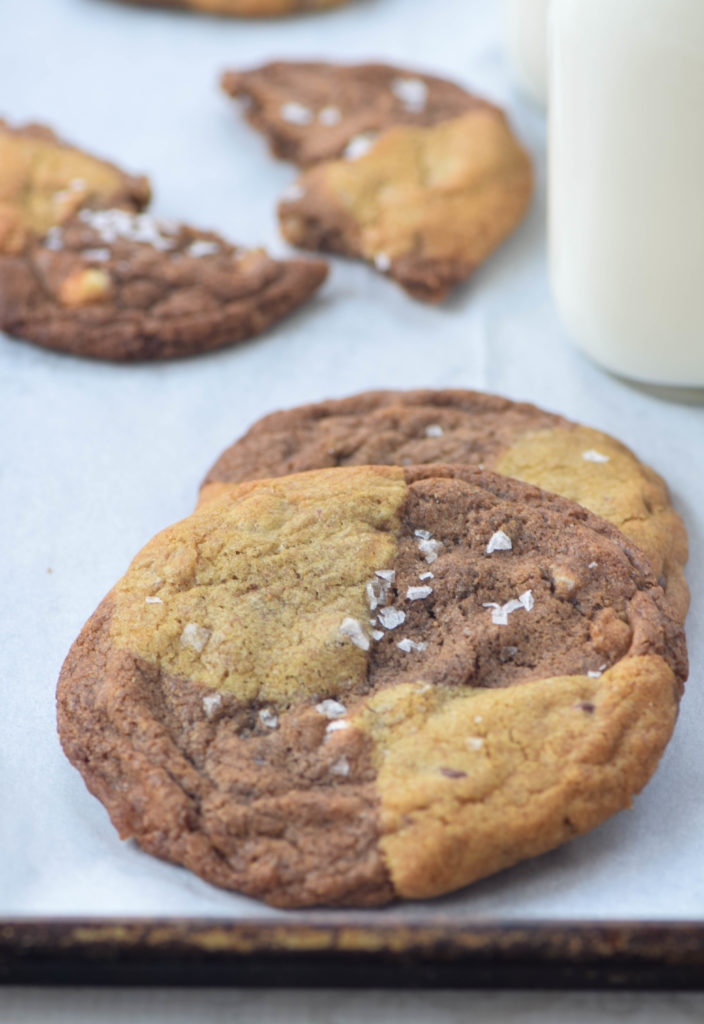 But my children have learned from hard experience that if they say, "Mom, let's make chocolate chip cookies," they will be eating chocolate chip cookies tomorrow. Chilling the dough allows the wet ingredients to hydrate the flour and results in more flavorful cookies. Also, chilled dough will spread less than room temperature dough. Even if you can't chill the dough overnight, chill it for a few hours – or as long as you can stand. It will make a difference.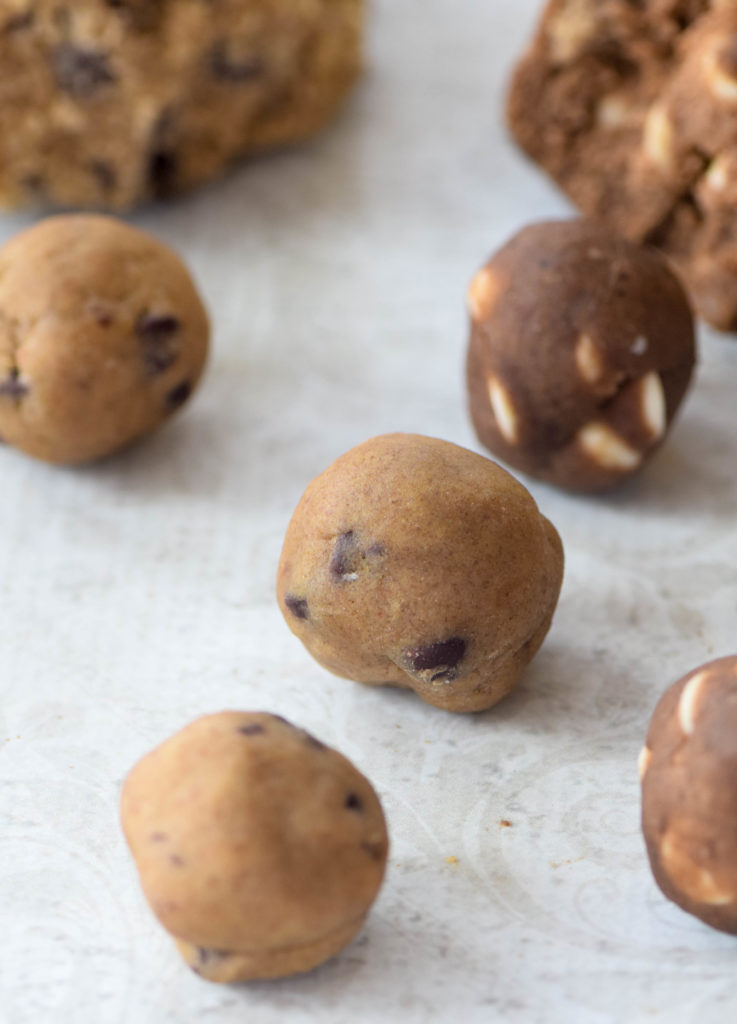 But what about the cool checked effect? How do you achieve that? It's surprisingly simple. You begin with a base dough that you divide in half and flavor separately. (Not as much work as it sounds.) Then you take a small bit of each dough and roll it into a ball. Smoosh (that's a technical term, you guys) the two balls together and roll it in a bigger ball. Flatten that ball into a disc and cut it in half perpendicular to the dividing line between the two doughs. Flip the top half-circle over and presto! Checkerboard!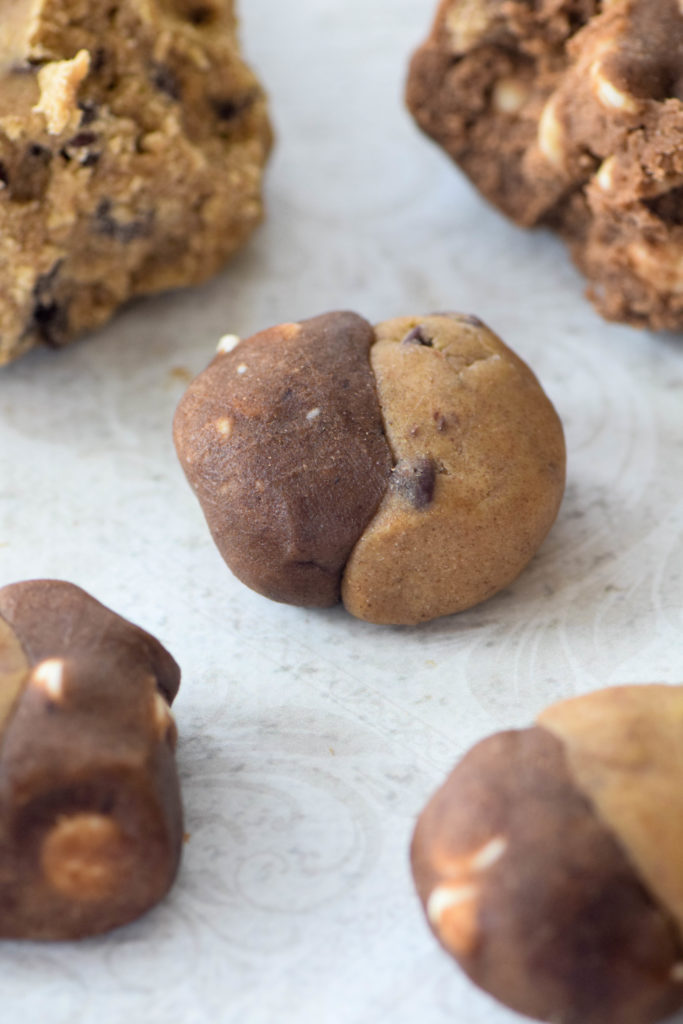 What I have learned making these cookies twice is that an assembly-line approach works best. Make all the dough into balls first. Enlist help from nearby children. (I got my kids and my nephews involved when I made the cookies at my mother's house over the holidays and it was a lot of fun.) Then smoosh the balls together and roll again. Flatten, cut and flip. Arrange on trays and bake. Many hands make light the work!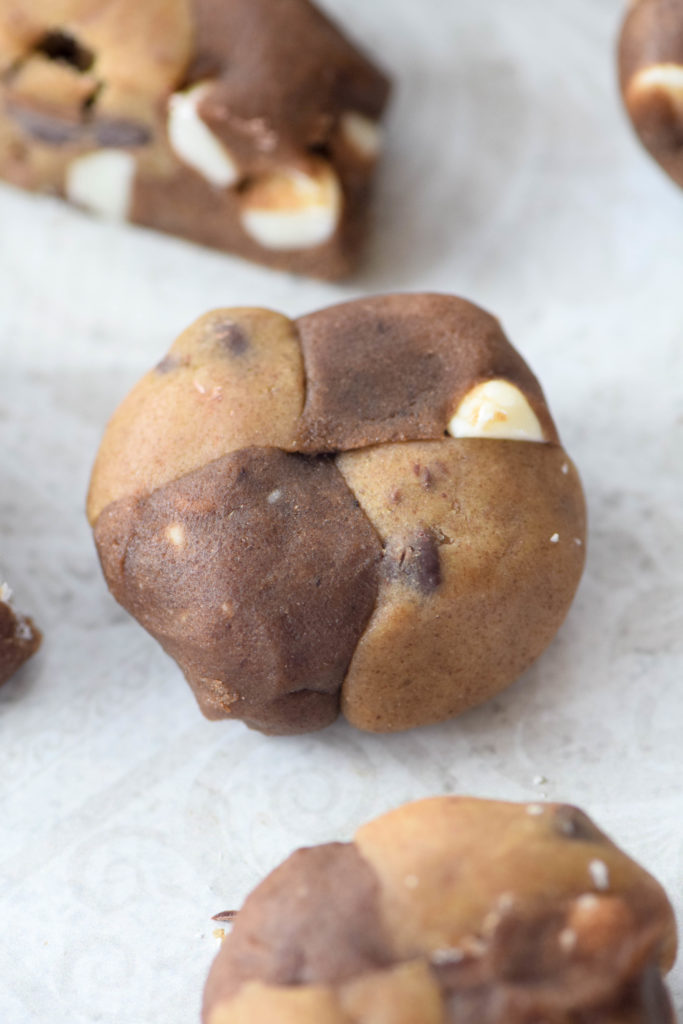 I know the holidays are over and we are all supposed to be eating healthy now. But in every life, there is room for a homemade dessert. Especially desserts that are innovative, beautiful and challenge you as a baker. That is what the desserts in Marbled, Swirled & Layered are and do. Not sure? Try these Malted Chocolate Chip and Reverse Chip Cookies and I guarantee you will want more where these came from.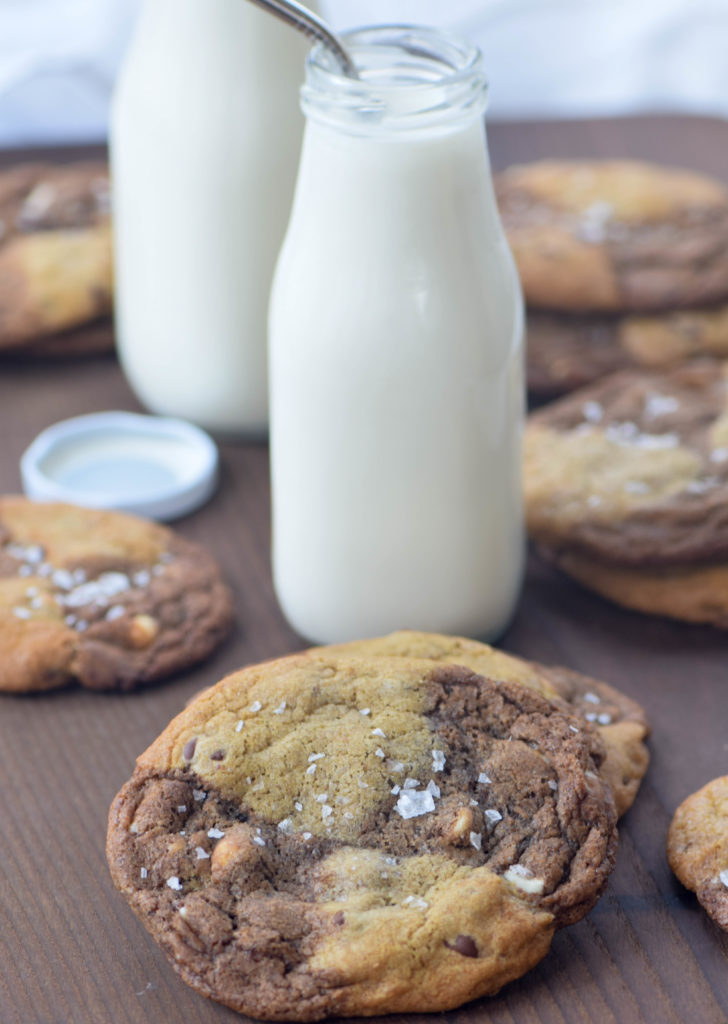 Malted Chocolate Chip and Reverse Chip Cookies
Ingredients
Cookie Dough Base:

2 cups all-purpose flour (2 3/4 cup if using all AP flour)
1/2 cup teff flour
1/4 cup mesquite powder
1 1/2 tsp baking powder
1 1/4 tsp baking soda
1/4 tsp kosher salt
1 1/4 cup unsalted butter, at room temperature
1 1/4 cup brown sugar, packed
1 cup plus 2 TB granulated sugar
1 TB vanilla extract
2 large eggs
1 large egg yolk

Malted Cookie Dough:

1/2 cup malted milk powder (I used barley malt powder with no ill effects)
1/2 cup all-purpose flour
1 1/2 cups chopped dark chocolate or chocolate chips
Reverse Chip Dough:
1/2 cup unsweetened cocoa powder
1/2 cup chopped white chocolate

Assembly

1-2 tablespoons flaky sea salt
Instructions
Begin with the cookie dough base: whisk together the flour, teff flour, mesquite powder (if using), baking powder, baking soda and salt.
In the bowl of a stand mixer, cream the butter and sugars.
Add eggs one at a time followed by the egg yolk.
Add the vanilla extract.
Add the dry ingredients in two batches and mix just until combined.
To make the two different doughs, divide dough base in half. Leave half in the bowl and set the other half aside.
Add the ingredients for the malted milk dough to the dough in the bowl and mix on low just until combined. Wrap dough in plastic.
Return the remaining half of dough base to the mixing bowl and add the ingredients for the reverse chip dough. Mix on low just until combined. Wrap dough in plastic.
Chill cookie dough overnight. (May be done ahead)
To bake the cookies, preheat oven to 350 and line several baking sheets with parchment or Silpat baking liners.
Break off a small amount of the malted dough and roll into a walnut-sized ball. Do the same with an equal amount of the reverse chip dough. (I preferred smaller cookies than those described in the book.)
Combine the two balls and roll into a larger ball. Flatten into a disc.
Cut the disc in half perpendicular to the line that divides the two doughs. Flip the top half over and press the two halves back together to create a checked design.
Place cookie on the baking sheet and sprinkle with sea salt. Repeat with remaining dough. Do not overcrowd cookie sheets. (I got about nine cookies to a sheet: 3 rows of 3 cookies.)
Bake for 12-14 minutes until set at the edges. Allow to cool on the cookie sheet for a few minutes before removing to a cooling rack.
Notes
Recipe from Marbled, Swirled & Layered by Irvin Lin.
http://www.westoftheloop.com/2017/01/11/malted-chocolate-chip-reverse-chip-cookies-marbled-swirled-layered/
Full disclosure time: I received a free copy of Marbled, Swirled & Layered from Irvin because he is my friend, has good manners and stayed at my house. He did not ask me to write a review and I had every intention of paying my own money to buy this book.