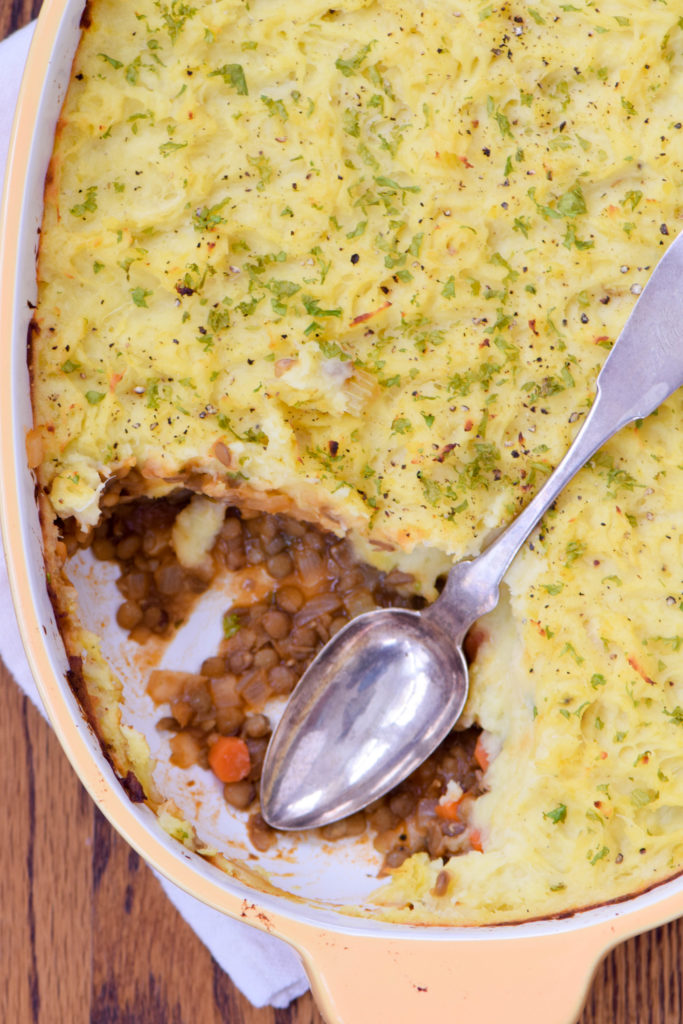 Keeping with our theme of healthy comfort food — the way we all want to eat in January — today I present you with a recipe for a meatless, can-be-made-vegetarian-if-you-use-vegetable-broth version of Shepherd's Pie.
Shepherd's Pie is a comforting, hearty casserole typically made with seasoned ground lamb and vegetables and topped with a mashed potato crust. You can make an identical version of this dish with ground beef but then it is called Cottage Pie. You need lamb for shepherds. Get it? (Given that this version is meatless, can we even call it Shepherd's Pie? Perhaps not. Maybe Gardener's Pie? You know what? Forget it.)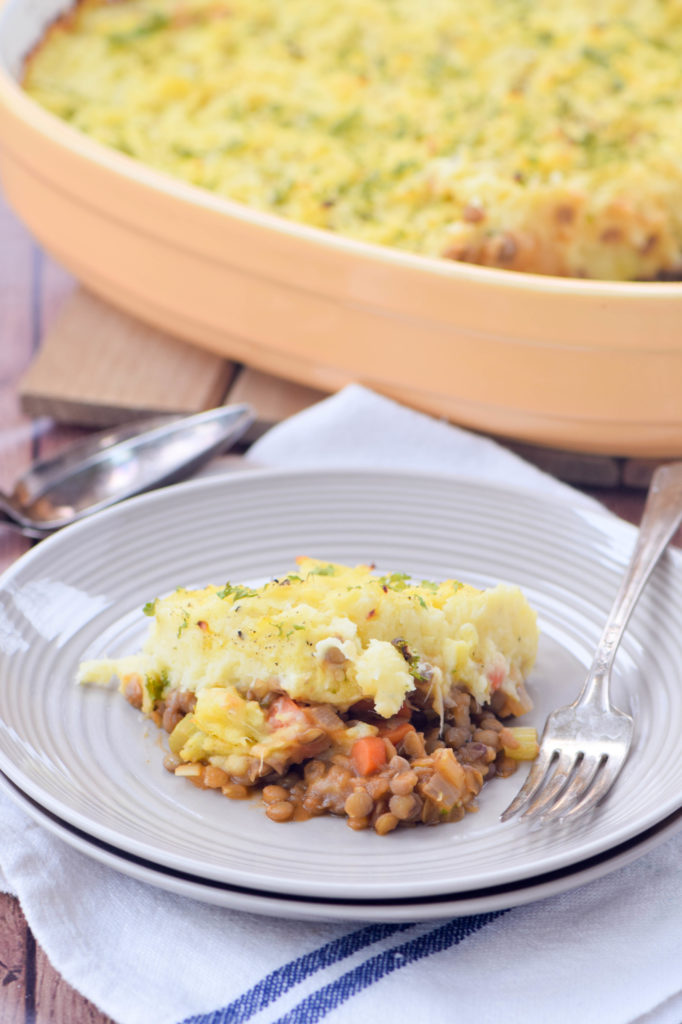 Playing the role of the ground lamb in this Shepherd's Pie — or the role of ground beef if it were Cottage Pie — are lentils. Those adorable little pulses are the perfect substitute for meat in this dish because they are high in vegetable-based protein and their small size and crumbly texture actually resembles the texture of ground meat.
In another healthy swap, I have replaced some of the potatoes in the typical Shepherd's Pie mashed potato crust for parsnips. If you aren't familiar with parsnips, it's time to get to know this under-appreciated relative of the ubiquitous carrot. Parsnips have an earthy, nutty sweetness that make them a favorite in Europe, particularly the U.K. Look for smaller specimens when shopping for parsnips because the larger ones can sometimes have a woody core. (Or, you can simply halve larger parsnips and remove the core.)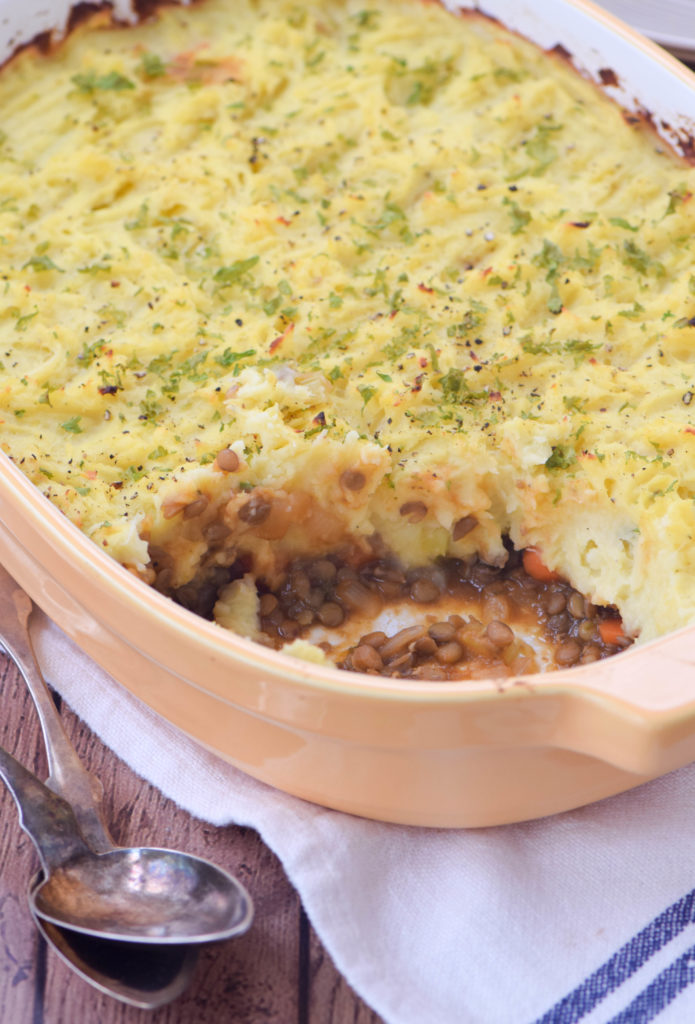 I actually find that mashed potatoes taste best when they are combined with another vegetable because potatoes are simply not that exciting on their own. But when you add another root vegetable, like celery root or parsnips, as we do here, your mashed potatoes become complex, haunting even, as your family tries to identify the other, mysterious flavor.
And, because the parsnips add so much flavor, you need less of the unhealthy stuff that we usually add to mashed potatoes to make them taste good. You know what I'm talking about: all that butter and milk or even (gasp!) cream. This recipe uses only 4 TB of butter and 1/2 cup of milk for the entire casserole.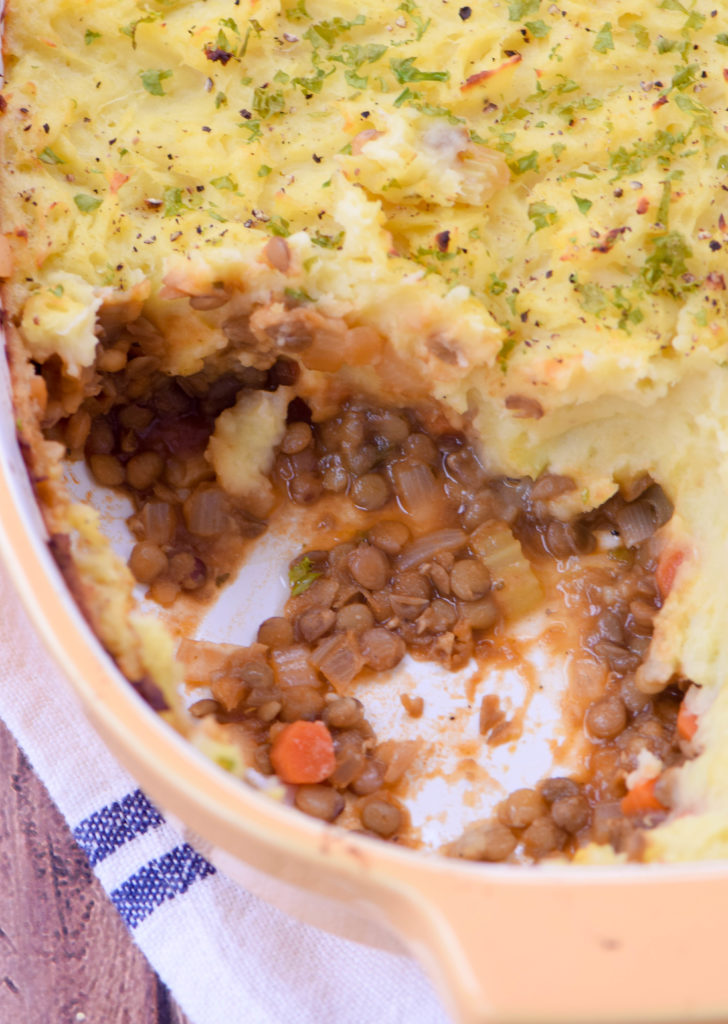 The recipe may seem like a lot of steps, but you can do many of them at the same time. Cook the lentils and the potatoes and parsnips at the same time to save precious minutes. (My suggestion: go ahead and made extra lentils while you are at it and save some for a salad later in the week.)
Moreover, you can make the entire casserole ahead of time, assemble it and refrigerate it unbaked. Then, simply pop the casserole — uncovered because you want the mashed potato and parsnip crust to get crispy and brown — in a preheated oven 30 minutes before dinner time.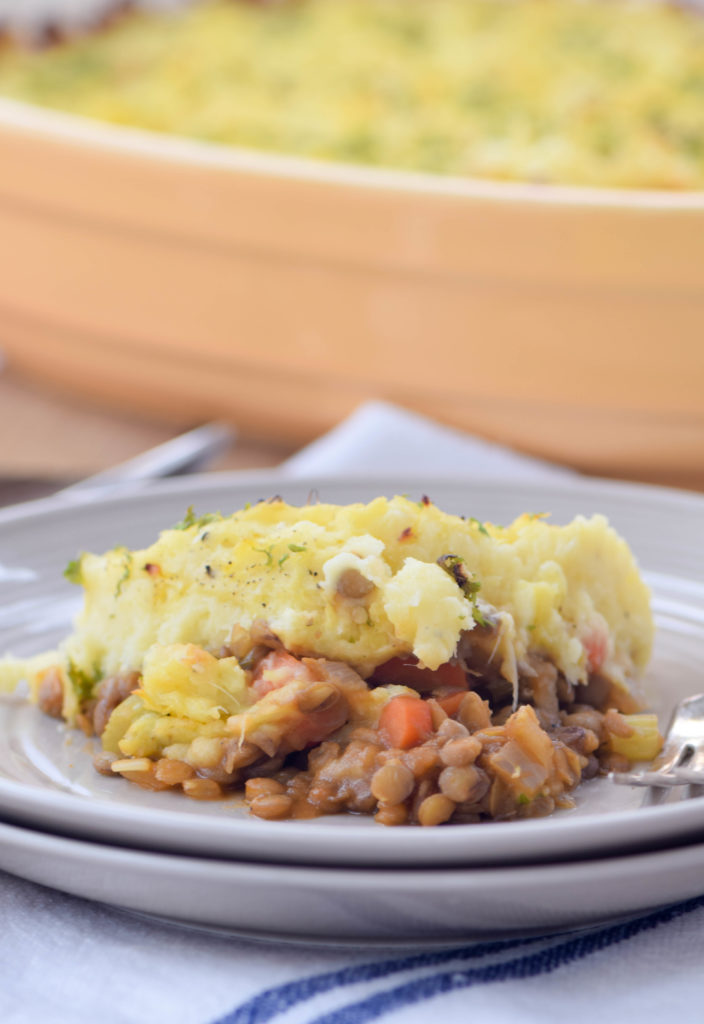 Indeed, this Lentil Shepherd's Pie would be a perfect dish to bring to a friend who is need of a meal because of illness or, more happily, a new baby because she could refrigerate it and bake it off right before dinner. (Just make sure you get your baking dish back.)
Lentil Shepherd's Pie is naturally both meatless and gluten-free, but it is not vegetarian unless you use vegetable broth or water for the sauce, which is easy to do. (Chicken broth isn't vegetarian. Just saying.) You can even make it vegan by using vegetable broth and by replacing the butter and milk in the mashed potato crust with vegan substitutes.
The point is, whatever your dietary restrictions or preferences, this Lentil Shepherd's Pie can be made to suit you. And everyone who tries it will find it to be satisfying, flavorful, and most of all comforting. Just what we all need.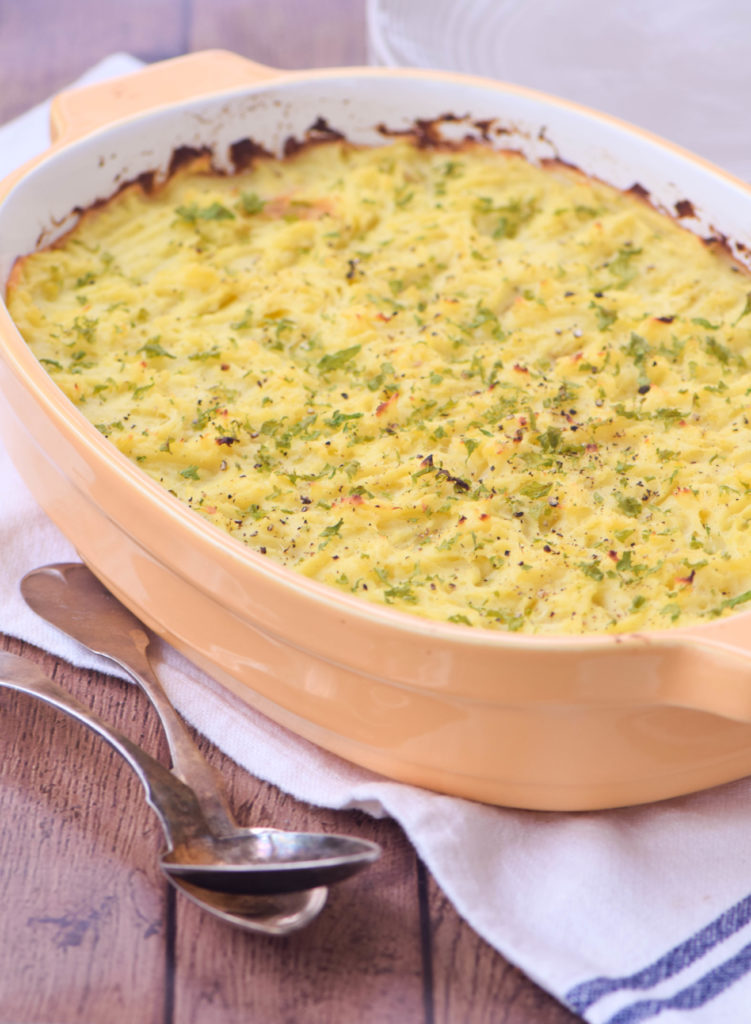 Lentil Shepherd's Pie with Mashed Potato-Parsnip Crust
Ingredients
1 cup brown or green lentils
2 lb Yukon Gold or other waxy potatoes, peeled
6 parsnips, peeled and woody cores removed
4 TB (half a stick) butter
1/2 cup whole milk or half-and-half
2 TB extra virgin olive oil
1 yellow onion, diced
4 carrots, peeled and diced
3 ribs celery, diced
1 TB tomato paste
1 tsp cumin
1 tsp. dried thyme
1/2 tsp dried sage
1 1/2 cups chicken or vegetable broth
1/4 cup red wine or sherry vinegar
Instructions
Preheat oven to 400.
Place the lentils in a medium saucepan and cover with 3 cups cold water. Bring to a boil, reduce heat to low, cover and simmer until lentils are tender, approximately 15 minutes. Drain and set aside.
If potatoes are large, cut into halves or quarters. Cut parsnips into two or three pieces. Place in a large saucepan and cover with cold water. Season with salt. Bring to a boil, reduce heat and leave partially covered. Cook until vegetables are tender, approximately 15 to 20 minutes depending on size.
Meanwhile, combine butter and milk in a small saucepan and heat over low heat until butter is melted and milk is warmed through.
Drain parsnips and potatoes and return to saucepan. Cook, stirring over high heat to dry out, one minute.
Reduce heat to low and mash potatoes and parsnips in saucepan. Gradually add butter and milk mixture and season well with salt and pepper. (Alternatively, rice potatoes and parsnips in a food mill or potato ricer.) Set aside.
In a large deep skillet, heat olive oil over medium heat. Add onion, carrots and celery and saute until softened, about ten minutes.
Add tomato paste, cumin, thyme and sage and season with salt and pepper. Cook a few additional minutes.
Add lentils to vegetables in skillet and pour in broth and vinegar. Bring to a boil over high heat. Reduce heat and simmer until thickened, about five minutes.
Pour lentil and vegetable mixture into a large baking dish.
Spread mashed potatoes and parsnips over lentils and vegetables, making sure to spread crust all the way to the edges to form a seal. Make cross-hatch pattern on the top with a fork if desired.
Bake the Shepherd's Pie for 35-40 minutes or until the crust begins to brown.
http://www.westoftheloop.com/2017/01/13/lentil-shepherds-pie-mashed-potato-parsnip-crust/