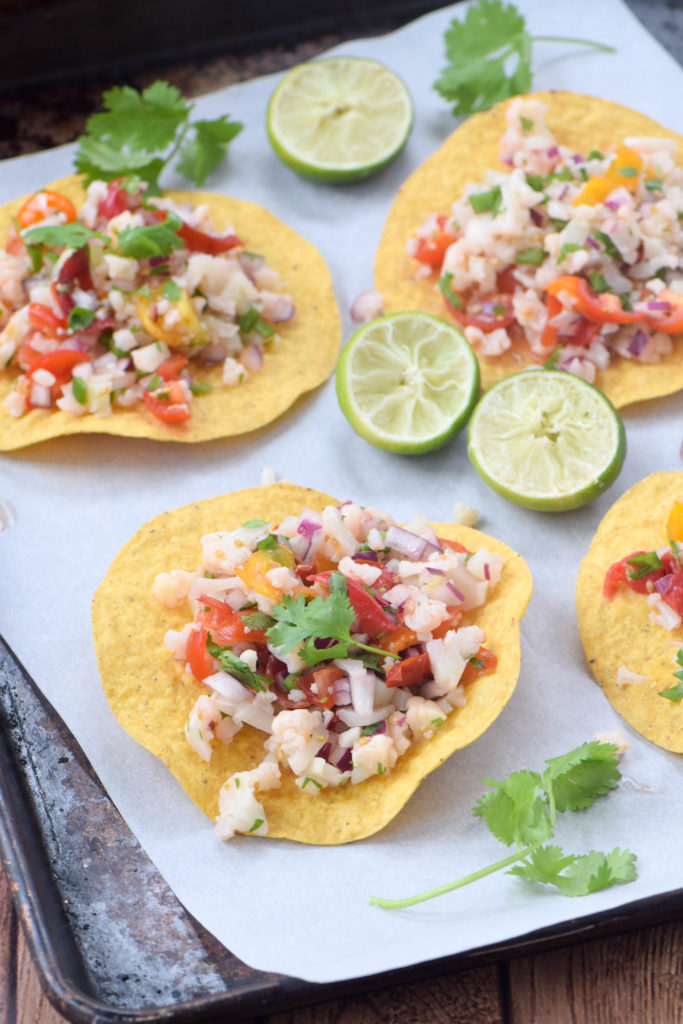 Cauliflower ceviche ticks every January healthy eating box. It's vegan. It's gluten-free. I even think it's Paleo. And we are talking practically no calories. But the best news is, it's absolutely addictive. Crunchy vegetables, tangy lime juice, spicy peppers, lots of beautiful colors — cauliflower ceviche is health food you never want to stop eating. Or looking at.
By the way, prepare yourself for an onslaught of pictures. I was so in love with how these cauliflower ceviche tostadas turned out, I must have taken a million photos of them.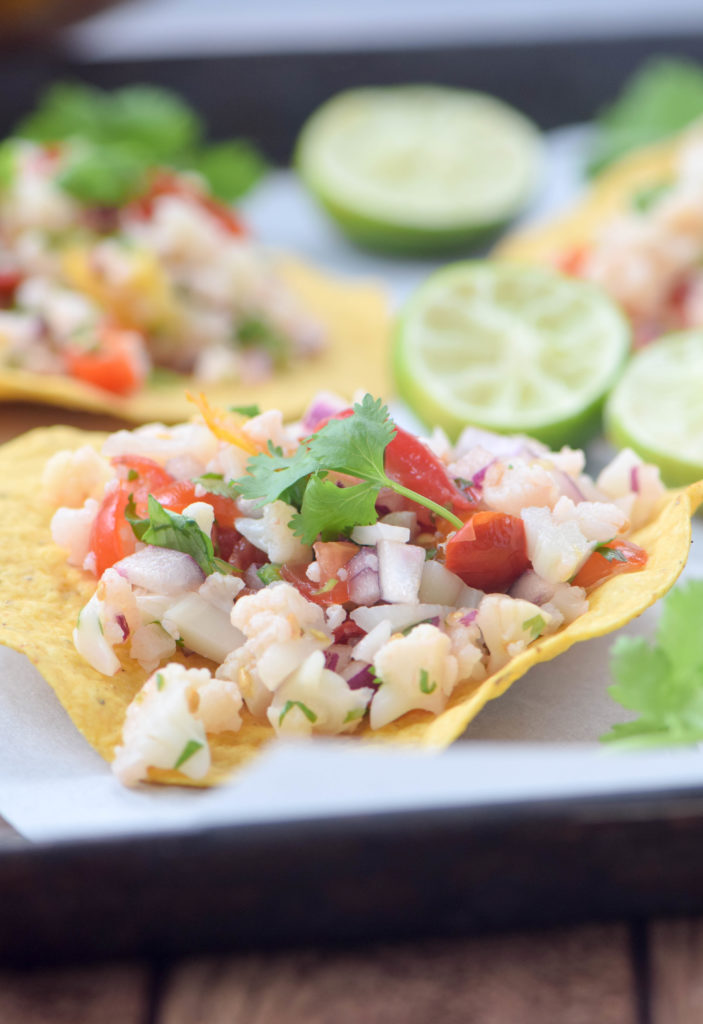 Cauliflower ceviche or ceviche de coliflor in Spanish is an authentic Mexican dish, not some ersatz health food makeover of "real" ceviche. Of course, real ceviche, meaning that made with raw seafood, is pretty darn healthy to begin with.
I first learned about cauliflower ceviche last summer on my book tour. Preserved, an Oakland kitchen store focused on traditional methods of preserving, hosted a food swap and book signing for me and one of the attendees brought cauliflower ceviche.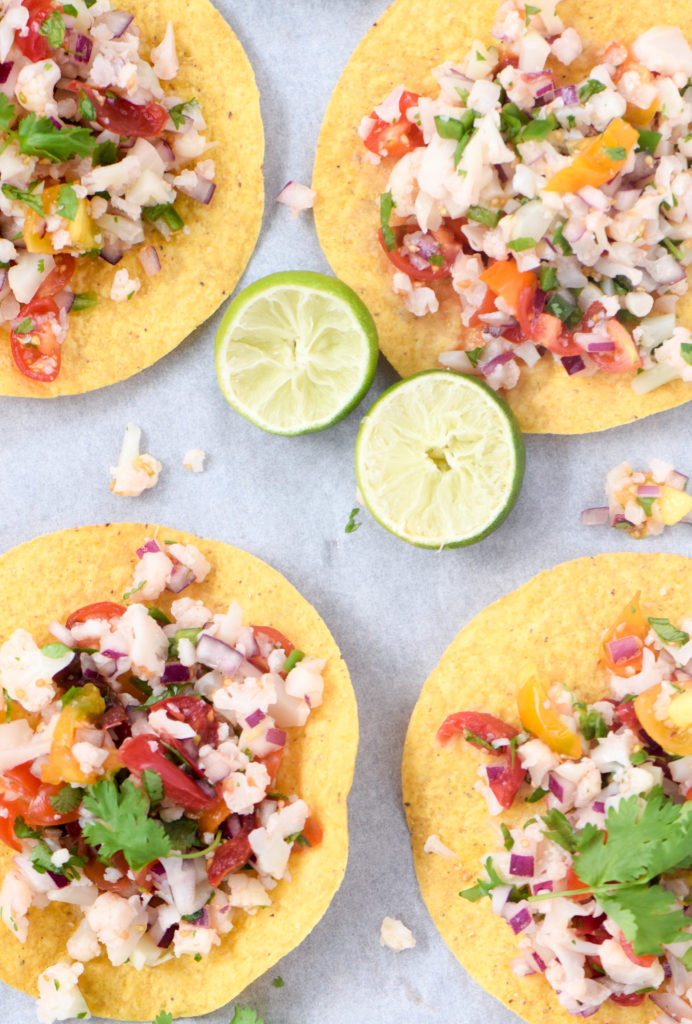 It was love at the first bite. I was amazed by the tangy, refreshing taste of the swapper's ceviche and how the cauliflower mimicked the texture of the raw fish typically found in ceviche. Its white color even looked like fish. I immediately made my husband, who happily was with me on that trip, try a bite. For some people, such as vegans or seafood-haters like my husband, it is the only kind of ceviche they will ever try.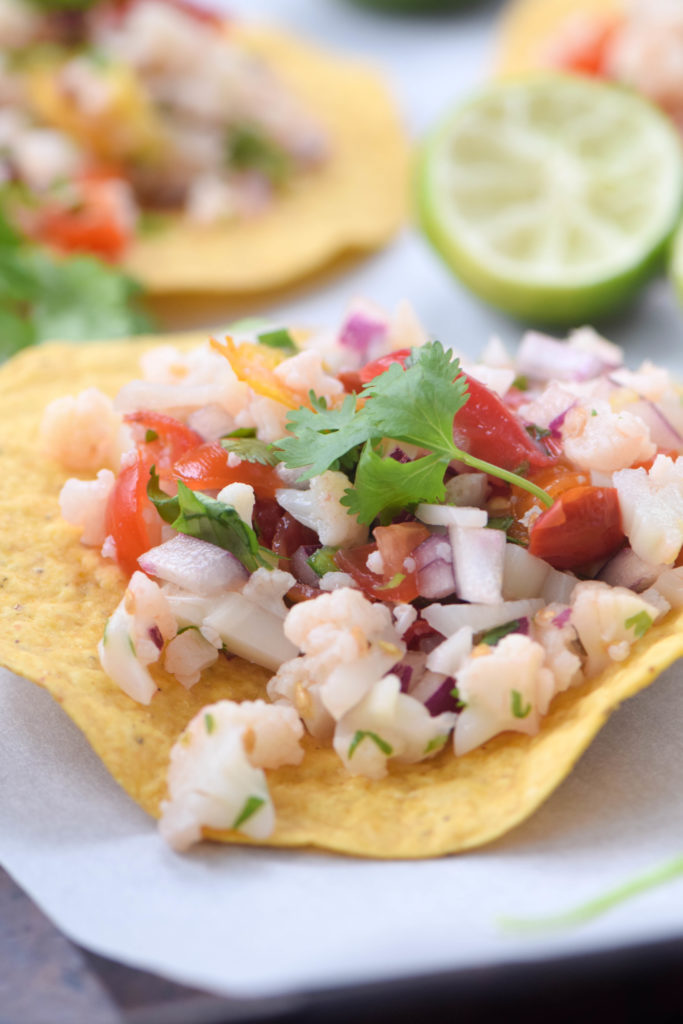 Ever since that first bite in Oakland last summer, I have been planning to make my own version of cauliflower ceviche. Winter is the best time of year for cauliflower and January is when everyone is determined to eat healthy, so this month seemed like the perfect time to finally make my own ceviche de coliflor.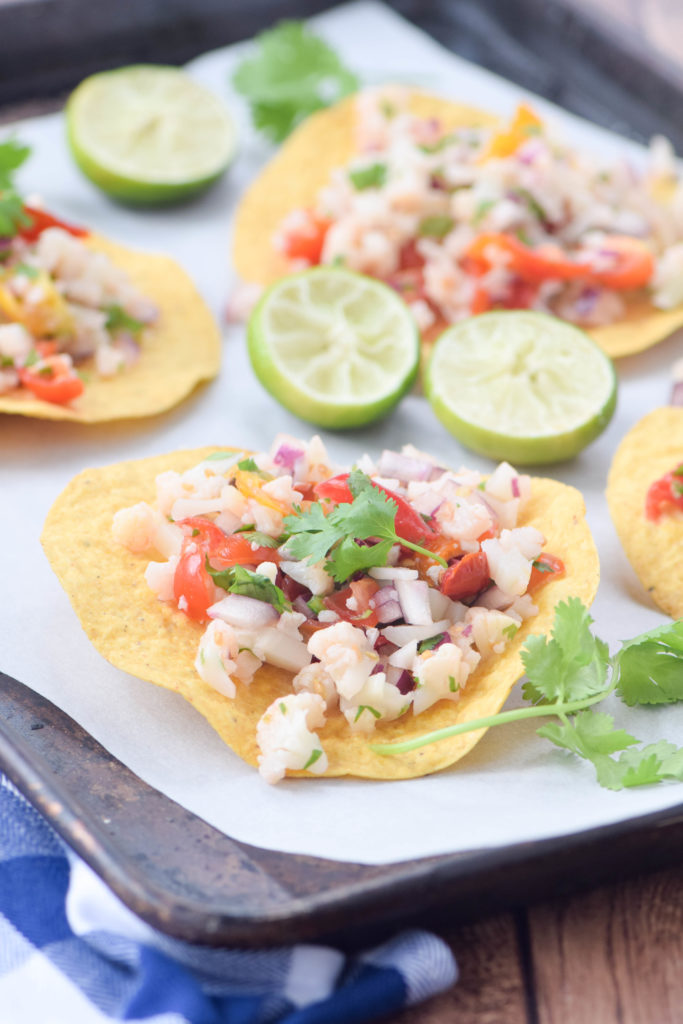 I kept my version very simple, but colorful, with red onions, Serrano peppers, tomatoes and lots of cilantro. The downside of making cauliflower ceviche in January when cauliflower is in season is that tomatoes are most definitely not in season.
However, I recommend using those multi-colored grape or cherry tomatoes that are easy to find this time of year. Heck, I think they even come from Mexico. They're kind of annoying to dice, but are the most flavorful tomatoes available right now.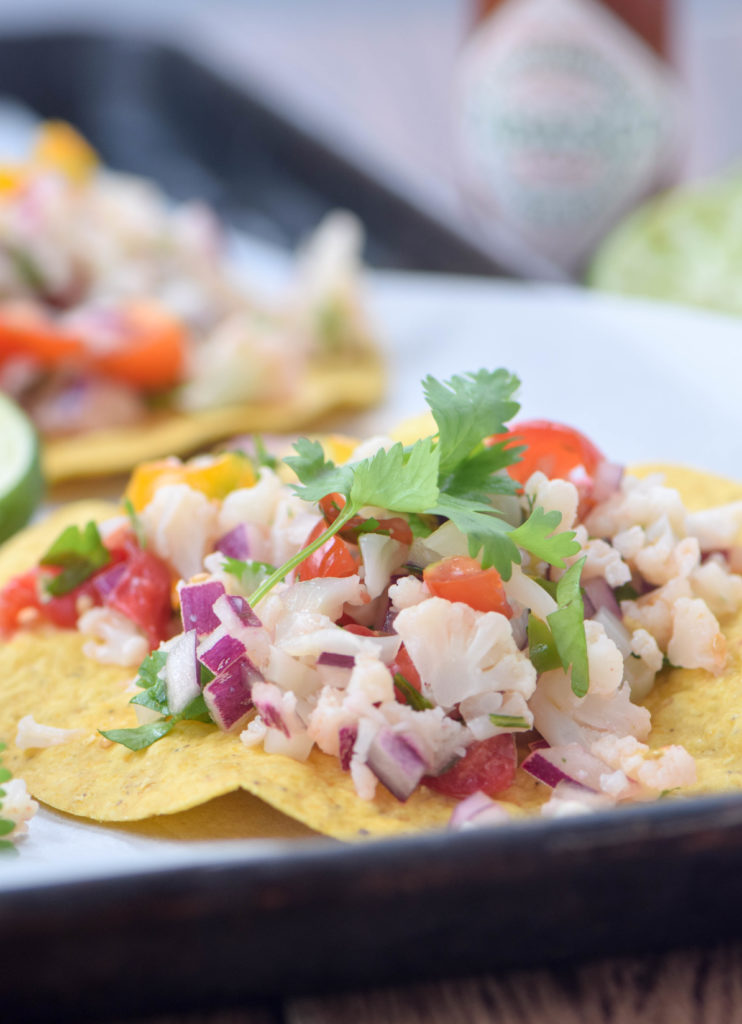 You may also wonder why I used Serrano peppers instead of the more common jalapeños. I use Serranos because I once heard Rick Bayless explain that he doesn't trust jalapeños. The heat varies too much from pepper to pepper; some are super spicy while others are as mild as a green pepper. He uses Serrano peppers for more consistent results, so guess what? I do too.
Serrano peppers have a rich, grassy, green chile flavor and not as much heat as you might think. So give them a try. If you are unable to source Serranos, or simply prefer jalapeños, feel free to use those instead.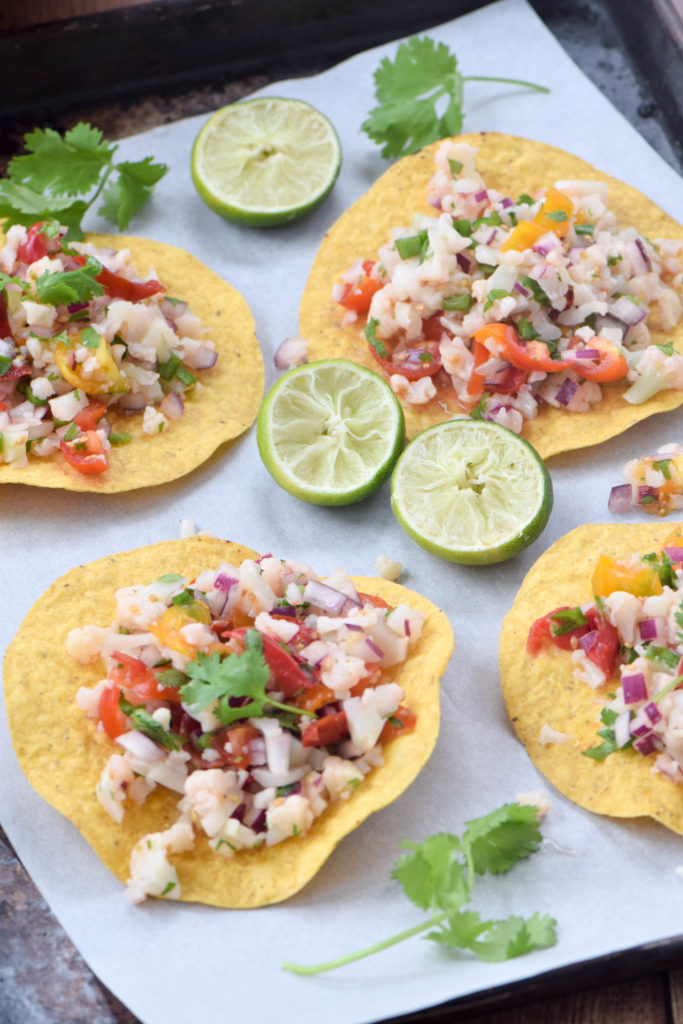 How to eat cauliflower ceviche? How not to eat it! Okay, I realize that's not helpful. You can eat it like a dip with chips. You can serve it on its own as first course almost like a salad. Or, you can do what I did here which is to serve in on top of tostadas for more of a snack or light meal.
(If you are interested in this dish because it is gluten-free, simply make sure to purchase gluten-free corn tostadas, which should not be hard to find.)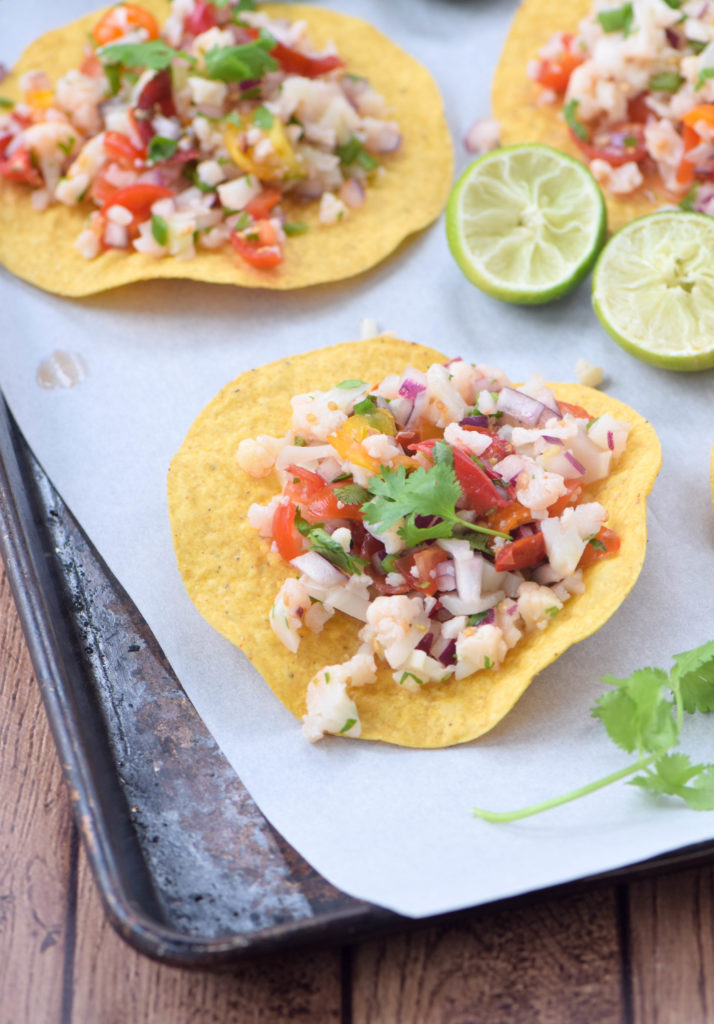 My last piece of advice regarding this recipe is that it makes a lot of cauliflower ceviche. Like a lot. I was happy to have made such a large amount of ceviche because I am planning to bring it to the Chicago Food Swap on Sunday. (I first encountered cauliflower ceviche at a food swap, so I thought I might as well introduce it to the swappers here.)
If you are entertaining, this amount of ceviche might also work for you. But if you are making cauliflower ceviche for yourself, just to snack on, you may want to halve the recipe. The good news is, if you do make a large batch, the ceviche will keep for days in the refrigerator because of the acidity from the lime juice and tomatoes.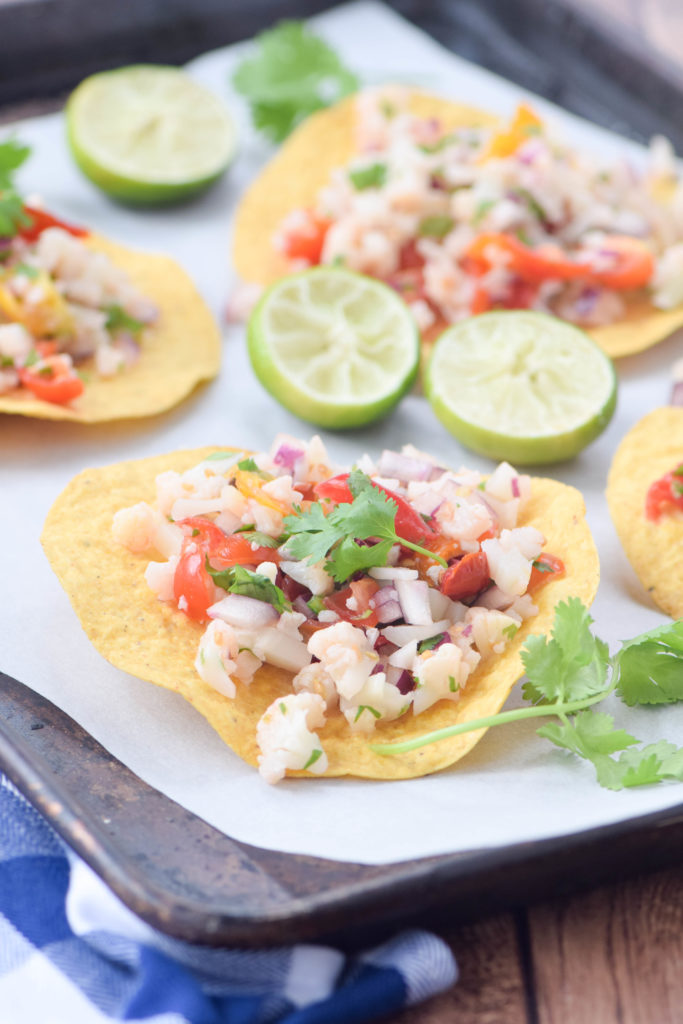 Cauliflower Ceviche (Ceviche de Coliflor)
Ingredients
2 small head cauliflower, cut into florets
1 red onion, diced
2 pints cherry or grape tomatoes, diced
2 Serrano peppers, seeds and ribs removed and diced
1 cup freshly squeezed lime juice (from 8-10 limes)
1 cup chopped cilantro
1 TB salt
5-6 dashes Tabasco or other hot sauce
Instructions
Bring a large pot of salted water to boil. Add the cauliflower florets and cook just until tender, about five minutes.
Drain and immediately plunge into a bowl of ice water to stop the cooking. Drain.
Chop the florets finely.
Combine the chopped cauliflower with the onion, tomatoes and peppers in a large bowl.
Add the lime juice, cilantro, salt and hot sauce and toss to combine.
Cover and chill for at least two hours to allow the flavors to develop.
Taste and adjust seasoning.
http://www.westoftheloop.com/2017/01/20/cauliflower-ceviche-ceviche-de-coliflor/