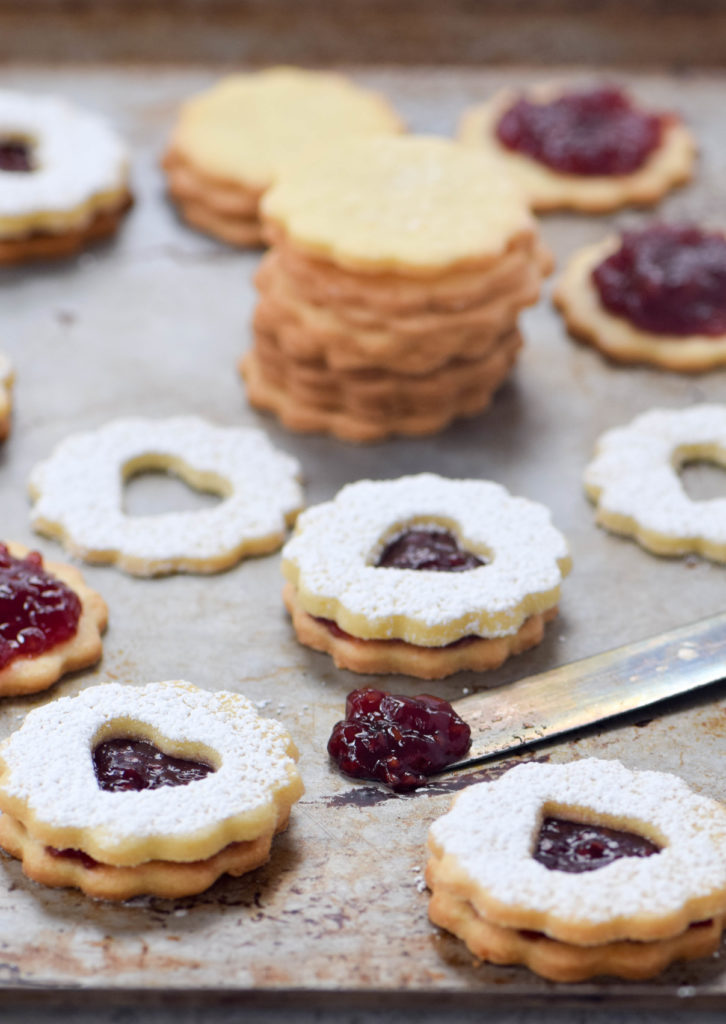 More homemade Valentine's Day love, today in the form of a heart-shaped Linzer cookie filled with scarlet-hued raspberry jam. I'd been meaning to make this traditional Linzer cookie recipe since before Christmas, but I ran out of time amidst all the holiday craziness. Luckily, by making my cut-out design a heart, these Linzer cookies work just as well for Valentine's Day.
Most people think of Linzer cookies as German or Austrian, which they are. (Yay! You're right.) Linz is, after all, the third largest city in Austria. (You knew that too, I'm sure.)
Perhaps the most famous dessert from the city of Linz is the Linzer Torte, which is a layered torte consisting of a layer of crumbly dough, usually studded with nuts or made with nut flour, topped with jam, perhaps raspberry or plum, and then finished with a lattice top. Some people say the Linzer Torte is the oldest cake in the world. It's certainly iconic.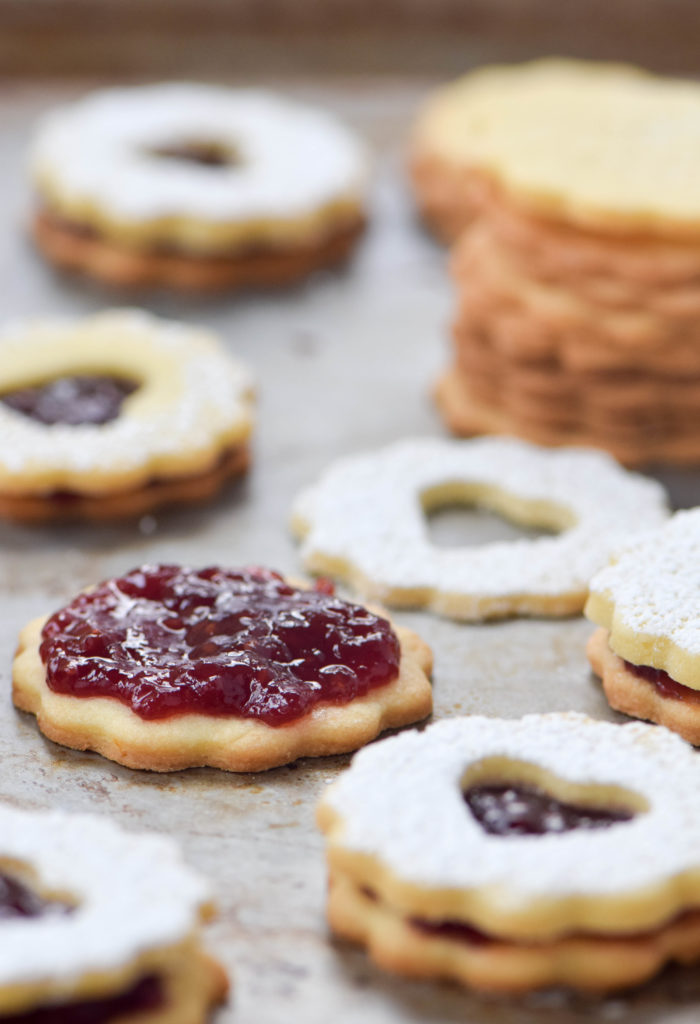 Linzer cookies follow the same idea. A bottom layer of cookie, a middle layer of jam and a top layer of cookie with a pretty cut-out design (through which one can see the jam) all dusted with frosty powdered sugar. With their delicate, crumbly texture and jammy center, Linzer cookies are pretty enough to grace an elegant tea table, yet simple and homey enough to please all palates.
Anyone who make his or her own jam loves a recipe that calls for jam and I am no exception. Thumbprint cookies, Linzer cookies, rugelach — I'll make anything that lets me finish off a half-full jar of jam. But most Linzer cookie recipes call for almond flour and with my daughter's nut allergy, almond flour is pretty much a no-go in this house. Hence, I had never attempted Linzer cookies.
So when my Czech cleaning lady, Máša (pronounced "Masha"), who is very special and has been with our family for over twelve years, handed me a nut-free recipe for Linzer cookies this fall and explained that these were her family's preferred holiday cookie, I knew that I had to make them. Sure, I didn't get around to it before Christmas, but I think Valentine's Day may be an even better occasion for these delicate treats.
(Wait, you're saying, didn't you just explain that Linzer cookies are Austrian? Why are you now claiming that these cookies are Czech? Check the map, people! Austria, the Czech Republic — they're right next to each other. Moreover, Linz is in northern Austria, quite close to the Czech border. So, for our purposes, these Linzer cookies are Czech. In Czech, they're called Linecké Cukroví.)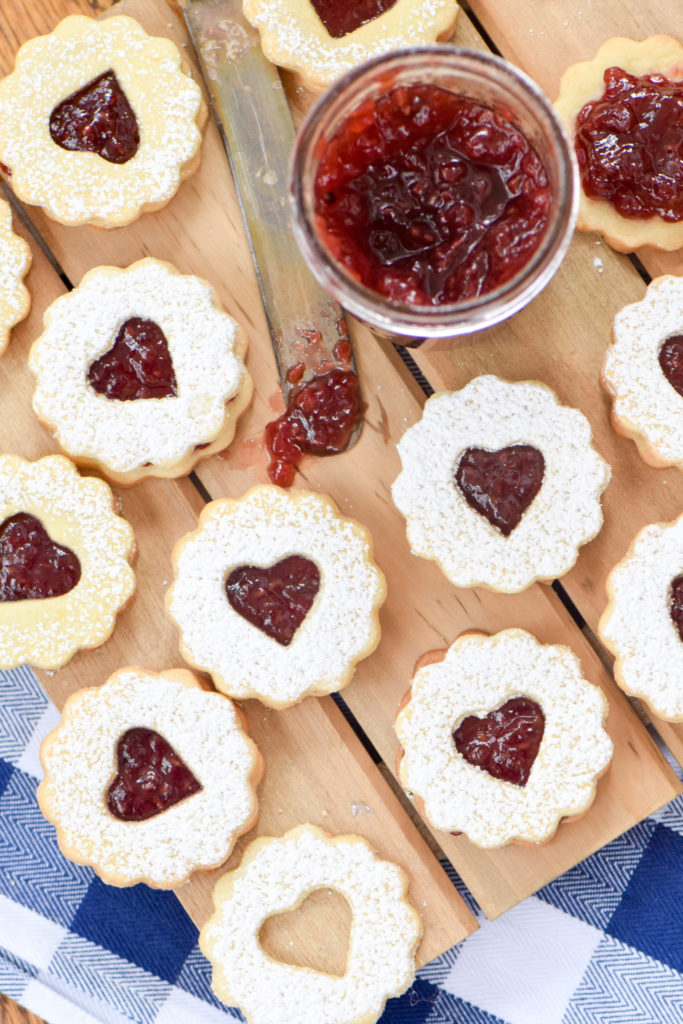 I was intrigued by Máša's recipe for a few reasons. One, it calls for powdered, not granulated sugar, which, as it turns out, gives the cookies an especially melt-in-your-mouth, crumbly texture. Second, Máša instructed me to dust my cutting board and rolling pin with powdered sugar, not flour, when rolling out the cookie dough.
That was a new one on me. I think the benefit of using powdered sugar for dusting is that, one, it sweetens the not-particularly-sweet dough and two, the dough does not take on any additional flour, which might make the cookies tougher. I was a little skeptical at first, but the powdered sugar, in fact, prevented the dough from sticking and the cookie is incredibly flaky and tender. So color me convinced.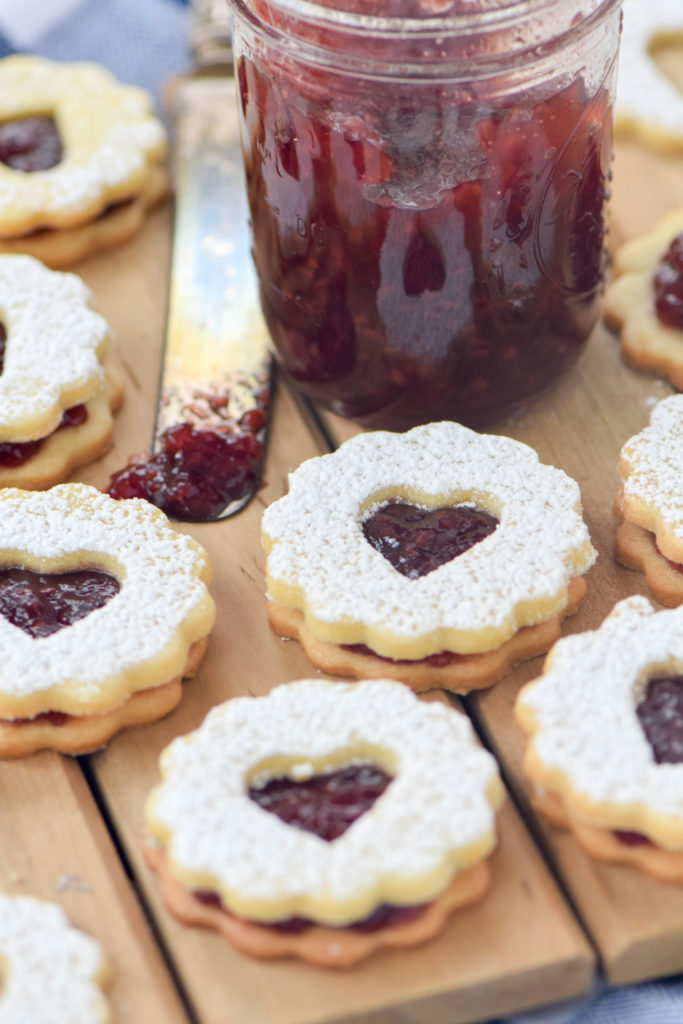 These Linzer cookies or Linecké Cukroví are the best I've ever had. Personally, I don't miss the almond flavor at all. (Not a fan!) And I know I keep coming back to the texture, but honestly, these cookies are the antithesis of a dry, tasteless butter cookie. They are so buttery, so crumbly, so meltingly tender that you won't be able to stop eating them.
Without the almond flour, though, the lemon zest takes on added importance. You can definitely taste it and the bright lemon flavor  contrasts nicely with all that powdered sugar. I recommend using a tart jam for the same reason. I used some of my homemade raspberry-red currant jam — the recipe for which will be in my new cookbook The Joys of Jewish Preserving out June 1 — which Máša approved as a traditional choice. Plain raspberry would work well too, but strawberry might be cloying. Strawberry rhubarb, on the other hand, could be lovely. If you don't have homemade, use any good-quality jam. I promise your Valentine will feel the love.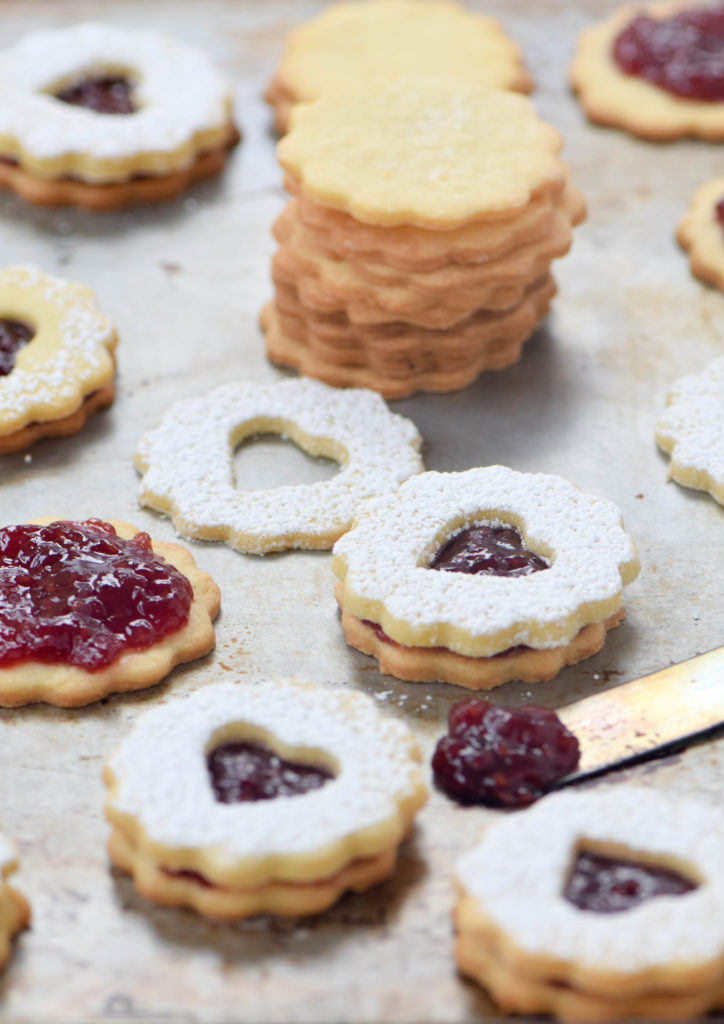 Ingredients
5 oz (1 and 1/4 sticks) unsalted butter, softened
1/2 cup powdered sugar, sifted
2 egg yolks
2 tsp vanilla extract
Zest of one lemon
1 1/2 cups all-purpose flour
1/2 tsp salt
8 oz red jam, such as raspberry or strawberry
Additional powdered sugar for dusting
Instructions
Cream the butter and powdered sugar in the bowl of a standing mixer.
Add the eggs yolks, vanilla and lemon zest and mix until combined.
Whisk the flour and salt together in a small bowl.
Add the flour and salt all at once and mix just until combined. Do not overbeat.
Wrap dough in plastic and chill for several hours or overnight.
Preheat oven to 350 and line several baking sheets with parchment paper or Silpat baking liners.
Divide dough in half.
Sprinkle a large cutting board or rolling mat with powdered sugar and dust a rolling pin with powdered sugar as well.
Roll out the first half of dough to between 1/4 and 1/8 inch thick, adding more sugar as necessary and turning the dough frequently to prevent sticking. Do not roll the dough too thin!
Using Linzer cookie cutters, cut out as many bottom cookies as possible. Gather up scraps, reroll and cut out more bottoms. (If dough becomes difficult to work with, chill it for a few minutes before proceeding.) Count total number of bottom cookies.
Arrange cookies on the prepared baking sheet - they don't spread very much so you can place them close together.
Bake 10-12 minutes until lightly browned around the edges.
While bottoms are baking, roll out the remaining dough and cut out the tops of the cookies with your preferred design or designs. (I did all hearts for Valentine's Day.) Make sure you cut as many tops as your have bottoms. (It's actually easy to end with extra tops because they use less dough. If you have extra dough after making the same number of tops and bottoms, cut out pairs of tops and bottoms.)
Cool baked cookies on a wire rack prior to assembling. Dust top cookies with powdered sugar.
To assemble, spread a small amount of jam on a bottom cookie. Carefully place a top cookie on top of the jam and press very lightly.
http://www.westoftheloop.com/2017/02/01/valentines-day-linzer-cookies/