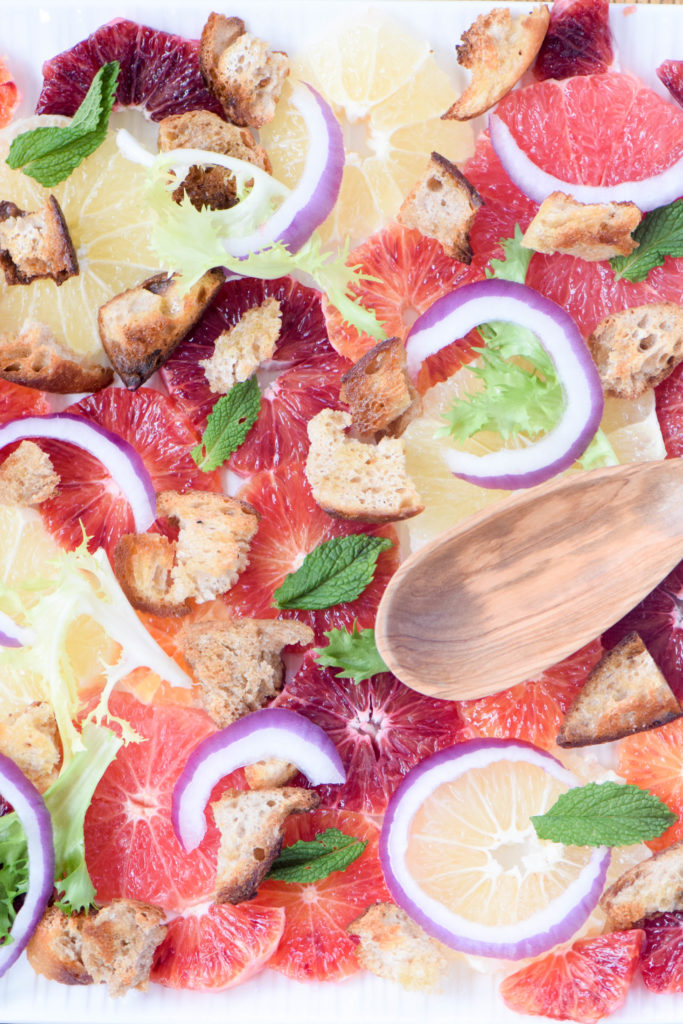 As a fairly constant bread baker, I am always in the market for new ways to use stale or leftover bread. For example, this time of year, I frequently make ribollita, a rustic Tuscan soup made with tomatoes and stale bread. It's true peasant food from people who would have never even considered throwing out bread simply because it was a little past its prime.
Of course, the Italians don't have a monopoly on stale bread recipes. So many cuisines have ways to use up leftover bread — from French toast (otherwise known as pain perdu) to the Middle East's own fattoush to classic American bread pudding.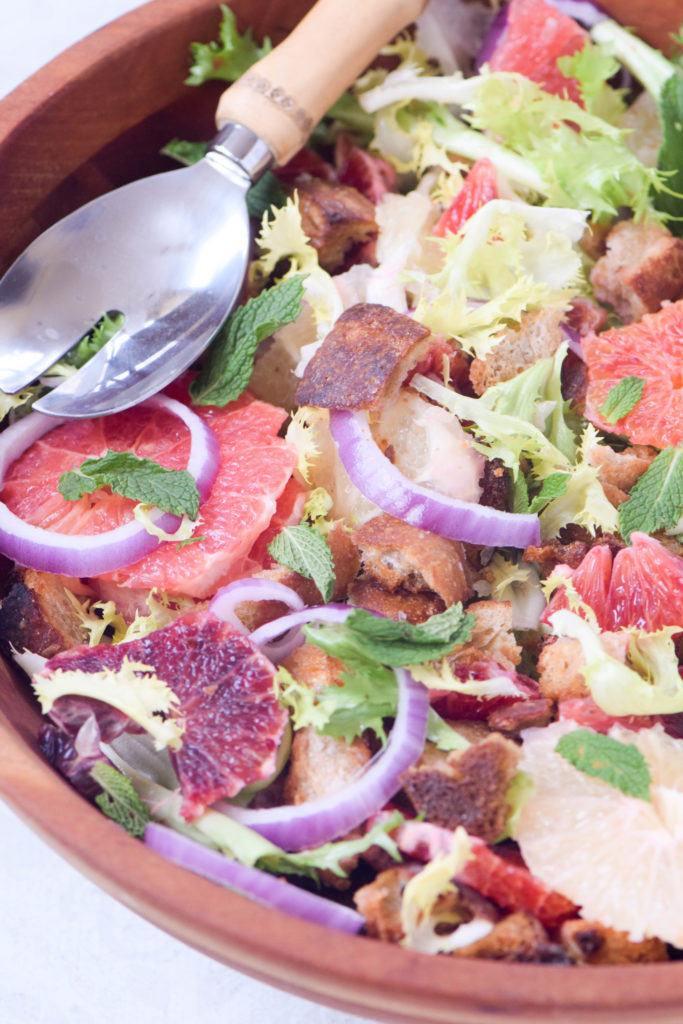 But we do have the Italians to thank for another ingenious use for stale bread: panzanella. Panzanella is a salad made with cubes of stale bread and summer's ripest tomatoes. The bread cubes soak up the juices from the tomato — especially if you leave the salad to sit for a while before serving, as you should — and become soft and flavorful.
Earlier this season on "Top Chef," my family's favorite guilty pleasure cooking show, one of the contestants, who was not destined to stick around for very long, made a dish she called panzanella. Judge Tom Colicchio, who knows a little something about Italian food, asked her why she called a "pile of croutons" panzanella. The poor, flustered woman, who in real life is the chef-owner of a very acclaimed Louisville restaurant, stammered a highly inadequate response, which essentially sealed her fate.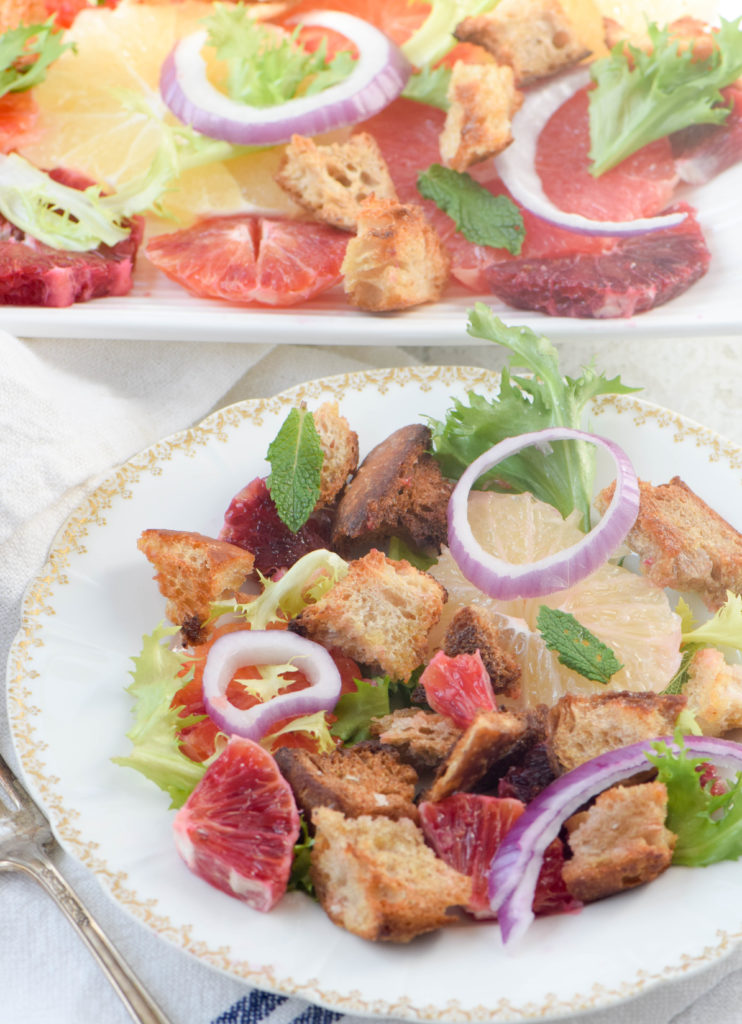 This rather unfortunate incident made me wonder what exactly defines a panzanella. And also, how would one make a wintertime bread salad, similar to a panzanella, but without the very not-in-season tomatoes? Because I have stale bread all year long and we are getting a little tired of ribollita.
The key aspect of panzanella is how the stale bread absorbs the juices from the tomatoes thereby rendering these previously tooth-shattering, rock-hard cubes into something chewable and also delicious. So, to make a wintertime panzanella, I knew I needed a fruit or vegetable that could fill this role. In other words, I needed something juicy enough to soften the stale bread.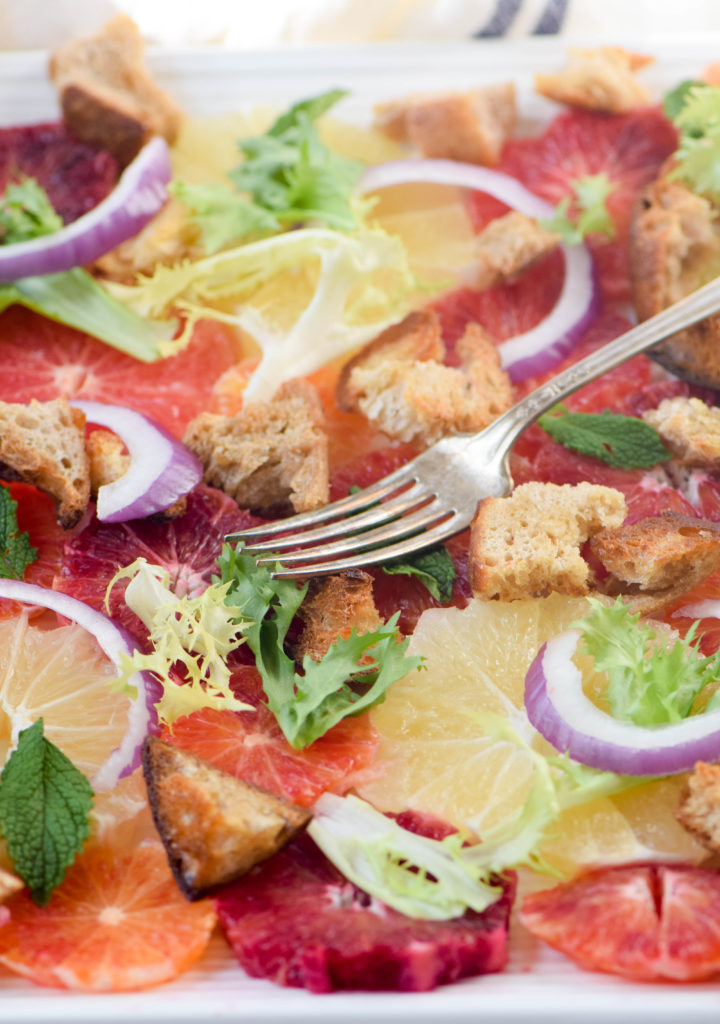 And that's when I hit on the idea of a citrus bread salad. Bear with me now. But I think that citrus fruits are the tomatoes of winter. Like tomatoes, they come in lots of different varieties and colors and they are sweet and juicy. And you definitely want to take advantage of their season, because in a few short months, you won't be able to find pomelos or blood oranges or Meyer lemons, not even for ready money.
Once I settled on the idea of citrus in my winter bread salad, the rest of the dish came together easily. I added some frisée for a little bitterness; red onion for assertiveness and bite; and mint because I love mint and citrus together. (Hello! Ever had a mojito? Yeah, I thought so.) The dressing is a pretty classic oil and vinegar combo with a touch of honey for sweetness.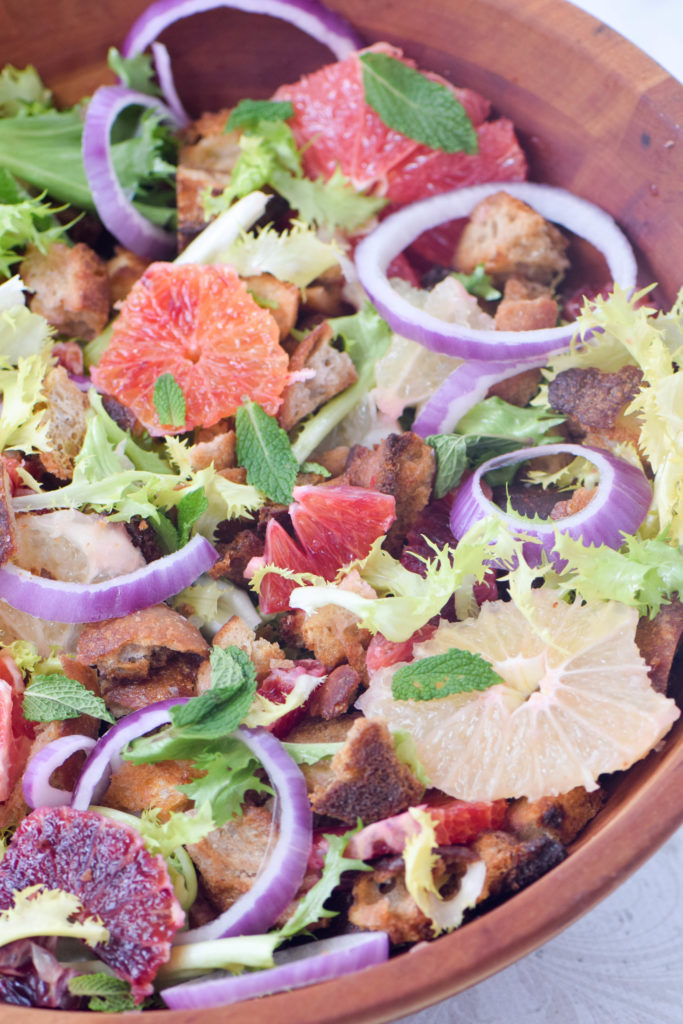 A couple thoughts about bread salad. As I mentioned, bread salad is an excellent use for stale bread. One of my no-waste kitchen tricks is that I freeze the odds and ends of good bread, be it homemade or store-bought artisan bread, rather than throw them away. When I have enough of these leftover pieces, I thaw them out and use them to make bread pudding or croutons or, you guessed it, bread salad. (Seriously, I could write The Stale Bread Cookbook I have so many ideas.)
If saving and freezing stale bread is not something you habitually do, first, I suggest trying it out. It's a great trick. But, if that is not your thing and you still want to make a bread salad, feel to buy a loaf of country bread — preferably something crusty on the outside and soft in the middle with an open crumb — for that purpose. This salad is certainly that good. Just buy it a day or two in advance and let it get a bit stale.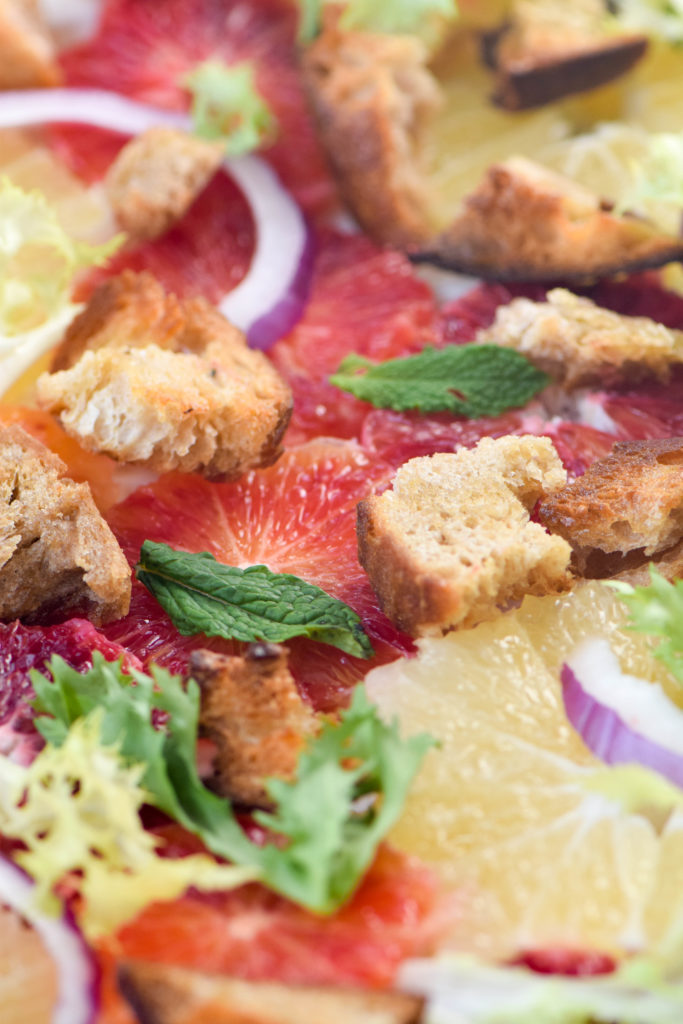 Second, when making a bread salad, tear, don't cut, the bread into cubes. This isn't always possible if you have really stale bread. But ragged, uneven edges actually are better for catching the dressing than perfectly cut cubes. Don't make the pieces too big either. One-inch pieces or smaller are ideal.
Lastly, and I learned this from Bon Appetit: the optimal ratio in a bread salad is one-third bread, two-thirds other stuff. If you add too much other stuff, it's not bread salad. It's just a salad with croutons.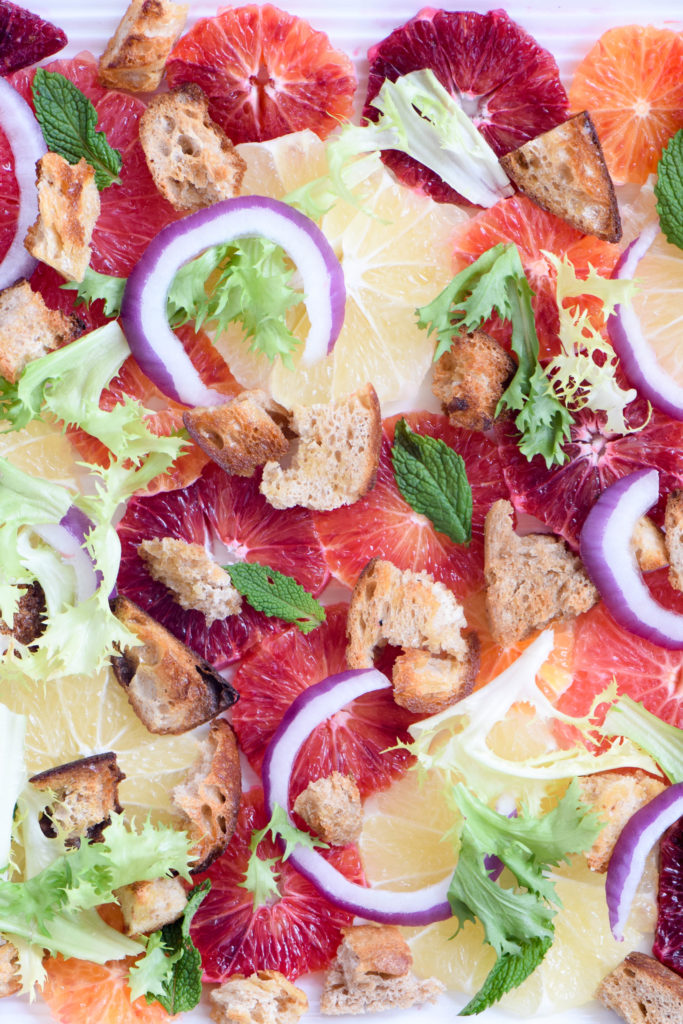 For the citrus, I combined blood oranges, which is a fruit I adore, with some grapefruit for added color and to balance the sweet and the bitter. This salad would be wonderful with just oranges as well. If you cannot find blood oranges, look for other brightly colored and flavorful varieties like Cara Cara oranges.
Also, this recipe makes a large bread salad. It could easily feed six to eight as a starter or four as a side dish. It's a wonderful dinner party dish because it is so beautiful and you can make it in advance. Indeed, you should assemble and dress the salad about an hour before you want to serve it so the bread has time to absorb the dressing and soften up.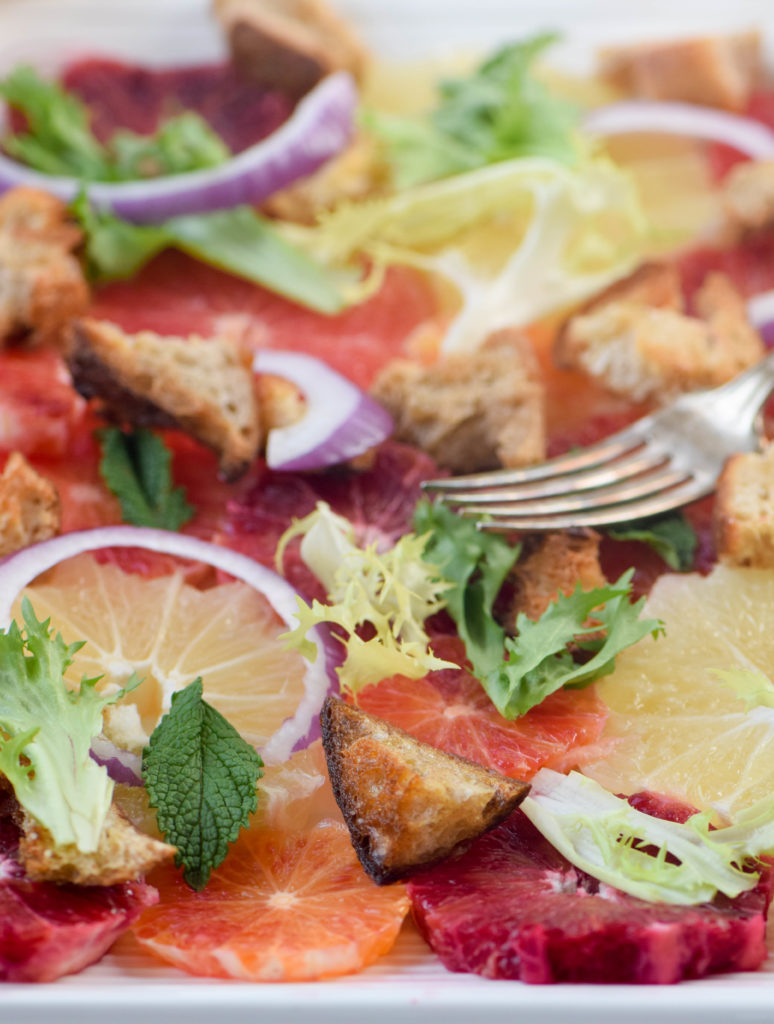 Winter Citrus Bread Salad
Ingredients
Salad

8 cups of bread cubes, irregularly torn into 1-inch pieces from a loaf of country bread
6 TB extra virgin olive oil
5 oranges or 2 oranges and 2 grapefruits
1/2 bunch frisee or other bitter lettuce, such as radicchio, torn into pieces
1 red onion, thinly sliced
1 bunch mint, torn into pieces

Dressing

2 TB sherry vinegar
Juice of one lime
2 tsp honey
1/2 cup plus 1 TB extra virgin olive oil
Salt and pepper to taste
Instructions
Preheat the oven to 425 and line a baking sheet with foil.
Toss the bread cubes with the olive oil and arrange in a single layer on the baking sheet.
Toast the bread in the oven until browned and completely dried out, 10-12 minutes.
Cool.
To prepare the fruit, carefully cut off the top and bottoms of the oranges. Use a small knife to cut off the peel and pith from the sides until the flesh is exposed.
Slice the fruit across the membranes into rounds.
Combine the bread crumbs, citrus slices, onion and frisee in a large bowl or arrange on a platter. Top with mint leaves.
To make the dressing, combine the vinegar, lime juice and honey in a small bowl and whisk to dissolve the honey.
Slowly whisk in the olive oil until emulsified.
Pour the dressing over the salad and toss gently. Allow the bread to absorb the dressing and the juices from the citrus for at least an hour prior to serving.
Season well with salt and pepper.
http://www.westoftheloop.com/2017/02/07/winter-citrus-bread-salad/