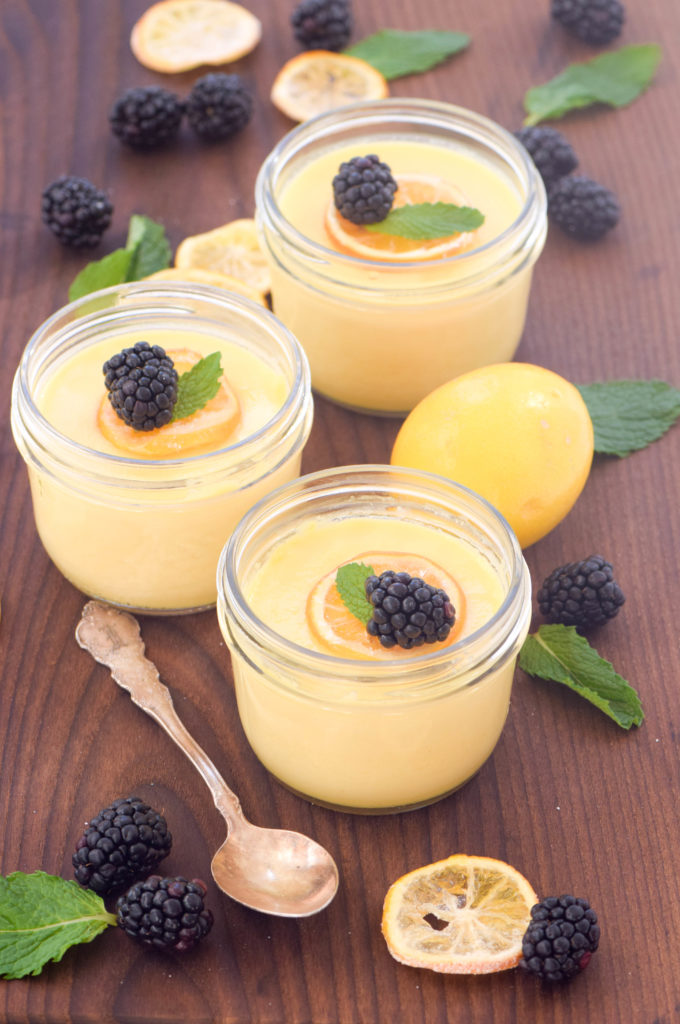 Who has time to make dessert on a weeknight? No one. But sometimes a special occasion, be it a birthday, anniversary, or national holiday, falls on a weeknight. What to do in that case? Turn to a dessert that is best made in advance. A dessert like pot de crème.
Pot de crème is an adorable name for an adorable baked custard that is typically served in individual ramekins or custard cups. How is it different from pudding, you ask? It's French. French people don't eat pudding; they eat pot de crème. Also, it's steamed in the oven as opposed to cooked on the stove. And you'll notice that there's no thickener, like corn starch; just plain old egg yolks.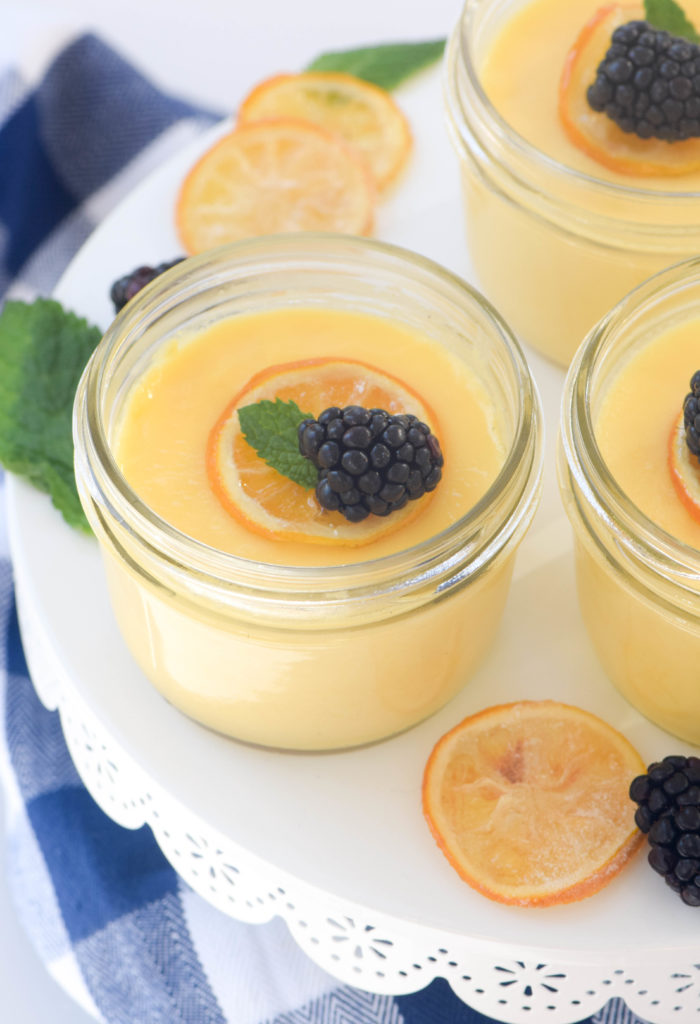 Chocolate pot de crème is probably the most typical, but you can make any flavor you like from ginger to dulce de leche. My sweetie, for whom I made this pot de crème, is not one to fall for a chocolate dessert. No, he will pick the fruit dessert every time. And what with it being the peak of citrus season, it had to be a lemon pot de crème for him.
The special occasion that justified this dessert, which just happened to fall on a Monday night, was the anniversary of our first date. It's also the anniversary of the day on which we got engaged. (Yes, your math is correct: he asked me to marry him on the anniversary of our first date.)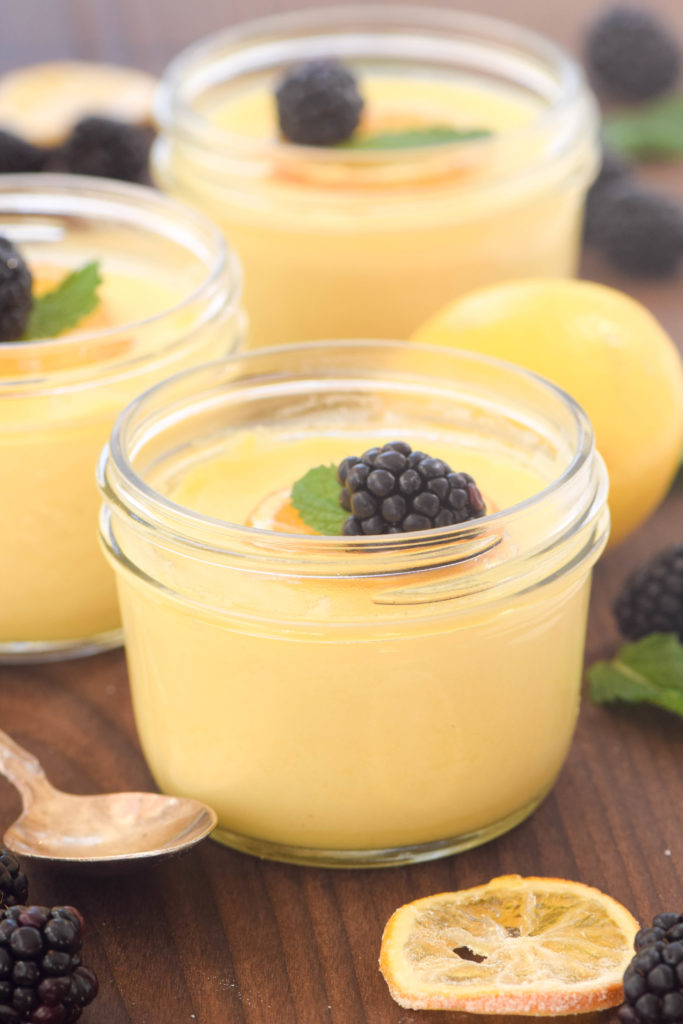 I always make the same dinner for this anniversary, which, naturally is the same dinner I made on that date. (Yep, I cooked on this first date.) It is a simple dinner, which makes sense because at the time I made it, I was a student working with a minimal budget, relatively basic cooking skills and a very basic rental apartment kitchen. The menu is flank steak, roasted potatoes and steamed broccoli. These days, I might replace the flank steak with a filet mignon or roast the broccoli instead of steaming it. But otherwise, I stay true to this menu.
Dessert, however, is a different story. I didn't make dessert on the night of our first date, but since that time, I have experimented with countless desserts to cap off our anniversary dinner. They rarely work out well. On the day my husband proposed, I had made a Key lime and white chocolate brownie, which, in retrospect, doesn't even sound good. But we will never know how good it actually was because in all the excitement, we forgot to eat it.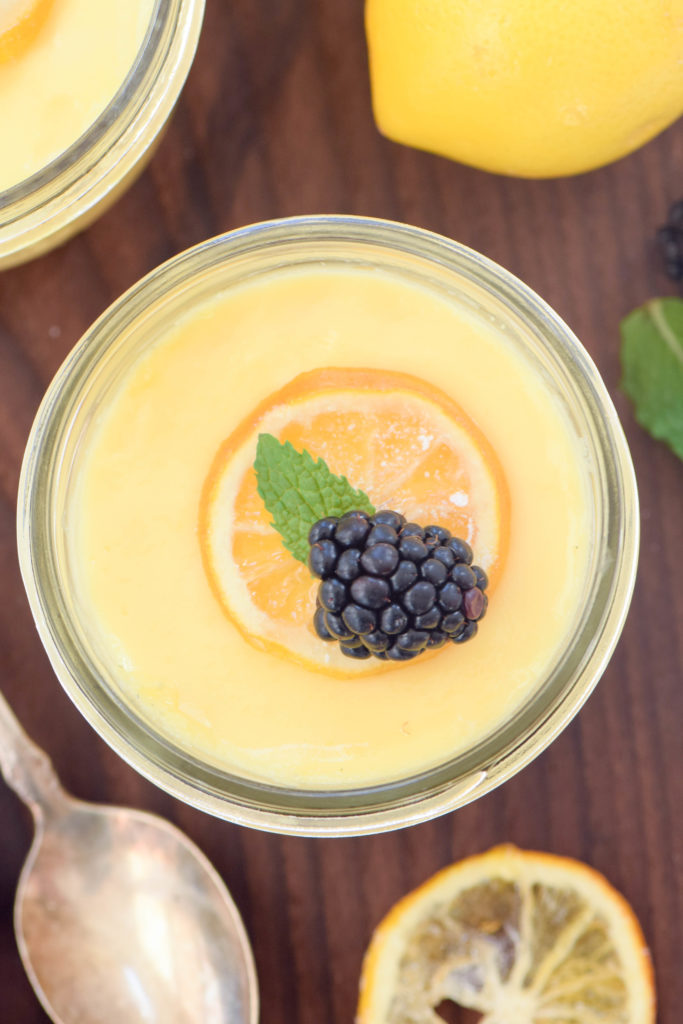 The lemon pots de crème, however, may just become a regular feature. A lemon dessert is the perfect thing for an anniversary that falls in February. Even better if you can find sweet, fragrant Meyer lemons! And, no matter the day of the week, I can make sure to have these pots de crème ready to go because they are made in advance.
Yes, pots de crème should be baked several hours, or even the day before, you plan to serve them because they will need time to chill and set in the fridge. The perfect solution to your weekday dessert conundrums!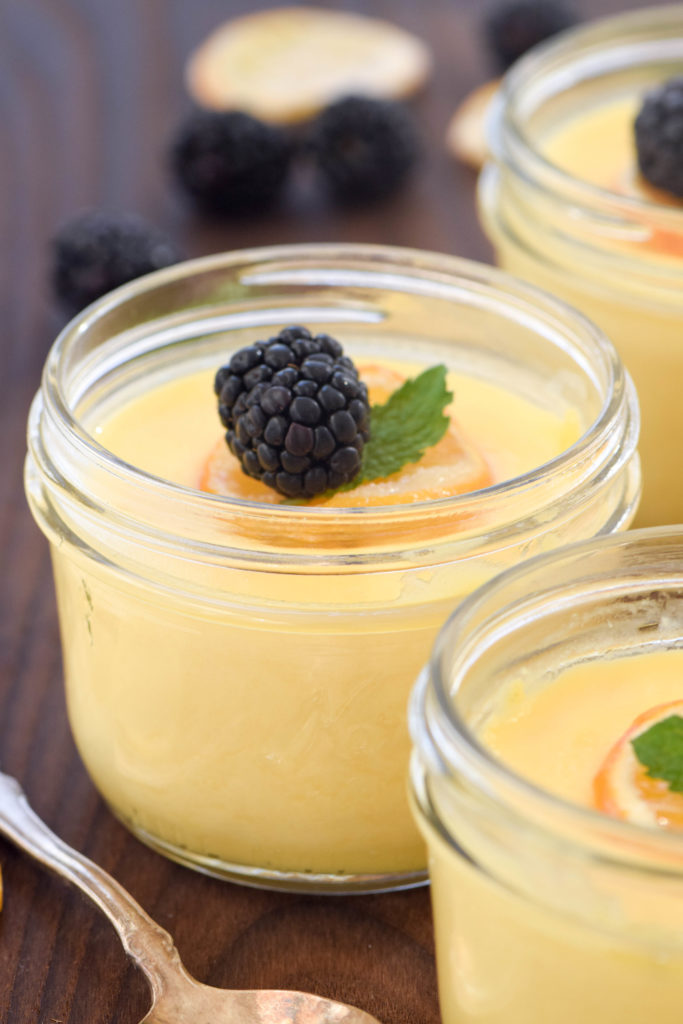 Pots de crème is not hard to make, but there are a few places where it is important to be attentive. First, you will be whisking warm cream into egg yolks to create a custard. It is really important to do this slowly and gradually or you will scramble the eggs, which is gross.
On that same note, do not skip the step of straining the custard before pouring it into the ramekins or custard cups because you want to eliminate the lemon zest as well as pieces of cooked egg. A pot de creme should have a silky-smooth texture. So, also take care not to over-bake your custards. You want to pull them out of the oven when the sides are set but the center is still jiggly. The custards will firm up in the fridge and if you over-bake them, they will be too firm once chilled.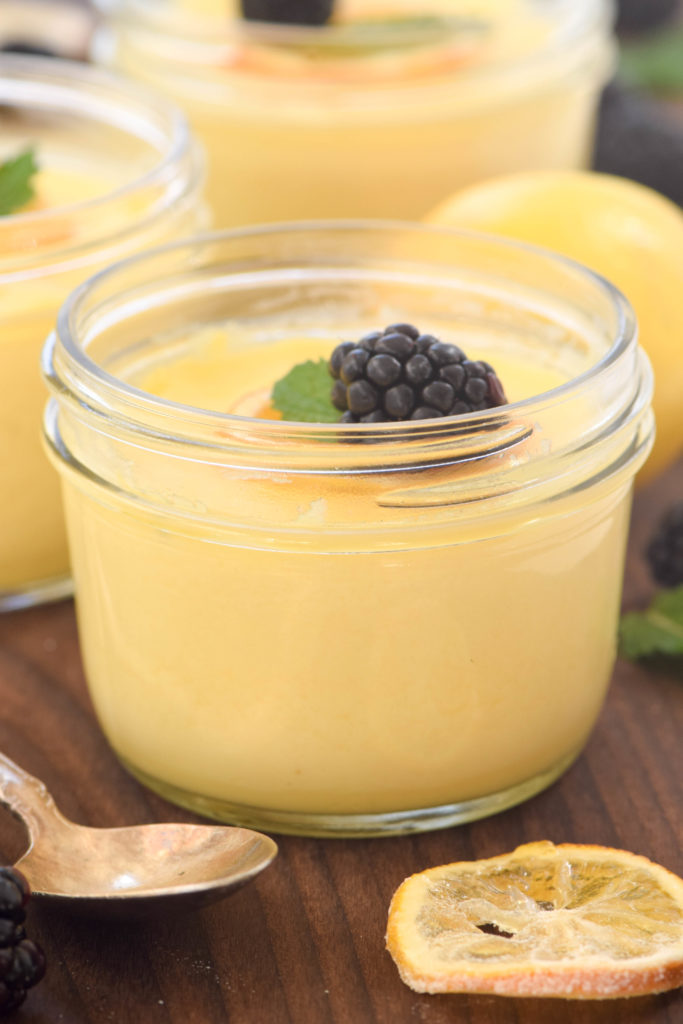 Notice the step of baking the custard in a water-bath, which is also known as a bain-marie. (Yep, more French.) The water bath helps the custards cook gently. It seems fancy but it's very simple to do. Just put a kettle on to boil when you start making the pot de crème so that it's ready when it's time to put the custards in the oven. Do make sure that the dish you choose for baking your custards is heat-proof, so it doesn't crack when you pour boiling water into it. Pyrex dishes are good for this purpose.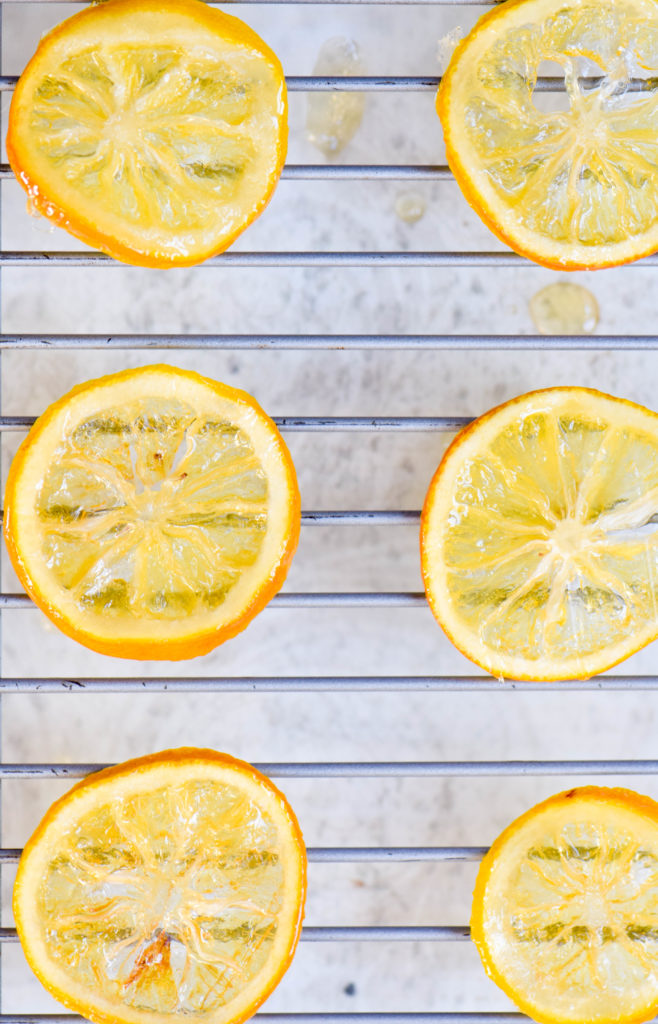 You can garnish your pots de crème in any number of ways, from a dollop of whipped cream, to a few, carefully placed berries. I got a little fancy and made some candied lemon slices with a remaining Meyer lemon to garnish the tops of my pots de crème because I had baked them in wide-mouth jars and had a wide canvas for garnishing. If that seems like too much work, feel free to opt for a simpler garnish. That being said, the candied lemon slices are not that much more extra work and they look beautiful.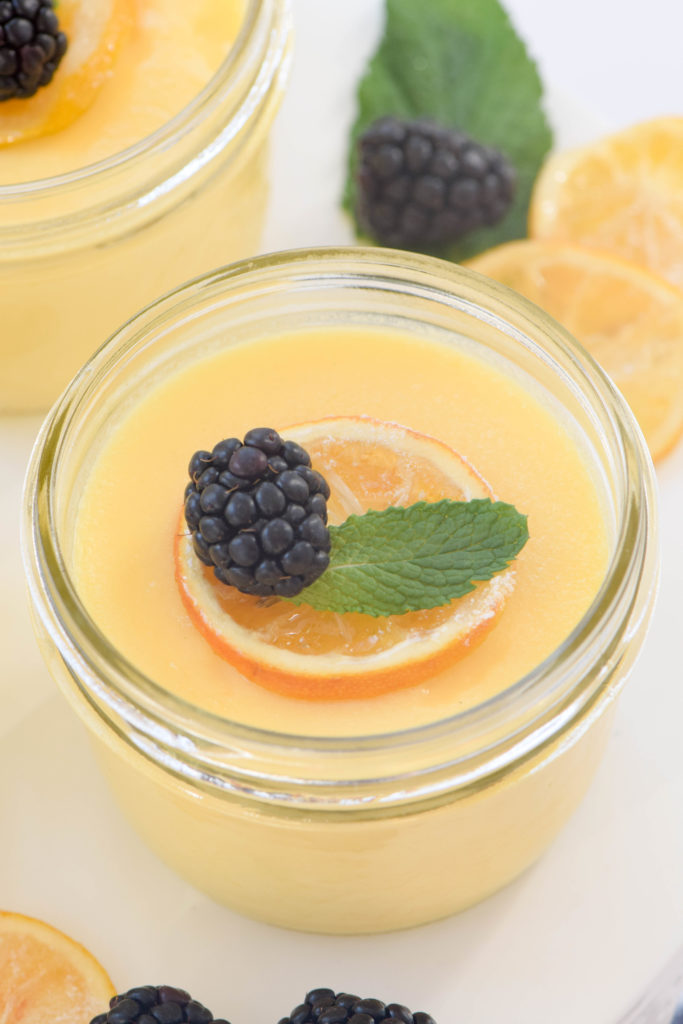 Meyer Lemon Pots de Creme
Ingredients
Lemon pots de creme

3 Meyer lemons
2 cups cream
1/2 cup sugar, divided in half
Pinch fine sea salt
5 egg yolks

Candied lemon slices

1 Meyer lemon
1 cup sugar
Instructions
Preheat oven to 300. Bring a kettle of water to a boil.
Place four ramekins, jar or custard cups in a heat-proof baking dish that fits them snugly.
Zest and juice the lemons.
In a small saucepan, combine the cream, lemon zest and juice, 1/4 cup sugar and the salt.
Slowly bring to a simmer over medium-low heat, stirring frequently.
Meanwhile, in a large bowl, whisk the egg yolks with the remaining 1/4 cup of sugar.
When the cream mixture is just at a simmer, remove from heat.
Gradually pour the warm cream mixture into the egg yolks, whisking constantly. (Don't rush this step or add too much cream at one time or you will scramble the eggs!)
Using a fine mesh strainer or cheesecloth, strain the custard (to remove the lemon zest or any bits of cooked egg) into a pitcher or large measuring cup with a spout.
Pour the custard into the four ramekins or jars, making sure to distribute it evenly.
Add boiling water to the dish until it comes halfway up the sides of the jars.
Cover dish with foil and carefully place in the oven.
Bake until the custard is still jiggly in the center, 30-35 minutes. Cool on a wire rack for 30 minutes before covering and chilling in the refrigerator for at least 8 hours or overnight.
To make candied lemon slices, slice a Meyer lemon very thinly, discarding ends and seeds.
Combine sugar with one cup of water in a wide saucepan and heat over medium heat, stirring to dissolve sugar.
Add lemon slices in a single layer and simmer until the rinds are caramelized and flesh translucent, turning once if needed, about fifteen minutes.
Remove slices from syrup and transfer to a wire rack set over parchment paper and allow to dry.
Remove pots de creme from refrigerator 30 minutes prior to serving. Garnish each with a candied lemon slice.
http://www.westoftheloop.com/2017/02/13/meyer-lemon-pots-de-creme-candied-lemon/