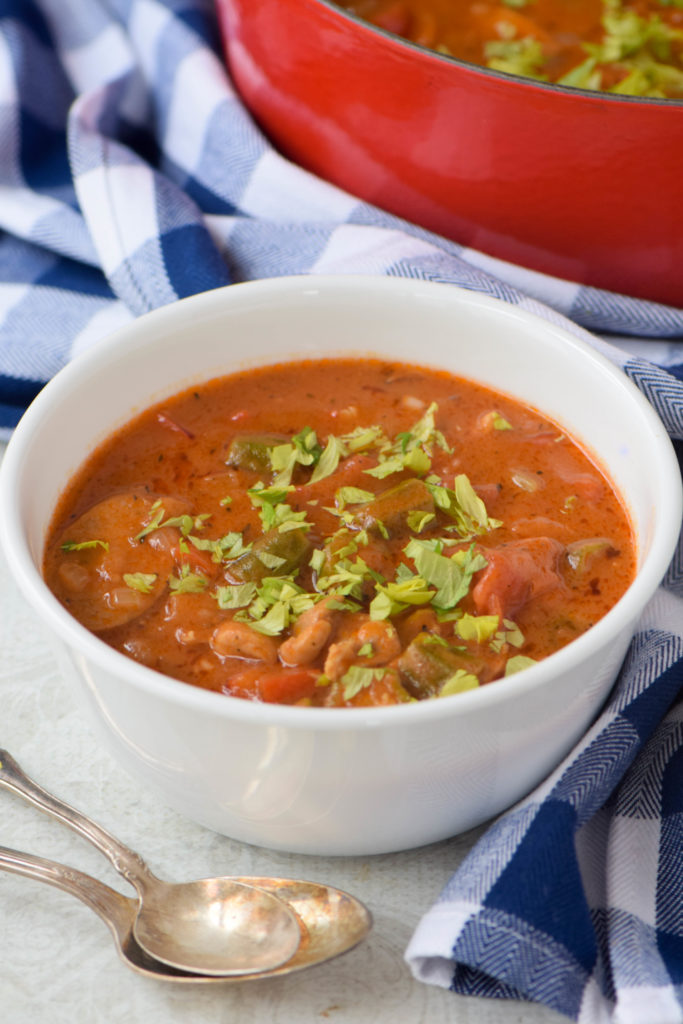 When you're Jewish, Mardi Gras isn't exactly your holiday. But I am not one to pass up a celebration with fun and good food even if I am not beginning Lent the next day. (Sorry!) So I am marking the arrival of Fat Tuesday next week with a delicious gumbo. And, as is fitting for a Jewish food blogger, this gumbo is free of both pork and shrimp — relying instead on dark meat chicken and chicken andouille sausage for flavor and heft.
Most of us associate Mardi Gras with New Orleans, a city I have sadly never visited. Isn't that terrible? I would love to visit New Orleans for the history, the architecture and, clearly, the food. I have loved Cajun food since the 80's when it became super-trendy.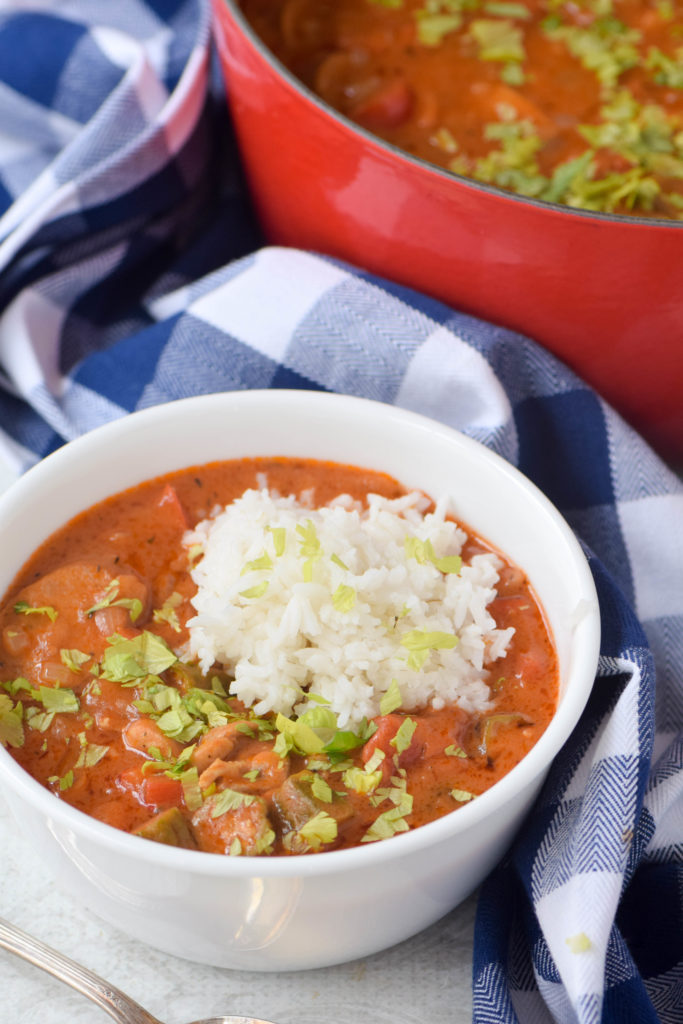 When I was a little girl, my aunt's husband, my uncle Peter, had a restaurant in the Adams Morgan neighborhood of DC called New Orleans Emporium. It was the hot place for a while, trust me. The young, after-work crowd packed the bar popping fried shrimp and downing oyster shooters before moving into the dining room for blackened redfish and crawfish jambalaya. Ask Washingtonians of a certain age about New Orleans Emporium and I guarantee that they will tell you about a birthday or anniversary that they celebrated there.
After the Cajun food fad died down, New Orleans Emporium closed and my uncle opened a more casual Cajun restaurant in Bethesda called Louisiana Express. We stopped in regularly during my high school years for po' boys and étouffée. Uncle Peter, no longer my uncle by that point but still the sweetest man, would always bring us beignets for dessert, whether we had room for them or not.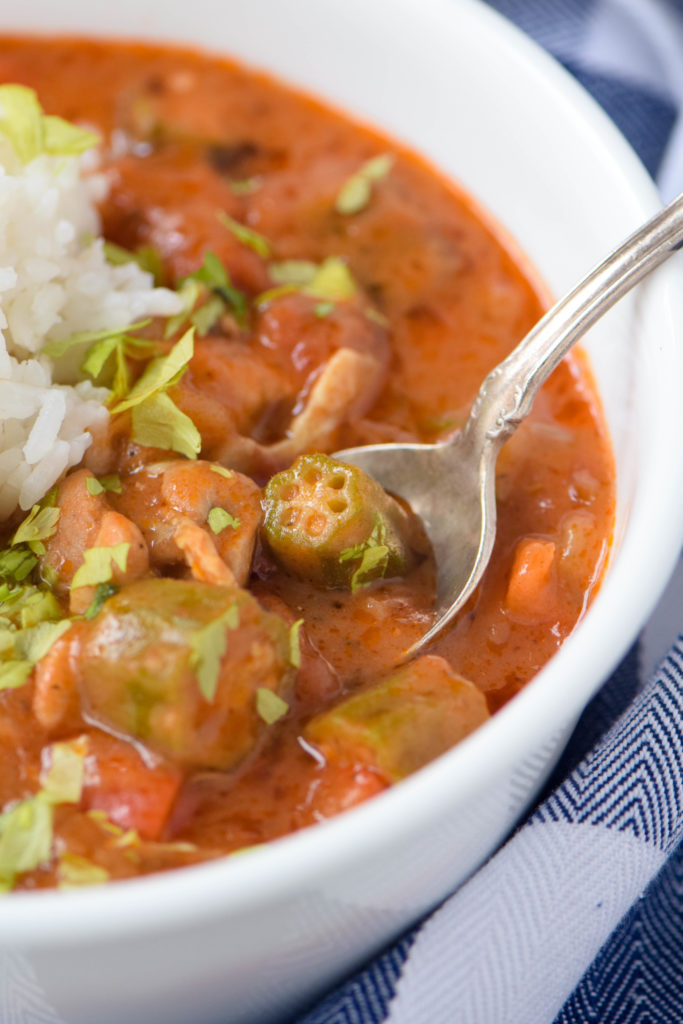 Today, I still love Cajun food, but my shellfish allergy — which onset in my late 20's – makes it impossible to enjoy crawfish or shrimp anything anymore. Combine that with my husband's no-pork rule, it would seem that much of New Orleans's famous cuisine is off-limits to us.
Not so fast! While I may never eat shrimp étouffée again, there is certainly no reason why I can't have one of New Orleans's most iconic dishes, and my personal favorite, gumbo. Gumbo, which is at the center of the Mardi Gras festivities, is a hearty stew that, like most stews, works with whatever protein you happen to have around. In my case, chicken.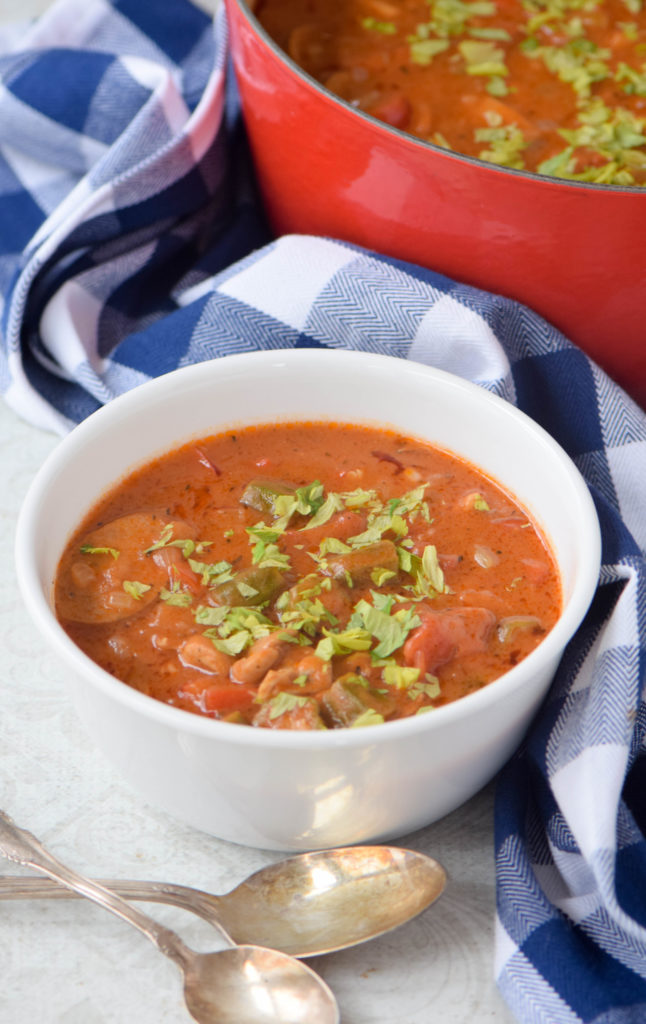 Andouille sausage, which is usually made with pork, is very typical ingredient in gumbo. Happily, my grocery store, and maybe yours too, sells a good andouille sausage made with chicken in lieu of pork. So I was able to include this classic Cajun ingredient in my gumbo. If you don't avoid pork, you can go ahead and use regular andouille.
While which protein you use for gumbo is not a matter of dogma, there are a few unbreakable gumbo rules. First, gumbo must have the New Orleans "holy trinity" of diced onion, celery and bell pepper. That's easy enough. Second, gumbo is supposed to be thick. I use a roux, cooked until dark as is typical for Cajun food, as well as some okra to thicken my gumbo. Filé powder, a form of dried sassafras, is another traditional thickener for gumbo, but it can be hard to source outside of Louisiana.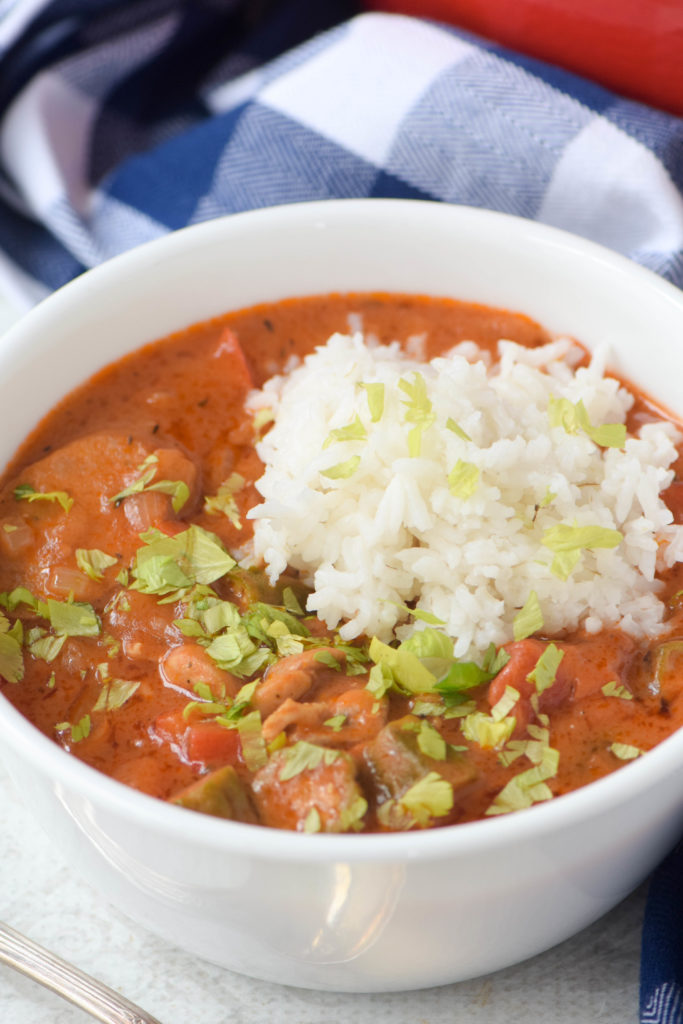 Okra, with its slimy interior, can be divisive. I've enjoyed watching the contestants on this season of "Top Chef," — which takes place in another famous southern city, Charleston — torture judge Tom Colicchio by constantly serving him okra, which he is known to despise. I don't go overboard with the okra here, because I don't love it myself, but I do think it adds a certain authenticity to gumbo. If you really hate okra, by all means, leave it out.
I serve gumbo with rice, but you could also whip up a batch of flaky, buttery biscuits to accompany your bowl. Ooh biscuits! I may have to go make some right now.
Do you have plans for Mardi Gras? Let me know in the comments!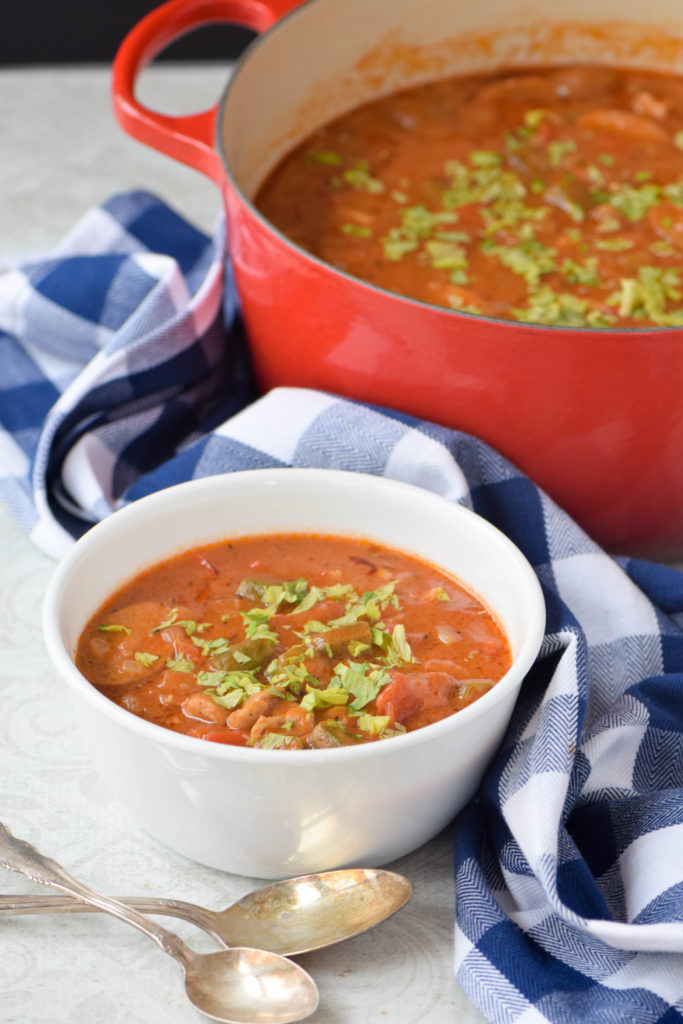 Ingredients
2 TB olive oil
6 boneless, skinless chicken thighs, cut into 1-inch pieces
2 yellow onions, diced
3 ribs celery, diced
2 bell peppers, diced
4 cloves garlic minced
2 tsp each thyme and oregano
1 tsp cayenne pepper
Salt and pepper to taste
3/4 cup vegetable or canola oil
3/4 cup flour
1 28 oz can tomatoes
1 lb okra, trimmed and cut into 1/2-inch pieces
1 qt chicken broth
9 oz chicken andouille sausage
Instructions
In a large Dutch oven, heat the olive oil over medium heat. Working in batches, brown the chicken pieces on both sides. (The pieces need not be cooked through at this point.)
Add the onion, celery and bell pepper to the Dutch oven and sauté over medium heat until softened, about ten minutes.
Add the garlic, thyme, oregano, and cayenne and season the vegetable with salt and pepper. Continue to sauté, lowering heat as necessary to prevent the vegetables from browning too much, until very soft.
Meanwhile, make the roux. In a small saucepan, combine the oil and flour and cook over medium heat, whisking constantly, until browned, 10-20 minutes.
Add the roux to the vegetables in the Dutch oven and stir to combine.
Return the chicken pieces and any accumulated juices to the Dutch oven.
Add the can of tomatoes, breaking up the tomatoes with your spoon, and cook until slightly thickened, about five minutes.
Add the okra and chicken broth and stir to combine. Bring the mixture to a boil, then turn down heat and simmer for at least 45 minutes and up to three hours.
Add the sausage shortly before serving and cook until warmed through. Taste and adjust seasonings.
Serve with rice, if desired.
http://www.westoftheloop.com/2017/02/23/chicken-gumbo-mardi-gras/