Delicious, lemony, jam-filled hamantaschen for Purim!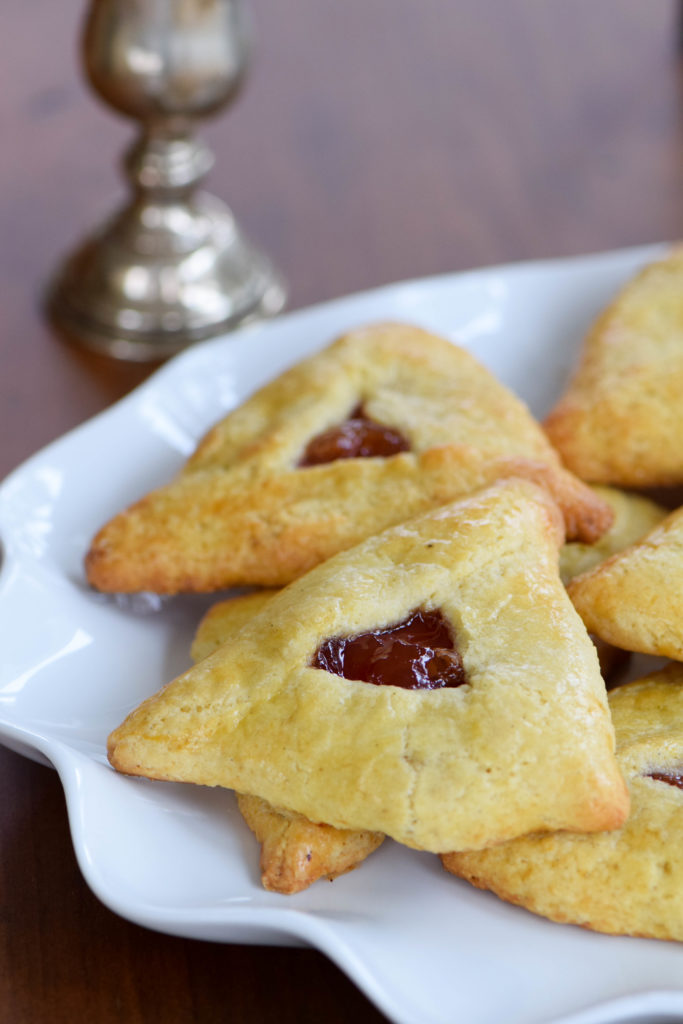 This week brings the Jewish festival of Purim, a carnival holiday where people are encouraged to dress in costume and make merry. Purim commemorates the deliverance of the Jewish people from an evil government minister, named Haman, who plotted to destroy the Jewish community in ancient Persia.
One of the four central Purim rituals, and my personal favorite, is michlach manot: sending gifts of food to friends and family. This tradition demonstrates the love and unity of Jewish people. The commandment of michlach manot comes from a verse at the end of Book of Esther after the deliverance of the Jewish people from Haman's scheme to destroy them: "They were to observe them as days of feasting and merrymaking, and as an occasion for sending gifts to one another and presents to the poor." (Esther 9:22)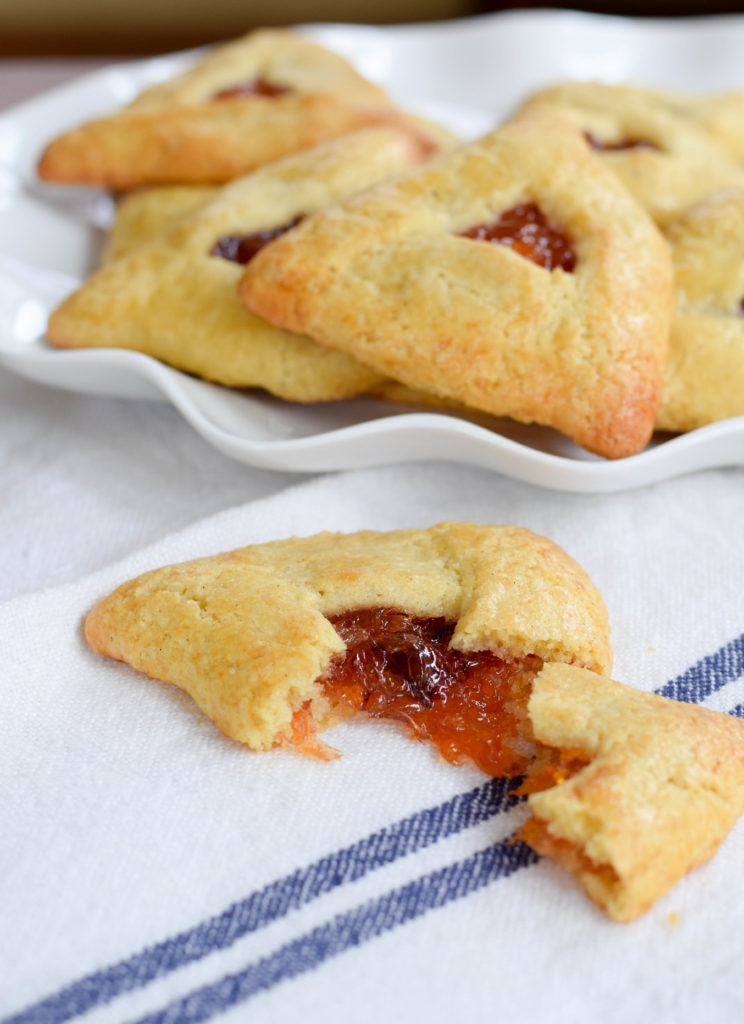 There are a few rules about michlach manot: You are technically supposed to use a go-between to send gifts, not simply give them to the recipient. (Sending gifts through the mail counts.) Also, the gift should include at least two different foods and those foods should be ready to eat; one should not give something that requires preparation.
Many congregations sell pre-packaged michlach manot, containing foods like granola bars, nuts and chocolate, as a fundraiser, but I prefer the tradition of making homemade michlach manot. Indeed, what better way to show love than to send a friend or relative some homemade treats?
My new book, The Joys of Jewish Preserving: Modern Recipes with Traditional Roots for Jams, Pickles, Fruit Butter and More, contains over 75 recipes for unusual and inspiring Jewish DIY projects that would make impressive michlach manot, including Queen Esther's Apricot-Poppyseed Jam and North African Preserved Lemons. Alas, it won't be available in time for Purim this year, but you can pre-order the book and have it in time for the spring and summer preserving season. Come next Purim, you will have plenty of homemade gifts for michlach manot.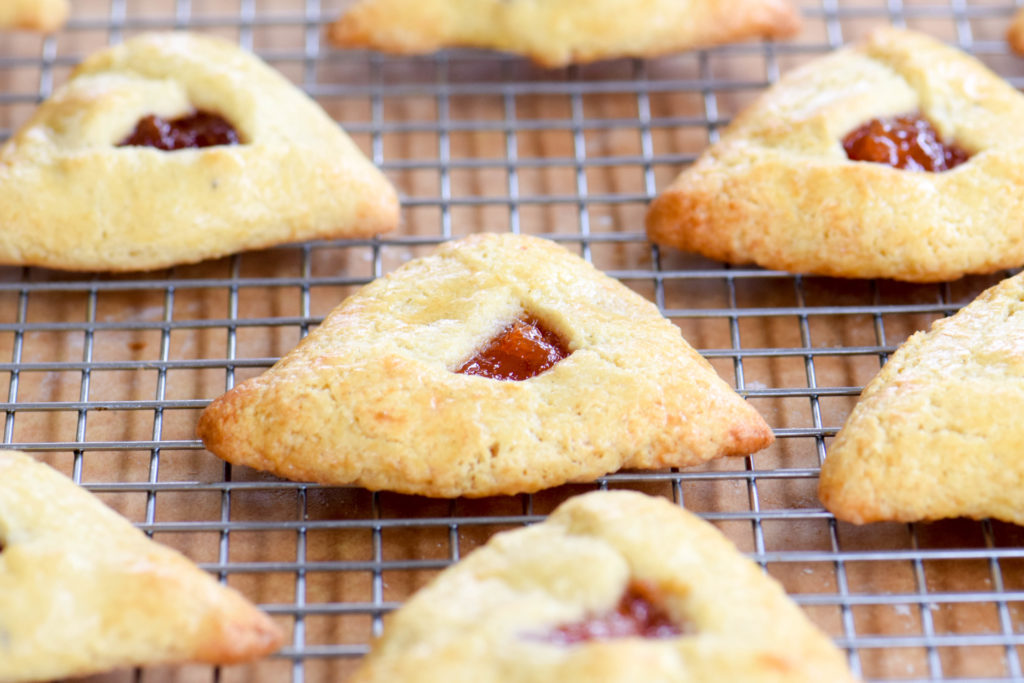 Mishlach manot usually contain hamantaschen, a triangular, filled cookie that is the signature food of Purim for Ashkenazi Jews. The cookie's shape is said to come from the three-cornered hat that the villain Haman wore.
Hamantaschen have a bad reputation.  All Jewish kids have scarred by eating a soggy, tasteless hamantaschen filled with unpleasant prunes or not-very-sweet poppy seeds. That is not what anyone is hoping for when biting into a cookie! This recipe, however, will redeem hamantaschen in your children's eyes. The dough is sweet and buttery, with a hint of lemon zest, and crumbly without being dry.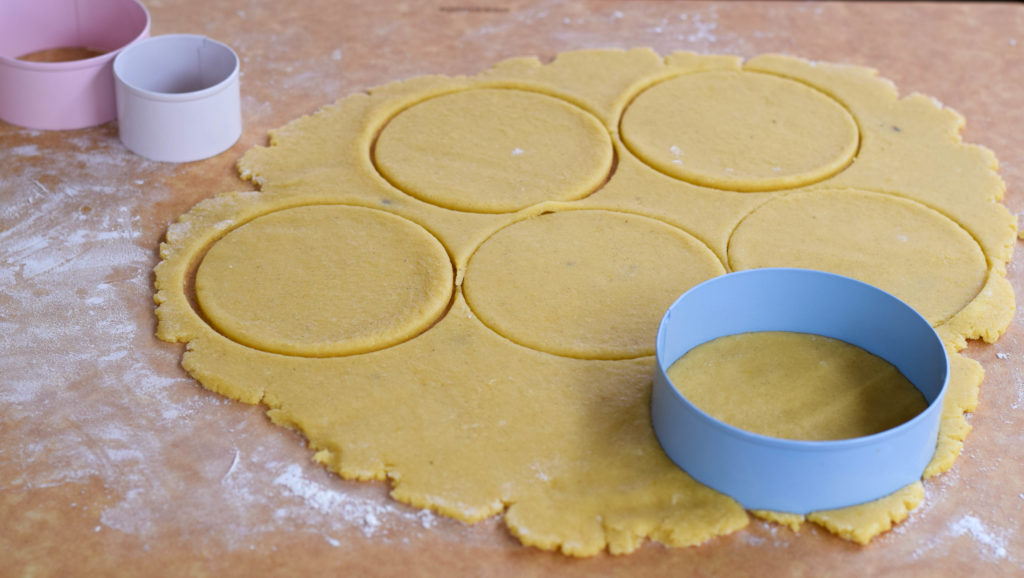 For filling, I suggest using jam instead of the more traditional poppy seeds. (Poppy seeds are not dessert.) You can use any jam that you like to fill your hamantaschen as long as it is good quality. Berry, apricot and plum jams all work nicely. If you have some homemade jam left from your summer canning, this is the moment to use it!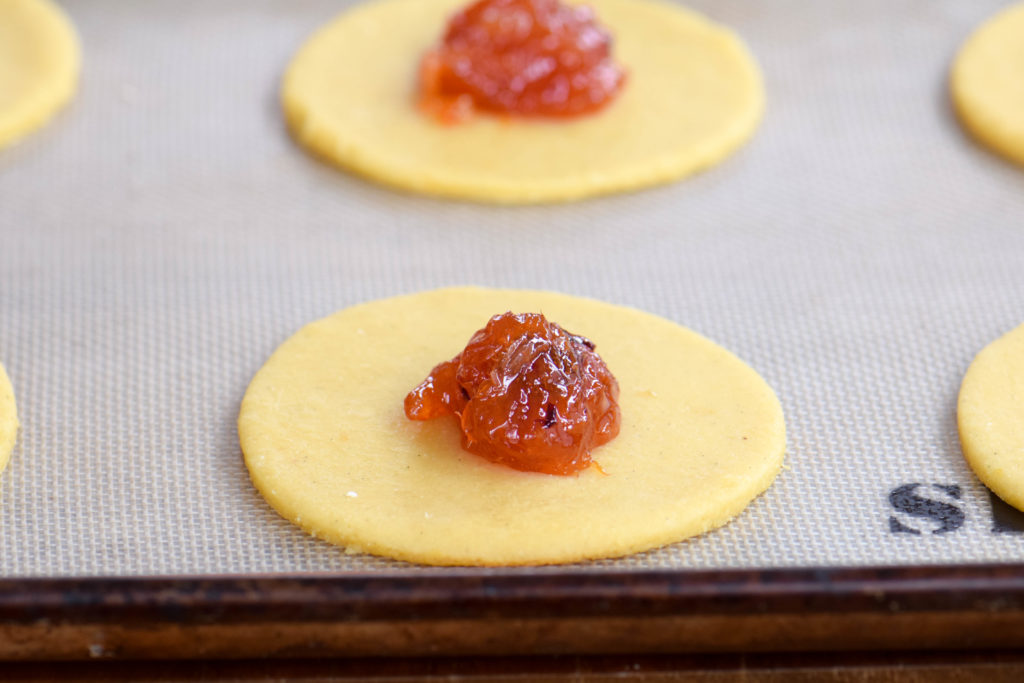 The key to this success for this recipe is giving the dough plenty of time to chill in the refrigerator before rolling it out. When you are ready to make the cookies, use a round cookie cutter that is at least 4 inches in diameter to cut out circles of dough. Place the circles of dough on a cookie sheet lined with a Silpat mat. (Trying to move the filled and folded cookies from a cutting board to a cookie sheet is a recipe for disaster, so I always place them on the cookie sheet prior to filling.)
Fill the circles with jam and then fold into a triangle. In my experience, folding the sides over like an envelope to form the triangle works better than pinching the corners together.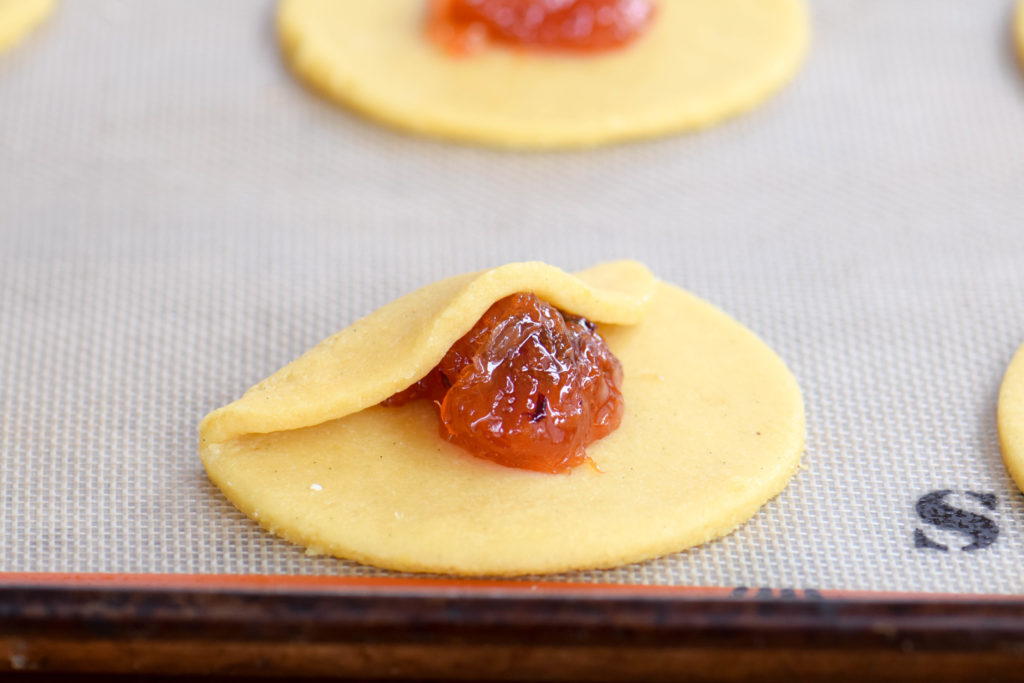 Once you have filled and folded your hamantaschen, chill the cookies prior to baking. This step will ensure that they will hold their shape in the oven and you will end up with the triangular hamantaschen of your dreams. To make the cookies extra brown and glossy, brush with an egg wash right before baking.
Purim begins the night of March 11 so make the dough for these hamantaschen this week to have cookies in time for the holiday.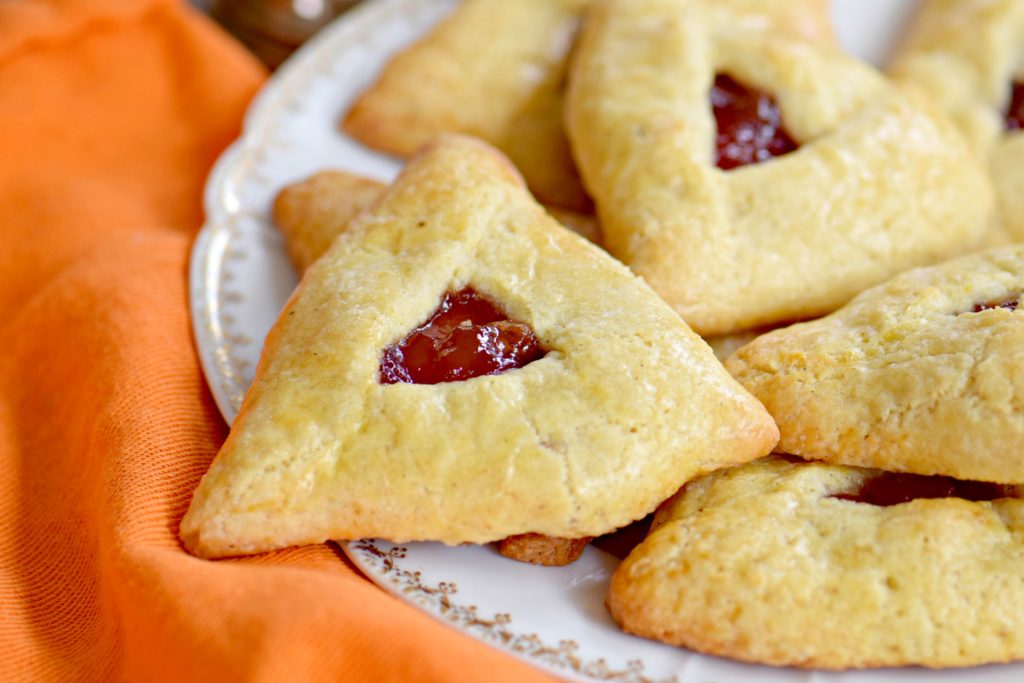 Chag sameach Purim everyone!
Ingredients
3 cups all-purpose flour
1 cup sugar
2 tsp. baking powder
1/2 tsp salt
10 tsp. unsalted butter, cut into small cubes
3 eggs and 2 egg yolks
2 tsp. vanilla extract
Zest of one lemon
8 oz. jam or preserves for the filling
1 tsp milk
Instructions
Place the flour, sugar, baking powder and salt in the bowl of a food processor and pulse a few times to combine. Add the butter and process for a few seconds until the mixture resembles coarse crumbs.
In a separate bowl, whisk together two of the eggs, the egg yolks, the vanilla and the lemon zest. Add the egg mixture to the food processor and process for thirty seconds. (It will still be somewhat dry and crumbly.)
Turn the dough out onto a floured surface, gather into a ball and knead until it comes together.
Divide dough in half and form into two discs. Wrap each disc in plastic wrap and refrigerate for several hours or overnight.
To make the cookies, remove one of the disc from the refrigerator and let the dough warm up slightly to make it easier to roll out.
Preheat oven to 350 and line two baking sheets with Silpat baking mats or parchment paper.
Roll out dough on a well-floured surface with a well-floured rolling pin to between 1/2 inch and 1/4 inch thickness.
Using a 4-inch round cookie cutter, cut out circles and place them on the lined cookie sheets. Gather up the scraps of dough and re-roll them out to cut out more circles.
To fill the cookies, spoon a teaspoon of jam or preserves in the center of the dough circle.
To create the classic triangle shape for the hamantaschen, do a series of three folds. First, fold one side of the cookie in so that the edge comes to the middle of the jam filling. Fold the second side in the same way and so that it partially covers the first side. Finally, fold the remaining side up and in so that it overlaps the other two sides. Chill the cookies for at least ten minutes prior to baking.
Make an egg wash of one egg beaten with the milk.
Brush the outside of the cookies with egg wash with a pastry brush.
Bake for 15 minutes or so until the cookies are golden brown. Cool on a wire rack.
Repeat with the remaining disc of dough.
http://www.westoftheloop.com/2017/03/06/hamantaschen-dont-suck/