Breakfast is a special occasion with this Orange Cardamom braided challah served with a sweet Orange Honey Compound Butter. Get your citrus fix before the season ends!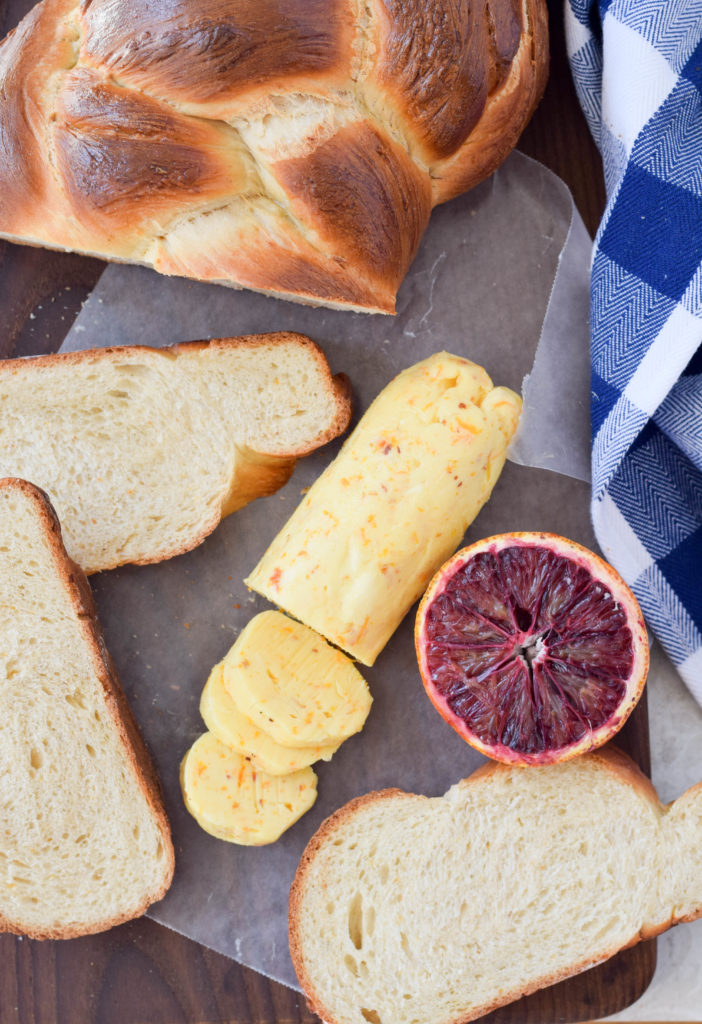 As citrus season winds down, I am trying to get my fix of Meyer lemons, blood oranges and all my favorite sunny, wintertime Vitamin C powerhouses before they go away. Recently Limoneria, one of the world's largest growers and distributors of lemons, sent me some beautiful oranges to try — yes, a lemon grower also grows oranges — including blood oranges (my favorite) and Cara Cara navel oranges.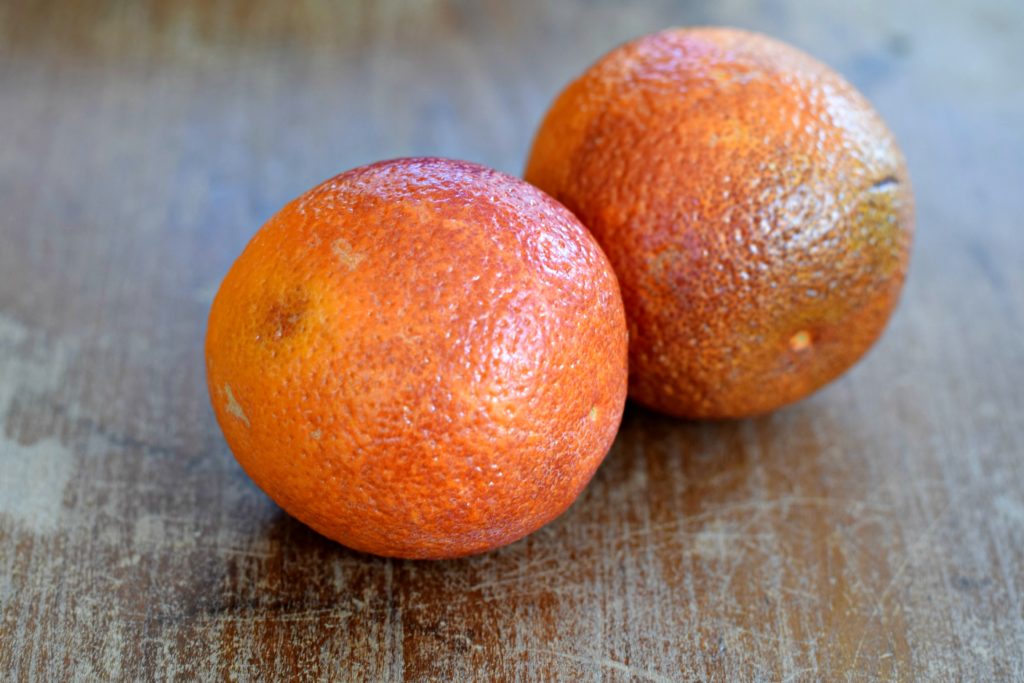 The Cara Cara oranges were quickly consumed by my husband, who firmly believes that an orange a day keeps the doctor away. But I cleverly hid the blood oranges so I would have a chance to play with them before someone ate them.
By now, everyone knows I am cuckoo for blood oranges, right? I've used them for winter bread salad; I've used them for orange curd; I've even used them for cocktails. What else could I possibly do with blood oranges?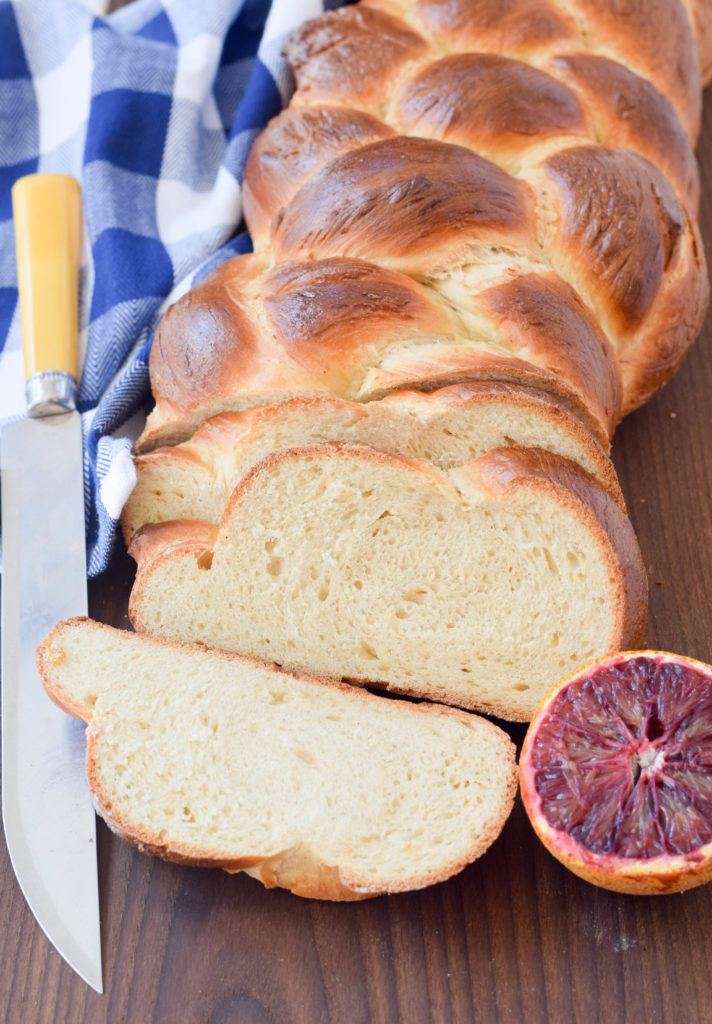 But you see, I've never made a breakfast recipe using blood oranges. As I lay in bed the other night dreaming about what I could make with my blood oranges from Limoneria, I thought about what I might want to eat for breakfast the next day. And what I wanted was a rich, sweet, orange-scented challah.
But that was not enough. Oh no! I also wanted something sweet to spread on my challah. Only an orange honey compound butter would satisfy my craving for the perfect orange breakfast spread.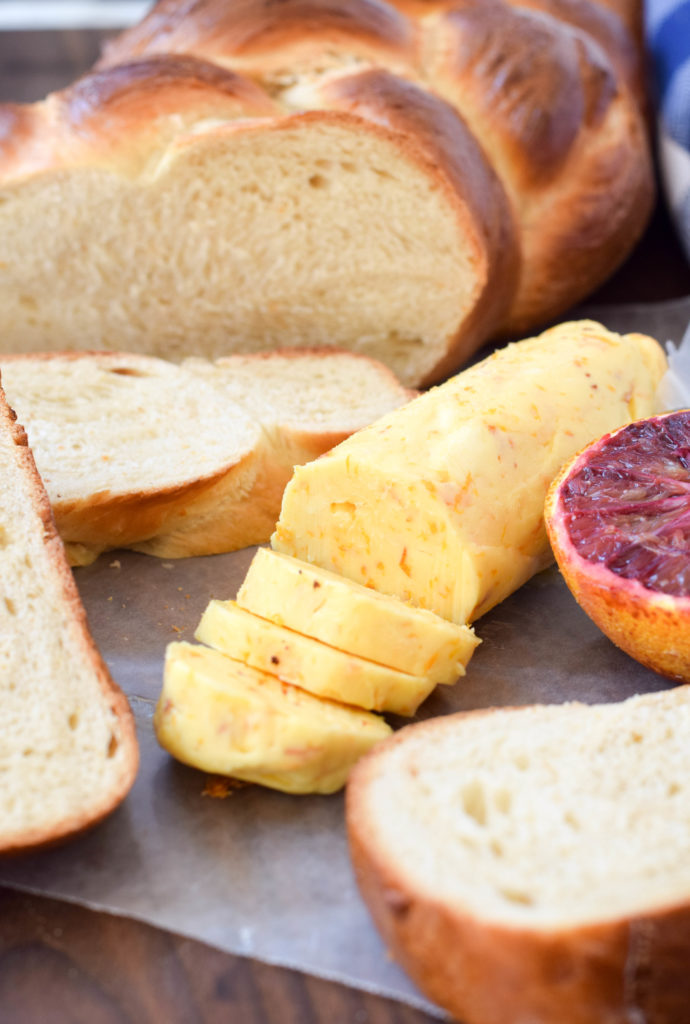 Compound butter, also known as hotel butter in restaurant parlance, is butter that has been combined with flavorings, such as aromatics, herbs, spices, and even sweeteners. These flavored butters are sometimes served at restaurants as an accompaniment to the bread basket. Beyond their use as a spread, compound butters are often used to flavor grilled meats, seafood, and steamed vegetables or added to sauces.
Compound butter is incredibly easy to make and you can be as creative as you wish with the flavors. Experiment with different herbs, spices, citrus zest, and sweeteners. This compound butter is made with orange zest and a dab of honey to be a bright and sunny addition to your breakfast table.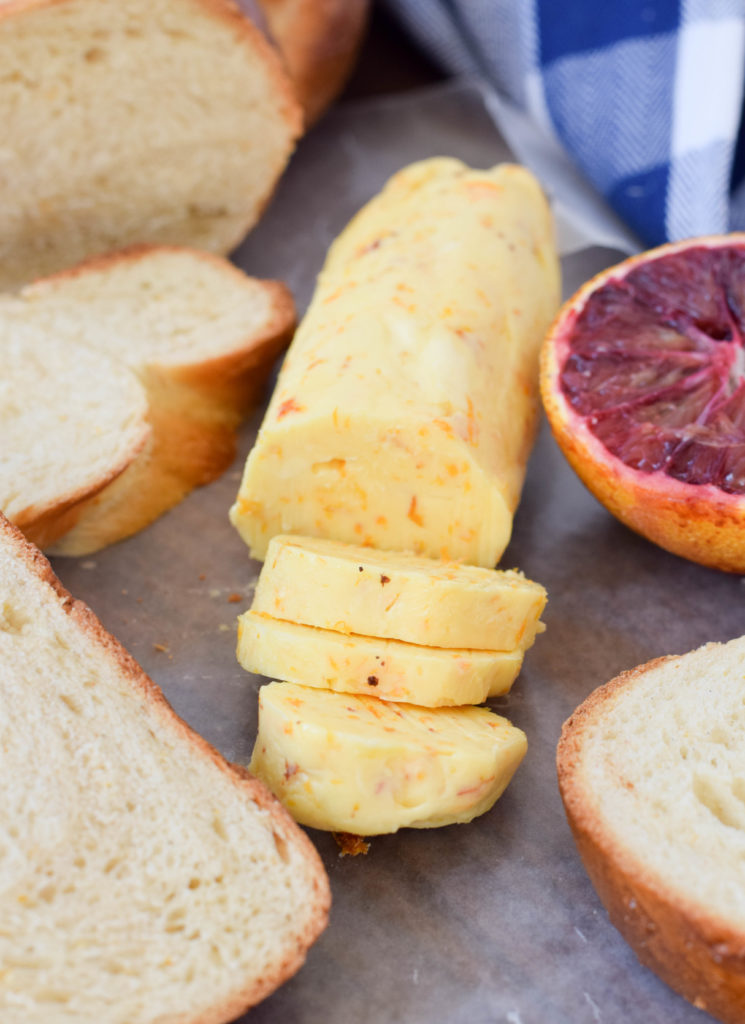 I have been making challah for years always using water as the liquid. But when I contemplated making an orange-flavored challah, I knew I didn't want to add just the orange zest for a light hint of orange. I wanted to really infuse the bread with orange flavor throughout. So I wondered, could I replace the water in my standard challah recipe with orange juice?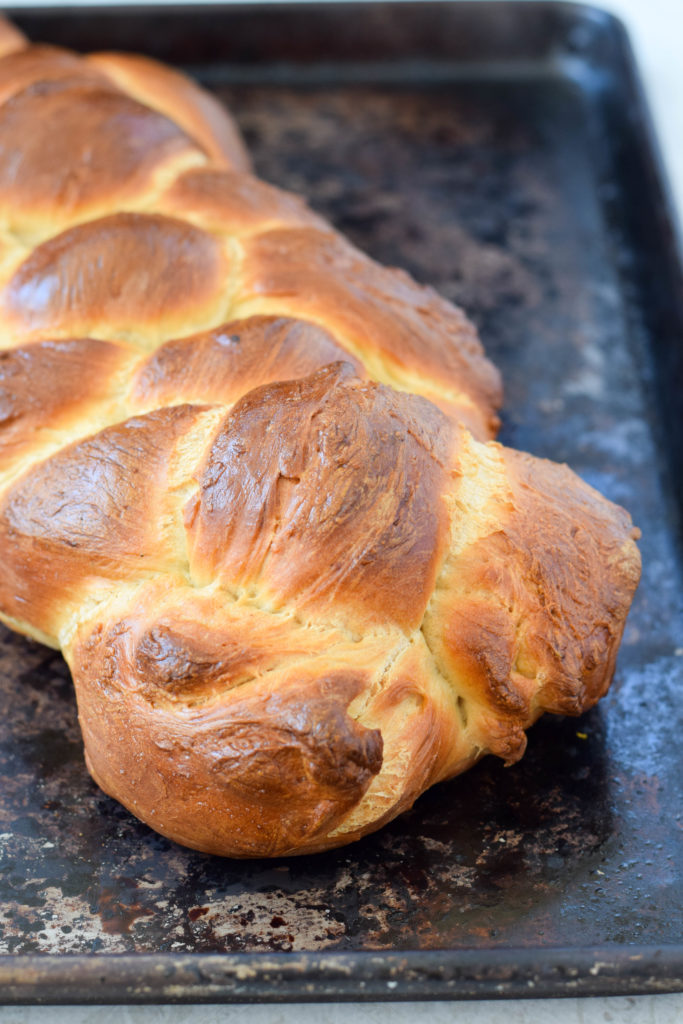 I researched the question and found that, indeed, I was not the first cook to think of using orange juice in challah. My good friend Melissa Clark of the New York Times — seriously, I recently spent three hours with her in a workshop on writing recipe headnotes, so we are basically besties — has a recipe for challah made with orange juice and olive oil.
My usual challah recipe calls for 1 cup of warm water. You can replace all or some fraction of that with orange juice, as you please. It is important, however, to warm up the liquid before adding it to the yeast and flour. If you juice the oranges straight from the refrigerator, the liquid will be too cold and the dough will take forever to rise, if it rises at all. So whatever liquid you use, do warm it up on the stove or in the microwave.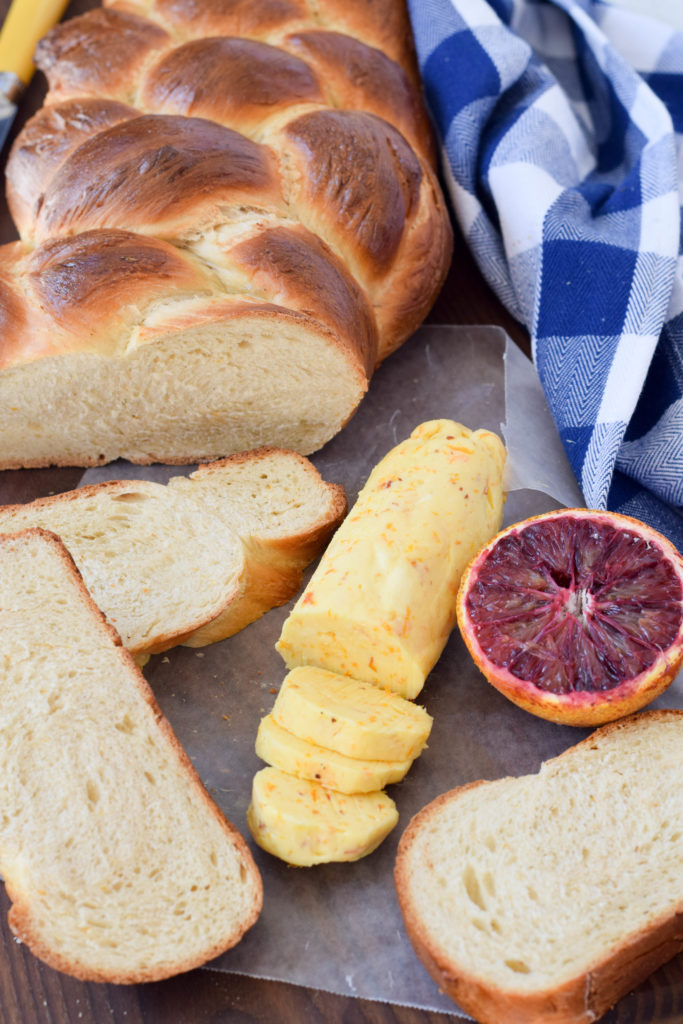 Because there is sugar in the orange juice, I reduced the amount of sweetener in my usual challah recipe and because I was experimenting, I added a teaspoon of cardamom, a warm, earthy spice that is more frequently associated with Scandinavian baking than Jewish. But you know, I am part Swedish and part Jewish, so this orange-cardamom challah strikes me as just right.  The result was just what I had dreamed off.
Before it is too late, my friends, I beg you: find yourself some special oranges, be they ruby-red blood oranges, or pink Cara Caras, and make this dreamy breakfast spread of orange-cardamom challah and orange-honey compound butter. Soon spring will be here and citrus season will be gone for another year. You don't want to have any regrets, now do you?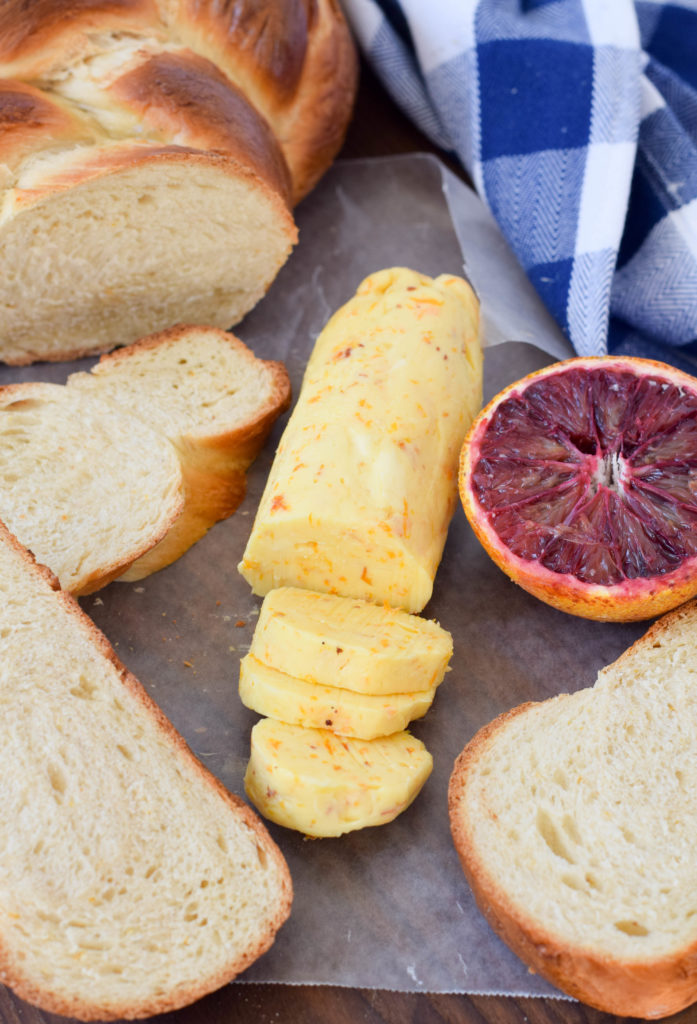 Orange Cardamom Braid with Orange Honey Compound Butter
Ingredients
Bread

2 1/4 tsp. instant yeast
4 cups bread flour
1 cup freshly squeezed orange juice OR 1/2 cup orange juice and 1/2 cup water, warmed to approximately 110 degrees
3 eggs, at room temperature
1/4 cup vegetable oil
3 TB sugar
1 TB orange zest
1 tsp salt
1 tsp cardamom

Compound butter

4 oz butter, softened
1 TB honey
1 TB orange zest
Instructions
In the bowl of a standing mixer fitted with a dough hook, combine the flour, yeast and orange juice. Stir to combine.
Add two of the eggs, oil, sugar, orange zest, salt and cardamom.
Mix the dough with the dough hook until a smooth dough emerges, about five minutes.
Turn the dough out onto a well-floured board and knead by hand for an additional five minutes. The dough should be smooth and elastic. It may be slightly tacky to the touch.
Place the dough in a bowl that has been oiled on all sides. Cover the dough with a clean cloth and allow it to rise in a warm place for two hours or until doubled in size.
Punch down risen dough and divide into four equal parts.
Roll each piece into a thin strand. Pinch the strands together at the top and then weave them as follows: take the strand on the left and weave it over the next strand, under the third strand and over the fourth strand. Repeat with the strand that is now the left following the same over-under-over pattern. Repeat until you reach the ends of the dough.
Take the ends and pinch them closed and tuck the under the loaf.
Carefully transfer the braided loaf to a baking sheet lined with parchment paper or a silicone baking mat.
Cover the loaf with a clean tea towel and allow to rise for an additional 30 minutes to one hour, until doubled in size.
Preheat the oven to 350.
Beat the remaining egg with a tablespoon of water in a small bowl. Brush the egg wash on the challah, making sure to get in the crevices of the braids.
Bake 35-40 minutes until golden brown.
Allow to cool on a wire rack prior to cutting.
To make the compound butter, combine the softened butter, honey and orange zest in a mixing bowl and beat with a handheld beater until combined. Roll into a log and cover with wax or parchment paper. Refrigerate until firm.
http://www.westoftheloop.com/2017/03/22/orange-cardamom-bread/