A Sephardic version of Passover charoset made with Medjool dates, almonds and walnuts and flavored with cinnamon and a hint of orange. A worthy addition to your Passover seder!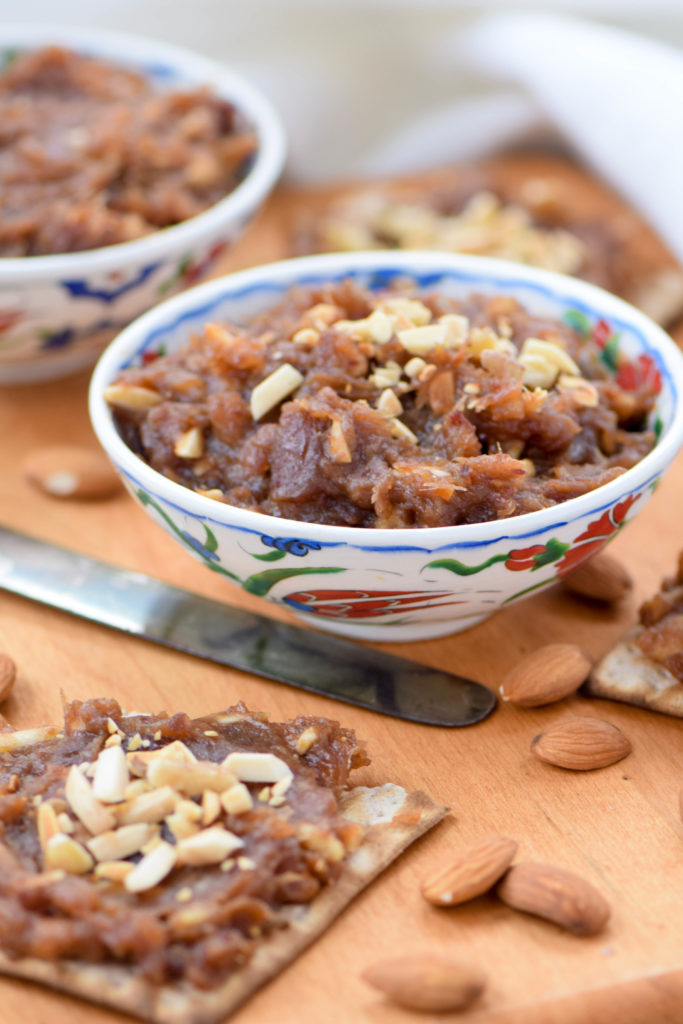 Dates are the base for many charoset recipes from the Sephardic world, which tend to be more like fruit pastes than the chunky apple and nut mixture familiar to Ashkenazi Jews. I remember being surprised, when attending my first Sephardic Seder during my year living in Paris with the Zémor family — who were French-Algerian Jews — that the charoset came in a tube and looked like the filling of a Fig Newton.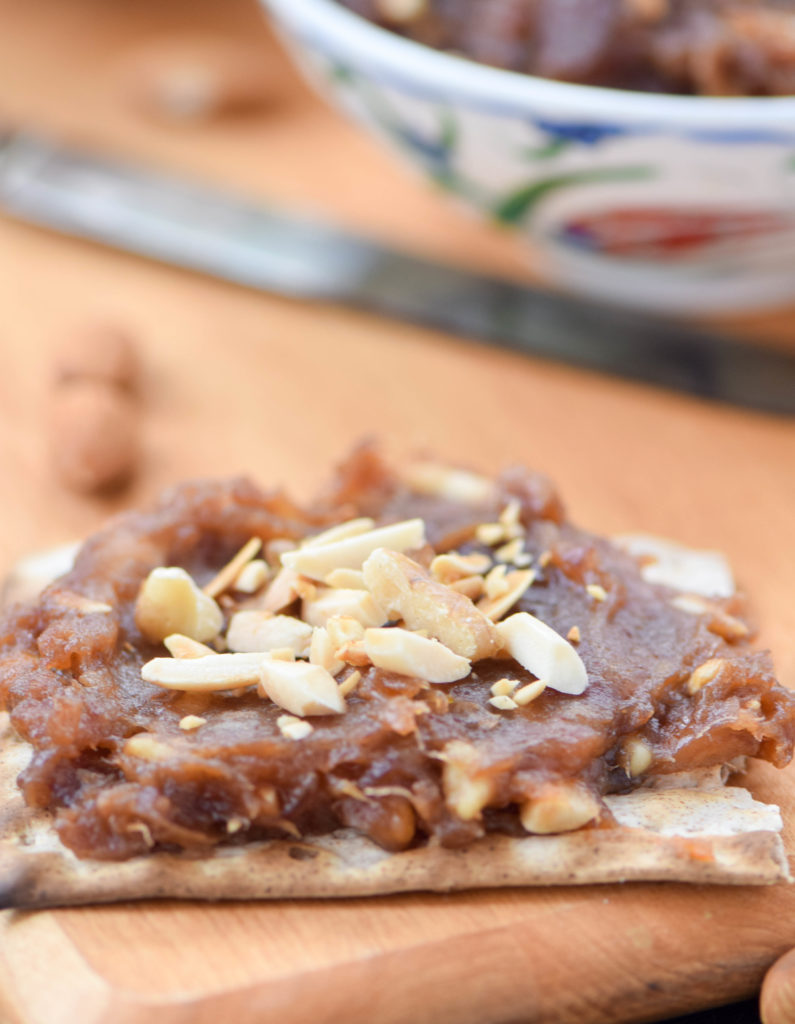 Since that time, I have grown to like Sephardic charoset, which certainly looks more like mortar — what charoset is supposed to represent — than the Ashkenazi version. I have even created my own version of date charoset because it's incredibly easy to make yourself and much better than the stuff in a tube. (Does anything good come out of a tube really?)
This may not be the charoset you are used to, but it is sweet, delicious and well worth trying. Dates, like walnuts and almonds, are mentioned in the Song of Songs and thus seem like a fitting combination for charoset.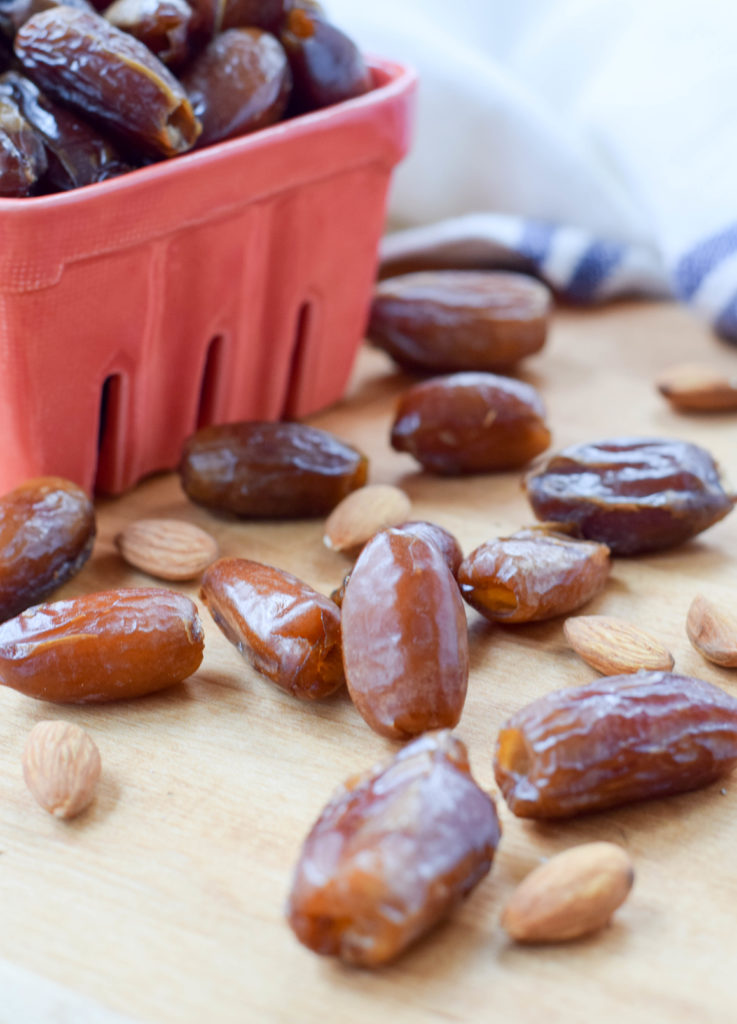 Dates are an ancient food that have become trendy again as a natural alternative to refined sugars. Dates have a natural caramel flavor that will make you go weak in the knees but also pack a hefty nutritional punch.  Medjool dates are known for their large size, soft texture and rich flavor and are probably the kind you will find in stores.
This recipe begins by cooking chopped dates with some lemon and orange juice and water to soften the dates and break them down. Once the dates are nice and soft, you puree them for a smoother texture. If you stop right there, you have what I call date jam.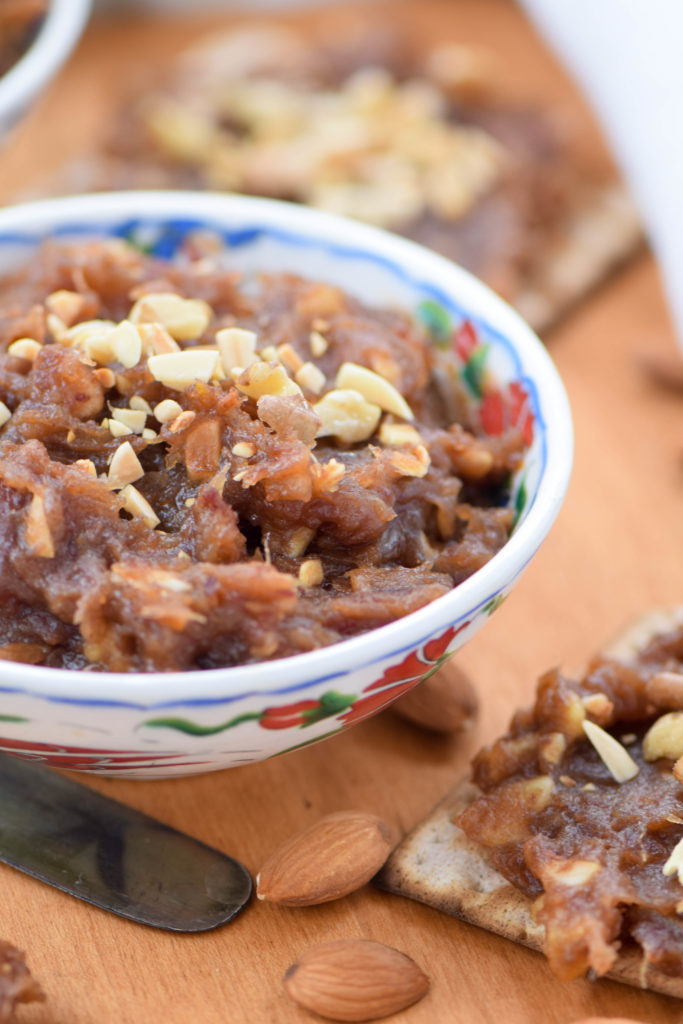 (There is actually a recipe for date jam in my upcoming book The Joys of Jewish Preserving. Date jam is a natural sweetener that can be used in place of sugar in recipes — the Paleo crowd certainly seems to like it — or simply spread on bread and eaten like jam. Or try it with a cheese plate. Or use it on grilled meats. Now that I think about it, date jam is actually an incredibly useful thing to have around.)
But to make your date jam into charoset, you need to add nuts. As always, toast your nuts before using for the best flavor. As I mentioned, I selected almonds and walnuts for my Sephardic charoset because they are  both nuts that are meaningful to the Jewish people. Almonds are a symbol of good luck and fruitfulness  and are used in many traditional Ashkenazi and Sephardic dishes, including many kinds of charoset.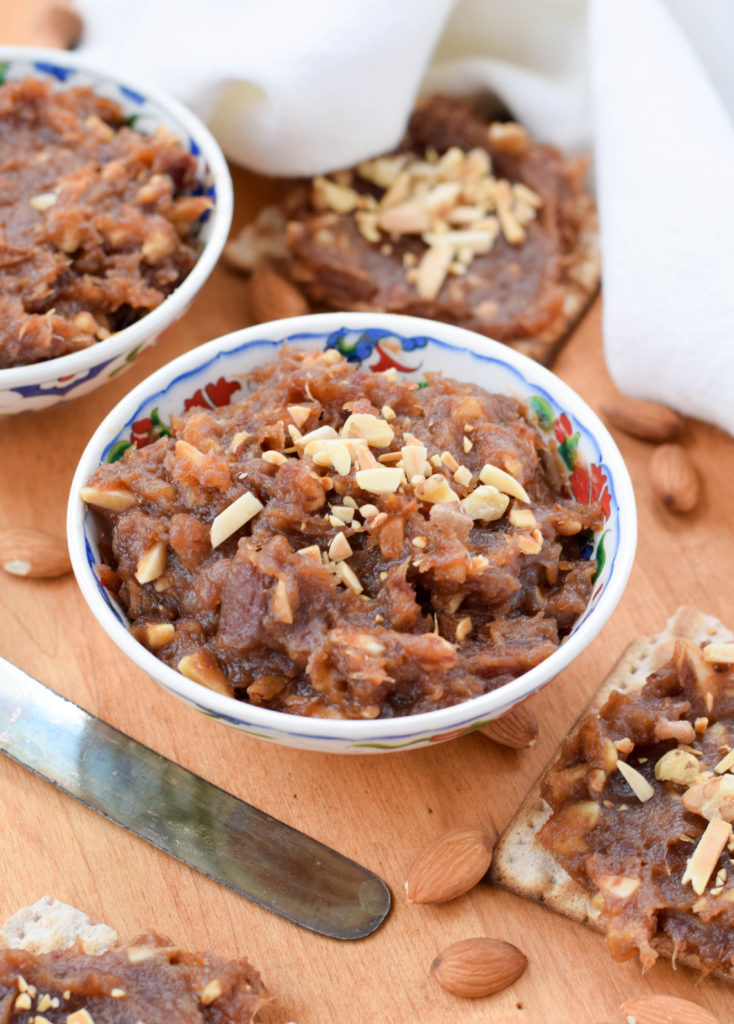 Best of all, you can make this date charoset several days in advance of your Seder and store it in the refrigerator until needed. I am not suggesting you forego your favorite apple-and-walnut charoset in favor of this date charoset or anything crazy like that. My family would never stand for such heresy! But why not serve both kinds of charoset this year? You may win some fans for the Sephardic style of charoset.
Best wishes for a happy Passover from my family to yours!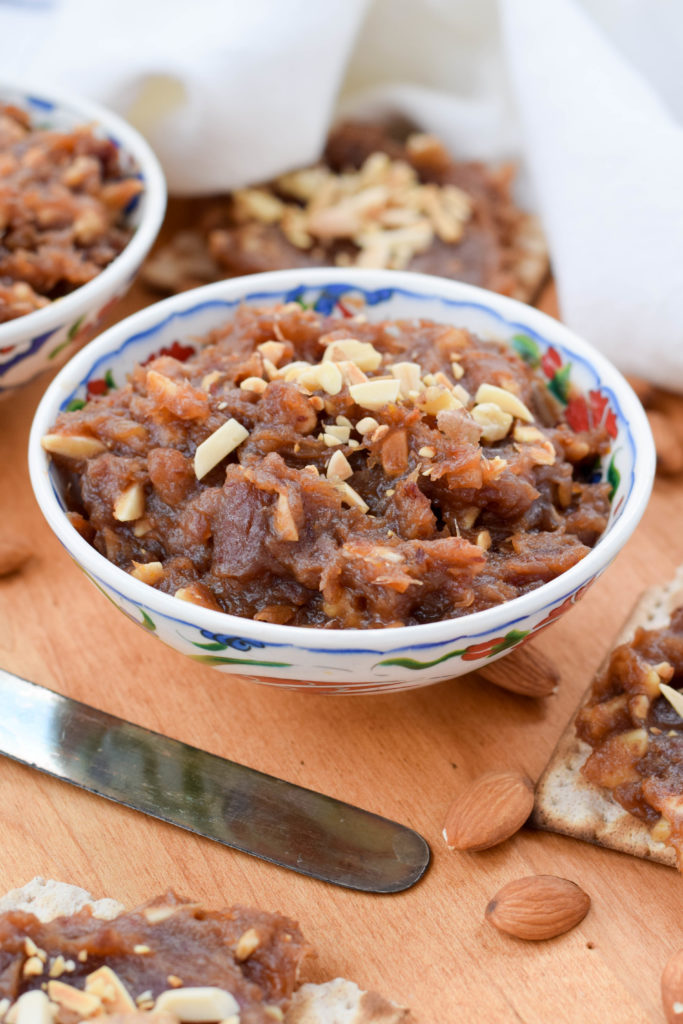 Ingredients
1 lb. pitted Medjool dates, coarsely chopped
Zest and juice of one orange
1/4 cup lemon juice
1/2 tsp cinnamon
1/2 tsp ginger
1/2 cup slivered almonds
1/2 cup chopped walnuts
Instructions
In a large saucepan, combine the dates, orange zest and juice, lemon juice, cinnamon and ginger with a cup of water. Bring to a boil.
Reduce heat and simmer until thickened and the dates have broken down, about ten minutes.
Puree the date mixture using an immersion blender or transfer the jam to your food processor and puree for 20-30 seconds. Leave some chunkiness for texture.
Toast the almonds and walnuts in a dry skillet set over medium heat for a few minutes until fragrant. Allow to cool.
When cool, add the nuts to the date mixture and stir to combine.
Store in the refrigerator until needed. May be made several days in advance.
http://www.westoftheloop.com/2017/04/05/sephardic-date-charoset-passover/