Matzo chocolate bark is a special Passover treat. Imagine matzo drenched in toffee and chocolate and topped with dried fruits, nuts and pumpkin seeds. My family looks forward to this all year!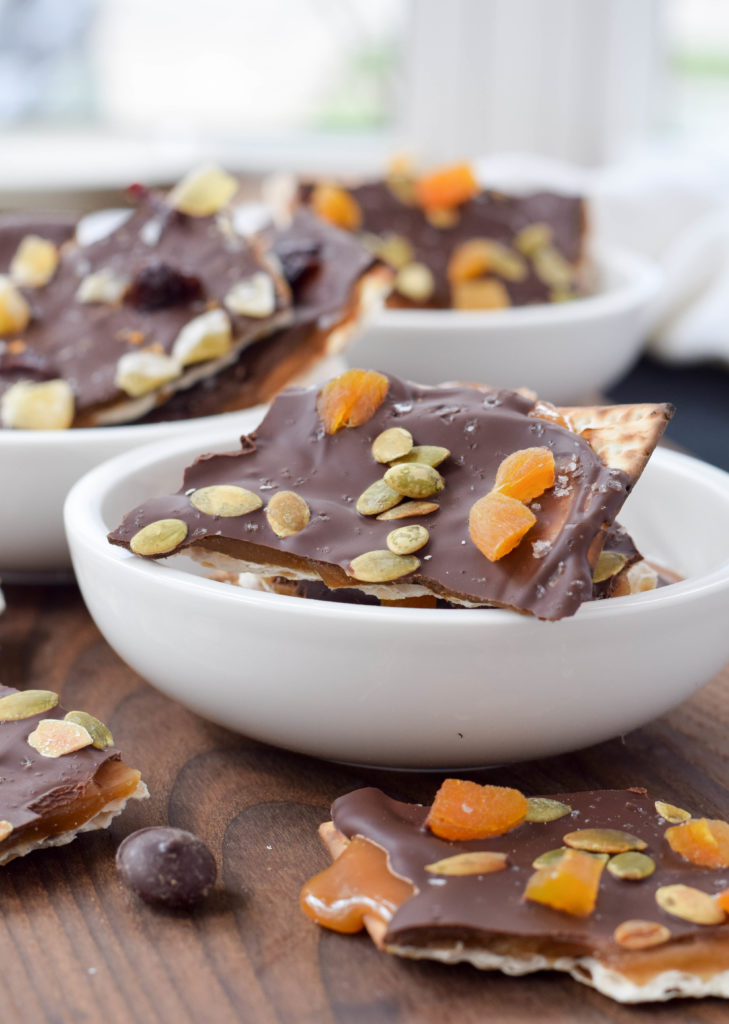 This is not exactly breaking news but if you cover something, anything, in enough toffee and chocolate, it will taste good. Hence, matzo chocolate bark. Matzo alone may taste like cardboard, but smother it in buttery toffee and rich chocolate and you have a winner.
There are a million recipes for matzo toffee floating around. Jewish food writer Marcy Goldman is credited with the idea for a matzo buttercrunch candy. My version, which certainly owes a debt to Goldman's original inspiration, is based on the recipe for English toffee from my first book, Food Swap: Specialty Recipes for Bartering, Sharing & Giving.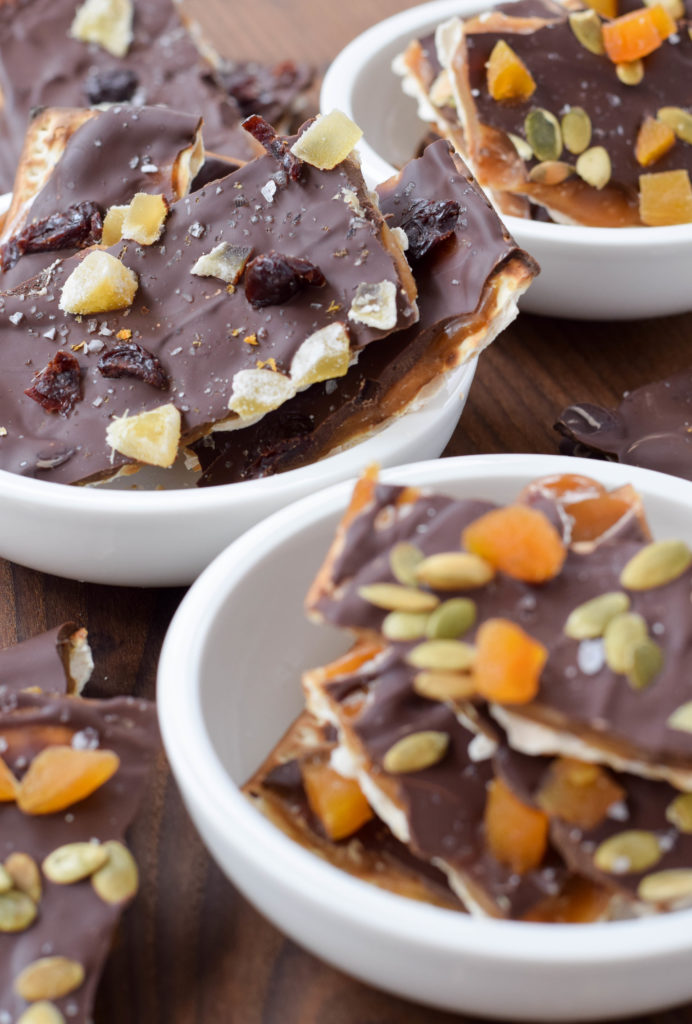 That recipe is a crisp, breakable toffee studded with almonds and topped with chocolate and flaky sea salt. This recipe is matzo covered in a layer of toffee and then a second layer of chocolate. To the chocolate I add sweet, tart and crunchy toppings like dried fruits, nuts, seeds and candied ginger. The result is similar to a fancy chocolate bark. But with matzo! Yay!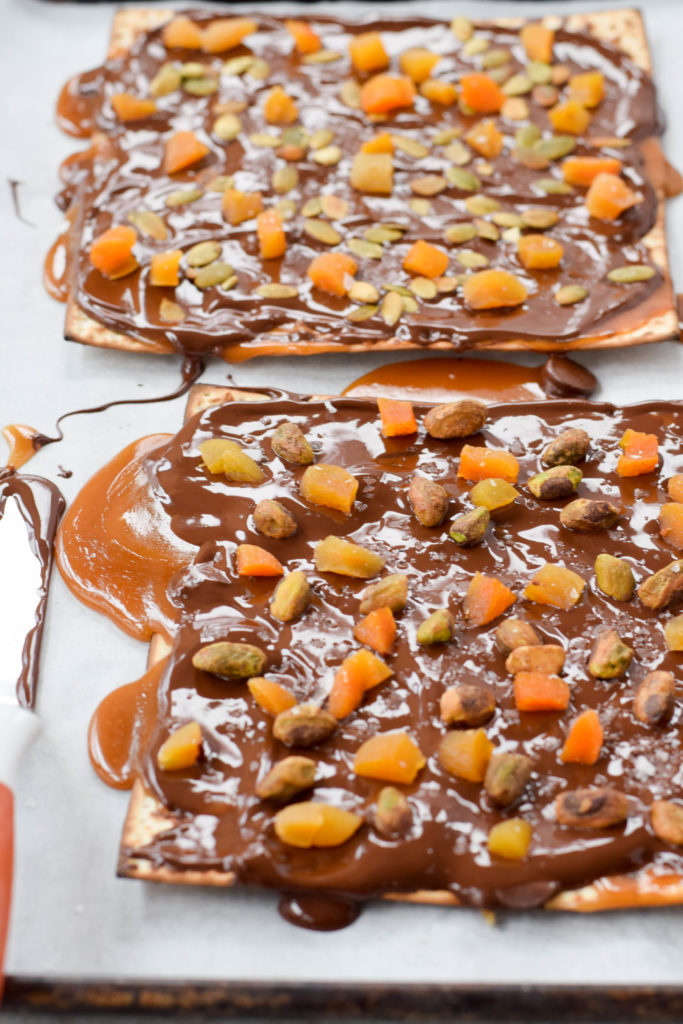 How good is this matzo chocolate bark? Well, I made this recipe earlier this week, when it wasn't even Passover, and when my kids came home, all they wanted for their snack was matzo chocolate bark. And Zuzu wanted more in her lunch the next day. In other words, my kids were voluntarily eating matzo even when not required to do so. So imagine how well this sweet treat will go over at your Passover seder, when we  have to eat matzo.
I made a few modifications to my original toffee recipe to make this matzo bark kosher for Passover. First, I replaced the light corn syrup in the recipe with Lyle's Golden Syrup. Let's get technical, shall we? When making caramel or toffee, it's important to add an inverted sugar, like corn syrup, to prevent the sugar from crystallizing. (Science!)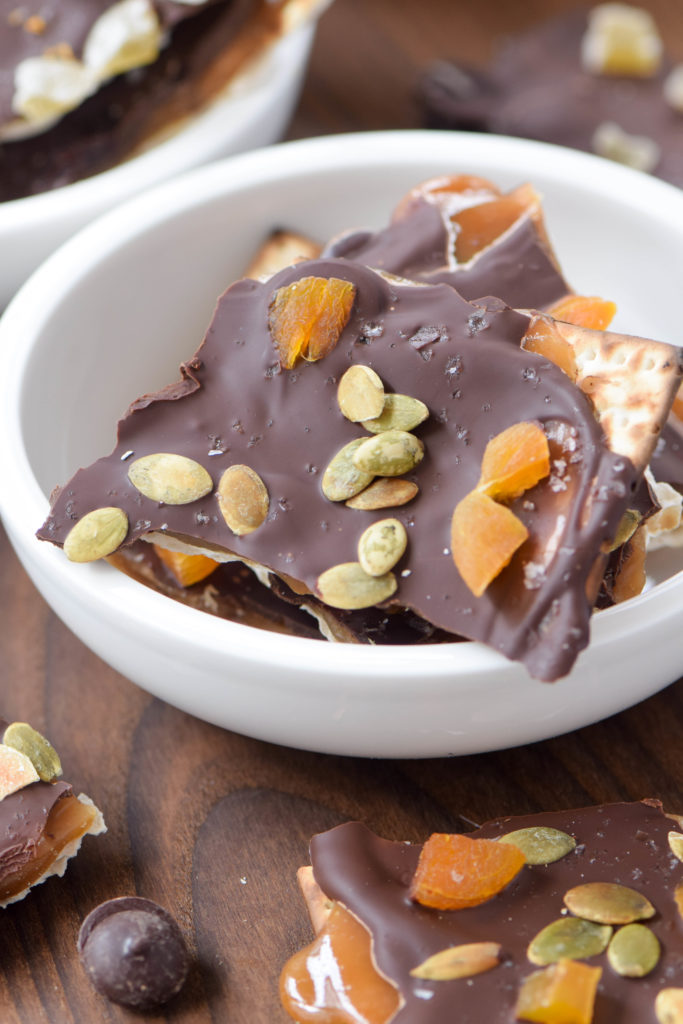 There's a whole convoluted debate about whether corn syrup is kosher for Passover that I would rather not get into. I kind of think it is, but to be completely on the safe side, because some of my Passover guests are strict, I skipped the corn syrup and used Lyle's Golden Syrup, which is a beloved British cane syrup. You can find it in better grocery stores on online. (If you can't find Lyle's Golden Syrup where you are AND you don't want to use corn syrup, maybe just skip the whole thing.)
(I also avoided using vanilla extract in this recipe because there is some confusion about whether that is kosher for Passover. So. Much. Confusion. If such considerations don't concern you, feel free to add vanilla extract after you take the toffee off the heat.)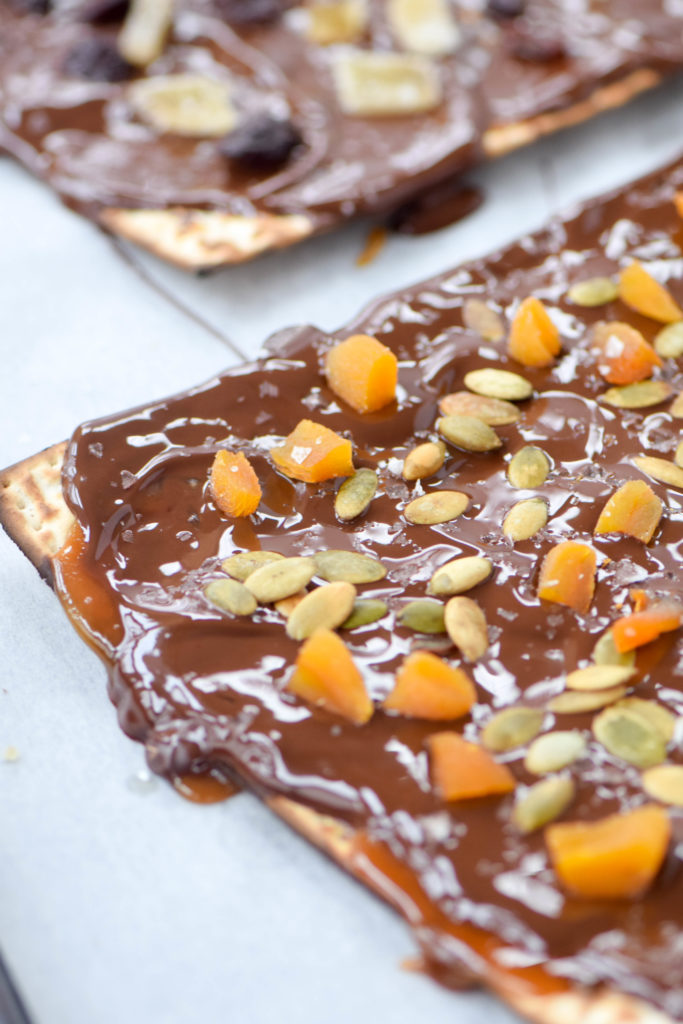 Chocolate bark usually has nuts but because of Zuzu's allergies, I avoided using nuts in this matzo bark. Instead I used one of my favorite nut substitutes, roasted pumpkin seeds. I actually love both how the pumpkin seeds look and their texture in this recipe.
I made one batch of matzo bark with chopped dried apricots and pumpkin seeds and a second with chopped dried cherries and crystallized ginger. I encourage you to get as creative as you like with your toppings. Try different nuts, dried fruits, cacao nibs, even dried herbs. And don't forget a little sprinkling of flaky sea salt!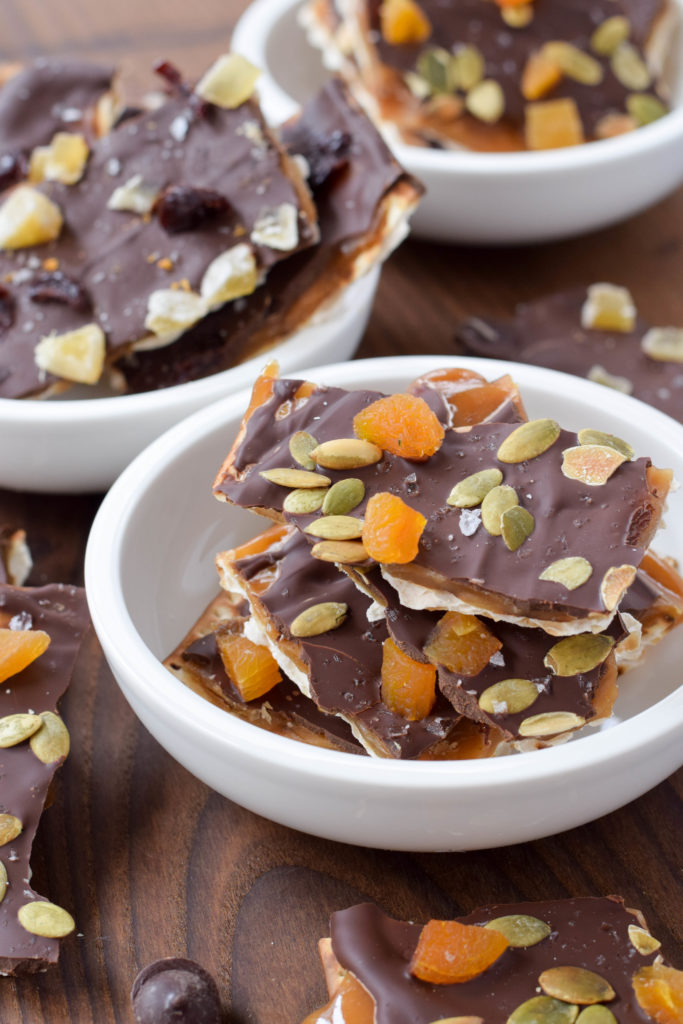 I hope you give my Matzo Chocolate Bark a try this Passover. Chag sameach! Happy Passover!
Ingredients
4 boards matzo
1 cup (2 sticks) butter
1 1/3 cups sugar
3 tablespoons water
2 tablespoons Lyle's Golden Syrup or light corn syrup
1 bag semisweet chocolate chips
Dried fruit, nuts or other toppings, chopped into bite-sized pieces
Flaky sea salt
Instructions
Line two baking sheets with parchment paper and place two boards of matzo on each one.
Melt the butter in a medium-sized, heavy-bottomed saucepan.
Add the sugar, water, and syrup and stir to dissolve the sugar. Once the sugar is dissolved, do not stir again. (Stirring can cause the sugar to crystallize and make the toffee grainy.) If sugar crystals appear on the side of the saucepan, brush them down with a pastry brush dipped in water.
Bring the mixture to a boil over high heat and boil until the caramel reaches the hard crack stage (300°F) on a candy thermometer), 8 to 10 minutes. You will see the mixture darken, and it will begin to smell like caramel.
Pour the toffee mixture over the matzo and spread it evenly. Allow the toffee to firm up for a few minutes, but do not allow it to cool completely.
Pour the chocolate chips over the warm toffee. Allow the chocolate to melt from the heat of the toffee and then spread the melted chocolate to coat the toffee evenly.
While the chocolate is still warm, add the toppings. If desired, sprinkle the top with flaky sea salt.
Allow the toffee and chocolate to cool completely. Break the bark into pieces with your hands.
Store in an airtight container.
http://www.westoftheloop.com/2017/04/08/matzo-chocolate-bark/