In honor of National Grilled Cheese month, I have teamed up with Cheeses of France to bring you a springtime grilled cheese made with Comté, arugula and quick-pickled strawberries.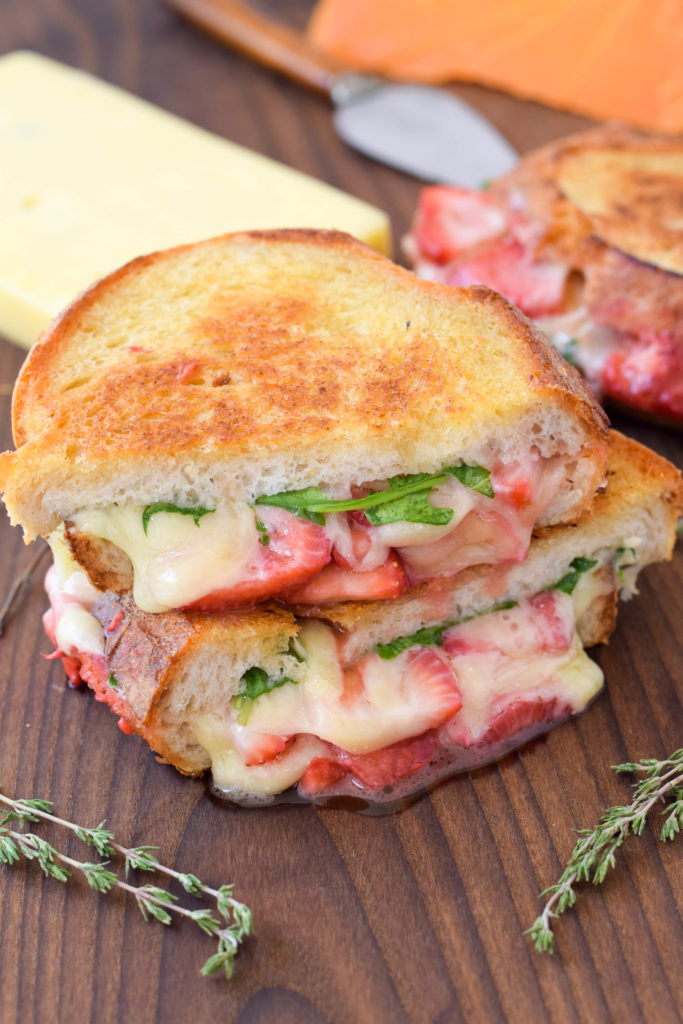 Did you know April is National Grilled Cheese Month? What better way to celebrate the end of Passover than with melted cheese and toasted bread?
At its most basic, grilled cheese is kid food. Maybe it's the first thing you ever learned to make by yourself. But grilled cheese does not have to be basic. To the contrary, you can elevate grilled cheese to sandwich Nirvana by selecting a cheese with a complex, nuanced flavor and pairing it with other ingredients to add crunch and a jolt of acidity to cut through all the richness of the cheese and butter.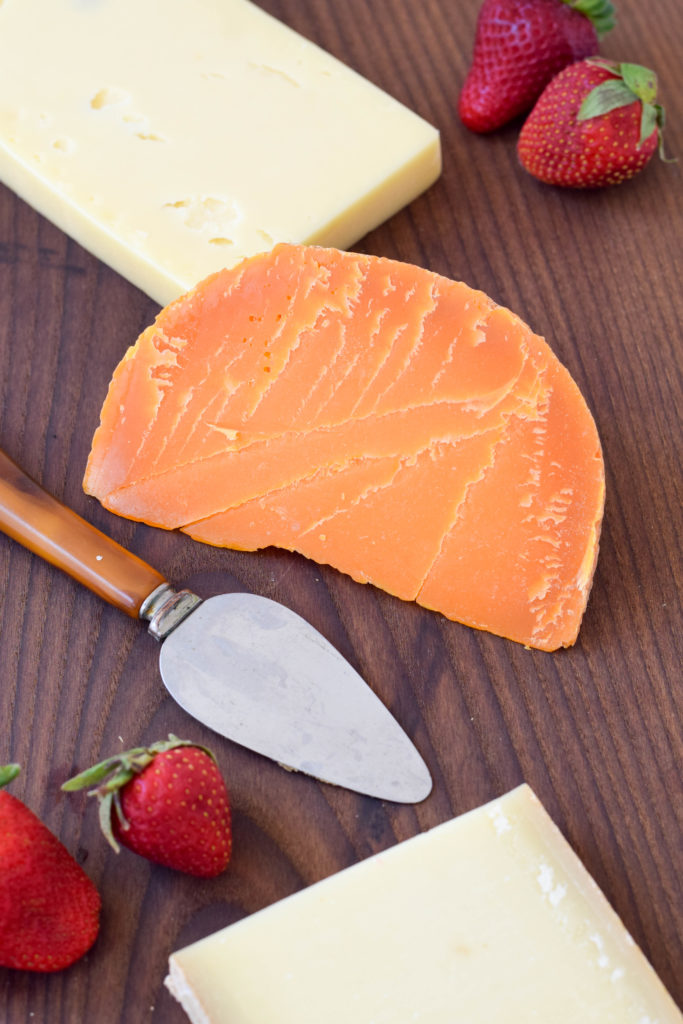 To help me celebrate National Grilled Cheese Month, Cheeses of France sent me some of their best cheese for melting onto bread: mild, fruity Comté, smooth, creamy Emmental and sharp, nutty Mimmolette. France, of course, is famous for its cheese and cheese-lovers around the world turn to French cheese for creating the perfect cheese plate.
For my springtime grilled cheese, I selected Comté, a creamy, nutty cow's milk cheese from the Franche-Comté region of eastern France, near the Swiss border. A raw milk cheese made from the milk of pasture-fed cows, Comté is a highly versatile cheese that is equally at home on a cheese plate, folded into scrambled eggs or melted into a pot of macaroni and cheese. Needless to say, Comté makes a beautiful grilled cheese.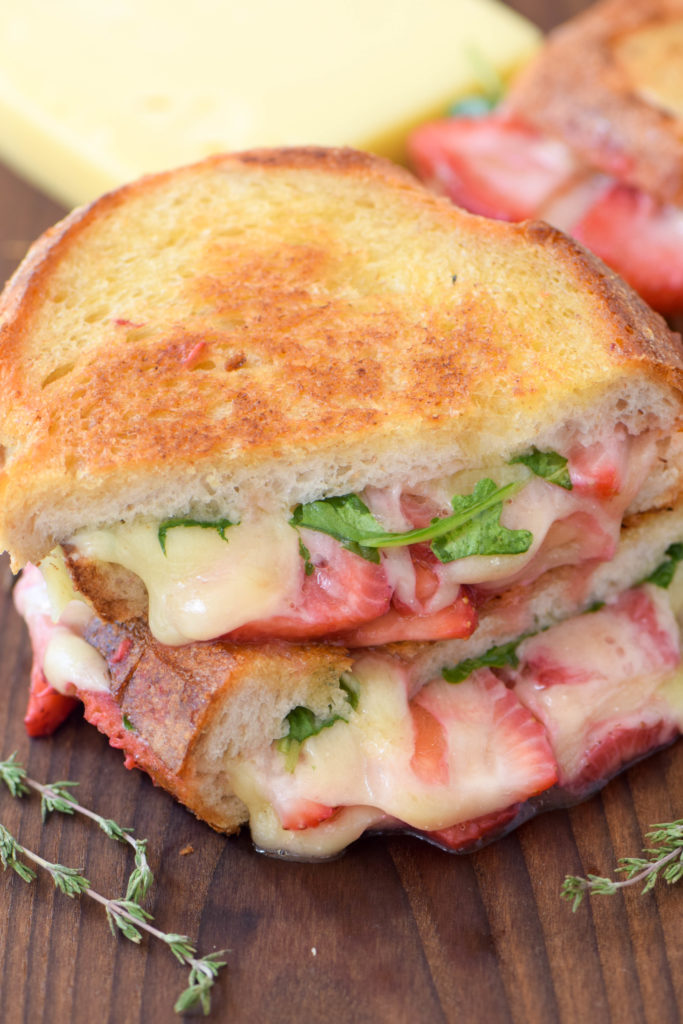 For me, though, cheese and bread alone is never enough. I always have to slip some other ingredient into my grilled cheese whether it be sliced tomato, crunchy apple or a puckery pickle. To complement the mild nuttiness of the Comté, I wanted something sweet and fruity yet acidic enough to cut through the richness of the cheese and butter. I settled on strawberries, but not just ordinary strawberries: pickled strawberries.
Pickled strawberries may sound peculiar but they taste surprisingly delicious. A quick bath in vinegar prevents strawberries' natural sweetness from becoming cloying and gives them a much-needed jolt of brightness. Pickled strawberries add a sweet-sour note to salads, beverages and cheese plates. And even grilled cheese sandwiches.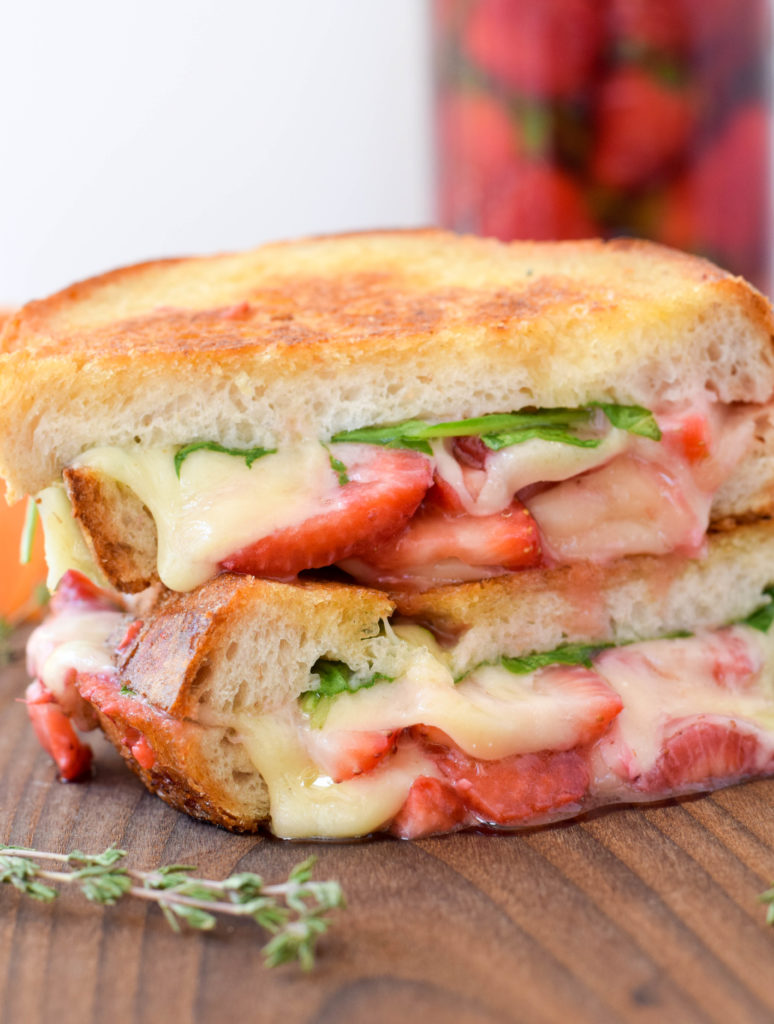 This recipe makes a quart of pickled strawberries, and you only need a handful of strawberries for your sandwich. So you will have plenty of leftover strawberries to experiment with. Try them in a spinach salad with crumbled goat cheese and toasted pecans. Or use them to garnish cocktails.
But let's focus on the grilled cheese for now. I included some arugula in my grilled Comté-and-pickled-strawberry sandwich for a fresh, crunchy element. The combination of creamy Comté, tangy strawberry and peppery arugula was absolutely inspired and oh-so-springy! Now I just have to think of the perfect grilled cheese combinations for the Emmental and Mimmolette.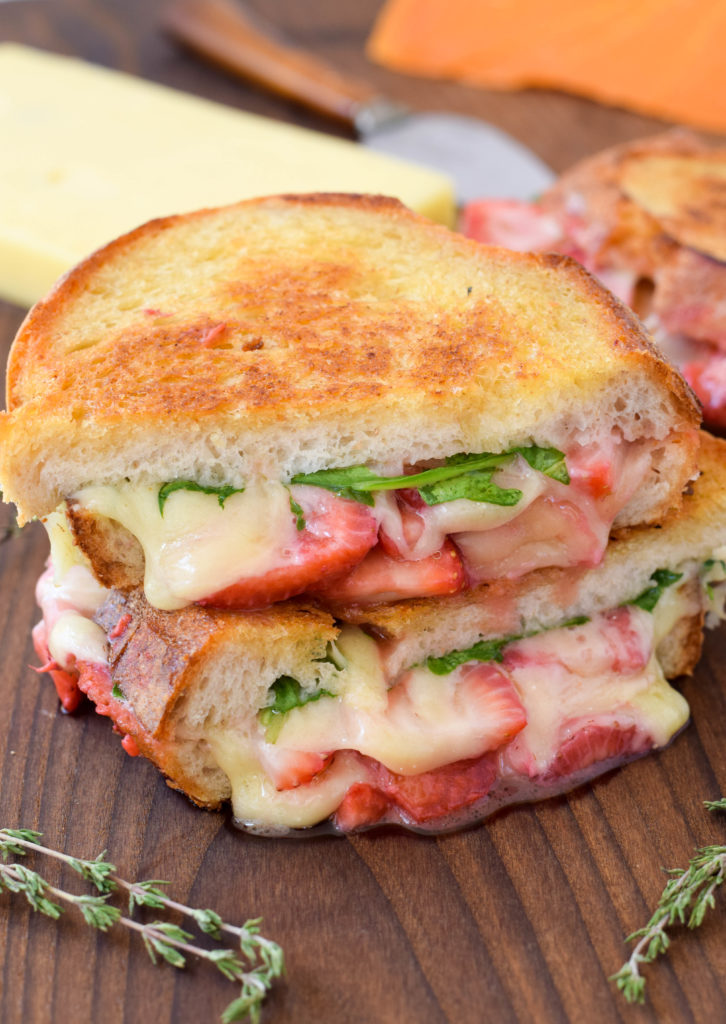 What's your favorite way to enjoy grilled cheese? Do you have a favorite French cheese for melting? Are you just happy Passover is over? Let me know in the comments.
Grilled Cheese with Quick-Pickled Strawberries
Ingredients
Pickled Strawberries

1 lb strawberries
1 cup apple cider vinegar
2 TB maple syrup
2 tsp salt
2 dried red chiles
2 sprigs fresh thyme

Grilled cheese

4 slices country bread
1 stick (4 oz) butter
1 cup baby arugula
6 oz. Comte, sliced thin
Instructions
Place the strawberries in a clean quart jar.
In a heat-proof bowl, combine vinegar, maple syrup and salt. Add 1/2 cup hot water and stir to dissolve the maple syrup and sugar. Allow to cool to room temperature.
Pour the brine over the strawberries in the jar. Slip the dried red chiles and sprigs of thyme into the jar.
Allow the strawberries to cure for at least one hour and up to five days.
To make the grilled cheese, melt 2 oz of butter in a large, nonstick skillet over medium heat.
Slice 10-12 pickled strawberries.
Place half the arugula, half the Comte and half of the strawberries on one slice of bread. Top with a second slice of bread. Repeat with the remaining two slices of bread.
Add the sandwiches to the skillet. Cook over medium heat, gently pressing down on the top of the sandwiches with a metal spatula, until the bottom is golden brown.
Add the remaining butter to the skillet and flip the sandwiches, taking care not to spill the ingredients.
Cook until the bottom side is golden brown. If the cheese is not melting, cover the skillet.
Slice in half and serve immediately.
http://www.westoftheloop.com/2017/04/17/grilled-cheese-pickled-strawberries/
Full disclosure time: I received cheese from Cheeses of France as well as equipment and a gift card to purchase ingredients for this post. All opinions expressed herein are entirely my own.