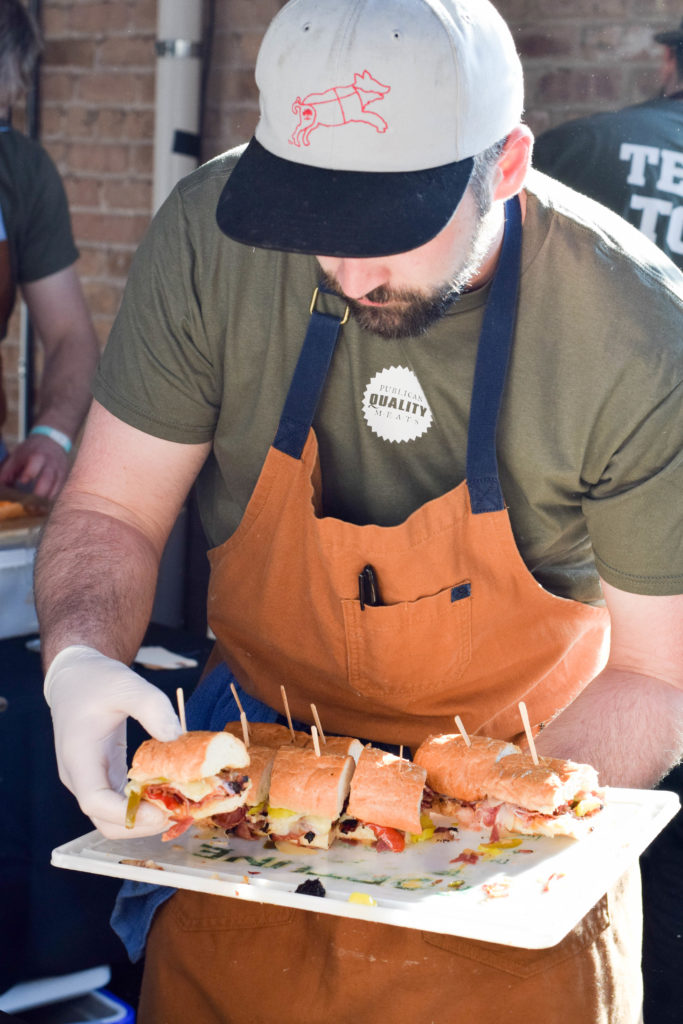 Last Sunday, Cochon555, a culinary competition featuring 5 chefs cooking 5 whole, heritage breed pigs landed in Chicago. This epic pork feast visits 20 major cities in North America annually and stages over 60 events. The winners from the different cities compete at the national finale, Grand Cochon, in October to be crowned the Prince, or Princess, of Pork.
During the decadent afternoon, almost 500 guests feasted on over 1,500 pounds of heritage-breed pork raised on family farms and raised glasses of everything from Franciacorta and Pinot Noir to Breckenridge Smoked Old-Fashioneds and Angostura Rum Swizzle cocktails at Morgan Manufacturing in Chicago's West Loop. And I was one of them!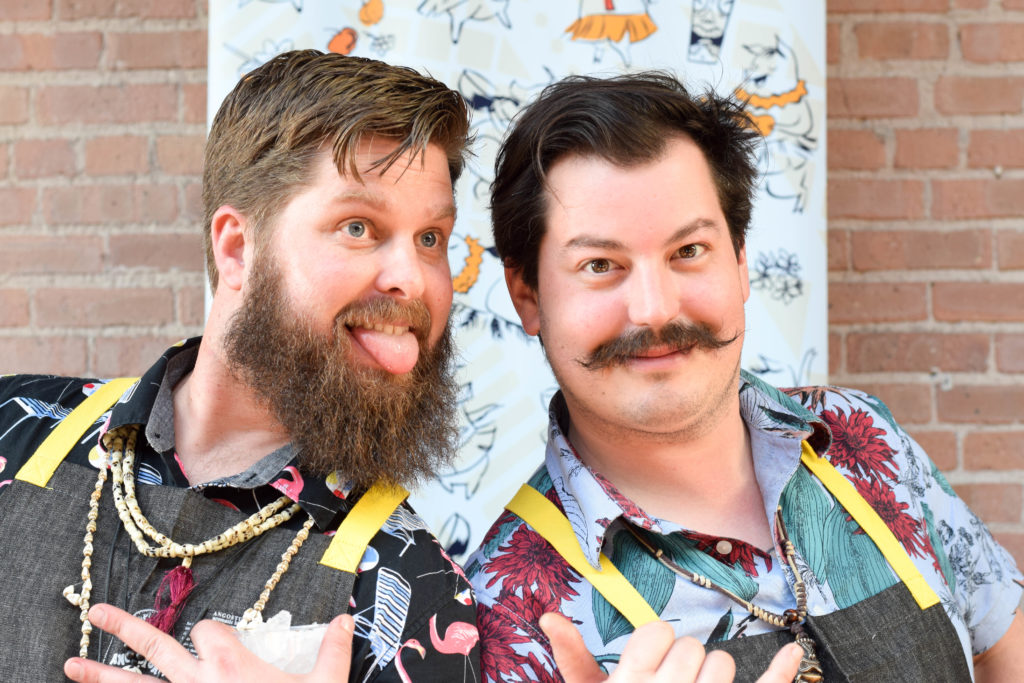 Before I go any further, let me clarify a few points. Yes, I do eat pork. No, we don't have pork in our home. My husband did not grow up eating pork – in fact, he grew up in a kosher home – and while we do not keep our home kosher, we have agreed not to have pork or shellfish in our home as a nod to our Jewish faith. That being said, when I leave the house, all bets are off!
So when DRY Sparkling, makers of lightly sweetened, culinary-inspired sodas and one of the sponsors of Cochon555, invited me to attend as a guest, I happily accepted!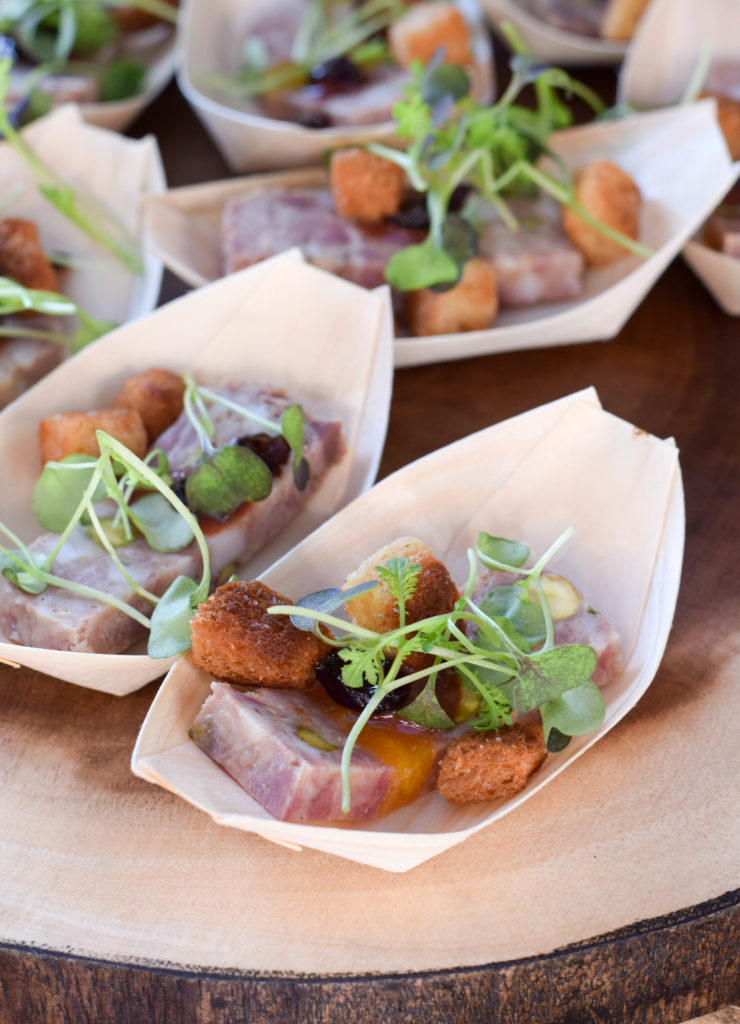 One of the draws of the event was the extraordinary culinary talent on display. This year's competing chefs included ​Ricardo Jarquin of Travelle Kitchen + Bar, John Manion of El Che Bar, Nathan Sears of the Wit Hotel Chicago, Tom Carlin of Publican Quality Meats and Pete Coenen of Cherry Circle Room. The chefs prepared dishes using heritage breed pigs from family farms in a nose-to-tail, whole-animal showcase for a crowd of pork-loving gourmands, including me.
Cochon555 challenges chefs to use their knowledge of meat cookery and their creativity. Each chef is given a 200-pound heritage breed pig and tasked to prepare and present 6 different dishes which are then judged by a panel of expert judges on utilization of the meat, global influences, cooking techniques, and overall flavor.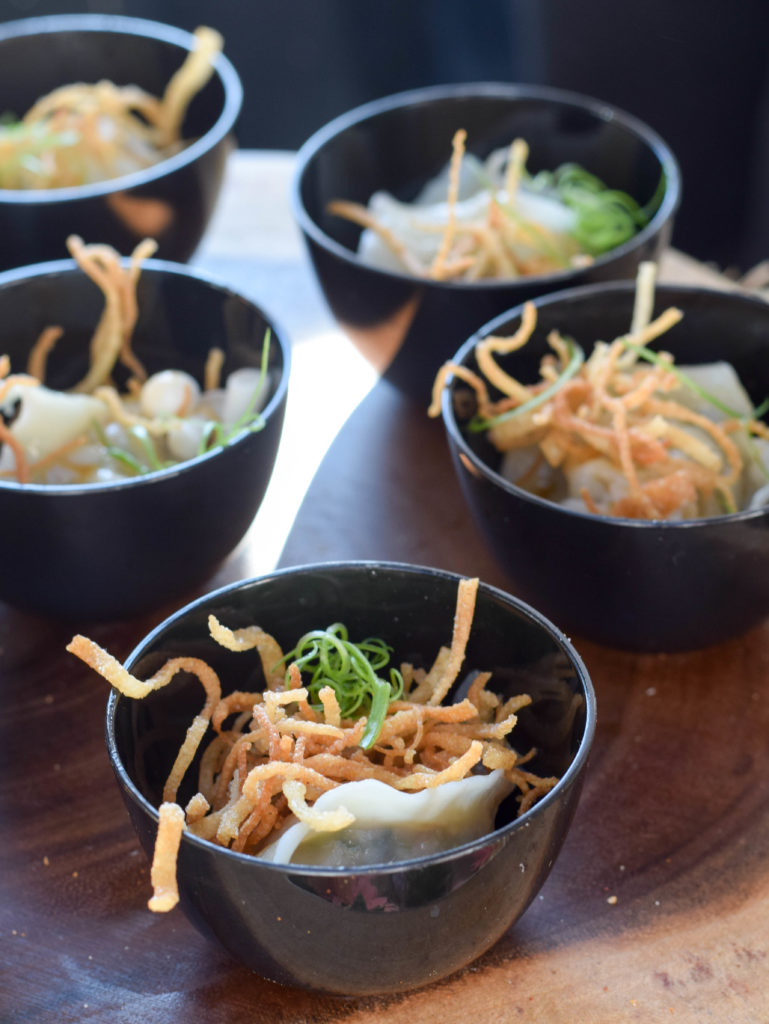 Using the rare Blonde Mangalista breed of pig, Chef Ricardo Jarquin of Travelle Kitchen + Bar took home the win and will represent Chicago this autumn at the national championship. Chef Jarquin's winning menu included Adobo Pork Fritters with Salsa Negra and Vegetable Escabeche; ​Massaman Curry ​with Peanuts, Fresh Herbs, and Lime; ​Peruvian Con Chicharron with Crispy Sweet Potato, Salsa Criolla, and Aji Amarillo; ​Annatto-Braised Pork Butt with Tamal Colado and Habanero Pickles and Pork Rinds; ​Pork Shank Wonton with Kimchee Tonkotsu Broth, Mayu Oil, and Pickled Honshimeji; and ​Honey-Glazed Bacon Jam Buns. Such amazing creativity!
But perhaps my favorite menu of the day was the one prepared by Chef John Manion of El Che Bar. My friend Gena and I loved his Pork Ragu and Lard Dough Empanada with Romesco and Manchego. Also, who could resist the ice cream sandwich made with a bacon fat cookie, rosemary ice cream and pork jus caramel?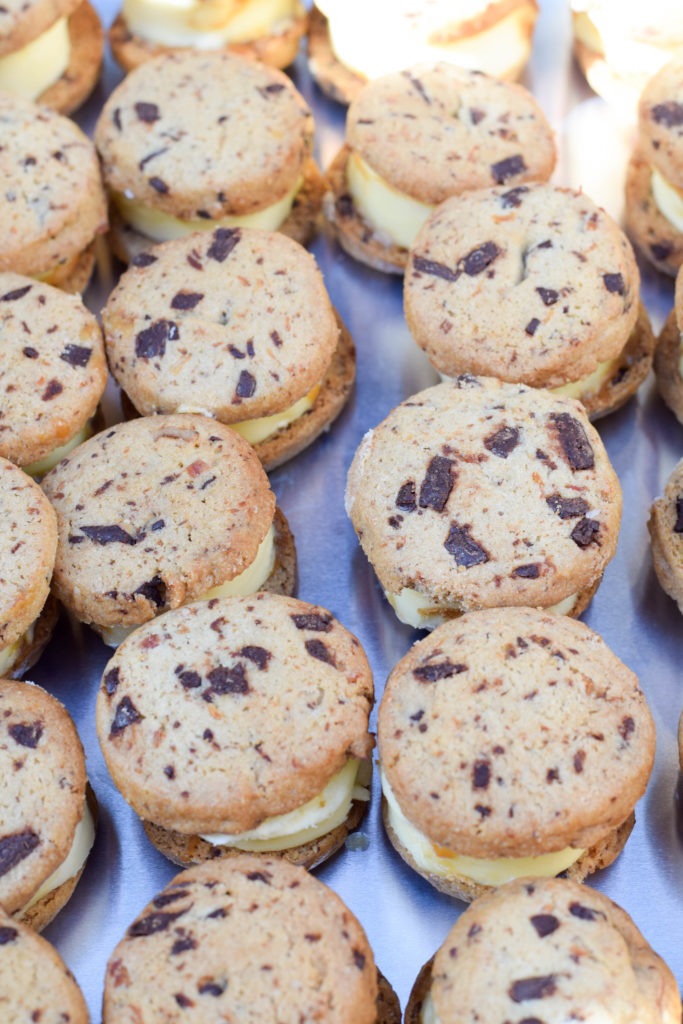 There was a lot of wine and cocktails on offer to wash down all that pork. Libations included Smoked Old Fashioneds with Breckenridge Bourbon; a Courvoisier Cognac tasting featuring hand-crafted cocktails and a Heritage Rum Cart. But I kept returning to punches made by the Tiki Bar featuring Angostura Rum and The Perfect Puree of Napa Valley. Those punches went down way too easy.
However, it was Sunday evening and I had to get up and work the next day. So Gena and I were very happy to find the DRY Sparkling booth. Made with just four ingredients, including a touch of cane sugar, each DRY variety honors a singular botanical flavor: Ginger, Fuji Apple, Lavender, Cucumber, Blood Orange, Juniper Berry, Rhubarb, Vanilla Bean, and Rainier Cherry.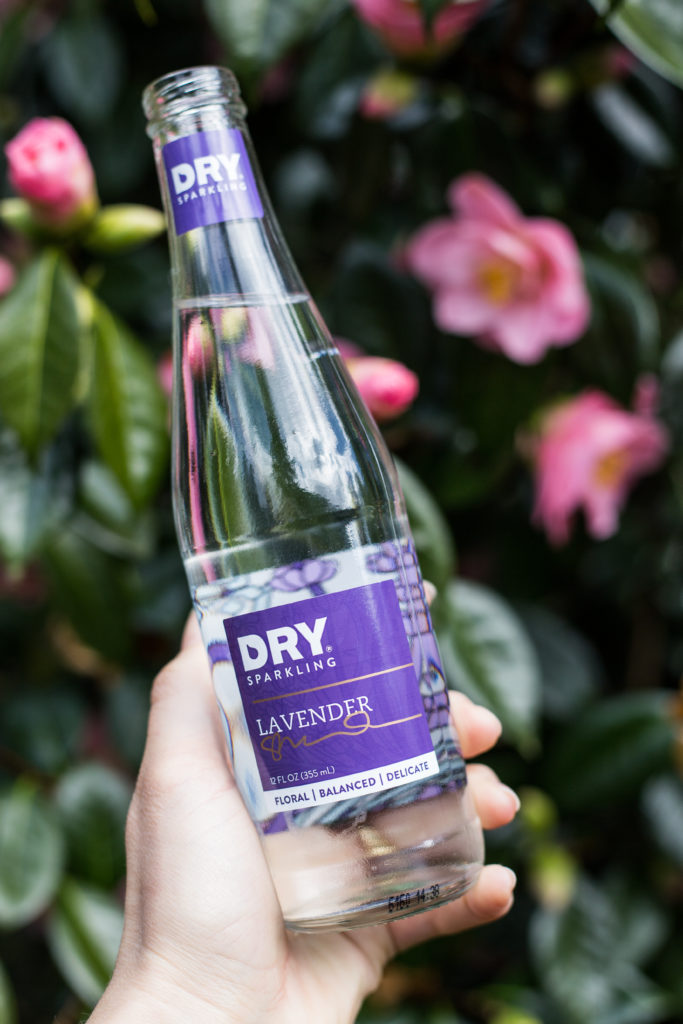 My favorite? The lavender which is unusual and herbaceous. Unlike other sparkling beverages that are overly sweet, DRY is crisp, well-rounded and refreshing. I am excited to work with these artisanal sodas to pair them with food and even create some fizzy cocktails!
One of the most show-stopping events of the night was the whole-hog butchering demonstration. Two butchers were on site from The Butcher & Larder at Local Foods breaking down one of these amazing heritage breed pigs. The cuts were then offered for sale. That was the one moment I was sad that we have a pork-free house. I really wanted to bring home some of the leaf lard for making pie crusts!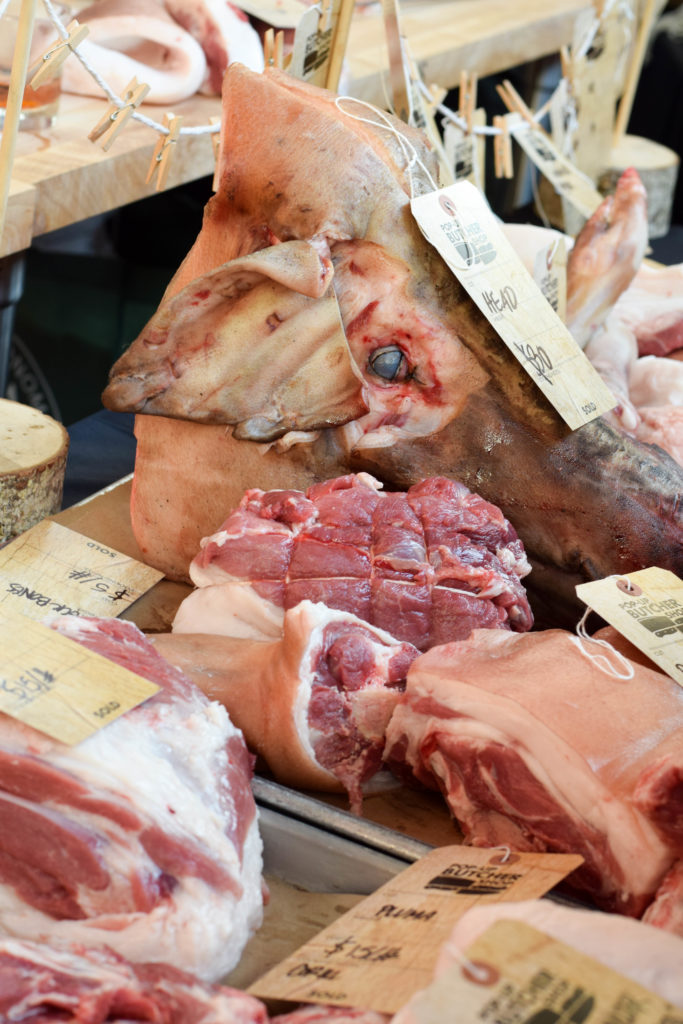 Over all, attending Cochon555 was an amazing experience. The farmers that raise these heritage-breed pigs care so much about environmental stewardship and maintaining centuries-old traditions. And the chefs show such respect for these magnificent animals by using everything but the oink. I was so glad I had the chance to attend and learn more about heritage pork through the fun of a good, old-fashioned culinary competition.
Full disclosure time: I received a complimentary VIP ticket, a $200 value, to Cochon555 from DRY Sparkling. I was not compensated in any way for my time nor was I asked to write about my experience. All opinions expressed herein are entirely my own.