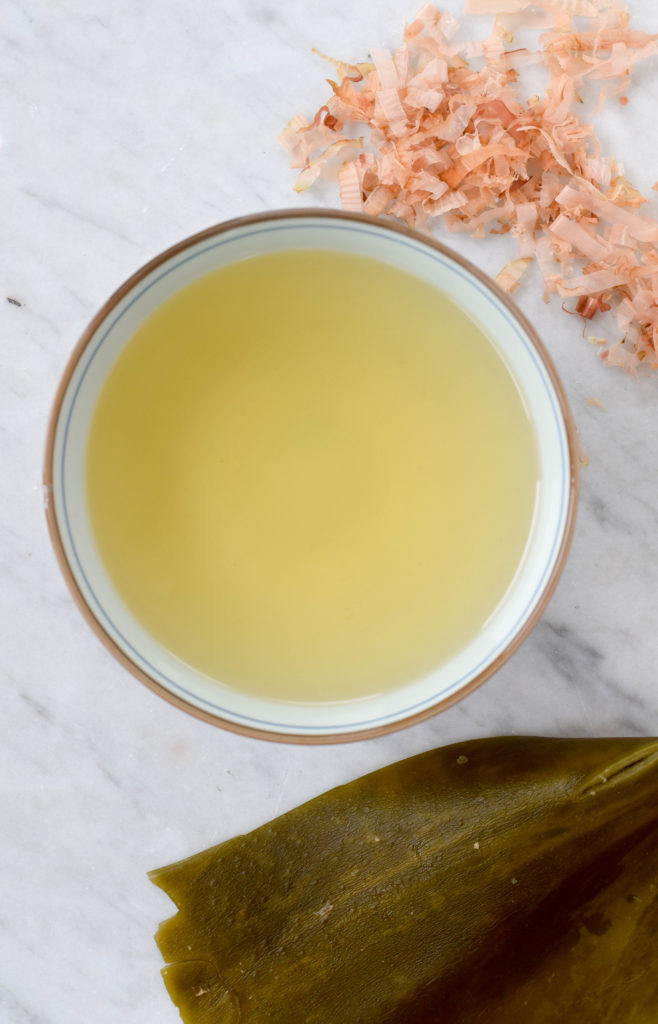 Have you always dreamed of visiting Japan? Do you love sushi, ramen, udon noodles and sake? Do you aspire to make authentic Japanese food at home? If you answered yes to any of these questions, then you might want to take a field trip to Mitsuwa Marketplace, the best Japanese grocer in America.
There are ten Mitsuwa stores around the country: seven in California, one in Texas, one in New Jersey and one in the Chicago suburbs, which I visited last week with my friend Rebecca Wheeler, a professional chef who leads culinary tours of Chicago neighborhoods.
A trip to the Mitsuwa market in suburban Chicago is like getting a small taste of Japan. The enormous building with a pagoda-like entrance houses not only a large grocery store complete with small appliances and kitchen equipment, but also a food court, a Japanese bookstore and even a Japanese cosmetics counter. On a quiet weekday morning, the place was filled with Japanese ex-pats shopping for staples, nearby office workers grabbing a better-than-a-sandwich lunch and a few curious food-lovers such as me and Rebecca.
We began our visit by stopping for a Boba Tea – milk tea flavor for both of us – and then we browsed the grocery store aisle by aisle. One thing that was disappointing about the Mitsuwa market was the small size of the produce section. Rebecca, who is a regular at Super H Mart, a Korean grocery store chain, noted that Super H has a much more extensive produce section. However, even though the Mitsuwa produce section was small, we still found some interesting items, like perfect Asian pears and Shiso leaves.
Mitsuwa has every category of food that an American grocery store does but with almost exclusively Asian, and mostly Japanese, brands and products. There is meat, fish, grains, pantry items, snacks and sweets. Lots of sweets! There are rows of cookies and candies and even an in-house bakery that makes adorable pastries shaped like turtles, pandas, apples and more.
The bakery smelled fantastic and Rebecca and I both bought pastries to bring home to our kids. I also made sure to pick up plenty of Pocky, the biscuit sticks covered with chocolate, strawberry, matcha and many other flavors. My kids love those! I also picked up some Kasugai gummies, in flavors like yuzu and lychee.
For home cooks, the real appeal of Mitsuwa market is the enormous selection of imported Japanese pantry staples, like kombu (seaweed), bonito flakes, soy sauce, miso paste, Mirin, ponzu sauce, rice wine vinegars, sushi rice, Kewpie mayonnaise and more to faciliate your attempts to replicate authentic Japanese flavors at home. Before I went, I did some research so I would know what I wanted to buy. Check out this video from Epicurious all about shopping at Mitsuwa to help you make your shopping list.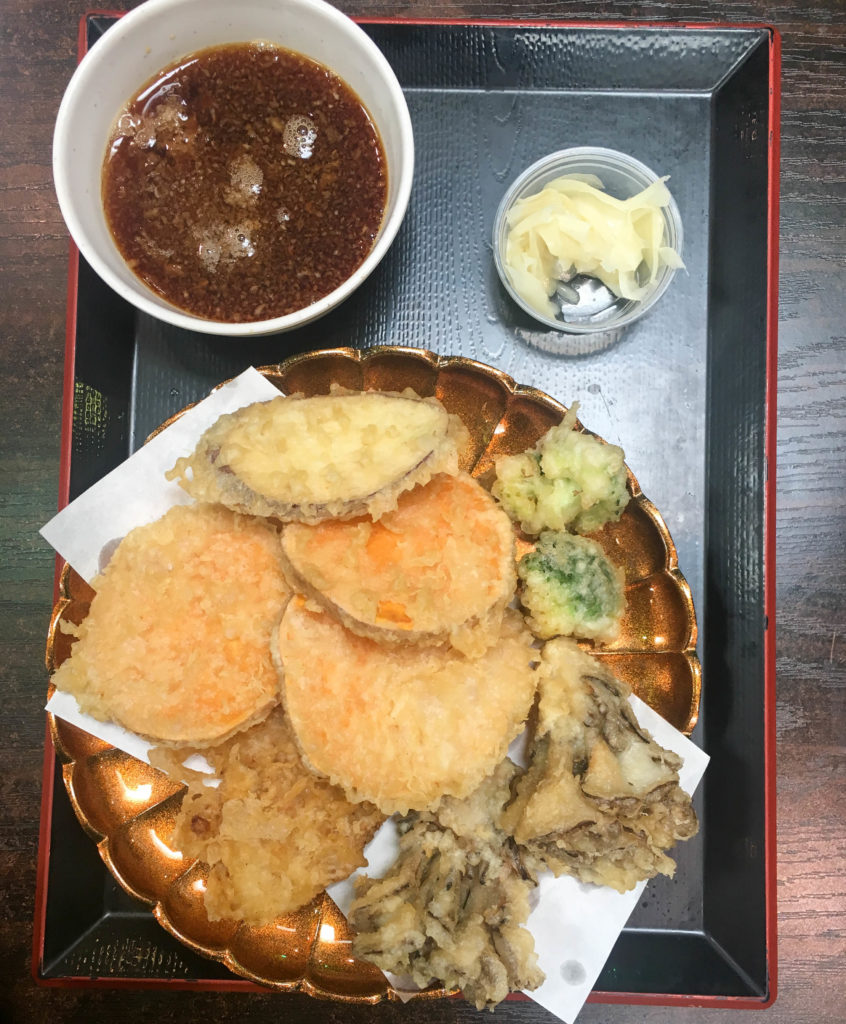 After our rather leisurely walkthrough, we hit the food court for lunch. Rebecca had heard the ramen stall was good. Ordering was a challenge! You have to pick one of several kinds of broth — salt, soy sauce, miso, and spicy miso — and then what you want in it. To add another level of complication, you can also opt for a combination meal that includes a rice bowl and marinated egg. After some amount of interrogating the young man behind the counter, we settled on two combination plates one with salt broth and one with spicy miso. But in truth my favorite dish was the rice bowl topped with Cha-Shu (braised pork belly).
We also got some tempura to try, nothing with shellfish because of my allergy, but vegetable and chicken. In truth, I should not have even eaten anything fried in the same oil as shrimp or other shellfish. I didn't get sick right away, but by the time I left, I was nauseous and my heart was racing. A reaction to some cross-contamination, I suspect. (That or too much boba tea – because I did get a second one after lunch!) Next time I go – and I will definitely go to Mitsuwa again! – I will be more careful.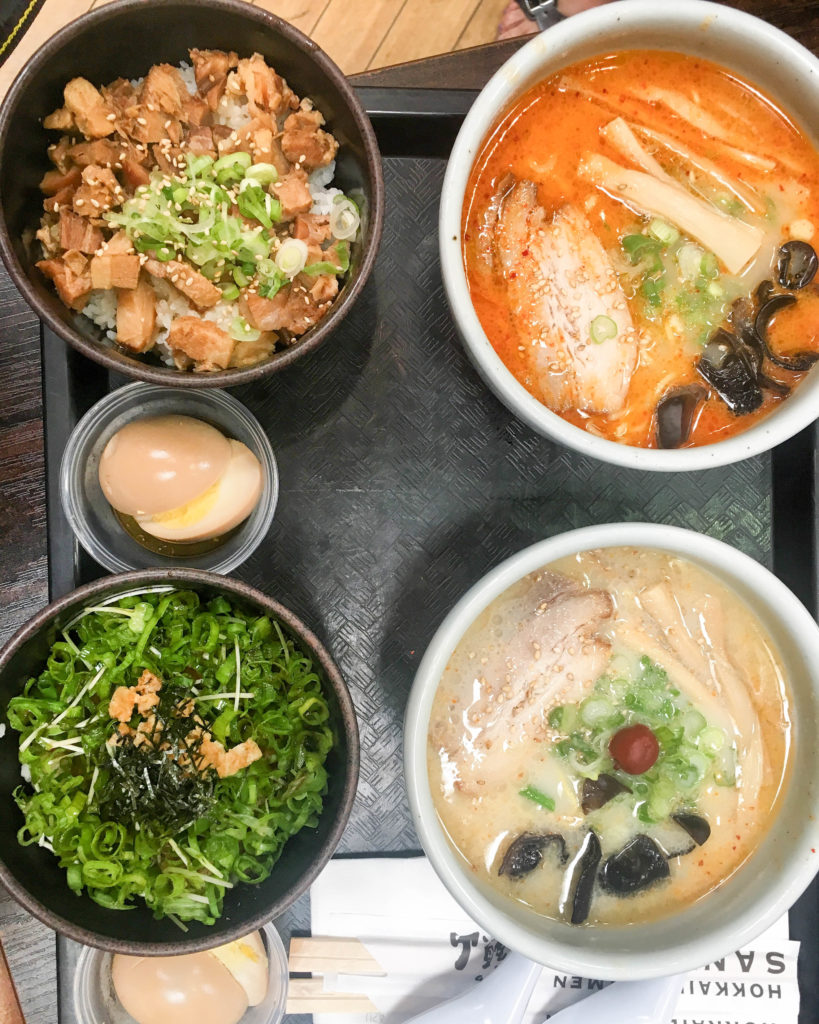 One of the reasons I wanted to visit Mitsuwa was to buy the ingredients to make dashi at home. Dashi is an umami-rich Japanese stock that is at the heart of many classic dishes, including miso soup. It's very easy to make if you have the right ingredients. Those are kombu, which is dried kelp, and bonito fish flakes. You can actually find these ingredients at a good American grocery store, but they will be more expensive.
Beyond miso soup, you can use your homemade dashi to poach fish or vegetables, as the base for a dipping sauce for tempura or dumplings, or add it to salad dressings.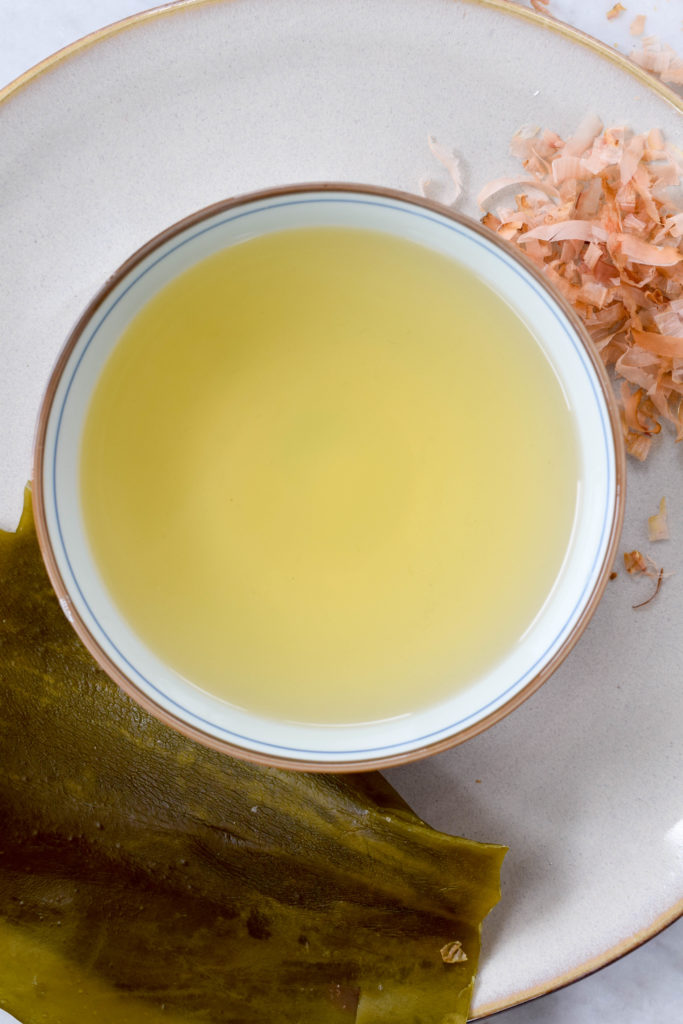 Have you ever been to an Asian grocery store such as Mitsuwa or Super H Mart, in your city? If so, what did you buy there?
Ingredients
1 oz kombu (dried kelp)
1 oz (30 g) bonito flakes
Instructions
Steep the kombu in 2 quarts of cold water for at least 30 minutes and up to several hours. You will notice the dried kelp rehydrate.
Bring the kombu and water just to a simmer over medium heat. Once you see bubbles beginning to form, remove the kombu. (Boiling the kombu can cause the broth to taste bitter and have a slimy texture)
Add the bonito flakes to the water and return the pot to the heat.
Bring water just to a boil and boil for 30 seconds.
Remove pot from the heat and allow the bonito flakes to steep in the water for five to ten minutes, depending on the desired flavor.
Line a fine-mesh sieve with cheesecloth or a paper towel. Strain the broth through the sieve set over a large bowl to removed the bonito flakes. Squeeze the cheesecloth or paper towel containing the bonito flakes to extract as much liquid as possible.
Refrigerate the dashi until ready to use. Or, freeze it for up to 3 months.
http://www.westoftheloop.com/2017/04/29/trip-mitsuwa-japanese-market-make-dashi/