What does Mom want for Mother's Day brunch? I'm pretty sure it's cheese blintzes: paper-thin crêpes filled with lightly sweetened ricotta cheese and topped with a strawberry-rhubarb compote.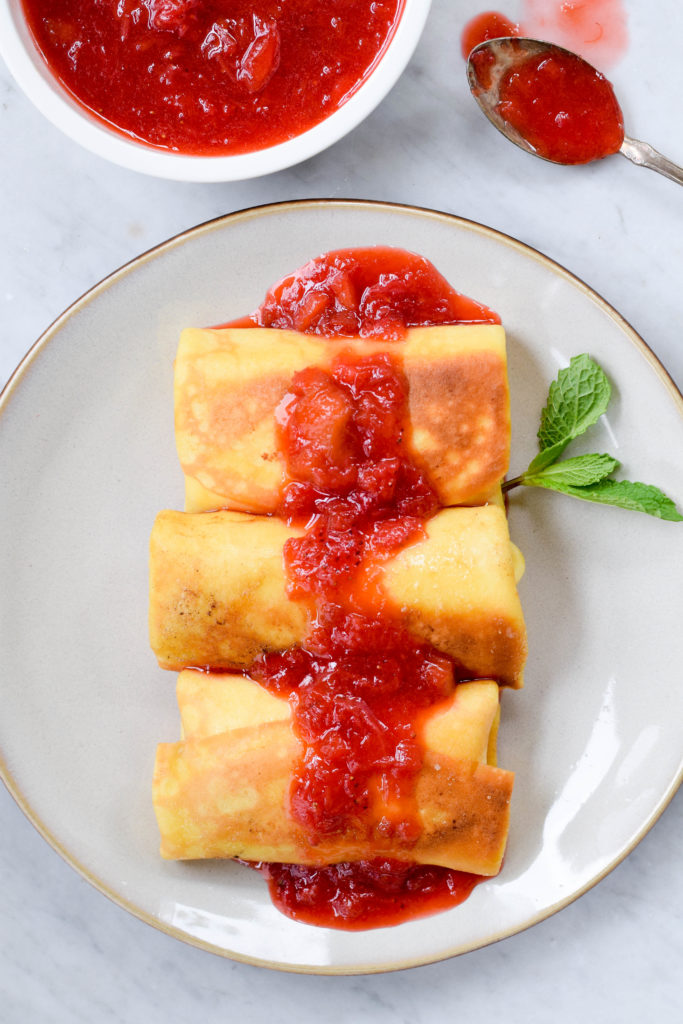 Mother's Day is this Sunday, May 14, and everyone wants to surprise Mom with a special breakfast. In my mind, no breakfast is more special than cheese blintzes. Blintzes are a traditional Jewish treat of thin pancakes — almost like crêpes — filled with soft, fresh cheese and rolled up like a little package. Once assembled, blintzes are usually fried in a little butter and topped with jam or sour cream and maybe a dusting of powdered sugar and some fresh fruit.
In my new book The Joys of Jewish Preserving (out July 1), I include a recipe for cheese blintzes because many of the jams in the book, like Polish Strawberry Rhubarb Jam or Apricot Orange Blossom jam would make a perfect blintz topping. (For these blintzes, however, I just make a quick strawberry-rhubarb compote that is perfect for this time of year.)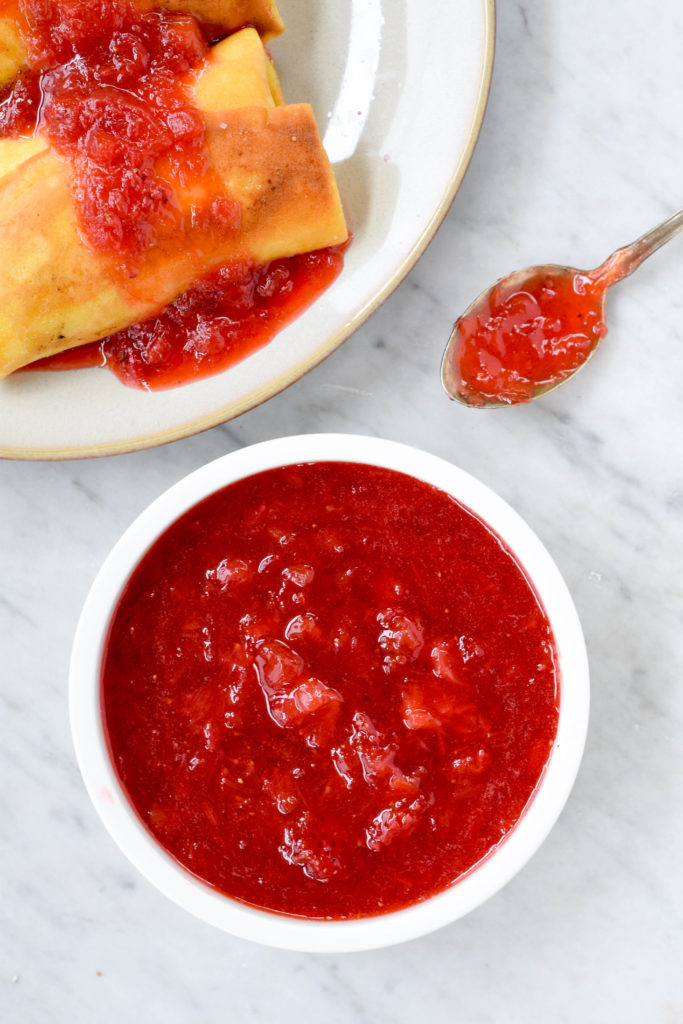 I also wanted to include cheese blintzes in my book because they were a specialty of my great-grandmother, Bessie Paster. Bessie Paster was actually my great-grandpa Max's second wife, and my Grandpa Al's step-mother. I never met her because she died when my mother was pregnant with me. (Great-Grandpa Max wanted my parents to name me after her, you guys. Can you see me as a Bessie?) But my parents and my aunts would rave about her cheese blintzes even after she was gone. I hope my version does hers justice.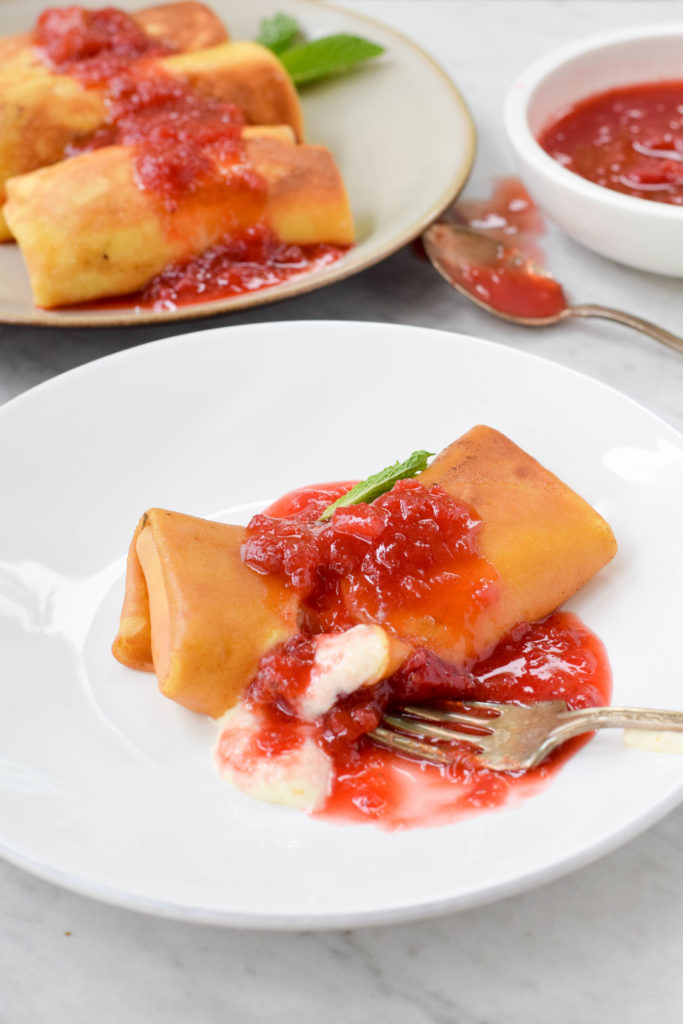 Blintzes aren't just a perfect Mother's Day breakfast, of course. They are also a traditional food for the Jewish holiday of Shavuot, which falls on June 1 this year. Shavuot commemorates the day the Jewish people received the Torah on Mount Sinai. It is customary to eat dairy foods on Shavuot and as is typical in Judaism, there are about 25 different explanations for this custom. I offer my favorite explanation in the book, so you will just have to read it to find out!
A few recipe notes about blintzes. One: plan ahead. The batter for the pancakes needs to sit for at least two hours before cooking. My advice? Make the batter the night before you plan to serve the blintzes. It will  keep it in the refrigerator overnight and that is one less thing to do in the morning.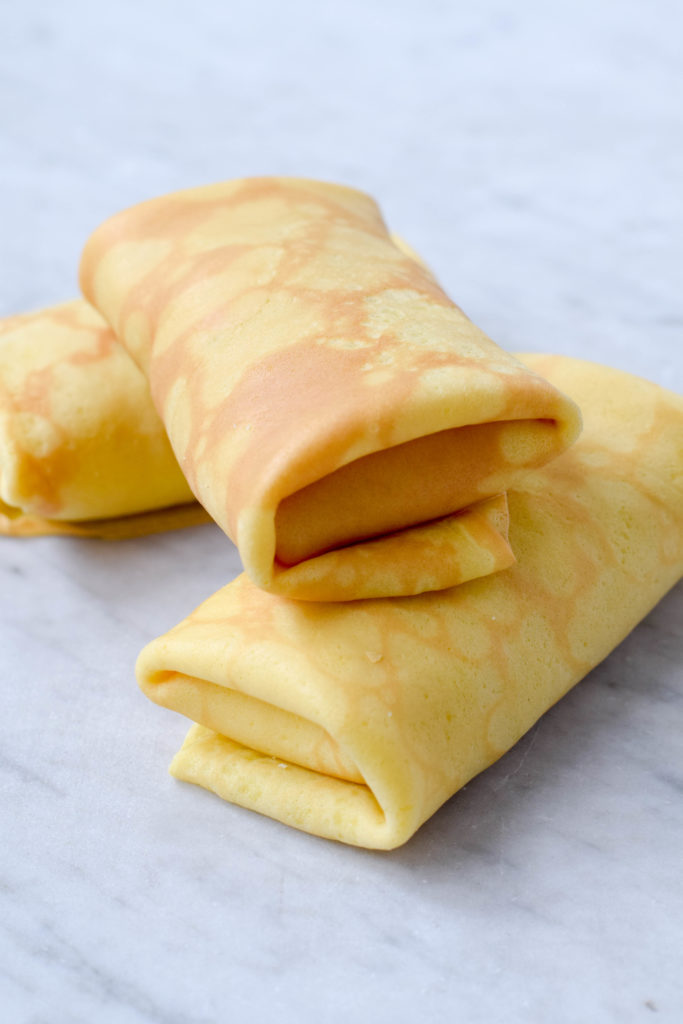 Second, remember when I said that the pancakes for the blintzes are like crêpes? That's true, but there is one key difference. Traditionally, crêpes are cooked on both sides while the blintzes are only cooked on one side. Got it?
I suggest you fill your blintzes with lightly sweetened ricotta cheese. Traditionally, Jewish cooks like my great-grandmother would have used something like pot cheese or farmer's cheese, which is a soft, fresh cheese, similar to cottage cheese, with small curds. Farmer's cheese can be pretty tangy, which some people love. My kids, I have learned, prefer the mild taste of fresh ricotta.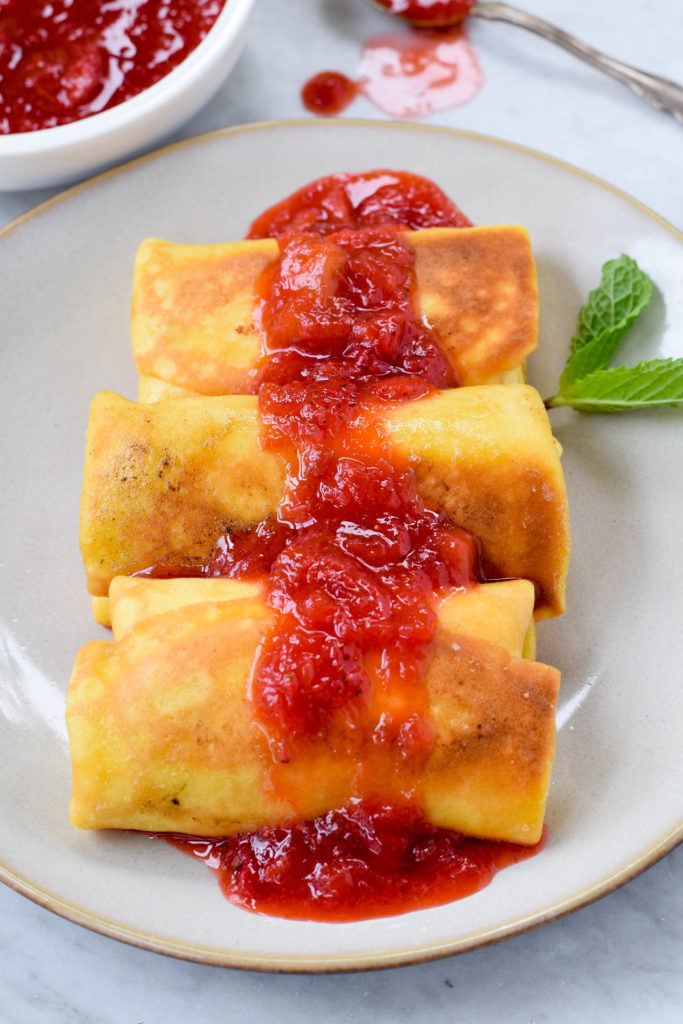 I encourage you to experiment with farmer's cheese, or quark, which is a German fresh cheese, or even small-curd cottage cheese, to fill your blintzes if you are dealing with more sophisticated palates. In The Joys of Jewish Preserving, I actually offer two filling recipes, one with ricotta and another with farmer's cheese for the purists.
Happy Mother's Day to all the mothers and grandmothers out there! I hope someone makes you a lovely breakfast.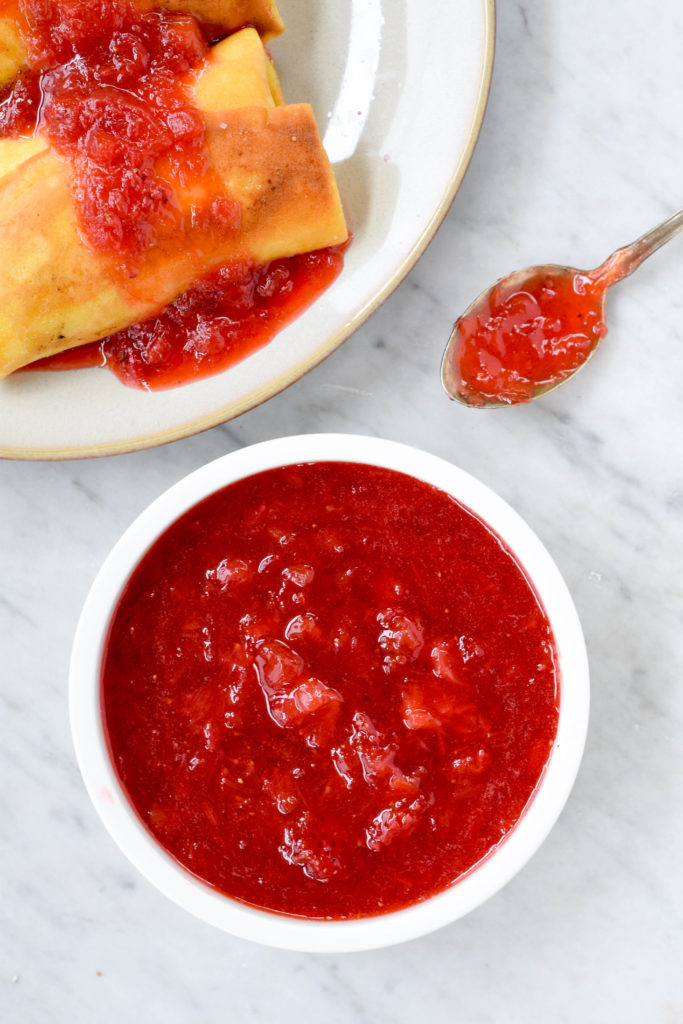 Cheese Blintzes with Strawberry Rhubarb Compote
Ingredients
Pancakes

1 cup whole milk
4 large eggs, at room temperature
1 teaspoon vanilla extract
1 cup all-purpose flour
2 tablespoons sugar
1 teaspoon salt

Strawberry Rhubarb Compote

3-4 stalks rhubarb, sliced (2-3 cups sliced rhubarb)
1 quart strawberries, sliced
1 1/2 cups sugar
Juice of one lemon

Ricotta Filling

15 ounces whole milk ricotta
4 oz cream cheese, softened
2 TB sugar
Zest and juice of 1 lemon
Pinch of salt
Instructions
To make the batter, whisk together the milk, eggs, and vanilla in a large bowl. Add the flour, sugar, and salt and whisk until combined and no longer lumpy. Cover and refrigerate for at least 2 hours or overnight. (Stir to recombine before cooking.)
Meanwhile, make the compote. Combine the rhubarb, strawberries, sugar and lemon juice in a wide, deep saucepan.
Bring mixture to a boil, stirring frequently. Reduce heat and simmer until the fruit begins to break down, about five minutes. Set aside to cool or refrigerate until needed.
To make the crepes, heat a non-stick crepe pan over high heat. While the pan is heating, prepare 8 squares of parchment paper to hold the cooked crepes.
Once the pan is hot, reduce the heat to medium-high. Add 1⁄3 cup of batter and immediately tilt the pan to swirl the batter to the edges. It should thinly coat the bottom of the pan.
Cook undisturbed for 40 seconds to 1 minute until the edges are lightly browned and release easily from the pan and the center is dry.
Using your fingers or a thin, flexible spatula, loosen an edge and carefully remove the crepe to the dishtowel or parchment paper. (Do not use tongs, which may puncture or tear the delicate crepe.) If the bottoms of the crepes are browning before the center is dry, flip them over and briefly cook the underside and then add slightly less batter to the pan next time. You may need to adjust the heat between medium-high and medium, as you continue to cook the crepes to ensure that they are browning but not burning on the bottom and cooking all the way through.
Repeat with the remaining batter. Layer the finished crepes between parchment paper. (Crepes may be prepared up to a day ahead and refrigerated.)
To make the filling, mix all of the ingredients together in a bowl.
To fill the blintzes, place one crepe, cooked side down, on a clean dishtowel or board and spoon 2 to 3 tablespoons of filling just below the center of the crepe, leaving a border on the bottom and each side. Fold the bottom layer over the filling, then fold in each side, enclosing the filling completely, and roll up. Place the filled blintzes seam-side down in a baking dish. (These can be refrigerated at this point for up to 1 day or frozen for longer storage.)
To cook the blintzes, melt 2 tablespoons of butter in a 12-inch nonstick skillet. Place 4 blintzes in the skillet and cook over medium heat until lightly browned, about 4 minutes. Flip and brown the other side. Repeat with the remaining blintzes, adding more butter to the skillet as necessary.
Serve topped with compote, a dollop of sour cream or creme fraiche and sliced fresh fruit.
http://www.westoftheloop.com/2017/05/11/blintzes-mothers-day/