One of my favorite quick pickles, pickled radishes are a cinch to make and add a peppery crunch to sandwiches, salads and more!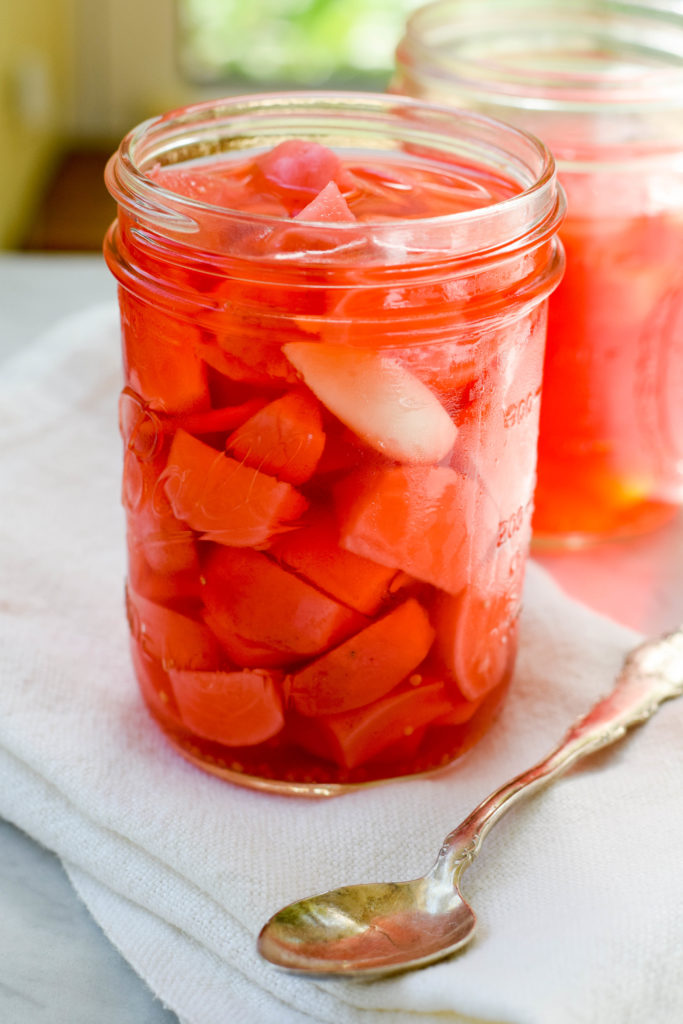 Are you a radish fan? I am. I adore the peppery bite and satisfying crunch of a good radish. I have fond memories of evenings with French family when the pre-dinner apéritif was nothing more than a bowl of radishes served with butter and salt. You cut an X in the bottom of the radish and spread on the softened butter. A sprinkle of flaky sea salt and that was it. Slice, spread, sprinkle, crunch. Ambrosia.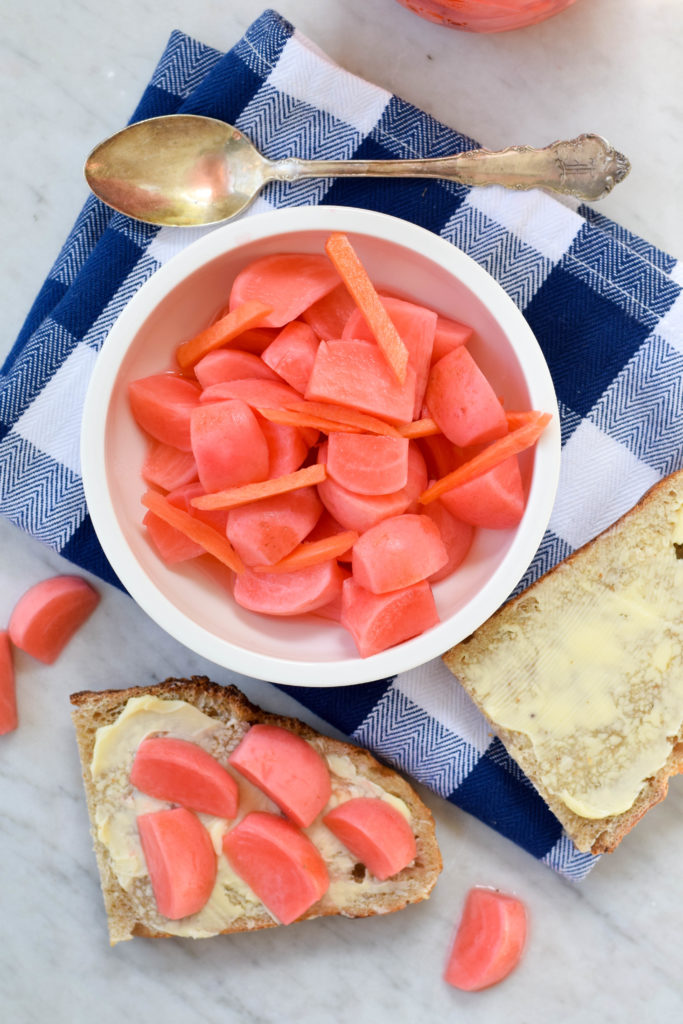 Alas, I am the only radish-lover in my family. So when spring arrives and vibrant bunches of radishes begin to appear at the grocery stores and farmers markets, I put one, no two, bunches in my basket only to find a few days later that they are practically untouched. That's when I turn to my produce-saving solution, quick pickling.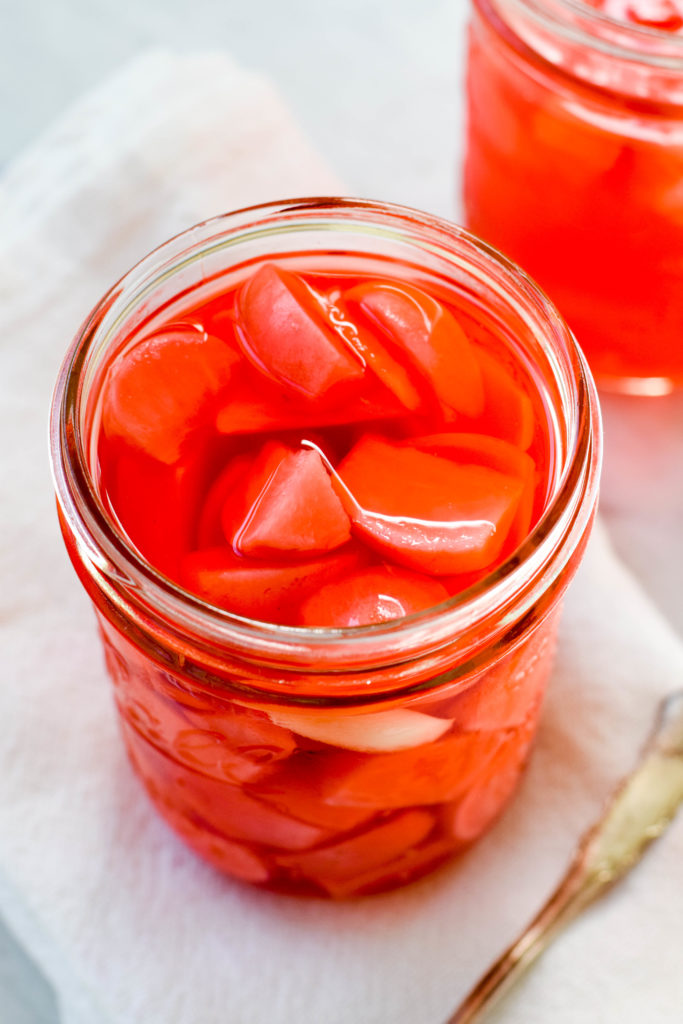 Pickling tames radishes' bite and gives them a notable funkiness. I love adding pickled radishes to tacos, sandwiches and especially grain bowls. I opt for Asian flavors, like ginger and rice wine vinegar, when making quick pickled radishes. That way, they are perfect for adding a puckery, crunchy element to one of my favorite meals: Asian-inspired brown rice bowls.
Quick pickling takes only a few minutes of your time and is one of the best ways to turn rapidly aging produce into a delicious condiment that will add flavor and interest to your lunches and dinners all week long. So don't let those radishes languish in the back of the refrigerator – pickle them!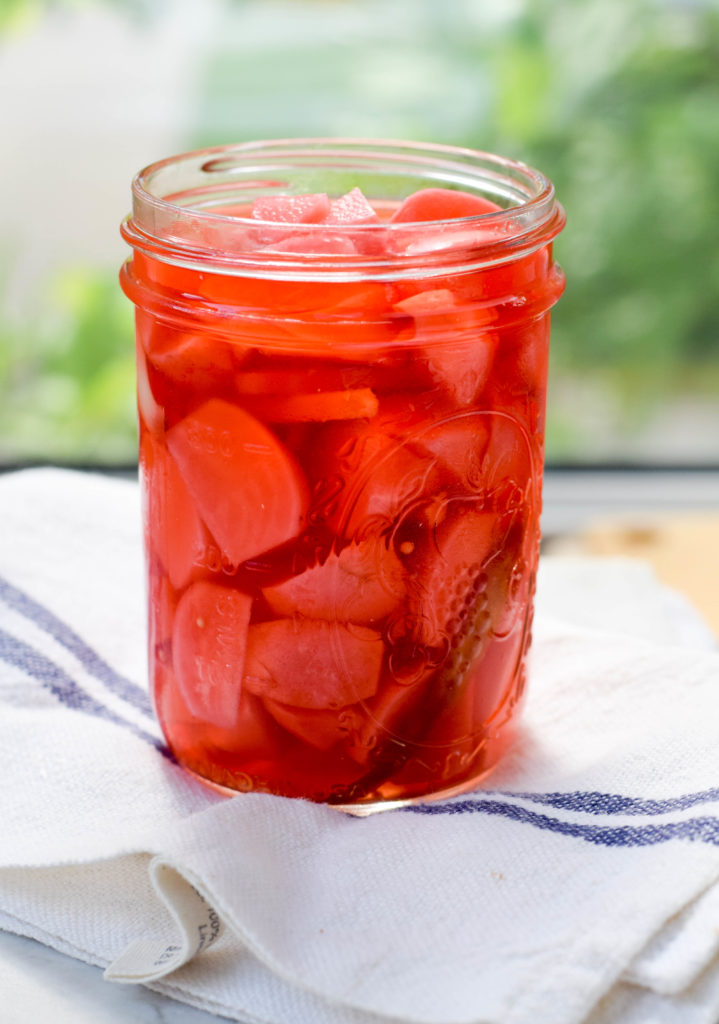 By the way, is there anything dirtier than radishes? Mine always come home from the store or farmers' market utterly filthy. I soak them in cold water to get rid of the worst of the grit and then rinse and dry them before using.
Ingredients
2 bunches radishes, washed well
1 1/2 cups rice wine vinegar
1-inch piece ginger root, peeled and cut into matchsticks
1 tsp mustard seeds
2 dried red chiles
2 TB sugar
1 TB pickling or sea salt
Instructions
Trim the bottoms and stems off the radishes and cut each radish into six or eight wedges depending on the size.
Divide radishes evenly among two clean pint jars. Divide the ginger among the jars and add a dried chile to each jar. Add 1/2 tsp mustard seeds to each jar.
Combine rice wine vinegar, sugar and salt with 1 1/2 cups water in a small saucepan and heat stirring just until sugar and salt are dissolved.
Pour brine into jars.
Refrigerate for at least 1 hour before serving.
http://www.westoftheloop.com/2017/05/14/gingery-pickled-radishes/