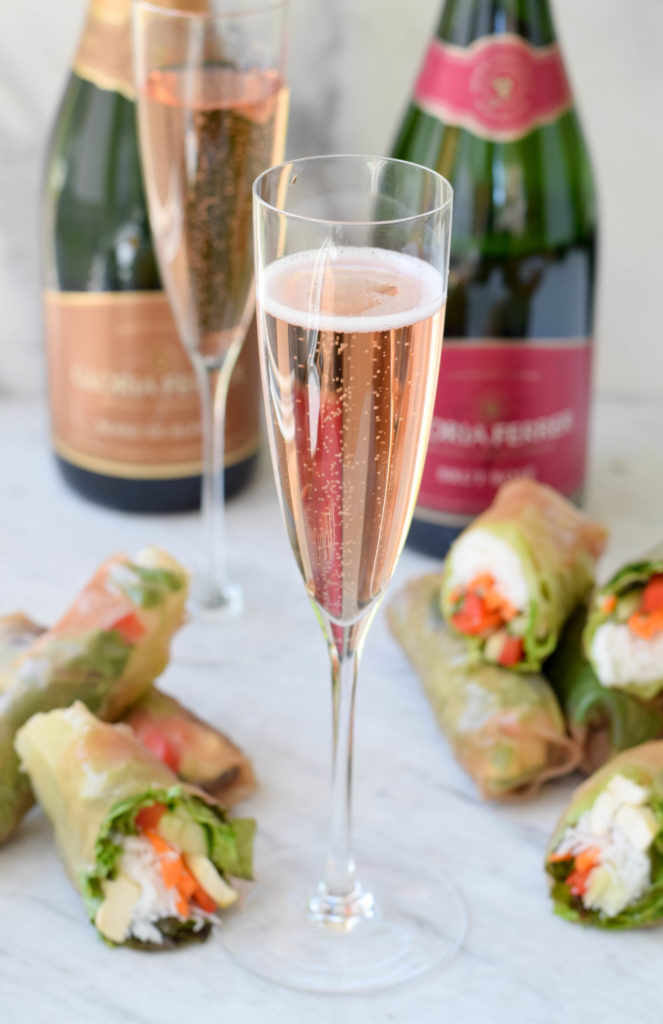 Spring entertaining is all about light bites and refreshing sips, am I right? Today I have ideas for both. A recipe for an easy and delightful spring appetizer — Vietnamese-style summer rolls — and the perfect sparkling wines to enjoy them with: Gloria Ferrer NV Blanc de Blanc and the brand-new NV Brut Rosé. After reading this, you are going to want to call all your girlfriends and invite them over for an al fresco ladies' night, I guarantee.
When the weather turns warm, all I want to drink is a refreshing, festive sparkling wine. Gloria Ferrer Caves & Vineyards is Carneros' original sparkling wine house, owned and founded by the Ferrer family of Spain. Named for José Ferrer's wife, Gloria, the winery opened in 1986 in breezy, southern Sonoma County. (I would like to go to there!) Thirty years later, with 335 acres under vine, the estate vineyards at Gloria Ferrer produce still and sparkling wines that rival some of the world's finest. In fact, Gloria Ferrer wines have earned over 500 gold medals and 50 90+ scores in the last 5 years.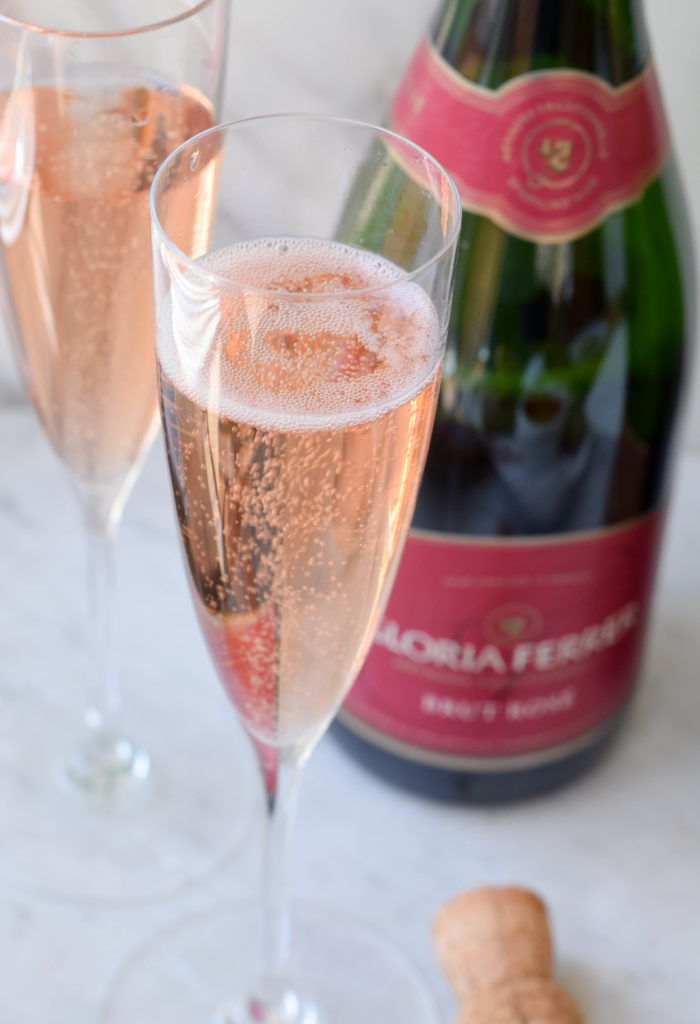 Gloria Ferrer Blanc de Blanc is made exclusively from Chardonnay grapes with a creamy, clean and refreshing taste. I get a hint of green apple and lemongrass on the palate. I love this wine's minerality and lively bubbles. The brand-new Brut Rosé, with its pale blush hue, is a delightful mix of Chardonnay and Pinot Noir grapes. Maybe it's the color playing tricks on me, but I swear I taste strawberry and other red fruits when I sip the Brut Rosé.
Both of these Gloria Ferrer sparkling wines are the perfect pours for warm-weather entertaining because they are refreshing, light and pair exceptionally well with food from cheese to seafood to spicy Asian-inspired dishes.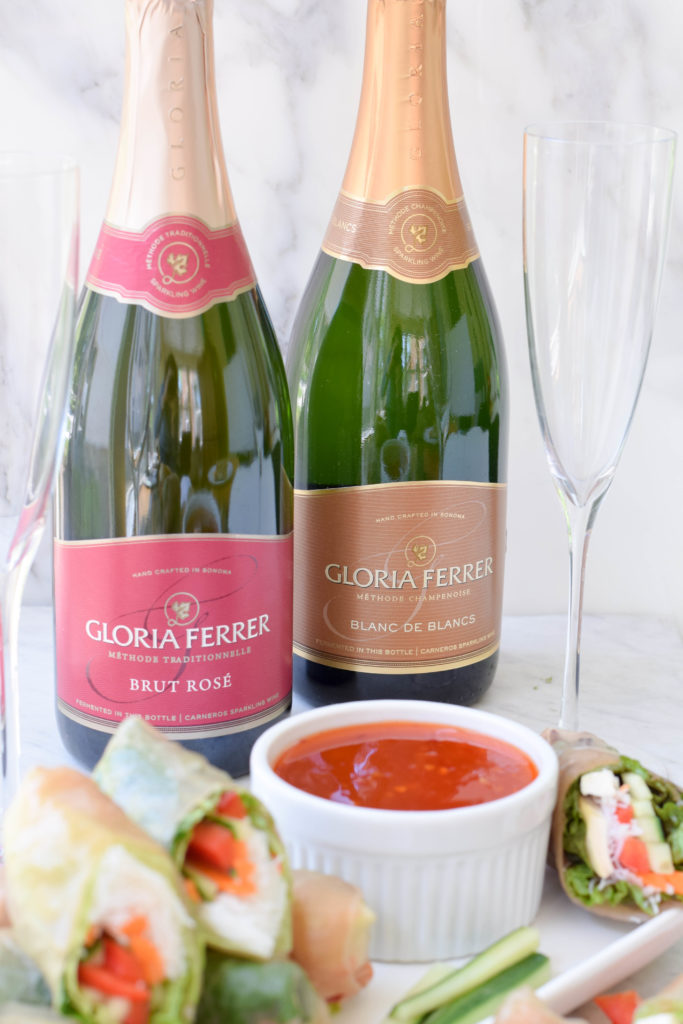 To pair with these light and refreshing wines, I created a recipe for vegetarian, Vietnamese-style summer rolls that make a perfect warm-weather lunch or appetizer. The opposite of a heavy, deep-fried egg roll, a Vietnamese summer roll is raw, crunchy and incredibly refreshing. You've probably had them in Vietnamese restaurants as an appetizer.
My version has raw carrots, cucumber, red pepper and lettuce, fresh herbs like mint and cilantro, rice noodles and baked tofu encased in a pliable rice paper wrapper. I serve my summer rolls with a sweet spicy chili sauce, but you could also offer a peanut dipping sauce as well. Vegetarian and gluten-free, these healthy yet satisfying summer rolls are surprisingly easy to make yet elegant enough to serve to guests.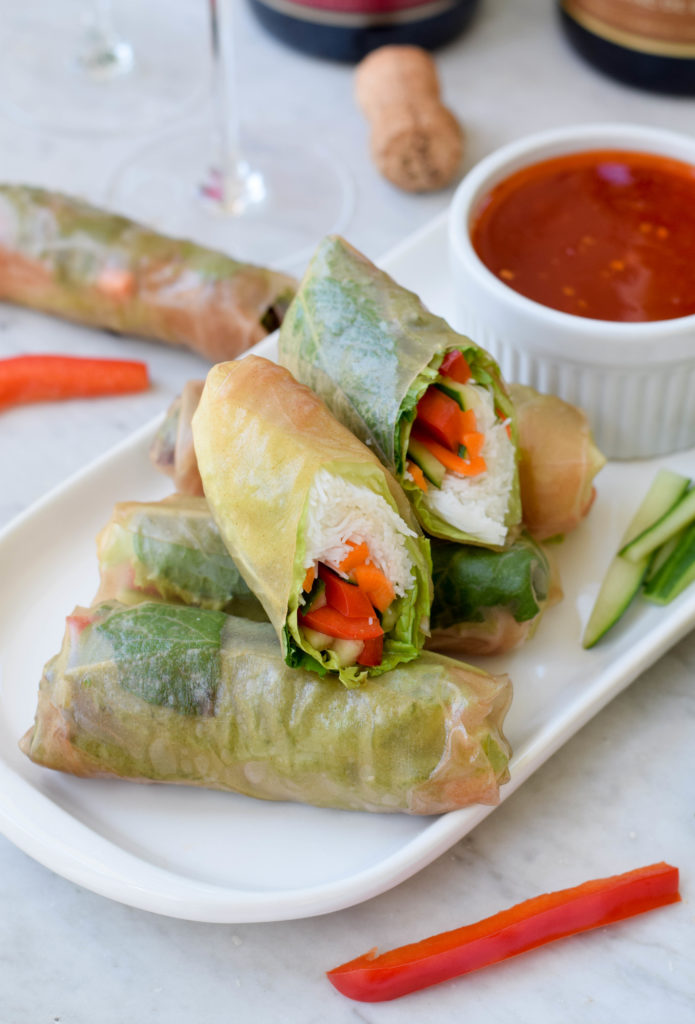 Did you notice how I dropped "vegetarian" and "gluten-free" in there? But these are no small things. When entertaining, one of the most important things you can do is make everyone feel welcome and included. Yet so many people today have food allergies and other dietary restrictions. How often can you say to all your friends — the vegetarians, the gluten-free, the healthy eaters — "Come over. I have the perfect bite for you."
For even more fun, consider having a roll-your-own summer roll party. Arrange the different components — the vegetables, the herbs, the noodles, the tofu or other proteins — and a shallow dish for moistening the rice paper wrappers on a clean countertop and let your guests customize their own summer rolls. They might be shy at first, but after the first glass of Gloria Ferrer Blanc de Blancs or Brut Rosé, everyone will get into it, I promise.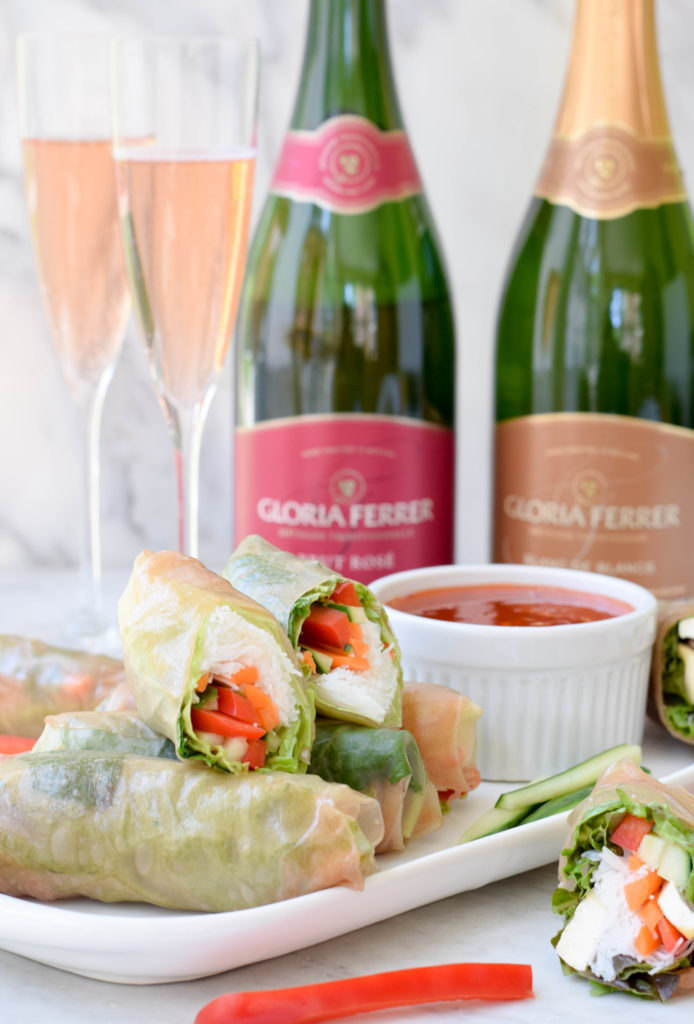 So are you ready to invite the girls over for a casual, light-hearted girls' night? I thought so. Don't forget to pick up several bottles of Gloria Ferrer Blanc de Blancs and Brut Rosé and all the ingredients for these vegetarian Vietnamese Summer Rolls.
Vegetarian Vietnamese-Style Summer Rolls
Ingredients
14 oz. extra-firm tofu
1 red bell pepper, cut into a julienne
3 carrots, peeled and cut into a julienne
1 cucumber, cut into a julienne
1 head red or green leaf lettuce
1 package rice or cellophane noodles, cooked according to package directions
1 bunch mint, cilantro or Thai basil
1 package rice paper wrappers
Sweet chili sauce or peanut sauce for dipping
Instructions
Preheat oven to 350. If time permits, drain the excess water from the tofu by placing it on a plate, covering it with another plate and placing something heavy on top of the plate. Allow to sit for thirty minutes. Drain excess liquid.
Cut tofu into thin slices and arrange on a parchment-lined baking sheet. Bake until firm, about thirty minutes.
To make the summer rolls, moisten a rice paper wrapper by dipping it in shallow dish of lukewarm water. Do not soak the wrapper, but allow it to stay in the water only for a few seconds. Place the moistened wrapper on a clean cutting board.
Take a leaf of lettuce and place one slice of tofu in it. Top with a small handful of noodles. Add several strips of each vegetable. Roll up the lettuce leaf into a cigar shape.
Place the stuffed lettuce leaf on the bottom half of rice paper wrapper. Top with a few leaves of mint, basil or cilantro.
Roll the bottom of the rice paper wrapper over the filling. Tuck in the sides and continue to roll up. Set aside.
Repeat with the remaining wrappers.
Summer rolls are best made shortly before serving, but you can wrap them in plastic wrap and store in a cool spot for 1-2 hours. Cut in half prior to serving.
Serve with sweet chili sauce or peanut sauce for dipping.
http://www.westoftheloop.com/2017/05/29/vietnamese-style-summer-rolls-gloria-ferrer-sparkling-wine-keep-fresh/
I was selected for this opportunity as a member of CLEVER and the content and opinions expressed here are all my own.