A delicate, floral take on the classic Cuban cocktail: lavender mojitos made with Lavender DRY Sparkling Soda.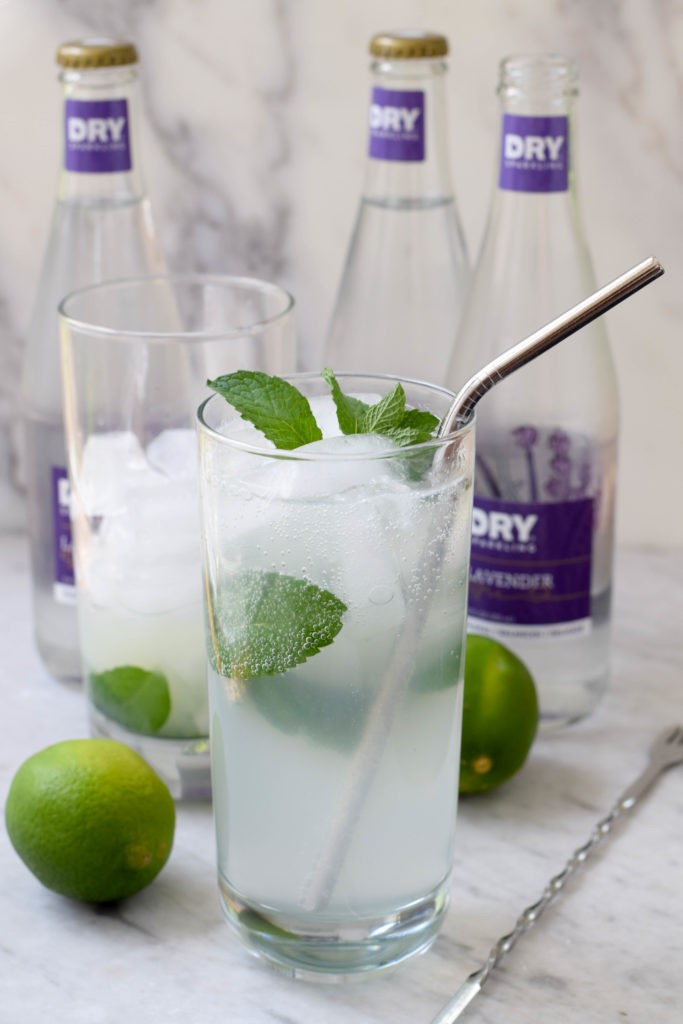 What's better than a mojito? How about a mojito made with the delicate, floral taste of lavender? This is the refreshing cocktail I am going to be sipping all summer. And best of all, it's incredibly easy to make at home using DRY Sparkling Soda.
At my wedding, we served wine, beer, and a signature cocktail: a classic mojito.  The year was 2002 and mojitos were just becoming popular. The slightly sweet, minty cocktail was just the right combination of refreshing and boozy for what turned out to be a pleasantly warm evening. Many of the guests had never had a mojito before but all were instantly converted.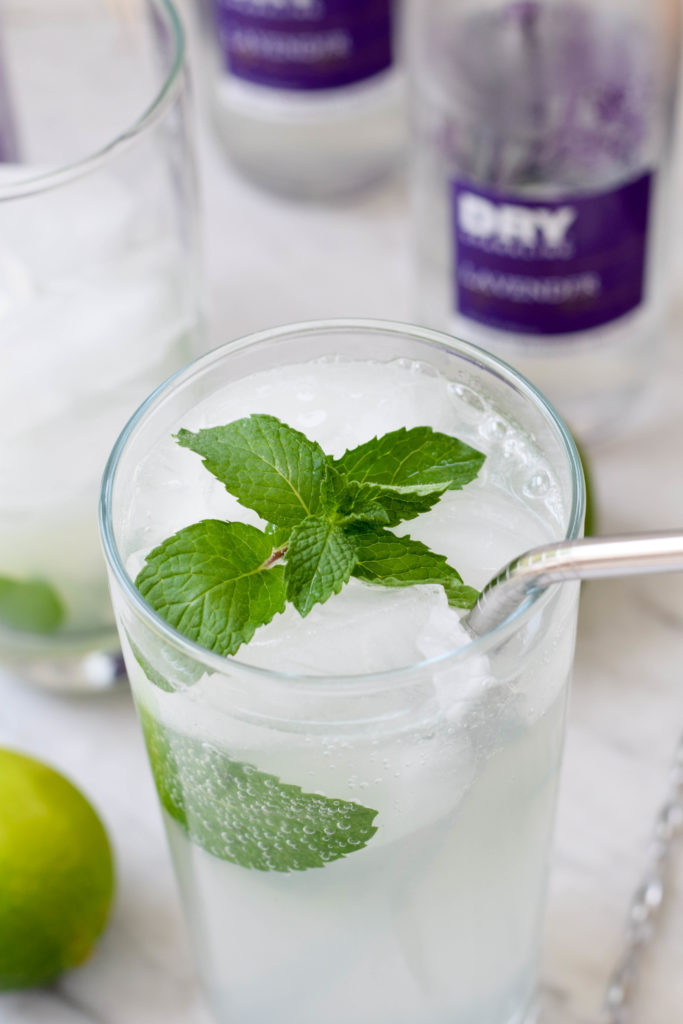 Since that time, I have had a soft spot for mojitos. Part of the reason that I favor the mojito as a summer tipple — beyond nostalgia for one of the best days of my life, of course — is that, unlike many cocktails which require specialized equipment and obscure ingredients, a mojito is easy to make at home. All of the ingredients are things you may well have on hand: white rum, mint, lime juice, sugar or simple syrup and club soda or seltzer.
(Mint is probably my favorite flavor in the world, and so I grow quite a lot of it in summer. I love walking out the back door and cutting fresh mint leaves for tabbouleh, fruit salad and, yes, mojitos. Mint is the perfect herb for indifferent gardeners because it is nearly impossible to kill.)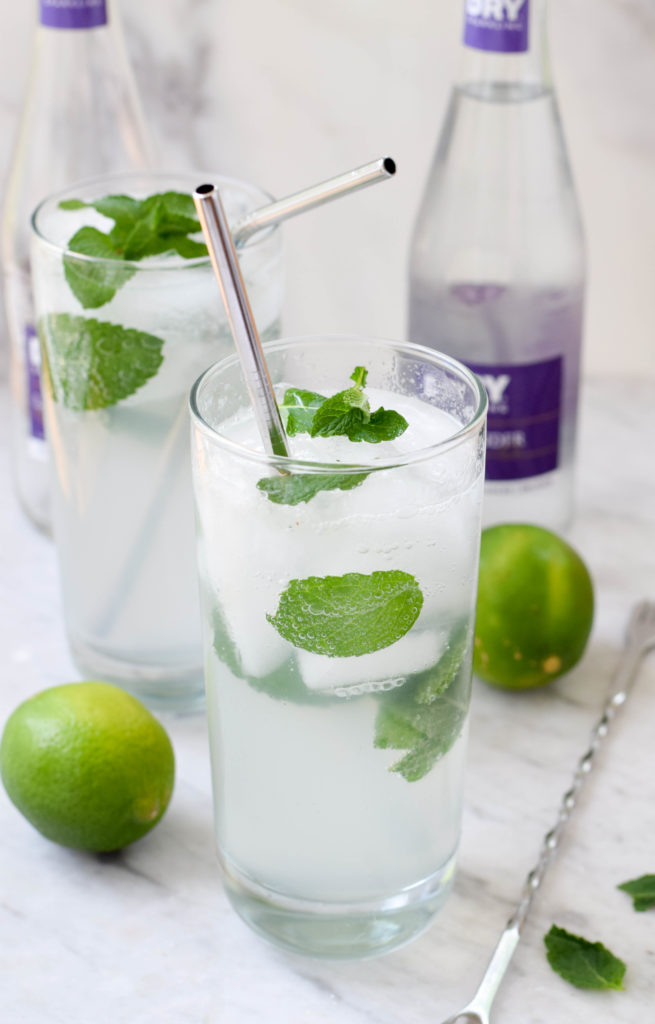 One of the most delightful traits of the mojito is that it is slightly sweet and fizzy. In that regard, a mojito is similar to DRY Sparkling sodas. DRY Sparkling sodas are slighlty sweet, carbonated beverages that come in unusual flavors like rhubarb, blood orange and lavender. I first tried DRY Sparkling sodas at Cochon555 and I fell hard for the crisp, refreshing taste of these culinarily-inspired sodas.
Made with just four ingredients, each DRY variety honors a singular botanical flavor. The perfect crisp soft drink for entertaining, pairing with a delicious meal, and mixing into cocktails. DRY contains about 1/3 the sugar and calories of traditional sodas and juices, which means that not only are DRY sodas refreshing — not syrupy — but also that they are not as high in calories as most sodas. As someone who loves sweet, fizzy beverages, I am happy to have an indulgence that is both delicious and not as many calories as a candy bar.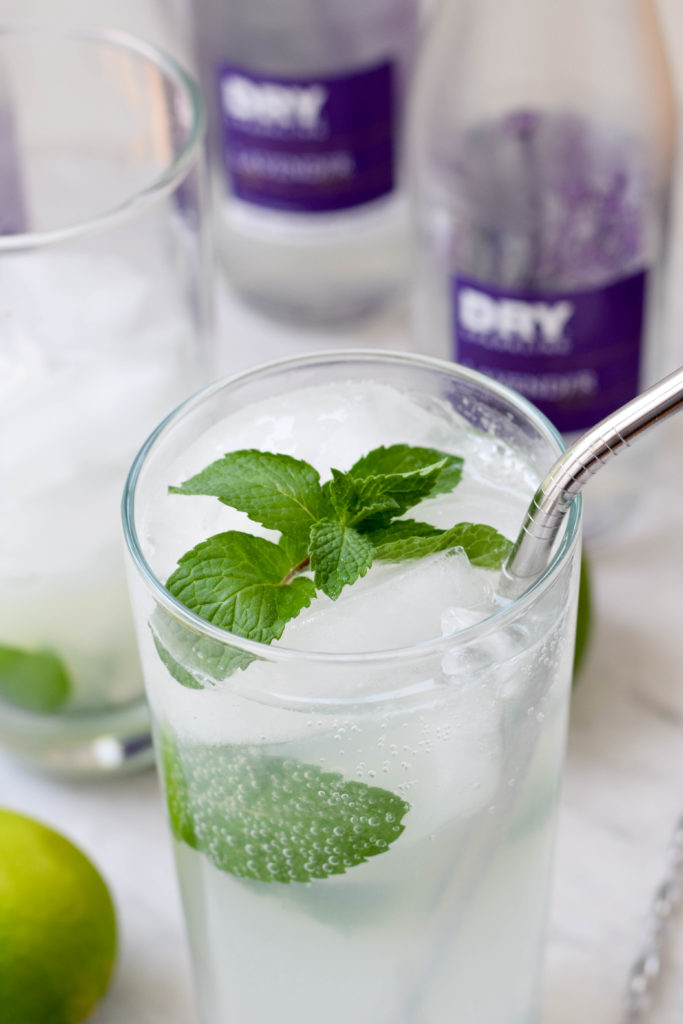 My friends at DRY Sparkling sent me several flavors to try, including (my favorite) lavender, ginger and the newest flavor watermelon. Zuzu and her friends went crazy for the watermelon. Soda is not something that I serve my kids often, but only as a special treat. And if I are offering them a treat, I would it rather be something like DRY Sparkling Sodas which are delicious, made with natural cane sugar, and not filled with artificial ingredients.
One of the reasons that DRY Sparkling sodas are so popular with chefs and other food lovers is because they make outstanding mixers for cocktails. Mojitos are typically made with sugar and club soda, so I decided to try replacing both the fizzy element and the sweetener with the
Lavender DRY
. Not only was the combination of lime, mint and lavender refreshing and delicious, but using DRY Sparkling made mixing up a mojito even easier than usual!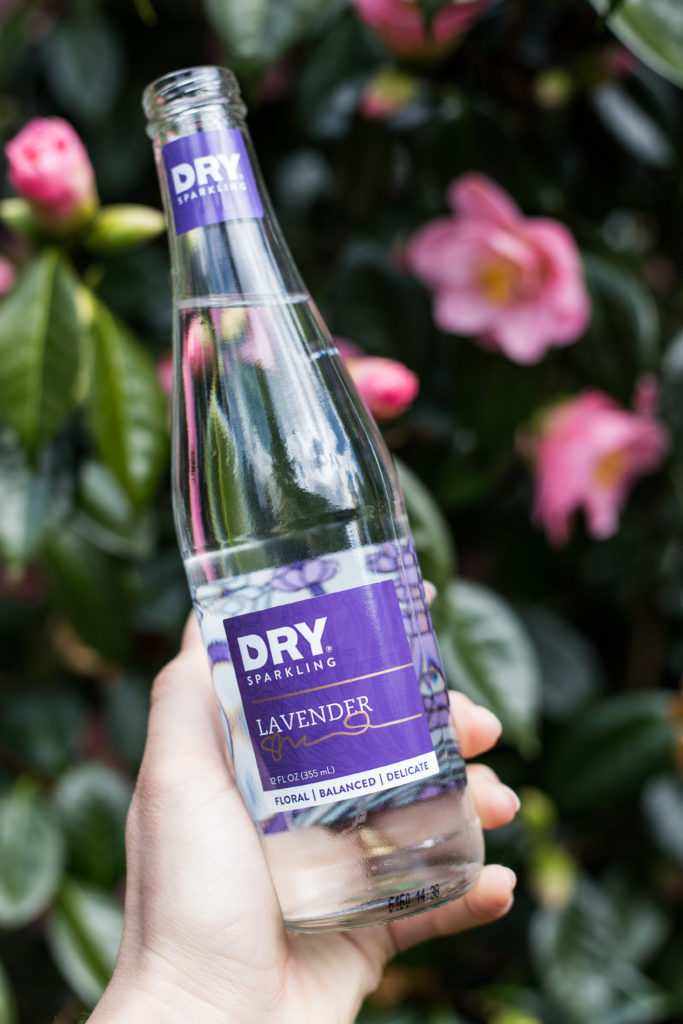 If you are not using DRY Sparkling soda in your mojitio, I recommend sweetening it with extrafine or caster sugar because that finely ground sugar dissolves quickly and won't give your drink a grainy texture. If you don't have caster sugar on hand — and only a very serious baker would — you can make your own by pulverizing sugar in a food processor until finely ground but not powdery.
Another alternative is to use simple syrup. To make simple syrup, combine equal parts sugar and water in a small saucepan over medium heat and stir until the sugar is completely dissolved.  Simple syrup will keep for quite a while in your fridge and is delicious is all kinds of summer drinks and cocktails, so go ahead and make a big batch.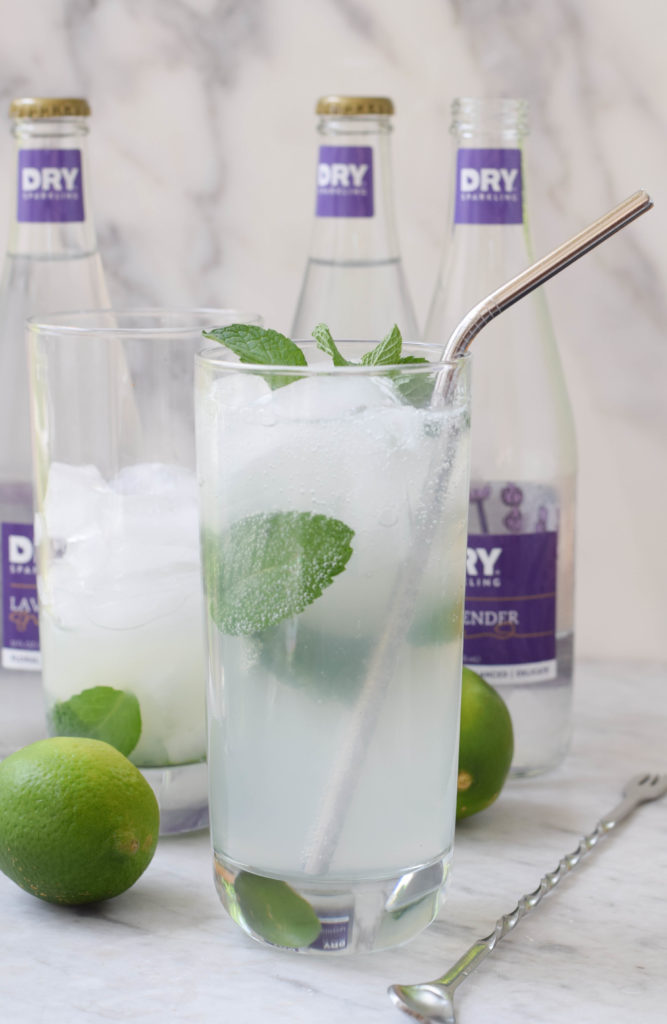 Ingredients
10 small mint leaves plus a sprig for garnish
3/4 oz freshly squeezed lime juice
Pinch extrafine sugar
1 oz white rum
DRY Sparkling Lavender
Instructions
Place the mint leaves, lime juice and sugar in the bottom of a heavy-bottomed Collins glass. Gently muddle the mint to release the essential oils, but do not crush or shred the leaves. Stop when you smell the mint.
Add the rum and fill the glass with ice. Top with Lavender Dry. Stir.
Garnish with a sprig of mint.
http://www.westoftheloop.com/2017/06/04/lavender-mojitos/
Full disclosure time: I received several bottles of DRY Sparkling soda to try free of charge. I have not received any compensation for this post. All opinions expressed herein are entirely my own.