It's strawberry season! These luscious cupcakes have fresh strawberry purée in the cake and in the icing for tons of strawberry flavor.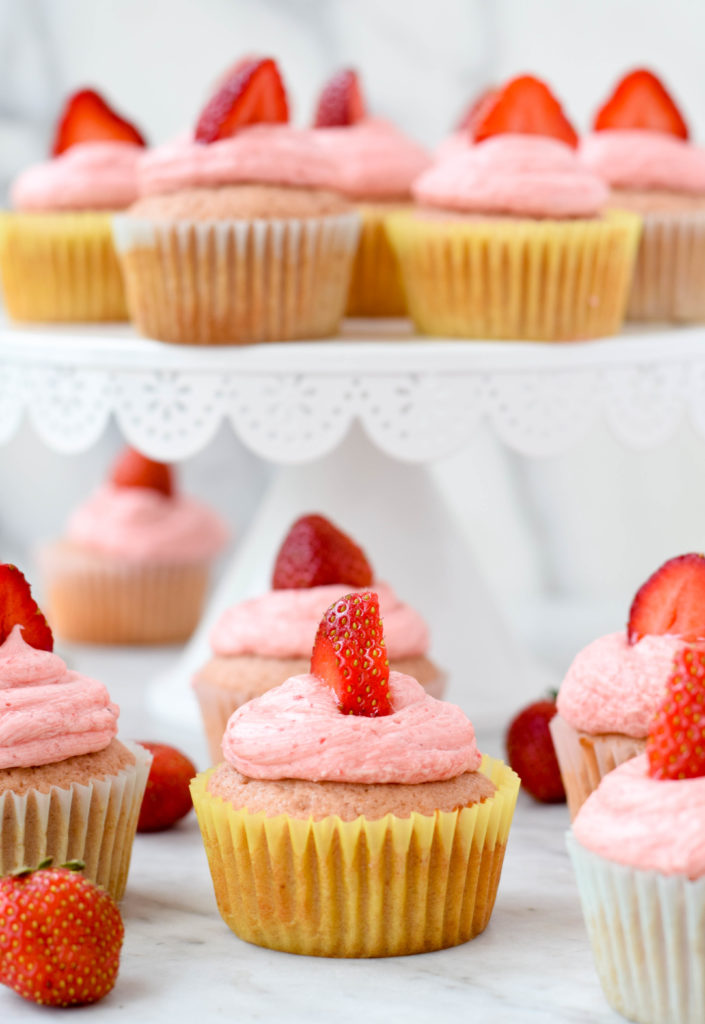 I have a long history of buying too many strawberries at the farmers market. I used to do a series of posts every year with recipes for how to use a flat of strawberries in five days. Last year, I skipped the flat of strawberries, but still managed to write about Strawberry Rhubarb Pie and Strawberry Shortcake.
Never one to learn my lesson, I bought two quarts of strawberries at the farmers market last week to make Polish Strawberry Rhubarb Jam, a lovely recipe from my new book The Joys of Jewish Preserving. This week, I bought three quarts of strawberries. One quart went to a weekend strawberry shortcake, but that still left two whole quarts, and we all know that strawberries are highly perishable.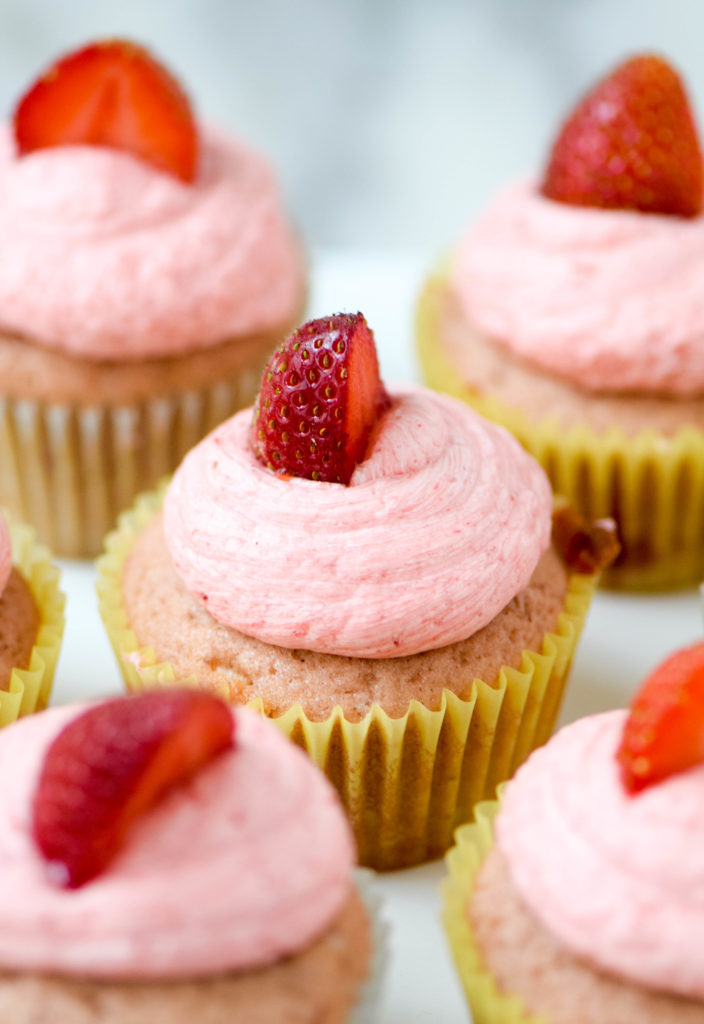 Did I mention I have so much work? I don't have time to be messing around with strawberries! Events for The Joys of Jewish Preserving start next week. I will be in New York next Tuesday to do an author talk at the 92nd St. Y — that's basically like the center of the Jewish cultural universe — with my friend Leah Koenig and next Wednesday I will teach a preserving class at the Brooklyn Brainery.
Then I come home and on Sunday June 25, I am demonstrating another recipe from Jewish Preserving on the What's Cooking stage at the ALA'a Annual Conference — this will actually be the second year in a row I've done a cooking demonstration at ALA, which is such a fun event for book lovers. Tons of free ARCs (advance reader copies.)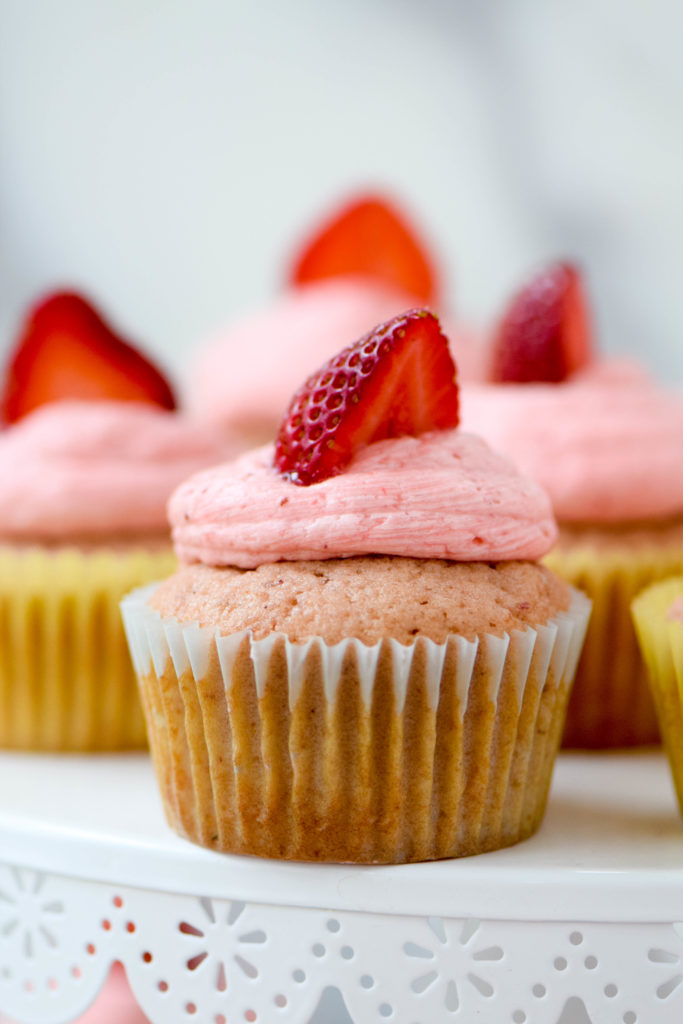 So, yeah, I have a little bit of preparation to do. But what was keeping me up at night was those strawberries sitting in my fridge getting older and older. What I really wanted to do was make strawberry cupcakes that were absolutely bursting with fresh strawberry flavor. No food coloring, no "strawberry extract." Just naturally pink, naturally strawberry strawberry cupcakes.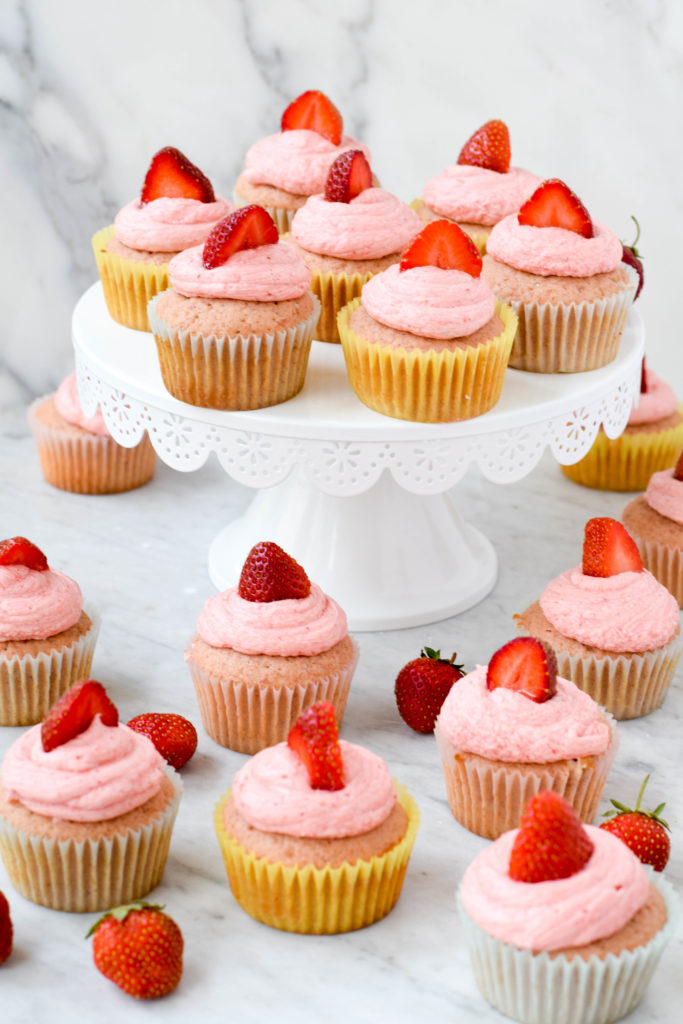 Baking as procrastination. You may well be familiar with the concept. But I can at least pretend that making strawberry cupcakes is work, so long as I take pictures and post about it later. It's sort of like in college when you read every novel on the syllabus for your 19th century British lit class rather than finish the geology lab that's due next week. It's work; it's just not the work you should be doing at that moment.
(When I was a senior in college, I did all the reading for all my classes in the first few weeks of the semester to avoid working on my senior thesis. I told myself I was just finishing my work for my other classes so I would then be free to devote all my time to my thesis. Perhaps not the best strategy in retrospect. I ended up scrambling to finish. That is probably why I still have nightmares that there is a month left in the semester and I haven't even started my senior thesis.)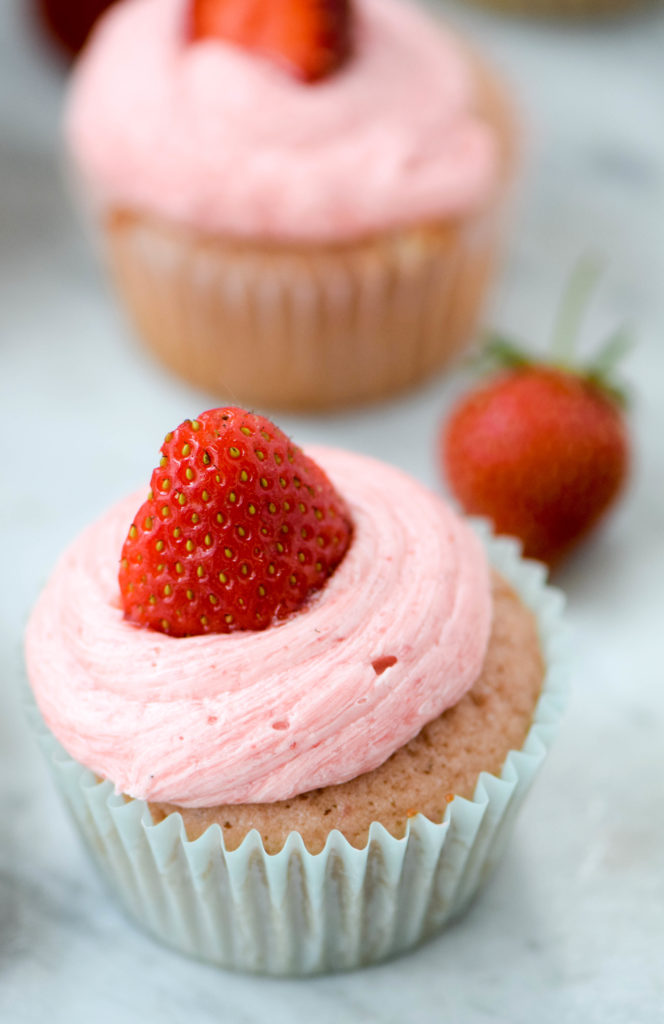 Working, but not on the right thing. Kind of a specialty of mine. A specialty that results in things like strawberry cupcakes. The kids are always happy when I do the wrong kind of work in this way. In fact, the strawberry cupcakes were a huge hit with both of my kids and a few of their friends who happened to stop by the house. I was happy because the cupcakes had exactly the fresh strawberry flavor I envisioned.
To get that natural strawberry flavor, I added pureed strawberries to both the cupcake batter and the buttercream frosting. You will likely have leftover pureed strawberries, which you can use in beverages like lemonade or, for the adults, cocktails.
So before June is over, promise me that you will make a batch of these strawberry cupcakes. I cannot think of a better use for fresh, local strawberries. And Father's Day is this Sunday.  I think Dad would like to be celebrated with some strawberry cupcakes after a big dinner or ribs or steak or whatever it is your dad likes best.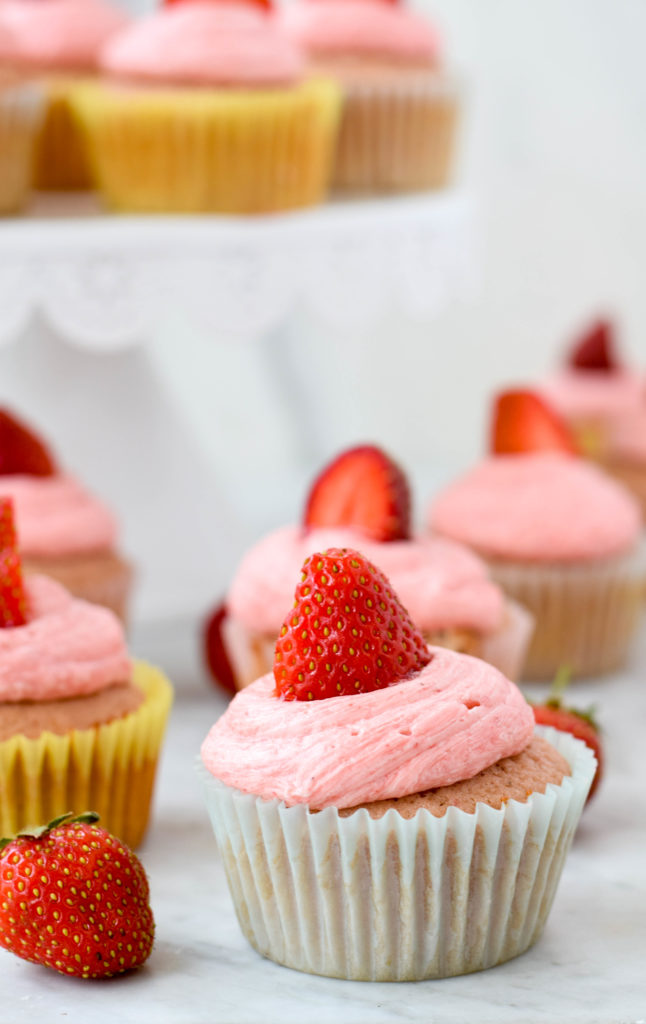 Ingredients
Cupcakes

1 quart strawberries hulled
6 oz. (1 1/2 sticks) unsalted butter at room temperature
1 3/4 cup sugar
2 1/2 cups all-purpose flour
1 tsp baking powder
1/4 tsp baking soda
1 tsp fine sea salt
3 eggs
1 tsp vanilla extract
1/2 cup buttermilk

Strawberry Buttercream

3 1/2 cups powdered sugar, sifted
8 oz. butter at room temperature
6 TB strawberry puree (from the quart of strawberries)
Instructions
Cupcakes

Preheat oven to 350 and line two 12-cup muffin tins with paper cupcake liners. Spray liners with nonstick cooking spray.
Puree the strawberries, reserving 12 of the nicest ones to decorate the cupcakes, in a high-spend blender, such as a Vitamix, or food processor until completely smooth. You should end up with close to two cups strawberry puree.
Cream the butter and sugar in a stand mixer for 5 minutes or until light and fluffy.
Meanwhile, whisk together the flour, baking powder, baking soda and salt in a medium bowl. Set aside.
Add the eggs one at a time to the butter and sugar mixture followed by the vanilla extract.
Whisk together 3/4 of a cup of the strawberry puree with the buttermilk.
Alternate adding the dry ingredients and the strawberry-buttermilk mixture to the ingredients in the stand mixer beginning and ending with the dry ingredients. Mix just until combined, scraping down the sides as necessary.
Scoop the batter into the prepared muffin tins. You should have enough for two dozen cupcakes.
Bake 18-22 minutes until the top is firm. Cool on a wire rack. Cool completely prior to frosting.

Frosting

Combine the powdered sugar, butter and strawberry puree in the bowl of a standing mixer.
Mix on low speed at first until combined and then turn speed up to medium and whip for several minutes until fluffy.
Frost cupcakes as desired and decorate each with half a strawberry.
http://www.westoftheloop.com/2017/06/14/strawberry-cupcakes/