Enjoy this crunchy chopped salad inspired by the Middle Eastern dish fattoush with a creamy yogurt-tahini dressing. This post is sponsored by Stonyfield Organic. As always, all opinions are my own.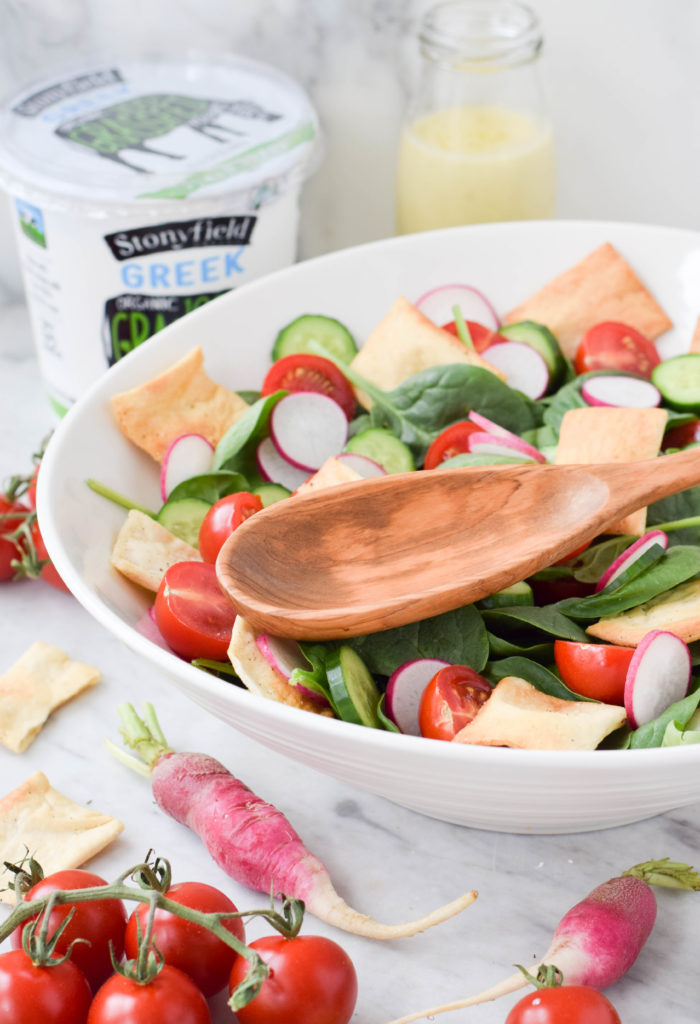 Everyone knows by now that Middle Eastern food is one of my favorite cuisines. Ever since 2012, when Yotam Ottolenghi's award-winning cookbook Jerusalem was published, I have incorporated classic Middle Eastern dishes like tabbouleh, shashuka, hummus, and baba ganoush into my home cooking.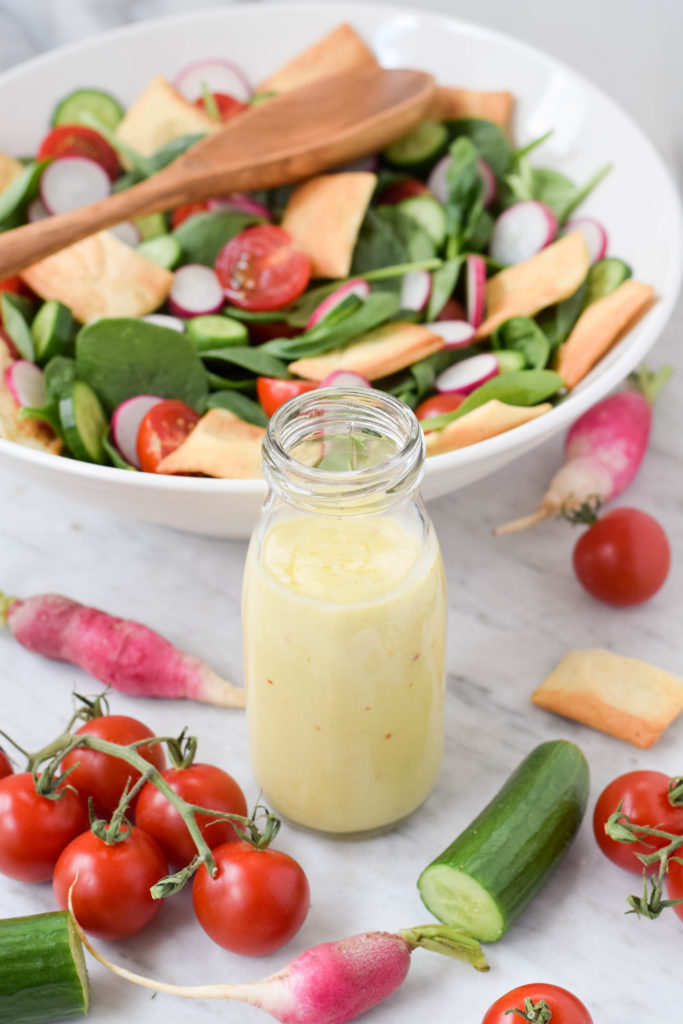 One of my favorite classic Middle Eastern salads — perfect for this time of year — is fattoush, a juicy, crunchy mix of greens, tomatoes, cucumbers, herbs and toasted pita bread. It's the Levantine version of a bread salad — like Italy's panzanella — that was probably created to make use of the pita leftover from the previous night's dinner.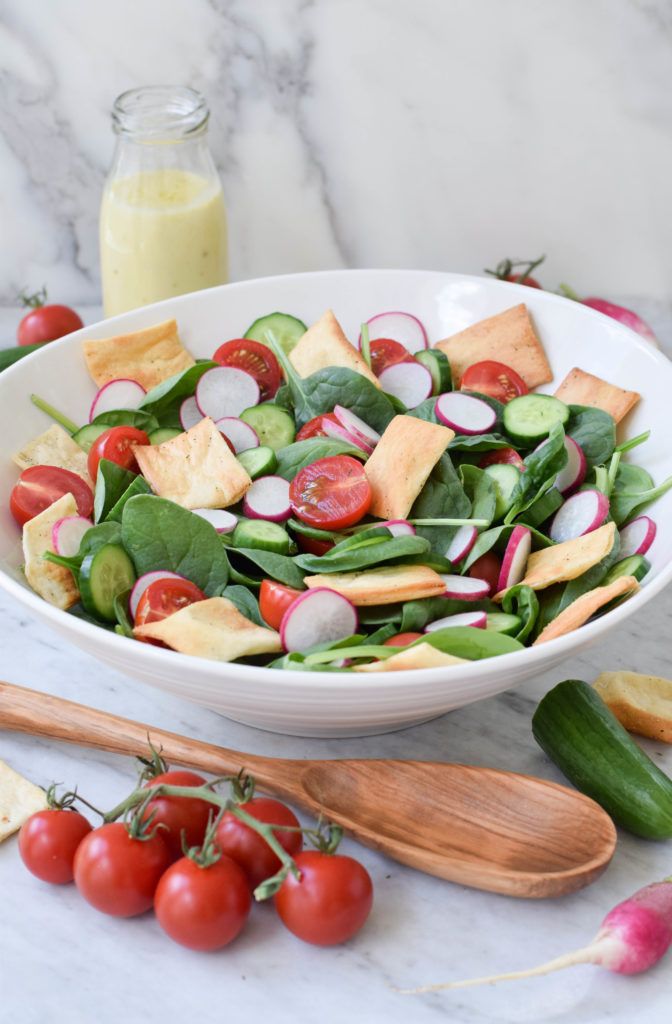 I don't always have leftover pita bread hanging around, but with the advent of bagged pita chips, it is easy to recreate a fattoush-style salad at home for a quick lunch or side dish. This fattoush-inspired salad has baby spinach, tomato, cucumber, radishes and plain pita chips for crunch. I love the mix of colors!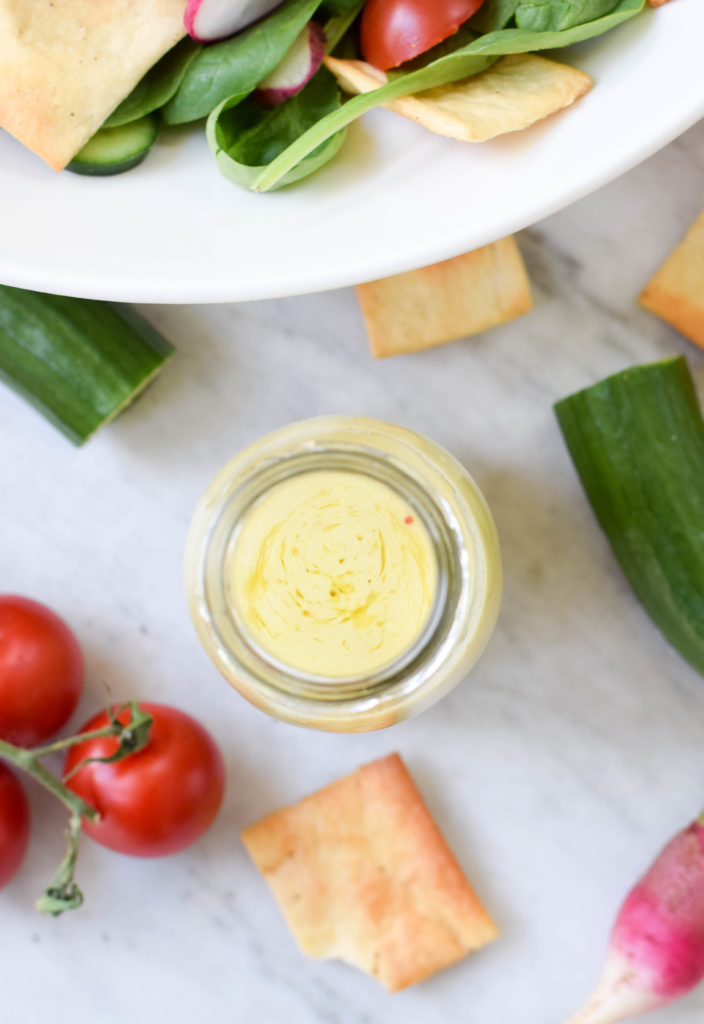 For the dressing, I went back to the Middle Eastern pantry for inspiration and created a tangy, creamy yogurt-tahini dressing with lemon juice, extra-virgin olive oil, plain Stonyfield Organic Greek Yogurt, and tahini, the sesame paste that is practically ubiquitous in Middle Eastern cooking.
I love salads with creamy dressing but with the virulent mayonnaise-haters in my house, I don't always get to make them. That's why the Stonyfield Greek yogurt is the hero of this story. It add creaminess and helps emulsify the dressing without using egg — which my daughter is allergic to — or mayo, which my husband loathes.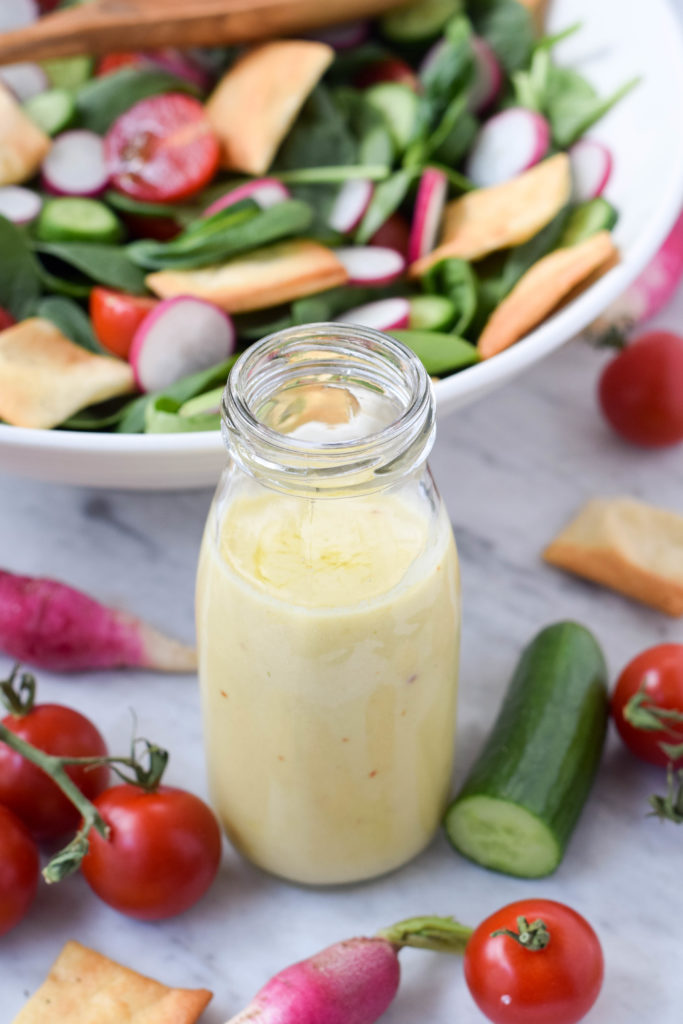 This dish is so easy to make and so refreshing, you will want to make it all summer long. I know I plan to! Add some grilled chicken or salmon to turn this salad into an easy summer entree. And if you are a gardener, here is a great way to use those homegrown cucumbers and tomatoes. Fresh herbs like flat-leaf parsley and mint would also be very in keeping with the Middle Eastern flavors.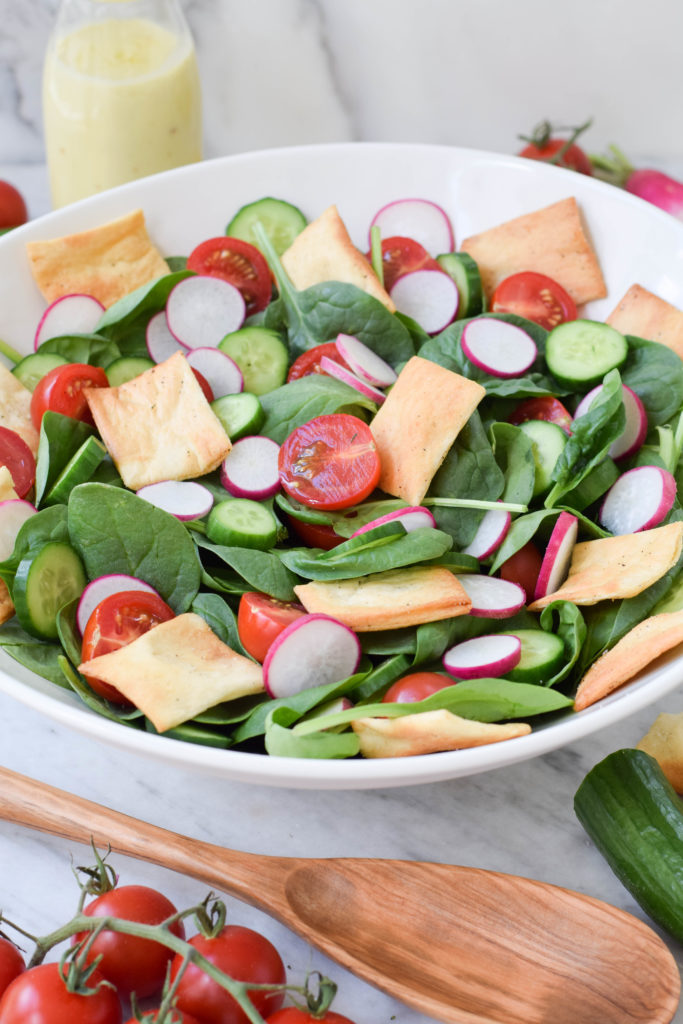 Fattoush Salad with Yogurt-Tahini Dressing
Ingredients
Salad

5 oz. baby spinach
1 pint grape or cherry tomatoes, halved
1 hothouse or English cucumber or four mini Persian cucumbers, sliced
1 bunch radishes, sliced
1.5 oz bag plain pita chips

Dressing

1/4 cup freshly squeezed lemon juice
1 TB plain Greek yogurt
1 TB tahini
Pinch sugar
Pinch Aleppo pepper flakes (optional)
1/2 cup extra-virgin olive oil
Salt and pepper to taste
Instructions
Combine the spinach, tomatoes, cucumbers, radishes and pita chips in a large serving bowl. If not serving right away, cover with a damp paper towel and refrigerate until needed.
To make the dressing, whisk together the lemon juice, Greek yogurt, tahini, sugar and Aleppo pepper flakes, if using, in a medium-sized bowl.
Pour the olive oil into the bowl in a steady stream while whisking until dressing is emulsified. Refrigerate until needed.
Dress the salad right before serving. Taste and season with salt and pepper as needed.
http://www.westoftheloop.com/2017/06/20/fattoush-salad-yogurt-tahini-dressing/