An ancient dish from the Middle East, mujadara combines gently spiced rice and lentils with crunchy fried onions for a dish that is both healthy and comforting. Thanks to Lentils.org for sponsoring this recipe post. All opinions expressed herein are entirely my own.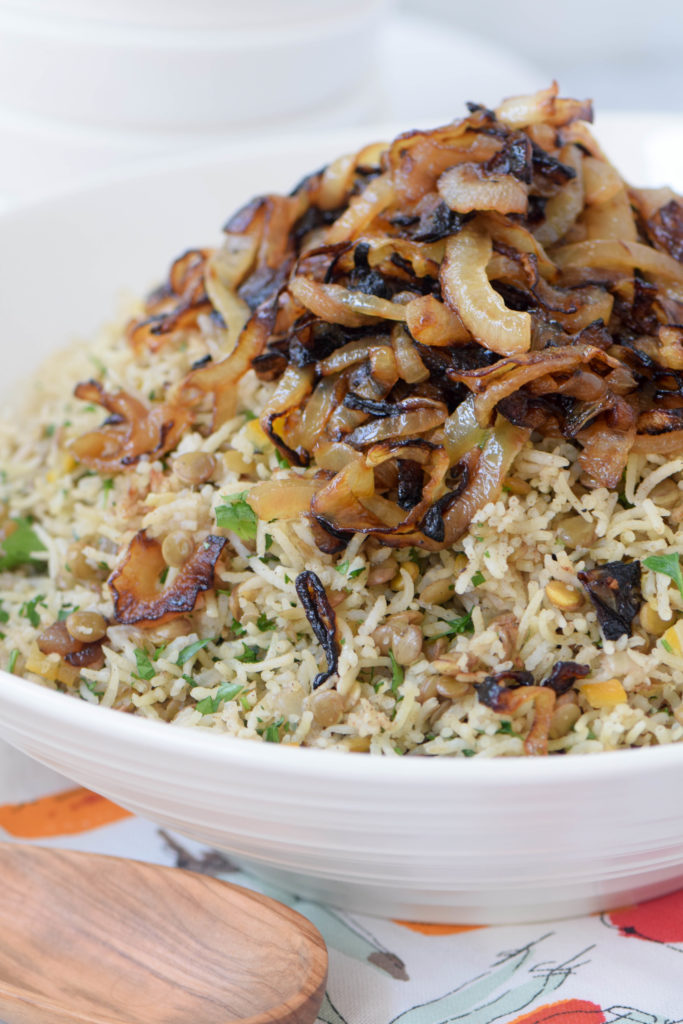 After returning from my trip to Saskatchewan, the world lentil capital, and learning that Canada exports its homegrown lentils to over 80 countries, I was struck by how many cuisines around the globe cook with these dynamic little pulses. From France to Morocco to India, people rely on lentils as an important source of plant-based protein, fiber and vitamins and as a versatile food that can be eaten hot or cold, in soups or in salads.
As a Jewish cook, I often turn to the flavors and dishes of the Middle East and Israel when thinking about how to use different ingredients. Lentils have been an important part of Middle Eastern cuisine since ancient times. Think about the Biblical story of Jacob and Esau. What was the dish that Esau trades to his brother for his birthright? Do you remember? In fact, it was lentil stew. Indeed, lentils are mentioned four times in the Bible. If bread was the staff of life back then, lentils could not have been far behind.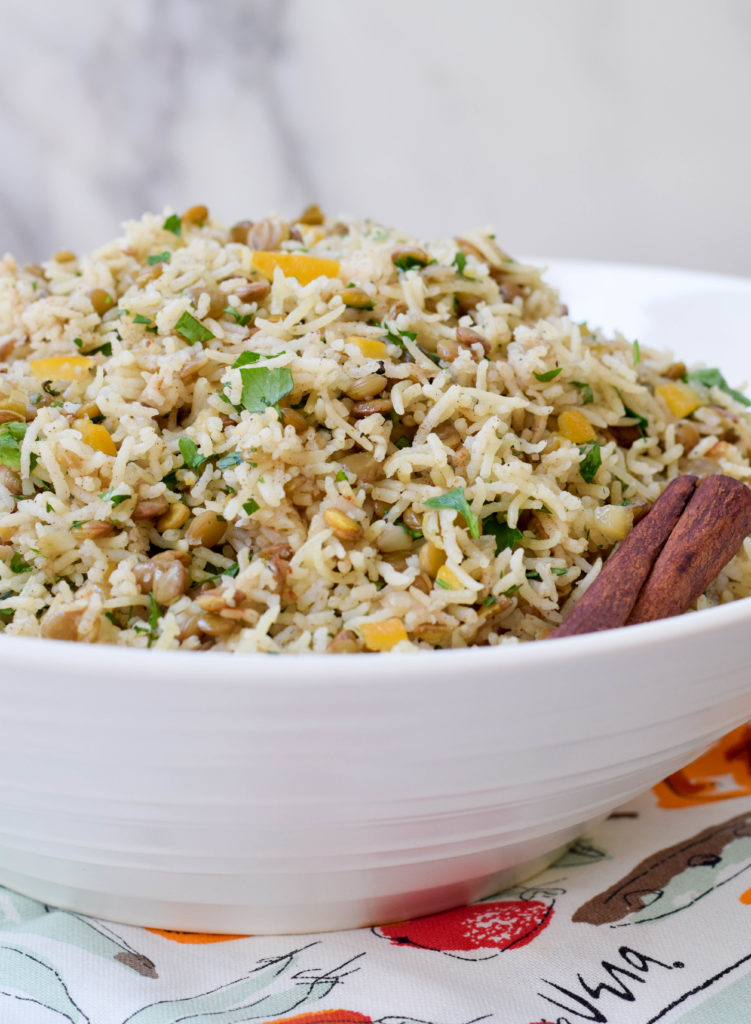 The most iconic and beloved lentil dish in Israel and throughout the Arab world is mujadara, which is also sometimes written as mujadarra or mejadra. Mujadara is a complete one-dish meal of rice and lentils gently flavored with sweet and earthy spices like cinnamon and cumin and topped with crispy fried onions. In Israeli chef Yotam Ottolenghi's 2012 masterpiece Jerusalem, he describes mujadara as "as comforting as it gets in Jerusalem."
(Ottolenghi has a wonderful version of mujadara is his book; so does Michael Solomonov, the famous American-Israeli chef and owner of Zahav, the best Middle Eastern restaurant in America. Indeed, you'd be hard-pressed to find a good Middle Eastern cookbook without a recipe for mujadara.)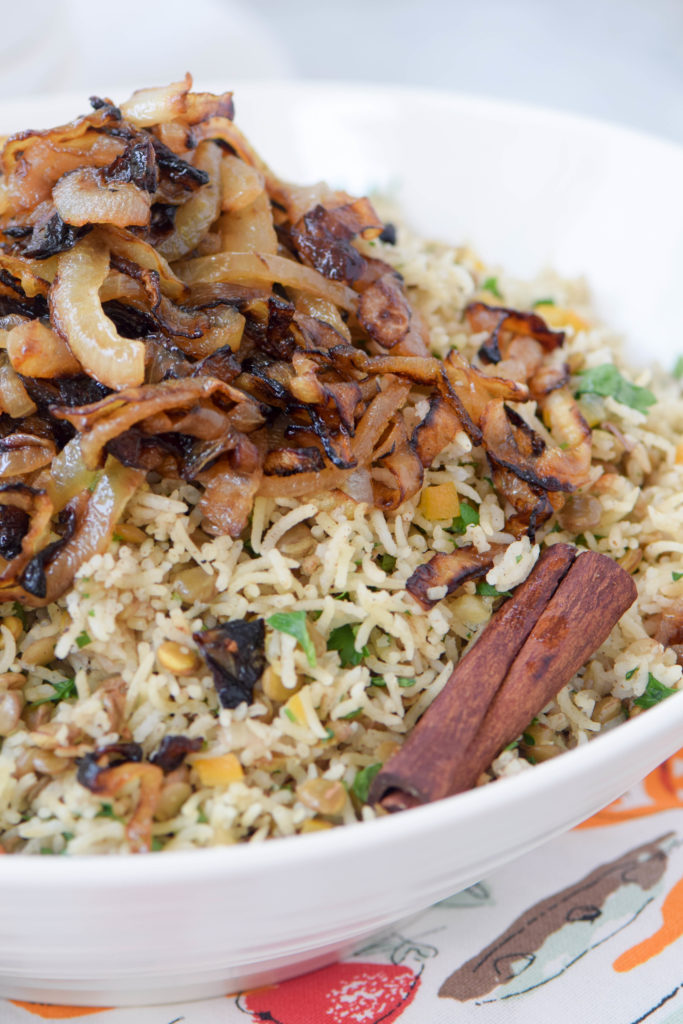 Mujadara is not only delicious and healthy — except maybe for those fried onions, but they are worth it — it can also serve many purposes. You can serve mujadara hot or make it in advance and serve it at room temperature. (In fact, Ottolenghi describes mujadara as a perfect dish to bring on a picnic.)
Mujadara can be both a satisfying and complete one-dish main course or a versatile side. Indeed, if you are serving a group that includes both meat-eaters and vegetarians, make a large pot of mujadara and it can be the vegetarians' main dish and the carnivores's side. Oh, and did I mention it's gluten-free and, if you use vegetable broth, vegan? Yeah, mujadara works for pretty much everyone.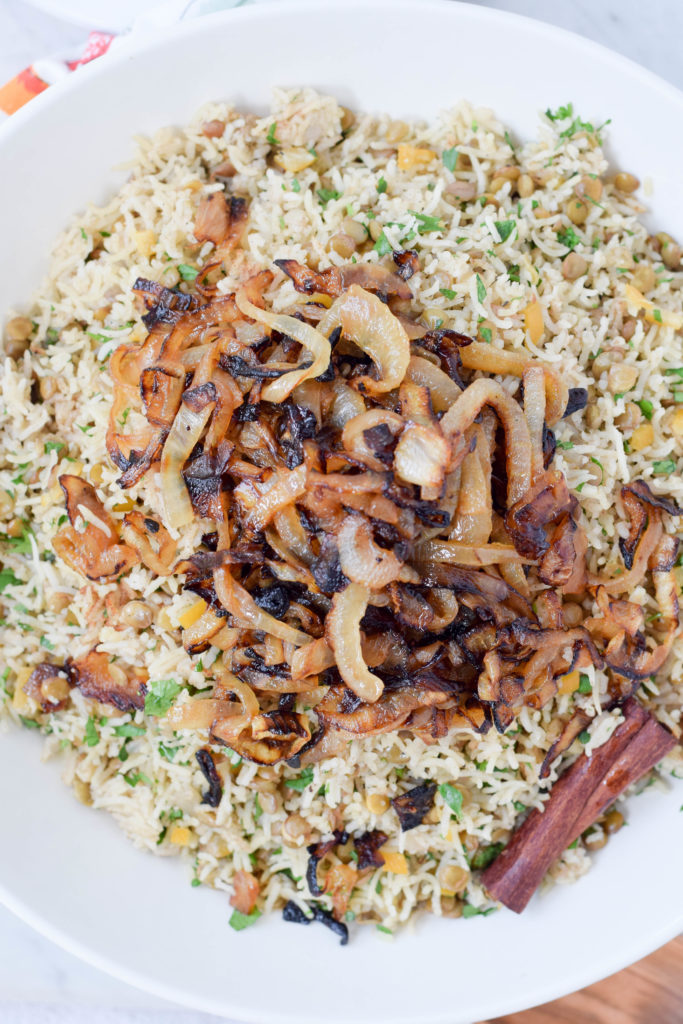 To make mujadara, you first cook the lentils and then you combine the cooked lentils with raw rice and cook them together. So, the total cooking time is maybe an hour, but much of that time is passive and you can putter around and take care of other tasks. I also suggest frying the onions while the rice is cooking to save time. And again, mujadara is lovely at room temperature — almost like a rice salad — so you can always make it in advance.
The recipe, like many, calls for rinsing and soaking the rice. You may wonder why that is and whether it's really necessary. Well, rinsing removes the starchy coating that can cause the rice to stick together and be gummy. Definitely take the time to do that step.
Soaking rice cuts down on the cooking time. If you don't have time for that on a busy weekend, go ahead and skip it, but know that your rice might take longer to cook. (It's funny: one of the best things about lentils is that they don't require soaking, yet I'm asking you to soak the rice. Sorry!)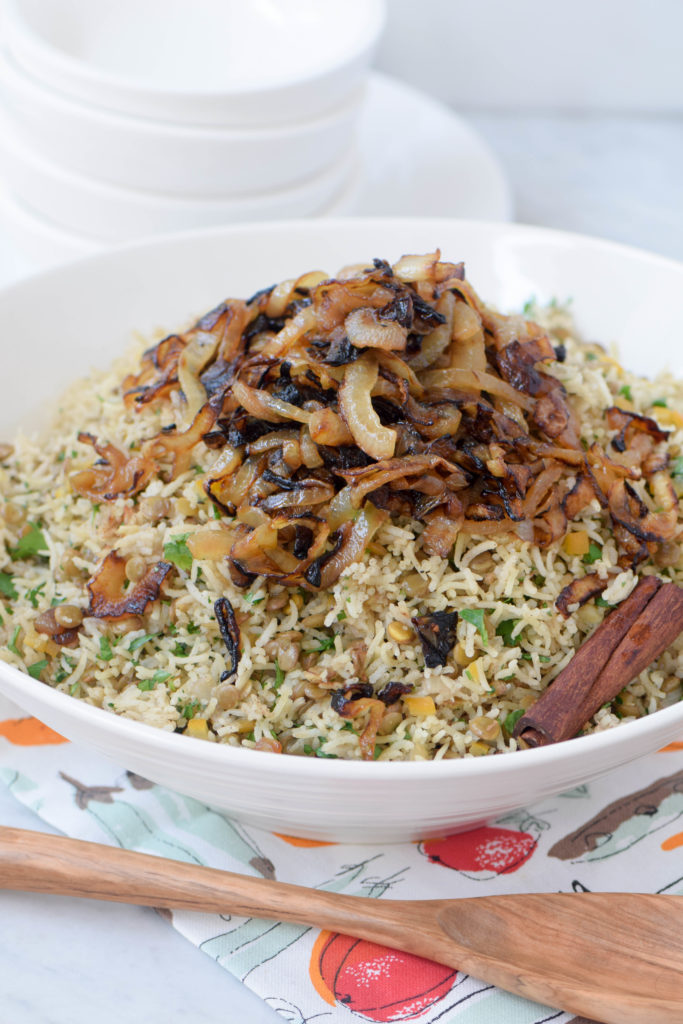 I want mujadara to have tons of flavor, so in addition to the spices, I season my version with preserved lemon. (This may be slightly heretical.) Preserved lemons are an essential ingredient in North African and Middle Eastern cooking and they deliver so much more than simply tartness. They are salty and puckery and just a little bit adds a huge dose of umami.
You can easily find preserved lemons at good grocery stores, Middle Eastern markets or online. I make my own, which is shockingly easy to do, but the lemons require about four weeks to cure. (There's a terrific recipe for North African preserved lemons in my new book, The Joys of Jewish Preserving, which you can pre-order now for the July 15 release date.) So if you want to make mujadara tonight, I suggest buying preserved lemons, or leaving them out which is okay too.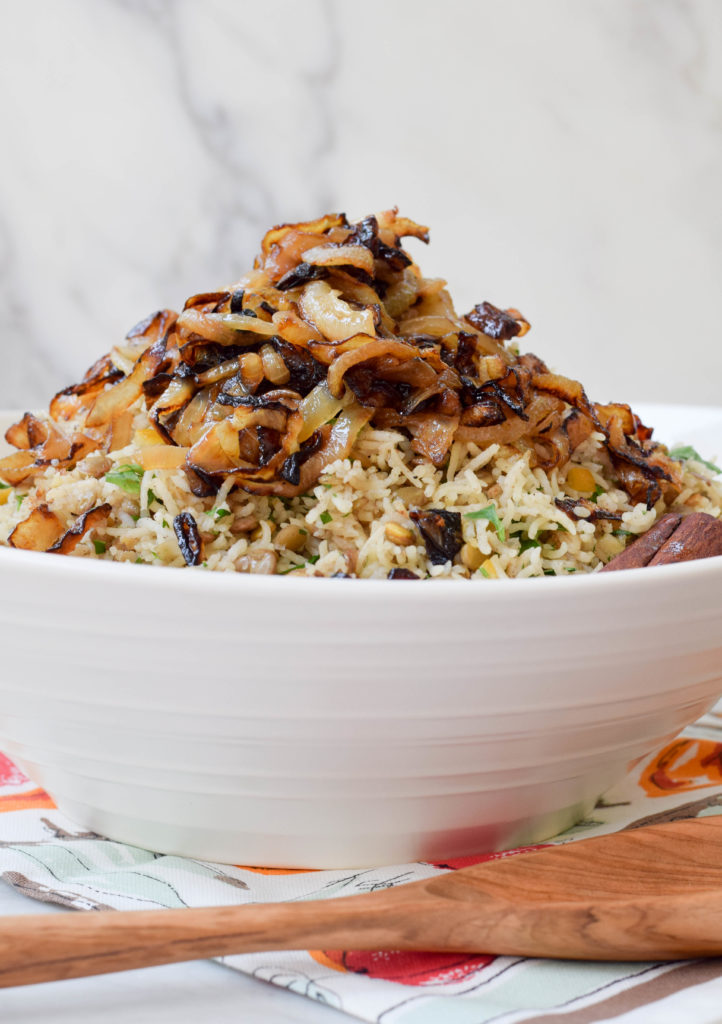 I hope you are inspired to make mujadara tonight. I think it is a perfect dish for summertime cookouts, potlucks and, as Ottolenghi suggests, picnics. Few other dishes work so well for a crowd — as both a main dish and a side — are as nutritious and satisfying and are as friendly to so many different dietary restrictions. Would I trade a bowl of mujadara for my birthright as Esau did? Perhaps not. But I would be very happy to offer you a smile and my company in exchange for a bowl of rice and lentils.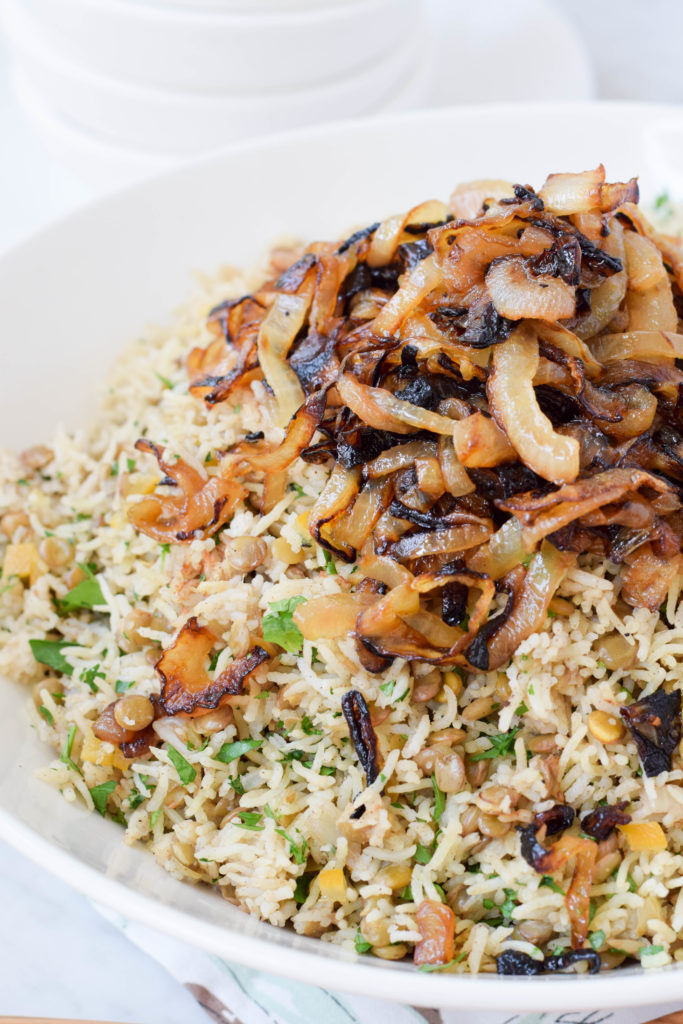 Mujadara: Sweet Spiced Lentils and Rice
Ingredients
2 cups Basmati rice
1 cup whole French green lentils
4 cups chicken or vegetable broth
1/4 cup extra virgin olive oil plus more for drizzling
3 yellow onions
1 TB minced preserved lemon (optional)
1 1/2 tsp cinnamon
1 1/2 tsp cumin
1/4 tsp allspice
1/4 tsp turmeric
1 cinnamon stick
Juice of one lemon
1/4 cup minced flat-leaf parsley
Salt and pepper to taste
Instructions
Rinse the rice in several changes of cold water. If time permits, soak the rice in water for one hour.
In a medium saucepan, combine the lentils with the chicken or vegetable broth. Bring to a boil, reduce heat and simmer uncovered until lentils are tender, 20 minutes. Drain and set aside.
While the lentils are cooking, heat 2 TB of the olive oil in a large, deep saucepan over medium heat. Dice one of the onions and sauté it in the olive oil, stirring frequently, until browned, about ten minutes.
Add the preserved lemon and spices and season with salt. Sauté a few additional minutes until fragrant.
Add the rice and stir to coat with the oil. Toast the rice in the oil and spices for a few minutes, until slightly browned and fragrant.
To the rice in the pot add the lentils, 1 3/4 cups water and the cinnamon stick. Bring mixture to a boil over high heat.
Cover and turn heat down to low. Simmer covered, without lifting the lid, for fifteen minutes.
Meanwhile, heat the remaining 2 TB of olive oil in a large skillet. Slice the remaining two onions. Working in batches as necessary, sauté the onions over medium-high heat, stirring constantly, until well-browned and crisp. (Do not overcrowd the pan. Fry each onion separately if needed.)
After fifteen minutes, remove the pot with the rice from the heat. Quickly remove the lid and place a clean tea towel over the top of the pot. Replace the lid and allow the rice to steam for ten minutes.
Fluff the rice and lentils with a fork and stir in the minced parsley.
Transfer the rice and lentils to a large serving bowl. While still warm, spritz with the lemon juice and drizzle with extra virgin olive oil. Toss to combine. Taste and adjust seasoning, adding salt and pepper as necessary.
Top with fried onions and serve.
http://www.westoftheloop.com/2017/07/05/mujadara-sweet-spiced-lentils-rice/
Full disclosure time: I was asked to participate in the #LetsLentil #LoveALentil campaign, sponsored by Lentils.org. Although I have been compensated, all opinions are my own.
This is a sponsored conversation written by me on behalf of Lentils.org. The opinions and text are all mine.
SaveSaveSaveSave
SaveSave
SaveSave
SaveSave
SaveSave