Queen's Jam, a combination of raspberries and blueberries, is a classic Swedish preserve. It is also the perfect way to use the best summer berries.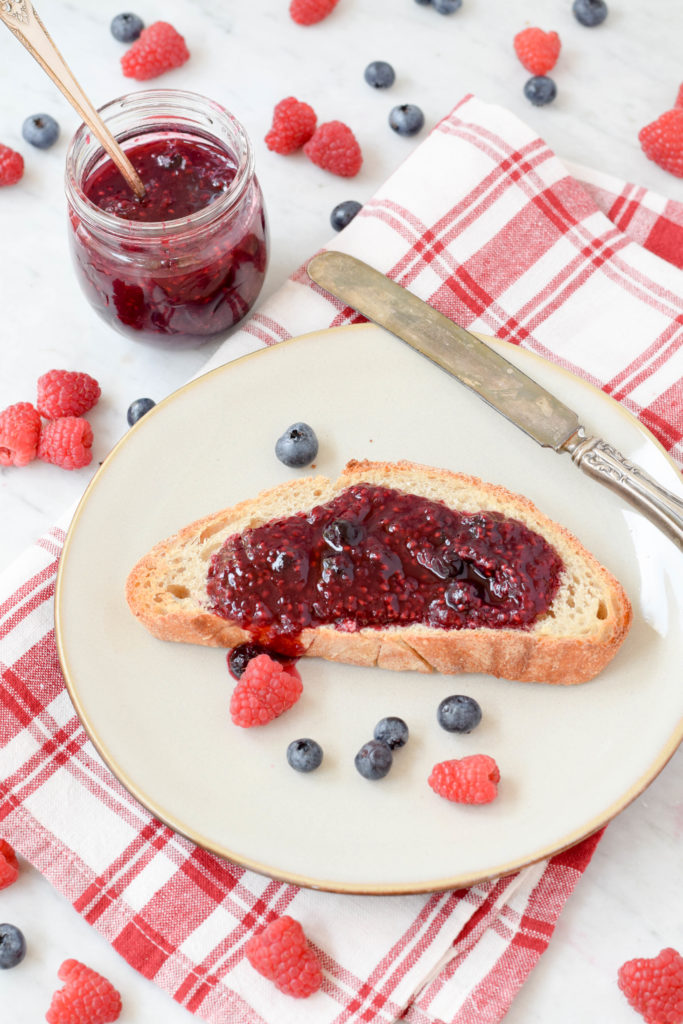 I write a lot about my Jewish heritage and how it influences my cooking. What I perhaps do not mention enough is that I am also part Swedish on my mother's side. My maternal grandmother was the child of Swedish immigrants and when my mother was a little girl, she spent a lot of time with her Swedish grandparents, whom she adored. My great-grandmother was, by all accounts, a wonderful cook and an especially accomplished baker. Her mocha cake was especially legendary.
Two years ago, my family traveled with my mother to Sweden, for my kids' first European vacation. One of the traditions we embraced on our trip is the fika, a coffee break that Swedes take religiously in the morning and again in the afternoon. A typical fika treat would be a kanelbullar, a cinnamon bun or, even more Swedish, a kardemummabullar, a cardmamom bun.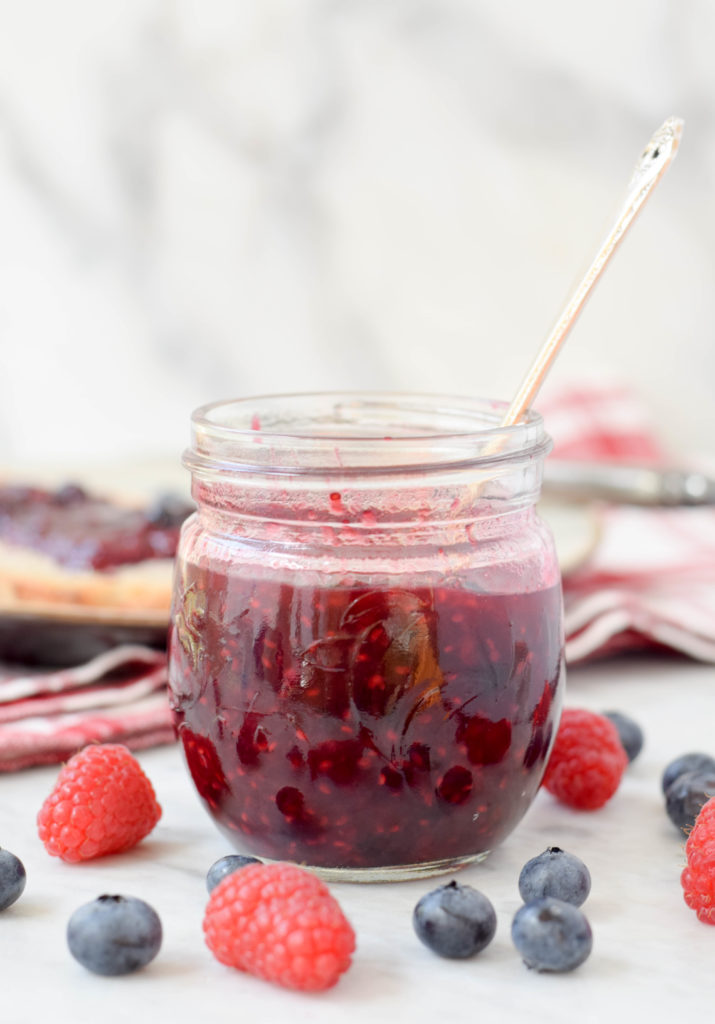 The Swedes also have a very robust preserving tradition, as do most cold-weather cultures. I have spent the past few years immersed in the Jewish preserving tradition, so it was refreshing this summer to think about the preserving tradition of my mother's side of the family.
Some famous Swedish preserves, such as ligonberry jam or cloudberry jam, would be hard for us to make here in the States because, well, where would be get ligonberries or cloudberries? (So sad!) But happily, Queen's Jam or drottningsylt, a classic Swedish preserve made up of a mix of raspberries and blueberries, is within reach for just about everyone. And you don't even have to be royalty!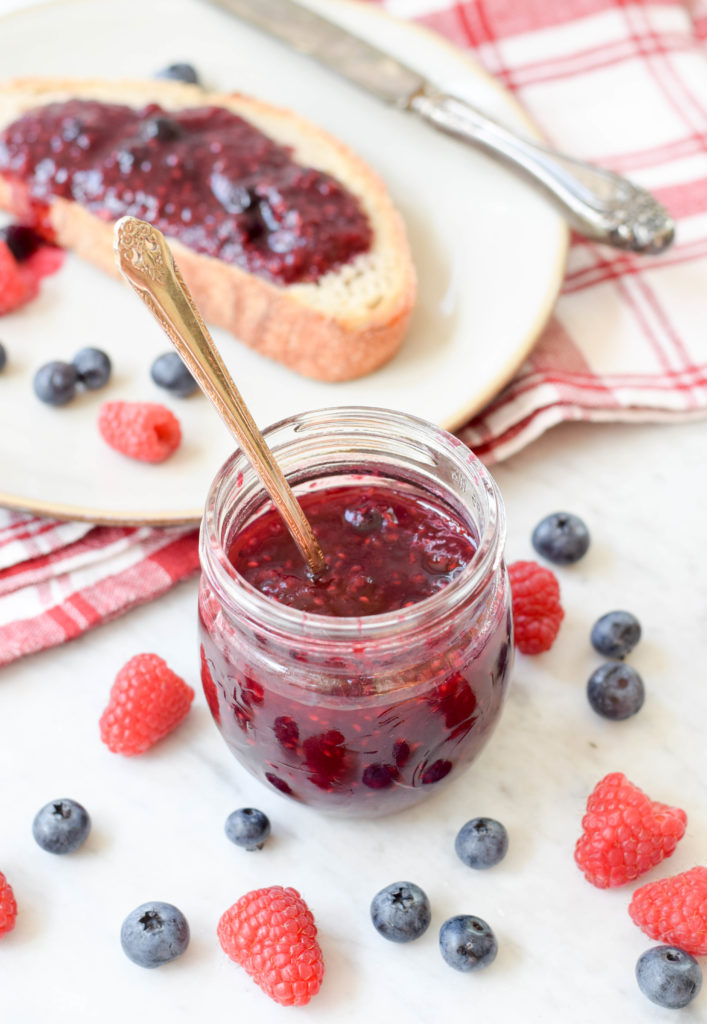 Queen's Jam is easy to make and is a real crowd pleaser. Because raspberries are both seedy and low in pectin, I find that they work best for making jam when mixed with other fruit. Raspberry and red currant used to be my favorite combination — and there is a recipe for that in The Joys of Jewish Preserving – but this mix of blueberries and raspberries may be taking its place.
Although blueberries don't have nearly as much pectin as red currants, they are certainly have more than raspberries and thus add some structure to the jam. (But it is still a pretty soft set jam, which I personally love.) And the fact that they don't have seeds means that there is no need to strain the jam. The seeds from the raspberries add a little crunch without being making the jam feel like nothing but seeds. (The raspberry-red currant jam, by contrast, really does need to be strained because both fruits are so seedy.)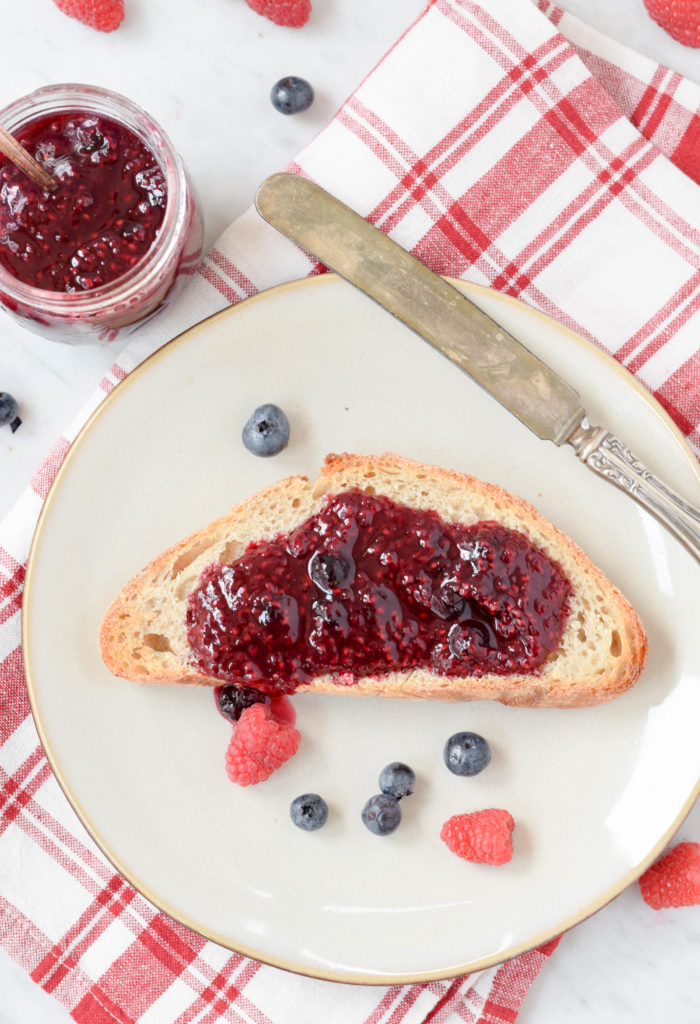 This recipe uses two pints of raspberries and one of blueberries and yields a good four jars of jam. If you don't plan to can this jam and would prefer to make a refrigerator jam instead, I suggest halving the recipe so you end up with a very manageable two jars of jam. To make this as a refrigerator jam, just follow the recipe ignoring all the instructions for heating a water-bath and processing the jars. Make the jam as instructed, allow it to cool and then just pour it into clean jars and pop them into the fridge.
In addition to being delicious spread on toast, Queen's Jam is an excellent filling for thumbprint cookies, rugelach or other jam-filled baked goods. Because it has a soft set, I also suggest spooning some into yogurt for a delicious parfait. You really won't have any trouble using up two or even four jars of this jam. Everyone is going to want some. Trust me.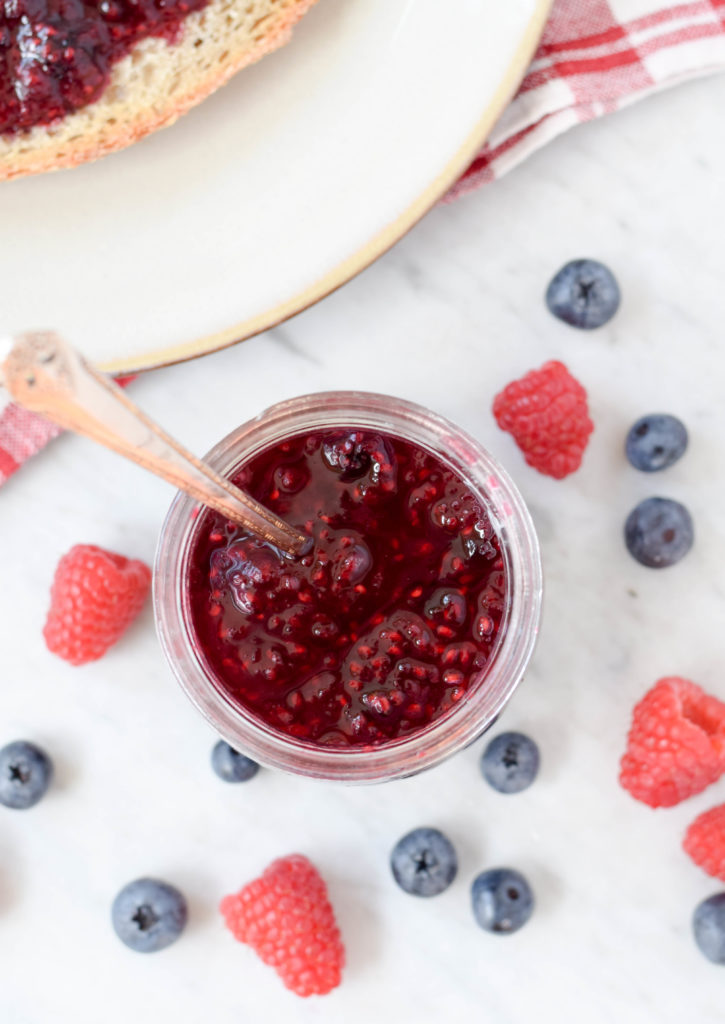 Queen's Jam (Raspberry and Blueberry)
Ingredients
2 pints raspberries
1 pint blueberries
1 3/4 cup sugar
Juice of 1/2 lemon
Instructions
Prepare a boiling water bath and heat four 8-ounce jars. Place 2 small plates or saucers in the freezer to chill.
Place a layer of raspberries in the bottom of a bowl and gently mash with the tines of a fork. Repeat, adding berries one layer at a time, until all the berries are mashed.
Pour the mashed raspberries and the blueberries into a large pot or Dutch oven.
Stir the mashed berries and sugar together in the pot, and let sit for 20 to 30 minutes so that the mixture becomes juicy and the sugar dissolves.
When ready to proceed, add the lemon juice, stir well, and bring to a boil over medium-high heat. Reduce the heat slightly, and continue cooking, stirring frequently to prevent scorching, until the berry mixture reaches 220°F on a candy thermometer, about 20 minutes. Skim off any foam that has accumulated.
Remove the saucer from the freezer and place a spoonful of jam on it. Return it to the freezer for 1 minute. Remove the saucer and push the jam with your finger. If it wrinkles, then the jam is set. If not, continue to cook and try the test again after a few minutes.
Ladle jam into clean, warm jars, leaving 1/4 inch of headspace at the top.
Bubble the jars and wipe the rims with a damp cloth.
Place the lids on the jars and screw on the rings just until you feel resistance.
Process the jars in a boiling water bath for 10 minutes. Allow to cool in the water for 5 minutes before removing.
http://www.westoftheloop.com/2017/08/21/queens-jam-raspberry-blueberry/