The perfect end-of-summer mashup pie: stone fruit mixed with berries. Don't let summer end without making this!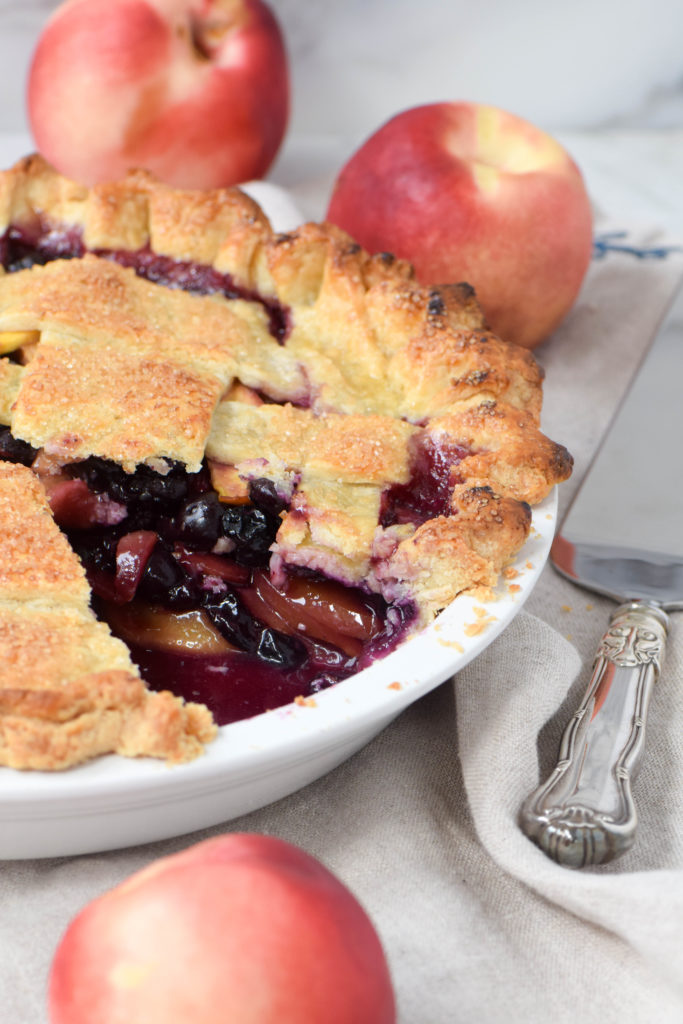 I really love to make pie. My love for making pie probably exceeds my family's love for eating pie. My husband is all about a good fruit dessert, but given a choice between pie and cobbler, he will take the cobbler every time. He just likes the fruit-to-pastry ratio better.
But cobbler is not a challenge. Cobbler isn't a blank canvas to showcase your creativity. Pie is! Making a flaky, delicious pie crust is tricky, even for experienced cooks. It requires technique. And you have so many different options for making your pie look as wonderful as it tastes. What will you do with the top crust? A lattice? Shingles? Cut-outs? No, cobbler will never offer the baker the bragging rights that pie does.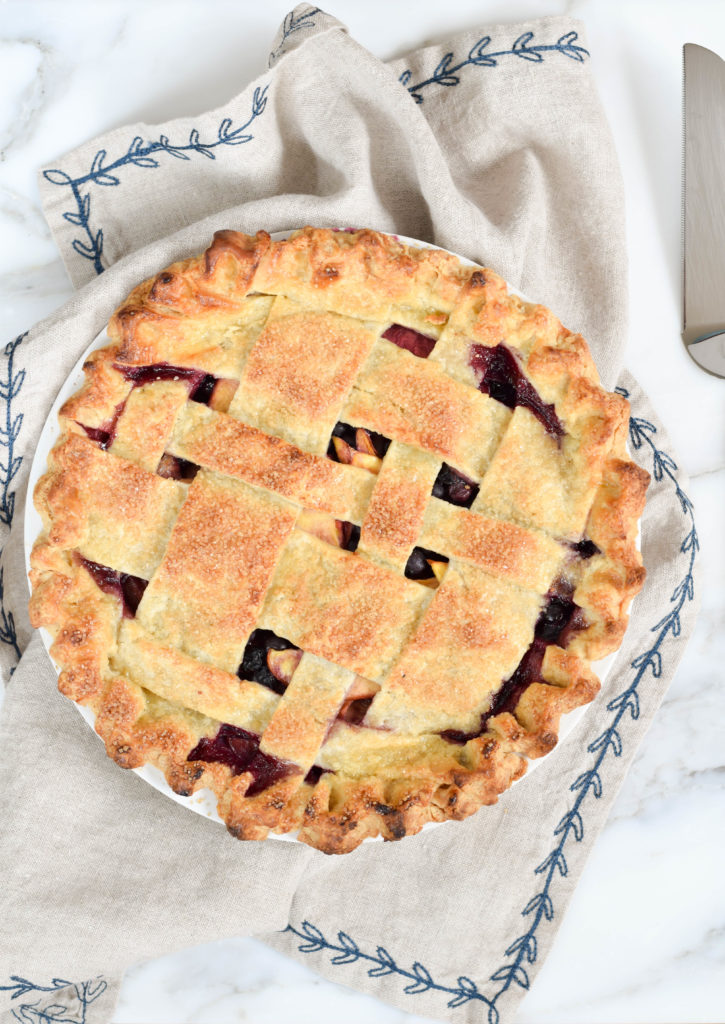 So back to pie I go. And somehow despite my husband's insistence that he doesn't really like pie all that much, the pies keep getting eaten. One trick I have learned is to fill my pies with fruit my husband adores. Like this stone fruit berry pie.
Right at this precise moment, the farmers' market tables are overflowing with blueberries, raspberries, blackberries, peaches, plums and nectarines. And as we know, what grows together, goes together. So berries and stone fruits are just begging to be combined.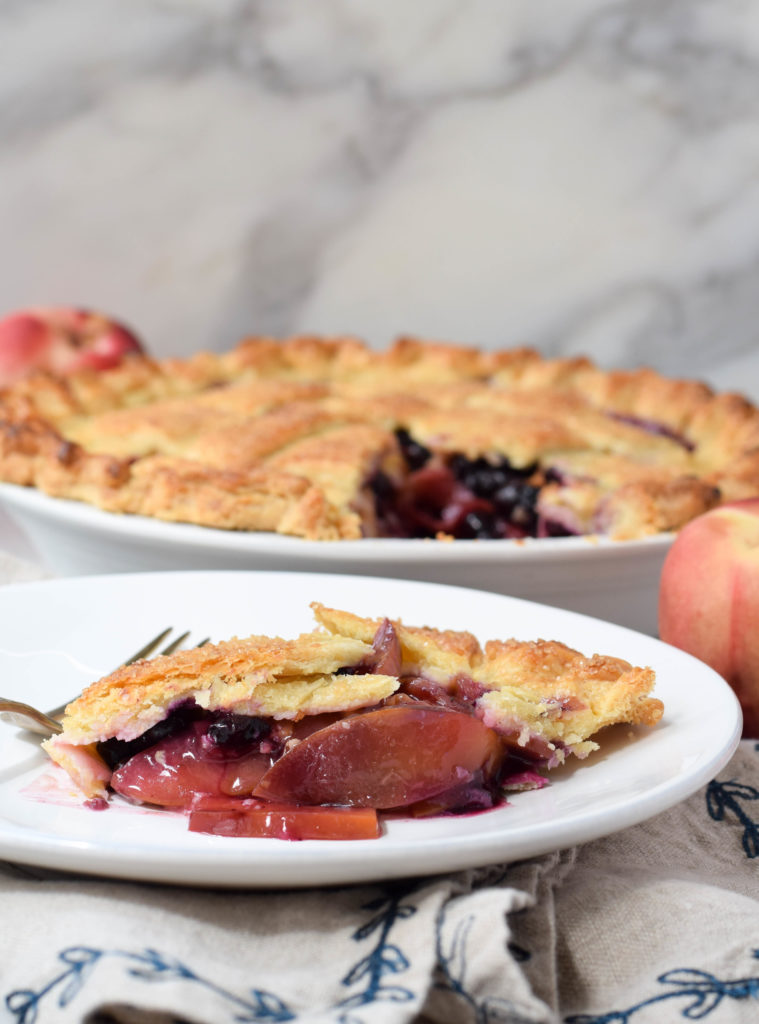 Peaches and raspberries are fantastic together as is this combination of nectarines and blueberries. The combination of slices and whole berries makes the filling of this pie that much more interesting than a pie with just one kind of fruit.
Because pie is very technique-intensive, and because I love cookbooks, I am always looking at different pie cookbooks. Some of my favorites include my friend Kate McDermott's smash hit Art of the Pie, hometown favorite The Hoosier Mama Book of Pie and the one that inspired this pie: The Four and Twenty Blackbirds Pie Book.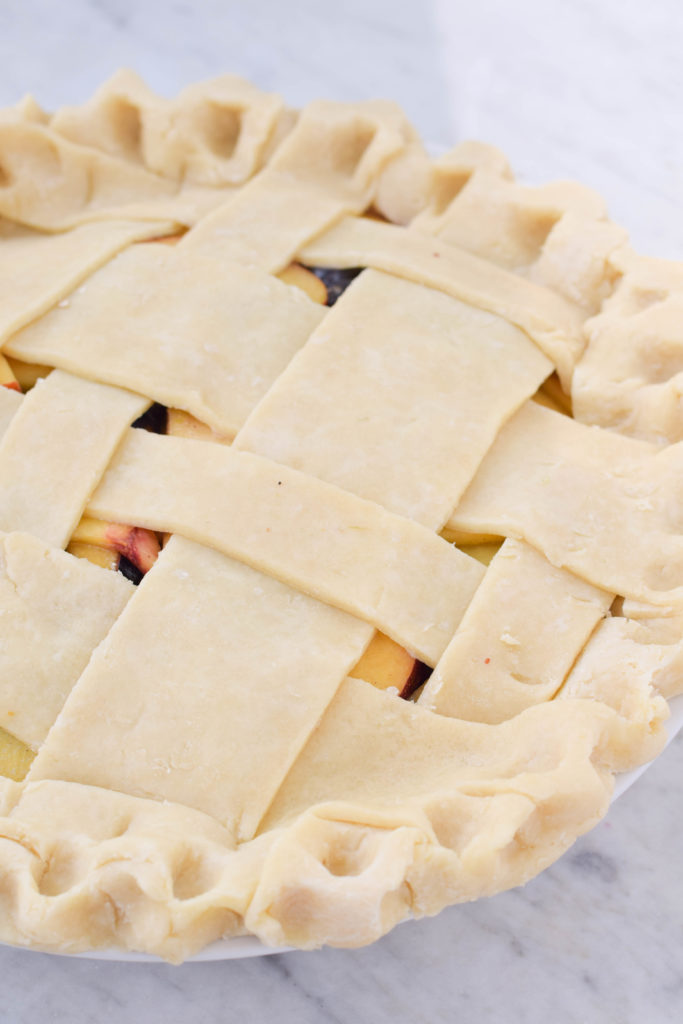 Four and Twenty Blackbirds is a pie shop in Brooklyn owned by two Midwestern sisters who brought good, old-fashioned pie to the hippest borough. Although I am very wedded to my method of making pie crusts (the food processor) which differs from the book's method (pastry cutter), I was inspired by many of the recipes, including the authors' unusual flavoring ideas — a dash of cocktail bitters! — and particularly by the photos which feature lots of different styles of crust.
I wove a lattice crust for this nectarine blueberry pie because I think berry pies need a crust with a lot of open surface area to let the liquid evaporate and it also allowed me to get a little creative mixing thin and thick strips for a plaid effect. I just love how it came out.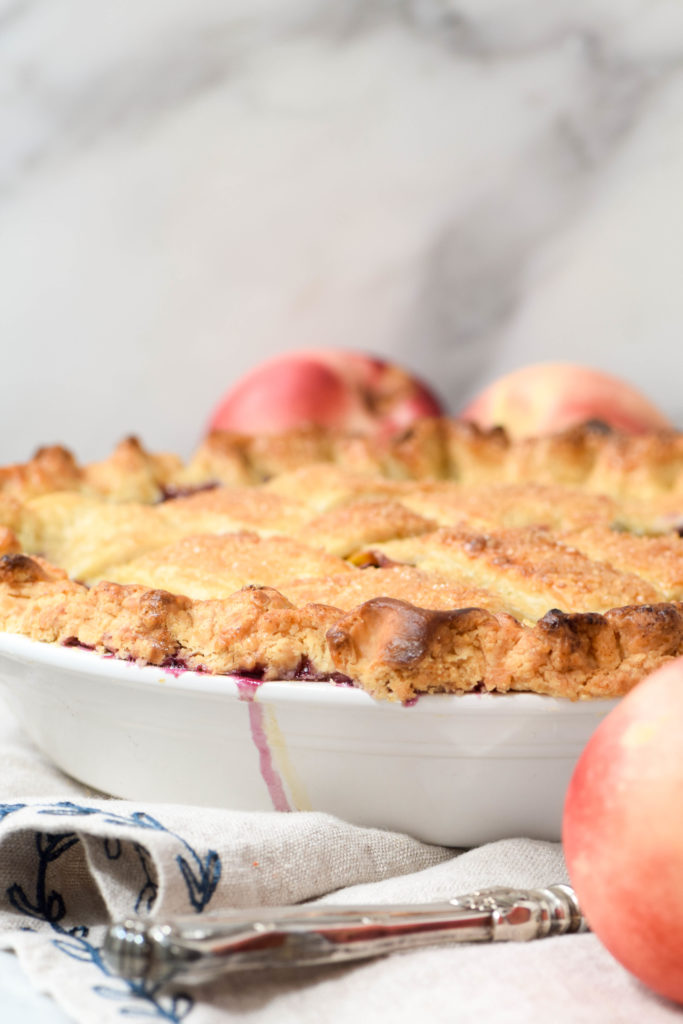 I think one of the mistakes people make regarding pie is to wait until Thanksgiving to attempt one and then they are frustrated when it doesn't go well. I don't know about you, but I am bad at things I only do once a year. You have to practice making pies to get comfortable with the techniques involved.
Luckily, practicing pie-making is not a hardship. Spring and summer are both fantastic times to make pies because of the abundance of in-season fruit. Start with strawberry rhubarb in spring, hit peach and blueberry in the dog days of summer, finish strong with apple pie in the fall and by the time November hits, you will be ready.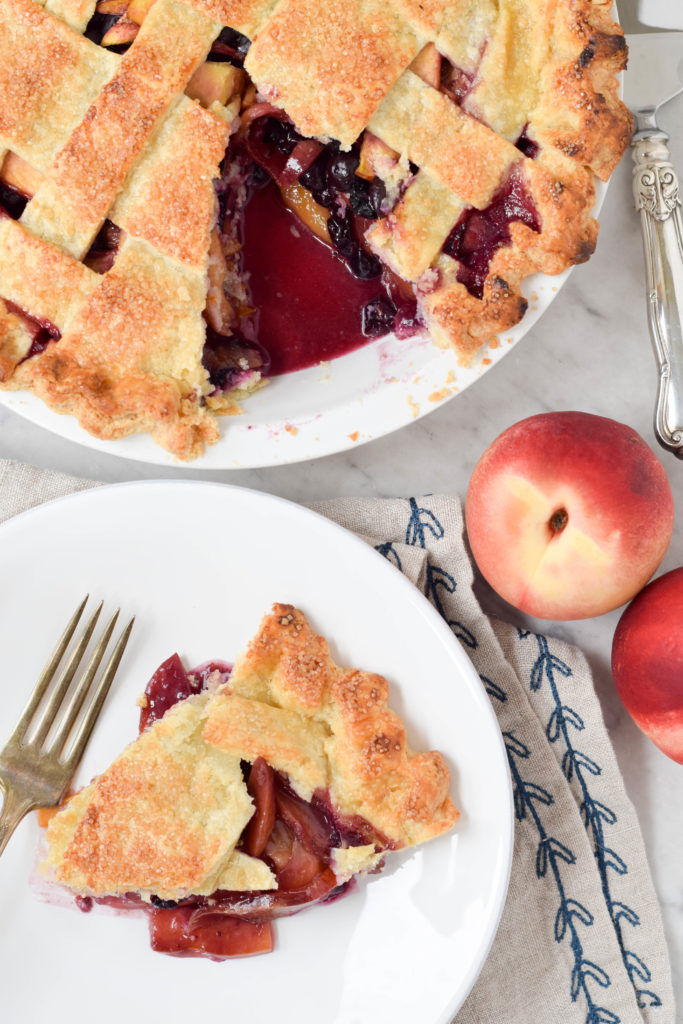 August is a little late to begin your pie training, but better late than never, right? Consider this the beginning of your couch-to-pie-K plan. Get yourself to the farmers market, pick up some peaches or nectarines and a few pints of blueberries and dedicate a weekend afternoon to making this nectarine-blueberry pie.
You will have to train hard in the weeks to come, but just think how good you will feel serving your perfect, flaky pumpkin pie to your friends and family on Thanksgiving. As they say on The Great British Baking Show: ready, set, BAKE!
Stone Fruit Blueberry Pie
Ingredients
Crust

8 ounces cold, unsalted European-style butter
2 1/2 cups all-purpose flour
1 tablespoon sugar
2 teaspoons salt
½ cup ice water
1 tablespoon lemon juice or vinegar

Filling

1 tsp each flour and sugar mixed (to line bottom crust)
3 cups blueberries
3 cups sliced nectarines or peaches
1/4 cup sugar
Zest and juice of 1/2 lemon
3 TB tapioca starch
1/2 tsp each allspice and ground cloves
Dash cocktail bitters (optional)

Topping

1 egg beaten
Demerara or Turbinado sugar for sprinkling
Instructions
Cut the butter into small cubes and place in the refrigerator until needed.
Combine the flour, sugar and salt in the bowl of a food processor and pulse a few times to mix. Add the chilled butter from the refrigerator to the dry ingredients and process until the mixture resembles coarse meal.
Combine the lemon juice or vinegar and ice water and add six tablespoons of the mixture to the ingredients in the food processor. Pulse several times until combined. Pinch a bit of the dough and if it holds together, you do not need to add more liquid. If it is still dry, add more of the liquid, one-half tablespoon at a time. Remove the dough to a bowl or a well-floured board.
Knead the dough until it forms a ball. Divide the dough into two and wrap each half well in plastic wrap. Place the dough in the refrigerator to relax for at least a half-hour but preferably overnight.
Begin by rolling out the bottom crust: remove one of the balls of dough from the refrigerator. If your dough was chilled for longer than thirty minutes, allow to soften for ten to fifteen minutes before rolling it out.
Prior to rolling out the dough, strike it with your rolling pin to flatten. This will soften it further.
Preheat the oven to 425 and grease the bottom and sides of a 9-inch pie plate.
Liberally dust a pastry board or mat and your rolling pin with flour.
Roll the dough out, rotating it and turning it frequently and adding more flour as necessary to keep it from sticking, until it is the size of your pie plate and between ¼ and ⅛ of an inch thick.
Carefully center the pie dough in the plate and press it into the bottom and sides. Trim or fold over any excess dough around the edges.
Sprinkle the bottom of the plate with the sugar and flour mix prevent the filling from making the crust soggy.
Chill the dough in the pie plate 30 minutes.
Meanwhile, prepare the filling by combining the blueberries, nectarines, sugar, lemon zest and juice, tapioca starch, spices and bitters, if using, in a large bowl. Toss to combine and set aside to allow the sugar and lemon juice to draw out the berries' juice.
Prepare the lattice top by rolling out the second dough ball as described above.
Using a paring knife or fluted pastry wheel, cut even strips of dough about 1/2 to 3/4 inch thick. Or alternate strips of 2 inches and 1 inch in width for a plaid lattice.
Place the filling on top of the bottom crust.
Create a lattice top by laying out strips of dough horizontally, using the shorter strips on the edges and the longest strips for the middle.
Fold back every other strip and lay down one vertical strip of dough. Unfold the strips of dough. (The one vertical strip should be woven over and under the horizontal strips.)
Fold back the strips you did not fold back the first time and lay down a second vertical strip of dough. Unfold. Repeat with remaining strips of dough to create a woven lattice.
Trim any excess that hangs over the edge and then crimp together the edges of the bottom and top crusts.
Mix the egg with a tsp of water and beat together. Brush the egg wash over the top and edges of the crust.
Sprinkle with the Demerera or Turbinado sugar.
Bake for 20-25 minutes until crust is browned. Cover the edges of the crust with tin foil or use a pie crust shield to prevent them from burning.
Reduce the heat to 375 and bake an additional 30-35 minutes until the filling is bubbling.
Cool on a rack completely (for several hours) before slicing to allow filling to set.
http://www.westoftheloop.com/2017/08/24/stone-fruit-blueberry-pie/