Sweet, crunchy succotash made with late-summer corn and a new twist: edamame instead of lima beans! It's "my supper dish/My succotash wish." Sing it, baby!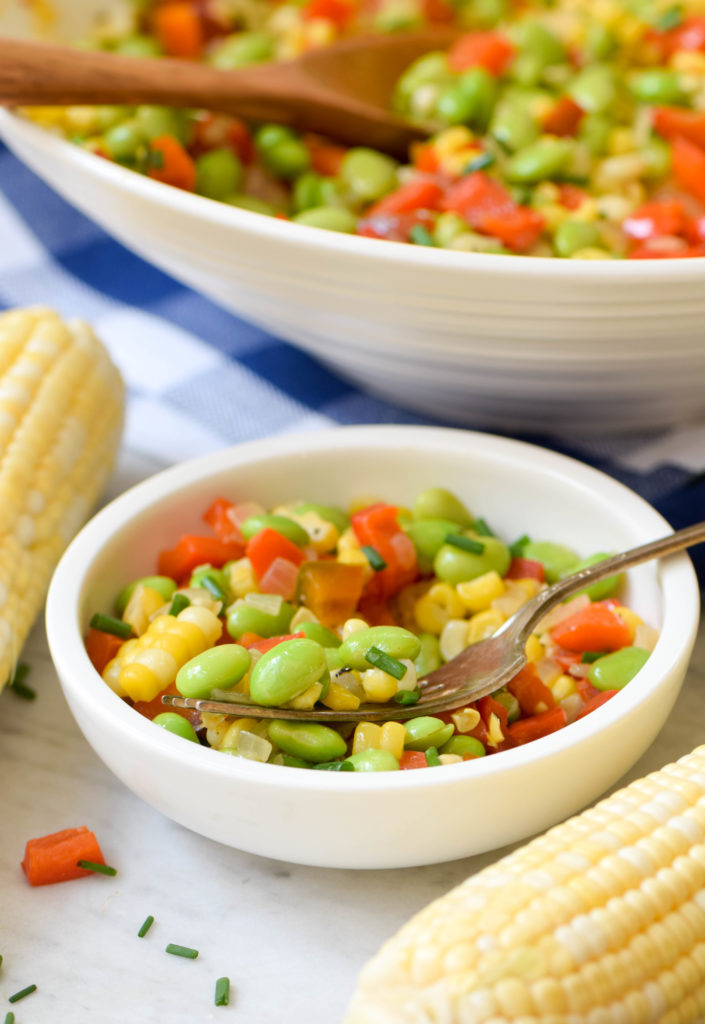 Summer corn is a short-lived, seasonal treat. So while it lasts, I make the most of it. I never buy fewer than a dozen ears at the farmers market. At $5 a dozen, there is truly no reason not to. The first night I bring the corn home, we eat corn on the cob with butter and salt, something that, by some miracle, all four of us like. That accounts for 6 to 8 of the 12 ears.
I then strip the kernels off of the remaining ears, sometimes before cooking them and sometimes after, to be used in salads and side dishes during the week. What kind of salads and sides? Corn tossed with halved cherry tomatoes and basil in a simple lime juice and olive oil vinaigrette is sublime. Corn and zucchini fritters is another dish that combines two beloved late summer crops. Maybe you can even use zucchini from your garden. And don't forget about my award-winning Cheddar Jalapeno Corn Pudding!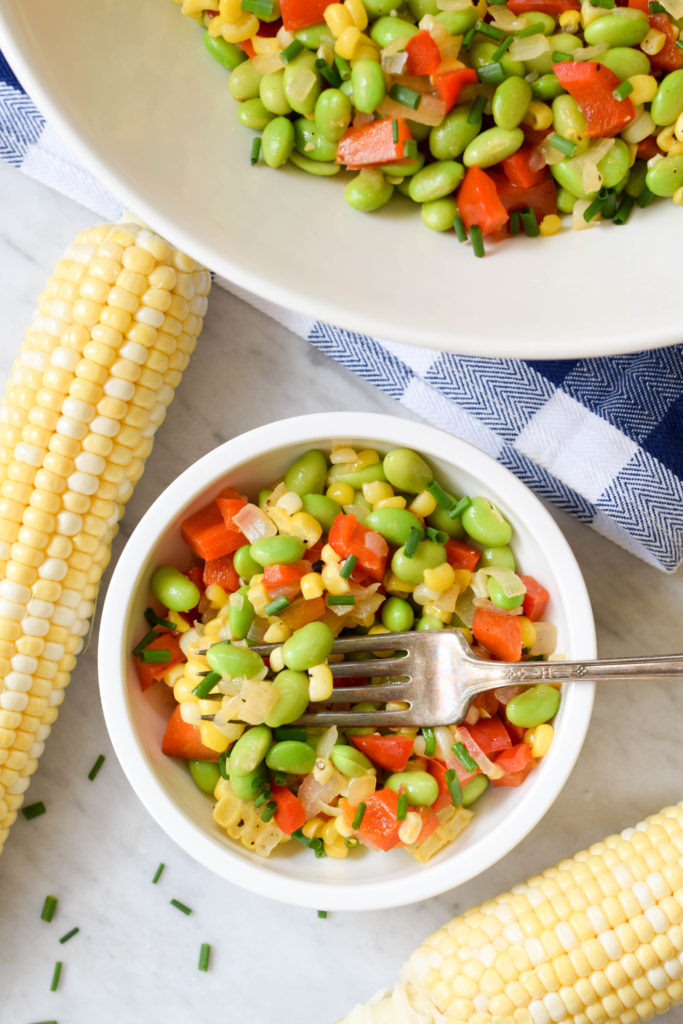 And then there is succotash. Succotash is a American comfort food classic made with corn, lima beans and sometimes other chopped vegetables. It's a lovely idea for a dish and popular from New England to the South. Did you know that succotash was particularly popular during the Great Depression when dishes that were inexpensive and nutritious were prized? But here is a hard truth: lima beans are gross. No one in my house is going to eat them, least of all me.
The obvious replacement for lima beans in succotash — and I'm certainly, not the first person to think of it — is edamame: those little green soy beans you get as a starter at Japanese restaurants. They are readily available frozen in supermarkets. Edamame are sweet and firm — not mushy and starchy like lima beans — and even kids love popping them in their mouths.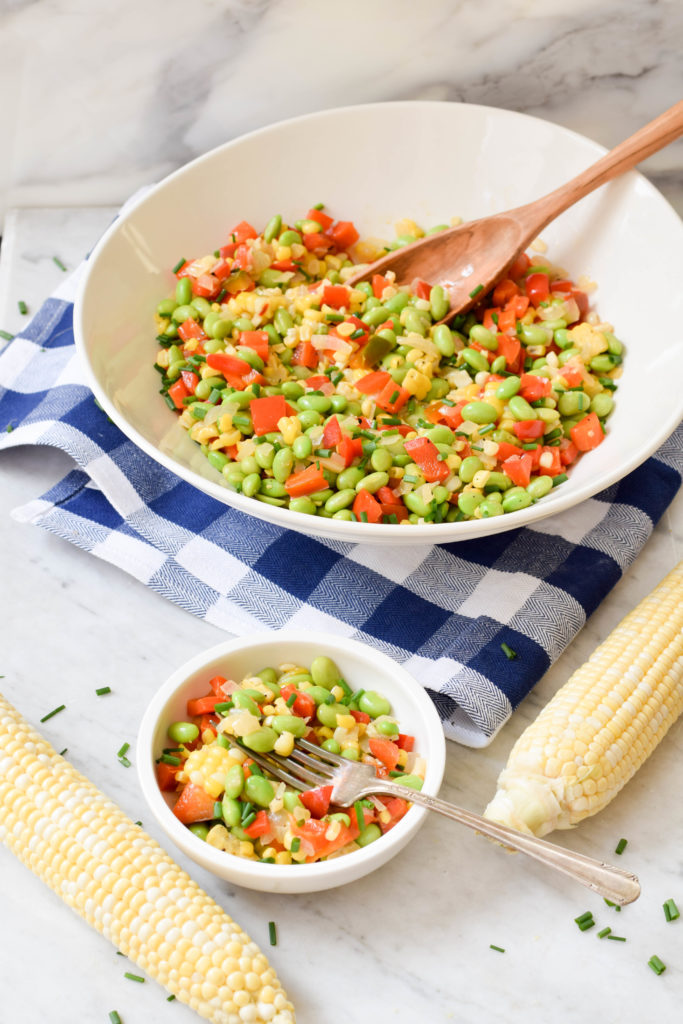 I knew I wanted to make a version of corn and edamame succotash, but when I looked around for a recipe to follow, I was dismayed by how many contain bacon. Because edamame are such a good source of vegetable protein, edamame succotash is a dish that is, in my view, crying out to be at the very least vegetarian and quite possibly vegan. So why ruin that with bacon?
This vegetarian version of edamame succotash is simple and straightforward. The first time I made it, I didn't add any spices. When I took my first taste, I was expecting blandness, but in fact, I was amazed by the flavor. It tasted like corn. And peppers. The natural sweetness and flavor of these local, seasonal vegetables was all that the dish needed. A sprinkling of some fresh chives from my garden and a pinch of sea salt finished the dish perfectly.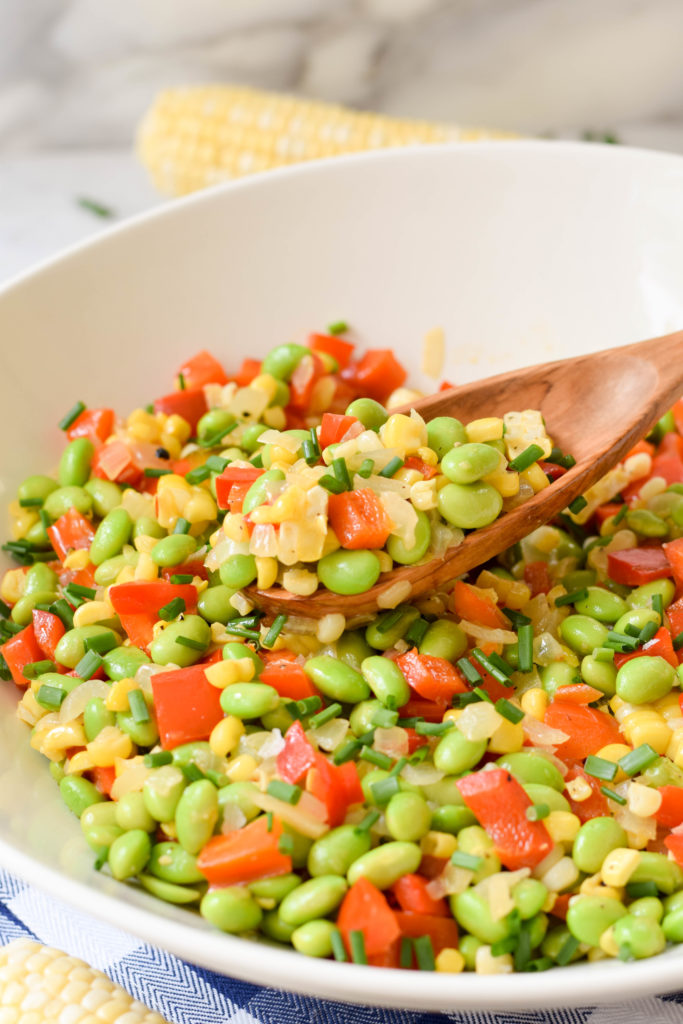 Because I use butter to sauté the vegetables, my version is vegetarian but not vegan. However, to turn this dish vegan, all you would need to do is replace the butter with a neutral cooking oil like canola or grapeseed or use a vegan margarine. I also served this succotash alongside grilled chicken, because we are not vegetarians. But I can easily imagine how this dish, being full of protein from the edamame, would make an outstanding meatless main dish with some gazpacho as a starter and some lovely corn muffins on the side.
Because this corn and edamame succotash is all about the vegetables, seek out freshly picked local corn and local red peppers. Don't sweat the edamame, though. Those can be frozen. (By the way, don't throw out the corn cobs after you have stripped the kernels off of them. Save them to make corn broth.)
And now, with the dreaded lima beans out of the picture, go ahead and wish for a supper dish of succotash.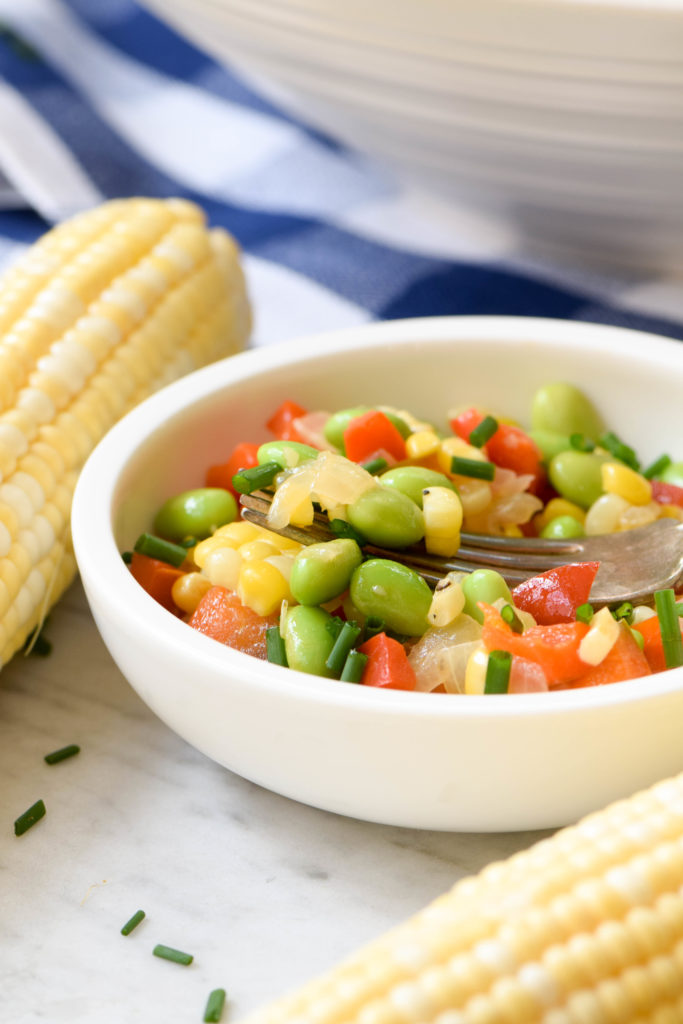 Vegetarian Edamame Succotash
Ingredients
2 TB butter
2 TB extra virgin olive oil plus extra for drizzling
1 onion, diced
2 red peppers, seeded and diced
Pinch red pepper flakes
16 oz. shelled edamame (thawed if frozen)
2 cups corn kernels
1/4 cup chopped chives
Salt and pepper to taste
Instructions
Heat the butter and olive oil in a large deep sauté pan over medium heat.
Add the onion and sauté until softened, about five minutes
Add the red pepper and toss to combine. Season the onions and peppers with salt and pepper and a pinch of red pepper flakes.
Sauté the vegetables until the red peppers have softened, about ten minutes.
Add the edamame and corn and cook just until they are heated through.
Remove the skillet from the heat and add the chives.
Taste and add more salt and pepper as necessary. Finish with a drizzle of a fruity olive oil.
http://www.westoftheloop.com/2017/08/29/edamame-succotash/