A beautiful and balanced early fall salad with earthy beets, creamy burrata and tart blackberries over  arugula in a honey vinaigrette. Perfect for your Rosh Hashanah table!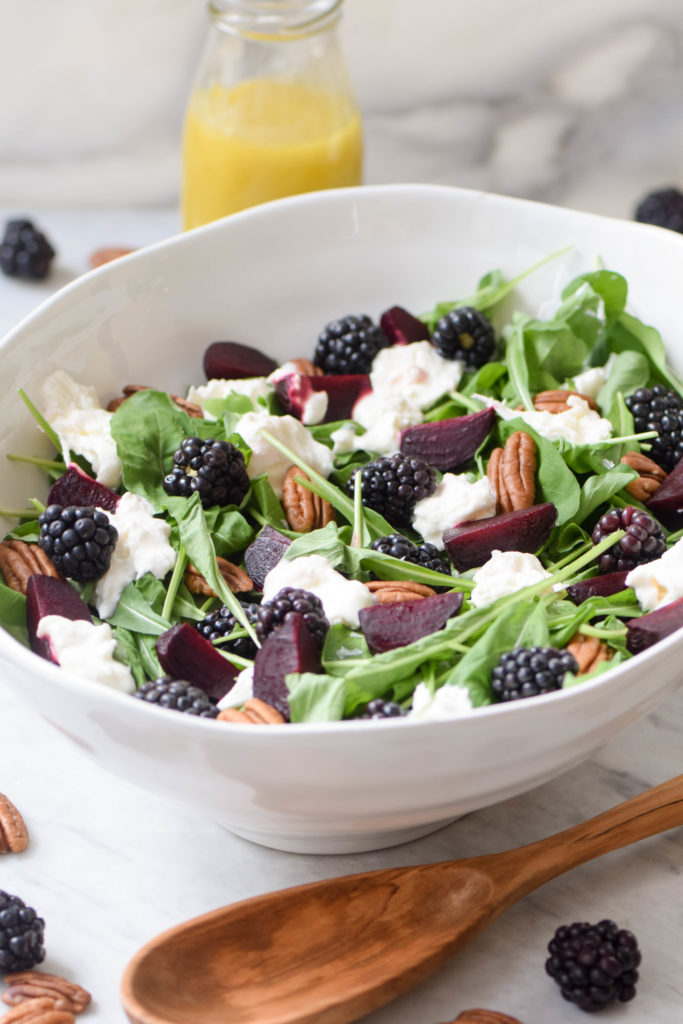 Rosh Hashanah, the Jewish new year, begins at sundown on September 20. Like many new year celebrations, it is joyous and festive. All over the world, Jews will gather with friends and family to recite the holiday blessings, break bread and wish one another "L'shana tovah:" a sweet new year!
With less than a month to go, it is not too early to start planning your Rosh Hashanah menu. Rosh Hashanah comes at a time of year when fall fruits and vegetables are at their peak, making it easy to plan a delicious and seasonal menu.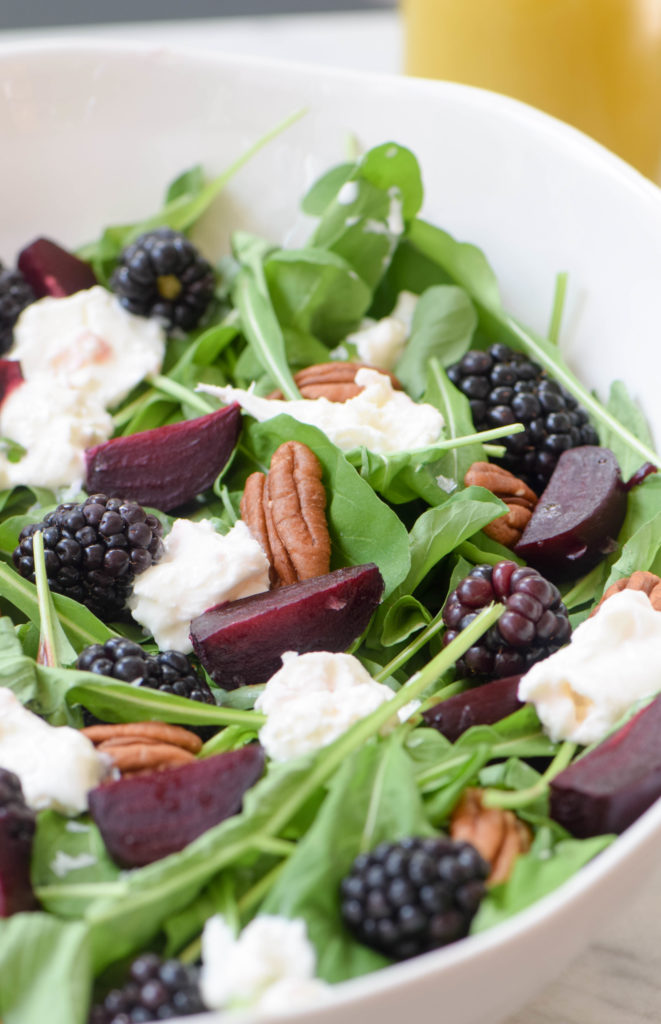 There are also many traditional Rosh Hashanah foods, often with symbolic meanings. The most common Rosh Hashanah tradition, and one that is consistent across the entire Jewish diaspora, is to eat sweet foods to symbolize the hope for a sweet new year.
Other foods are traditional because eating them is considered to be a good omen for the new year, bringing luck and prosperity. These traditions are often based on a food's color or appearance; or, more obscurely, on the Hebrew or Yiddish name for the food. For the next few weeks, I will be featuring recipes for starters, main dishes, sides and desserts to grace your Rosh Hashanah table – most of which will incorporate traditional Rosh Hashanah foods.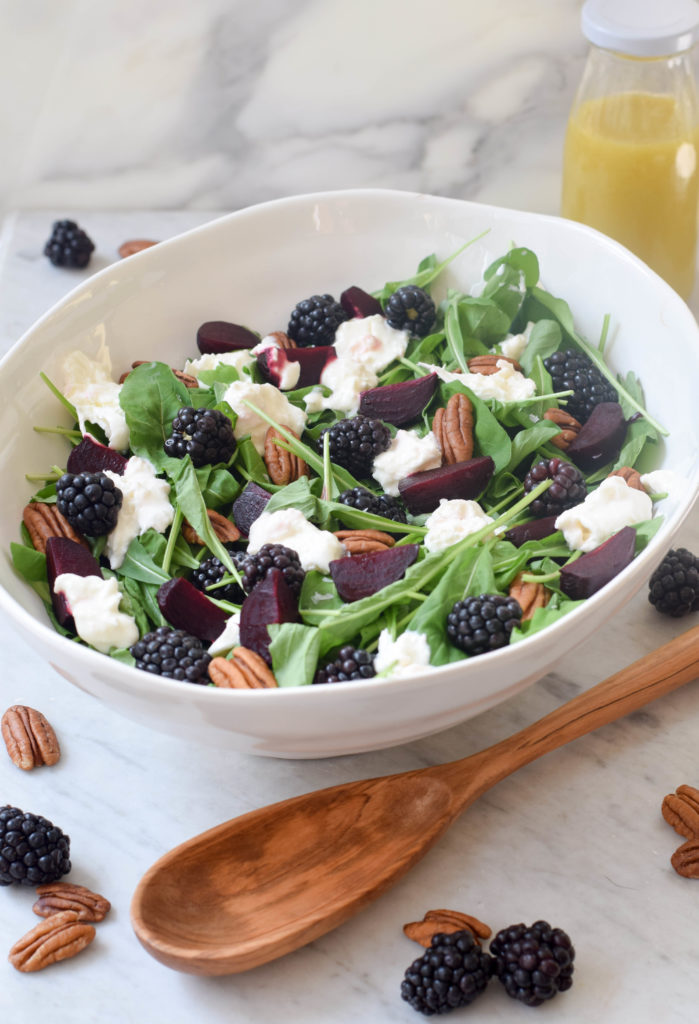 Today's recipe is for a arugula salad with roasted beets, blackberries, and burrata in a honey-lime vinaigrette dressing. I love this salad for its balance of flavors. The beets are earthy and a little sweet; the blackberries are tart; the arugula peppery and the burrata creamy.
The traditional Rosh Hashanah foods here are beets and the honey in the dressing. Jews eat beets on Rosh Hashanah because the Hebrew word for beets, selek, is similar to the word for "remove." By eating beets, we express our the hope that our enemies or other obstacles will be "removed" from our lives. And isn't nice that beets happen to be in season?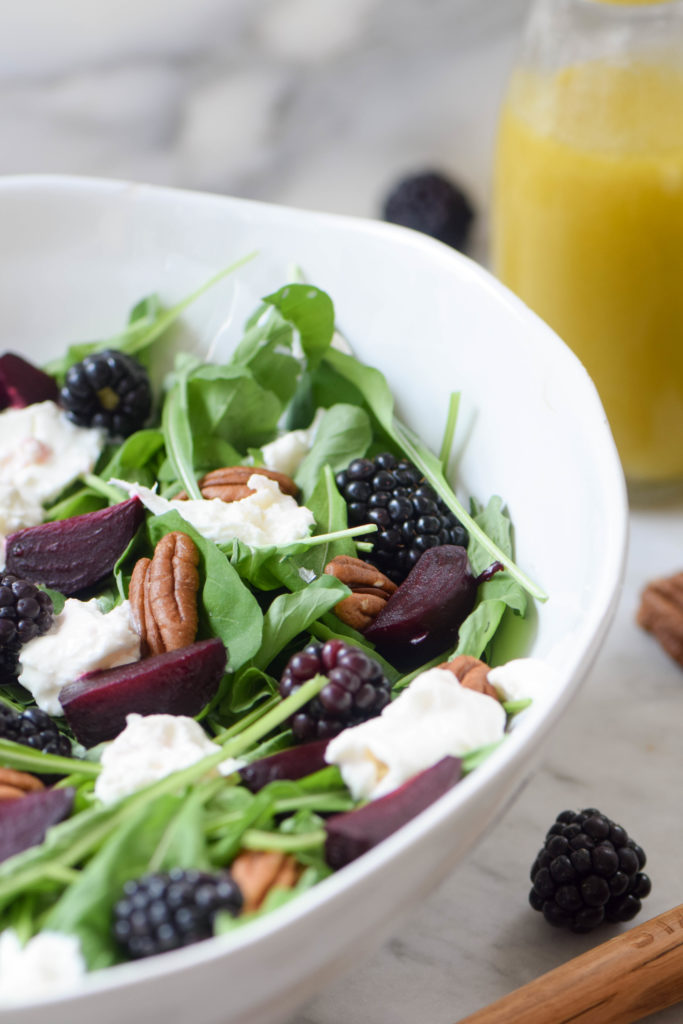 I was inspired to add blackberries because I think a dish with beets needs something tart or acidic to brighten the beets' earthiness. Orange is a common pairing with beets, but early fall is not exactly citrus season. You know what is in season though? Berries! Berries, especially blackberries, are a perfect sweet-tart element to pair with beets. Thus, this salad really reflects the shoulder season, as Amelia Saltsman calls it, of early fall.
Burrata, for the uninitiated, is a swollen shell of chewy mozzarella surrounding a filling of cream and spidery mozzarella curds. While often spied on restaurants menus, burrata is readily available at good cheese counters or better grocery stores. (Obviously if you keep kosher, this salad contains dairy and thus can not be part of a meat meal. But keep it in mind for a vegetarian celebration.)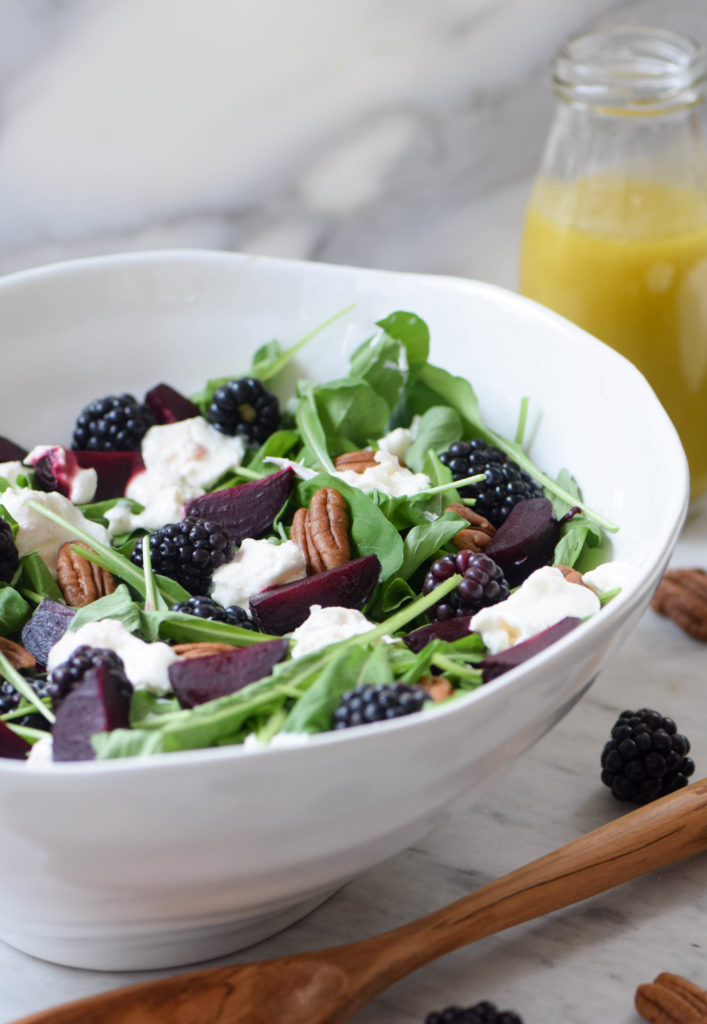 One note, this salad when composed is beautiful to look at, but as soon as you add the dressing and toss it, it will become messy. The beets bleed onto the burrata, turning it pink. So my suggestion is to bring the salad to the table undressed and allow everyone to admire it beauty. Then, dress the salad right before serving.
Stay tuned for more seasonal, inspiring Rosh Hashanah menu ideas!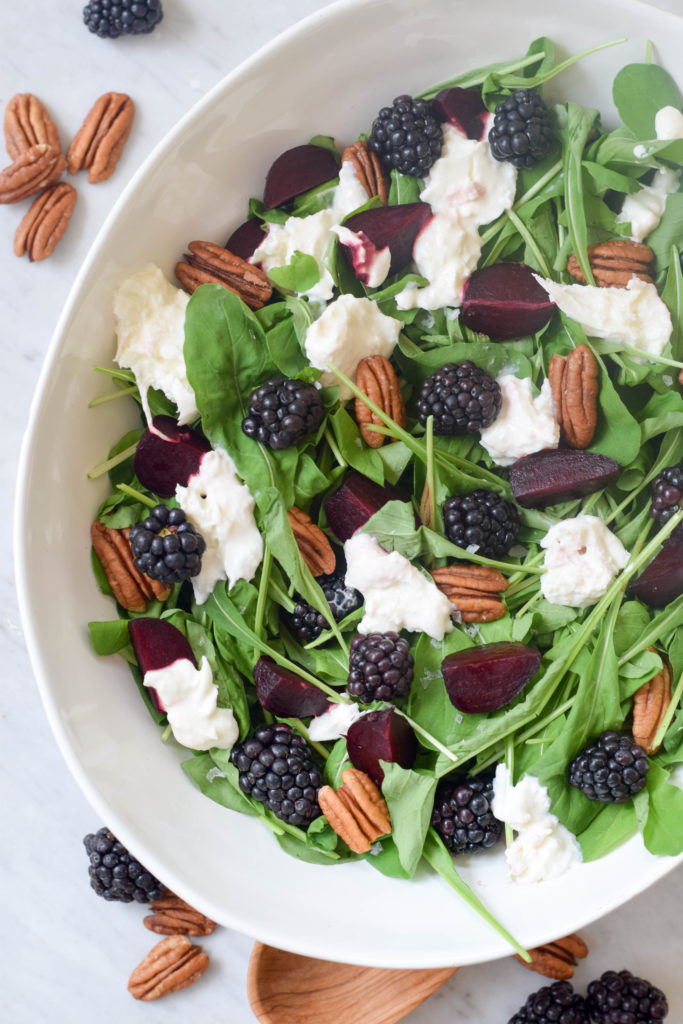 Beets, Burrata & Blackberry Salad for Rosh Hashanah
Ingredients
Salad

2 bunches baby beets (6-8 beets)
4 oz arugula
6 oz blackberries
3/4 cup pecans, toasted
8 oz burrata

Dressing

1/4 cup freshly squeezed lime juice
2 TB honey
2 tsp mustard
1/2 cup extra virgin olive oil
Salt and pepper to taste
Instructions
Preheat the oven to 400. Cut the tops and tails off of the beets and wrap them in aluminum foil. Roast until tender and a knife easily pierces the beets, about twenty to thirty minutes.
When the beets are cool enough to handle, slip the skins off and halve. Cut each half into two or three wedges depending on size.
Place the arugula in a large serving bowl. Add the blackberries and pecans and toss gently to combine, making sure to leave some berries and nuts on top.
Arrange the roasted beets on top of the arugula. Tear the burrata into pieces and scatter pieces on tops of the arugula as well.
To make the dressing, place the lime juice, honey and mustard in a small bowl. Whisk together to dissolve the honey and mustard.
While whisking, slowly pour the olive oil into the bowl in a steady stream until combined.
Dress the salad just prior to serving. Season with salt and pepper.
http://www.westoftheloop.com/2017/09/01/beets-burrata-blackberry-salad-rosh-hashanah/