Fresh figs are such a gift! Here I place black and green figs atop a honey-sweetened mascarpone filling and fold them into a flaky galette. Perfect for early fall parties or Rosh Hashanah dinner!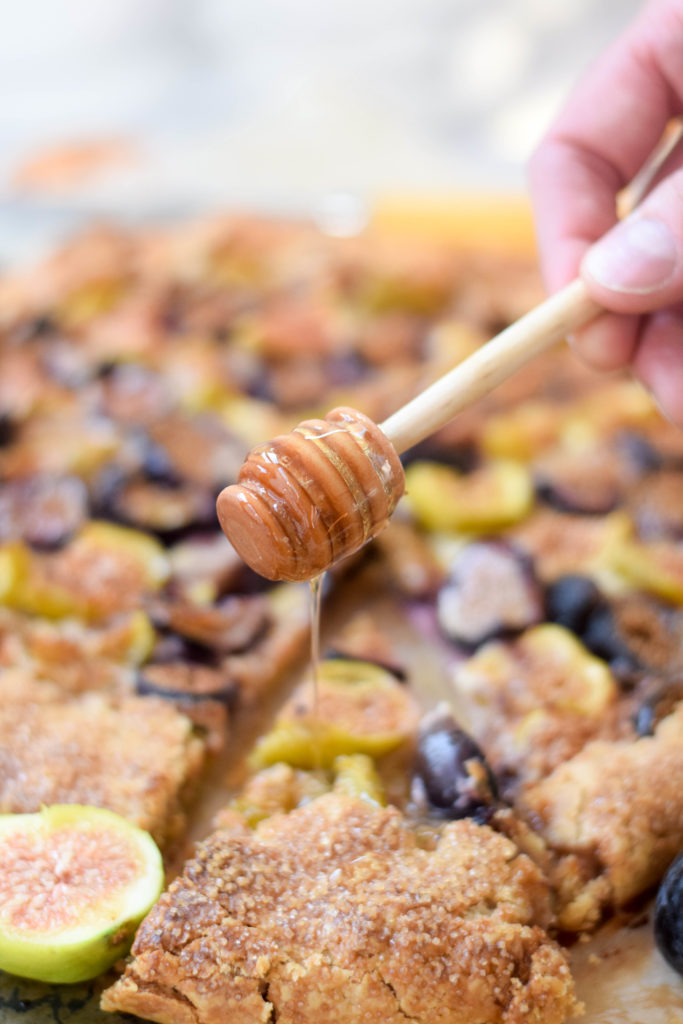 Every year, I feel a little giddy when I spy fresh figs in the grocery store because they are such a short-lived, seasonal treat. Did you know that figs were one of the first cultivated fruits and that they are as meaningful and symbolic as they are sweet and delicious?
Jews consider figs to be particularly holy because they were one of the seven staple foods, known as the Seven Species, eaten by Jews in the land of Israel during Biblical times. Because they produce multiple crops every year, fig trees also symbolize fruitfulness.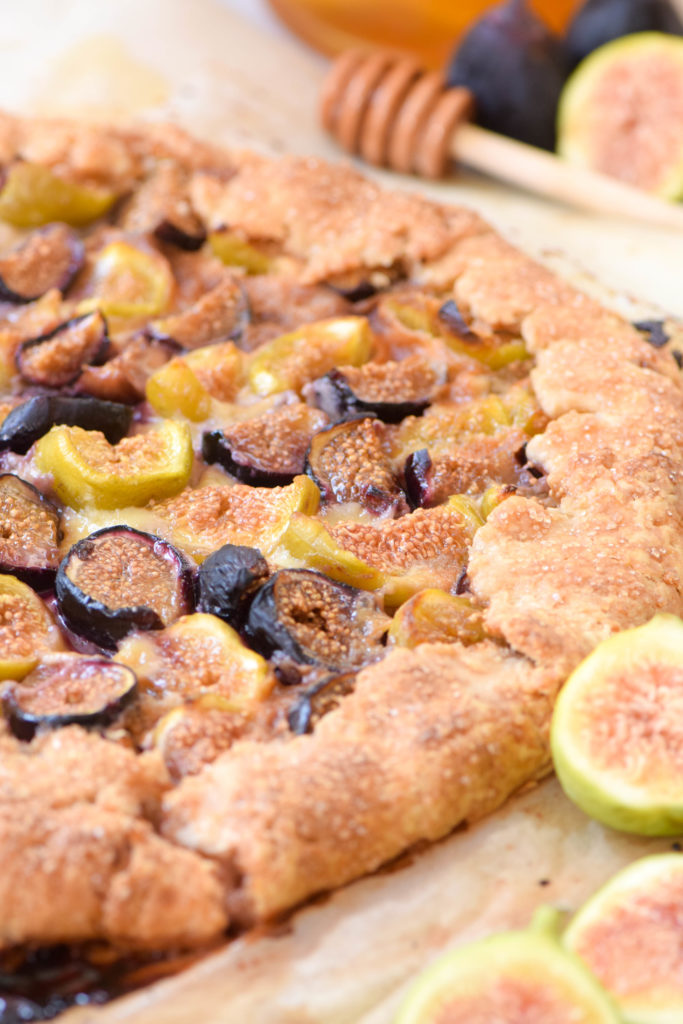 Native to the Middle East, figs are a common ingredient in Sephardic cooking in both fresh and dried form. As the largest crop of figs ripen in the fall, they are often served at Sephardic Rosh Hashanah celebrations.
With the stores full of figs now, I fear that they won't still be available when Rosh Hashanah comes in a few weeks. So I would not wait to make this honey-sweetened fig galette. But let's hope that we can still find figs during the third week of September because this galette would make a perfect finale for your Rosh Hashanah celebration!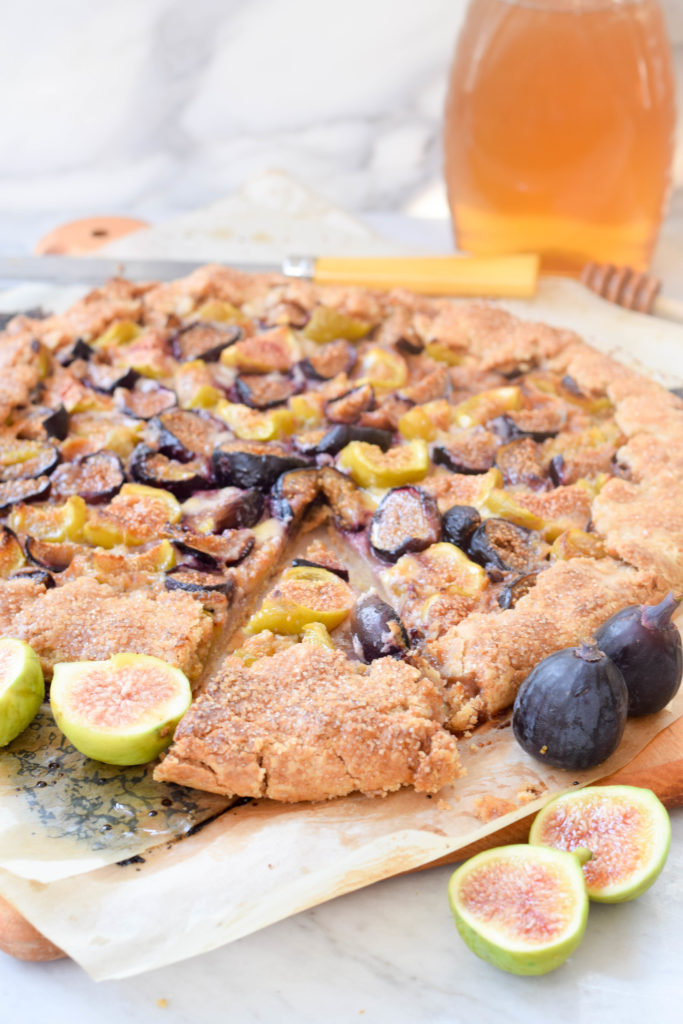 Unlike, say, pie, a galette is both easy to make and has just the right ratio of fruit to pastry. Galettes, which the Italians call crostada, are supposed to be rustic, which is code for "doesn't have to look perfect." They are both less time-consuming and more foolproof than pies yet are an equally delicious showcase for beautiful fruit.
When making a galette, you want to make certain that your dough is sturdy enough, and thick enough, to hold the filling. Unlike with a pie, there is no dish or pan to support the dough. As with other kinds of pastry, you can make galette dough in advance and refrigerate it until needed. Not only is this convenient, it actually is better for your dough because some time in the fridge will allow the gluten to relax, resulting in a flakier dough.
When preparing a big holiday meal, like Rosh Hashanah dinner, I am always looking for steps I can do in advance. Making the galette dough is a perfect thing to do days or even weeks before your event.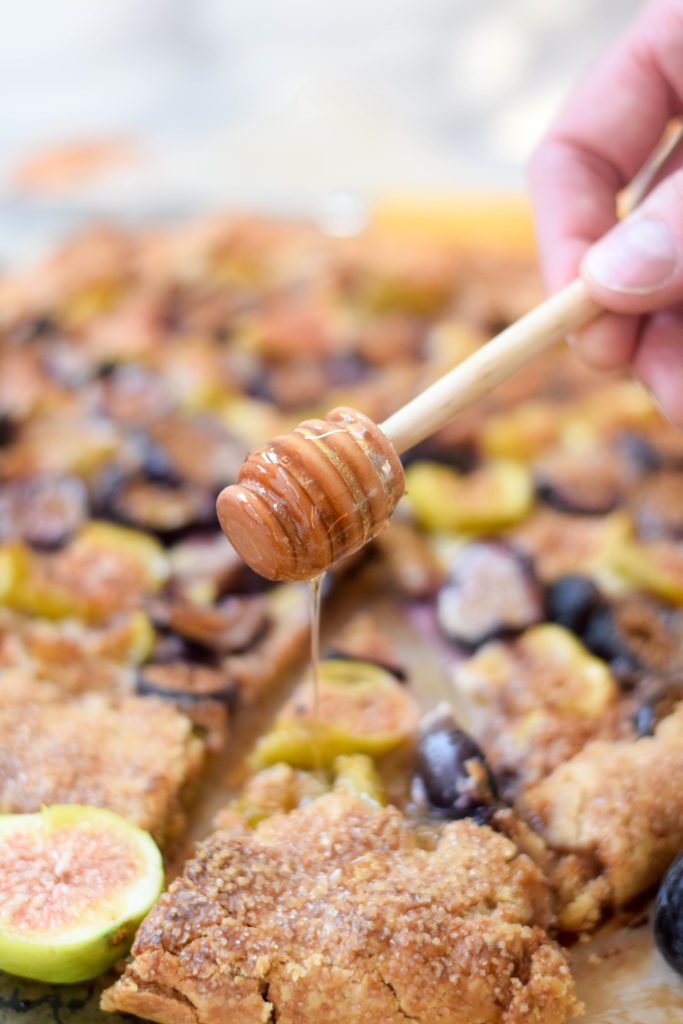 Honey and figs are a natural pairing. Really luscious fresh figs have a honeyed quality to them, don't they? And honey, of course, is another traditional Rosh Hashanah food, prized for its sweetness and as a symbol of our hope for a sweet year to come. Here, honey is mixed with mascarpone cheese to create  a smooth, creamy base for the figs with almost no extra work!
So even though I am crossing my fingers for you that there will still be figs come September 20 and this fig and honey galette can be a show-stopping dessert for your Rosh Hashanah celebration, while figs are around, perhaps you had better practice a few times?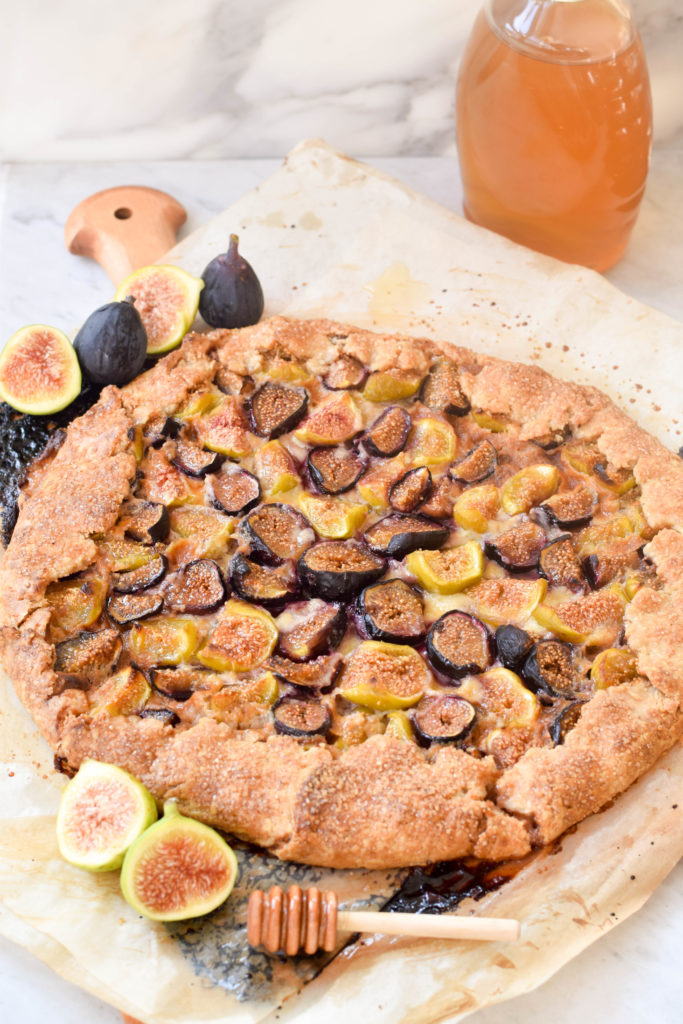 Ingredients
Dough

1 1/4 cups all-purpose flour
1/2 cup whole wheat flour
1 TB sugar
1 tsp. salt
6 oz. (one and a half sticks) cold unsalted butter, cut into cubes
1/4 cup ice water
1 TB lemon juice

Filling

8 oz mascarpone cheese
3 TB honey
1 TB vanilla extract
2 pints fresh figs, halved or quartered
1 TB milk
1 TB cream
Tubinado or Demerera sugar (optional)
Instructions
Combine the flour, sugar and salt in the bowl of a food processor. Add the cubed butter.
Process the dough until the ingredients combined and crumbly. Leave some visible pieces of butter that are the size of gravel.
Mix the water and lemon juice together. Drizzle over the dough and process a few additional times.
Gather the dough into a ball and knead it against the sides of the bowl until you have incorporated all of the dough.
Wrap dough in plastic wrap and chill for at least one hour. (Dough can be made ahead and kept refrigerated for up to three days or frozen for longer periods.)
After the dough has chilled, remove from refrigerator. (If the dough has been chilled for several hours or more, let it sit out for 5-10 minutes before attempting to roll it out.)
Place dough on a well-floured surface or nonstick rolling mat, and using a well-floured rolling pin, roll dough out in a circle shape until it is 13 to 14 inches in diameter.
Carefully transfer dough - a large pastry scraper comes in handy here - to a baking sheet lined with a Silpat baking mat or parchment paper.
In medium bowl, combine the mascarpone, honey and vanilla and stir until combined.
Spread the mascarpone mixture over the galette dough leaving a 2-inch border.
Place the figs in concentric circles on top of the mascarpone.
Fold the dough over the fruit in a hexagonal or circular shape, as desired, pleating the dough as necessary.
Chill the assembled galette for one hour.
Preheat oven to 375.
Combine milk and cream in a small bowl and brush on the outside of the galette. Sprinkle with Turbinado sugar, if using.
Bake galette for 45-55 minutes.
Cool galette on a wire rack for thirty minutes before serving.
http://www.westoftheloop.com/2017/09/02/fig-honey-galette/