A striking fall salad of roasted carrots and beets with creamy burrata and hazelnuts. Perfect for entertaining, a light lunch or as part of your Rosh Hashanah celebration.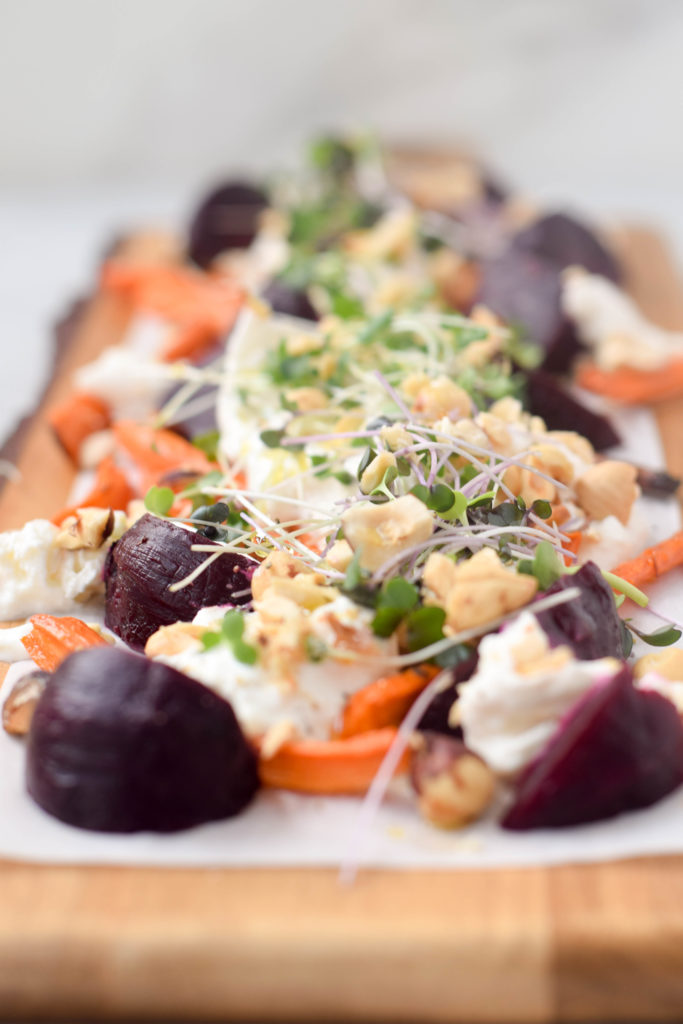 The combination of roasted beets and burrata has got a hold on me and it won't let go. A few days ago, I posted a recipe for roasted beets, blackberries and burrata over arugula. That salad captured a moment in early fall when beets and blackberries overlap at the farmers' market and I could not resist the idea pairing of these two intensely colored, purple foods.
Today, I want to revisit that combination, but push a little deeper into fall and the season of root vegetables. Today's salad combines roasted beets and burrata with roasted carrots and crunchy hazelnuts. Roasting is by far the best way to coax out these vegetables' natural sweetness. And the deep, rich hues of orange and magenta in this dish remind me of the changing leaves or a glorious bouquet of chrysanthemums.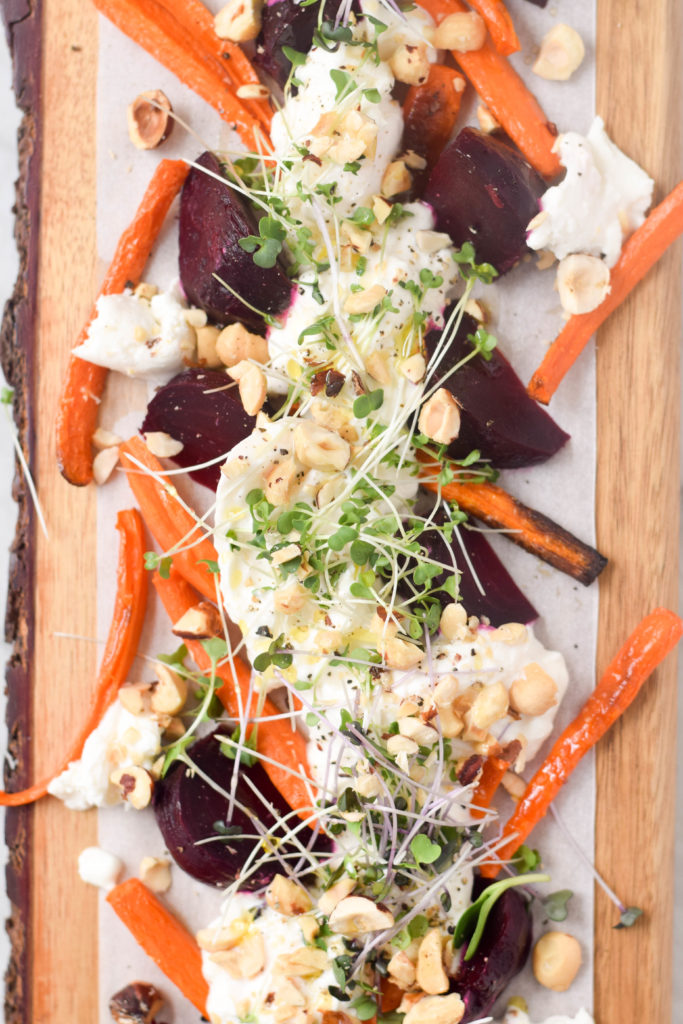 While this salad would impress at any authumn gathering, of course, I am thinking about it for Rosh Hashanah dinner. Carrots are a vegetable that grace many a Rosh Hashanah table. In Yiddish, the word for carrots (mern) is very similar to the word for "many" (mer). So, we eat carrots to express our hope that the coming year will be a prosperous one and will bring many blessings. Make sense?
As I explained in the post about the other beet salad, Jews eat beets on Rosh Hashanah because the Hebrew word for beets, selek, is similar to the word for "remove." By eating beets, we express our the hope that our enemies or other obstacles will be "removed" from our lives. That makes as much sense as the carrot explanation, right?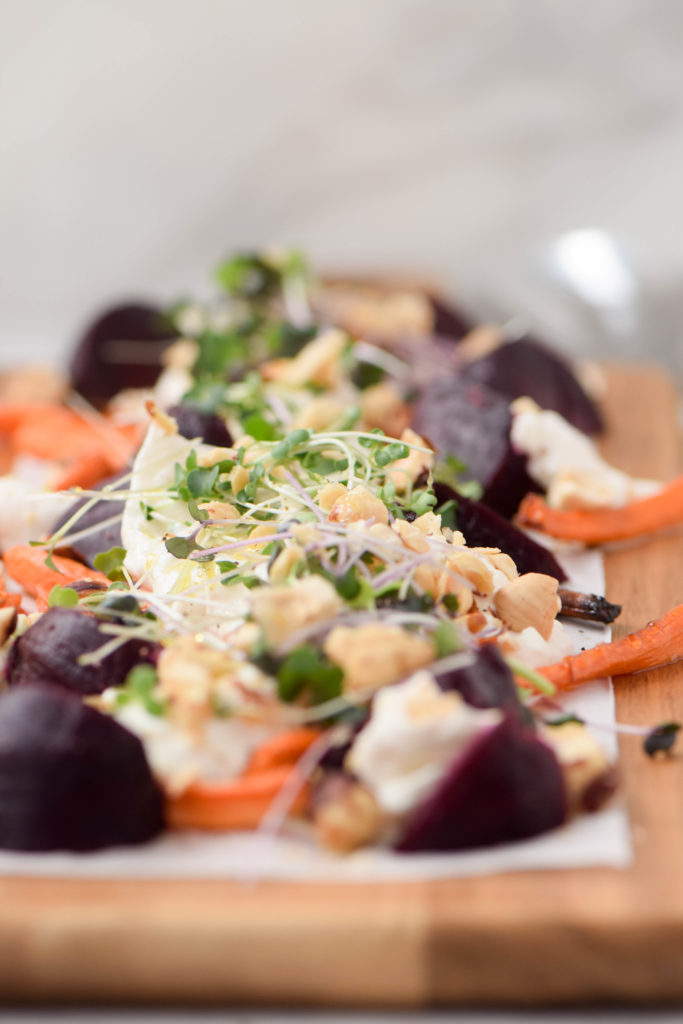 When shopping for carrots, look for ones with the green tops still attached: they have the best flavor. Or seek out some heirloom varieties in different hues of yellow, orange and even purple at your local farmers' market. Once you get the carrots home, however, cut off the green tops prior to storing for best results.
If you cannot find burrata, you could certainly try this recipe with crumbled goat cheese. Burrata tastes mild and creamy whereas fresh goat cheese is tangy, so the flavor would be different. But perhaps some cooks will prefer that combination as it has a bit more of edge to it.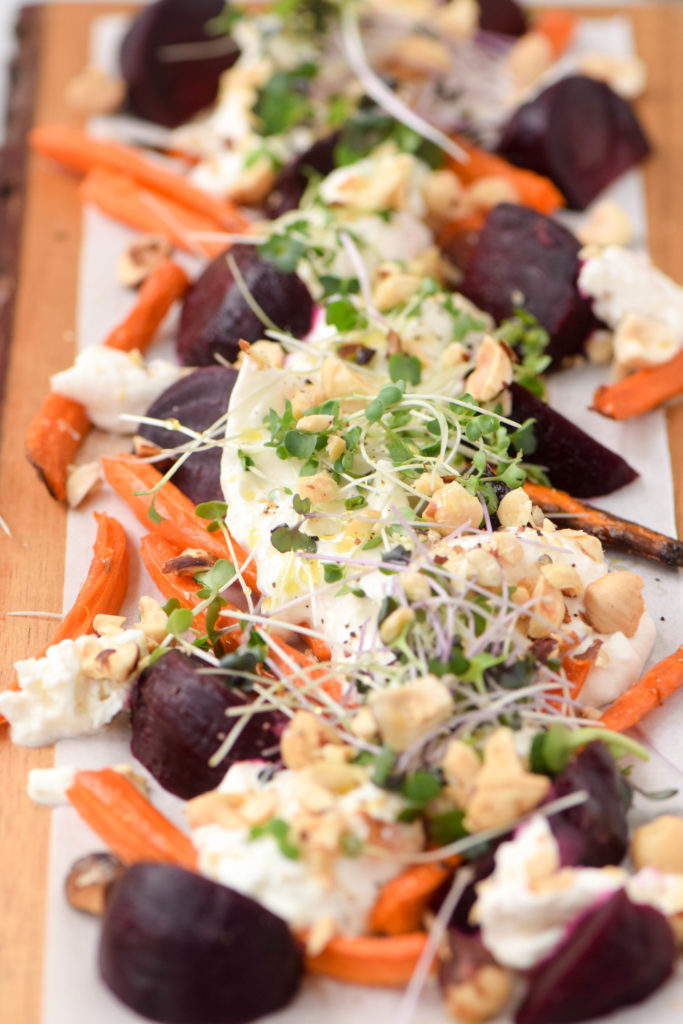 I dress this salad with the same honey-lime vinaigrette that I used for the beet and blackberry salad because I think these sweet, roasted root vegetables need some brightness and a hit of acid. Honey, again, is a traditional Rosh Hashanah food that expresses our hope that the coming year will be a sweet one.
If making this salad for guests, the beets and carrots can easily be roasted in advance and refrigerated until needed. The dressing can also be made ahead of time, and indeed, this recipe will give you more dressing than you will need, so you can continue to use it over the week. Once you have all the elements ready to go, the salad is a cinch to assemble and it looks so elegant.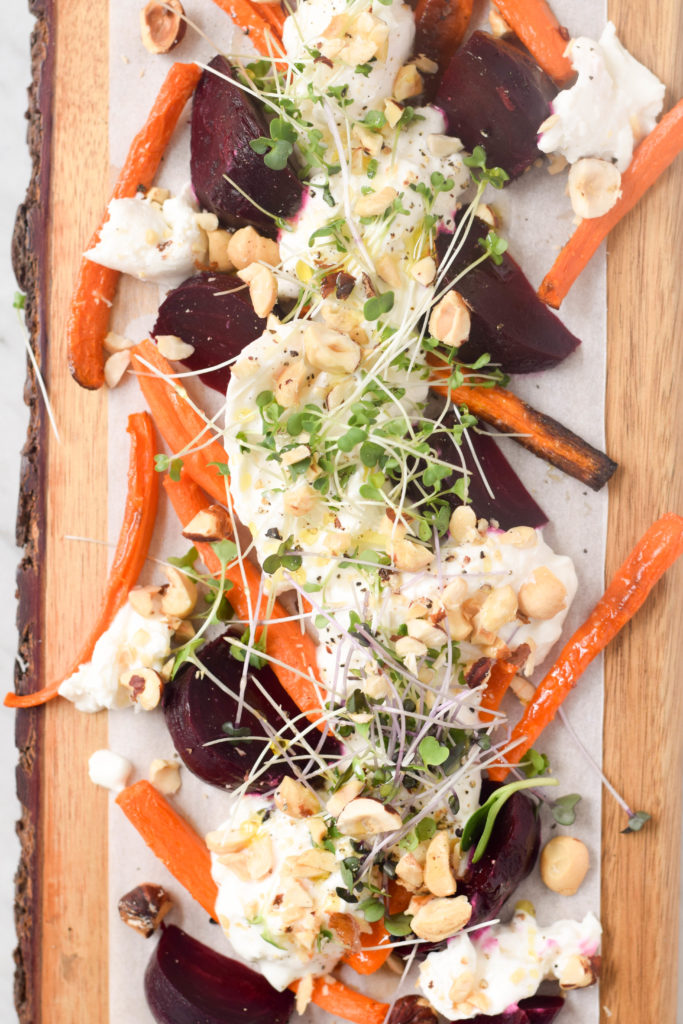 In addition to being a beautiful and meaningful dish for Rosh Hashanah, this roasted beet and carrot salad would be a wonderful centerpiece for a light lunch alongside some crusty bread.
Roasted Beets and Carrots with Burrata
Ingredients
Salad

3-4 small to medium beets
1 bunch carrots with green tops (5-6 carrots)
Several TB olive oil
8 oz burrata
1/2 cup chopped hazelnuts, toasted
Micro greens for garnish (optional)

Dressing

1/4 cup freshly squeezed lime juice
2 TB honey
2 tsp mustard
1/2 cup extra virgin olive oil
Salt and pepper to taste
Instructions
Preheat the oven to 400. Cut the tops and tails off of the beets and wrap them in aluminum foil.
Peel the carrots and cut them in half cross-wise. Then cut them in half lengthwise. Cut large pieces into quarters.
Arrange the carrots on a sheet pan and toss with olive oil. Season with salt and pepper.
Roast beets and carrots until tender and a knife easily pierces the beets, about thirty minutes for the carrots but possibly 10-15 minutes longer for the beets.
When the beets are cool enough to handle, slip the skins off and halve. Cut each half into two or three wedges depending on size.
Arrange the beets and carrots on a platter
Tear the burrata into pieces and scatter pieces around the roasted vegetables.
Top with chopped hazelnuts and micro greens.
To make the dressing, place the lime juice, honey and mustard in a small bowl. Whisk together to dissolve the honey and mustard.
While whisking, slowly pour the olive oil into the bowl in a steady stream until combined.
Dress the salad just prior to serving. Season with salt and pepper.
http://www.westoftheloop.com/2017/09/04/roasted-beets-carrots-burrata/