Quick-cooking chicken thighs in a sweet-tart honey and lime juice glaze. Easy enough for a weeknight but special enough for Rosh Hashanah.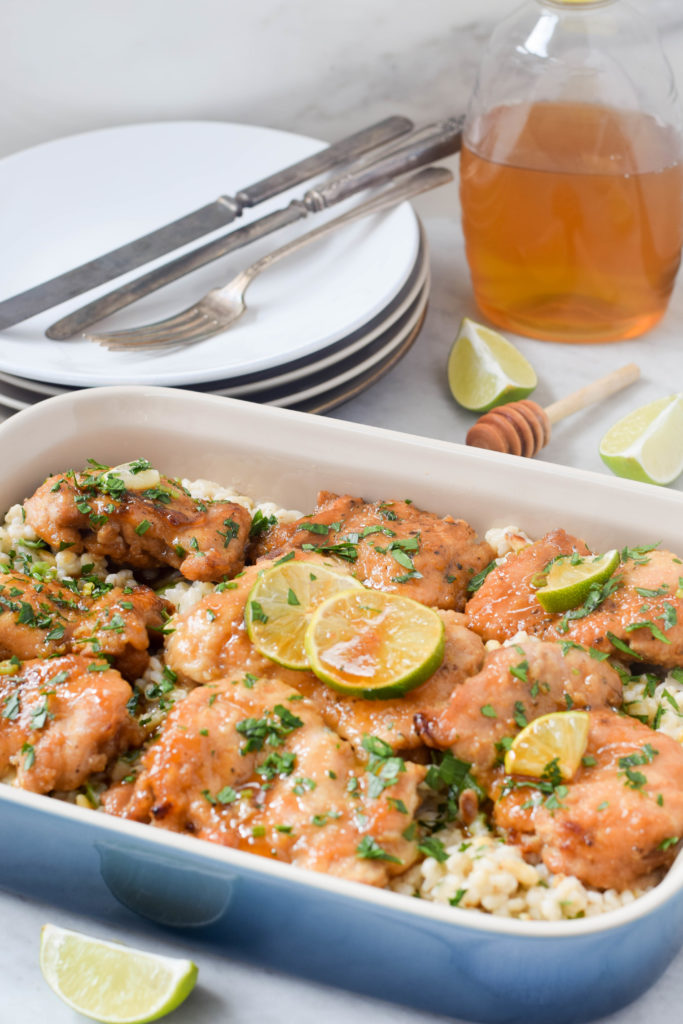 When planning the menu for your Jewish holiday meal, it's easy just to say "brisket" for the main course and be done with it. My family certainly expects me to serve brisket for Hanukkah…and Passover…and usually Rosh Hashanah.
But sometimes I want to go a different direction for the High Holidays. Brisket is not necessarily what I want to eat when it still feels like summer outside. And brisket takes hours to cook, requiring advance planning. What if the Jewish holiday falls in the middle of a busy week, as Rosh Hashanah does this year? What if I know I will be pressed for time?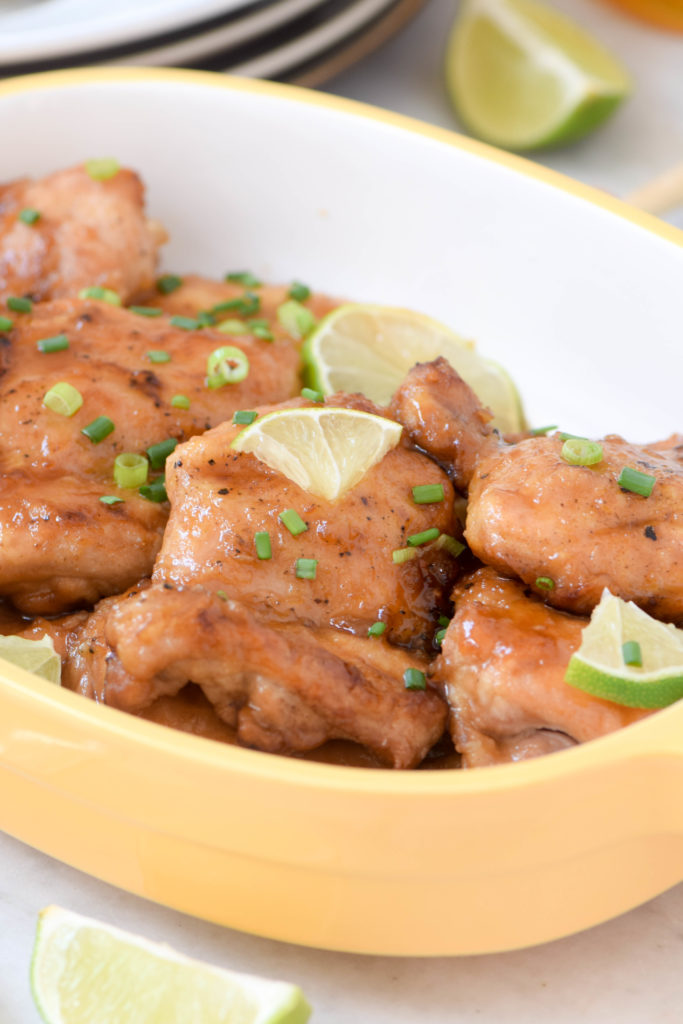 This year, instead of brisket, I am making these Honey-Glazed Chicken Thighs for Rosh Hashanah dinner and I am betting that no one will be disappointed. With their sweet-tart honey and lime juice glaze, these quick-cooking chicken thighs are elegant enough for a holiday dinner, but easy enough for a Wednesday night. (Guess what day of the week September 20 is?)
I can think of many reasons why one might consider serving chicken on a holiday even though it seems to us like everyday food. For one thing, many children prefer chicken to beef and there are likely to be children at your holiday table. You may also have guests or family members who eschew red meat altogether.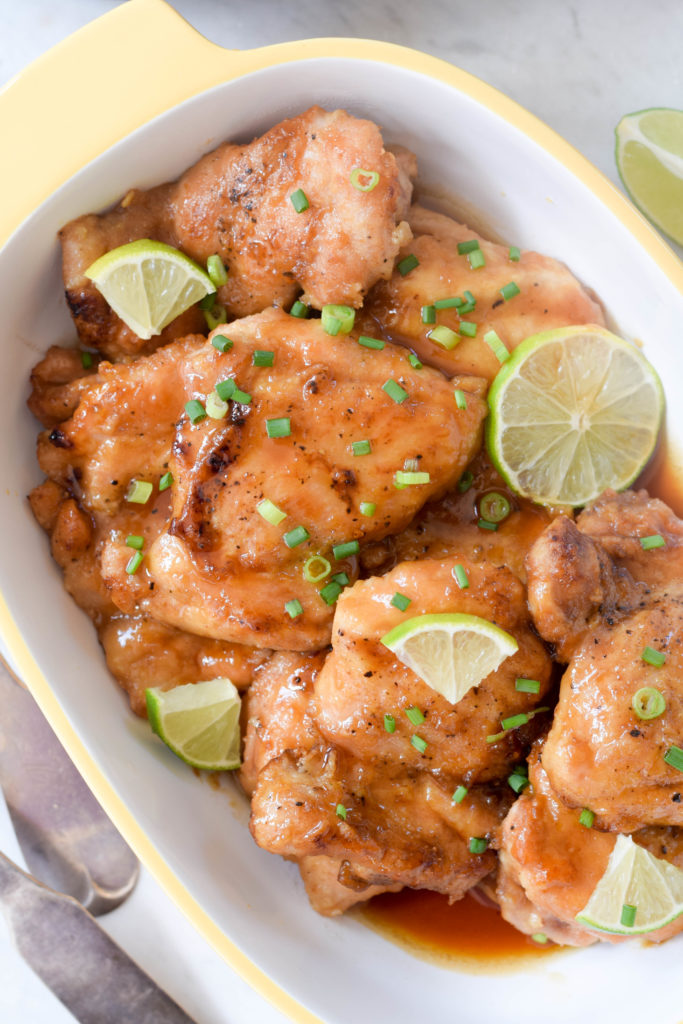 Honey, of course, is traditional for Rosh Hashanah. Not only is honey one of the world's sweetest foods, symbolizing our hope for a sweet new year, but it is also an ancient food mentioned in the Bible. (Although many scholars believe that the word "honey" in phrase "the land of milk and honey" refers not to honey, but rather to date syrup because there is no evidence that Biblical people kept bees.) Here, the sweetness of the honey is nicely balanced out with salty soy sauce, sharp Dijon mustard and tart lime juice — all ingredients you are likely to have on hand.
Another virtue of chicken is that it is an economical way to serve a crowd. This recipe serves six and you can easily double it to serve more. I figure on about two thighs per person, especially if you are also serving a lot of other dishes at your celebration.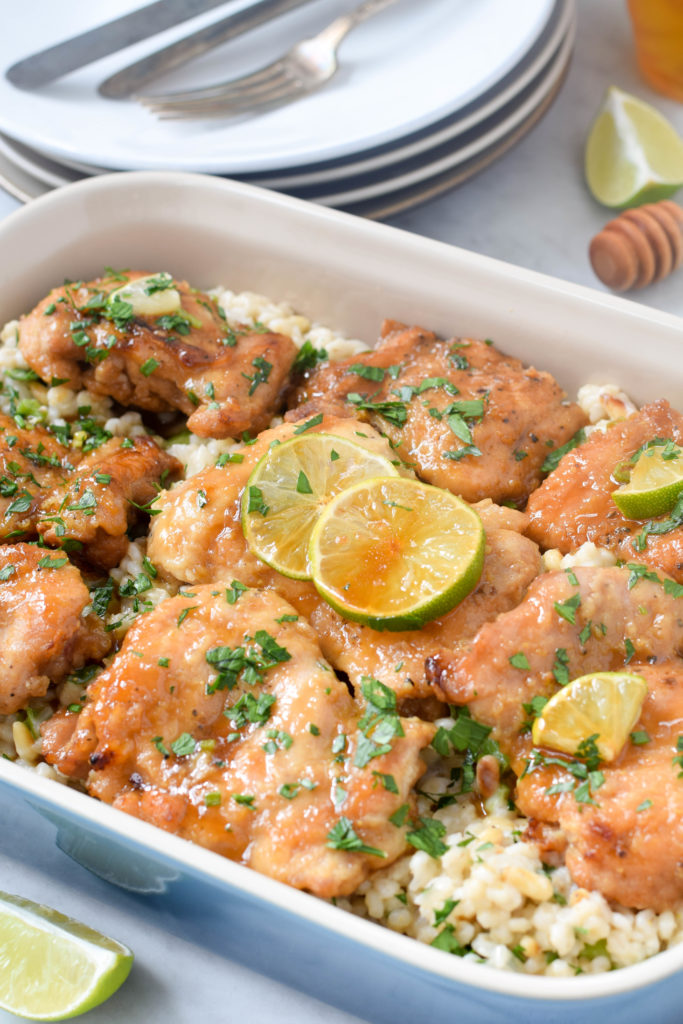 And if you are not planning a middle-of-the-week Rosh Hashanah dinner, go ahead and try these honey-glazed chicken thighs anyway. No special occasion needed! But your family will feel plenty special when you serve them these stunning, golden-brown chicken thighs with their addictive honey-lime glaze.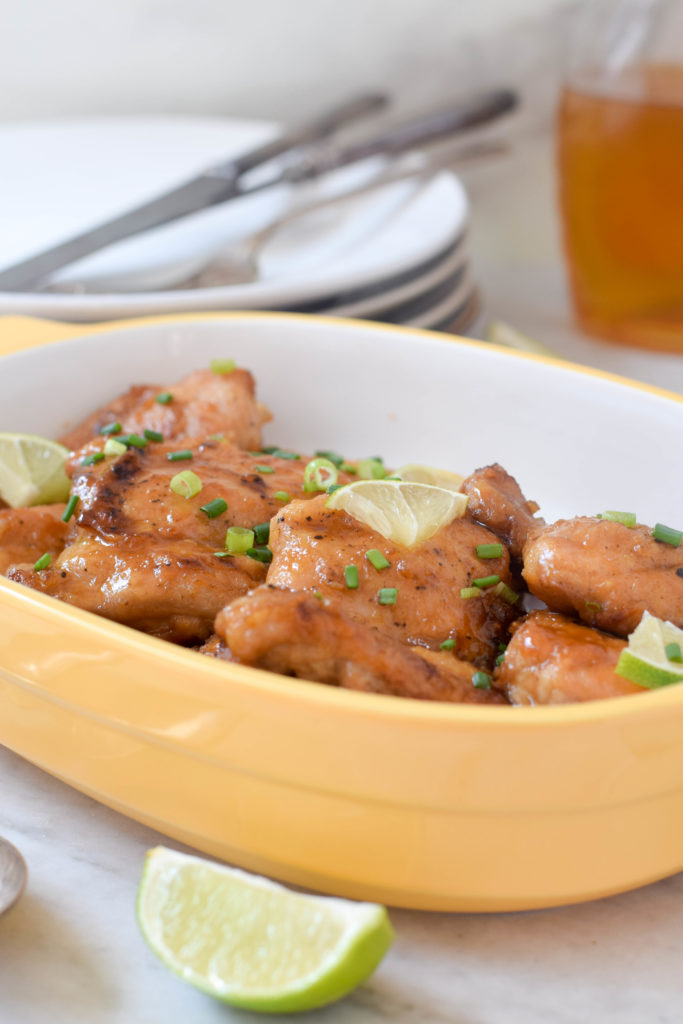 Honey-Glazed Chicken Thighs
Ingredients
3 lbs. boneless chicken thighs
1 cup all-purpose flour
Salt and pepper
3-5 TB olive oil
1/2 cup honey
1/4 cup soy sauce
1/4 cup lime juice
1 TB Dijon mustard
1/4 cup canola or grapeseed oil
Scallions for garnish
Instructions
Preheat the oven to 350. Season the chicken thighs with salt and pepper.
Heat 3 TB of oil in a large nonstick skillet over medium-high heat.
Spread the flour on a plate and dredge the chicken thighs in flour on both sides. Shake off any excess.
Working in batches, place 4-5 the chicken thighs in the skillet, skin side down and sauté until browned, about three minutes. Turn and brown the other side. Remove to a paper-towel lined plate to drain. Repeat with remaining chicken adding more oil to the pan as necessary.
Meanwhile, whisk together to honey, soy sauce and lime juice in a medium bowl.
While whisking, slowly pour in the oil in a steady stream to create the sauce.
Place the chicken thighs in a baking dish in a single layer. Brush with the glaze.
Roast the chicken for 25 minutes or until the internal temperature registers 165 degrees, basting at least twice.
Place the remaining glaze in a small saucepan and bring to a boil over high heat. Reduce heat to medium and simmer glaze until reduced, about 3 minutes.
Once chicken is cooked, brush with the reduced glaze and garnish with chopped scallions and lime slices.
http://www.westoftheloop.com/2017/09/06/honey-glazed-chicken-thighs-rosh-hashanah/