A vegetarian entree for Rosh Hashanah and other fall holidays, Couscous with Seven Vegetables is colorful and healthy way to celebrate the harvest and usher in a new year!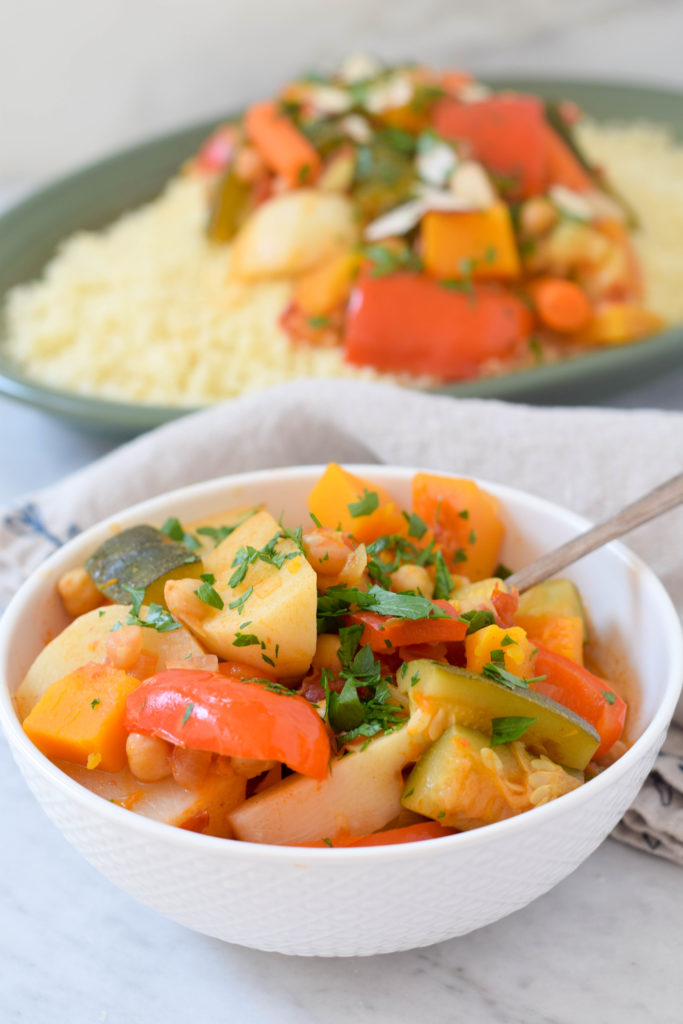 Seven is an especially lucky number in many cultures, including Judaism. The world was created in seven days. The seventh day is Shabbat. Together, there are seven patriarchs and matriarchs. At a Jewish wedding, there are seven blessings. You get the idea.
So it is no wonder, then, that on Rosh Hashanah, the new year holiday, when we try to do everything we can to ensure good luck for the coming year, there is a tradition of eating seven vegetables. This tradition is especially prevalent among Sephardic Jews.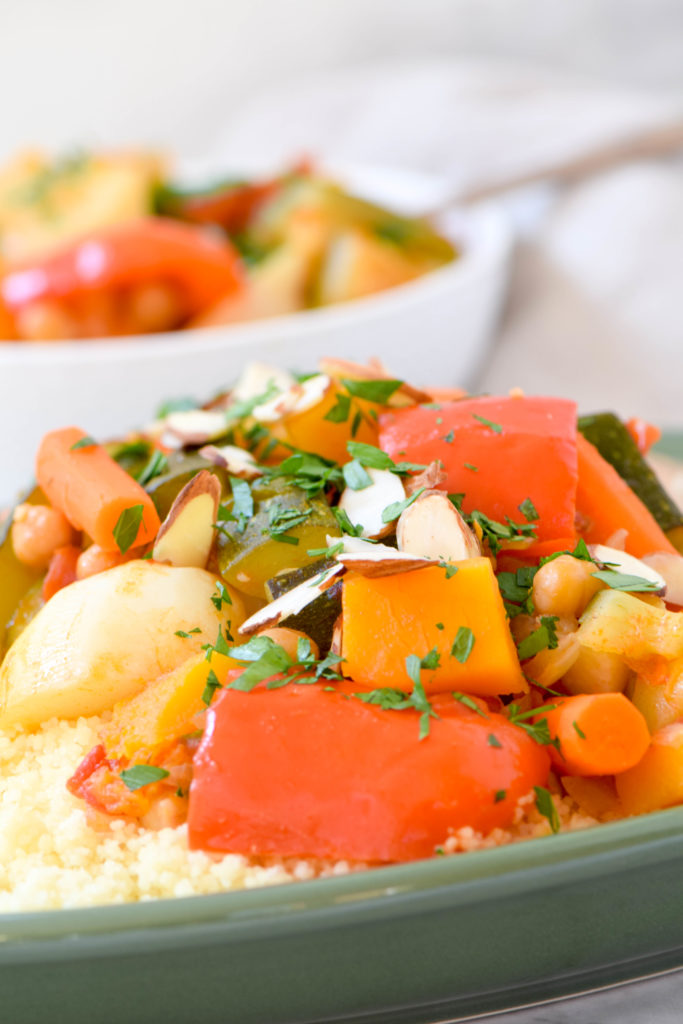 Of course, the idea of eating seven vegetables for a fall holiday makes sense. Rosh Hashanah happens at a time of year when many vegetables are at their peak. Some Jews have a tradition of eating "new" vegetables on Rosh Hashanah, that is, vegetables that they have not yet eaten that season, such as squash or root vegetables that are just ripening in the fall.
Among North African Jews, especially those of Moroccan origin, Couscous with Seven Vegetables is a traditional and beloved Rosh Hashanah dish. The couscous has a special significance as well: the many tiny grains represent a wish for a year with countless blessings.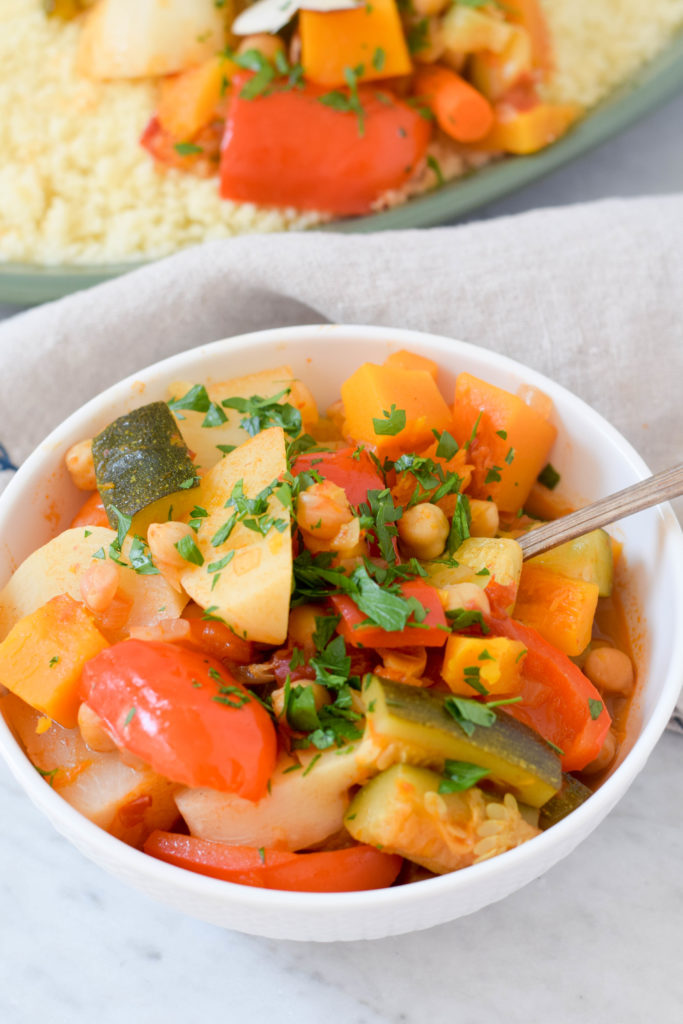 In the Magreb, couscous is usually reserved for festivals and holidays because it can take so long to make — particularly when following the traditional method of steaming the couscous three times — and it is well-suited to feeding a crowd.
I remember my French mother, Annie Zémor, a Sephardic Jew who had been raised in Algeria, making a large and impressive couscous at the party she threw at the end of Passover to reintroduce flour to the home. She made couscous the traditional way — and it took all day!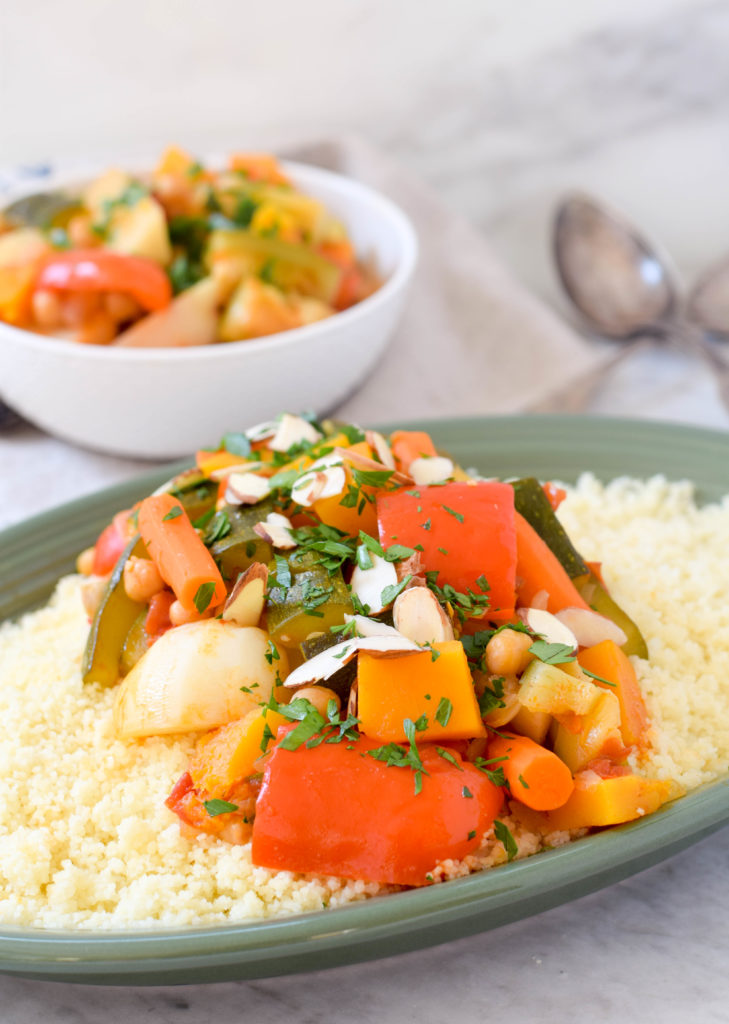 For us, the couscous we are most likely to see in the store is the quick-cooking, instant variety. I'm sure the taste is vastly inferior to the real thing, but it is hard to beat the convenience. One day, I hope to attempt un vrai couscous, but for now, I'm sticking with instant all the way.
So, given how quick and easy couscous is for us to make, there is no reason not to add this Couscous with Seven Vegetables to your Rosh Hashanah menu. It works well as a side dish for your brisket or chicken, offering both starch and vegetables in one. But, if you happen to have vegetarians attending your holiday celebration, this couscous would be a perfect main course for them because it offers healthy, vegetable-based protein in the form of chick peas.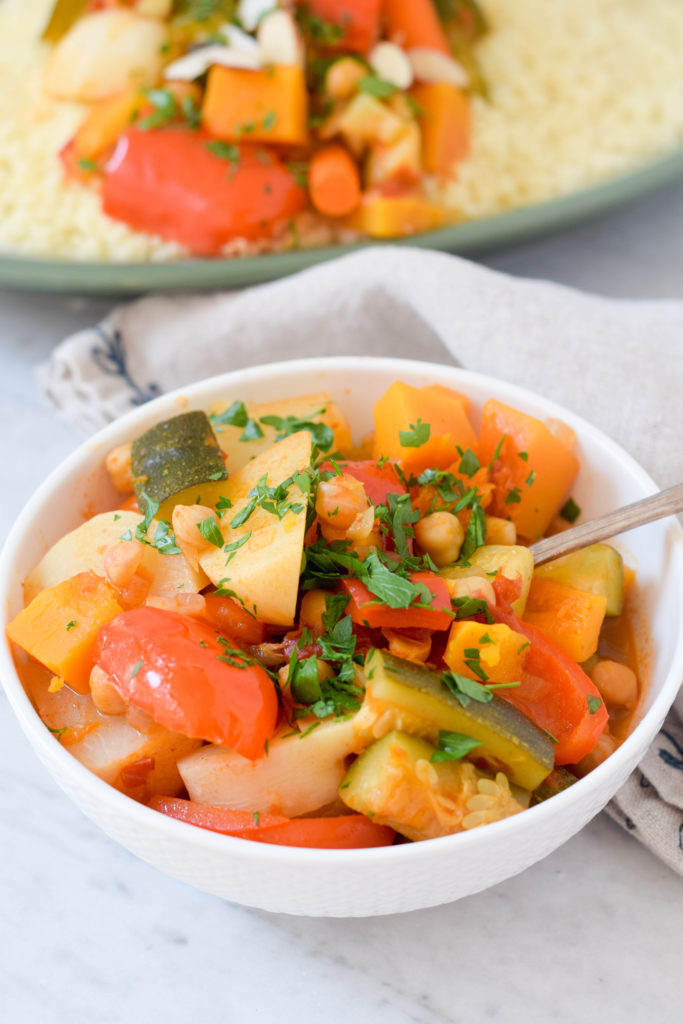 (If you do plan to serve this Couscous with Seven Vegetables to vegetarians just take care not to use chicken broth in either the vegetable stew or when preparing the couscous. Stick to vegetable broth or water. Chicken broth = not vegetarian, guys!)
You may be asking yourself, well, what seven vegetables did she use? Good question. My seven, for those of you counting at home, are: onions, tomato, zucchini, red peppers, carrots, turnips, and butternut squash. Notice the mix of sweet vegetables, like carrots and squash, and vegetables with a hint of bitterness, like turnips. This adds complexity to the dish.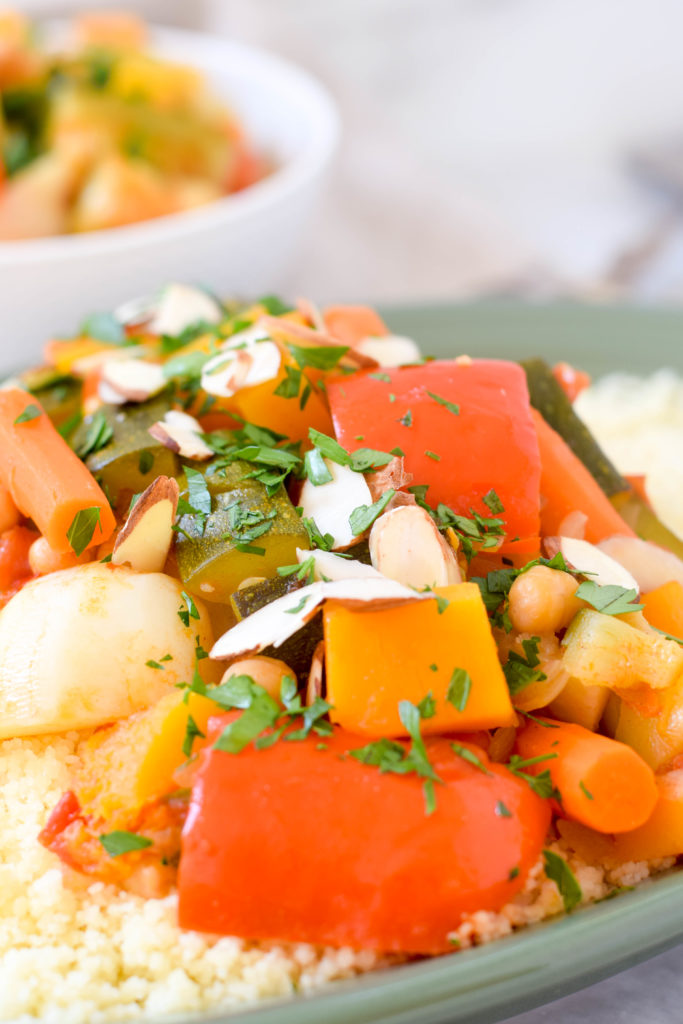 My seven is somewhat idiosyncratic because I want my family to actually eat this dish. So, while you might think eggplant would be just the thing for a Moroccan-inspired couscous, adding it here would cause the people in my house to order take-out. Thus, I give you permission to select your own seven vegetables. Try to have a mix, as I do here, of soft vegetables, like zucchini and tomato, and firmer ones like turnips and squash.
Moroccan food is highly seasoned, but not spicy. So you will notice a wide range of spices in this Moroccan-inspired dish, from paprika to cinnamon. I highly recommend adding some of the North African spice blend ras el-hanout – even if it means buying it just for this dish.
When added at the end of cooking, ras el-hanout adds sweet, earthy and even floral notes. That's because it is a mix of many different ingredients including, possibly, pepper, cinnamon, nutmeg, allspice, cumin, cardamom pods, rose petals, grains of paradise and many more that we might not even know. (Note that you should buy whole ras el-hanout and grind it yourself right before using.) The unique flavor of the ras el-hanout makes every bite of this dish a little bit different.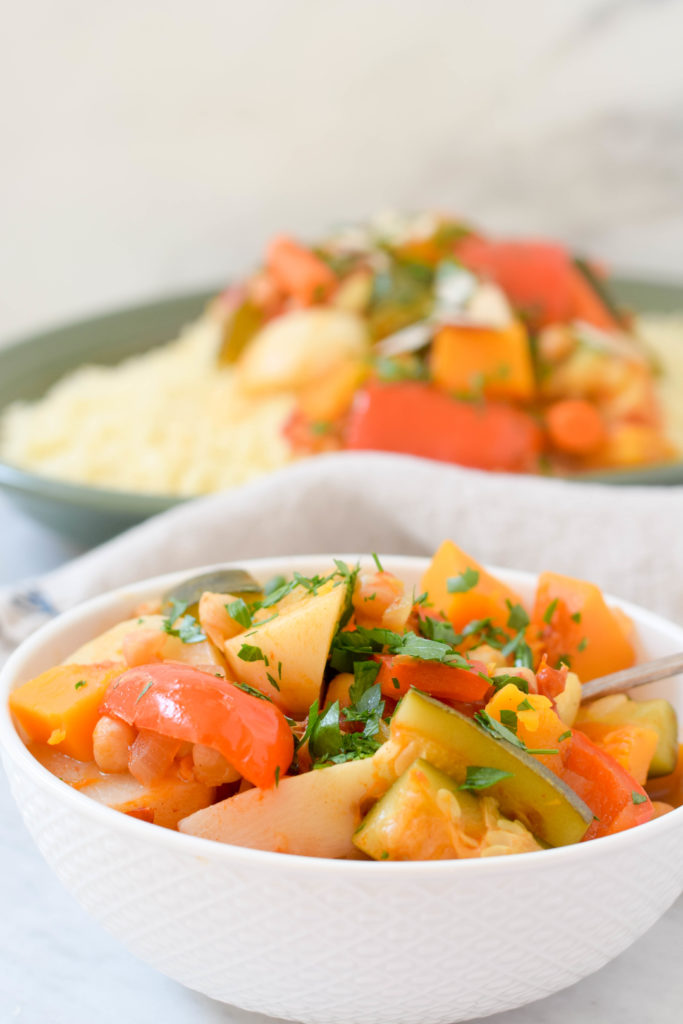 One more cooking note, you will notice that I suggest using ghee — or Indian clarified butter – to sauté the vegetables in. That's a nod to smen, a fermeted butter that is a very traditional Moroccan ingredient, but hard to source here. I like the rich, nutty flavor that ghee adds to this dish. Ghee is easy to find at South Asian markets or grocery stores with a good selection of global ingredients and it will keep for ages in your pantry. (Yup, your pantry.) If you don't have ghee on hand, feel free to use olive oil.
If Rosh Hashanah comes and goes with you having made Couscous with Seven Vegetables, do not despair. This dish would be equally appropriate and meaningful on Shabbat dinner, and truth be told, it's easy enough to make on a weeknight.
Couscous with Seven Vegetables
Ingredients
Seven vegetable stew

3 TB ghee or olive oil
2 small or 1 large yellow onion, diced
2 cloves garlic, minced
1 TB tomato paste
2 tomatoes, seeded and diced
2 tsp cumin
1 tsp paprika
1 tsp ground ginger
1 tsp cinnamon
1/2 tsp cayenne
2 red peppers, chopped
2 zucchini, halved and cut into wedges
2-3 small turnips, peeled and cut into wedges
1 bunch carrots (with tops on), peeled and chopped
1 butternut squash, peeled and cubed
4 cups chicken broth, vegetable broth, or water
1 15 oz can chick peas, rinsed and drained
2 tsp ras el-hanout
2 TB chopped flat-leaf parsley
Handful slivered almonds (optional) for garnish
Salt and pepper to taste

Couscous

1 box instant couscous
2 cups chicken broth, vegetable broth, or water
1 tsp salt
1 TB olive oil
Instructions
Heat the ghee or olive oil in a large deep saucepan or Dutch oven over medium heat.
Add the onions and sauté until softened, about five minutes. Season with salt and pepper.
Add the garlic and tomatoes and sauté until softened and thickened, about five minutes. Add the tomato paste and spices and sauté a few additional minutes.
Add the red peppers, zucchini, turnips, carrots and squash and broth or water.
Bring to a boil, reduce heat and cover. Simmer until vegetables are tender, about ten minutes.
Remove cover and add chick peas. Simmer until chick peas are heated through and stew is thickened, another 5-10 minutes. (May be done ahead up to this point.)
Meanwhile, make couscous according to package directions. Bring two cups of broth or water to a boil. Add couscous and stir to combine.
Remove from heat and cover. Let stand five minutes.
Remove cover and fluff couscous with a fork to break up any clumps.
Just before serving, add the ras el-hanout, if using, to the vegetable stew. Taste and adjust seasonings.
To serve, spread the couscous on a platter or shallow dish with a well in the middle. Spoon the vegetable stew over the couscous. Garnish wtih chopped parsley and slivered almonds.
http://www.westoftheloop.com/2017/09/15/couscous-seven-vegetables/
SaveSave
SaveSave
SaveSave
SaveSave
SaveSave