This shop has been compensated by Collective Bias, Inc. and its advertiser. All opinions are mine alone. #SKSHarvest #SeasonalSolutions #CollectiveBias
Take advantage of the fall harvest by making this ruby-red cranberry applesauce and canning it in SKS Clear Glass Mason Jars to enjoy all winter long!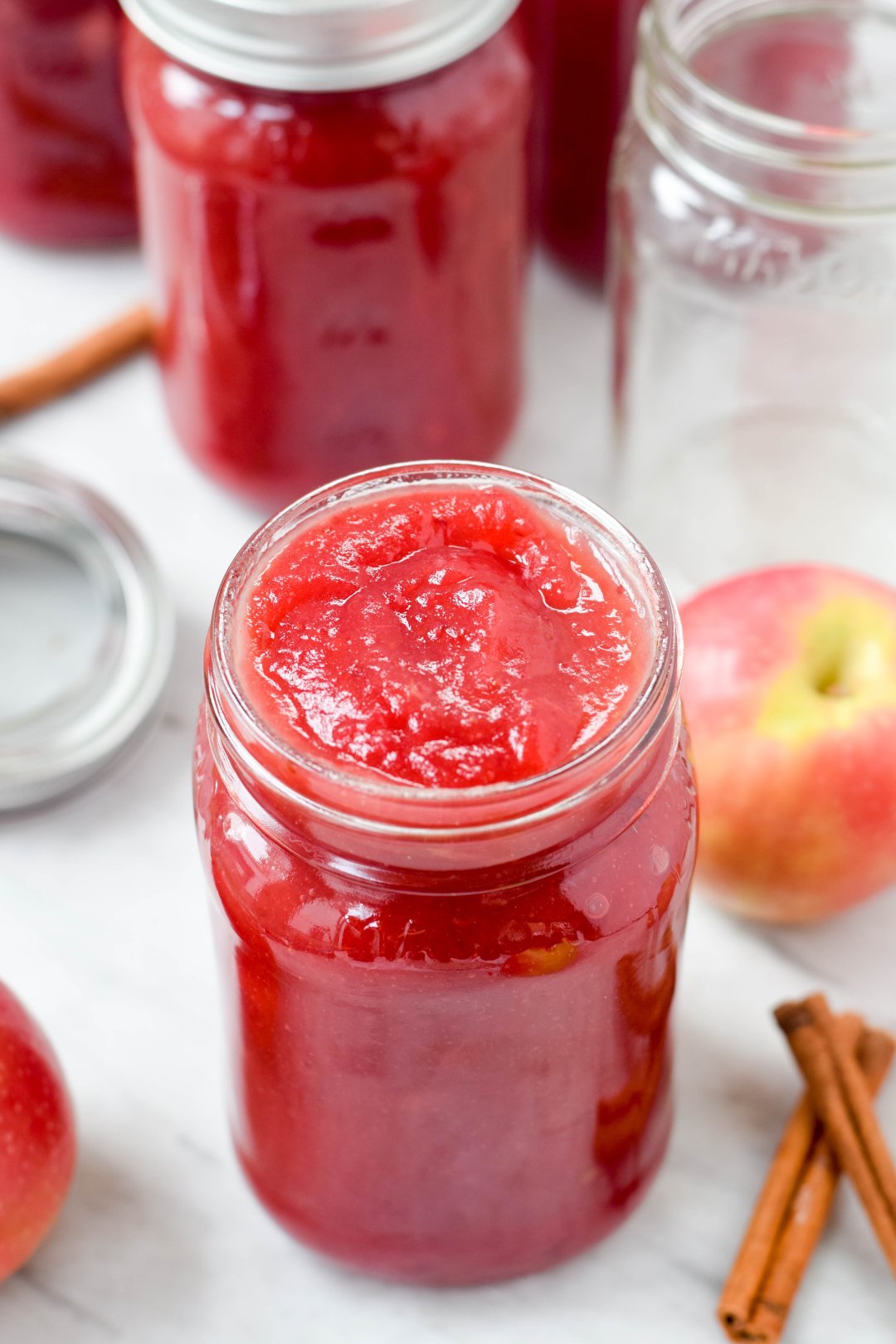 Hover over this image to shop the jars I used!
Summer may be over, but at least the fall is apple season. Whether you visit an apple orchard to pick your own or stock up on heirloom varieties at a local farmers market, now is the time to enjoy the tremendous variety of cooking, baking and eating apples.
When busy schedules do not allow for a trip to the apple orchard, I content myself with visiting the Oak Park Farmers Market where vendors display rows and rows of green, red and yellow apples with fanciful names such as Cox's Orange Pippin, Arkansas Black, Ozark Gold and the Roxbury Russet.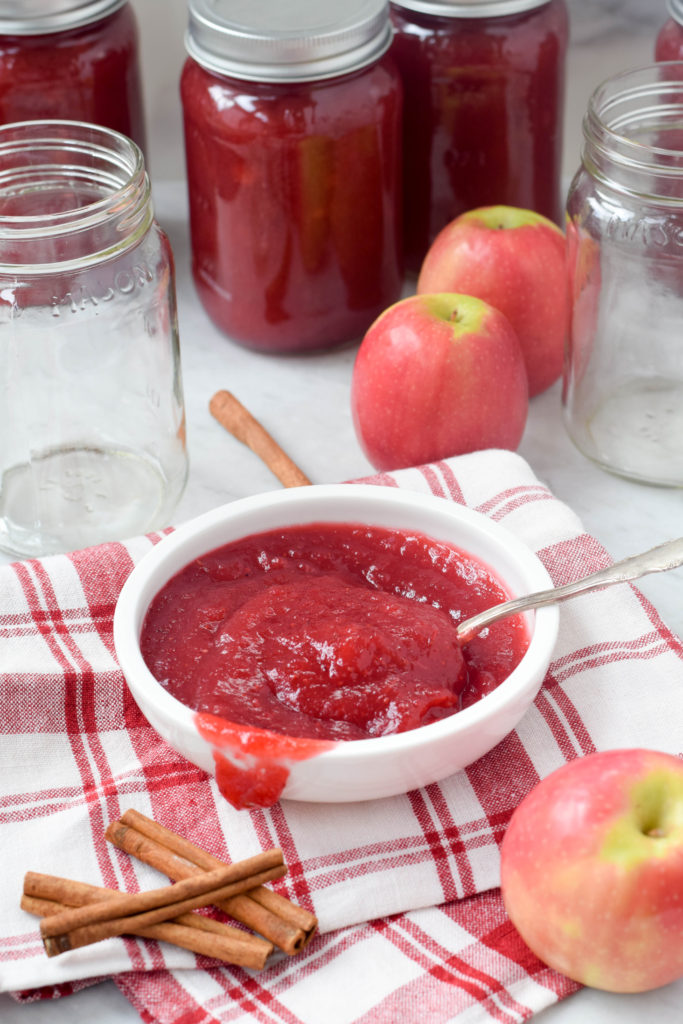 All through the fall months, my family eats apples like they are going out of style. We put them in salads; we eat them with cabbage and use them as a savory stuffing for chicken. And of course, I do my best to preserve local apples while they are in season by turning them in apple butter and homemade applesauce.
Making applesauce is particularly special for Jewish families like mine because, come Hanukkah, we need applesauce to top our latkes, the potato pancakes that are the centerpiece of our holiday meal. And homemade applesauce, especially when made with local heirloom apples, is vastly superior to store-bought.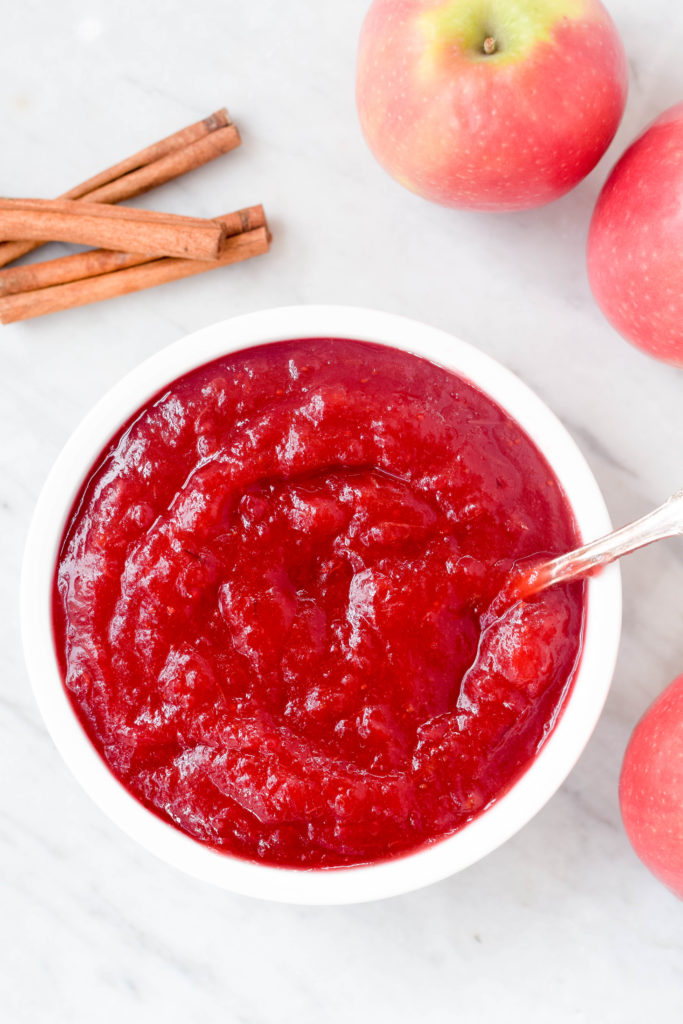 Another reason to make your own applesauce? You can customize it to your family's tastes but using different spices and even adding additional fruits. I like to combine local apples with another fall crop: cranberries. Nearby Wisconsin is one of the largest cranberry-growing states in the country so I am able to buy locally-grown cranberries at my farmers market. The cranberries add tartness and a beautiful rosy color to this applesauce.
I always make this crimson-hued applesauce in September when whole cranberries and heirloom varieties of apples are readily available at farmers' markets, and put up several jars to accompany our Hanukkah latkes in December. Wouldn't you love to have homemade applesauce to enjoy all winter long too?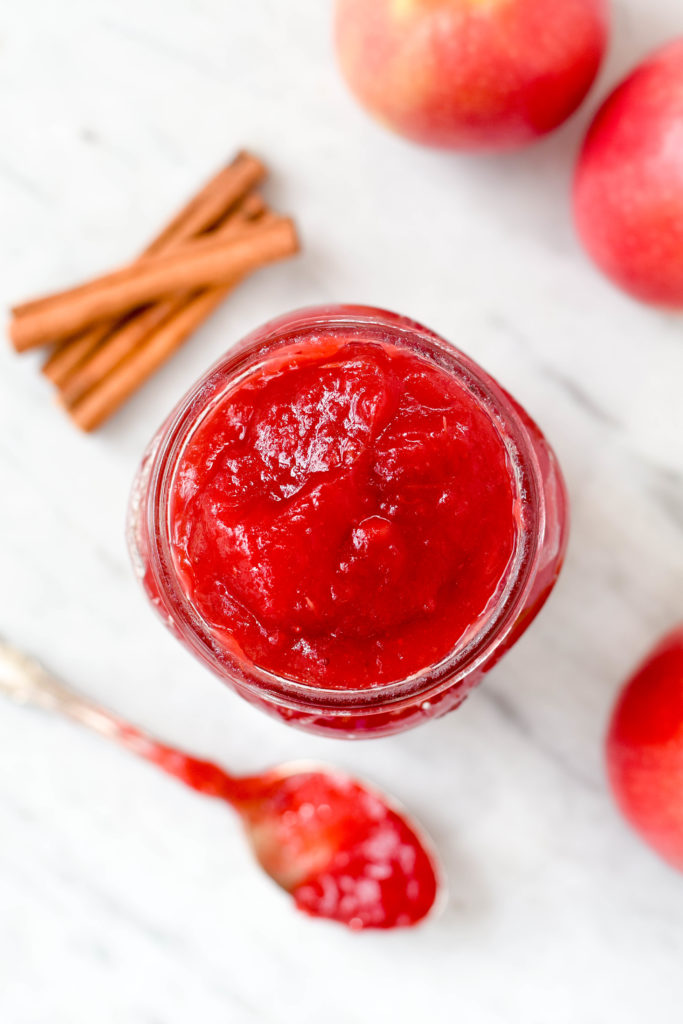 If you are new to preserving, don't worry. Homemade applesauce is one of the easiest preserving projects out there and it is perfect for beginners. No worrying about pectin — what's that? — or whether your jam has set. Applesauce is practically foolproof.
You don't even need any special equipment. If you don't have a big canning pot, you can use any large stock pot to create a boiling water bath. Just be sure to place a rack or silicone trivet in your pot and place the jars on top of the rack. You do not want to place the jars directly on the bottom of your pot because they could crack.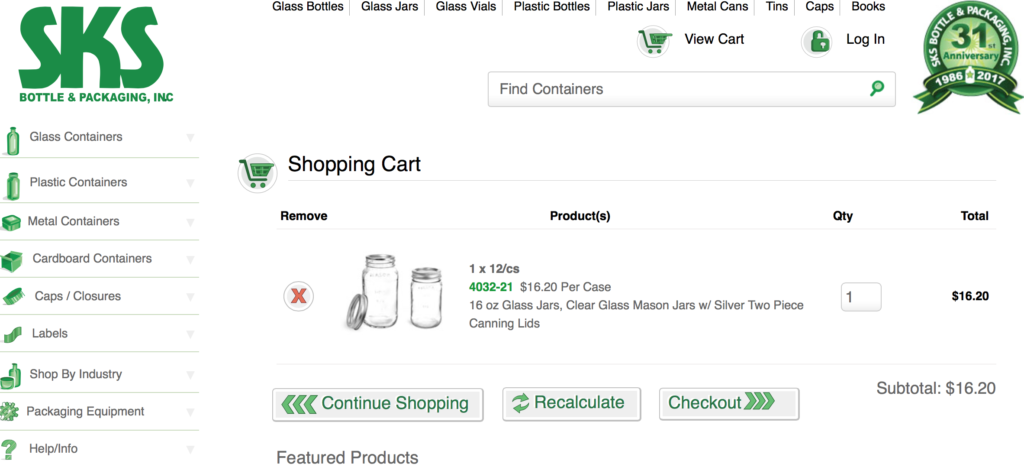 One thing you will need to purchase, however, are jars designed for home canning use. I recommend ordering online from SKS Bottle and Packaging. Whether you are looking for jars and containers for home food preservation, crafts, organization or other DIY projects, you will find what you need at SKS. Most SKS glass jars are made in the USA and are 100% recyclable. And ordering online is so easy and convenient!
For applesauce and other canning projects, I rely on SKS Clear Glass Mason Jars, pictured above, which come in two sizes, and have a two-piece silver plastisol lined lid specifically designed for home canning use. The plastisol liner is activated by heat to create a hermetic seal with the Mason jars, thereby making your food shelf-stable for up to one year. But there is no way your homemade cranberry applesauce will last that long. Better make a few extra jars!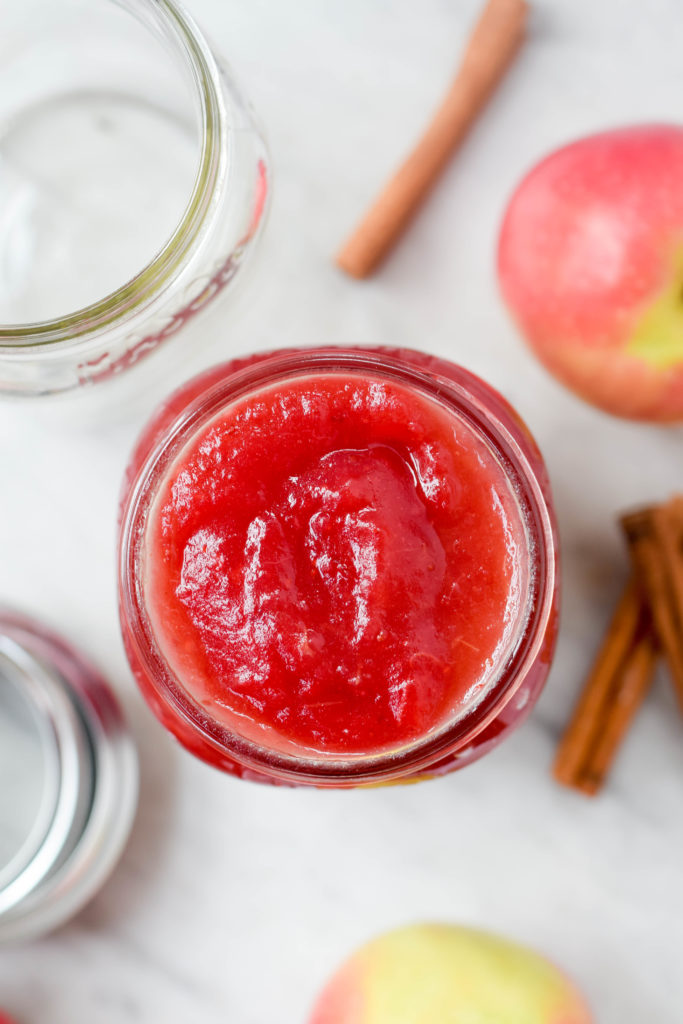 Homemade Cranberry Applesauce
Ingredients
4 lbs. apples
4 cups cranberries, fresh or frozen (not dried)
2 cups water
1/2 cup lemon juice
1 3/4 cup sugar
1/2 tsp cinnamon
1/4 tsp cloves
Instructions
Peel, core, and roughly chop the apples. Combine the apples, cranberries, water, and lemon juice in a large saucepan.
Bring the liquid to a boil, turn down the heat to low and simmer the apples, covered, stirring occasionally.
Meanwhile, prepare a boiling water bath and heat 4 pint-sized glass Mason jars in the water.
When the apples are tender, about 30 to 45 minutes depending on the varieties you use, remove from the heat. Mash the apples with a potato masher. For a smoother texture, purée with an immersion blender but leave some chunkiness.
Add the sugar and spices and return mixture to a simmer, stirring to dissolve the sugar and distribute the spices.
Ladle the sauce into the clean, warm jars leaving 3/4 inch of headspace at the top of the jars.
Run a thin plastic or wooden utensil, such as a chopstick or a knife, around the inside of the jars to release any air bubbles. Wipe the rims of the jars with a damp cloth to remove any residue.
Place the lids on the jars and screw on the rings just until you feel resistance.
Process the jars in a boiling water bath for 15 minutes. Allow to cool in the water for 5 minutes before removing.
Store in a cool, dark place for up to 1 year.
http://www.westoftheloop.com/2017/09/18/homemade-cranberry-applesauce/
SaveSave
SaveSave
SaveSave
SaveSave
SaveSave