Shake up your pumpkin with chershi kara'a, a tangy, spicy pumpkin spread that comes from Libyan Jews and is now a favorite among Israelis. So easy to make!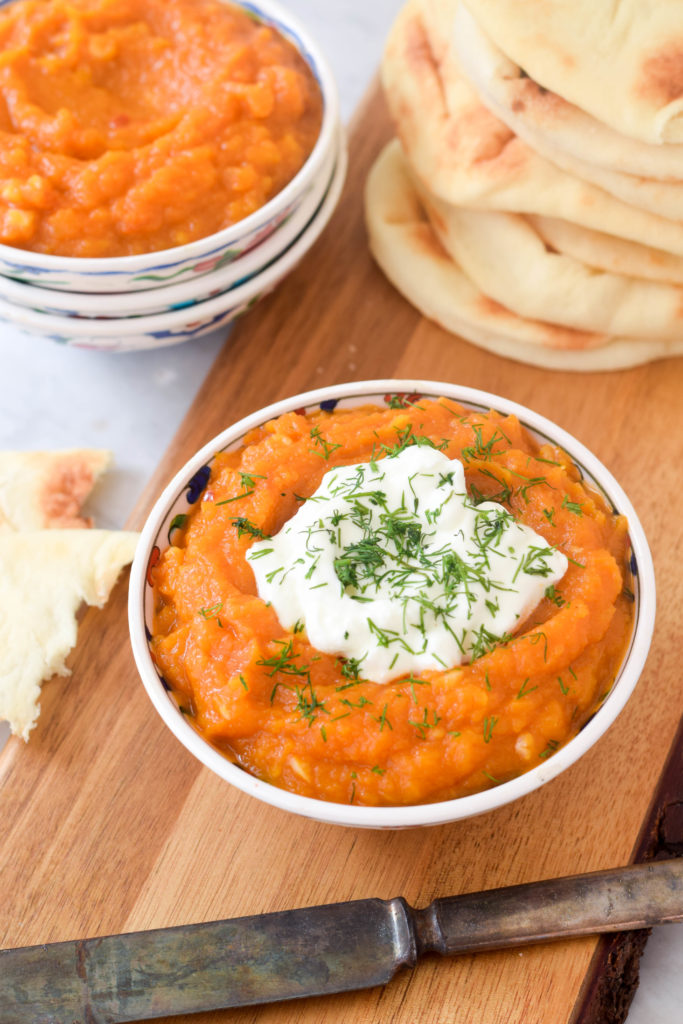 After making pumpkin pie last week, I had approximately three cups of pumpkin purée left over. I debated about what to do with it. Pumpkin bread? Pumpkin pancakes? Pumpkin whoopie pies? The sweet options were endless.
But then I remembered that pumpkin is also a wonderful savory ingredient. Think about pumpkin ravioli or pumpkin chili. And, with its high levels of vitamins A and C, potassium and fiber, pumpkin can be really good for you — when not combined with tons of butter, sugar and cream, that is!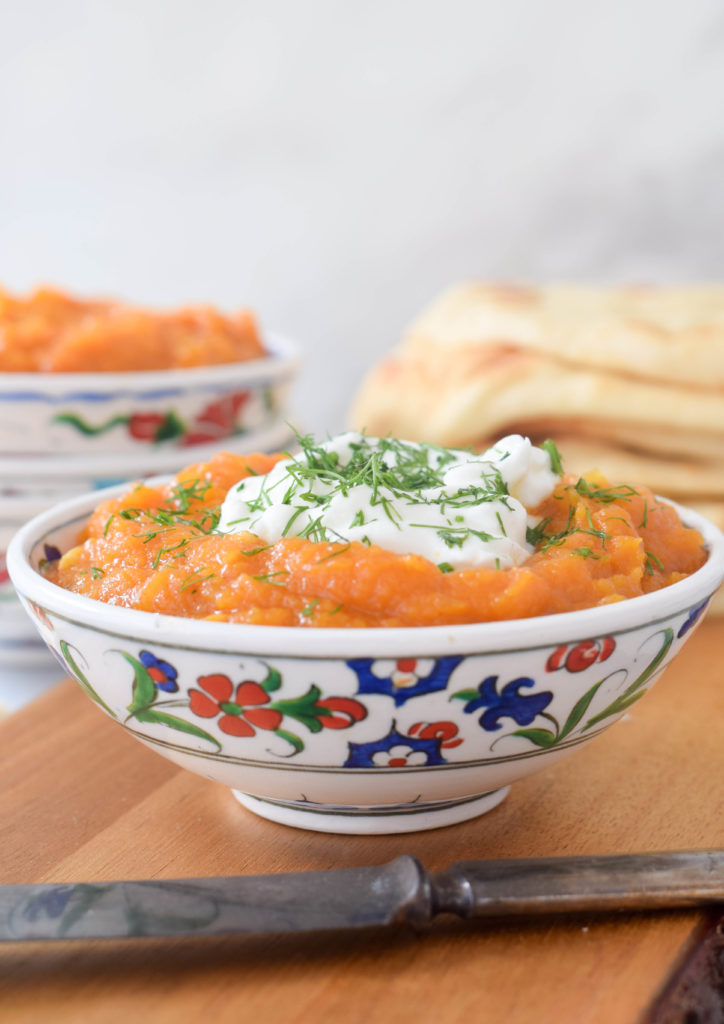 There are a million pumpkin recipes out there, so I wanted to offer you a recipe for something new —  perhaps a dish you had not heard of before. That dish is chershi kara'a, a spicy pumpkin spread that is a traditional dish of Libyan Jews, particularly from around Tripoli. This dish is particularly appropriate as we approach the Jewish harvest holiday of Succot.
Jews from Tripoli have a "rich and distinctive" cuisine, according to none other than Yotam Ottolenghi, the Israeli superstar chef. Chershi (sometimes spelled chirshi or tershi) are spicy, highly flavored condiments or dips that are typically served as part of mezze, the spread of hot and cold dishes that precede the main meal in the Middle East and North Africa. Pumpkin chershi is among the most famous. (Kara'a is the Hebrew word for pumpkin.)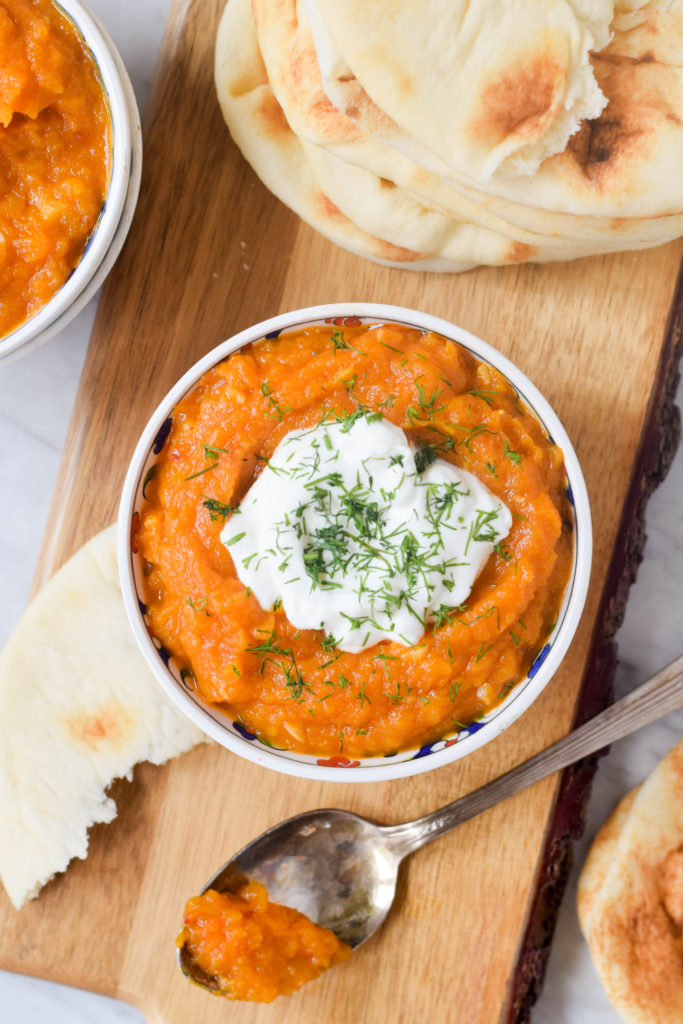 I learned about pumpkin chershi recently, when I was fortunate enough to attend an event with the Israeli consulate here in Chicago. The event featured a leading Israeli food personality named Gil Hovav making some traditional Sephardic dishes, one of which was chershi. One taste of Gil's savory, spicy chershi — like no other pumpkin dish I had ever had — and I was hooked.
It's funny about pumpkin. It's a new world vegetable yet it's very common in Sephardic cuisine. Saffron-colored pumpkin jam is a traditional Rosh Hashanah dish for Sephardic Jews — which is why I included a killer pumpkin butter recipe in The Joys of Jewish Preserving. You also will see triangular savory pies filled with pumpkin, pumpkin fritters and even candied pumpkin sweets known as dulces throughout the Sephardic world.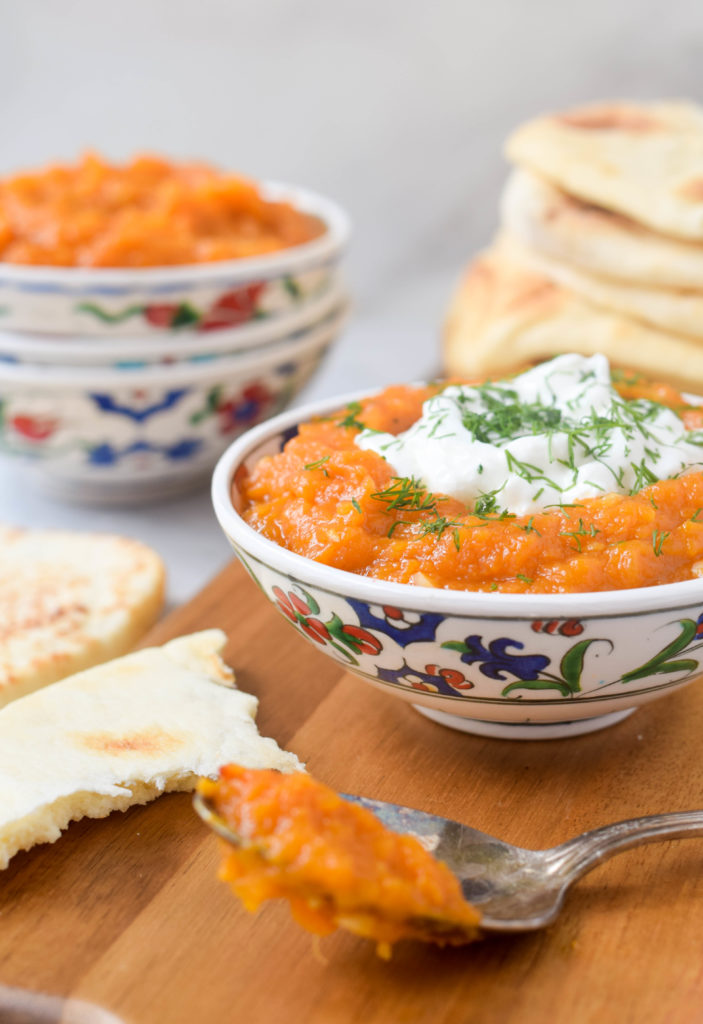 Why this love affair between Sephardic Jews and pumpkin? Remember Sephardic Jews trace their ancestry to Spain. Pumpkin came to Spain as one of the many new vegetables discovered in the Americas and there it was adopted enthusiastically by the Jews. As the Iberian Jews spread throughout the Mediterranean, Middle East and North Africa following their expulsion from Spain, they brought their pumpkin dishes with them.
Not surprisingly, there are many ways to make pumpkin chershi. In his dish, for example, Gil Hovav mixes the pumpkin with carrot and potato. Others use only pumpkin. But everyone seems to agree that chershi should be spicy and tangy, with lots of garlic and lemon juice.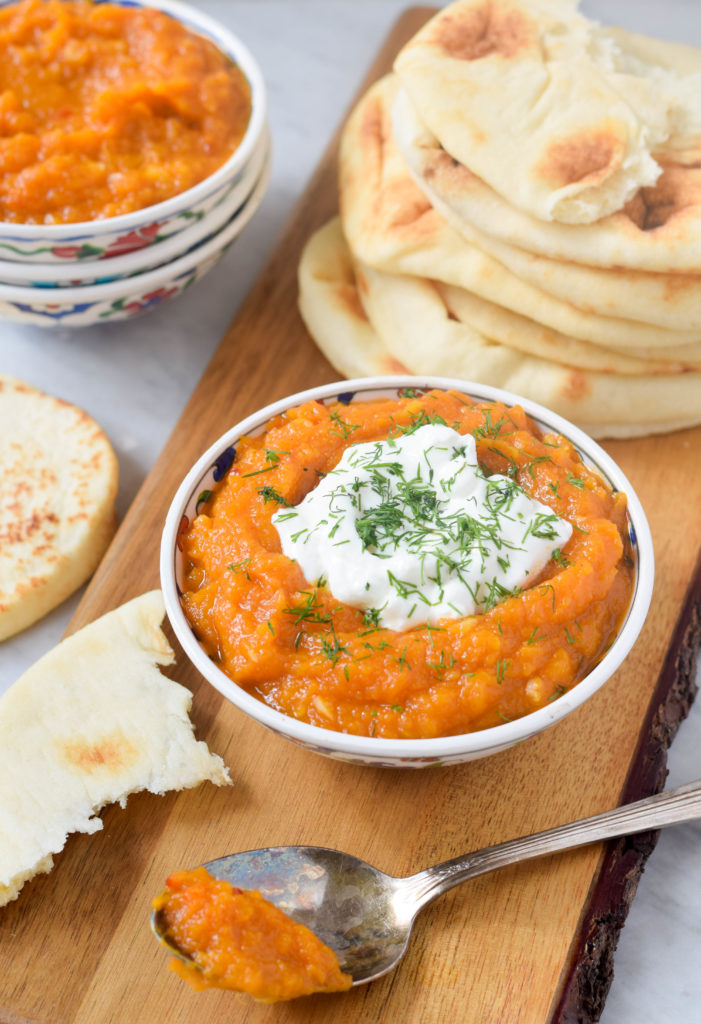 One of the best things about chershi is how easy it is to make. So I wanted to make sure my chershi recipe was accessible for American cooks, who know a thing or two about cooking with pumpkin, but may not have made chershi before. The only ingredient you might not have on hand is the harissa, but these days, it is easy to find harissa at the grocery store. If you don't have it, add cayenne for heat. (Gil Hovav argues that powdered caraway seed is essential to chershi, but I have seen plenty of recipes without it and since few Americans would have this spice in their pantries, I omitted it.)
In the interests of keeping things easy, feel free to make this recipe with canned pumpkin puree. I do, however, think it is best with pumpkin puree made from fresh pumpkin. To make this recipe using an actual pie pumpkin, remove the stem, carefully cut the pumpkin in half, and scrape out the seeds. Fit it into a baking dish, cut sides down, filled with 1/2 inch of water. Cover tightly with foil and bake at 400 degrees until very soft, about 45 minutes. When the pumpkin halves are cool enough to handle, scrape out the flesh and mash with a fork. (This will likely leave you with more pumpkin than you will need so refrigerate or freeze the rest.)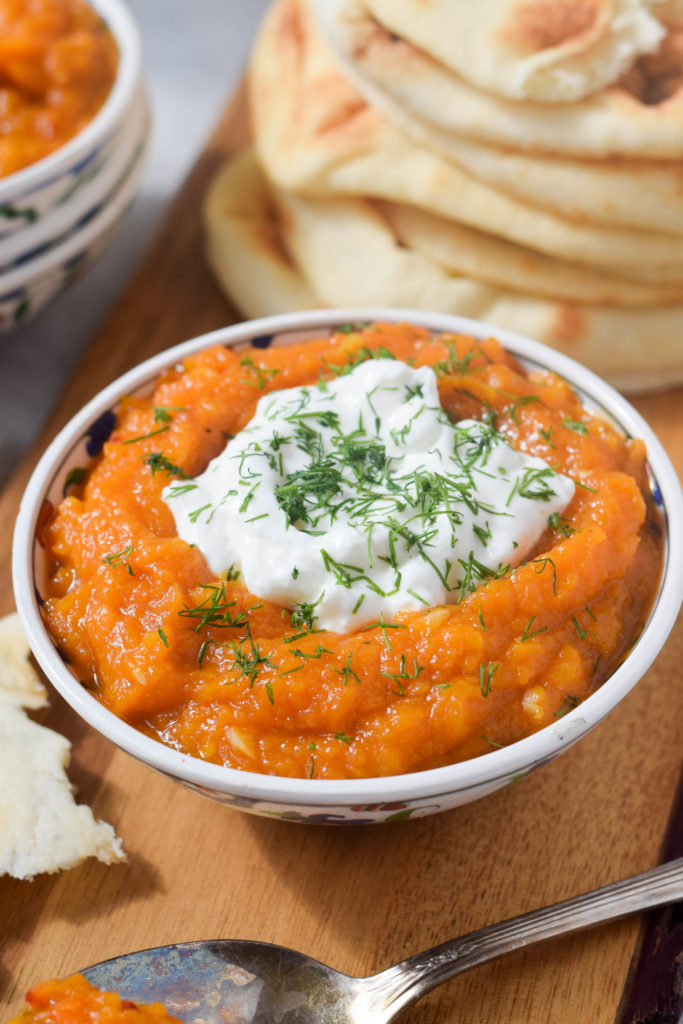 I think my pumpkin chershi recipe has a nice balance of sweetness, heat, and acid. And I guarantee that it will change how you think about pumpkin. How best to eat it? Chershi makes a fantastic dip alongside some warm pita with a dollop of cool yogurt on top. But don't stop there. Chershi also makes a fabulous sandwich spread and it has always been eaten as a garnish for couscous. Perhaps try it with this Couscous with Seven Vegetables?
So, this fall, promise me you will take a break from pumpkin bread and pumpkin pancakes and pumpkin spice lattes and make something new with pumpkin. Let's make pumpkin chershi a household name!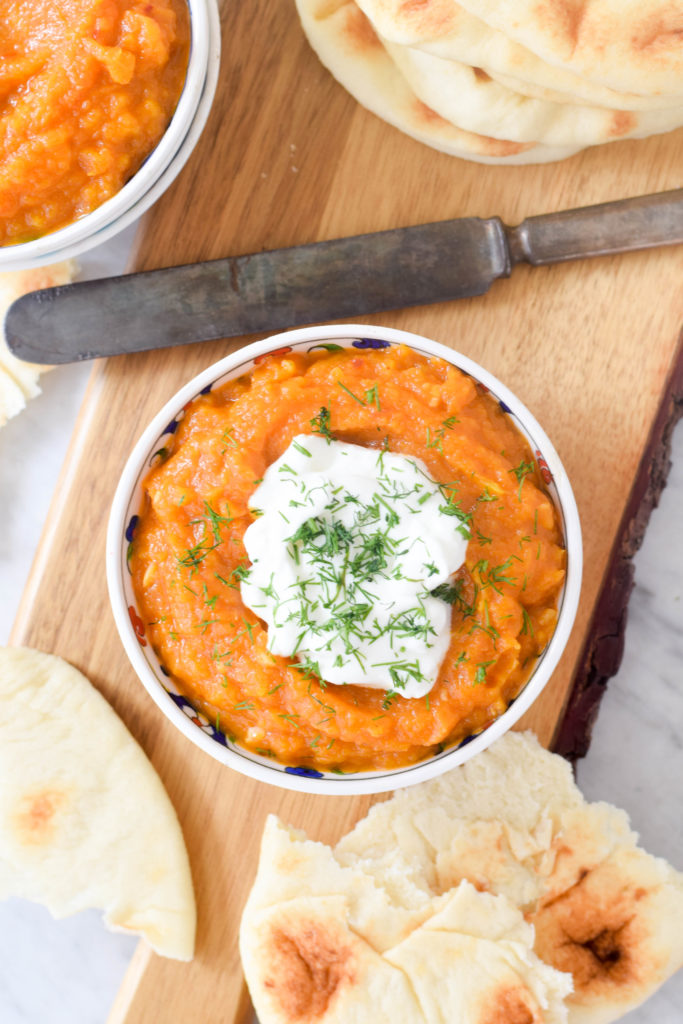 Chershi Kara'a (Libyan Pumpkin Spread)
Ingredients
1/4 cup plus 2 TB extra-virgin olive oil
7 coves garlic, minced
1 tsp cumin
1/2 tsp smoked paprika
Pinch red pepper flakes
2 cups pumpkin puree (canned or homemade)
3 TB harissa
1 TB honey
Juice of one lemon
Instructions
Heat 2 TB of the olive oil in a medium saucepan over medium heat.
Add the garlic, cumin, paprika and red pepper flakes. Season with salt and stir to combine.
Cook just until garlic begins to turn golden. Add pumpkin, harissa, and honey and stir to combine.
Cook gently, just until pumpkin is warmed through.
Remove from heat and stir in lemon juice.
Taste and adjust seasoning. Dip should be tangy and spicy.
Serve with Greek yogurt and warmed pita or as a garnish for couscous.
Will keep in refrigerator for a week.
http://www.westoftheloop.com/2017/10/03/chershi-karaa-libyan-pumpkin-spread/
SaveSave
SaveSave
SaveSave