Today's post for an irresistible parmesan snack mix, perfect for fall parties and tailgates, is sponsored by Parmigiano Reggiano. I am proud to be a 2017 Parmigiano Reggiano Brand Ambassador. Real Parmigiano Reggiano, imported from Italy, is the only parmesan for me!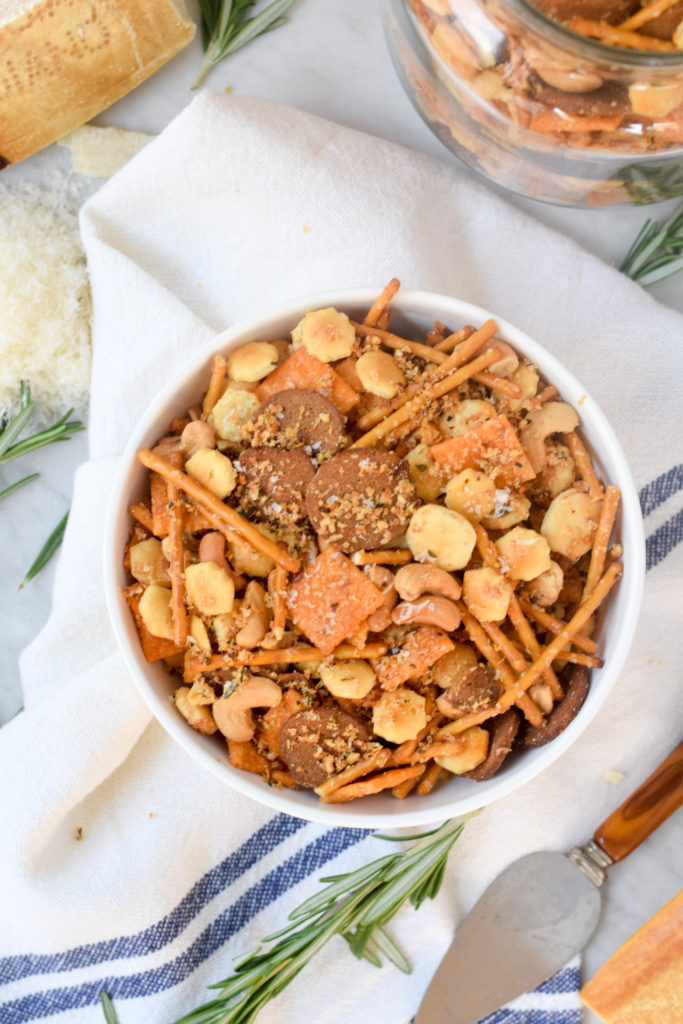 Fall sports season has arrived! Whether you are hosting super-fans to watch the baseball post-season or tailgating before your favorite team kicks off, you need snacks. And you are not about to open a bag of chips and call it a day. What you need is the ultimate, salty/crunchy/spicy, downright addictive snack mix. Well, here you go.
The secret ingredient in my snack mix is…well okay, there are actually two secret ingredients. The first secret ingredient is rye chips. These dark, super-crunchy chips can be hard to find, but they are so worth searching for. They add an extra textural element as well as nice color to the mix. I love grabbing a handful of snack mix, crunching away and then biting down on that extra-hard rye chip. It's like a little surprise for my teeth.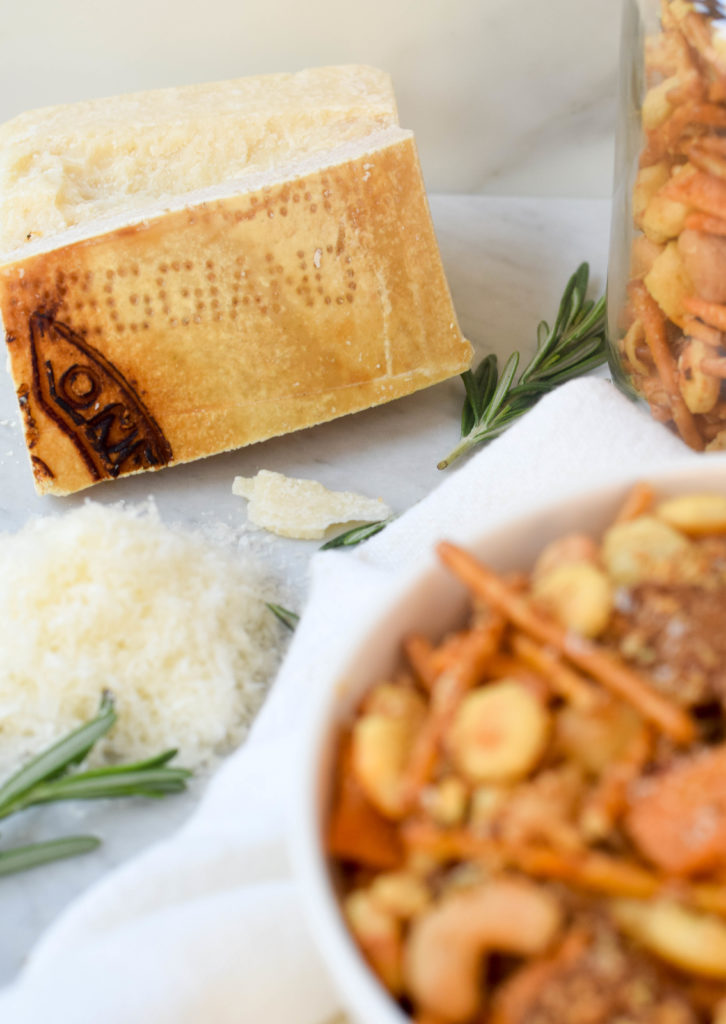 But the second, and most important, secret ingredient in my Parmesan Snack Mix is — you guessed it — Parmigiano Reggiano cheese. You know the one: real, aged Parmesan cheese imported from Italy. In Europe, Parmigiano Reggiano, is the only cheese allowed to call itself "parmesan" because "parmesan" literally means "from Parma."
Here in America, however, other cheeses, including ones that are not even from Italy, can use the parmesan name. This leads to a lot of confusion and, sadly, consumers buying an inferior product. But you can make sure you are getting the true Parmigiano Reggiano by looking for the telltale name and pin dots on the rind. I buy mine at Whole Foods but other good grocery stores carry it as well.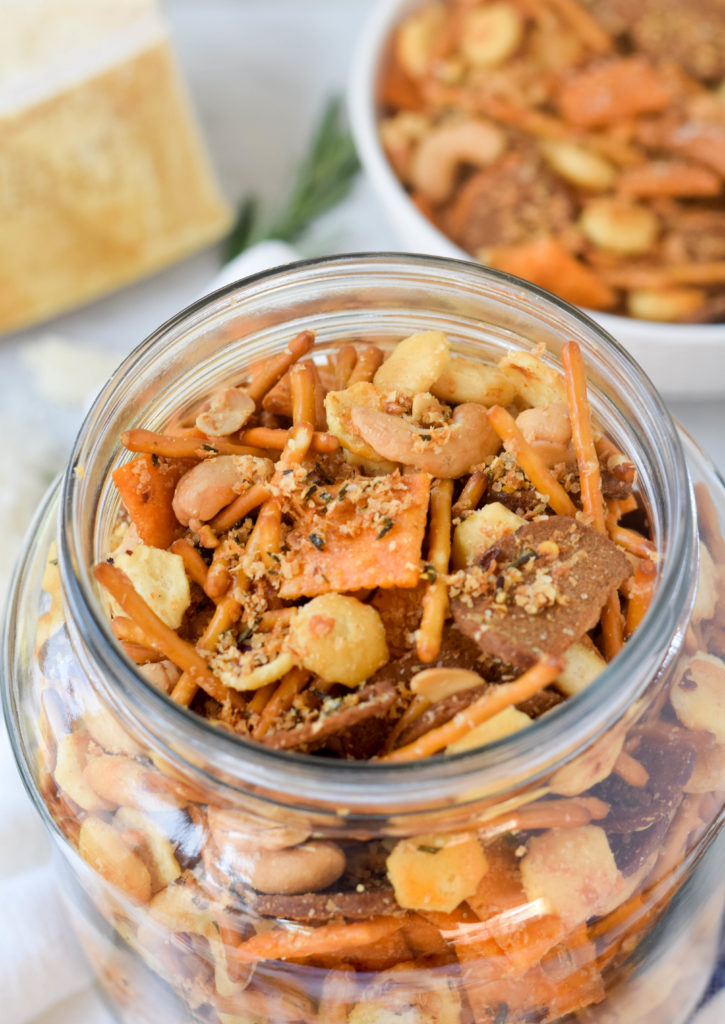 Why does the authenticity of your Parmesan cheese matter so much? Because real parmesan is made according to strict standards, aged, and tested before it is permitted to bear the Parmigiano Reggiano name. The result is a full, rich, nutty flavor combined with a pleasantly assertive bite. (When my brother Tim was little, he loved to nibble on hunks of parmesan which he called "tough cheese." I think he was referring to that sharp bite.) The copies, on the other hand, tend to be one-dimensional salt bombs.
Trust me, I would never buy anything other than real Parmigiano Reggiano and in my kitchen, it is a staple ingredient right up there with extra-virgin olive oil, good kosher salt, and lemons.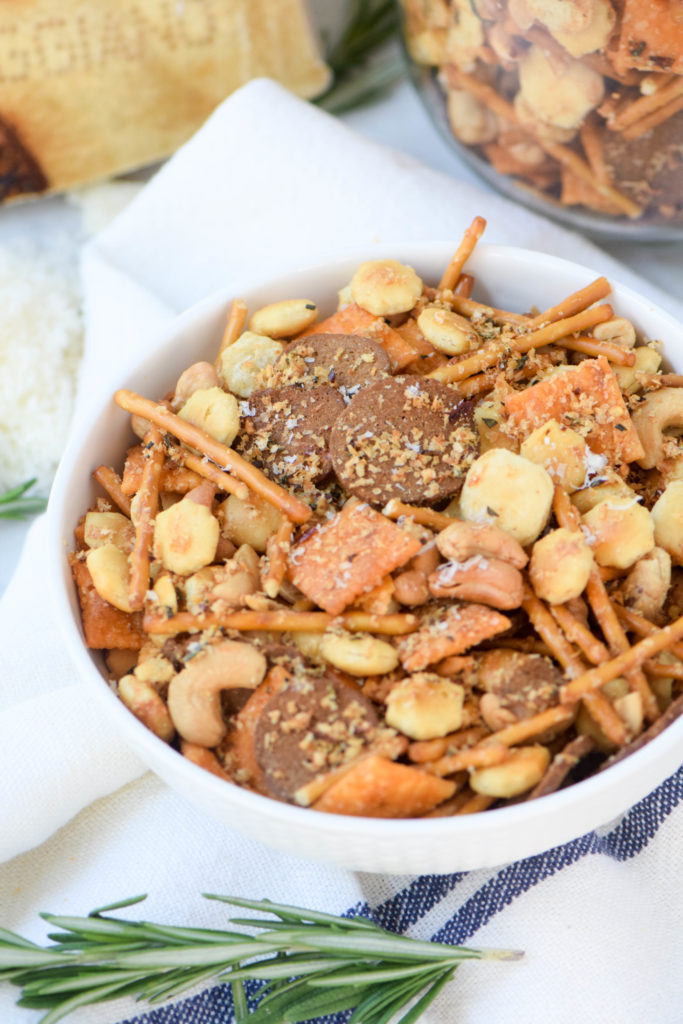 In my parmesan snack mix, the grated cheese adds depth of flavor as well as saltiness. And when the grated parmesan is baked in the oven it becomes irresistibly crispy. The cheese combined with other Italian ingredients like fresh rosemary and spicy red pepper flakes is what elevates this party mix above ordinary game-time fare.
Taking the time to create a homemade snack mix with top-quality ingredients, fresh herbs and spices sends the message to your friends and family that you don't mind going the extra mile for them.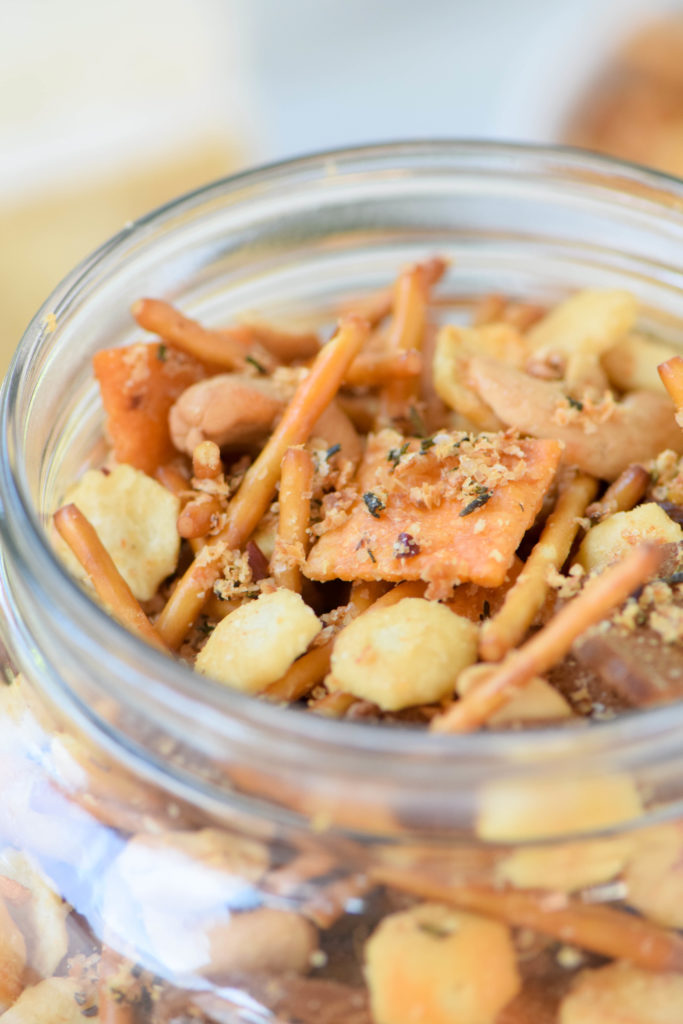 The good news is, it really doesn't even take that much extra time. A few minutes to grate the parmesan, mince the garlic and chop the rosemary is all the work that is required. Toss everything together and bake it in a low oven for thirty minutes, during which time you can be straightening up the house, chilling some beers, painting your face in team colors or otherwise getting ready for the game.
Not into fall sports? That's fine too. This parmesan snack mix makes a great bring-to-work or after-school snack. It's perfect for potlucks and road trips. Or just munch away during your next Netflix binge. Trust me, you won't be able to resist having just one more handful.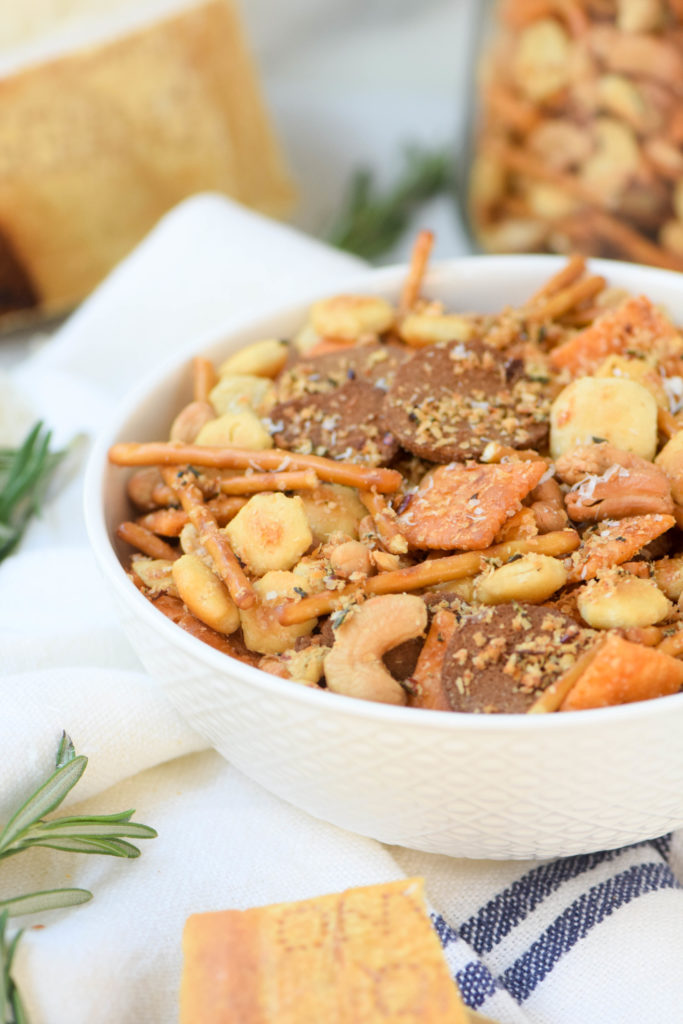 Parmigiano Reggiano Snack Mix
Ingredients
2 cups oyster crackers
2 cups pretzel sticks
2 cups cheese crackers
2 cups rye chips
2 cups unsalted cashews
1 1/2 cups grated Parmigiano Reggiano
4 cloves garlic, minced
1 TB chopped rosemary
1 TB brown sugar
1 tsp red pepper flakes
4 oz. butter, melted
Instructions
Preheat oven to 300 and line a large, rimmed baking sheet with parchment paper or foil.
In a large bowl, toss the oyster crackers, the pretzels, the cheese crackers, the rye chips and the cashews.
Add the grated Parmigiano Reggiano, garlic, rosemary, sugar and red pepper flakes.
Toss to combine.
Pour the melted butter over the combined ingredients and toss gently to coat.
Spread the mix on the prepared baking sheet in an even layer.
Bake for 30 minutes, tossing halfway through.
Allow to cool and serve right away or store in an airtight container for up to 5 days.
http://www.westoftheloop.com/2017/10/05/parmigiano-reggiano-snack-mix/
Full disclosure time: I am a 2017 Brand Ambassador for Parmigiano Reggiano and in the capacity have received compensation for my work. As always, all opinions expressed herein are entirely my own.
SaveSave
SaveSave