By posting this recipe for Salmon Poke Dip, I am entering a recipe contest sponsored by the Seafood Nutrition Partnership and I am eligible to win prizes associated with the contest. I was not compensated for my time.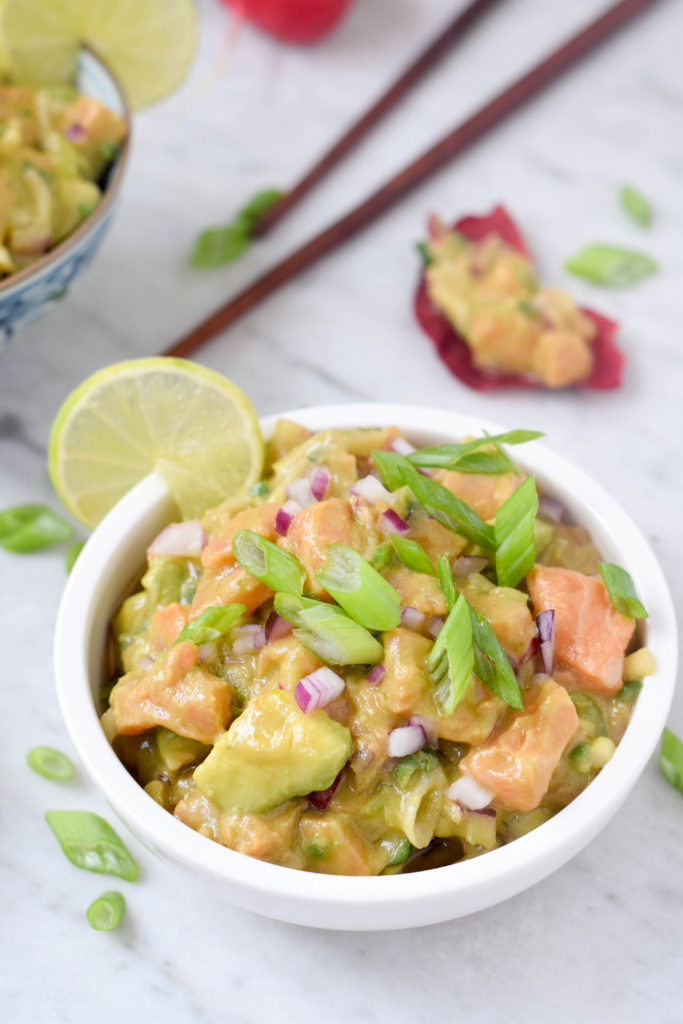 Did you know that October is National Seafood Month? That makes October the perfect time to remember how healthy and satisfying seafood can be, whether you are eating it for breakfast, lunch or dinner.
Seafood is one of the leanest sources of protein out there and it is packed with nutrients such as Omega-3s, which are essential for heart health. Eating seafood twice a week reduces the risk of death from any health-related cause. That's incredible. Yet only one in ten Americans eat seafood this regularly.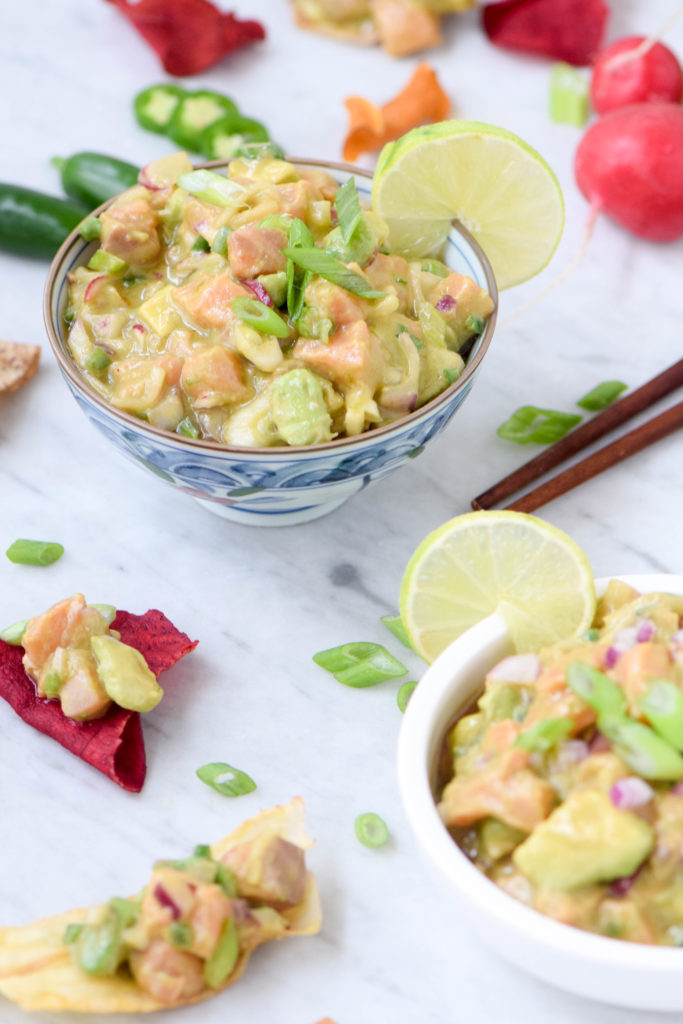 I think many people love to eat fish and shellfish in restaurants, but are intimidated to cook it at home. They worry that seafood is too expensive, or that it is difficult to prepare. But I think these are misconceptions. Fresh, local, in-season catches can be quite easy on the wallet, and don't overlook frozen options and canned seafood, such as tuna or salmon.
Seafood is often easy and straightforward to prepare. One of the best things about cooking seafood at home is how quickly it is ready. Some seafood recipes can be ready in under 15 minutes!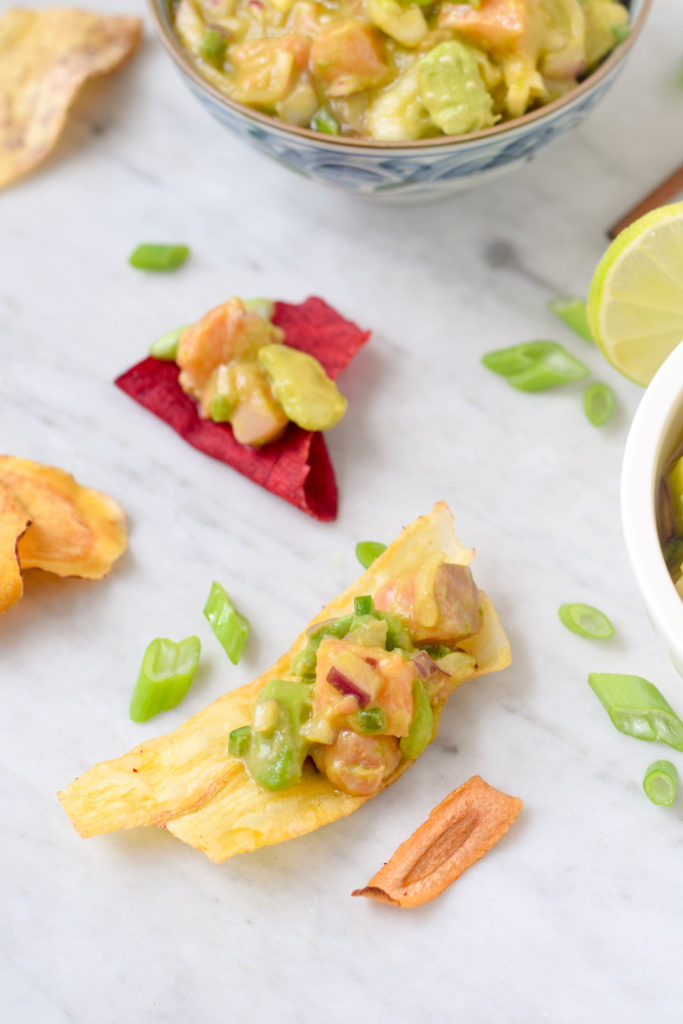 To achieve the goal of eating seafood twice a week, it helps to expand your idea of when to eat seafood. For example, with the holiday entertaining season approaching, consider using seafood in an appetizer. And no, I am not talking about yet another shrimp cocktail or crab dip!
When you think about appetizers and hors d'oeuvres made with seafood, do you think about shellfish? I think most of us do. But shellfish is not an option for everyone. As many of you know, I am allergic to shellfish, including shrimp, crab and lobster. And people who observe the kosher dietary laws do not eat shellfish for religious reasons.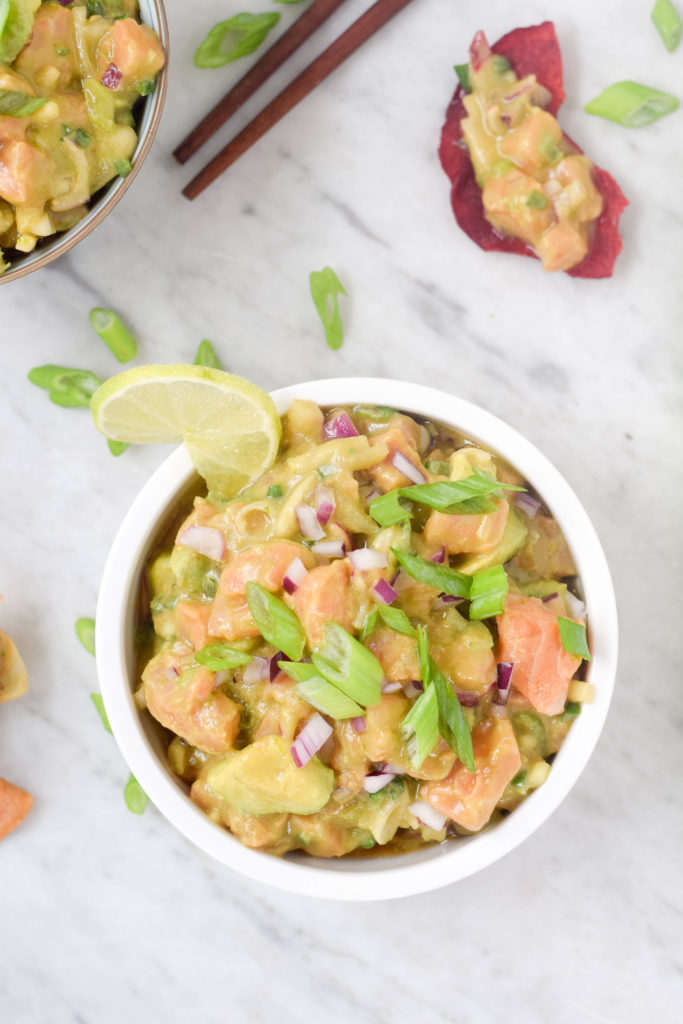 However, there are plenty of delicious and festive appetizers that can be made with fin fish. For example, the gravlax, or cured salmon, that my mother and I serve at the holidays are a terrific, make-ahead appetizer.
Today, I want to suggest another salmon appetizer: Salmon Poke Dip. You know about poke (pronounced po-kay), right? This Hawaiian marinated raw fish salad, typically made with Ahi tuna and an array of crunchy, flavorful veggies, was one of the big food trends of 2016. Now restaurants where you can customize your own poke bowl are popping up everywhere. I bet at least three people in your office ate a poke bowl for lunch this week.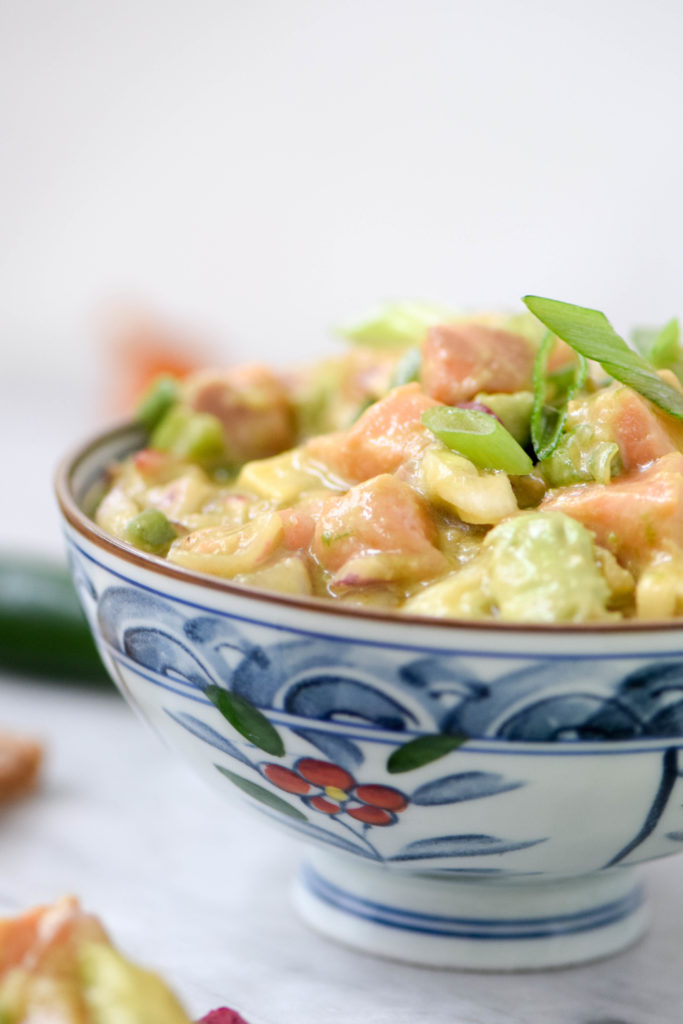 I have loved poke every since I tried it on my Hawaiian honeymoon some fifteen years ago and I am thrilled to see poke become readily available all over the lower 48. This flavorful, easy-to-eat fish dish is healthy and satisfying for a wide variety of palates. And guess what? It is easy to make at home. No kidding!
For my take on poke, I am using salmon. While salmon is not a Hawaiian fish, with its fatty texture and strong flavor, it stands up well to the poke treatment. Plus, it is easy to source sushi-grade salmon at a good fish market or grocery store. Just ask for a sashimi or sushi-grade, center-cut salmon filet. My fishmonger knew exactly what I wanted and gave me a beautiful piece of salmon from an unopened box in the back. If you live near a Japanese supermarket, such as Mitsuwa, that would be another option for sourcing your fish.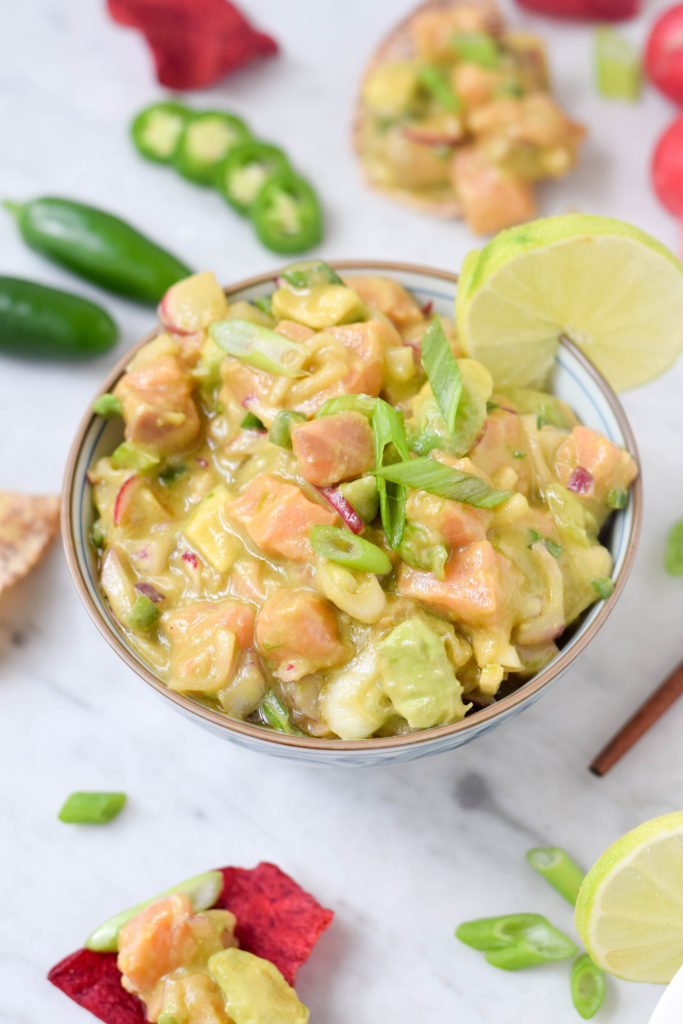 Moreover, while you might be thinking that sushi-grade salmon will cost you an arm and a leg, surprise! It is actually quite reasonable. The salmon for this poke dip cost less than $15.
Poke bowls served with rice may be all the rage for lunch, but I think the the poke dip appetizer may be poised to take over the world. Imagine a dip that combines tender sashimi-grade salmon, buttery avocado, and crunchy veggies for an array of textures in every bite. The flavors are nice balanced as well with salty, sweet, tart and spicy notes from soy sauce, rice wine vinegar, lime juice, and fiery ginger. This heart-healthy, protein-rich dip puts other dips to shame.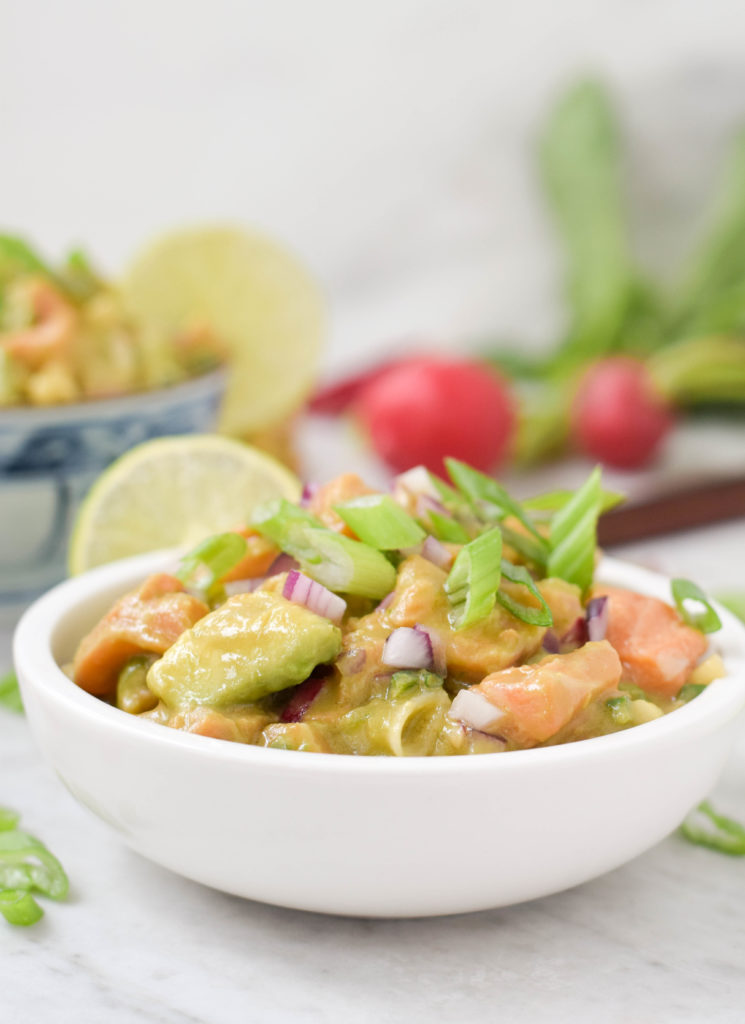 To serve my salmon poke dip, I opted for crunchy root vegetable chips such as Terra chips. I love the bright colors and slight sweetness of these chips. Perfect for scooping up some salmon poke!
My goal when I was creating the recipe for Salmon Poke Dip was to make it as allergy-friendly as possible. Sure, if you are allergic to fin fish, this dish is not for you. But beyond that, this recipe avoids many of the most prevalent allergens. For example, many poke recipes contain nuts and sesame. This dish, however, does not. It is dairy and egg-free and, if you replace the soy sauce in the recipe with Tamari (a type of Japanese soy sauce that does not contain wheat), this recipe is also gluten-free. So you can feel confident serving many different guests with this flavorful and trendy appetizer this holiday season.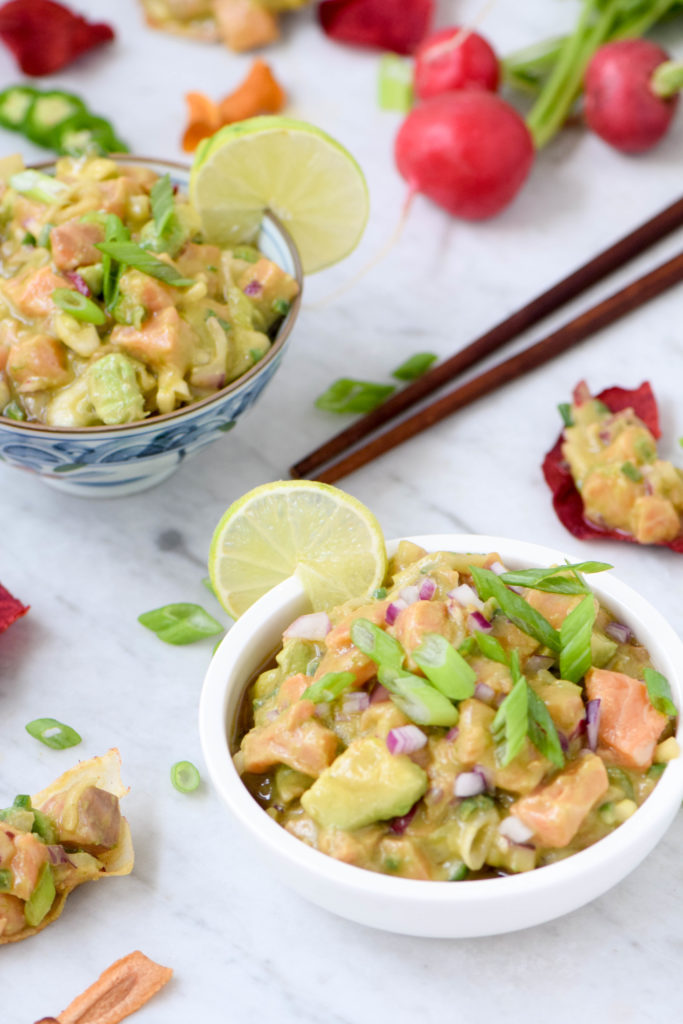 I hope you give my recipe for Salmon Poke Dip a try during October, National Seafood Month, or the holiday entertaining season. If you are a poke fan, you will be amazed by how easy and inexpensive it is to make your own version at home! And remember, aim for including seafood in your diet at least twice a week.
Ingredients
Salad

1 1/4 lbs. sushi-grade, center-cut salmon filet
1/2 cup finely diced red onion
2 or 3 jalapeno peppers, seeded and minced
3 scallions, sliced
4 radishes, cut into small batons or matchsticks
1 avocado, cubed

Dressing

1/4 cup soy sauce or Tamari
Zest and juice of one lime
1 TB brown sugar
1 inch piece fresh ginger, peeled and minced
1 TB rice wine vinegar
1 TB grapeseed or other neutral oil
1 tsp chili oil or hot sauce such as Sriracha (optional)
Instructions
Place the salmon in the freezer for 15-30 minutes to allow it to become more firm and make it easier to cut cleanly.
In a large bowl, combine the red onion, jalapeño peppers, scallions and radishes.
To make the dressing, whisk together the soy sauce, lime juice and zest, brown sugar, fresh ginger, and rice wine vinegar until the sugar dissolves.
Add the grapeseed oil and chili oil or hot sauce, if using, and whisk to combine. Set aside.
Remove the salmon from the freezer and cut into 1/2 inch pieces.
Add the salmon and the avocado to the vegetables in the bowl. Add the dressing and gently toss to combine.
Allow to sit for five minutes prior to serving to allow the flavors to develop. Taste and adjust seasonings.
Serve with root vegetable chips.
http://www.westoftheloop.com/2017/10/16/salmon-poke-dip/
SaveSave
SaveSave