Get global inspiration for pumpkin season with these savory baked pumpkin pastries, known as pumpkin bishak — a specialty of Jews from Central Asia!
This fall, I want to introduce you all to some new ways to use pumpkin — particularly in savory dishes because I think it is easy to use pumpkin in sweets. First, I shared a recipe for chershi, a garlicky pumpkin dip from Tripoli.
Today, I am sharing another Sephardic-inspired pumpkin recipe. These savory baked pumpkin pastries, known as kadoo bishak, are a specialty of Bukharian Jews, Jews from the Central Asian country of Uzbekistan.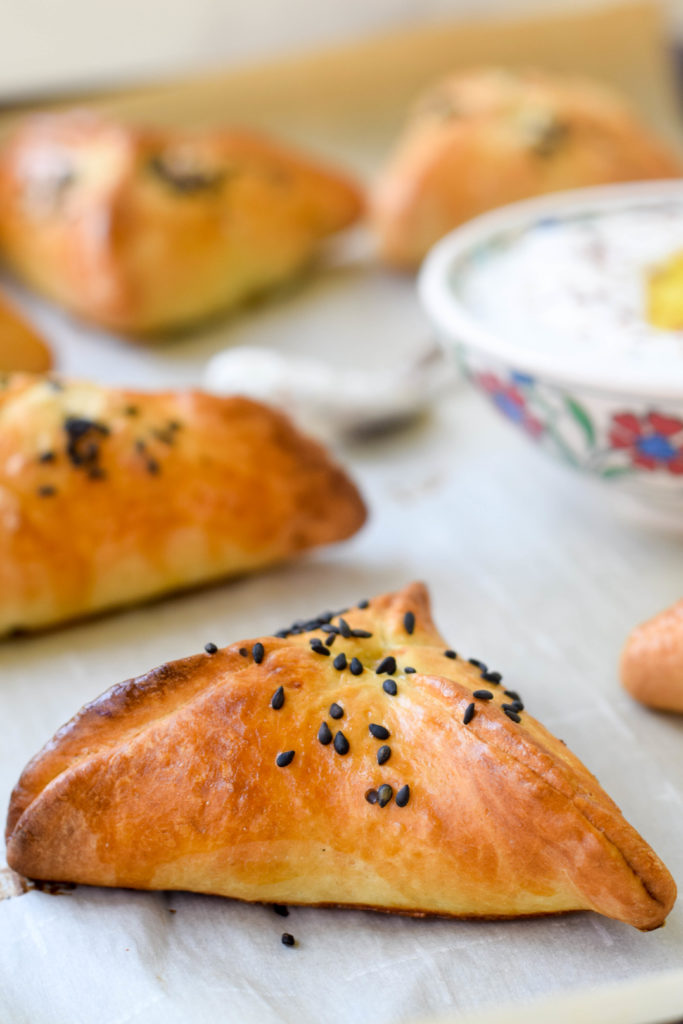 Once, Central Asia was home to 45,000 Bukharian Jews, but after the collapse of the Soviet Union, most emigrated to Israel and America. Today, there is a robust community of Bukharian Jews living in Queens, New York. The last time I taught a class at the Brooklyn Brainery, I met a young woman who was the daughter of Jews who had emigrated from Uzbekistan. We had a lovely conversation about her family's food traditions — something I hope to continue learning about.
It's funny to think about pumpkin — a New World crop — as a Central Asian ingredient, but if you have ever had Afghani food, for example, you probably had a sautéed pumpkin appetizer known as kadoo bourani. Indeed, in her beautiful cookbook, Taste of Persia, Naomi Duguid points out that pumpkin is used as a vegetable throughout the Caucasus countries, Iran and Kurdistan. I don't know how pumpkin came to that part of the world or why it was adopted by the people there, but I am planning to research this further.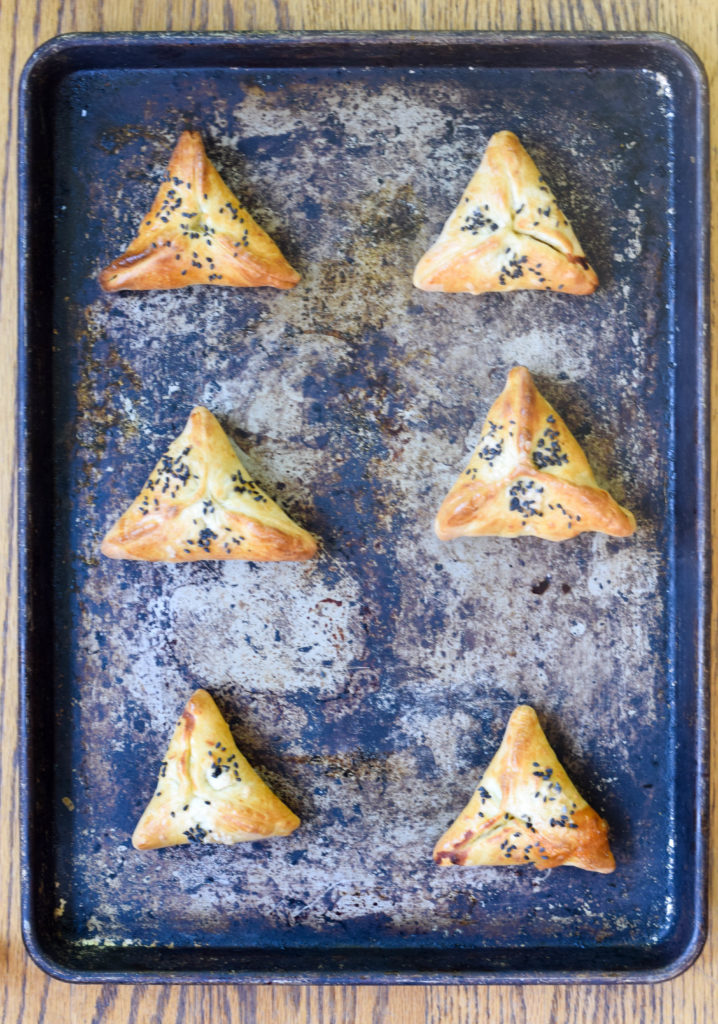 These pumpkin pastries traditionally would be served as an appetizer or a snack — something to nibble on with a cup of tea. There are many kinds of bishak, including meat and cheese-filled pastries, but the pumpkin-filled ones are a Bukharian specialty.
The dough for the pastries is very similar to a pita dough. It's quite forgiving for those of you who are afraid of yeast. Once baked, the edges of the pastries are appealing crispy but the inside stays chewy. However, the pastry shell should be quite thin, not doughy.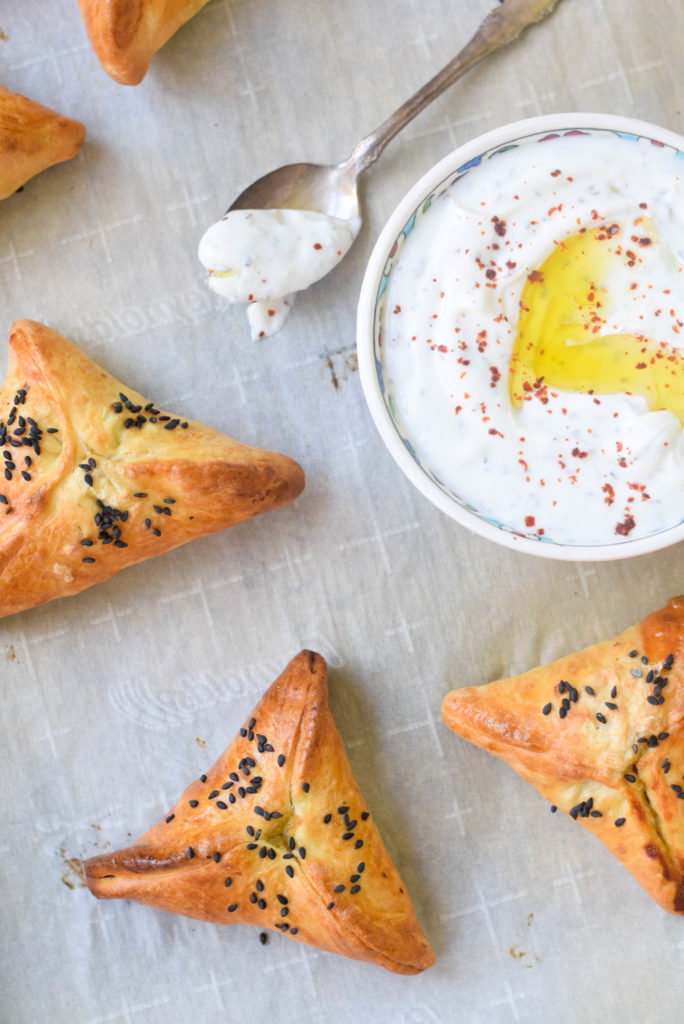 The filling is made with mashed pumpkin and sautéed onion. I give you instructions for starting with a whole pumpkin, but you can use canned pumpkin puree if you prefer and it will save you quite a bit of time. I season the filling with warm spices like cumin and cinnamon and a bit of red pepper flakes for heat. I think pumpkin needs a bit of sweetener to counteract it earthiness, so you will notice a bit of brown sugar in there as well. But trust me, these pastries are savory, not sweet.
It does not appear to be traditional to serve pumpkin bishak with a sauce. While they are perfectly lovely all on their own — I just munched on a plain one right out of the toaster and it was heaven — I think that a drizzle or a dunk in the yogurt sauce adds both moisture and a welcome tanginess. And, yogurt and pumpkin is a pretty typical combination for Central Asia: that aforementioned Afghani appetizer of sautéed chunks of pumpkin is always served with a yogurt sauce.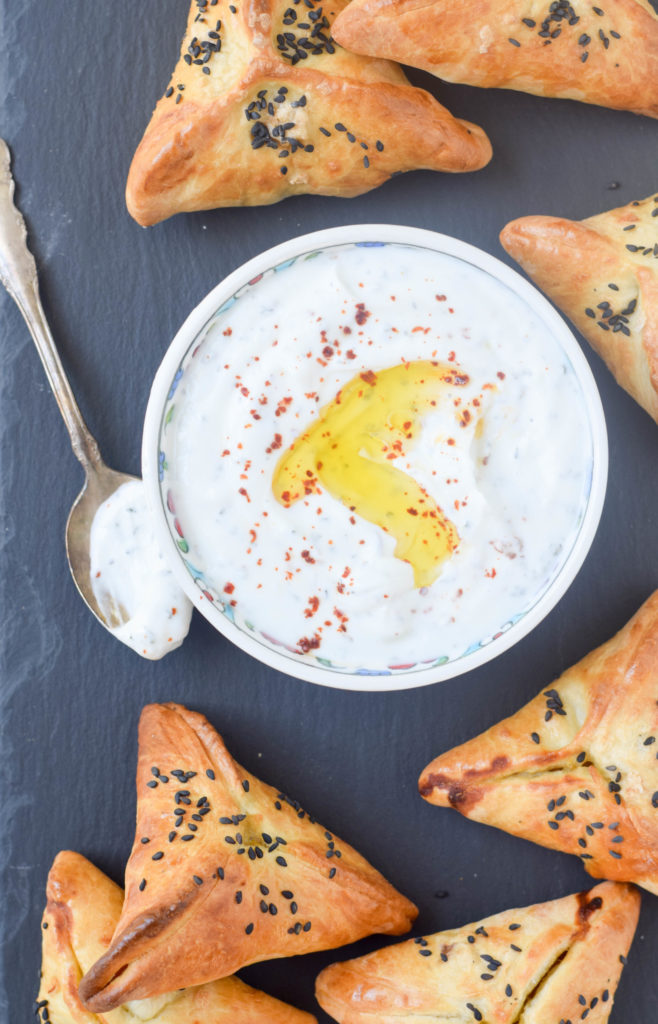 If you can source nutty, oniony nigella seeds for sprinkling on top of your pumpkin bishak, they are a terrific complement to the onion in the filling. Plus, they look so cool. Black sesame seeds work as well, but I am partial to the peppery bite of nigella seeds.
This recipe is a bit involved, but it makes a lot of bishak — perfect for a party. Also, once baked, the bishak freeze well. Simply thaw and reheat before serving. I really enjoyed trying my hand at an unfamiliar pumpkin recipe and found the results to be tasty and satisfying. Pumpkin bishak is a perfect savory autumn snack or cocktail party offering. I hope you are tempted to give it a try!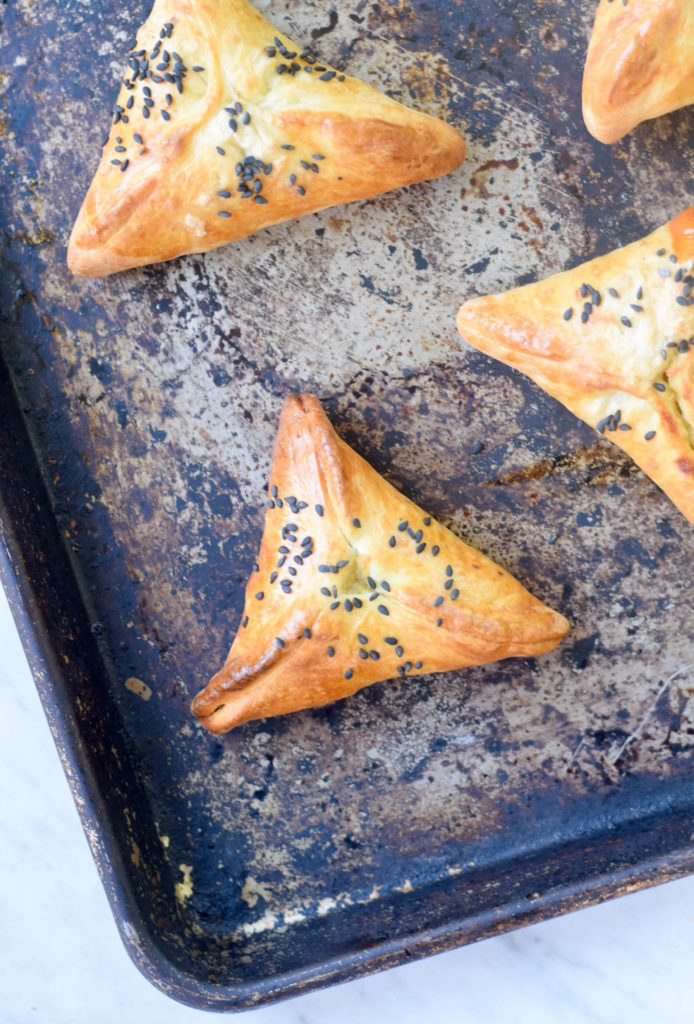 Savory Baked Pumpkin Pastries (Pumpkin Bishak)
Ingredients
Dough

2 tsp instant or active dry yeast
1 cup warm water
Pinch sugar
3 1/2 cups bread flour
Pinch salt
1 TB extra virgin olive oil
1 egg

Pumpkin filling

1 small pie pumpkin (can substitute 15 oz can pumpkin puree)
2 TB extra virgin olive oil
2 onions, diced
1 TB brown sugar
2 tsp cumin
1/2 tsp cinnamon
Pinch red pepper flakes
1 egg
Sesame or nigella seeds for garnish (optional)

Yogurt Sauce

3 to 4 cloves garlic, minced
Juice of two lemons
Pinch salt
2 cups plain Greek yogurt
2 tsp dried mint
Instructions
Preheat the oven to 400.
Prepare the dough: if using active dry yeast, dissolve the yeast with a pinch of sugar in 1/2 cup warm water and leave for ten minutes until it froths. (If using instant yeast, skip this step and mix instant yeast directly in with the flour.)
In a large bowl, combine flour, salt, oil and egg and add the yeast mixture. Mix with a fork and work in remaining water as needed for dough to hold together.
Knead for five to ten minutes until dough is smooth and elastic.
Place dough in well-oiled bowl, cover and set aside in a warm place to rise until doubled, about one hour to one hour and fifteen minutes.
While the dough is rising, roast the pumpkin. Remove the stem from the pumpkin, carefully cut it in half, and scrape out the seeds. Fit it into a baking dish, cut sides down, filled with 1/2 inch of water. Cover tightly with foil and bake until very soft, about 45 minutes.
Turn oven temperature down to 350.
When the pumpkin halves are cool enough to handle, scrape out the flesh and mash with a fork.
Measure the mashed or pureed pumpkin. (You will need two to three cups for this recipe. If you have extra, set it aside for another use.)
Heat olive oil over medium heat in a large frying pan. Add onion and sauté until softened, about ten minutes. Season well with salt and pepper.
Add 3 cups mashed pumpkin or (a 15 oz can pumpkin puree) to the onions and season with sugar, cumin, cinnamon and red pepper flakes. Stir to combine.
Cook pumpkin filling until pumpkin dries out a bit and is warmed through, about ten to fifteen minutes, stirring occasionally. Season well with salt and pepper. Set aside.
When dough is risen, punch down and divide into four pieces. Keeping other pieces covered, take one piece and roll it out on a lightly floured board as thinly as possible.
Cut dough into 4-inch rounds. Gather up any dough scraps and roll those out as well. You should have 6-7 rounds of dough.
Place a heaping tablespoon of filling into the center of each round.
Bring three points up and join at center to form a triangle. Pinch center and seams closed. (Close well or pastries will open up when baked.)
Place filled pastries on a baking sheet lined with parchment paper or a Silpat baking mat.
Beat egg with one tablespoon of water. Brush pastries with egg wash and sprinkle with seeds, if using.
Bake pastries for 25 minutes until golden brown. Cool on a wire rack.
Repeat with remaining dough and filling.
While pastries are baking, make yogurt sauce. Combine minced garlic, lemon juice and salt in medium bowl and allow to stand for five minutes to soften raw garlic flavor.
Combine garlic mixture with the Greek yogurt and mint. Season well with salt and pepper. Drizzle with extra virgin olive oil.
Serve warm or room temperature pastries with yogurt sauce.
Leftover pastries can be stored in plastic containers on counter for several days. Reheat or toast before serving. Pastries can also be wrapped well and frozen. Thaw and reheat before serving.
http://www.westoftheloop.com/2017/10/19/savory-baked-pumpkin-pastries-pumpkin-bishak/
SaveSave
SaveSave
SaveSave