Sweet, moist banana bread with a secret ingredient for added nutrition and protein: mashed red lentils. Four kid taste-testers all loved it!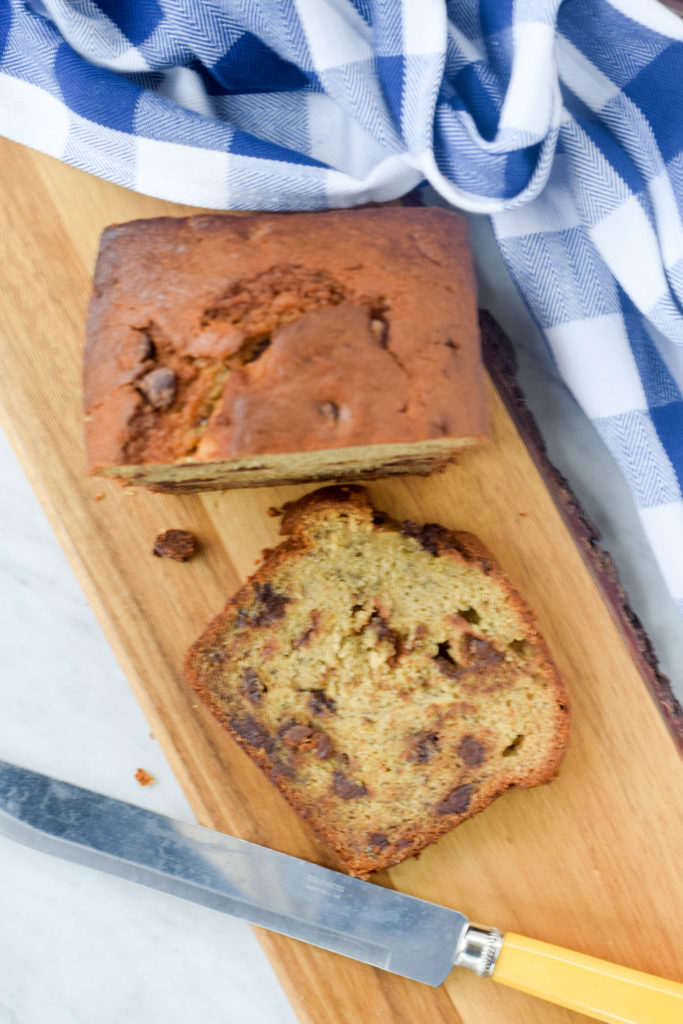 Here is what I have learned recently: Teenagers don't like to eat breakfast. But they do like banana bread.
Since she started high school, it has been well near impossible to get Zuzu to eat in the morning. She is always running out the door, claiming she has no time for anything, let alone breakfast. She actually has a point: school starts early and she takes a rather slow city bus to get there. Even if she had time, she claims not to be hungry in the morning. Or not to like breakfast food.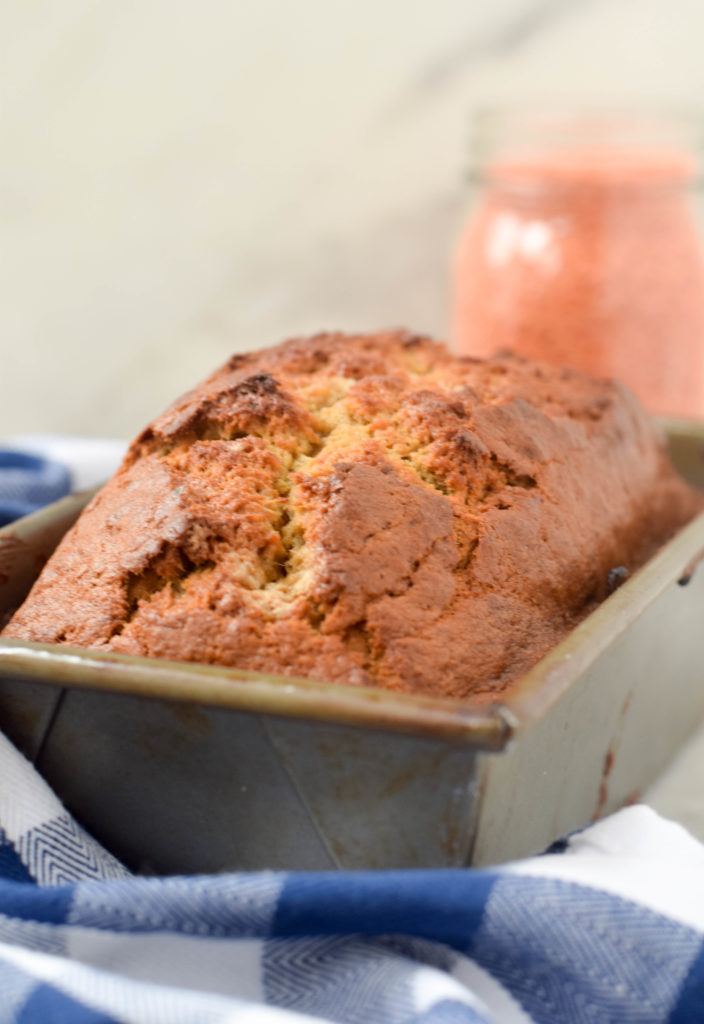 This does not seem to be unique to my teenager. I posted something on the West of the Loop Facebook page recently about what I was cooking on Sunday to get ready for the week ahead. I mentioned that I was having trouble getting Zuzu to eat breakfast during the week and several other moms-of-teenagers chimed in that they were having the same problem.
The idea that Zuzu is going through her whole morning with nothing in her stomach – except maybe a latte because I'm pretty sure she stops at Starbucks before school – makes me crazy. So, I'm not going to be proud. I basically told the child that I would buy or make anything she wanted — within reason — if she would just eat something, dammit!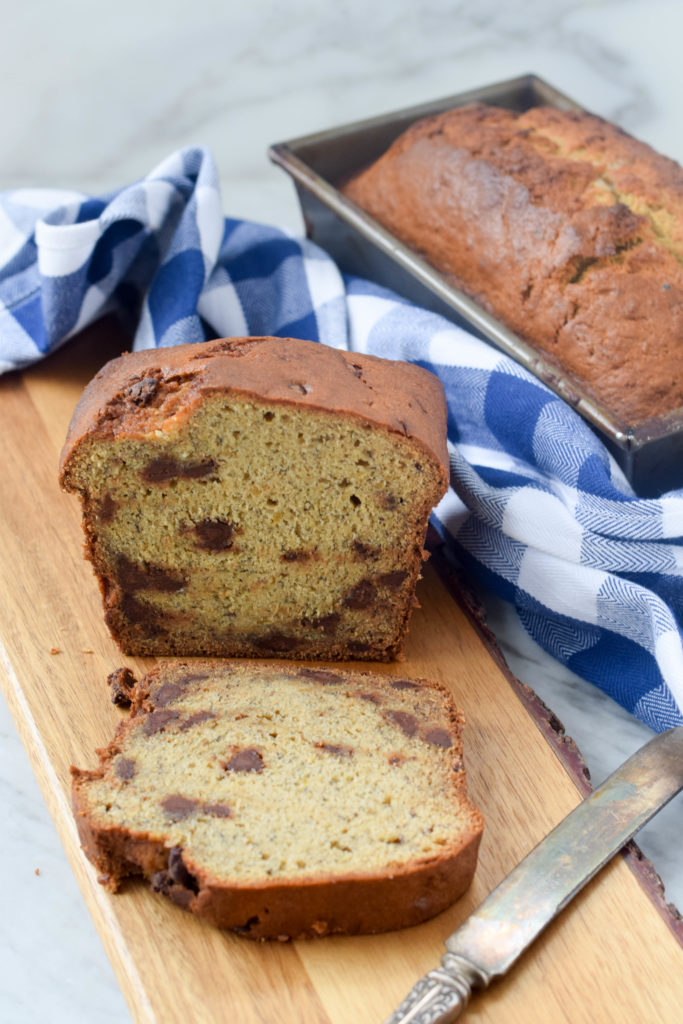 And so, when Zuzu said she would consider eating banana bread in the morning, I happily started hoarding brown bananas. Making a loaf of banana bread in preparation for the week ahead has become something of a Sunday ritual.
But naturally, once banana bread became Zuzu's regular breakfast, I began to think how I could make my usual banana bread more nutritious. My goal was to sneak some protein into the banana bread to help keep Zuzu full and satisfied until lunch.
When I was in Saskatchewan with Lentils.org, I took a cooking class and learned some surprising ways to use lentils, including in baked goods. It turns out that adding pureed lentils to certain baked goods made them moister and more nutritious without affecting the taste. One day, at lunch, for example, my group sampled moist, fudgy brownies that contained lentils. No one would ever have guessed!
So, when I decided to make my homemade banana bread more nutritious as a way of helping Zuzu get through her busy morning, my first thought was to add some pureed lentils. Not only do lentils contain protein, but they also are high in dietary fiber and key nutrients like iron, folate and potassium. Score! Plus, they make the banana bread really moist and tender.
I have now made this Red Lentil Banana Bread twice and fed it to four different children, my two and two of their friends. All four children proclaimed it delicious and none guessed what my "secret ingredient" was, despite the fact that one of my lentil cookbooks was sitting out on the counter.
I also use some whole wheat flour and add wheat germ to this recipe for even more nutritional content. Sure, there is still some sugar and butter and chocolate chips. But. as breakfasts for teenagers go, you could really do a lot worse. And trust me, at some point, you are just happy that they eating something.
Have you had any luck getting your teenager to eat breakfast? Do you think you could sneak this Red Lentil Banana Bread past your kids? Let me know in the comments.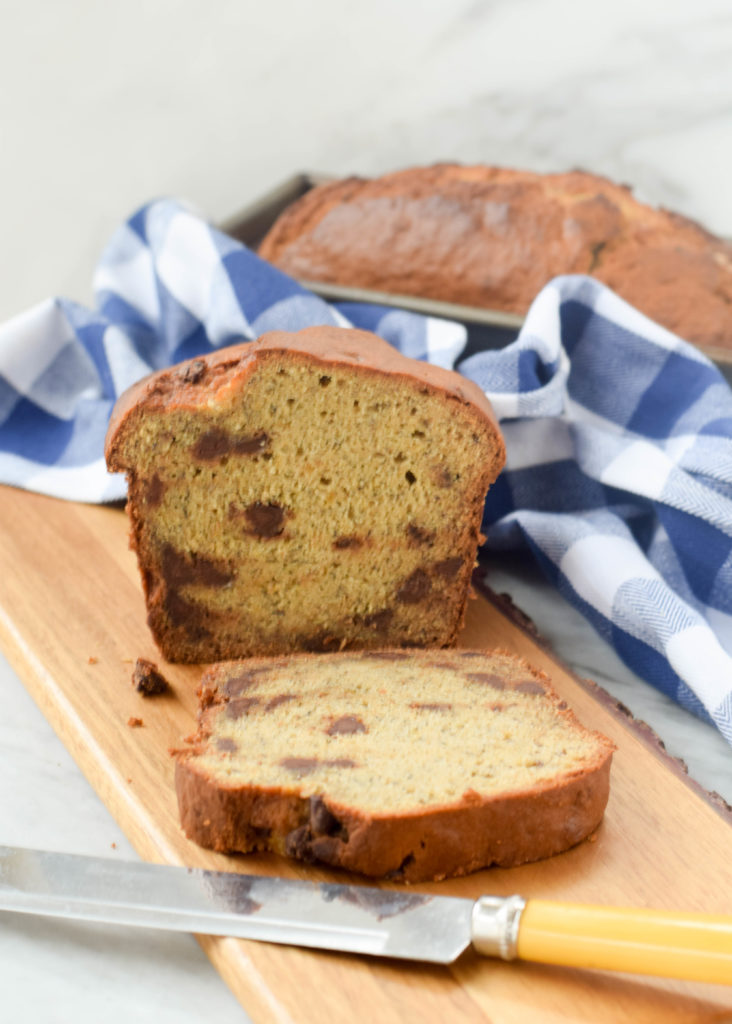 Ingredients
1/2 cup red lentils
4 oz (1 stick) unsalted butter
1/2 cup granulated sugar
1/2 cup brown sugar
2 large eggs at room temperature
1 TB vanilla extract
3 very ripe bananas, mashed
1/4 cup milk
1 cup all-purpose flour
1 cup whole wheat flour
2 TB wheat germ
1 tsp baking soda
Pinch nutmeg
1 tsp salt
1 cup chocolate chips (optional)
Instructions
Preheat oven to 350. Grease a loaf pan.
Place the lentils in a small saucepan and add two cups of water.
Bring to a boil, then turn down heat and simmer, uncovered, until lentils are tender, 10-15 minutes.
Drain and mash with a fork. You will have approximately 1 cup of mashed lentils.
In a large bowl, whisk together the melted butter and sugars.
Add the eggs and vanilla and whisk until combined.
Add mashed bananas, milk and 1/2 cup of the lentil puree. (Reserve remaining 1/2 cup of lentil puree for another use. You can also freeze it for a future loaf of banana bread.)
In a small bowl, whisk together flours, wheat germ, baking soda, nutmeg and salt.
Add dry ingredients to the wet ingredients and mix just until combined.
Add chocolate chips, if using, and mix in.
Pour batter into prepared loaf pan and bake until a skewer inserted in the middle comes out clean, 60 to 75 minutes.
Cool on a wire rack before removing from pan.
Well-wrapped, banana bread will keep for up to one week.
http://www.westoftheloop.com/2017/10/23/red-lentil-banana-bread/
SaveSave