No-bake lentil oat energy bites taste like an oatmeal cookie, but are packed with protein, fiber, and vitamins to keep you and your kids going all day! Nut and peanut-free to be allergy-friendly.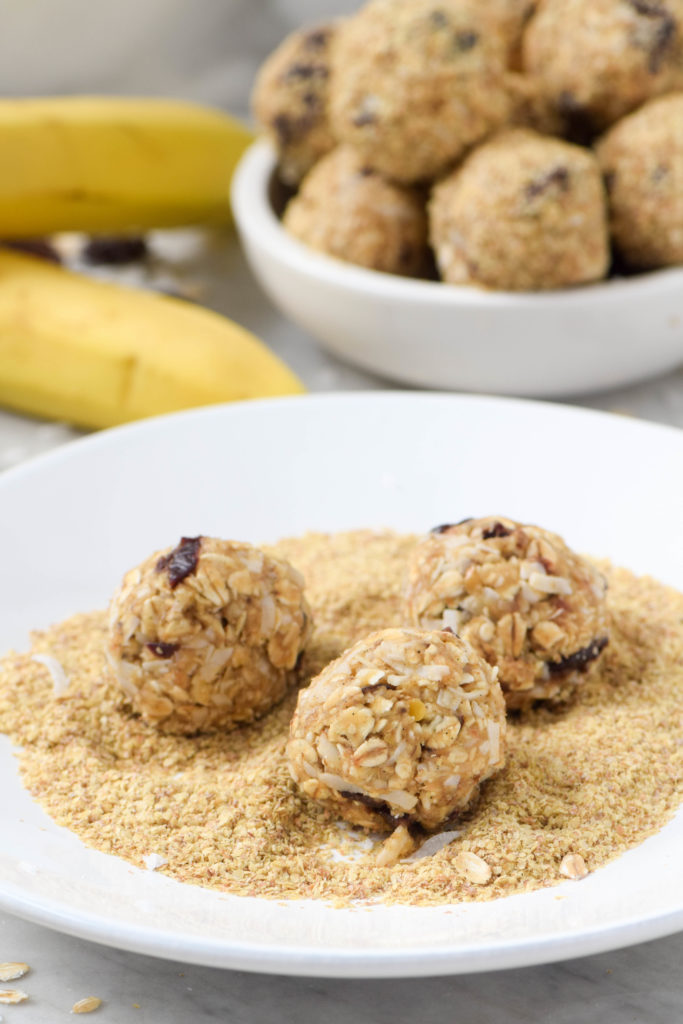 In case my extra-nutritious banana bread — high in protein from secret ingredient mashed red lentils — were not enough to get my teenager to eat healthy, I also decided to make some of those trendy energy bites as a quick grab-and-go breakfast or snack.
An energy bite — also known as an energy ball — is intended to be a portable, nutritious pick-me-up that balances protein, good carbs and other nutrients and replaces expensive and potentially high-sugar snack or granola bars. Energy bites are quick and easy to make – no baking required – and can be customized for each individual's preferences and dietary restrictions.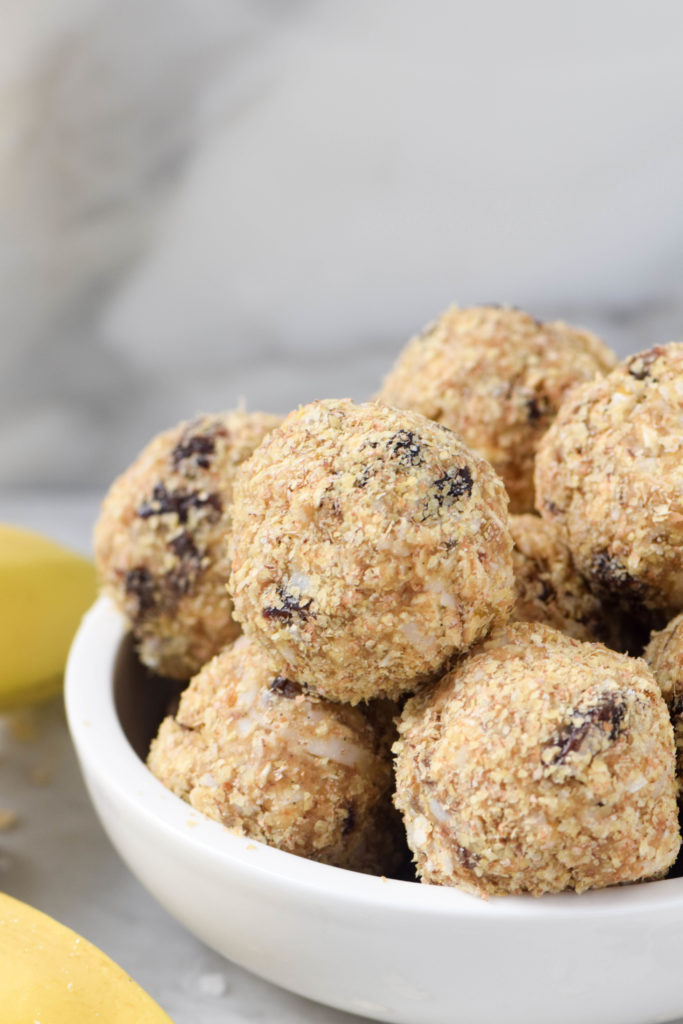 Because I was making these energy bites for Zuzu, I know I could not include nut or peanut butter — probably the most common source of protein in many energy bite recipes. So I turned back to my old friend, mashed lentils for the protein boost in these no-bake energy bites.
You see, when making energy bites you need a mix of wet and dry ingredients so that the bites hold together, but don't leave a gloppy mess on your hands. Here, mashed red lentils and mashed banana are the wet ingredients. Those are balanced out with rolled oats, flaked coconut and wheat germ: the dry ingredients. Already you see how nutritious these bites are: protein from the lentils, potassium from the banana and whole grains from the oats, which are among the most nutrient-dense foods out there.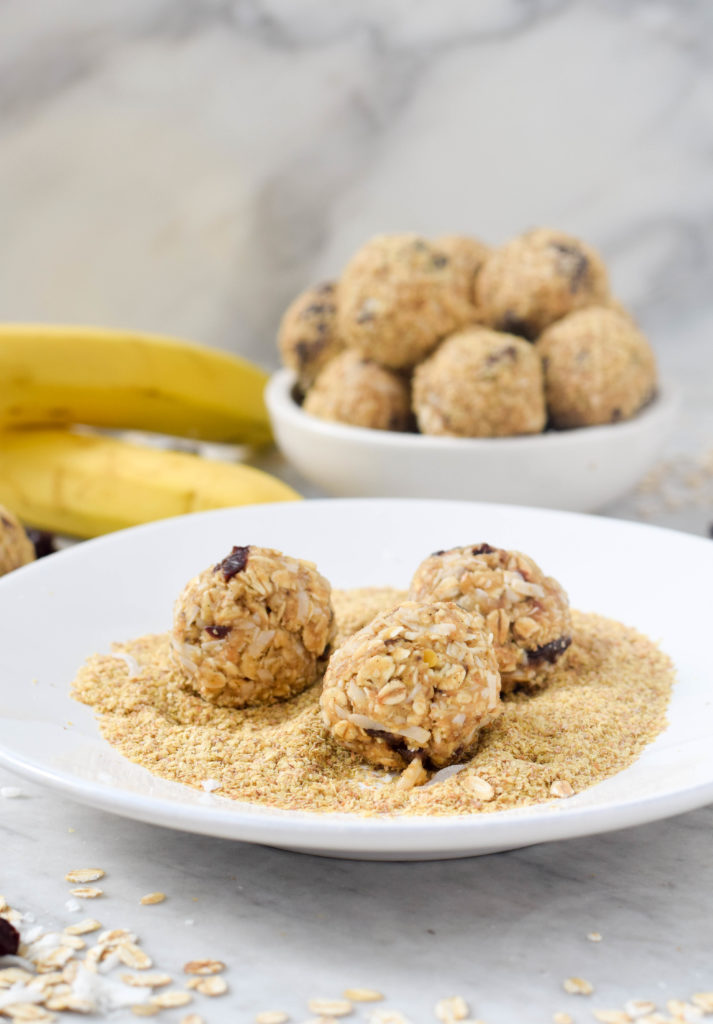 For taste, yes, I do add some brown sugar. Remember, all of this nutrition will go to waste if no one wants to eat these energy bites! So, it helps to add a touch of sweetness. But I also add vanilla, cinnamon and ginger for a dessert-like flavor with no extra sugar or calories. Lastly, I throw in some chopped dried fruit like cranberries or cherries for some texture. Plus, they are nutritious too!
The combination of coconut, oats, banana and dried fruit with the hint of brown sugar and warm spices makes these energy bites taste just like an oatmeal raisin cookie. And with plenty of protein and whole grains, they will keep you full and energized for hours.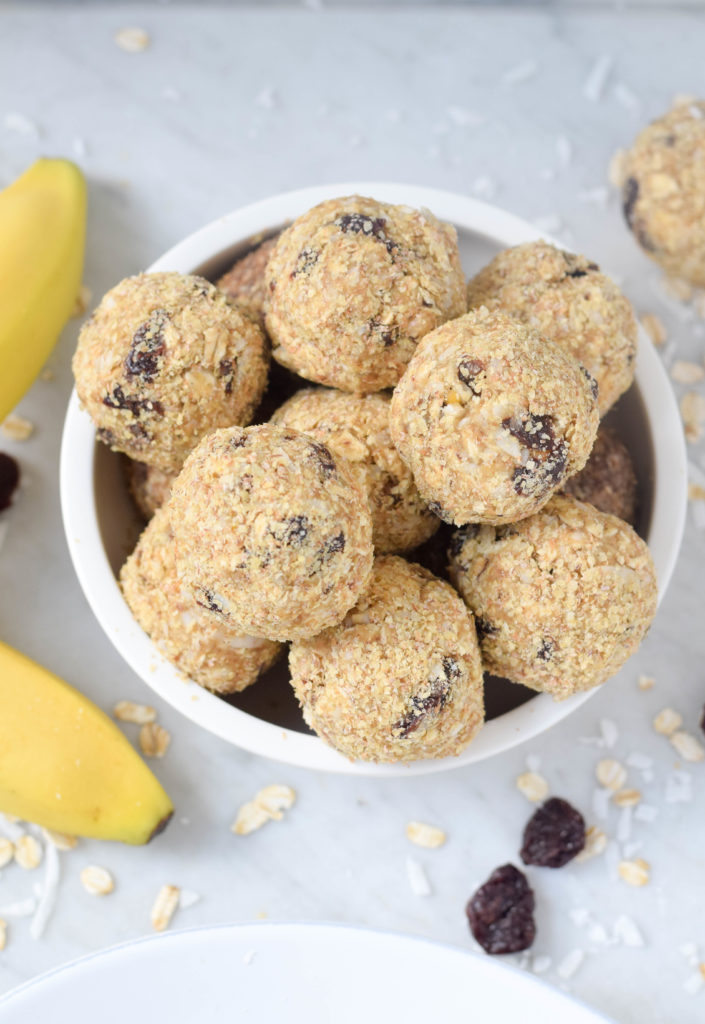 Plus, did you notice that these energy bites are vegan? That is a nice bonus. JR takes music lessons at School of Rock in Oak Park, and I often bring in treats for the teachers there because they are so dedicated and great with the kids. The young woman at the front desk, Mariah, and JR's amazing keyboard teacher, Brandon, are both vegans, so they usually can't eat the food I bring, which makes me feel terrible.
I made a bunch of these energy bites just for them and they were so happy! Even the non-vegan teachers liked them. What was really amazing was that even JR liked them. (I honestly couldn't believe he even tried one, but that just shows the power of the teachers at School of Rock.)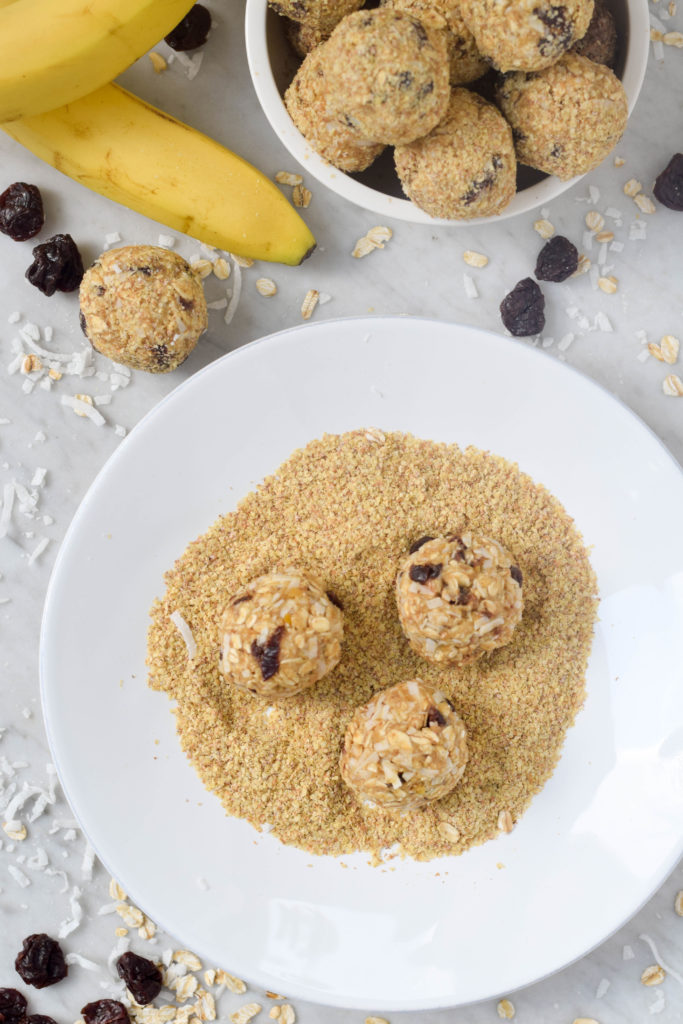 I've been slipping one of these energy bites into Zuzu's lunch and offering some to her and her friends – because there are always friends — when they get home from school. I think the kids like the taste, but even more, I think they like the idea of eating something healthy. It makes them feel like the twenty-somethings in California they follow on YouTube.
Do you think your kids would like these no bake Lentil Oat Energy Bites? Would they help you get through your busy day?
No Bake Lentil Energy Bites (Nut and Peanut Free)
Ingredients
1/4 cup red lentils
1 cup rolled oats
1 cup coconut flakes
1 very ripe banana, mashed
1 TB wheat germ plus more for rolling
1/2 cup chopped dried fruit such as raisins, cranberries or cherries
1/4 cup brown sugar
1 tsp vanilla paste or extract
1/2 tsp ginger
1/2 tsp cinnamon
Pinch salt
Instructions
Combine lentils with 1 cup of cold water and bring to a boil.
Turn heat down to medium and simmer until lentils are tender, 10-15 minutes.
Drain and allow to cool. Mash with a fork. (You should have 1/2 cup mashed lentils.)
In a large bowl, combine mashed lentils with remaining ingredients. Mix well with a fork.
Refrigerate mixture for 15-30 minutes to allow it to firm up.
Scoop and roll walnut sized-balls of the chilled mixture. (You should end up with 12-14 balls total.)
Pour additional wheat germ onto a plate and dust outside of each ball.
Store in the refrigerator until needed. The energy bites will last for several days.
http://www.westoftheloop.com/2017/10/25/no-bake-lentil-energy-bites-nut-peanut-free/
SaveSave
SaveSave