My family's favorite: cream cheese brownies dressed up for Halloween!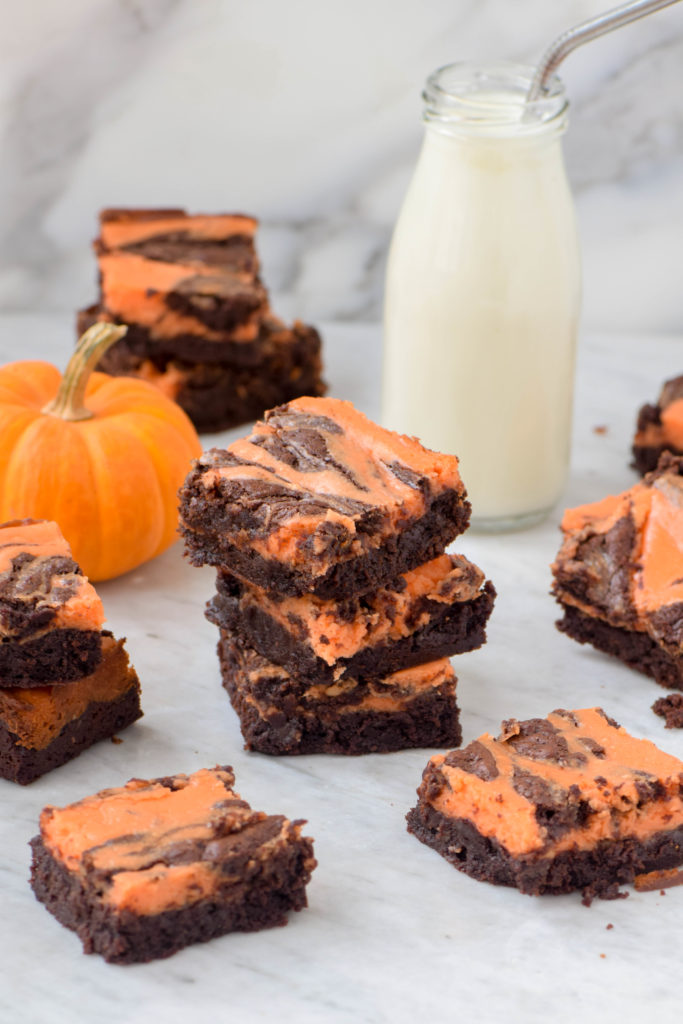 Zuzu was all set to go to a Halloween party this weekend – her first high school party — and it got canceled at the last minute because the host was sick. With tears in her eyes, Zuzu asked if she could have a few friends over to our house to salvage the night. What was I going to say? No? Hardly.
So, I told my husband about the change of plans and he gamely ordered a pair of large pizzas. Zuzu and a pal headed to the store for chips and drinks. And I took charge of dessert. One bunch of Halloween cheesecake brownies coming right up.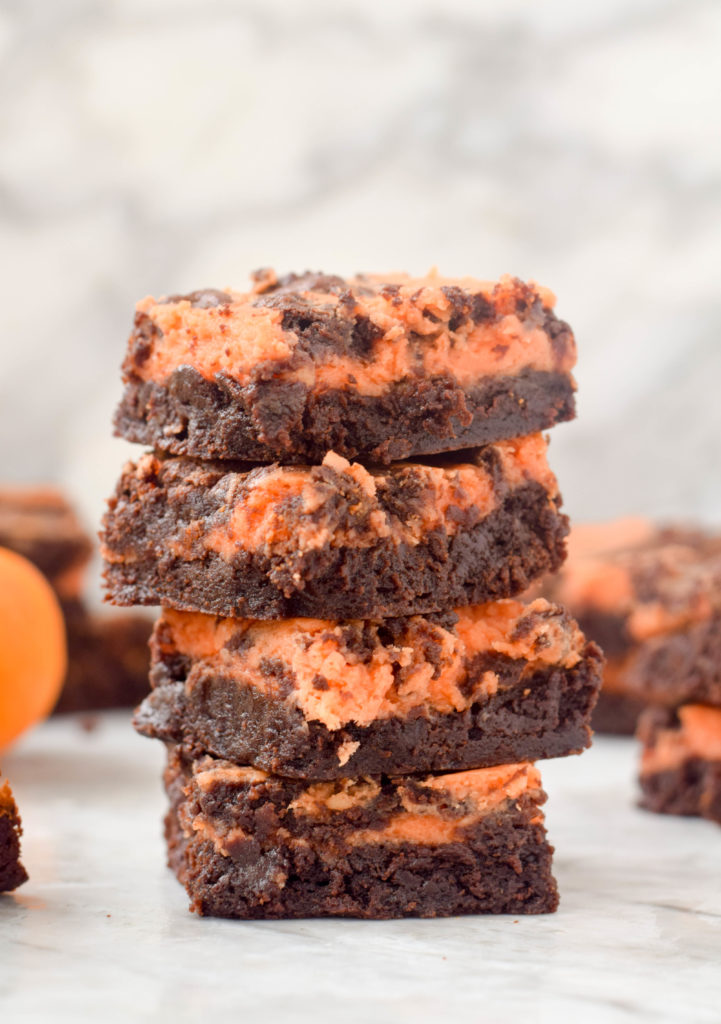 Cheesecake brownies are one of my kids's favorite treats and with good reason. Chocolatey, fudgy brownies are good, but they strike just one note: chocolate, chocolate and more chocolate. Cheesecake brownies, on the other hand, offer a pleasing yin and yang of dense chocolate and tangy cheesecake. To my taste buds, they are so much more interesting.
I have been tinkering with my cheesecake brownie recipe and have landed on a version that I think has the perfect balance. The brownie component features both melted bittersweet chocolate and cocoa powder for a rich, chocolate taste and a soft texture. To deepen the chocolate flavor, I add both vanilla extract and espresso powder. (If you don't have espresso powder on hand, you can omit without any negative repercussions, but I suggest ordering some for next time. In truth, I add espresso powder to all my chocolate recipes for the depth of flavor it adds.)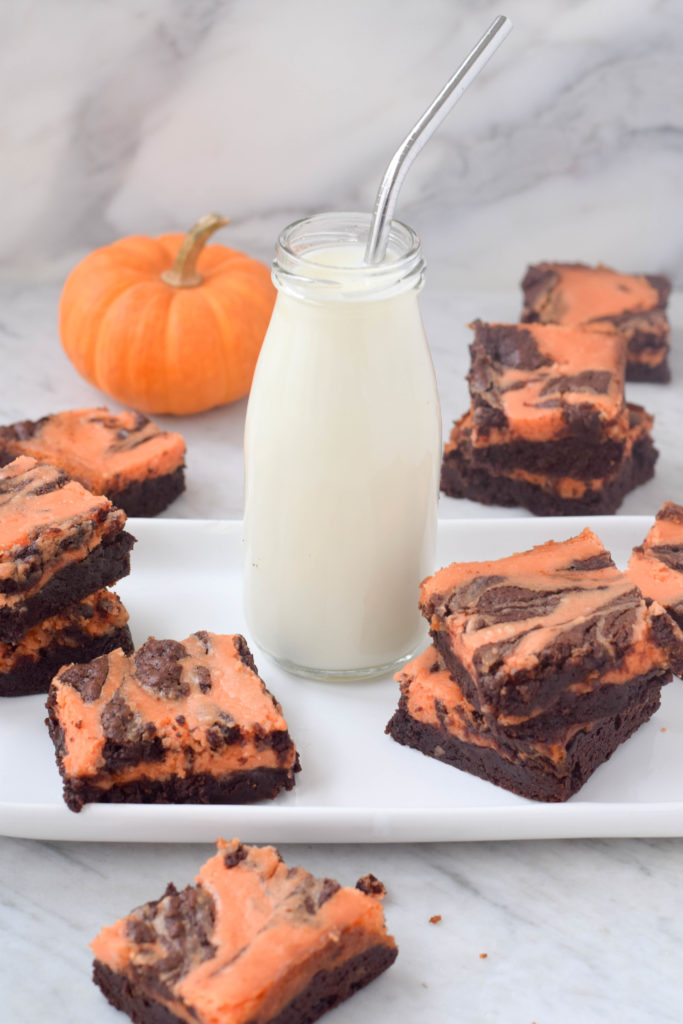 My modification to the cheesecake layer includes adding a bit of sour cream or crème fraîche for extra tanginess. Also, when baked, cream cheese can get a bit rubbery. The addition of sour cream keep the cheesecake nice and soft. To make these cheesecake brownies Halloween-themed, simply add red and yellow food coloring until you achieve a pleasing orange hue.
My marbling technique has evolved as well. After years of less-than-satisfactory swirls in my cheesecake brownies, I have gone to spreading an entire layer of cheesecake on top of the brownie layer. I then dollop reserved brownie batter on top of the cheesecake and swirl that.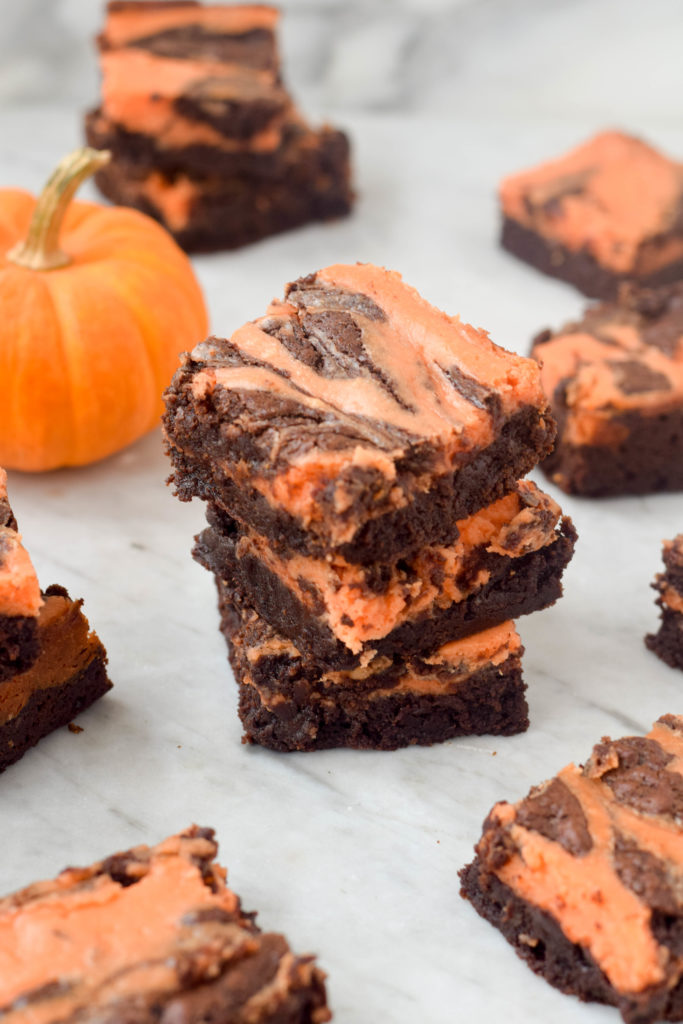 The brownie batter is thicker than the cheesecake batter, so for optimum swirling you have two options: one, gently warm the reserved brownie batter in a saucepan prior to adding it to the cheesecake OR, to save a dirty pot, dollop the brownie batter on top of the cheesecake and place the pan in the preheated oven for five minutes. When you remove it, you will find the brownie batter has softened sufficiently to allow you to swirl it with the cheesecake. Then bake normally.
Does Halloween really need more sugar? Perhaps not. But if you have a Halloween party to bake for, or you have older kids who won't be trick-or-treating this year, these Halloween cheesecake brownies are a true crowd-pleaser and they are so easy to make on short notice. Trust me.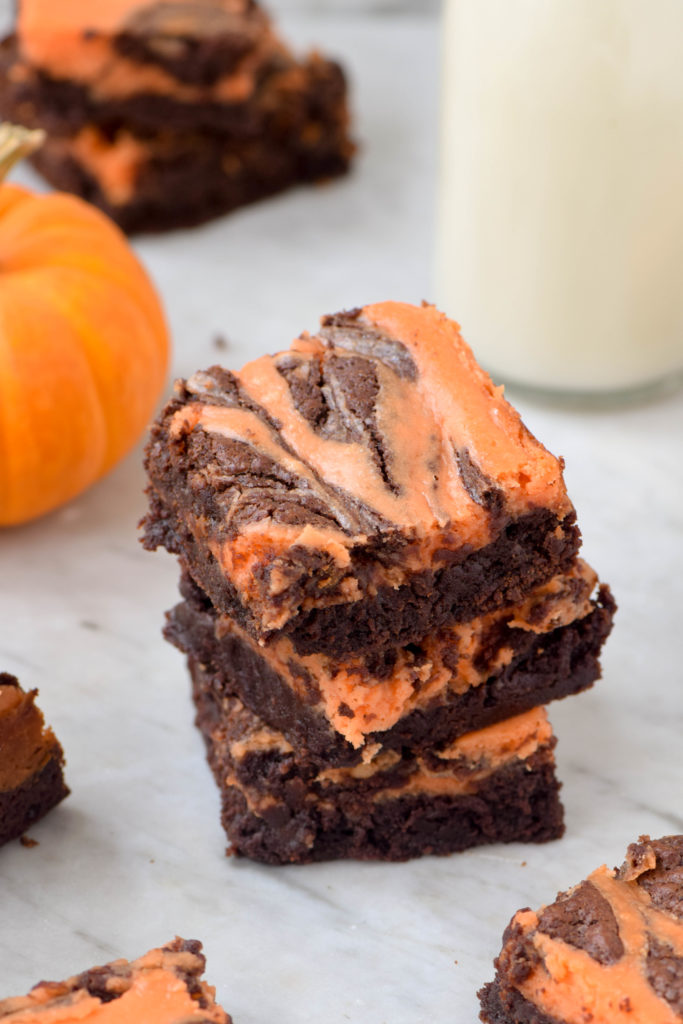 Halloween Cheesecake Brownies
Ingredients
Brownie layer

6 oz butter
8 oz bittersweet or semi-sweet chocolate, at least 60% cocoa solids
4 eggs
1 3/4 cup sugar
1 tsp vanilla extract
2 tsp espresso powder
Pinch salt
1 1/2 cups flour
1/2 cup cocoa powder, sifted

Cheescake layer

12 oz cream cheese, softened
1/4 cup sour cream or creme fraiche
1/2 cup sugar
2 egg yolks
2 TB flour
1 tsp. vanilla extract
Red and yellow food coloring (optional)
Instructions
Preheat oven to 350 and grease a 9X13 baking pan.
Gently melt the chocolate and butter either using a double-boiler set over simmering water or using a heavy-bottomed pot over very low heat. Stir to combine and once melted, set aside to cool.
Scrape the cooled chocolate mixture in the bowl of a standing mixer.
Add the eggs, sugar, vanilla, espresso powder and salt and mix well.
Add the flour and cocoa powder to the brownie batter and beat until smooth.
Pour ¾ of the brownie batter into the prepared pan and smooth the top using a knife or spatula dipped in water. Set aside the remaining ¼ of the batter.
If you only have one bowl for your standing mixer, wash and dry it. Alternatively, you can use a handheld mixer for the cheesecake layer.
To make the cream cheese layer, beat together cream cheese, sour cream and sugar.
Add the egg yolks, flour and vanilla and food coloring (if using) and mix until smooth.
Spread the cheesecake batter on top of the brownie layer until covered.
Drop dollops of the remaining brownie batter on top of or in between the dollops of cheesecake batter. Place in preheated oven for five minutes.
Draw knife through the layers of brownie and cheesecake batter to swirl them.
Bake for 35 to 40 minutes until cheesecake layer is almost set.
Cool pan on a cooling rack prior to cutting.
http://www.westoftheloop.com/2017/10/29/halloween-cheesecake-brownies/
SaveSaveSaveSave
SaveSave