Fall for fresh cranberries this holiday season! This shop has been compensated by Collective Bias, Inc. and its advertiser. All opinions are mine alone. #FallforFresh #CollectiveBias.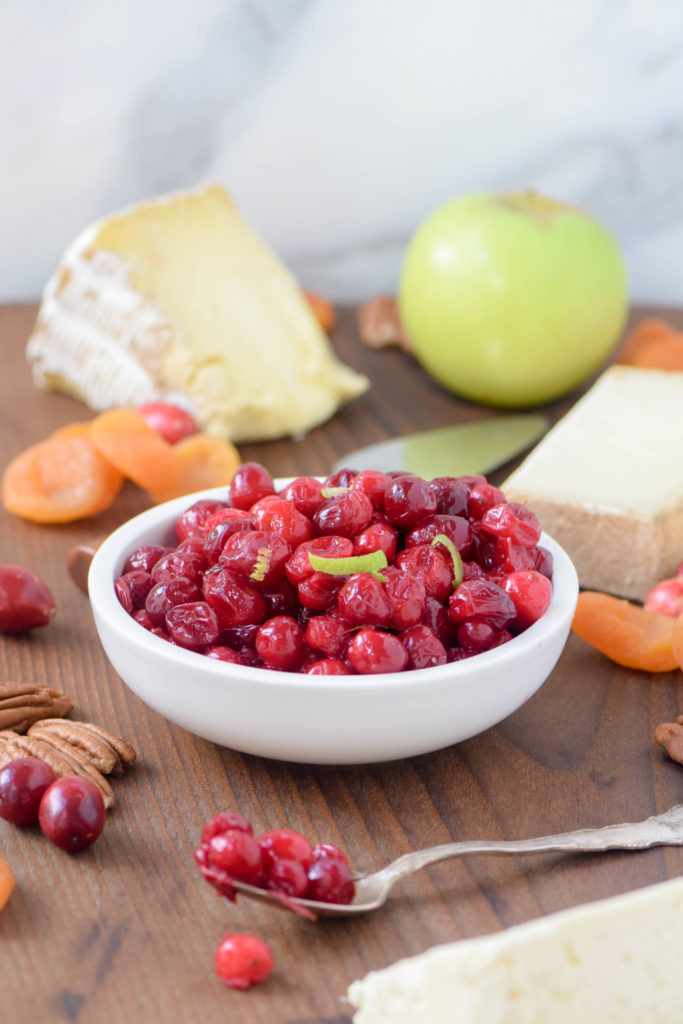 November is the season for Ocean Spray® Fresh Cranberries and if you are only using these tart, scarlet-hued berries for sauce on Thanksgiving, you underestimate this versatile, and beautiful, fall fruit. Cranberries add zing to baked goods, smoothies, salads and more. And, don't forgot about holiday décor. Cranberries pop in centerpieces and on mantels when combined with votives, greenery and others seasonal decorations.
How much do I love cranberries? Let me count the ways: Cranberry Lime Curd, Cranberry Applesauce and today's recipe for pickled cranberries. Pickled cranberries, you ask? Oh yes, pickled cranberries. A quick bath in a sugar and vinegar brine unleashes the sweet-sour pucker of these most American of berries. And this is a quick pickle, so no special equipment, or expertise, required. In fact, this pickling project will only take you a few minutes time.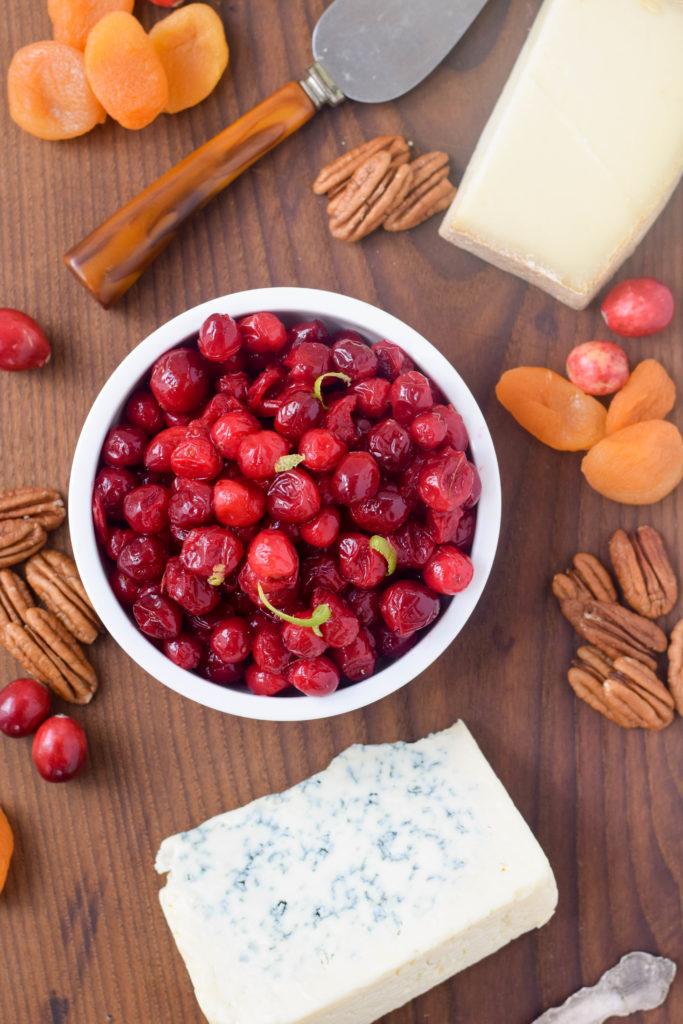 Pickled cranberries add color and a bright, fruity acidity to any dish. Their tart pucker cuts through the richness of a cheese platter or fancy pâté. But don't stop there. Add pickled cranberries to wild rice salad. Pair them with a turkey or ham sandwich. Or use a handful to garnish your favorite beverage. Speaking of beverages, don't discard the brine that you use to pickle the cranberries. It is akin to a drinking vinegar that will add zing to sparkling water.
When I spy Ocean Spray® Fresh Cranberries in the store, as I did at my local Walmart this week, I always buy at least two bags: one to use right away and one to freeze. Cranberries freeze like a dream, so I always have a stash on hand in case I get the urge to whip up a batch of, say, Cranberry Orange Scones.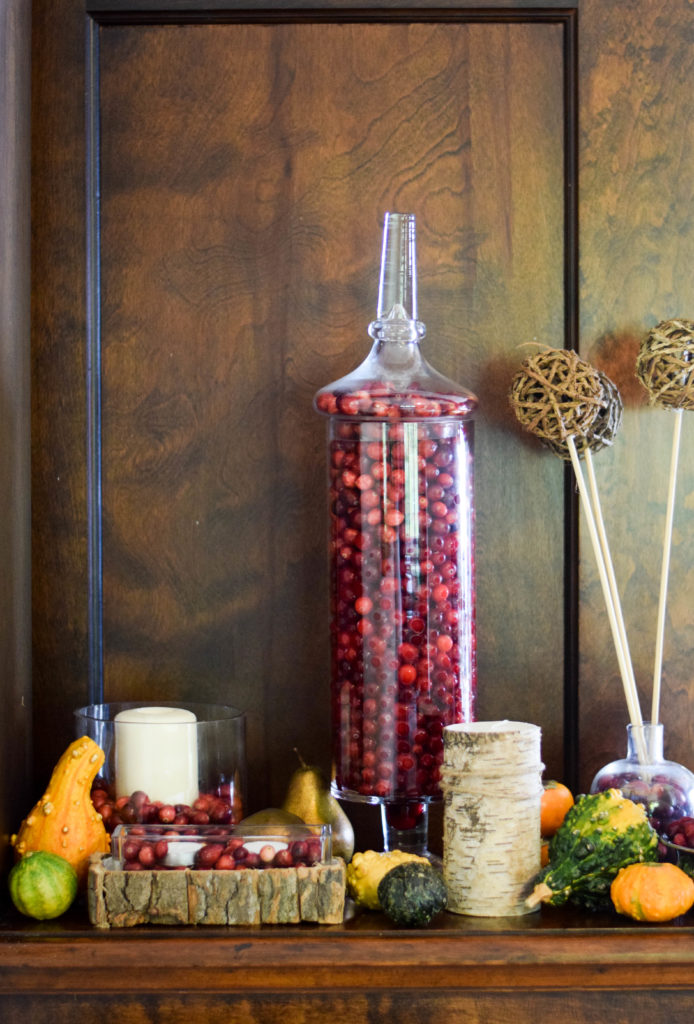 Cranberries aren't just for eating and drinking, though. Their bright red hue is particularly welcome in holiday décor. For  November, I created a festive tableau for my living room mantel using Ocean Spray® Fresh Cranberries, candles, gourds and seasonal fruits.
To recreate this look, you will need a few glass jars in different heights. Fill the jars with cranberries. (Pro tip: for the tall jar, place something inside to take up some of the room. I used a paper towel roll taped on both ends.) Fill the bottom of a glass hurricane with more cranberries and place a large candle in the center. Add more candles, gourds in different shades of green and yellow, and few orange persimmons to complete the look. A narrow vase brimming with branches adds even more height.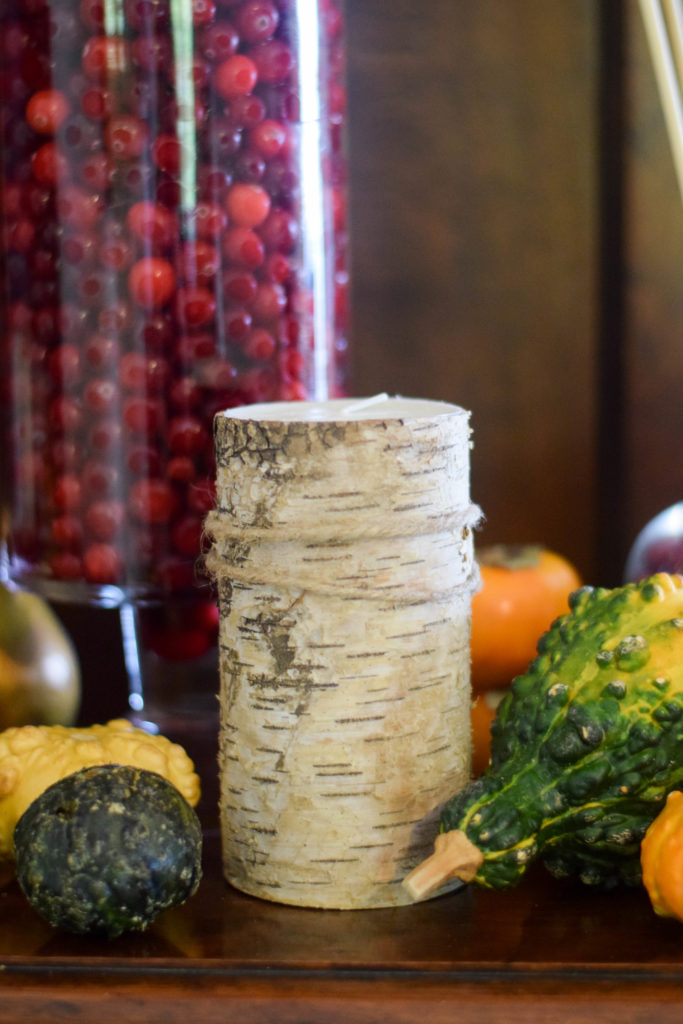 So, don't forget to stock up on Ocean Spray® Fresh Cranberries this month. You will find plenty of uses for this classic  American fall fruit in sweet and savory dishes as well as festive decorations for the upcoming holiday season.
Meanwhile, be sure to try this easy recipe for quick-pickled cranberries. You will find plenty of uses for them in fall dishes. Plus, pickled cranberries look so beautiful tucked into a glass jar. Wouldn't a batch of these make a lovely and unique hostess gift?
What is your favorite way to use Ocean Spray® Fresh Cranberries?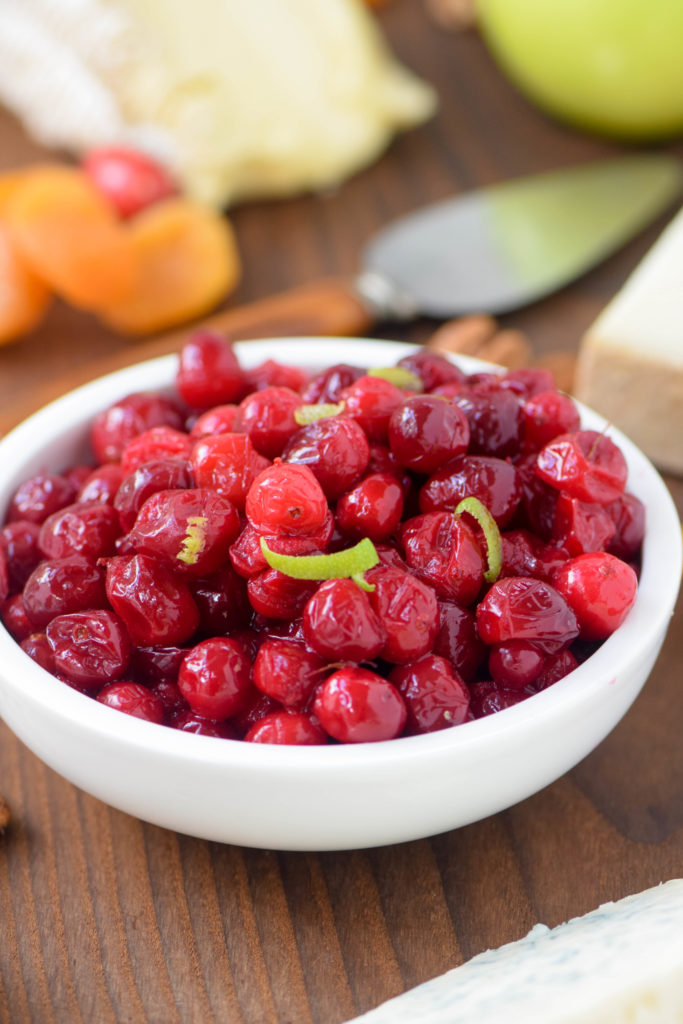 Quick Pickled Cranberries
Ingredients
1 1/2 lbs. fresh cranberries (two 12 oz bags)
3/4 cup apple cider vinegar
3/4 cup sugar
1 cinnamon stick
1/2 cup apple cider
1/4 cup freshly squeezed lime juice
1 tsp ginger
Instructions
Wash and dry two pint jars or one quart jar for storing the pickled cranberries.
Combine the cranberries, vinegar, sugar and cinnamon stick in a large saucepan and gently bring to a boil over medium heat, stirring to dissolve the sugar.
Lower the heat and simmer the cranberries for 2-3 minutes. (You want the berries to soften but retain their shape and not split or burst.)
Using a slotted spoon, transfer the berries to the jar or jars, leaving behind the liquid.
Add the apple cider, lime juice, and ginger to the liquid in the pot and return to a boil. Boil for 2-3 minutes until slightly thickened. Remove from heat.
Ladle the brine over the cranberries in the jar or jars. Allow to cool before covering.
Refrigerate. For the best flavor, allow cranberries to cure for a few days before consuming.
http://www.westoftheloop.com/2017/11/02/quick-pickled-cranberries/
SaveSave
SaveSave
SaveSave
SaveSave
SaveSave