Combine fall favorites pear and cranberries with spicy ginger for a sweet-tart relish that will add zing to your Thanksgiving turkey.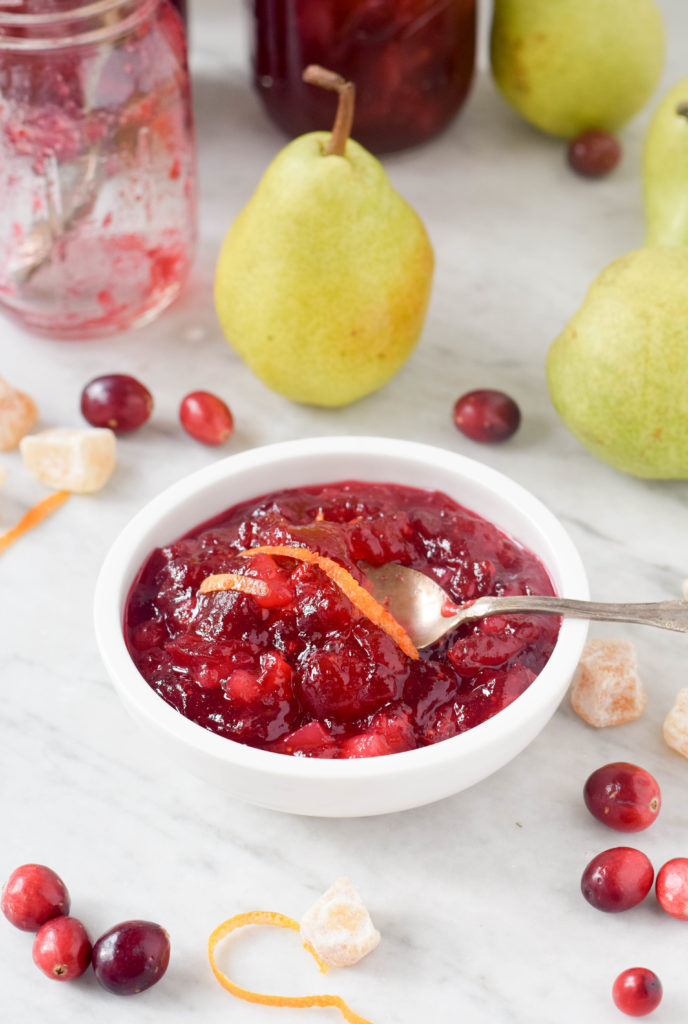 It is officially November and that means it is time to start planning your Thanksgiving menu. I will be here to help all month long. So, let's dive in! Not much of the Thanksgiving feast can be prepared in advance, but you can make at least one dish starting today: the cranberry relish. No Thanksgiving turkey is complete without it.
If you have always bought either the humble cranberry jelly that comes out of the can in a perfect cylinder or fancy prepared cranberry relishes that cost an arm and a leg, it is time to stop. Just stop. Homemade cranberry relish is easy, delicious, inexpensive and a worthy addition to your holiday table.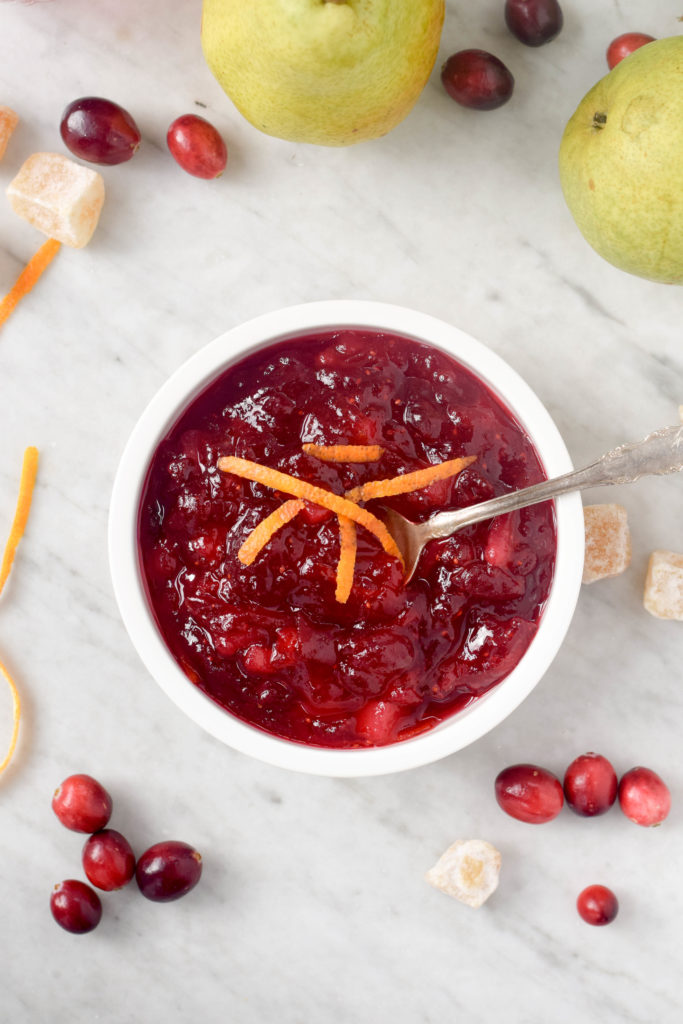 Inspired by the late fall pear harvest, on display at the last week of the Oak Park Farmer's Market, I created a new version of my traditional Cranberry Relish that combines tart cranberries with sweet, juicy pears and a double dose of zingy ginger. It's a winner.
The flavor is nicely balanced between sweet, tart, spicy and earthy notes and the texture is pleasingly chunky yet still spreadable. Although Thanksgiving is still a few weeks away, my husband is already enjoying this Pear Cranberry Relish on turkey sandwiches and I am happily pairing it with a sharp cheddar for an afternoon snack.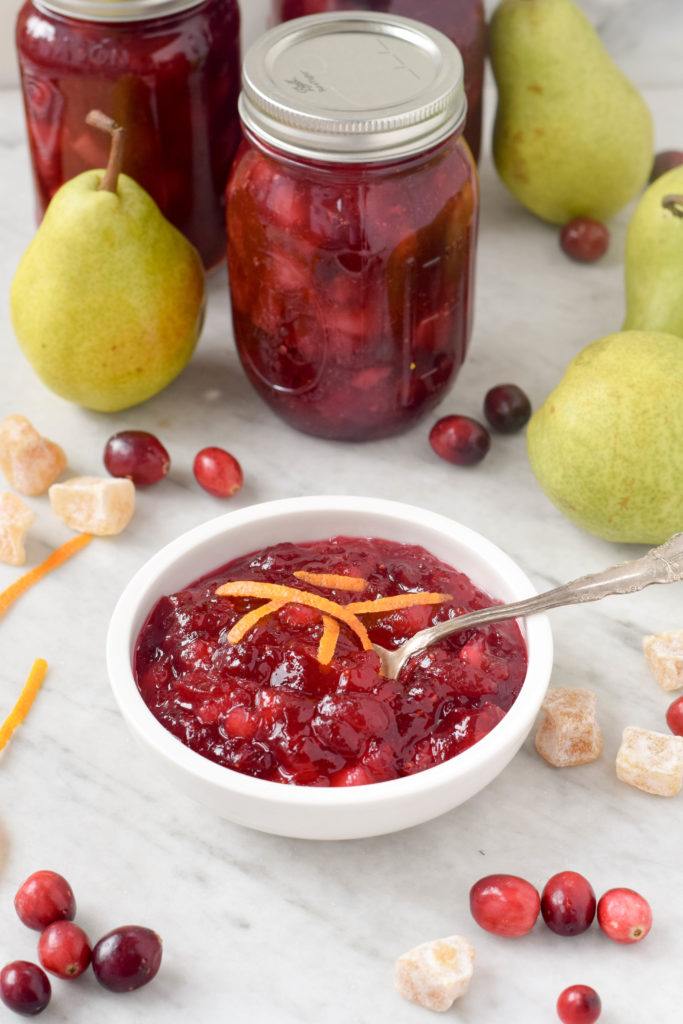 If you are into preserving, as I am, I encourage you to make this Pear Cranberry Relish now, while pears and cranberries are at their peak, and can it for Thanksgiving. This is what I do because I need my cranberry relish to be shelf-stable: I ship several pints — along with an array of pickled and marinated vegetables that will become part of a relish tray — to my mother's house in Florida, where we celebrate the holiday.
However, if you are not a canner, do not be discouraged. Go ahead and make this recipe — you can halve the quantities if that is more suitable for your family — any time in the coming weeks. With plenty of acidity and sugar, it will keep beautifully in the refrigerator until Thanksgiving. And then you will be able to cross one thing off of that Thanksgiving to-do list.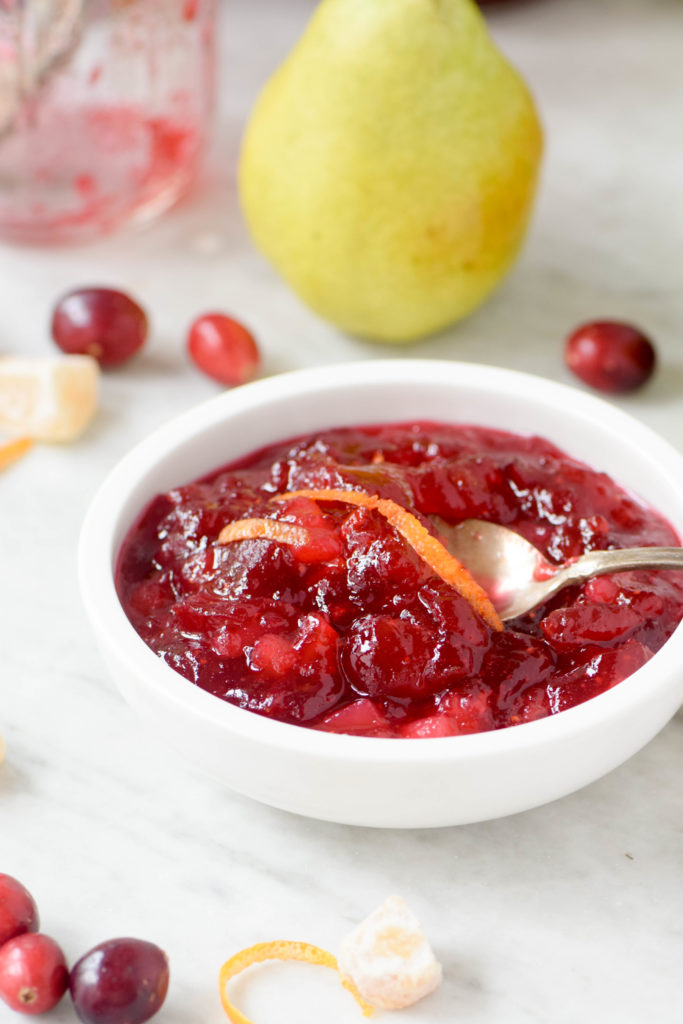 Not hosting Thanksgiving this year? As a guest, you know you will have to offer to bring something. This Pear Cranberry Relish has the benefit of being easy to transport and does not require any reheating or other special attention once you arrive. That's the mark of a considerate guest. Your hosts will be suitably impressed, I promise.
Stay tuned for many more fun twists on traditional Thanksgiving recipes in the coming weeks. I will help you with your entire menu!
Ingredients
4 cups sugar
4 cups water
Zest of one orange, cut into long strips
2 lbs. fresh cranberries (about 9 cups)
4 pears weighing approximately 1 lb., peeled and diced (about 3 cups diced pear)
2/3 cup candied or crystallized ginger, diced
1 tsp ground ginger
1/4 cup Grand Marnier or brandy (optional)
Dash cocktail bitters
Instructions
If canning the relish for shelf-stability, fill a large canning pot with water and heat four pint jars.
Combine the water, sugar and orange zest in a large saucepan and bring to a boil, stirring to dissolve the sugar.
Turn down heat and simmer for five minutes.
Add the cranberries, diced pear and candied ginger and return to a boil.
Turn heat down to medium and simmer until the cranberries have broken down, about ten minutes.
Add the ground ginger, liquor if using and bitters and simmer for an additional five minutes.
Remove from heat. Skim off any foam that has accumulated. (Do not be concerned if the sauce appears to be liquid — cranberries are high in pectin and the sauce will gel when it cools.)
If you are not canning the jars to be shelf-stable, simply ladle the sauce into clean jars and refrigerate until needed.
For canning, remove the first jar from the warm water and place a canning funnel in the mouth. Ladle the sauce into the jar leaving 1/4 inch headspace at the top.
Run a plastic knife around the inside of the jar to remove any air bubbles and wipe the rim clean with a damp cloth. Repeat with the remaining jars.
Place the lids on the jars and screw on the rings just until you feel resistance. Return the jars to the water-bath canning pot and bring the water to a boil.
Process the jars in a boiling water bath for fifteen minutes. Allow to cool in the water for five additional minutes before removing them.
Check the seals on the lids and store in a dark cool place for up to one year.
http://www.westoftheloop.com/2017/11/04/pear-cranberry-relish/
SaveSave
SaveSave